News Headlines & Trends
---

11.26.08 China and Europe plan new steps to help economy
November 26 - Responding to rapidly deteriorating economic conditions, officials on two continents announced major steps on Wednesday to try to pump some life back into their economies. The European Commission proposed a sweeping stimulus-spending package totaling 200 billion euros, or $256 billion, while officials in China cut interest rates there by more than a percentage point. The plan in Europe, which is likely to have the more immediate impact, will be critical to bolstering growth and employment in the European Union's 27 member countries, said officials with the commission, which is the Union's executive arm. On Tuesday, the Organization for Economic Cooperation and Development predicted that the 15 economies that have adopted the euro as their currency would contract next year by 0.6 percent overall, and economists have begun speaking of 2009 as a "lost year." [More>>nytimes.com]
---
11.26.08 Feds warn of terror plotting against NYC subways
WASHINGTON (AP) November 26 - Federal authorities are warning law enforcement personnel of a possible terror plot against the New York City subway system during the holiday season. An internal memo obtained by The Associated Press says the FBI has received a "plausible but unsubstantiated" report that al-Qaeda terrorists in late September may have discussed attacking the subway system. FBI spokesman Richard Kolko confirmed only that his agency and the Department of Homeland Security issued a bulletin last night to state and local authorities, and the information is being reviewed. Department of Homeland Security spokesman Russ Knocke said the warning was issued as a routine matter, but added that there may be an increased police presence in New York and other large metropolitan areas. [More>>washingtonpost.com]
---
11.26.08 Russia test-launches new-generation RS-24 ballistic missile
MOSCOW (RIA Novosti) November 26 - Russia successfully test launched on Wednesday a new-generation intercontinental ballistic missile bearing multiple independently targetable reentry vehicle (MIRV) warheads. "All the warheads hit the designated areas at the Kura testing grounds on the Kamchatka peninsula. All the tasks in the test have been accomplished," a spokesman for the Strategic Missile Forces (SMF) press service said. The RS-24 missile was launched at 4:20pm Moscow time (13:20 GMT) from the Plesetsk space center in northwest Russia.

The new test was aimed at obtaining data confirming the missile's technical characteristics and its readiness to enter service with the SMF. The RS-24 was first tested on May 29, 2007 after a secret military R&D project, and then again on December 25, 2007. The commander of Russia's SMF, Col. Gen. Nikolai Solovtsov, said in October that the RS-24 missile system would enter service in 2009. [More>>en.rian.ru]
---
11.26.08 'More than 5,000 centrifuges operating'
(AP) November 26 - Iran now has more than 5,000 centrifuges operating and enriching uranium at the country's central plant, the Iranian nuclear chief announced Wednesday, in Iran's latest defiance of UN demands that Teheran halt the controversial program. The new figure is a significant jump from the 4,000 Iran said were up and running in August at the plant in the central Iranian city of Natanz. The Iranian official, Vice President Gholam Reza Aghazadeh, said Iran will continue to install centrifuges and enrich uranium in order to produce nuclear fuel for the country's future nuclear power plants.
"At this point, more than 5,000 centrifuges are operating in Natanz and enriching uranium," said Aghazadeh, who is also the head of Atomic Energy Organization of Iran. He spoke to reporters during an exhibition of Iranian nuclear achievements at Teheran University...Also Wednesday, Iranian state television reported that the country successfully launched a second rocket into space, following up on the first such launch in February. The rocket, entitled "Kavoshgar 2" or Explorer 2, made it to the lower reaches of space and returned to earth 40 minutes later on a parachute. It wasn't clear when the launch took place. [Full story>>jpost.com]
---
11.26.08 Tribal chiefs offered UK 'bribes' to fight Taliban
November 26 - Britain plans to pay tribal elders in Helmand province monthly cash "bribes" as part of a controversial "Afghan Awakening" scheme to raise the tribes against the Taliban. British officials in Kabul are bankrolling an Afghan initiative to pay community leaders monthly wages to get them talking to the government. News of Britain's involvement came as the Foreign Secretary, David Miliband, met President Hamid Karzai during a surprise visit to Kabul yesterday. He then flew to Helmand to meet some of the community leaders likely to be involved.

Parallels have been drawn with the Iraqi "Awakening Councils," overseen by General David Petraeus, now the head of US central command, which helped unite Sunni tribesmen against al-Qaeda insurgents in Iraq. Similar tribal militias in Pakistan have also begun to mobilise against the Taliban and its al-Qaeda backers. But the problems in Afghanistan are complex because the Taliban, and other extremist groups, are often from the same tribes as the people the Afghan Social Outreach Programme (Asop) scheme hopes to reach.
The new strategy comes amid growing violence across Afghanistan and a steady trickle of British casualties in Helmand. Afghan officials have accused Britain of "losing the support of the people." The Asop is seen as the first step towards winning back influential tribal elders, on a district level, who might one day command irregular forces against the Taliban insurgents. [More>>independent.co.uk]
---
11.26.08 Somali gunmen kidnap Western journalists
BOSASSO, Somalia (Reuters) November 26 - Somali gunmen kidnapped two Western journalists in the northern province of Puntland on Wednesday, police said, in the latest attack on foreigners working in the lawless Horn of Africa nation. Somalia has been immersed in civil conflict for the last 17 years. The government is fighting a two-year-old Islamist insurgency while the chaos has fuelled piracy in Somalia's waters, bringing foreign warships rushing to the area. It is one of the world's most dangerous countries for reporters. "I think both the journalists are British but we shall investigate ... we are sending police to free them," Puntland's police spokesman Abshir Said Jama told Reuters. [More>>khaleejtimes.com]
---
11.26.08 Al-Qaeda's focus is Pakistan: US General
WASHINGTON, November 26 - Pakistan has replaced Iraq as al-Qaeda's main focus, and the terror group has stepped up its efforts to destabilize the nuclear-armed South Asian nation, according to a senior US military commander. "Iraq is now a rear-guard action on the part of al-Qaeda," said Gen. James Conway, the head of the Marine Corps and a member of the Joint Chiefs of Staff, in an interview. "They've changed their strategic focus not to Afghanistan but to Pakistan, because Pakistan is the closest place where you have the nexus of terrorism and nuclear weapons." Gen. Conway also offered a stark assessment of the Afghan situation, saying the Taliban has built a rudimentary command-and-control network that enables the group's leadership to direct attacks across the country. [More>>thenews.com.pk]
---
11.26.08 Four bombings rock Bangkok
BANGKOK, November 26 - At least four rounds of bomb attacks rocked Bangkok early Wednesday, injuring at least 12 people, local media reported. The attacks, since 4:30am (2130 GMT Tuesday) to 6:30am (2330 GMT Tuesday) Wednesday, aimed at two main airports of Bangkokwhile three exploded at the Suvarnabhumi International Airport and one blast at the Don Muang Airport. Both the airports were filled with the anti-government People's Alliance for Democracy (PAD) members who launched mass protests there since Tuesday. Initial reports said at least 11 persons were injured. [More>>xinhuanet.com]
---
11.25.08 Asian markets rise after Wall Street rally
TOKYO (AP) November 25 - Asian markets rose sharply Tuesday as investors regained some confidence after a strong overnight showing by Wall Street and the US government's bailout of banking giant Citigroup. European markets, which soared Monday, opened lower. Initial reaction in the region to the Citigroup news — which broke midday Monday in Asia — was tepid, and most benchmarks had ended the day lower. But after seeing markets in Europe and the US surge overnight, Asian investors joined in the rally. "The rescue of Citigroup does help ease concerns," said Singapore-based investment analyst Nicole Sze of Bank Julius Baer & Co., which manages about $300 billion in assets. "Citigroup is such a crucial financial institution in the global market. The US action does fuel a return of confidence."

In Japan, which had been on holiday Monday, the Nikkei 225 stock average soared 413.14 points, or 5.2 percent, to 8,323.93. Australia's benchmark S&P/ASX200 index leaped 5.8 percent to close at 3,623.4, led by materials, energy, banks and consumer discretionary stocks. Hong Kong's Hang Seng index rose 3.4 percent to 12,878.60, and the Philippines' main index jumped more than 6 percent. Among major markets, mainland China, Singapore and India declined. Chinese stocks have rolled back since rallying earlier this month on news of a multibillion dollar government economic stimulus package. Adding to concerns, the World Bank on Tuesday cut its 2009 growth forecast for China from 9.2 percent to 7.5 percent — the lowest rate in 18 years. [More>>thejakartapost.com; See related stories:

news.com.au, November 25, "Contracting US economy 'troubling' " : The White House says new figures showing the US economy contracted at a 0.5 per cent pace in the third quarter are "troubling." "The numbers are what they are, which is they're troubling. This is why we are having to take such bold actions which we are taking," White House spokeswoman Dana Perino told reporters aboard Air Force One yesterday. The government has revised down its earlier estimate of a downturn of 0.3 per cent in the world's largest economy. "We think one of the reasons that the data sort of declines is that consumers pulled back on spending and we think a lot of that is because of the credit crisis, which is why we are so focused on unfreezing credit markets," Ms. Perino said...

timesonline.co.uk, "UK - New mortgages fall 52% amid homeloan warning" : Mortgage lending slipped back towards a record low in October, as consumers turned to their deposits to fund other spending. Figures released this morning by the British Bankers' Association (BBA) show mortgage approvals fell to 21,584 last month, compared with 23,383 in September and a record low of 21,363 in August. The BBA said that approvals fell by 52 per cent, down from 45,105 in October 2007. Lending from Britain's main high street banks fell to £2.9 billion, from £3.5 billion in September, and £1 billion below the previous six month average figure of £3.9 billion. Consumer credit also remained muted last month. The BBA reported a rise of £0.3 billion in October, although this is higher than September's £0.2 billion...

nytimes.com, November 25, "US - Outlook grows more dire for housing market" : The financial shocks of September and October appeared to dash any hopes for a quick recovery in the housing market, where the precipitous declines in sales and prices — the problems at the heart of the current credit crisis — have only worsened. Home loans, already scarce by normal standards, dried up as the impact of the Lehman Brothers collapse spiraled through the credit market. Buyers who had begun to wade back into the market were spooked by the turmoil, reversing recent improvements. Of the sales that did go through in October, nearly half were the result of a sale after a foreclosure. And sellers were forced to lower prices again, sending home values down at a record pace.

Home prices across the United States declined 16.6 percent in the third quarter from the July-to-September period a year ago, according to the Case-Shiller Home Price Index, a widely watched gauge released Tuesday by Standard & Poor's. That amounted to the biggest quarter-to-quarter decline in prices since the survey began in 1988. Prices have returned to levels not seen since 2004...

independent.co.uk, November 25, "Citigroup rescue fuels worldwide shares surge" : The US government made a drama-tic intervention yesterday to salvage Citigroup, once the world's largest bank, by pledging to invest $20bn (£13bn) and to guarantee against losses from toxic assets at the group worth a staggering $306bn. Markets around the world surged higher after the US government, along with the Federal Reserve and the Federal Deposit Insurance Corporation (FDIC), announced early yesterday that they had agreed to step in with a rescue package for Citigroup after a weekend of intense negotiations. In New York, the S&P 500 gained 6.5 per cent and the Dow Jones 4.9 percent. In Europe the FTSE 100 closed up a record 9.8 percent and the FTSE Eurofirst 300 of top European shares bounced 8.9 per cent...

nytimes.com, November 25, "US unveils new programs to ease credit" : The federal government unveiled $800 billion in new loans and debt purchases on Tuesday, hoping another infusion of cash can help unfreeze troubled credit markets and make borrowing easier for homebuyers, small businesses and students. The Federal Reserve said that it would buy up to $600 billion in mortgage-backed assets from the government-sponsored mortgage finance giants Fannie Mae and Freddie Mac. The agency would also buy up to $100 billion in debt directly from the companies and up to $500 billion in mortgage-backed securities.

"This action is being taken to reduce the cost and increase the availability of credit for the purchase of houses, which in turn should support housing markets and foster improved conditions in financial markets more generally," the Federal Reserve said in a statement. Separately, the Fed and Treasury Department announced a $200 billion program to ease commercial lending on debts like student loans, car loans or business loans. The Fed would lend up to $200 billion to holders of asset-backed securities supported by car loans, credit card loans, student loans, and business loans guaranteed by the Small Business Administration...
---
11.25.08 Iranian supreme leader calls on Lebanon to unite against Israel
November 25 - Iranian Supreme Leader Ayatollah Ali Khamenei on Tuesday called on the disparate Lebanese ethnic groups to unite against their common enemy — Israel, the Iranian IRNA news agency reported. "The Islamic Republic of Iran believes that the power of all Lebanese groups should be at the service of the country's national unity to counter the danger of the Zionist regime," Khamenei told visiting Lebanese President Michel Suleiman.
Khamenei, lauding Suleiman's support of Islamic militancy and his efforts to establish unity in Lebanon, promised that Iran would always side with Beirut, stressing that Lebanon enjoys high significance despite its small geographical limits. One such instance of "exemplary" coexistence of different religious groups in Lebanon, he said, was the "historical victory" over the Israel. "Over the past 60 years, none of the Muslim and Arab states have been able to face the Zionist regime, but people in Lebanon managed to break this myth and drive the Israeli army out of their soil," he said. [More>>jpost.com]
---
11.25.08 US-based Muslim charity convicted of funding terrorism
DALLAS, Texas (AFP) November 25 - The leaders of what was once the largest Muslim charity in the United States were found guilty of acting as a front for Palestinian militants in the largest terrorism financing prosecution in American history. It was a major victory in the White House's legal "war on terror" and comes after a mistrial was declared last year in the case involving the now defunct Texas-based Holy Land Foundation, charged with funneling 12 million dollars to Hamas. "Today's verdicts are important milestones in America's efforts against financiers of terrorism," Patrick Rowan, assistant attorney general for national security, said in a statement. "This prosecution demonstrates our resolve to ensure that humanitarian relief efforts are not used as a mechanism to disguise and enable support for terrorist groups." [More>>turkishpress.com]
---
11.25.08 Saudi religious police report increase in arrests
DUBAI, November 25 - Inappropriate displays of affection, mixing between unmarried men and women and offensive writing are a few of the crimes the Saudi religious police are tasked with monitoring, and they appear to be on the rise if recent arrest rates are anything to go by. A report issued by the Saudi religious police indicated a remarkable increase in the number of arrests as well as in the type of cases it dealt with over the past year, local press reported Tuesday, with 19 percent more arrests this year than last. The annual report of the Commission for the Propagation of Virtue and the Prevention of Vice indicated that only 27 percent of the 434,000 people who were arrested were Saudi. [More>>alarabiya.net]
---
11.25.08 Russian warships arrive in Venezuela
MOSCOW / CARACAS (RIA Novosti) November 25 - A group of warships from Russia's Northern Fleet arrived on Tuesday at the Venezuelan port of La Guaira, a Russian naval official said. The task force, led by the Pyotr Veliky missile cruiser, is on a planned visit that follows a two-month tour of the Atlantic and the Mediterranean, which saw Russian ships visiting Libya, Turkey and France. "The [Udaloy class destroyer] Admiral Chabanenko has docked in port, while the Pyotr Veliky missile cruiser has dropped anchor off La Guaira," said Capt. 1st Rank Igor Dygalo, an aide to the Navy commander.

Russian and Venezuelan warships will conduct live-ammunition artillery drills on December 1 as part of joint naval exercises in the Caribbean. The exercises will involve joint sea rescue operations, maneuvering, and firing drills. Venezuela's Navy will be represented by two or three combat vessels. The exercises will be conducted in line with bilateral agreements and in accordance with international maritime law. They will be held in an area beyond Venezuela's territorial waters, about 150 nautical miles from the South American country's coast. All shipping in the area will be halted for the duration of the exercises, subject to special notice due at the end of November. After its visit to Venezuela, the Russian task force is due to take part in an exercise with ships from Russia's Pacific Fleet in the Indian Ocean. [>en.rian.ru]
---
11.25.08 Oceans 'turning acidic quickly'
WASHINGTON, November 25 - In a new research, scientists at the University of Chicago, US, have documented that oceans are growing acidic faster than previously thought. In addition, they have found that the increasing acidity correlates with increasing levels of atmospheric carbon diocide (CO2). "Of the variables the study examined that are linked to changes in ocean acidity, only atmospheric carbon dioxide exhibited a corresponding steady change," said J. Timothy Wootton, the lead author of the study and Professor of Ecology and Evolution at at the University of Chicago. The increasingly acidic water harms certain sea animals and could reduce the ocean's ability to absorb carbon dioxide, according to the researchers.

..."Many sea creatures have shells or skeletons made of calcium carbonate, which the acid can dissolve," said Catherine Pfister, associate professor of ecology and evolution at the University of Chicago and a co-author of the study. "Therefore, the increased acidity of the ocean could interfere with many critical ocean processes such as coral reef building or shellfish harvesting," she added. [Full story>>timesofindia.indiatimes.com]
---
11.25.08 Thai flights cancelled as protesters storm airport
BANGKOK (Reuters) November 25 - Flights were cancelled at Thailand's main airport on Tuesday after anti-government protesters stormed the building, leaving thousands of travellers stranded and threatening the country's tourism industry. The departure hall has been closed," Sereerat Prasutanont, director of Bangkok's Suvarnabhumi airport, the main gateway for 14.5 million visitors to Thailand each year, told TPBS TV. "Flights that are ready to depart can leave, but those that are not ready must cancel their flights," he said.

The move came after members of the People's Alliance for Democracy (PAD) broke through police lines and roamed through the sprawling $4 billion terminal, southeast of Bangkok, as startled tourists looked on. The airport invasion capped a dramatic day that also saw PAD protesters firing on pro-government supporters on a major road leading to the old airport to the north of the city..."Our goal is to shut down Suvarnabhumi airport until Somchai quits," PAD spokesman Parnthep Pourpongpan said of the protest, aimed at Prime Minister Somchai Wongsawat, who returns on Wednesday from an Asia-Pacific summit in Peru....[Full story>>thestar.com.my]
---
11.25.08 Seoul prepares for Gaeseong pullout
November 25 - The South Korean government yesterday formed an emergency task force to organize the safe pullout of staff from the Gaeseong industrial park in North Korea. The communist country announced on Monday that it has ordered the cancellation of Gaeseong city tours and a 50 percent cut in South Korean staff at the industrial park as of Dec. 1. The moves are a protest to Seoul's "confrontational" policies, according to North Korea.

The isolated country will also cut off rail links between the South's Munsan and the North's Bongdong, closing the Military Demarcation Line it had opened for the train's operation. "From today through early December, working-level ministry officials led by a director-general will run an emergency task force," Unification Ministry spokesman Kim Ho-nyoun told reporters. The government will place top priority on the safety of South Koreans staying in the North, Kim said. [More>>koreaherald.co.ky; See related story, xinhuanet.com, November 25, "China proposes six-party talks in early December."]
---
11.24.08 Markets soar on US bailout hopes
November 24 - The London stock market rocketed almost 10 per cent today — its biggest ever one day percentage gain — after it emerged that Washington is trying to race through a new $500 billion fiscal stimulus package to kick start the world's biggest economy. Shares in New York also soared after the US Government dug deep into its cash reserves to bail out Citigroup, once the world's largest bank. In London, the FTSE 100 shot up by almost 10 per cent, or 372 points, to 4152.96. In New York, the Dow Jones Industrial Average rose 278 points to 8,324. The cheer spread across European stock markets with the CAC 40 in Paris and the Dax in Frankfurt both up 9 per cent.
Equity traders celebrated after it emerged that President Bush and Barack Obama, the US President Elect, are seeking to force through a new $500 billion fiscal stimulus package to try and avert what Wall Street believes will be a very deep recession for America. The package would be three times bigger than President Bush's tax rebate programme in May and far bigger than measures proposed by Mr. Obama during his election campaign. [More>>timesonline.co.uk; See related stories,

washingtonpost.com, November 24, "Obama announces economic team, outlines recovery plan" : President-elect Barack Obama today announced the appointment of four key members of his new administration's economic policy team and issued a somber warning that the nation's economy "is likely to get worse before it gets better." In a news conference in Chicago, Obama introduced New York Federal Reserve Bank President Timothy F. Geithner as his nominee for Treasury secretary, a choice that cheered the stock markets when it leaked late last week. He announced, as expected, that Lawrence H. Summers would become director of the National Economic Council in the Obama White House. Obama also introduced two women as his picks to fill important policy jobs: Christina D. Romer to chair the Council of Economic Advisers and Melody Barnes as director of the Domestic Policy Council.

Noting that "we do not have a minute to waste," Obama said his economic team will immediately start working on a comprehensive plan to pull the economy out of the "vicious cycle" in which he said it is currently trapped. "We need a recovery plan for both Wall Street and Main Street," Obama said. He outlined the plan as one that not only will get credit flowing again but also will address the nation's home foreclosure crisis, provide help for the US auto industry, create or retain 2.5 million jobs and build a clean-energy infrastructure for the 21st century...

cbsnews.com, November 24, "Citibank's 'Sweet Deal' from government" : Struggling Bank Gets $20B Lifeline, $306B In Loan Guarantees; Bush: More Bailouts Possible. The US government unveiled a $20 billion rescue plan on Sunday for troubled banking giant Citigroup, once the country's biggest and strongest financial institution. The action, announced jointly by the Treasury Department, the Federal Reserve and the Federal Deposit Insurance Corp. after a weekend of tense negotiations, is aimed at shoring up a huge financial institution whose collapse would wreak havoc on the already-crippled financial system and the US economy.

President George W. Bush said Monday he consulted with President-elect Barack Obama on the Citigroup rescue. Mr. Bush said there is "close cooperation" between his administration and the Obama camp. Mr. Bush, speaking outside the Treasury Department after consulting with Secretary Henry Paulson, also said the measures used to help Citigroup could be extended to other institutions in need of federal assistance.

...In exchange for the guarantees, the government will get $7 billion in preferred shares of Citigroup. In addition, Citi said it will issue warrants to the U.S. Treasury and the FDIC for approximately 254 million shares of the company's common stock at a strike price of $10.61. As a condition of the rescue, Citigroup is barred from paying quarterly dividends to shareholders of more than 1 cent a share for three years unless the company obtains consent from the three federal agencies. The bank is currently paying a dividend of 16 cents, halved from a 32-cent payout in the previous quarter. The agreement also places restrictions on executive compensation, including bonuses.

Importantly, the agreement calls on Citigroup to take steps to help distressed homeowners. Specifically, Citigroup will modify mortgages to help people avoid foreclosure along the lines of an FDIC plan that was put into effect at IndyMac Bank, a major failed savings and loan based in Pasadena, Calif...
---
11.24.08 Dubai's bubble bursts as it caps building spree
DUBAI, November 24 - Official admits booming city could do with a "breather." The booming city of Dubai showed signs its economy was starting to crack Monday as it began cutting state spending ,capping its building spree and merging its lenders in the face of the global financial crisis. World business leaders met Monday for a four-day conference at the Dubai International Financial Center (DIFC) where financiers were set to discuss Middle East coping strategies as well as how to help sinking western economies.

Dubai officials remained optimistic at the annual meet but seemed to cave under world pressure as they revealed for the first time the level of debt the emirate has accumulated during one of the world's biggest building sprees. "Dubai is not immune to the problems caused by the global financial crisis, but the region is better placed than most to deal with the issues arising," Mohammed al-Abbar, a member of the Dubai Executive Council and chairman of government-owned Emaar Properties said. [More>>alarabiya.net]
---
11.24.08 Israel allows limited aid into Gaza
November 24- Israel has briefly opened three border crossings with Hamas-controlled Gaza, allowing some essential food and fuel into the territory for the second time in three weeks. However, the United Nations Relief and Works Agency (UNRWA) warned that temporarily lifting the blockade imposed by Israel on the Palestinian territory would not allow enough supplies into Gaza. "It is just not enough," Christopher Gunness, a UNRWA spokesman said, estimating that Gazans need at least 15 lorries worth of UN supplies daily to get by. [More>>aljazeera.net]
---
11.24.08 Baghdad blasts kill 17 ahead of troop pact vote
BAGHDAD (AFP) November 24 - Three explosions rocked Baghdad on Monday, killing 17 people two days before parliament was to vote on a divisive military pact under which all US troops would leave Iraq by the end of 2011. One blast was caused by a mentally disabled woman strapped with explosives who blew up at the entrance to Baghdad's heavily guarded Green Zone, brutally underscoring the lingering violence in the Iraqi capital. In the first attack 13 people were killed — nine of them women — when a roadside bomb exploded near a bus carrying trade ministry employees during the rush-hour in east Baghdad, a medical official at a nearby hospital said.

The medic said most of the victims were incinerated inside the bus, and that five other people were wounded. Less than an hour later a woman strapped with bombs exploded in a corridor leading into the Green Zone, where dozens of Iraqi employees were queuing to pass through security checkpoints. Major General Qassim Atta, the spokesman for Baghdad security forces, said the woman was mentally disabled and that her payload detonated by remote control. Three people were killed in the attack and another 15 were wounded. [More>>khaleejtimes.com]
---
11.24.08 15 militants killed, six injured in Swat
PESHAWAR, November 24 - At least 15 militants were killed and six others injured in three separate incidents in Tehsils Charbagh, Matta and Khwazakhela of Swat district on Monday. According to media centre, the first incident occurred at Mangal Thaan in Charbagh Tehsil when security forces backed by gunship helicopters, targeted a vehicle of militants. Resultantly, 11 militants were killed on the spot. The other incident was reported at Namal area of Tehsil Matta in which two militants were killed and as many injured in a clash with security forces. Likewise, the security officials said two militants were killed and four others injured in Khawazakhela Tehsil. [>thenews.com.pk]
---
11.23.08 Warships from all Russian Navy fleets to fight piracy off Somalia
MOSCOW (RIA Novosti) November 23 - Warships from all of the Russian Navy fleets will be involved in measures to fight piracy in the Horn of Africa region, Russia's Navy commander said on Sunday. Pirates are increasingly active in the waters off Somalia, where more than 60 ships have been attacked so far this year resulting in the seizure of over 30 vessels. The East African nation has been without a functioning government since 1991 and has no navy to police its coastline. "Regular presence in that problem region means the accomplishment of tasks both by separate warships and warship groups from all the fleets to ensure safe shipping in the Gulf of Aden and the Horn of Africa region as a whole," Adm. Vladimir Vysotsky said.
The US Defense Department said on Wednesday that there had been 95 piracy attacks reported in the region this year, 39 of which were successful. "There are at least 18 ships being held by Somali pirates as we speak," Pentagon spokesman Geoff Morrell said. "I believe our count is that 330 mariners are being held hostage by these criminals. And they come from 25 nations across the world." [More>>en.rian.ru]
---
11.23.08 Iran holds defence drills, warns on oil route
TEHRAN, November 23 - An Iranian militia held civil defence drills on Sunday to prepare for any hostile air strikes and the military said it could close a waterway crucial for world oil supplies if Iran was attacked. The exercises organized by student members of the Basij militia were held at hundreds of schools across the country and involved transporting wounded people and putting out fires after a fictitious bombardment by enemy planes.
State television showed pictures of ambulances with sirens wailing rushing to the scene of a simulated attack and people lying on the ground with bloodied faces. The United States and Israel have hinted they could take military action if Iran presses ahead with a nuclear programme they believe is aimed at making atomic bombs. [More>>gulfnews.com]
---
11.23.08 Saudi shares close near five-year low
RIYADH, November 23 - The Saudi stock market closed on Saturday at its lowest level in almost five years after shedding more than nine percent of its value. The Tadawul All-Shares Index (TASI) plunged 9.2 percent to close at 4,431.57 points, the lowest since January 2004, with all sectors ending in the red. The leading petrochemicals and banking sectors slid 9.85 percent and 9.1 percent respectively, while telecoms plunged 9.9 percent.

Many companies closed down 10 percent — the maximum allowed daily price change — while most other shares lost more than nine percent of their value. The SABIC petrochemicals giant closed the day down 9.89 percent, while the main telecoms operator, Saudi Telecom, fell 10 percent. Shares in Etihad Etisalat mobile phone company were also down 9.88 percent. The slide in the largest Arab bourse, the only stock market to operate on Saturday, brings its losses this year to 60 percent. TASI ended last week's trading down 11 percent. It has shed almost 20 percent in the past two weeks. [>middle-east-online.com; See related story,

ahram.org, November 23, "Egypt: Employement ban" : CAIRO - The Ministry of Manpower and Immigration has issued a blacklist of Saudi companies accused of abusing foreign workers, Reem Leila reports. Following the sentencing of two Egyptian doctors in Saudi Arabia to prison terms of 15 and 20 years and 1,500 lashes each the Ministry of Manpower and Immigration (MMI) announced on 12 November that Egyptian doctors were henceforth banned from signing contracts with Saudi private hospitals. The decree came into effect last Thursday. It does not affect Egyptian doctors already working in Saudi Arabia.

The following day, on 13 November, the MMI published a blacklist of 26 firms in Saudi Arabia accused of abusing the rights of foreign employees. "The MMI has issued a list of businesses and private companies in Saudi Arabia with whom Egyptians are no longer allowed to deal," said Ibrahim Ali, press spokesman at the MMI. The companies, he charged, were "deliberately mistreating Egyptians," and more firms may be added later. "The ministerial decree aims at pressuring Saudi officials to hold a new trial for the doctors. The move is intended to register the shock of the Egyptian public."...
---
11.23.08 World leaders at APEC anxiously await Obama administration
LIMA, Peru, November 23 - George W. Bush was the US president at an economic summit here this weekend, but many foreign leaders were focused on President-elect Barack Obama instead. Canadian Prime Minister Stephen Harper cautioned Obama against plans to rework the North American Free Trade Agreement, saying it would worsen a global financial crisis. Chinese President Hu Jintao said he hoped Obama would recognize the importance of US-China ties while treading carefully on the thorny issue of Taiwan.
And Mexican President Felipe Calderon, in an impassioned speech to delegates at the Asia-Pacific Economic Cooperation forum on Saturday, warned Obama that any tightening of trade restrictions would send a flood of illegal immigrants into the United States. "The next US administration must assume leadership in a very firm manner — not just for Americans but for the whole world," Calderon said. [More.>washingtonpost.com; See related story,
middle-east-online, November 23, " 'War criminal' Bush blamed for global crisis" :  LIMA, Peru - Peru's biggest labor union charges that Bush's costly war on Iraq contributed to financial, economic crises. Protesters on Friday demanded that US President George W. Bush get out of Peru where he was attending an APEC summit, blaming him as the root cause of the world economic crisis. "Bush out," demonstrators chanted in the center of the capital, watched by scores of police in riot gear who made sure they did not move towards the APEC summit venue several kilometers (miles) away. "This crisis didn't come from the Peruvian people. We shouldn't have to pay for it," a union leader told the crowd, which demonstrated peacefully.

...Friday's anti-Bush protest, organized by Peru's biggest labor union, charged that Bush's choice to wage a costly war in Iraq contributed to the financial and economic crises. "The International Criminal Court should try him for crimes against humanity, war crimes and crimes of aggression," a big banner next to the main stage for the rally proclaimed. "Bush — genocide. The Peruvians repudiate your crimes," said another.
"We believe that Bush is responsible for the fall of the financial system," explained Aldo Gil Cristostomo, a 54-year-old mechanic standing near other protesters carrying portraits of Che Guevara. "The war in Iraq is partly responsible for the fall," he said. Cristostomo added that, while he had more sympathy for Bush's successor, Barack Obama, he believed the Democrat "is going to maintain the neoliberal system" championed by the current US president...
---
11.23.08 Saudi denies offering asylum to Taliban leader
RIYADH / BERLIN, November 23 - The Saudi government on Saturday denied reports that it has offered political asylum to Afghanistan's fugitive Taliban leader Mullah Mohammad Omar. A foreign ministry spokesman "denies totally the report ... according to which Saudi Arabia has offered political asylum to the Taliban leader," the state news agency SPA reported. The German news magazine Der Spiegel, in its edition due to appear on Monday, said Saudi King Abdullah had offered asylum to Mullah Omar, quoting sources close to the Kabul government. [More>>alarabiya.net]
---
11.23.08 Hindu Sangam urges Fatwa Council to 'be more sensitive'
PETALING JAYA, Malaysia, November 23 - The National Fatwa Council must respect the sensitivities and feelings of other religions in Malaysia while giving guidance to Muslims on the religion's practices and tenets. "Many Hindus have been deeply disturbed by the Fatwa Council's announcement," Malaysia Hindu Sangam president Datuk A. Vaithilingam said in a statement Sunday. He said it was regrettable that the Council had not consulted with the Malaysia Hindu Sangam first so that the religious and non-religious aspects of yoga could have been explained. The Fatwa Council on Saturday issued an edict banning Muslims from practising yoga on grounds that it involved chants and acts of worship in order to be one with the god of another religion. [More>>thestar.com.my; See related story:

alarabiya.net, November 23, "Yoga ban by Malaysian Islamic group draws fire" : CAIRO / KUALA LUMPUR - Council says don't question fatwa. One of Malaysia's highest Islamic bodies came under fire from Muslims and yogis Sunday after its chairman said yoga was forbidden for Muslims because the practice would weaken religious faith. Devotees of yoga and moderate Muslim groups criticized the ruling by Abdul Shukor Husin, chairman of the government-backed National Fatwa Council. Yoga is hugely popular in majority-Muslim Malaysia. "I don't think it had caused any Muslim to convert to Hinduism, neither has it weakened their faith," said Norhayati Kaprawi, an official with Sisters of Islam, a private group which champions the rights of Muslim women.

"It is just an exercise like tai chi, which has its roots in Buddism," she told the Star newspaper on Sunday. She said her group's staff had been holding yoga classes for the past year and that they would continue. Rulings by the Fatwa Council are not legally binding on the country's Muslims, and there are no laws to punish those who ignore Council decisions — but it is an enormously influential body. Abdul Shukor decreed that yoga was forbidden because it involves the recitation of mantras and that it encourages a union with God that is considered blasphemy in Islam...

Maravot News 7.08.08, story 7.04.08 Sikh group joins protest against ban on use of word "Allah" in Malaysia and editorial note with related link, Maravot News 12.21.07 Malaysian Catholic weekly told to drop use of 'Allah.'
---
11.23.08 Dalai Lama not to retire till 'Tibetans return home'
DHARAMSHALA, India, November 23 - Tibetan spiritual leader the Dalai Lama on Sunday scotched speculation about his retirement, saying he would not quit till Tibetans return to their homeland (Watch) "There is no question of taking retirement from the institution of the Dalai Lama," the 73-year-old Nobel laureate told reporters here. "Since an elected Tibetan government in exile is in place I am semi-retired as a political leader... but there is no question of retiring from the Dalai Lama institution," the Tibetan temporal head said, a day after the crucial six-day conclave of Tibetans at Macleodganj.

The Dalai Lama's remarks assume significance in the wake of the conclave saying that Tibetans may have to rethink his "middle way" approach while dealing with Beijing to gain autonomy for the Himalayan region. The meeting said the leaders would be forced to demand full independence if the Dalai Lama's efforts did not yield any result. On his commitment to the cause of Tibet, he said he would not quit "till Tibetans return to Tibet." [More>>timesofindia.indiatimes.com]
---
11.23.08 India shocked by discovery of first Hindu terror cell
November 23 - At least 10 people, including monk and army officer, held over bombings initially blamed on Islamists. India is in something of a state of shock after learning from official sources that its first Hindu terror cell may have carried out a series of deadly bombings that were initially blamed on militant Muslims. The revelation is forcing the country to consider some difficult questions.
At least 10 people have been arrested in connection with several bomb blasts in the Muslim-dominated town of Malegaon in the western state of Maharashtra in September, which left six people dead. But reports suggest that police believe the cell may also have carried out a number of previous attacks, including last year's notorious bombing of a cross-border train en route to Pakistan, which killed 68 people. Among the alleged members of the cell are a serving army officer and a Hindu monk.
Bomb attacks are not uncommon in India — there has been a flurry in recent months — but police usually blame them on Muslim extremists, often said to have links to militant groups based in either Pakistan or Bangladesh. As a result, the recent cracking of the alleged Hindu cell has forced India to face some difficult issues. A country that prides itself on purported religious and cultural toleration — an ambition that in reality often falls short — has been made to ask itself how this cell could operate for so long. India's military, which prides itself on its professionalism, has been forced to order an embarrassing inquiry. The near-daily drip of revelations from police has also caused red faces for India's main political opposition, the Hindu nationalist Bharatiya Janata Party (BJP), ahead of state polls and a general election scheduled for early next year. [More>>independent.co.uk]
---
11.23.08 NATO: Taliban commander killed in Afghanistan
KABUL, Afghanistan (AP) November 23 - NATO-led troops killed a senior Taliban commander in southern Afghanistan, the military alliance said in a statement Sunday. Mullah Assad was a senior Taliban operational commander for southern Helmand province, and was killed in an operation on Wednesday, NATO said. It did not say where Assad was killed. Assad was linked to attacks in Helmand's Garmser district, an area of southern Afghanistan rife with insurgent activity, the statement said.

US and NATO-led troops have said they will continue with their operations against the Taliban and other insurgents throughout the cold winter months. More than 5,200 people, mostly militants, have been killed this year in insurgency-related violence according to a tally of figures compiled by the Associated Press. [>thejakartapost.com; See related stories:

thenews.com.pk, November 23, "Civilians, 11 rebels killed in Afghanistan" : KABUL: US-led forces in Afghanistan said Sunday they had killed an Afghan civilian in a battle that also left two militants dead, as nine Taliban rebels were reported killed in a separate clashes. Another four civilians, at least two of them female, were wounded in the battle in the southern province of Zabul on Thursday, the US-led coalition said in a statement. "Coalition forces killed two armed militants, one female civilian, and provided medical care to four more civilians during an operation early Thursday morning," it said, without identifying the casualties. The wounded were paid compensation, the force said.

Civilians are often caught up in Afghanistan's conflict as international and Afghan troops battle extremist insurgents, including those from the Taliban who were in government between 1996 and 2001. Most are killed in militant bombings but scores have been killed in military action, a sore point between Kabul and its international allies. The Afghan government said meanwhile its forces had thwarted a Taliban attack on a district administration centre in the central province of Ghazni late Saturday, killing eight of the gunmen...

khaleejtimes.com (DPA) November 23, "More than 30 including civilian killed in Afghanistan": KABUL - US-led troops killed a female civilian and nineteen militants in a clash and airstrike in southern Afghanistan, while nine rebels including a senior commander and two policemen were killed in separate attacks, officials said Sunday. Afghan and coalition forces killed 17 insurgents during an airstrike in Shah Wali Kot district of southern Kandahar province on Saturday, US military said in a statement. The combined forces received small arms fire and rocket propelled grenades as they targeted a "safe haven" of insurgents in the area, the statement said.

...Meanwhile a woman civilian was killed when coalition forces clashed with militants in Zabul province on Thursday, US military said in a statement. Two militants were killed in the clash. One male civilian and two other female civilians were wounded in the firefight and taken to a military hospital for treatment, it said...In a separate incident, Taliban militants attacked the Aab Band district headquarters in southern Ghazni province on Saturday night and wounded a police officer, provincial government spokesman Ismail Jahangir said. He said the troops killed eight Taliban militants and wounded five others. Two police forces were killed and three were wounded when their vehicle was blown up by a mine in Andar district of the same Ghazni province, Jahangir said...
---
11.22.08 Obama vows swift action on vast economic stimulus plan
CHICAGO, November 22 - President-elect Barack Obama said Saturday that he had started work on a sustained, two-year economic stimulus plan designed to create or save 2.5 million jobs, funnel money toward public works programs to repair the country's failing infrastructure and invest in alternative energy programs. Mr. Obama's plan, which he announced in the Democratic radio address, is broader than the pledges he offered while campaigning for president. He said the deepening financial outlook demanded more robust action, so he directed his economic team to devise "a plan big enough to meet the challenges we face that I intend to sign soon after taking office." [More>>nytimes.com] :

timesonline.co.uk, November 22, "Only drastic action now will save us, says Gordon Brown" : Britain would face an even more severe recession without the multi-billion-pound tax cut and spending package that will be unveiled on Monday, Gordon Brown said yesterday. In a dramatic attempt to raise the political stakes before the most important Pre-Budget Report since Labour came to power, he said that if he did not act now Britain would pay later. The report will include measures to stem the number of repossessions as Mr. Brown and Alistair Darling desperately try to soften the impact of the recession on families and businesses. The Chancellor will announce on Monday that struggling homeowners will be given three months' grace before lenders start repossession proceedings to give them time to renegotiate loans and seek financial help...

spiegel.de, November 22, "German economy beginning to suffer" : The number of indicators pointing to foul economic weather continues growing. A new index released on Friday testifies to increasingly empty order books. Experts predict that over 200,000 jobs are at risk. The more economic data comes in, the worse the coming recession appears likely to be. According to a key German economic climate index released on Friday, industry in Germany is facing a difficult road ahead. The index, which measures the economic health of producers in Germany as well as the amount of orders they are receiving, dropped unexpectedly sharply in November relative to its already low October level. It now stands at 36.2, much lower than the 40.5 level many had expected, according to a Reuters survey.

Much of that drop comes as a result of a sharp falloff in exports, a branch that had much of the work in keeping the German economy humming in recent years. The news comes on the heels of Thursday's announcement that the IFO global business sentiment index dropped to its lowest level in 20 years. The index fell from an October level of 73.4 to November's 60.0...

gulfnews.com, November 22, "Saudi shares dive over 9%" : DUBAI: Saudi shares plunged 9.2 per cent on Saturday with most blue chips posting across-the-board declines. Worried investors resorted to panic selling as oil fell below $50 level on Friday and on growing uncertainty about the future of Citi Group. The Saudi index fell 448.87 points to end at 4,431.57, its lowest since early 2004. Of the 125 listed firms, only two ended higher. The Arab world's largest bourse is showing its first reaction to the fall of oil prices below $50 per barrel on Thursday for the first time since May 2005. The bourse was closed on Thursday and Friday. "It's a sellers market with low demand ... The $50 mark is a crucial psychological benchmark for the market," said John Sfakianakis, chief economist at SABB bank HSBC's Saudi subsidiary. Many analysts fear that oil-based economies like that of Saudi Arabia will not be able to maintain macroeconomic balance and keep up the same public spending spree of the past five years if oil falls below the $50-a-barrel level...

news.sky.com, November 22, "Russia's Gazprom threatens to cut gas supply to Ukraine unless new contract is signed" : Russia has threatened to cut off gas deliveries to neighboring Ukraine on January 1 unless a new contract is signed. The threat, by Russia's Gazprom, could affect deliveries to the rest of Europe. Sergei Kupriyanov, a spokesman for the gas company, said: "We would like to avoid such a scenario, we would like to agree on everything before New Year's, but as you understand, we cannot deliver gas without a contract." Negotiations between Russia and Ukraine are being held up by a large debt, he said. He was speaking two days after Russian President Dmitry Medvedev demanded Ukraine repay $2.4bn of debt to Gazprom. An earlier dispute between Russia and Ukraine over gas prices led to a brief interruption of gas supplies in several European countries in January 2006. Most of the EU's gas imports from Russia are pumped through Ukraine...
---
Editorial note: "It's all about oil." The supply of oil has been, and will continue to be, influencing the political and economic well-being around the world. Russia, as a supplier of oil and gas, had become ever more important to the oil supply, but it had shown itself untrustworthy to Europeans to the extent that Europe sought the construction of a pipeline from Azerbaijan through Georgia to Turkey's Cayene river coast. This route was specifically chosen so to avoid going through Russia. Another pipeline from Turkmenistan across the Caspian Sea, through Georgia and Turkey to Eastern Europe, is in work, also intended to avoid Russian interference. However, just before the Russian invasion of the break-away territories of Georgia, Russia had signed an agreement with Turkmenistan to route their pipeline through Russia. (See Maravot News 8.18.08 article [with editorial note] 8.15.08 US missile shield in Europe targets Russia - Medvedev)

The OPEC countries, of course, influence our well-being — as long as we are dependent upon oil. Their well-being is influenced by the West's prosperity and the rising prosperity of China and India. However, OPEC hasn't figured out that their insatiable greed — in jacking up the price of oil from $60 per barrel to $140 in a period of six months this year — would have disastrous economic affects, world-wide. There is an irony in this which can be summarized by an old Biblical psalm, "The wicked are caught in the very same snares they set for others." Suddenly the Saudis are concerned about the survival of Citibank, in whom they have invested (a complement to their building boom which needed financing). Unlike the Somali pirates who have extorted hundreds of millions of dollars from shipping but keep the money in cash, the OPEC nations and Russia needed their oil money to fund the building of new sky scrappers.


Besides pirates threatening the supply of oil, Iran has threatened to stop 40% of the world's supply of oil through the Strait of Hormuz. To make that threat more real they took possession of an island that belongs to Yemen, to install a military base on the Yemeni side of the strait, and since have established another military base on the Iranian side of the strait. On the American side of the world Venezuela has courted Russia with the aim or reestablishing a Russian military presence on American shores. This, of course, has been a challenge to the Monroe Doctrine previously defended by President Kennedy concerning the Russian missile installations in Cuba.

When we fast-forward from April 1961 to the present oil supply threats, we find that history seems to be repeating itself: We've entered a new "Cold War." It's like a chess game, with Ukraine, Poland and Georgia as pawns. President Bush brought the old Cold War back into play when he sought to install a missile system "to repel an Iranian missile attack" in Poland and the Ukraine. In exploring the place for the defense system Russia and the US had discussions about jointly using an existing Russian radar installation in Georgia. When Bush chose to establish the missile defense system in Poland, then Czechoslovakia and Ukraine — together with making them NATO members — the merde hit the fan, as it were. We have to measure this move with the first move President Bush made when taking office, of refusing to renew the ABM Treaty with Russia (See cnn.com, December 14, 2001, "US quits ABM treaty" and, for the relationship in stopping Iran's missiles, bbc.co.uk, December 12, 2000, "US and Russia renew military exchanges."). This is a simple assessment, perhaps, of the Texas oilman's, President Bush's, contribution to history and our present plight.

Mel Copeland
---
11.22.08 US asks Iran to provide information about missing American
WASHINGTON, November 22 - The United States on Friday reiterated its call for Iran to provide information about the whereabouts of an American named Robert Levinson who went missing in Iran about more than one year ago. The United States "remains committed to determining Mr. Levinson's whereabouts and returning him safely to his family," State Department spokesman Sean McCormack told a news briefing. "We once again ask Tehran to share any and all information uncovered about the Levinson case. ... The Iranian government, we believe, still has it within its power to help with more information concerning Mr. Levinson," he said. Levinson, 59, retired from the Federal Bureau of Investigation (FBI) in 1998. He went missing during a March 8-9 business trip to Kish Island, Iran, according to the US State Department.  Despite US continued effort to seek whereabouts of Levison, Iran has told the United States that it does not have any record of the ex-FBI agent. [>xinhaunet.com; See related story,

jpost.com, November 22, "Iran hangs man who 'spied for Israel' " : Iran executed a man convicted of spying for Israel, a judiciary spokesman said Saturday. Ali Reza Jamshidi told The Associated Press that Ali Ashtari was hanged on November 17 after being sentenced to death on June 30 by a revolutionary court in Teheran. It was the country's first known conviction for espionage linked to Israel in almost a decade. Jamshidi said Ashtari was found guilty of relaying sensitive information on military, defense and research centers to Israeli intelligence officers. The 45-year-old electronics salesman supplied military, security and defense centers across Iran.

Iranian officials have said the material that Ashtari allegedly passed to Israeli intelligence officials included information on Iran's Atomic Energy Organization. A top Iranian intelligence official said that the announcement of Ashtari's hanging was part of an "intelligence battle" with the secret agencies of Iran's enemies, the official IRNA news agency reported...
---
11.22.08 Missile kills plane bomb mastermind Rashid Raug in Pakistan
(AFP) November 22 - The alleged al-Qaeda mastermind of a 2006 transatlantic plane bombing plot had been on the run for more than a year before a US missile attack in north-west Pakistan ended his life yesterday. Pakistani security officials said Rashid Rauf, 26, was among at least five killed when a missile hit a tribesman's house in the village of Alikhel, part of a border district stronghold for al-Qaeda and Taliban militants.

When Rauf, a British-Pakistani citizen, was arrested by Pakistan authorities in August 2006, it sparked a worldwide security alert and 24 people were detained in Britain. The plot to smuggle explosive liquids onto aircraft in soft drinks bottles led to a mass cancellation of flights from London's Heathrow Airport. It also forced an overhaul of airport security and global restrictions on liquids travellers can take on board flights. Rauf is thought to have been radicalized by an extremist Islamic sect after he fled Britain in 2002. While in Pakistan he married into the family of Masood Azhar, the chief of the radical al-Qaeda-linked group, Jaish-e-Mohammad.

When arrested, Rauf told investigators he had met senior al-Qaeda commanders during frequent trips to tribal districts and across the border in Afghanistan...Rauf had been in custody in Pakistan in connection with separate charges under the Security of Pakistan Act - all charges relating to terrorism had been dropped - when he escaped last December from Pakistani police custody. [Full story>>news.com.au; See also

timesonline.co.uk, November 22, "Missile strike kills suspected UK mastermind of airline bomb plot" : ...Intelligence officers in northwest Pakistan, speaking on condition of anonymity, said Rauf had been killed, though there was no official confirmation. They named another of the dead as Egyptian Abu Zubair al-Masri. Arab casualties in the region are usually taken as a sign of an al-Qaeda presence. The missile strike said to have killed him targeted a house near the North Waziristan town of Mir Ali, and came just two days after Pakistan lodged a protest with the US ambassador over missile attacks on its territory. Villages around Mir Ali have been targeted before and have been a hive of Taliban and al-Qaeda activity in the past...
---
11.22.08 Three blasts in intervals at PIL building in Lahore
LAHORE, Pakistan, November 22 - At least 3 persons, including a child, were injured when a series of 3 blasts occurred with intervals at the building of Punjab Institute of Language (PIL) near Gaddafi Stadium Saturday night. A cameraman is also included in the injured. According to reports, all three blasts were of low intensity while the police say the blasts could have been triggered by [a] time device. The first two blasts happened inside the building which shattered the window panes of the cafeteria there while the third blast occurred at the gate of PIL building later. [More>>thenews.com.pk]
---
11.22.08 US Muslim leaders denounce al-Qaeda's slur toward Obama
NEW YORK, November 22 - Spiritual leaders of New York's African-American Muslim communities lashed out Friday at a purported al-Qaeda message attacking President-elect Barack Obama and, using racist language, comparing him unfavorably to the late Malcolm X. The imams called the recorded comments from al-Qaeda second-in-command Ayman al-Zawahiri, "an insult" from people who have "historically been disconnected from the African-American community generally and Muslim African-Americans in particular."
"We find it insulting when anyone speaks for our community instead of giving us the dignity and the honor of speaking for ourselves," they said in a statement read during a news conference at the Malcolm X and Dr. Betty Shabazz Memorial, Educational and Cultural Center. The al-Qaeda statement, an 11-minute, 23-second audio message in Arabic with subtitles in English, appeared on the Internet on Wednesday. Its authenticity has not been confirmed. The message said Obama represents the "direct opposite of honorable black Americans" like Malcolm X. [More>>cnn.com]
---
11.22.08 Saudi Arabia offers asylum to Omar - German weekly
BERLIN (Reuters) November 22 - King Abdullah of Saudi Arabia has offered political asylum to Taliban leader Mullah Mohammad Omar, German weekly Der Spiegel reported on Saturday. The offer had been pushed by US President George W. Bush and Afghanistan's President Hamid Karzai, the magazine said in an advance report from its Monday edition, quoting government sources in Kabul. It did not give further details. A Saudi foreign ministry official was not available for comment. Saudi Arabia hosted a meeting between pro-government Afghan officials and former Taliban officials in September for discussions on how to end the worsening conflict in Afghanistan. An Afghan government official said on Wednesday Afghan government representatives and former members of the Taliban were expected to meet in Saudi Arabia soon for a second round of talks. [More>>thestar.com.my]
---
11.22.08 Fatwa Council says yoga with worshipping, chanting is prohibited (updated)
PUTRAJAYA, Malaysia, November 22 - The National Fatwa council has declared that the yoga practice which involves three elements of physical movements, worshipping and chanting as haram (prohibited) in Islam. Its chairman Datuk Dr. Abdul Shukor Husin said although merely doing the physical movements of yoga minus the worshipping and chanting might not be wrong in the eyes of the religion, it should be avoided as "doing one would lead to another."

He said yoga has been practised by the Hindu community for thousands of years and incorporates physical and religious elements and chants and worshipping, with the aim at "being one with God." Because of this, we believe that it is inappropriate for Muslims to do yoga and the council has declared that practising yoga when it comes all together with the three elements as haram. We discourage Muslims to do yoga as a form of exercise because it will ultimately lead to religious worshipping and chanting which is against Islam." [More>>thestar.com.my]
---
11.21.08 Footsie ends week on five-year low
November 21 - The slide in European markets continued today as the FTSE 100 Index registered its lowest close for more than five years. Another turbulent week - in which the London market sustained losses in four out of the five sessions — ended with the Footsie 94 points lower at 3781. Renewed fears about the US economy and the future of banking giant Citigroup in particular caused the latest dive in share prices.

David Jones, chief market strategist at IG Index, said he feared the sell-off would continue into next week. He said: "Many investors are now feeling it is a question of when, and not if, the index returns back to the last bear market lows of around 3300 in March 2003." The London market spent much of today's session in positive territory, helped by a rare session of gains for banking and mining stocks. But Wall Street's opening unnerved investors and prompted a swing of more than 200 points in the performance of the FTSE 100 Index. [More>>independent.co.uk]
---
11.21.08 Falling prices raise a new fear: Deflation
November 21 - With the stock market crumbling and the economy shrinking, a whiff of deflation is in the air. Oil prices yesterday slid below $50 a barrel to the lowest level since May 2005; stores are advertising sales on the eve of what should be peak holiday shopping season; and worldwide demand for items as varied as steel, petrochemicals and clothing plunged in October. This week's news of a drop in consumer prices may sound on the surface like a good deal for financially strapped US households. But economists warn that sustained deflation — a period of falling overall prices — would deepen the nation's economic troubles. Such a period would make it harder for people to repay debts and would prompt consumers to delay purchases in anticipation of lower prices and harder times...Apparel makers have been hit hard. The recent consumer price index report showed that apparel prices fell 1 percent last month, the latest in a long history of problems for the industry. McMillion said apparel prices have been under severe pressure for 15 years as lower-cost imports have entered the market. [Full story>>washingtonpost.com; See related story,

indianexpress.com, November 21, "5 lakh textile workers may lose jobs: Government" : NEW DELHI - Five lakh (500,000) workers in the textile industry, which is reeling under the impact of a severe slowdown in the export market, may lose jobs in the next five months, Commerce Secretary G K Pillai said. "According to estimates of the Textile Ministry, there will be job losses of about five lakhs in the next five months," Pillai said on the sidelines of a FICCI function. He said the Government is working on a package for the distressed export sector. The package, which may include cut in interest rates and increased credit for exporting firms, would go to the committee chaired by Prime Minister Manmohan Singh next week. Pillai warned that growth rate of exports may come down to 10 per cent for the current fiscal "if the fall continues." [end]
---
11.21.08 Russia has some two billion tons of toxic waste on its territory
MOSCOW (RIA Novosti) November 21 - Russia currently has around two billion tons of toxic waste on its territory, and there is no effective way to dispose of it, the Russian consumer rights regulator said Friday. "Electroplating industry waste products, as well as waste containing mercury and chlorinated organics represent a particular danger," Rospotrebnadzor said, citing the federal program devoted to Russia's national system of chemical and biological security for 2009-2013. The Volga Federal District has the maximum number of waste products, about 400 tons per 1 square km. The Southern and Central Federal districts' pollution levels are 267 tons and 211 tons per square km accordingly. [More>>en.rian.ru]
---
11.21.08 Blast kills at least ten at Shia funeral in Pakistan
DERA ISMAIL KHAN, Pakistan (Reuters) November 21 - A bomb attack killed at least 10 people and wounded 40 at the funeral for a Shia Muslim on Friday in the northwest Pakistani town of Dera Ismail Khan. The attack sparked an outbreak of shooting around the hospital where the dead and wounded were brought, and police fired tear gas in an attempt to restore order, according to journalists at the scene. NWFP Information Minister Mian Iftikhar Hussain told Reuters 10 people were killed and up to 30 wounded, though a doctor at the main government hospital put the number of wounded at 40. The funeral was for a man killed on Thursday, but a Shi'ite cleric was also killed on Friday morning before the funeral. "One of our men was martyred yesterday and one today. We were taking the coffin to the graveyard, reciting mourning hymns, when suddenly this blast happened," Tauqir Zaidi, one of the mourners, told Reuters by telephone from the hospital. [More>>khaleejtimes.com; See related story:

thenews.com.pk, November 21, "Security forces kill 22 militants in Bajaur" : PESHAWAR: Security forces' action with jets killed 22 militants besides destroying their 8 important positions and a depot of weapons in Bajaur Agency. According to sources, the fighter jets bombarded militants' hideouts in different areas of Tehsil Mamond in Bajuar Agency including Dama Dola, Tani Khor, Sapray, Kharkay and Gatki and also in Tehsil Nawagai's areas of Charmang, Kotkai, Zorband and Galokas Shankot. Twenty-two militants were killed while the death toll is expected to rise further. Security forces have claimed destroying different militants' positions in a latest offensive. The government's writ has been established in most of the areas of Bajaur Agency as a result of the military operation that has been continuing for the last three months. The law and order situation has also improved in these areas. [end]
---
11.21.08 Afghanistan bomb 'kills civilians'
November 21 - Three civilians have been killed in a suicide car bomb attack outside an army base in southern Afghanistan, officials have said. Four Afghan soldiers were also injured in the explosion, which occurred in the Shahjoy district of Zabul province on Friday, Gulab Shah Alikhil, the provincial vice-governor, said. "The driver of a vehicle blew himself up in front of the [Afghan army] base, killing three civilians who were employees queueing to enter. Four soldiers were also wounded in the explosion," he said. There have been no claims of responsibility for the attack, but the explosion comes after a series of bombings by fighters linked to the Taliban, which is leading the ongoing insurgency against the Afghan government. [More>>aljazeera.net]
---
11.21.08 Thousands of Iraqis decry 'humiliating' US pact
BAGHDAD, November 21 - Protestors say agreement legalizes occupation. Thousands of followers of Shiite cleric Moqtada al-Sadr marched on Friday against a pact letting US forces stay in Iraq until 2011, toppling an effigy of President George W. Bush where US troops once tore down a statue of Saddam Hussein. Demonstrators chanted and waved Iraqi flags in Baghdad's Firdos square, where US forces pulled down a statue of the ousted Iraqi dictator when they took the city in 2003. A sign pinned to the Bush effigy — which was later pelted with plastic bottles and torched along with US and British flags — reflected the mood of the protestors: "The security agreement is shameful and humiliating." [More>>alarabiya.net]
---
11.21.08 Islamists on trail of Somali pirates
MOGADISHU (Reuters) November 21 - Dozens of Somali Islamist insurgents stormed a port on Friday hunting the pirates behind the seizure of a Saudi supertanker that was the world's biggest hijack, a local elder said. Separately, police in the capital Mogadishu said they had ambushed and shot dead 17 Islamist militants, in the latest illustration of the chaos in the Horn of Africa country that has fuelled a dramatic surge in piracy. The Sirius Star — a Saudi vessel with a $100 million oil cargo and 25-man crew from the Philippines, Saudi Arabia, Croatia, Poland and Britain — is believed anchored offshore near Haradheere, about half-way up Somalia's long coastline. "Saudi Arabia is a Muslim country and hijacking its ship is a bigger crime than other ships," Sheikh Abdirahim Isse Adow, an Islamist spokesman, told Reuters. "Haradheere is under our control and we shall do something about that ship."

Both the US Navy and Dubai-based ship operator Vela International said they could not confirm a media report the hijackers were demanding a $25 million ransom. That would be the biggest demand to date by pirates who prey on boats in the Gulf of Aden and Indian Ocean off Somalia. A pirate identifying himself as Jamii Adam told the Saudi-owned Asharq al-Awsat newspaper that negotiations were taking place with the ship's owners, saying the ransom demanded was not excessive but declining to give a figure. He said it had cost the pirates $500,000 to seize the vessel. "We bore many costs to hijack it," he said.

Iran's biggest shipping firm said gunmen holding a Hong Kong-flagged ship carrying wheat and 25 crew members had set demands for its release, but it did not reveal what they were. An upsurge of attacks this year has forced up shipping insurance costs, made some firms go round South Africa instead of via the Suez Canal, brought millions in ransom payments, and prompted an international naval response.

In Mogadishu, police said they laid in wait and shot dead 17 fighters from the militant al Shabaab insurgent group during an attempted attack on a senior official...Somalis are traditionally moderate Muslims, and analysts say al Shabaab — which Washington has listed as a foreign terrorist organization with close links to al-Qaeda — does not have deep popular support, despite having the upper hand militarily...[Full story>>thestar.com.my; See related stories:

xinhuanet.com, November 21, "US imposes sanctions against Somalian terrorist leaders": WASHINGTON - The United States imposed on Thursday financial sanctions against three alleged leaders of an extremist Islamic militia in Somalia. The three targeted by the US Treasury Department are Mukhtar Robow, spokesman for al-Shabaab and a military commander with the group; Ahmed Abdi Aw-Mohamed, alleged founder and leader of al-Shabaab; and Issa Osman Issa who served as a commander in al-Shabaab. Washington accuses al-Shabaab of having links to the al-Qaeda terrorist group and using intimidation and violence to undermine the Somali government and threaten activists working for peace. Under US law, any banks accounts or other financial assets belonging to the alleged leaders found in the United States must be frozen. Americans also are forbidden from doing business with them...

news.com.au (AFP) November 21, "Sonic blast could foil pirates" :Gone are the swashbuckling days of repelling pirates with cutlasses — a British firm is spearheading use of a high-tech "sonic laser" to beat bandits on the high seas. The piracy problems of shipping firms running through the Gulf of Aden and down Africa's east coast have been thrown into the spotlight this week by the seizure of the Saudi Arabian super-tanker Sirius Star. But help could be at hand in the form of a long range acoustic device (LRAD) — hooked up to a humble MP3 player.

About the size of a domestic satellite dish, LRADs blast the target with a precise beam of sound — warning messages, noises, sirens — which can be turned up to excruciatingly painful levels should an attacker get too close. British private firm Anti-Piracy Maritime Security Solutions (APMSS) hires out three-man teams of ex-military personnel bearing LRADs on ships and has been inundated with work as the piracy problem off Somalia worsens. "You'll be in absolute agony," said APMSS chief executive Nick Davis, a 38-year-old ex-army man...An APMSS crew thwarted a pirate attack on a chemical tanker in the Gulf of Aden last Thursday, just 24km off the Yemeni coast...

khaleejtimes.com, November 21, "Somali pirates make $150M in a year" : NAIROBI, Kenya - Somali pirates have collected more than $150 million in ransoms over the past year, Kenya's foreign affairs minister said Friday, calling on ship owners not to pay when their vessels are hijacked...

straitstimes.com, November 21, "Pirates leave no bank trail" : LONDON - TENS of millions of dollars extorted from ship owners by Somali pirates are immune from interception and seizure because they are pouring into the economy of a nation with no effective government or policing. International crime gangs normally have to 'launder' their proceeds through the financial system to make them appear like legitimate funds, thereby creating a money trail that can make them vulnerable to detection. But financial experts say this is not the case in Somalia, an archetypal 'failed state' which has no strong central authority, no formal banking system, and has known nothing but civil war for nearly two decades.

Pirates who seized the Saudi supertanker Sirius Star and its US$100 million (S$153 million) oil cargo last weekend in the biggest ship hijack in history have already made tens of millions, in cash, from scores of previous attacks this year. "They live like monarchs, like kings. They do everything in public, without the need to hide or disguise the source of money," said Hany Aby-El-Fotouh, an Egyptian banker and anti-money laundering specialist. "The money is there, bulk cash. The local government doesn't mind, or doesn't have the authority to object, to control...All dirty deals are paid in cash," he said, referring to the pirates' purchases of arms, communications gear, speedboats and other equipment...
---
*Visitor statistics on maravot.com from 1&1. com. 46,153 page views in May 2007; monthly visitors in 2008 range between 40,000-45,0000..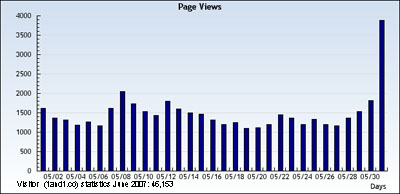 Privacy Policy: We do not store any personal data from you. We have no way of knowing any vital information about you — not even your name. Third-party distribution: We do not distribute information about your site usage to any third party. We are not responsible for the content of links from our site. Usage data: supplied by our Web Hosting service, 1and1.com, which consists of usage reports, such as page views / impressions and web pages visited, visitors' servers and geographical data (ISP's and country of origin).

---
Launched: 10.25.04 / 11.02.04 – | — |
Updated: 11.21.08; 11.22.08; 11.23.08; 11.24.08; 11.25.08; 11.26.08
Copyright © 1981-2008 Maravot. All rights reserved
Copyright © 1981-2008 Mel Copeland. All rights reserved
Background: tile from Cicero's villa (Marcus Tullius Cicero 106 B.C. - 43 B.C.)