News Headlines & Trends
---
7.28.08
Missiles hit school near Afghan-Pakistan border
ISLAMABAD, Pakistan (AP) July 28 - Missiles hit a religious school Monday in a village just inside Pakistan's border with Afghanistan, killing six people, officials and state media said. There was no immediate claim of responsibility, but the incident follows a series of strikes apparently by US aircraft in recent months against militant leaders holed up in Pakistan's tribal belt. The blasts occurred hours before President Bush was to receive Pakistan's prime minister at the White House amid mounting pressure on Islamabad to act against Taliban and al-Qaeda strongholds in its territory.
According to state-run Pakistan Television, the missiles came down in Azam Warsak, a village in the South Waziristan region. It said six people were killed and several others injured. PTV didn't identify the source of its information or provide any other details. Two Pakistani intelligence officials told The Associated Press that the missiles hit an Islamic school in the village. One of the officials, who is based in Tank, a town near South Waziristan, said initial reports indicated that the six dead included three children and three adults. He said militants, including foreigners, were active in the area, but he didn't know if they had been in the school at the time. [More>>indianexpress.com: hosted.ap.org]
---
7.28.08 Iraq suicide blasts cause carnage
July 28 - Suicide bombers have killed at least 53 people and wounded about 240 in attacks on crowds in the Iraqi capital Baghdad and the northern city of Kirkuk. Three blasts in Baghdad killed at least 28 Shia Muslim pilgrims heading for the city's Kadhimiya shrine. The attacks, which wounded about 90 people, were carried out by women suicide bombers, police said. In Kirkuk, a suicide bomber targeted a crowd of Kurdish protesters, killing at least 25 and injuring at least 150. Kirkuk is disputed between Kurds, Arabs and Turkomans. Demonstrators were protesting at a proposed law on local elections which has raised tensions there. [More>>bbc.co.uk]
---
7.28.08 China urges US to stop supporting Dalai Lama in any form
BEIJING (Xinhua) July 28 - Relevant people in the United States should stop supporting and conniving with the Dalai Lama and separatist forces for "Tibet independence," the Foreign Ministry said here on Monday. Ministry spokesman Liu Jianchao made the remarks when commenting on a report that Republican presidential candidate John McCain had met last Friday with the Dalai Lama, who was visiting the United States. "China is seriously concerned about the report," Liu said, noting the Tibet issue is China's domestic affair. China opposed the Dalai Lama conducting separatist activities in any country with any individual and opposed anyone making use of the Dalai Lama issue to interfere in China's domestic affairs. The stance is persistent and clear, Liu said. [More>>xinhuanet.com]
---
7.28.08 Pakistan prepares anti-India attacks: Afghan spy agency
KABUL, Afghanistan (Reuters) July 28 - (Maravot News believes that the facts in this story should be verified) The Afghan intelligence agency accused Pakistani agents on Monday of training thousands of militants to attack Indian road projects in Afghanistan. Afghan officials have accused Pakistan's Inter Services Intelligence (ISI) agency of a string of attacks in recent months straining relations between the neighbors, both allies of the United States. "Pakistan's ISI are determined to hamper the activities of Indian companies in various parts of Afghanistan," the National Directorate of Security (NDS) said in a statement,
"The spy agency have some 3,000 terrorists, most of them foreigners, under sabotage training to attack Indian construction projects inside Afghanistan," it said. Afghan officials have accused the ISI of being behind a suicide bomb attack on the Indian Embassy that killed 58 people in Kabul this month and an assassination attempt on President Hamid Karzai in April. Pakistan strongly denies the charges and says the Afghan government is trying to deflect attention from its failure to stem rising violence and end the Taliban insurgency. An Indian company has won the contract to pave a major road in eastern Afghanistan, close to the Pakistani border, the NDS said. A number of Indian road workers have been killed in Afghanistan where India has pledged some $750 million in reconstruction projects. [>khaleejtimes.com]
---
7.28.08 US says contractor made little progress on Iraq projects
July 28 - The US government paid a California contractor $142 million to build prisons, fire stations and police facilities in Iraq that it never built or finished, according to audits by a watchdog office. The Special Inspector General for Iraq Reconstruction (SIGIR) said Parsons of Pasadena, Calif., received the money, part of a total of $333 million but only completed about one-third of the projects, which also included courthouses and border control stations. The inspector general's office is expected to release two detailed audits today, evaluating Parsons's work on the contract, which is worth up to $900 million.
"Far less was accomplished under this contract than originally planned," the inspector general wrote. "Millions of dollars in waste are likely associated with incomplete, terminated and abandoned projects under this contract." Auditors did not give a dollar figure of how much had potentially been wasted, but they said Parsons got about 10 percent — or $11.3 million — of the $108 million of award fees it could have received. Parsons said in a written statement yesterday that it had "some serious reservations about the conclusions" in the audits, saying the company was hindered by the violent and unstable security situation in Iraq. One of Parsons's subcontractors was shot and killed at close range while in his office, the company said. [More>>washingtonpost.com]
---
7.28.08 Justice officials repeatedly broke law on hiring, report says
July 28 - Former Justice Department counselor Monica M. Goodling and former chief of staff D. Kyle Sampson routinely broke the law by conducting political litmus tests on candidates for jobs as immigration judges and line prosecutors, according to an inspector general's report released today.
Goodling passed over hundreds of qualified applicants and squashed the promotions of others after deeming candidates insufficiently loyal to the Republican party, said investigators, who interviewed 85 people and received information from 300 other job seekers at Justice. Sampson developed a system to screen immigration judge candidates based on improper political considerations and routinely took recommendations from the White House Office of Political Affairs and Presidential Personnel, the report said.
Goodling regularly asked candidates for career jobs, "What is it about George W. Bush that makes you want to serve him?" the report said. One former Justice Department official told investigators she had complained that Goodling was asking interviewees for their views on abortion, according to the report. Taking political or personal factors into account in employment decisions for career positions violates civil service laws and can run afoul of ethics rules. Investigators said today that both Goodling and Sampson had engaged in "misconduct." [More>>washingtonpost.com]
---
7.28.08 White House projects record deficit for 2009
WASHINGTON, July 28 - The White House on Monday predicted a record deficit of $490 billion for the 2009 budget year, a senior government official told CNN. The deficit would amount to roughly 3.5 percent of the nation's $14 trillion economy. The official pointed to a faltering economy and the bipartisan $170 billion stimulus package that passed earlier this year for the record deficit. The fiscal year begins October 1, 2008.
The federal deficit is the difference between what the government spends and what it takes in from taxes and other revenue sources. The government must borrow money to make up the difference. The official spoke on the condition of anonymity because the official is not authorized to speak publicly ahead of an official briefing later Monday by Office of Management and Budget Director Jim Nussle. President Bush inherited a budget surplus of $128 billion when he took office in 2001 but has since posted a budget deficit every year. The Bush administration has spent heavily on the wars in Iraq and Afghanistan, and faces a large budget shortfall in tax revenue because of Bush's tax cuts and a souring economy. [More>>cnn.com]

---
Editorial note: Most people have no idea that the cumulative deficits add up to a thing called the National Debt. The National Debt, which is financed through the sales of government bonds, is now ~$9.5 Trillion. Like any other debt interest fees are assessed and paid out and those who collect the interest include China and other major nations, such as the G-8. Interest paid in 2008 against the National Debt of $9.5 Trillion is about $377.3 Billion. Every year since Reagan initiated the fiscally irresponsible process of running a government without paying for it, presidents — except Clinton — have borrowed (sold bonds) to pay off the interest. The redemption value of a bond (i.e., US Savings Bond), of course, includes interest. As a rough rule of thumb, we can see that the deficits each year (particularly those of the administration of George H. W. Bush) were equivalent to the interest paid against the National Debt. Rather than benefiting us, the interest — a tax on our economy — has been benefiting rich money managers and central banks around the world.

Our interest-bearing National Debt affects us in many ways, beyond the burdensome interest paid to foreign governments each year. In order to sell more bonds to pay off each year's deficit the government has to raise the rates on borrowing sufficient to assure that all of the bonds are sold. When the Fed raise rates to sell bonds the higher rates affect your mortgage, car loan and credit card rates. Federal borrowing to finance irresponsible governments thus has a direct affect upon your personal finances (particularly sensitive to those, I am sure, who have lost their homes), the financial stability of the nation when facing nature's calamities, as from hurricanes, tornadoes, etc., in the declining value of the dollar and its affects on the cost of oil and other imported items. Unfortunately oil prices have been doubling and one of the arguments for the surge is from speculators compensating for the declining dollar which is used as the medium of exchange in the sales of oil. If you lost your home owing to higher mortgage rates (now aggravated by added affects of the mortgage crisis), if you have trouble paying your gasoline or home electrical and heating bills each week, a large part of the problem that has been troubling you can be traced to Reagan's practice ("Deficit Spending") of borrowing to fund irresponsible government, continued by Bush I and II.

For those of you who are concerned because Bush could not fund $11 Billion for children's health, because the government could not afford the care, keep in mind that the interest paid to the rich and central governments of $377 Billion is a little over $1 Billion per day. Funding children's health would have equated to 11 days of interest on the National Debt!

Politicians love to manipulate knowledge through a few catch words. The catch words most of you know that apply to the US debt (usually erroneously referred to as the deficit) is "that we are passing our debt on to our children." It is a pernicious attitude, people might agree, of a generation who expects its children to pay for its excesses. The problem is that we are paying for the debt now, and the bigger it gets the greater the pain; if it is painful to you who lost your home, even your job — employers downsize and have trouble getting loans — imagine the pain you have thrust on your children who will suffer exponentially from the greed of this generation's leaders! Those of you who live in nations whose economies are affected by a declining US economy might think about making an inquiry into the affects of the US National Debt. We have had this argument (originally discussed in a correspondence with Wm. F. Buckley Jr. from 1992-1995) posted on this site for the past four years. A chart that traces this trend is in the sidebar.

Mel Copeland
---
7.27.08 Deadly blasts hit Istanbul street
July 28 - At least 15 people have been killed and 154 wounded in two explosions in the Turkish city of Istanbul, in what officials say was a terrorist attack. The first blast occurred in a rubbish bin in the busy Gungoren residential area. The second, larger explosion occurred as crowds gathered. So far there has been no indication of who was responsible for the blasts. President Abdullah Gul said the attack showed "the ruthlessness of terrorism and its goal to engage in savagery." After the explosions, there were scenes of panic, with people covered in blood as they tried to run from the scene. TV footage showed many victims lying on the street and being carried to ambulances in blankets.
Hidden in bins
Initial reports suggested it may have been a gas leak, but Istanbul Governor Muammer Guler later said he was "certain that this is a terror attack" aimed at causing maximum casualties. The blasts occurred about ten minutes apart around 2200 local time (1900 GMT) on a busy pedestrian street. The editor of the New Anatolian newspaper, Ilnur Cevik, told the BBC that about 1,000 people had been in the area at the time. The first explosion was caused by a small device placed in a rubbish bin in front of a bank. Afterwards, a crowd gathered in the area. Then a second bomb placed in another bin about 50m from the first exploded minutes later. "The first explosion was not very strong," Huseyin Senturk, the owner of a nearby shoe shop, told the Associated Press. [More>>bbc.co.uk]
---
7.27.08 A third of Muslim students back killings
July 27 - Almost a third of British Muslim students believe killing in the name of Islam can be justified, according to a poll. The study also found that two in five Muslims at university support the incorporation of Islamic sharia codes into British law. The YouGov poll for the Centre for Social Cohesion (CSC) will raise concerns about the extent of campus radicalism. "Significant numbers appear to hold beliefs which contravene democratic values," said Han-nah Stuart, one of the report's authors. "These results are deeply embarrassing for those who have said there is no extremism in British universities."
The report was criticized by the country's largest Muslim student body, Fosis, but Anthony Glees, professor of security and intelligence studies at Buckingham University, said: "The finding that a large number of students think it is okay to kill in the name of religion is alarming. There is a wide cultural divide between Muslim and nonMuslim students. The solution is to stop talking about celebrating diversity and focus on integration and assimilation."
The researchers found that 55% of nonMuslim students thought Islam was incompatible with democracy. Nearly one in 10 had "little respect" for Muslims. In addition to its poll of 1,400 Muslim and nonMuslim students, the centre visited more than 20 universities to interview students and listen to guest speakers. It found that extremist preachers regularly gave speeches that were inflammatory, homophobic or bordering on anti-Semitic.
The researchers highlighted Queen Mary college, part of London University, as a campus where radical views were widely held. Last December, a speaker named Abu Mujahid encouraged Muslim students to condemn gays because "Allah hates" homosexuality. In November, Azzam Tamimi, a British-based supporter of Hamas, described Israel as the most "inhumane project in the modern history of humanity."

...In the report, 40% of Muslim students said it was unacceptable for Muslim men and women to associate freely. Homophobia was rife, with 25% saying they had little or no respect for gays. The figure was higher (32%) for male Muslim students. Among nonMuslims, the figure was only 4%.The research found that a third of Muslim students supported the creation of a world-wide caliphate or Islamic state. [Full story>>timesonline.co.; See socialcohesion.co.uk for full Center for Social Cohesion report]
---
7.27.08 Al-Qaeda claims Yemen attack on police
DUBAI, July 27 - The Yemeni branch of al-Qaeda said one of its fighters carried out a suicide bombing in which a policeman was killed in eastern Yemen, a group which monitors Islamist websites reported on Sunday. The SITE Intelligence Group said Jund al-Yemen has posted a photograph of the bomber, named as Ahmad bin Saeed bin Umar al-Mashraji, also known as Abu Dujana al-Hadrawi. The car bombing in the town of Sayun that also wounded 17 people, including 11 policemen, was to avenge the killings of several jihadists "with whose blood the hands of (government) soldiers have become stained," Jund al-Yemen said. In the photograph, also carried by SITE received in Dubai, Mashraji is seen armed with a comrade in front of a black flag which reads "There is no God but Allah." [More>>alarabiya.net]
---
7.27.08 Surat on high alert after two cars with explosives found
SURAT/AHMEDABAD, India, July 27 - After Bangalore and Ahmedabad, the diamond city of Surat came under the terrorists scanner with two cars stuffed with explosives being found and a live bomb defused and a SIMI activist was arrested in connection with the serial blasts in Ahmedabad where the death toll mounted to 49. A live bomb was defused near a hospital and two cars stuffed with explosives were found in and on the outskirts of the city, sparking a high security alert.
Police have seized a car laden with explosives from Punagam area on the outskirts of Surat city, police inspector M R. Chavda said. The car, bearing the number plate GJ-6-CD 3569, was found laden with explosives in Punagam area and police have recovered powder materials, gelatin sticks and shrapnels from the car, Chavda said. [More>>indianexpress.com]
---
7.27.08 Russia wields RICO law against US bank
MOSCOW (AP) July 27 - Racketeering Law Applied In Moscow Court In $22.5B Lawsuit Against Bank Of New York Mellon. Russian authorities are hoping to make legal history by applying an American racketeering law in a Moscow court as they seek to recover billions of dollars in damages from the Bank of New York Mellon. Hearings resume Monday in the Russian Federal Customs Service's $22.5 billion lawsuit against the bank, which was at the center of a major money-laundering scandal in the late 1990s. The lawsuit couldn't come at a more sensitive time, as US banks are facing substantial writedowns following the subprime mortgage crisis. In a highly unusual move, Russia has brought the case under a famous US law used to fight organized crime, and both sides have drawn on the expert opinion of some of America's best-known legal minds in preparing their case.

...In one of the world's best-known banking scandals, Lucy Edwards, a Russian emigre and a vice president at Bank of New York, and her husband Peter Berlin, were accused of illegally moving $7.5 billion of Russian money into accounts at the bank, before sending the money to accounts worldwide. The pair pleaded guilty to conspiracy to launder money. They were fined, put under house arrest for six months and given suspended sentences. The Russian authorities are claiming lost tax revenues on those transfers. [Full story>>cbsnews.com]

---
7.27.08 Boy killed, two injured in Swat explosion
PESHAWAR, Pakistan, July 27 - A boy was killed and another two injured when a powerful bomb planted near a general store went off at Charbagh in Swat district on Sunday, police said. The SHO Khwazakhela police station Yousuf Ali told that shop owner was busy in cleaning of his general store when suddenly a remote control bomb exploded. As result, nine year-old Faisal Khan was killed on the spot while Latif son of Dil Muhammad and Gulshin resident of Charbagh sustained critical injuries and were hospitalized. [>thenews.com.pk]
---
7.27.08 NATO forces kill 4 civilians in shooting in Afghanistan
KABUL, Afghanistan (AP) July 27 - NATO forces killed four civilians and wounded three others when they fired at a vehicle that did not stop at a checkpoint in Afghanistan's volatile south, the alliance said. Civilian casualties are a sore point between Afghanistan's government and international forces operating here. President Hamid Karzai has implored NATO and US-led coalition troops to avoid killing civilians because it undermines support for his already weak central government.
The latest incident occurred Saturday in the Sangin district of Helmand province in the south, the hub of the resurgent Taleban militant movement. A NATO statement said the vehicle was directed to stop but drove on. "NATO forces fired warning shots away from the vehicle but were forced to fire at it when it refused to stop, fearing an insurgent attack," it said. [More>>khaleejtimes.com ; See related story, thenews.com.pk, July 27, "Allied forces claim to kill 100 Taliban in Afghanistan."]
---
7.27.08 Shia pilgrims shot dead in Iraq
July 27 - A group of seven men have been shot dead by unknown attackers as they were walking to a Shia shrine in Baghdad. The attack took place near the town of Madin, just south of the Iraqi capital, on Sunday, police said. Up to one million people are heading to Baghdad for a Shia Muslim festival on Tuesday to commemorate Mussa Kadhim, a revered imam who died 12 centuries ago. Security is especially tight at the Kadhimiyah mosque, where the imam is said to be buried, and has been the site of previous attacks. [More>>aljazeera.net]
---
7.27.08 'Large amount of weapons and explosives flowing into Gaza'
July 27 - Hamas has smuggled four tons of explosives, 50 anti-aircraft missiles, dozens of Kalashnikov rifles and materials used to produce rockets into the Gaza Strip since the inception of the cease-fire, Shin Bet (Israel Security Agency) chief Yuval Diskin said Sunday at the weekly cabinet meeting. According to Diskin, Hamas has also taken control of all smuggling tunnels along the border with Egypt, and cement being brought into Gaza was intended for construction of bunkers.
The Shin Bet head added that the recent prisoner exchange with Hizbullah had encouraged various Palestinian groups to attempt carrying out abductions. Prime Minister Ehud Olmert said on the truce that "I fear that a reality is being created in the south, which, in five years we'll be asking ourselves, How could we let this happen?" [More>>jpost.com]
---
7.26.08 Sixteen bombs hit India's Ahmedabad city; 15 killed, over 100 injured
NEW DELHI, India (DPA) July 26 - At least 15 people were killed and 100 injured as up to 16 synchronised bombings rocked busy areas in India's western city of Ahmedabad on Saturday, officials said. The low-intensity blasts occurred within 45 minutes starting at 6.45pm (1315 GMT) local time in Ahmedabad, which is among the top commercial cities in India, triggering panic amongst the locals.
The explosions took place in the Maninagar, Isanpur, Bapunagar, Hatkeshwar, Sarangpur, Sarkhej, Narol circle and Odhav areas in the key city located in Gujarat state. "According to my information, at least 15 people have died. Over 100 have been injured," Gujarat Urban Development Minister Nitin Patel told reporters. "At this time our priority is to maintain law and order and rescue people," Patel added.
The blasts come a day after eight low-intensity bombs hit the southern city of Bangalore, claiming two lives. The bombs appear to have been planted on bicycles or in tiffin boxes and were triggered by timer devices, state police officials said...Police expressed fears that the bombings could trigger sectarian clashes in Gujarat, which has witnessed large-scale riots between Hindus and Muslims in the past. Over 1,000 people, most of them Muslims, were killed in Hindu-Muslim riots in Gujarat in 2002. [Full story>>khaleejtimes.com; See also indianexpress.com, July 26, "Seventeen blasts rock Ahmedabad, 18 killed, many injured."]
---
7.26.08 US House holds hearing to criticize President Bush
WASHINGTON (Xinhua) July 25 - A US House committee held a hearing on Friday for critics of President George W. Bush's policies. The Democratic-dominated Judiciary Committee insisted that the hearing was not about impeachment of President Bush but a chance to charge him with all his impeachable "high crimes and misdemeanors." The leading speaker, Representative from Ohio and former Democratic presidential candidate Dennis Kucinich, urged the committee to "support and defend the constitution that has been trampled time and again over the last seven years." He has repeatedly introduced a resolution to the floor to impeach Bush and his vice president, Dick Cheney, whose terms would expire in January, 2009.
"The decision before us is whether to demand accountability for one of the gravest injustices imaginable," Kucinich told the hearing. However, the committee chairman, John Conyers, made it clear "to the regret of many, this is not an impeachment hearing," but about executive power and its constitutional limitations, which as he listed include "the politicization of the Department of Justice, the misuse of signing statements, the misuse of authority with regard to detention, interrogation and rendition, possible manipulation of intelligence regarding the Iraq war, improper retaliation against critics of the administration ... and excessive secrecy."

On the other hand, Republicans in the committee expressed their suspicion at motives of the hearing. "It seems that we are hosting an anger management class," said Representative Lamar Smith. "This hearing will not cause us to impeach the president; it will only serve to impeach Congress's credibility." [>xinhuanet.com; See related story, thejakartapost.com, July 26, "New Zealand students offer new bounty for arrest of Condoleezza Rice for war crimes."]
---
7.26.08 Power rising, Taliban besiege Pakistani Shiites
PEShAWAR, Pakistan, July 28 - It was once known as the Parrot's Beak, a strategic jut of Pakistan that the American-backed mujahedeen used to carry out raids on the Russians just over the border into Afghanistan. That was during the cold war. Now the area, around the town of Parachinar, is near the center of the new kind of struggle. The Taliban have inflamed and exploited a long-running sectarian conflict that has left the town under siege.
The Taliban, which have solidified control across Pakistan's tribal zone and are seeking new staging grounds to attack American soldiers in Afghanistan, have sided with fellow Sunni Muslims against an enclave of Shiites settled in Parachinar for centuries. The population of about 55,000 is short of food. The fruit crop is rotting, residents say, and the cost of a 66-pound bag of flour has skyrocketed to $100.
And, in a mini-conflict that yet again demonstrates the growing influence of the Taliban and the Pakistan government's lack of control over this highly sensitive border area, young and old, wounded and able-bodied, have become refugees in their own land. Thousands of displaced Shiites from Parachinar are scattered among relatives in Peshawar, capital of North-West Frontier Province, which abuts the tribal areas, and in hotels and shelters where images of Iranian religious leaders decorate the halls.
Last month, a Pakistani government relief convoy loaded with food and medicines that had been sent to break the siege was attacked by the Taliban at the village of Pir Qayyum. Many of the 22 vehicles were burned and 12 drivers were killed by the Taliban, according to government officials here and Shiites. And little seems to be hindering the Taliban since the army, six months ago, agreed to a peace deal with the leader of the Pakistani Taliban, Baitullah Mehsud, and has remained in its barracks. [More>>nytimes.com]
---
7.26.08 Uighur group claims China bus attacks, threatens Olympics
WASHINGTON (AFP) July 26 - A Uighur separatist group has taken credit for a deadly bus bombing in Shanghai in May and warned of new attacks in China during the Olympics, a group monitoring threats by extremists on the Internet said. In a video statement, Commander Seyfullah of the Turkestan Islamic Party claimed credit for several attacks, including the May 5 Shanghai bus bombing which killed three; another Shanghai attack; an attack on police in Wenzhou on July 17 using an explosive-laden tractor; a bombing of a Guangzhou plastic factory on July 17; and bombings of three buses in Yunnan province on July 21. Three people were killed as a result of the explosion on the crowded bus in Shanghai on May 5, police and witnesses said.

.."Our aim is to target the most critical points related to the Olympics. We will try to attack Chinese central cities severely using the tactics that have never been employed,"..According to global intelligence analysts Stratfor, the Turkestan Islamic Party is another name used by the Islamic Party of East Turkestan (ETIM), an ethnic Uighur and Muslim separatist group seeking to create an independent state out of China's westernmost, heavily Muslim Xinjiang province. [Full story>>turkishpress.com]
---
7.26.08 Regulators close two more national banks
(Bloomberg News) July 26 - First National Bank of Nevada and First Heritage Bank were closed by US regulators yesterday, the first institutions to fail since regulators seized IndyMac Bancorp two weeks ago following a run by depositors. First National Bank of Nevada, with $3.4 billion in assets, and California-based First Heritage Bank, which had $254 million in assets, were undercapitalized, the Office of the Comptroller of the Currency said last night in a statement. Mutual of Omaha Bank acquired their deposits, according to the Federal Deposit Insurance Corp., which was named the receiver.
"All depositors, including those with deposits in excess of the FDIC's insurance limits, will automatically become depositors of Mutual of Omaha Bank for the full amount of their deposits," the FDIC said. The banks, owned by First National Bank Holding Co. of Scottsdale, Ariz., are the sixth and seventh to fail this year as the financial-services industry grapples with failed loans stemming from the worst housing slump since the Depression. Regulators closed IndyMac Bancorp, a California mortgage lender with more than $19 billion in deposits, on July 11, in the third-largest federal seizure of a financial company. [More>>washingtonpost.com]
---
7.26.08 Settlers take over Palestinian Jerusalem home
JERUSALEM, July 26 - "I was married here, I had my five children here and I want to die here," says a defiant Fawzia al-Kurd, determined that Jewish settlers will not drive her family from their home in occupied east Jerusalem. The house, in the Sheikh Jarrah district, has become a symbol of Palestinian resistance against the steady pressure of Jewish settlers seeking to take yet more terrain in east Jerusalem. But sadly for the Al-Kurds, whose single-storey two-room house of golden stone that has been their home for the past 52 years, Israel's High Court has ruled differently. They are to be expelled, and the house, a wing of which has already been taken over by settlers will be lost forever.

...In 1948, the Al-Kurds fled their original home in what is now northern Israel and took refuge in the eastern part of Jerusalem, which was under Jordanian control. Eight years later, they and 27 other families were given houses by UNRWA, the UN agency for Palestinian refugees. But in 1967, Israel captured east Jerusalem during the Six Day War, eventually annexing it in defiance of international law and proclaiming the city its "eternal and undivided capital." After the war a Zionist organization registered under its name the title to three hectares (nearly seven acres) of land in Sheikh Jarrah on which the house sits. The legal battle began some 10 years ago when a settler association called "Nachlat Shimon" (Simon's Estate) bought the disputed title, and 10 Jewish families moved into the neighborhood.[Full story>>alarabiya.net]

---
Editorial note: The legal disposition of Jerusalem must ultimately be reconciled to the UN Resolution of 1947 that created Israel. Three entities were recognized: Israel, Arab Territories (upon delivery to the UN a Declaration of Independence, which has never been submitted) and a UN-governed territory, called "The Corpus Separatum of Jerusalem." The "Corpus Separatum of Jerusalem" (See UN Resolution of 1947, Part III, "City of Jerusalem," A.ff) was shaped like a dove in flight, stretching from Jerusalem to Jaffa,(See map). on the Mediterranean coast. Details on the legal disposition of Jerusalem can be seen in our work, "Philistia triumph thou because of me," 1993 (title taken from the Psalm of David, 60.8). There have been many leaders and experts since President Carter's 1979 Camp David peace talks, who have attempted — with a record of abject failure — to bring peace between Palestine and Israel. Ultimately discussions providing the peace of Jerusalem will have to address the concerns of "Philistia triumph thou.."

Israel has used Biblical precepts that relate to the redemption of Israel (and mankind) in its occupation of lands. If one were to look closely the precepts in Isaiah, etc., address all of the inhabitants in Jerusalem at the time of the redemption as Holy (Isaiah 4.3). The rights of all people are recognized, not just the Jews. "The gentiles (non-Jews) shall bask in their glory," etc. (Isaiah 61.6-8; 42.1- 3). The Jewish Talmud (Oral Torah) has also recognized that the redemption of the Jews involves the redemption of the Gentiles. If Biblical precepts do not apply to the redemption of the Jews to the Holy Land, then the acts of UN Resolution of 1947 and "Declaration of Establishment of the State of Israel" should be made void. This, of course, would not solve anything, but a peace using the Biblical and UN covenants that established the State of Israel should lead to reconciliation.

There are many misunderstandings on the Biblical precepts that lie at the root of Islamic wars. In 1991 Saddam Hussein launched missiles against Israel (See bbc.co.uk article), for instance, as he believed that the Biblical inheritance Israel claims includes all of the lands to the River Euphrates (a good part of Iraq). If such beliefs are behind wars, then we should identify them and deal with their misunderstandings, so that a true path to peace may be pursued.

Mel Copeland
---
7.26.08 Mystery of tumbling puffin population
July 26 - Numbers of puffins at England's largest colony, on the Farne Islands off the Northumberland coast, have mysteriously tumbled by a third in the past five years. Breeding pairs of the small seabirds have decreased on the National Trust-owned islands from 55,674 in 2003 to 36,500 this year. Results of the count, which was carried out by the team of nine National Trust wardens across eight of the islands, came as a shock. All eight islands showed a decrease in population, with four showing a dramatic decrease of up to 50 per cent.
"The results from this survey have completely surprised us, as we were predicting another rise in the numbers of breeding pairs," said the head warden, David Steel. "Stocks of sand eels, the staple food of puffins in the summer, are in good supply around the islands and there is a lack of ground predators, creating a good environment for puffins to breed." He added: "Extensive monitoring work shows that good numbers of young puffins are successfully fledging each year but it would appear they're just not coming back to the islands the following years. Presumably fewer birds are surviving over winter than are needed to maintain current numbers." [More>>independent.co.uk]
---
7.25.08 Nine blasts rock Bangalore, 2 dead, many injured
BANGALORE, India, July 25 - Terror struck the IT capital on Friday with at least nine low intensity serial blasts rocking the southern city leaving two dead and several injured. The crude bombs, concealed near refugee camps and roadside stuffed with nuts and bolts, exploded during the busy lunch hour at Adugodi, Madivala, Nayandahalli, Pantharapalya and Vittal Mallya Road.
"In all the blasts, low intensity time devices were used. They want to cause damage to human lives. Explosives were used in quantity equal to one to two grenades," Bangalore Police Commissioner Shankar Bidri said. While no one has claimed responsibility so far for the blasts, sources in the Union Home Ministry suspected Pakistan-based Lashker-e-Toiba along with the local support of SIMI to be behind the attacks. [More>>indianexpress.com; See also khaleejtimes.com]
---
7.25.08 Karzai 'protecting drug lords'
July 25 - A former senior US anti-drug official has accused Afghanistan's president of playing the US "like a fiddle" and protecting drug lords in his country for political reasons. Thomas Schweich, who until June served as US state department coordinator for counter-narcotics and justice reform for Afghanistan, said Hamid Karzai was impeding the so-called war on drugs. But the US government underscored its continued support for Karzai on Thursday despite the allegations. [More>>aljazeera.net]
---
7.25.08 Scientists find northernmost Arctic black smokers
BEIJING (Xinhuanet) July 25 - Vents of scalding liquid have been found rising out of the seafloor at temperatures more than twice the boiling point of water. The vents are farther north than any others previously identified inside the Arctic circle, report scientists. The hydrothermal vents, also called black smokers, are located on the Mid-Atlantic Ridge between Greenland and Norway. They are more than 120 miles farther north than other known vents. Remotely operated vehicles photographed the scene as part of an expedition led by Rolf Pedersen, a geologist at the University of Bergen in Norway.

Black smokers have been found in many deep-sea locations, including on the Juan de Fuca Ridge off Washington and British Columbia. Despite the lack of sunlight to power life in the abyss, the vents often support unique communities of creatures that live off their warmth and chemicals. Some scientists think the vents would have been great locales for the origin of life on Earth. Dissolved sulfide minerals that solidify when vent water hits the icy cold of the deep sea have, over the years, accumulated around the newfound vent field in what is one of the most massive such deposits ever found on the seafloor, said expedition member Marvin Lilley, a University of Washington oceanographer. The vents are created where the seafloor spreads apart.

The farther north one goes along the ridge, the slower the spreading is. "Given the massive sulfide deposit, the vent field must surely have been active for many thousands of years," he said. "We hadn't expected a lot of active venting on ultra-slow spreading ridges." The area around the vents was alive with microorganisms and animals. Preliminary observations suggest that the ecosystem around these Arctic vents is diverse and appears to be unique, unlike the vent communities observed elsewhere, according to a statement from the University of Bergen. [>xinhuanet.com]
---
7.25.08 Obama on Iran, Syria, Jerusalem and settlements - full interview
July 25 - ...There is a limit to what can be gauged of a politician's views as expressed in a relatively short interview at the height of an election campaign. But Obama, who chose to give the Post one of the only two formal sit-down interviews he conducted during his visit, was clearly conveying a carefully formulated message - and it was striking in several areas.
He sought to sound resolute on thwarting Iran's nuclear drive, while insisting on the need to "exhaust every avenue" before the military option. He was optimistic on the prospects of potential Syrian moderation. He was succinct and blunt on Jerusalem — and distinctly different from the "poor phrasing" of his "Jerusalem will remain the capital of Israel and it must remain undivided" comments during his address to AIPAC's policy conference last month. And most notably, he was explicit and unsympathetic on the matter of West Bank settlement. [Full story>>jpost.com; See related story:

metimes.com, July 25, "Arabs see Obama aligning with Bush-McCain positions." :...Many Arab newspapers on Friday splashed their front pages with pictures of Obama wearing the Jewish kippah at the Wailing Wall in East Jerusalem, with commentaries criticizing him for trying to be "more Israeli than the Israelis." A headline in Lebanon's pan-Arab nationalist As-Safir daily read: "Obama: Admirer of Israeli Wall and the Fall of the Berlin Wall."...
---
7.25.08 Radovan Karadzic is refusing food in prision, says family
July 25 - Radovan Karadzic is refusing prison food and keeping himself to a strict diet of spring water, hazelnuts and raisins while he awaits extradition to the Hague on war crimes charges, his family said today. The former Bosnian Serb leader has adopted an ascetic lifestyle and diet, based on strict Orthodox teachings and on his own New Age practices, said his brother Luka. Svetozar Vujacic, Dr. Karadzic's lawyer, insisted that he was not on hunger strike, but simply keeping to the special dietary regime that he believes will help him live until the age of at least 120. [More>>timesonline.co.uk]
---
7.25.08 Taliban factions may be using British forces to assassinate rival commanders
July 25 - The missile strike took place just after midnight, nine miles north of Musa Qala in Helmand. Abdul Rasaq and three of his senior lieutenants had been picked out in the middle of a field. They were already dead as the NATO warplanes that had carried out the precision attack roared away. Rasaq, also known as Mullah Sheikh, was the third insurgent leader killed in three weeks, while another had surrendered to authorities in Pakistan over the weekend. The past 18 months had also seen the deaths of three other commanders including Mullah Dadullah, who had led insurgent forces in Helmand.
The British and Americans have presented the assassinations as examples of how their policy of "decapitating" the enemy leadership is working. But according to security sources, there is also evidence that factions within the Taliban are using Western forces to eliminate rivals in a new version of the "Great Game" being played out in Afghanistan and Pakistan. The "hits" on the Taliban leadership have almost all been based on initial intelligence supplied from within the insurgency, although details of the movements of some senior insurgents have also been gleaned from intercepted telephone calls. Some of the information has come from the Afghan security service, NDS, and some from Pakistani officials, while the British have held secret talks with elements of the Taliban – despite official denials.
The tempo of targeted attacks on the Taliban leadership has dramatically increased in the past month. Eight days before the killing of Mullah Sheikh, another senior leader, Bishmullah Khan, was shot dead by commandos on the outskirts of Nowzad. Three weeks previously, Mullah Sadiqullah, a prolific bomb-maker, was killed by a Hellfire missile fired from an Apache helicopter gunship.
One senior Taliban figure connected to all three men was Mullah Rahim, described as the insurgent leader in Helmand. He is said to have been a mentor to Mullah Sheikh, picked Bismullah as his chief lieutenant and had delegated explosives to Mullah Sadiqullah. On Sunday, just hours after Mullah Sheikh had been killed, Mullah Rahim gave himself up to authorities in Pakistan. One senior Western official, who deals with both NATO and Afghan forces on security matters, said: "Not all of the intelligence we are getting is being given for altruistic reasons. The Taliban movement is pretty amorphous and we are aware that different groupings appear to be passing on information. There appears to be a power struggle going on in the insurgent leadership across the [Pakistan] border and we are also aware that certain official bodies have their own agendas and that is reflected in what they tell us." [More>>independent.co.uk]
---
7.25.08 Moscow accuses Ukraine of disrespect for Russian Church
MOSCOW (RIA Novosti) July 25 - Ongoing nationwide religious celebrations in Ukraine have shown an element of disrespect for the Russian Orthodox Church and its millions of members, the Russian Foreign Ministry said on Friday. Ukraine is marking this week 1,020 years since Christianity was adopted in Kievan Rus, with church services, processions, and other events to mark the anniversary.

..Kiev Patriarchy officials have recently stepped up contacts with the Church of Constantinople, also known as the Ecumenical Patriarchate, seeking "to return Ukraine to the Mother Church." The drive has been actively backed by President Yushchenko and the country's other top officials against the backdrop of ongoing tensions in relations with Russia. [Full story>>en.rian.ru]
---
7.25.08 Pope tells Iraqi leader Christians need protection
CASTEL GANDOLFO, Italy (Reuters) July 25 - Pope Benedict told Iraqi Prime Minister Nuri al-Maliki on Friday that minority Christians in Iraq needed more protection but the Iraqi leader assured him that Christians were not being persecuted. Maliki, who met the pope for 20 minutes at the pontiff's summer residence south of Rome, invited the pontiff to visit Iraq, saying a trip there would help the process of peace and reconciliation...Maliki said he and the pope also discussed the plight of minority Christians in Iraq and the prime minister urged those who had left after the US-led invasion in 2003 to return to help rebuild the country. [Full story>>thestar.com.my.

---
Editorial note: The Byzantine and Assyrian Churches in Iraq have experienced considerable persecution in Iraq, with the latest event involving the bombing of churches reported in Maravot News archives 1.13.08 :."article 1.09.08 "Car bombs explode outside Christian buildings." See an interesting article from assyriatimes.com, June 17, 2008, "Netherlands requests Assyrian autonomous state in Iraq." The Assyrians regard themselves as the indigenous peoples of Iraq. Byzantines.net has a history of the Chaldean Church in Iraq as well as a commentary on the conflict between Christianity and Islam: "Islam, a violent religion and world view?" From an inquiry on the church bombings in Iraq a correspondent from the Byzantine Church wrote the following with a link to the byzantine.net commentary. His email identifies the substance of the conflict from their point of view:

There can be no reconciliation between Islam and the rest of humanity as long as Muslims cling to the Quran as the word of their deity wherein 1) Muslims are deemed to be the best of nations raised up to lead all others (Surah 3: 110);  2) infidels are regarded as the vilest of animals (Surah 8: 55);  3) Jews are considered apes and swine (Surah 7: 166);  and 4)  the lives & property of Christians & Jews (people of the Book) are spared only upon their submission to the umma without resistance, by acknowledgement of their inferiority, by payment of the annual humiliation (jizya) tax, and by submission to whatever other humiliations the summa may elect to impose on them (Surah 9: 29).  The Muslims' cosmology divides the world into the Dar al Islam (where Muslims prevail) and the Dar al Harb (House of War) where infidels prevail and so-called because between the two abodes war shall prevail until the latter submits to the former. Reconciliation, at the very least, depends upon the parties' willingness to accept one another as fully equal in their humanity, equal in their basic civil rights, and fully equal in their capacity to negotiate with one another.  That does not exist nor is it likely to exist...[from a later email]...I have several Muslin acquaintances.  We all agree to disagree on matters theological but to respect one another's differences. Tragically not everyone agrees with this approach.   

Any substantial conversations between Maliki's government and the Pope would necessarily involve these concerns, I should think. King Abdullah of Saudi Arabia recently concluded his interfaith conference in Madrid, of July 17, 2008, to explore the reconciliation of the faiths, but the conference failed to arrive at any substantial agreements, such as a simple agreement that would define what a terrorist is. The Islamic scholars of the conference, as well as other, earlier pan-Arab conferences, seem to have trouble differentiating Palestinian suicide bombers, etc.— who murder innocent women, men and children — and the justifiable pursuit of a freedom fighter.

Mel Copeland
---
7.25.08 Hole in fuselage forces Qantas jet to land
SYDNEY, Australia, July 25 - A Qantas passenger airliner en route from Hong Kong to Melbourne, Australia, made an emergency landing in Manila on Friday after a hole was ripped in the fuselage of the Boeing 747-400, prompting the plane to lose cabin pressure. All 346 passengers and 19 crew aboard Qantas Flight 30, which originated in London, left the plane without injury, the airline and Australian investigators said. Qantas has one of the world's best safety records and prides itself on never losing a jet in a major crash. Passengers described hearing a loud bang and seeing debris fly into the cabin before the plane started a controlled descent to a lower altitude and changed course for Manila. Oxygen masks were deployed when the plane, which went into service in 1991, depressurized.
"There was a terrific boom and bits of wood and debris just flew forward" into the first-class area, a passenger, Dr. June Kane, told the Australian Broadcasting Corporation from Manila, capital of the Philippines. Photographs and video of the plane showed a gaping hole in the underside of the aircraft, just in front of its right wing. Baggage could clearly be seen inside the hole, "so you assume that there's a few bags that may have gone missing," Dr. Kane added. [More>>nytimes.com; See also news.com.au, July 25, "Qantas plane has history of corrosion."]
---
7.25.08 Air strike kills 40 Taliban in Afghanistan
GHAZNI, Afghanistan, July 25 - Forty Taliban and two civilians were killed in air strikes launched by the allied forces in Afghanistan on Friday. According the official, Afghan and NATO-led ground forces supported by international military air support launched an offensive on Wednesday to retake Ajristan, 200 kilometers (124 miles) southwest of Kabul, after rebels stormed in Monday. "Over 40 Taliban fighters were killed and 30 were wounded in an overnight coalition air strike in Ajristan district," Ghazni province spokesman Ismail Jahangir said as the operation continued Friday for a third day.

The district governor, who fled after the Taliban captured the district, confirmed the air strike casualties and said two civilians also died. International forces could not immediately confirm the air strike. A British army dog handler and his explosives sniffer dog were killed Thursday in Helmand when they came under fire while on patrol, the Ministry of Defence in London said. Six other soldiers were also injured, although not seriously. [>thenews.com.pk ; See related story:

japantoday.com, July 25, "NATO chief says Pakistan terror sanctuaries not acceptable" :..The NATO chief called Thursday for Pakistan to be more involved in tackling extremist bases on its soil, as Afghanistan was hit by new attacks with at least 34 Taliban bodies found after one battle. NATO was concerned by a spike in terror attacks but would not enter Pakistan to hunt down militants based there, the alliance's Secretary General Jaap de Hoop Scheffer also told reporters in Kabul.
Scheffer was visiting amid high tension between Afghanistan and Pakistan over the violence, including the bombing of the Indian embassy here this month that Kabul has directly blamed on its neighbor's intelligence agency. "I cannot think of anyone who would consider it acceptable that many terrorists from all over the world gather in a certain area and create mischief and havoc there," Scheffer told reporters, in a reference to militant bases in Pakistan...
---
7.24.08 Fidel Castro praises brother for silence on report that Russian bombers may go to Cuba
(AP) July 24 - Ailing Fidel Castro said Wednesday that Cuba's president was right to adopt a "dignified silence" over a Moscow newspaper report that Russia may station nuclear bombers on the island, and said Cuba doesn't owe any explanation to Washington about the story. In a brief, cryptic essay posted on a government Web site Wednesday night, the 81-year-old former president neither confirmed nor denied the Monday report in Izvestia newspaper.
Moscow is angry about US plans for missile-defense sites in eastern Europe and Izvestia cited a "highly placed" military aviation source as saying, "While they are deploying the anti- missile systems in Poland and the Czech Republic, our long-range strategic aircraft already will be landing in Cuba." Izvestia said this apparently refers to long-range nuclear-capable bombers.
Izvestia points out that there would have to be a political decision on landing bombers in Cuba, and quoted the unnamed source as saying there have been such discussions. A US State Department spokesman said Tuesday that American officials had received no official confirmation from the Russian government about the newspaper report, and he was unaware of any US efforts to directly contact Moscow about it. [More>>thejakartapost.com]

Editorial note (Mel Copeland): "A Test of the Monroe Doctrine." On July 23 two articles appeared in Russia's state run newspaper, rian.ru (RIA Novosti). Russia has been stepping up its international military presence in many spheres, resurrecting old Cold War strategies. One of the articles — no longer at rian.ru — dealt with an analysis whether Russia should build a military base in Venezuela. The base in Venezuela relates to Hugo Chavez's desire to build a stronger alliance with Russia. The other article relates to Cuba. Both stories involve a test of the Monroe Doctrine.

en.rian.ru, July 23, "Russian expert warns against nuclear bombers in Cuba."
---
7.24.08 Britain: Retail sales dive 3.9% in worst fall for 22 years
July 24 - Retail sales in June slumped at the fastest pace in more than 20 years, after trading in food stores fell at record rates. Official figures show that the volume of sales fell by 3.9 per cent in June — the largest monthly decline since records began in 1986 — taking the annual growth rate to 2.2 percent. Analysts had expected retail sales volume to decline by 2.5 per cent in June, following May's surprise rise of 3.5 percent. Trading volumes in food shops declined by 3.6 percent — the largest fall in 22 years — while sales in predominantly non-food stores also dropped sharply, by 4.5 percent. [More>>timesonline.co.uk]
---
7.24.08 Home sales fell more than expected
July 24 - They knew it would be bad. Just not this bad. Sales of previously owned homes, which make up most of the housing market, tumbled 2.6 percent in June, nearly double the decline that economists had expected, according to a report released Thursday by the National Association of Realtors. The report reinforced fears that the weak job market and scarcity of credit are discouraging Americans from buying homes. Those who may be in the market for a house may find it harder to take out a mortgage.
June sales slowed to an annual rate of 4.86 million, adjusted for seasonal variables. That followed a 2 percent increase in May. Total sales were 15.5 percent below their level in June 2007. The Dow Jones industrial average fell Thursday on the decline in existing-home sales. The Dow was down more than 150 points or 1.4 percent, while the broader Standard & Poor's 500-stock index was down 1.2 percent in afternoon trading. [More>>nytimes.com]
---
7.24.08 Firm said to manipulate oil market
July 24 - Commodity regulators in Washington have accused a Dutch trading company of making roughly $1 million in illegal profits by manipulating the prices of crude oil, heating oil and gasoline over an 11-day period last year. In audiotapes uncovered in their investigation, regulators said one defendant described the scheme as an effort to "bully the market" by making a large number of trades at or near the end of the trading day to move closing prices.
The lawsuit is certain to resonate loudly in Washington, where the Senate is in the midst of debating proposals to tackle high oil prices by curbing market speculation and where lawmakers have repeatedly demanded tougher enforcement measures. Moreover, unlike many manipulation cases, this one accuses the defendants of actually succeeding in moving prices that are used as benchmarks for consumer markets — a remarkable claim in markets widely considered too big to be bullied. [More>>nytimes.com]
---
7.24.08 Hunt begins for Karadzic helpers
July 24 - Officials investigating captured Bosnian Serb ex-leader Radovan Karadzic say they will track down and punish those who aided his false identity. Serb prosecutors believe he held the identity of Dragan Dabic for a long time thanks to papers issued under the regime of President Slobodan Milosevic. A spokesman said those who helped Mr. Karadzic knew they were committing a criminal act and would be prosecuted. The war crimes tribunal in The Hague is pushing for Mr. Karadzic's extradition. Mr. Karadzic was captured on Monday after more than a decade in hiding. [More>>bbc.co.uk]
---
7.24.08 8 US-allied fighters killed in Iraq
July 24 - Iraqi police say at least eight people have been killed in a female suicide bombing against a checkpoint manned by US-allied Sunni guards northeast of Baghdad. A police officer who read the report says the woman blew herself up about 8:30pm Thursday near the so-called awakening council checkpoint in central Baqouba. The officer says at least eight awakening council members were killed and 24 other people were wounded. The officer spoke on condition of anonymity because he wasn't authorized to release the information.

Meanwhile on Thursday, US soldiers from Ghostrider Company expanded their search for insurgents belonging to al-Qaeda in Iraq as they destroyed caves believed to be used by the insurgents near a mountainous town northeast of Baghdad. [More>>cbsnews.com]
---
7.24.08 Obama talks of building bridges, dismantling barriers in Berlin
BERLIN, July 24 - No nation can face global challenges such as terrorism and climate change alone, Barack Obama told a cheering crowd of some 100,000 in Berlin Thursday, July 24, calling for a new partnership between the US and Europe. In front of a crowd that Berlin police estimated to be as large as 100,000, Obama acknowledged differences between America and Europe, adding that "no doubt there will be differences in the future. But the burdens of global citizenship bind us together," he said, speaking under the central Berlin landmark of the Victory Column facing towards the Brandenburg Gate.

Partnership among nations was not a choice but the only way to protect the security of Europe and the US, the Democratic Party presidential hopeful said. Obama challenged a new generation of Americans and Europeans to tear down walls between estranged allies, races, and faiths in his soaring call for global unity. "That is why the greatest danger of all is to allow new walls to divide us from one another," he said in reference to the Berlin Wall that divided the city from 1961 to 1989. [More>>dw-world.de ; See also abcnews.go.com, July 24, " 'People of the world, this is our moment' : Obama draws 200,000+ in Berlin."]
---
7.24.08 Egypt shuts Iranian TV station office in Cairo
CAIRO (Reuters) July 24 - Egypt, irritated with Iran over a film on the assassination of President Anwar Sadat, shut down the Cairo offices of an Iranian television station that it said was not properly licensed, security sources said on Thursday. The sources said police closed the offices of Iran's state-owned Arabic Al-Alam television on Tuesday because it did not have a broadcasting licence, and confiscated computers and photo equipment. They gave no further explanation for the move. But the closure came weeks after Egypt summoned the head of the Iranian interests office in Cairo over an Iranian film on the killing of Sadat, who made peace with Israel. State media said the film would damage improving ties between the countries.
Mainly Sunni Muslim Egypt and Shi'ite Iran have not had full diplomatic relations since Iran's 1979 Islamic Revolution, when Iran cut ties after Sadat hosted the deposed pro-Western Shah in Cairo. Al-Alam, which confirmed on its website that its personnel have been investigated, said it was not involved in producing the Sadat documentary. It reported that the film says Sadat was killed for signing a peace accord with Israel. [More>>khaleejtimes.com]
---
7.24.08 Turkish military says hits 13 targets in N. Iraq
ISTANBUL (Reuters) July 24 - Turkey's military said on Thursday its fighter jets hit 13 Kurdish separatist targets in northern Iraq the previous day and said it was still trying to confirm what losses were suffered by the rebels. Operations will continue against the separatist Kurdistan Workers Party (PKK), the military said in a statement on its website. The PKK uses northern Iraq as a base from which to launch attacks on the Turkish military.
"Targets proven to belong to the terrorist organization PKK/KONGRA-GEL in northern Iraq's Zap region were fired upon successfully by Turkish fighter jets on July 23, 2008," the statement said. The military said only PKK targets were fired upon and that no civilian casualties or damage were incurred. Iraqi officials confirmed the Turkish bombings. [More>>khaleejtimes.com]
---
7.24.08 Taliban fighters 'killed' in battle
July 24 - Afghan army troops killed at least 34 Taliban fighters in a firefight after an army convoy was ambushed in the south of the country, a defence ministry  spokesman said. According to Zahir Azimi, the clash erupted after "enemy elements" attacked Afghan forces  in Zabul province on the main highway between the capital Kabul and  the southern city of Kandahar on Thursday. "A fierce battle started and the enemy were caught between the Afghan army on both sides," Azimi said. "At least 34 enemy dead  bodies are at the battlefield, but we believe there are many more killed." [More>>aljazeera.net]
---
7.24.08 France: 100 workers contaminated at nuclear reactor
BEIJING, China (Xinhuanet) July 24 - Radioactive particles escaped from a pipe Wednesday at a French nuclear reactor and slightly contaminated 100 workers, said a spokesman for the national electric company. It was the fourth incident at a French nuclear site in recent weeks and the second in five days. Caroline Muller, a spokeswoman for Electricite de France, said 100 EDF employees were "slightly contaminated" by radioactive particles at a reactor complex in Tricastin, in southern France. The incident occurred in reactor No. 4 at the facility, which had been shut down for refueling, she said.

The employees went home but will be tested, she said, insisting that the contamination was slight — a dose smaller than 1/40th of the regulation limit. "What concerns us is less the level of the people contaminated than the number of people contaminated," Muller said by telephone. Experts were studying what led to the incident, she said. France is the most nuclear-dependent country in the world, with 59 reactors churning out nearly 80 percent of its electricity. The incidents have prompted questions about the state-run nuclear industry, at a time when eyes are turning to nuclear energy because of the soaring price of oil. [>xinhuanet.com]
---
7.24.08 China has 253 million netizens, surpassing US
BEIJING (Xinhua) July 24 - The number of Chinese netizens reached 253 million by the end of June, up 56.2 percent from 162 million in 2007, the most in the world, the China Internet Network Information Center (CNNIC) said in a report on Thursday. The report, the 22nd of its kind on the statistics of Chinese Internet development, revealed the country also had the largest number of broadband subscribers at 214 million, more than 80 percent of the total domestic Internet population. In addition, the registered "CN" domain topped 12.18 million as of July 22. China had replaced Germany as the largest country in terms of domain numbers. The report also showed 206 million netizens checked news online, about 81.5 percent of the whole domestic online population, according to the report. [More>>xinhuanet.com]
---
7.24.08 Libya 'halts Swiss oil shipments'

July 24 - Libya's state shipping company says it has halted oil shipments to Switzerland in protest at the brief arrest of leader Muammar Gaddafi's youngest son. It threatened further action if the Swiss did not apologize for the arrest. Geneva police held Hannibal Gaddafi for two days after he and his pregnant wife allegedly hit two of their staff. The couple face charges of bodily harm, threatening behavior and coercion. They have denied any wrongdoing over the alleged incident on 15 July. [More>>bbc.co.uk; See background story, Maravot News, 1.26.08 "Gadhafi's son said tied to Iraq attack."
---
EDITORIALS
09.11.05 When a nation lacks a competent leader it invites disaster – the legacy of Bush
08.13.05 "Using force the George W. Bush way – Bush's crusade"
11.25.04 Why the Crusade & Jihad?
---
*Visitor statistics on maravot.com from 1&1. com. 46,153 page views in May 2007; 45,000 in Feb. 2008.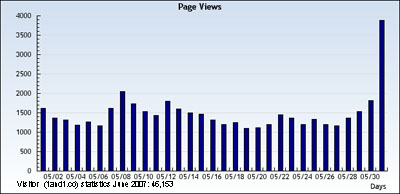 Privacy Policy: We do not store any personal data from you. We have no way of knowing any vital information about you – not even your name. Third-party distribution: We do not distribute information about your site usage to any third party. We are not responsible for the content of links from our site. Usage data: supplied by our Web Hosting service, 1and1.com, which consists of usage reports, such as page views / impressions and web pages visited, visitors' servers and geographical data (ISP's and country of origin).

---
Launched: 10.25.04 / 11.02.04 – | — |
Updated: 7.24.08; 7.25.08; 7.26.08; 7.27.08; 7.28.08
Copyright © 1981-2008 Maravot. All rights reserved
Copyright © 1981-2008 Mel Copeland. All rights reserved
Background: tile from Cicero's villa (Marcus Tullius Cicero 106 B.C. - 43 B.C.)