---
8.03.08
'Islamic State' top leaders arrested in Iraq
BAQUBA, Iraq, August 3 - Qaeda-linked suspects nabbed in Diyala. Four top al-Qaeda-linked operatives were captured in Iraq during a series of raids aimed at flushing out the insurgent group from a troubled central province, the Iraqi military said on Sunday. Iraqi troops arrested the wanted suspects in a series of night raids in Diyala province on Saturday and early Sunday, which were branded a "major success" by defense ministry spokesman Major General Mohammed al-Askari.

The suspects included Adnan Gumer Mohammed, an al-Qaeda judge suspected of administering justice under sharia law, and Qussai Ali Khalaf, accused of being a Diyala province chief for the Islamic State of Iraq, an Al-Qaeda ally. Alleged provincial military head of the Islamic State of Iraq, Ahmed Quasim Jabbar, was also detained, as was Antisar Khudair, a woman believed to have been responsible for recruiting female suicide bombers. "Her job was to carry out recruitment, brainwash new recruits and then push them to carry out criminal activities," Askari said. Diyala province, and especially its capital Baquba, has been the scene of repeated suicide bombings, many of them carried out by women. [More>>alarabiya.net; See related story, nytimes, August 3, "Car bomb kills 12 in Baghdad."]
---
8.03.08 Al-Qaeda's chemical 'expert' dead
August 3 - Abu Khabab al-Masri, described as al-Qaeda's chemical and biological weapons expert, has been killed with three other fighters in a suspected US bombing in Pakistan's border region last week. Al-Masri, who carried a $5m bounty on his head, had been earlier identified as the likely target of the attack on a house in Pakistan's South Waziristan region, a tribal area bordering Afghanistan, according to Pakistani officials. An al-Qaeda statement posted on a variety of websites on Sunday said al-Masri, referred to as the chemical "expert," had left behind him a generation of students who would avenge his killing.

The statement, signed by al-Qaeda's leader in Afghanistan, Mustafa Abu al-Yazid, named three other fighters killed alongside al-Masri on July 28. It said some of their children also died. Abdel Bari al-Atwan, editor-in-chief of al-Quds Al Arabi newspaper, said al-Masri "represented the old guard of al-Qaeda, so it is going to be very difficult to replace him. This was a huge success for the Americans in their pursuit of al-Qaeda leaders," he said. [More>>aljazeera.net]
---
8.03.08 Four killed in 'crude bomb' blast in Kolkata, India
KOLKATA, August 3 - Four people were killed Sunday in a "crude bomb" blast in a slum in India's eastern city of Kolkata, police said. Police said the device was left at a garbage dump in a slum, but ruled out the possibility of an organized terrorist attack. "Four ragpickers were killed and several were injured in the blast. It appears to be an explosion of a crude bomb," said city police commissioner Gautam Mohan Chakraborti. "But there is no need to panic." Indian cities have been hit by a wave of bombings in recent weeks. About 50 people died last weekend in 20 blasts in western Ahmedabad city, a day after a string of bombs went off in the southern high-tech city of Bangalore, killing one person and injuring eight. [>thenews.com.pk]
---
8.03.08 Royal bank of Scotland poised for biggest loss in UK banking history
August 3 - Britain's second largest bank expected to reveal it has lost £1 billion in first half. The Royal Bank of Scotland is poised to unveil the biggest loss in UK banking history after taking a hit of almost £6 billion from the credit crisis. Britain's second-largest bank is this week expected to reveal a pre-tax loss of at least £1 billion for the first six months of the year, with analysts warning it could slide to as much as £1.7 billion in the red.

The loss would be roughly five times higher than the deficit racked up by Barclays in 1992 at the height of the last recession. RBS chairman Sir Tom McKillop is already under pressure from investors after the bank's recent £12 billion rights issue. His chief executive, Sir Fred Goodwin, who marks 10 years at the bank this weekend, also faces shareholder scrutiny. [More>>timesonline.co.uk; See related story, independent.co.uk, August 3, " 'Shocking ' rise in homelessness among [British] women.' "]
---
8.03.08 Indonesian man dies of bird flu, official says
(AP) August 3 - An Indonesian factory worker has died of bird flu, bringing the death toll in the country worst hit by the virus to112, a top health official said Sunday. The 19-year-old died last week in a hospital just west of the capital, Jakarta, Nyoman Kandun, the director general of communicable disease control at the Health Ministry, said by text message. He gave no more information. Indonesia has regularly recorded human deaths from bird flu since the virus began ravaging poultry stocks across Asia in 2003. Its toll of 112 accounts for nearly half the 240 recorded fatalities worldwide.
Bird flu remains hard for people to catch, but health experts worry that the virus could mutate into a form that passes easily between human, possibly triggering a pandemic that could kill millions. So far most human cases have been linked to contact with infected birds. Scientists have warned that Indonesia, which has millions of backyard chickens and poor medical facilities, is a potential hot spot for the start of a global pandemic. [>thejakartapost.com]
---
8.03.08 Stinging tentacles offer hint of oceans' decline
BARCELONA, Spain, August 3 - Blue patrol boats crisscross the swimming areas of beaches here with their huge nets skimming the water's surface. The yellow flags that urge caution and the red flags that prohibit swimming because of risky currents are sometimes topped now with blue ones warning of a new danger: swarms of jellyfish. In a period of hours during a day a couple of weeks ago, 300 people on Barcelona's bustling beaches were treated for stings, and 11 were taken to hospitals. From Spain to New York, to Australia, Japan and Hawaii, jellyfish are becoming more numerous and more widespread, and they are showing up in places where they have rarely been seen before, scientists say. The faceless marauders are stinging children blithely bathing on summer vacations, forcing beaches to close and clogging fishing nets.
But while jellyfish invasions are a nuisance to tourists and a hardship to fishermen, for scientists they are a source of more profound alarm, a signal of the declining health of the world's oceans...The explosion of jellyfish populations, scientists say, reflects a combination of severe overfishing of natural predators, like tuna, sharks and swordfish; rising sea temperatures caused in part by global warming; and pollution that has depleted oxygen levels in coastal shallows. These problems are pronounced in the Mediterranean, a sea bounded by more than a dozen countries that rely on it for business and pleasure. Left unchecked in the Mediterranean and elsewhere, these problems could make the swarms of jellyfish menacing coastlines a grim vision of seas to come. [Full story>>nytimes.com]
---
8.02.08 Iran says OPEC to consider oil rationing
TEHRAN (Xinhua) August 2 - Iranian Oil Minister Gholam Hussein Nozari has revealed that the Organization of Petroleum Exporting Countries (OPEC) will seriously consider rationing its oil production, the semi-official FARS news agency reported. "I think OPEC will be serious about this issue" in case of continuous decline of crude oil prices and lack of oil output control by some OPEC members which keep high level oil production, Nozari was quoted as saying.
"Those members who have increased their production should control it," Nozari said, referring to the remarks made by some oil ministers of OPEC member states about the probability of reducing the production level of the oil. "We have the responsibility to control the market and to be serious about the rations," he said. Crude oil prices slid again on Friday, as weak economic growth data of the United States reignited concerns about slowing demand in world's biggest energy consuming nation. Concerns over the health of the US economy — a major buyer of global energy exports — have pushed crude oil prices down by about 25 dollars since reaching record peaks above 147 dollars on July 11. [xinhuanet.com; See related stories on world economic decline:

thejakartapost.com, August 2, "UK economic data points to recession." and
independent.co.uk, August 2, "Windfall tax on energy firms planned." and
washingtonpost.com, August 2, "Jobless rate hits a high, dims hope for recovery."
---
8.02.08 Pakistani spies helped Kabul bombers, US says
August 2 - The US has accused Pakistan's notorious intelligence agency of assisting the militants who carried out the recent bombing of the Indian embassy in Kabul that killed 41 people, saying it has direct evidence to show the involvement of Pakistani officials. In an unprecedented allegation, the Bush administration has also accused officials inside the powerful Inter-Services Intelligence (ISI) agency of passing on sensitive information to militants to enable them to escape attacks by the US military inside Pakistan. Two weeks ago, senior officials from the CIA travelled to Islamabad to confront the government with concerns about the involvement of "mid-level" officers.
While many in Washington have long expressed doubts about the commitment of some parts of the Pakistan establishment in confronting militants and while the ISI has long been known to have links with the Taliban, the new allegations represent the most serious charges levelled by the US administration since 11 September 2001. In the aftermath of the attacks on New York and Washington, the US has provided Pakistan with at least $10bn (£5bn) in exchange for its cooperation in the so-called war on terror. [More>>independent.co.uk]
---
8.02.08 Exclusive: Al-Qaeda no. 2 injured?
August 2 - Unverified Letter Obtained By CBS News Urgently Requests Doctor To Treat Ayman al-Zawahiri. Ayman al-Zawahiri - the second most powerful leader in al Qaeda and Osama Bin Laden's No. 2 - may be critically wounded and possibly dead, CBS News chief foreign affairs correspondent Lara Logan reports exclusively.

CBS News has obtained a copy of an intercepted letter from sources in Pakistan, which urgently requests a doctor to treat al-Zawahiri. He's believed to be somewhere in Pakistan's remote tribal areas of Pakistan. The letter refers to Sheikh Dr. Ayman al-Zawahiri by name - and says that he is in "severe pain" and his "injuries are infected." It is reportedly written by local Taliban leader, Baitullah Mehsud, whose signature and seal are visible on the letter. The Taliban logo and the Mehsud's seal have been confirmed by experts as legitimate. The letter is dated July 29 — one day after a US air strike that killed al-Qaeda weapons expert Abu Khabab al-Masri, and five other Arabs in South Waziristan. [More>>cbsnews.com; See also:
cnn.com, August 2, "No evidence of al-Qaeda no. 2's illness or death, US says." and
khaleejtimes.com, August 2, "Pakistani Taliban deny Zawahri dead or wounded."

Editorial note: If the story should turn out to be true, the fact that the communique was "paper" rather than an email suggests that the terrorists are having difficulty communicating via phone or cellular or the internet. If the communique turns out to be false, one may wonder why a fake paper message was sent. See Maravot News 7.31.08 editorial note below, "Al-Qaeda and Taliban communiques via cell phone and the internet."

Mel Copeland

---
8.02.08 Terrorism spreading like 'wild fire' in South Asia: Karzai
COLOMBO, Sri Lanka (AFP) August 2 - Terrorism is spreading "like wild fire" in South Asia, particularly in Pakistan, and receiving institutional support, Afghan President Hamid Karzai said here on Saturday. "In Pakistan, terrorism and its sanctuaries are gaining a deeper grip as demonstrated by the tragic assassination of Benazir Bhutto,"  Karzai said at the opening of a regional summit, referring to the dead opposition leader. Terrorism is the most "menacing" challenge faced by South Asia, home to 1.5 billion people in eight countries, he said.
"We need collective action to wipe out terrorism in the region,"  added Karzai, whose government is battling a Taleban rebel-led insurgency and whose relations with neighboring Pakistan have been going steadily downhill in the past few months. His comments came as Pakistan Prime Minister Yousuf Raza Gilani sat in the audience for the inaugural session of the two-day summit of the South Asian Association for Regional Cooperation (SAARC). Afghanistan has repeatedly accused Pakistan of clandestinely supporting Taleban rebels. [More>>khaleejtimes.com; See related stories:

indianexpress.com: hosted.ap.org, August 2, "Bus with Afghan wedding party hits mine." and

aljazeera.net, August 2, "Suspicions mar South Asian summit."

turkishpress.com (AFP) August 1, Five NATO soldiers killed in Afghanistan: ISAF."
---
8.02.08 British Muslims aid Taliban in attacks on UK soldiers in Afghanistan
August 2 - British Muslims are actively supporting the Taliban and al-Qaeda in attacks on UK soldiers, the former commander of Britain's forces in Afghanistan said today. Brigadier Ed Butler, 46, claimed his troops also uncovered evidence that militant Islamic groups in Helmand Province are suspected of assisting terrorist plots in the UK. Earlier this year suspicions were raised that the Taliban were recruiting an increasing number of fighters from Britain after RAF experts overheard secret transmissions spoken in broad Midlands and Yorkshire accents. At the end of the week that saw the toll of British soldiers killed in Afghanistan reach 114, Brig Butler said a growing number of British-born Muslims were assisting the Taliban. [More>>timesonline.co.uk]
---
8.02.08 Bomb at bridge kills 9 in Pakistan's Swat Valley
PESHAWAR, Pakistan (AP) August 2 - A bomb exploded at a bridge on Saturday, killing at least nine security forces in a valley where Pakistani troops are battling Islamic militants, police said. Police officer Bashir Khan said the remote-controlled bomb hit a vehicle traveling from police headquarters in Mingora, the main town in the troubled Swat valley, as it carried money to pay the salaries of the staff in the nearby town of Kabal. Khan said the bomb was planted at a bridge between the two towns. Senior police officer Khalid Nasim said the attack killed six police and three paramilitary troops. He said four others were wounded. [More>>indianexpress.com: hosted.ap.org]
---
8.02.08 4 dead, 35 wounded as Hamas, Fatah loyalists clash in Gaza
August 2 - Hamas security forces asserted control in a stronghold of political rival Fatah on Saturday, following a day of battles with mortars and machine guns that left four dead and 35 wounded in the most violent internal fighting in months. Loud explosions and gunfire could be heard throughout the day across Gaza City. Hamas said it arrested dozens of people, including 10 who had tried to flee disguised as women, and confiscated weapons. [More>>jpost.com; See related story on Gaza, alarabiya.net, August 2, "Gaza border tunnel blast kills 5 Palestinians."]
---
8.02.08 Honecker's nuclear bunker opens
August 2 - A once-secret bunker designed to shield communist rulers of the former East Germany from a nuclear attack has opened to the public. The three-storey complex, finished in 1983, was intended to house leader Erich Honecker and 400 staff. At the time it was one of the communist world's most advanced bunkers. Now the walls are covered in mould and the decontamination chambers long-defunct. The bunker, north of Berlin, will be open for three months. The Berlin city authorities say they will seal it with concrete afterwards. [More, with video>>bbc.co.uk]
---
8.02.08 New study raises estimate of H.I.V. infections in US
MEXICO CITY, August 2 - The current AIDS epidemic in the United States is about 40 percent worse than the government has reported, a new study released here on Saturday shows. The conclusion is based on the study's use of a new laboratory test to directly measure the annual incidence of new infections with H.I.V., the AIDS virus, in the United States.
The Centers for Disease Control and Prevention conducted the study, which found that 56,300 people became newly H.I.V.-infected in 2006 compared to the 40,000 figure that the Atlanta-based agency has long cited as the annual incidence of the disease.
A separate historical trend analysis published as part of the study suggests that the number of new infections was likely never as low as the earlier estimate of 40,000 and has been roughly stable overall since the late 1990s. C.D.C. officials said that the revised figure does not necessarily represent an actual increase in the number of new infections but reflects an ability to more precisely measure H.I.V. incidence and secure a better understanding of the epidemic. [More>>nytimes.com]
---
8.01.08 Pakistanis aided Kabul attack, US officials say
WASHINGTON, August 1 - American intelligence agencies have concluded that members of Pakistan's powerful spy service helped plan the deadly July 7 bombing of India's embassy in Kabul, Afghanistan, according to United States government officials. The conclusion was based on intercepted communications between Pakistani intelligence officers and militants who carried out the attack, the officials said, providing the clearest evidence to date that Pakistani intelligence officers are actively undermining American efforts to combat militants in the region.
The American officials also said there was new information showing that members of the Pakistani intelligence service were increasingly providing militants with details about the American campaign against them, in some cases allowing militants to avoid American missile strikes in Pakistan's tribal areas. Concerns about the role played by Pakistani intelligence not only has strained relations between the United States and Pakistan, a longtime ally, but also has fanned tensions between Pakistan and its archrival, India. Within days of the bombings, Indian officials accused the Directorate of Inter-Services Intelligence, or ISI, of helping to orchestrate the attack in Kabul, which killed 54, including an Indian defense attaché. [More>>nytimes.com; See related story, cnn.com, August 1, "Pakistan denies 'hellacious' bomb accusation."]
---
8.01.08 Afghanistan spiralling back to days of Taliban, say charities
August 1 - Violence in Afghanistan has reached record highs, with unprecedented numbers of civilian casualties and terror attacks spreading into areas once thought safe, a coalition of charities warns. In a damning indictment of the international community's effort to stabilise Afghanistan, more than 100 aid agencies claimed security is worse now than at any time in the past seven years. "There has been a surge in the number of civilian casualties caused by all sides, a spread of insecurity to previously stable areas, and increasing attacks on aid agencies and their staff," the statement from their umbrella organization Acbar said.
The group represents 64 international aid groups with projects inside the warring country, including Oxfam, Mercy Corps and Save the Children, as well as 36 Afghan charities. There are almost 53,000 NATO-led troops across Afghanistan, trying to boost security while, "paving the way for reconstruction and effective governance". But the Acbar report states: "So far this year, the number of insurgent attacks, bombings and other violent incidents is up by approximately 50 per cent on the same period last year. The number of insurgent attacks for each of the months of May (463), June (569) and July is greater than the number of such attacks in any other month since the end of major hostilities following the international intervention in 2001." [More>>independent.co.uk]
---
8.01.08 Security forces attack Taliban hideouts in Swat
SWAT. August 1 - Three persons were killed and four others in the operation underway in Swat. Curfew was imposed again in the valley after allowing 5 hour relaxation. The security forces carried out intense shelling at Taliban hideouts in Swat. Security forces destroyed a number of hideouts of militants by launching mortar shells in Shaur, Banda, Payochar and Namal areas of Kanju FC camp, Kabal Frontier House and Matta. Two civilians were killed in Shaur and one in Wanai area as a result of fights that erupted between security forces and local Taliban. [More>>thenews.com.pk; See also aljazeera.net, August 1, "Pakistan clash claims civilian toll."]
---
8.01.08 Unemployment at 4-year high
NEW YORK, August 1 - Employers cut jobs in July for the seventh straight month, while the unemployment rate hit a four-year high, according to a government report released Friday. The Labor Department reported a net loss of 51,000 jobs in the month. Economists surveyed by Briefing.com had been forecasting a loss of 75,000 jobs in the latest report. The latest report brought job losses this year to 463,000. The June job loss number was revised to 51,000. [More>>cnn.com; See related story involving EU unemployment, spiegel.de, August 1, "Bad news keeps coming for the European economy."]
---
8.01.08 NASA spacecraft confirms Martian Water, mission extended
TUSCON, Ariz., August 1 - Laboratory tests aboard NASA's Phoenix Mars Lander have identified water in a soil sample. The lander's robotic arm delivered the sample Wednesday to an instrument that identifies vapors produced by the heating of samples. "We have water," said William Boynton of the University of Arizona, lead scientist for the Thermal and Evolved-Gas Analyzer, or TEGA. "We've seen evidence for this water ice before in observations by the Mars Odyssey orbiter and in disappearing chunks observed by Phoenix last month, but this is the first time Martian water has been touched and tasted."

...The soil sample came from a trench approximately 2 inches deep. When the robotic arm first reached that depth, it hit a hard layer of frozen soil. Two attempts to deliver samples of icy soil on days when fresh material was exposed were foiled when the samples became stuck inside the scoop. Most of the material in Wednesday's sample had been exposed to the air for two days, letting some of the water in the sample vaporize away and making the soil easier to handle.

"Mars is giving us some surprises," said Phoenix principal investigator Peter Smith of the University of Arizona. "We're excited because surprises are where discoveries come from. One surprise is how the soil is behaving. The ice-rich layers stick to the scoop when poised in the sun above the deck, different from what we expected from all the Mars simulation testing we've done. That has presented challenges for delivering samples, but we're finding ways to work with it and we're gathering lots of information to help us understand this soil." [More>>nasa.gov]
---
7.31.08 NASA confirms liquid lake on Saturn moon
PASADENA, Calif., July 30 - NASA scientists have concluded that at least one of the large lakes observed on Saturn's moon Titan contains liquid hydrocarbons, and have positively identified the presence of ethane.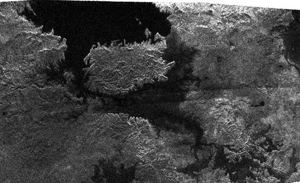 File photo of one of the larger lakes on Titan, from NASA. The island is about the size of Kodiak island in Alaska.
This makes Titan the only body in our solar system beyond Earth known to have liquid on its surface. Scientists made the discovery using data from an instrument aboard the Cassini spacecraft. The instrument identified chemically different materials based on the way they absorb and reflect infrared light. Before Cassini, scientists thought Titan would have global oceans of methane, ethane and other light hydrocarbons. More than 40 close flybys of Titan by Cassini show no such global oceans exist, but hundreds of dark, lake-like features are present. Until now, it was not known whether these features were liquid or simply dark, solid material.

"This is the first observation that really pins down that Titan has a surface lake filled with liquid," said Bob Brown of the University of Arizona, Tucson. Brown is the team leader of Cassini's visual and mapping instrument. The results will be published in the July 31 issue of the journal Nature...The visual and mapping instrument observed a lake, Ontario Lacus, in Titan's south polar region during a close Cassini flyby in December 2007. The lake is roughly 20,000 square kilometers (7,800 square miles) in area, slightly larger than North America's Lake Ontario.

"Detection of liquid ethane confirms a long-held idea that lakes and seas filled with methane and ethane exist on Titan," said Larry Soderblom, a Cassini interdisciplinary scientist with the US Geological Survey in Flagstaff, Ariz. "The fact we could detect the ethane spectral signatures of the lake even when it was so dimly illuminated, and at a slanted viewing path through Titan's atmosphere, raises expectations for exciting future lake discoveries by our instrument." [Full story>>saturn.jpl.nasa.gov]
---
7.31.08 US sees rise in Pakistani fighters in Afghanistan
WASHINGTON (Reuters) July 31 - A growing number of Pakistani militants who earlier operated only inside Pakistan and Kashmir are joining the intensifying insurgency against US and NATO forces in Afghanistan, US officials say. The fighters, who are taking part in increasingly sophisticated attacks on Western troops, include guerrillas hardened by years of combat against Indian forces and others from outside the Taliban strongholds in Pakistan's Federally Administered Tribal Areas, or FATA, the officials say. They say the influx far outstrips the flow of other foreign fighters such as Arabs, Uzbeks and Chechens into the area and coincides with a drop in high-profile attacks in Pakistan that reached a climax last December with the assassination of former Prime Minister Benazir Bhutto.
Growing violence in Afghanistan, including a bombing at the Indian Embassy that killed 41 people and wounded 139 on July 7, has put new pressure on Pakistan to control militants and raised concern about possible links between militant groups and Pakistani intelligence agents. The rise in the number of Pakistanis involved in the Afghan insurgency was confirmed by several US officials, including senior military officers, who spoke on condition of anonymity because the topic involves classified intelligence. "When we're talking about foreign fighters in Afghanistan, they're primarily Pakistanis," one official said.

...Some of the more effective fighters in Afghanistan's Kunar province have proved to be members of Lashkar-e-Taiba and Jaish-e-Mohammed, Punjab-based groups with a long record of violence in Indian Kashmir, a senior defense official said. Guerrillas involved in Kashmir relocated to areas near the Afghanistan border after Pakistani President Pervez Musharraf opened peace talks with India in 2004...But the chief concern for US officials is Pakistani Taliban chief Baitullah Mehsud, who is accused of being behind last year's violence in Pakistan, including the Bhutto murder..."If he doesn't have to fight the Pakistan army, he's free to focus on Afghanistan," one official remarked. [Full story>>khaleejtimes.com;

---
Editorial note: "Al-Qaeda and Taliban communiques via cell phone and the internet." See Maravot News archives for newspaper records of Taliban dead fighters in Afghanistan being returned to their homes in Pakistan. Also, many reports show that Pakistan has been the preferred place for training by Islamist militants. The earlier reports show a concern over "Islamist" teachings in the Pakistani schools (madrassas), and the Pakistani government's attempts to deal with the miscreant teachings, culminating with the siege of the Red Mosque and subsequent murder of Bhutto. Many militant training camps reported as being destroyed were attached to madrassas. Recent reports from the Swat Valley (Northwest Territories of Pakistan) show a growth of Taliban influence there — probably reflecting the relocation of the Taliban and al-Qaeda command center(s) from Afghanistan to Pakistan.

It is also worthwhile to note that al-Qaeda's second in command, Ayman al-Zawahiri, posts his messages (communiques) on the internet and the background in the videos tends to be a library with expensive hardwood cabinets / shelving. The internet communiques and the expensive interior library behind Zawahiri suggest that Zawahiri is in a location that is upscale (probably a mansion, certainly not a hut or cave in the mountains) and within the range of an internet connection / provider (See link on Pakistan ISP's). The probable location of Zawahiri is Peshawar. Also the production facility for the communique would have to be in a location that has an office supply store where routine production supplies can be obtained. The location is probably Peshawar. A google search of Pakistan ISP and cellular providers (See ntc.net.pk and Dancom) for the area will produce businesses (See websouls.net for web hosting) serving Pehsawar (See thenews.com.pk article, March 3, 2007, "PTCL blocks vital internet sites to comply with SC order."). One of the services, Dancom of Malaysia, is of interest since our Who is search of several websites in 2006-7 revealed that many Islamist websites were then routed through servers in Malaysia. This becomes more relevant in light of the fact that al-Qaeda held a Summit meeting in Malaysia in 2000. It would be of interest to ascertain whether terrorists have been using Dancom as their principal provider.

Many organizations, including Maravot News, have been tracking terrorist communications and many have questioned how it is that the US government cannot shut down al-Qaeda's ability to communicate via the internet. One would think — as we noted long ago — that in following fundamental warfare strategy the US would cut off the enemy's communications. If an enemy cannot communicate with its various regiments it is in disarray and a state of confusion. In contrast to breaking off communications the US government has participated in the Islamist blogs to keep informed on the enemy's communications. They have been allowing the enemy to communicate — at least for the four years Maravot News has been watching them — under the presumption that they can collect information that can be used against the enemy, which is true, but this carries a double-edged sword, since the internet is also used by al-Qaeda to recruit personnel, supplies and money, and to direct its operations.

When a report from a battle-zone says that "the enemy are showing more sophistication in directing their coordinated operations" imagine how the enemy really are communicating: They are using cell phones and the internet, besides traditional processes, and internet services may be the preferred way, as they may be more secure. A few months ago there were reports from Swat of the Taliban knocking down cellular towers. Their reason for doing so was in retaliation for the government listening in on their conversations. They later stopped destroying the towers when they found that they needed the cell phone communications.

The irony in this new internet age is that most of the world's internet providers serving the Middle East were in the West, and most of them in the US. Also, to register an internet site one must apply for a domain name and up until recently domains were controlled by one company, Internet Solutions. The registration is now open to many domain administrators. It is the practice in the industry to pay for domain registration and also internet hosting (the ISP) by credit card. To register a site, by law, the name of the owner, his officers and the company address and phone number, must be provided and kept up to date. This information may be easily obtained by a Who is search on the Internet Solutions website. See Maravot News 6.15.06 for a commentary on this: article dated 6.12.06 "About the popular jihadist AL-Hesba website."

In 2006 we checked out the Who is information on al-Qaeda's production agency, variously known as As Sabah, and, as I recall, it had an address in Lebanon. The address appeared to be a fake address. As-Sabah resets its website by changing domain names. When it resets its site its readers need to know where to find it. Prior to Zawahiri's release of a new communique, one might expect a flurry of bloggers pointing out where to go (web address) to obtain the communique. Since the beginning of al-Qaeda's communiques aljazeera.net was the source or producer of the communique. Zawahiri's communiques did not always follow the path through aljazeera.net, initially appearing on the As-Sabah site until the site was shut down. In 2005-2006 we were able to track down the site. See Maravot News 8.08.05, article reflecting concerns about aljazeera.net dated 08.05.05, "Destroying the ability of terrorists to communicate: From 'The Art of War.' "

We believe that there is great merit in shutting down Taliban and al-Qaeda communication sites on the internet. By shutting down a site (about a year ago a British newspaper article suggested there were about 400 militant, Islamist sites on the internet) the government would force the militants to find a new way to communicate; i.e., apply for a new domain name. Secondly, a search of domain names that carry Islamist communications — with the focus being on domains that have phony contact information — would isolate the sites that are probably the most threat. Thirdly, domain name administrators should verify a web site's physical location before issuing a domain name. This would further restrict the enemy's ability to communicate. To some extent As-Sabah and some other sites have been shut down and had to reset their communiques on new sites (same name but new address). Each time they have to reset they make their principals more vulnerable to tracing their identity and physical location. By continually weeding the internet of terrorist, Islamist sites the government will break al-Qaeda and the Taliban.

An irony in Bush's War against Terror is the fact that he launched it at Iraq with only a few Arab speaking combat personnel in the American forces. About a year ago we posted an article from the press that commented upon the small number of Arabic speakers in the US forces, how the small number of translators was a handicap to the military operations. The enemy recognized this vulnerability and focused on killing Arab speakers that cooperate with the US forces. The same tactic has been used in Afghanistan as well. We are now five years into the war in Iraq and still lack a viable ability to communicate in Arabic. One might think that most of the soldiers sent to Iraq might have a fundamental ability to speak, read and write Arabic. This would allow them to not only communicate with the Iraqi population but also check out the blogs that the enemy is using to communicate their operational tactics and appeals for recruits and supplies.

There are media reports recorded in our archives that show complaints — with understandable reason — among the terrorist bloggers who fear that US government operatives are participating in their blog. Their blogs would become totally ineffective if many thousands of US service personnel were participating in the blogs, collecting their information and misinformation and providing misinformation. We suspect that in a few months most of the terrorist blogs could be eliminated through verification of credit information and domain principals and addresses. The fewer the terrorist blogs the greater the control the US would have in breaking down the enemy's ability to communicate.

The War against Terrorism is truly a global war, since the field of communication of the terrorists is via global communication devices: cell phones and the internet (which also offers phone communications, another area where terrorists may be squeezed by the government, since their Internet Service Provider (ISP) would have the billing information and activity of the terrorist website principals.).

If al-Qaeda is reduced to paper communications via messenger, without an ability to promote on the internet, al-Qaeda as a global threat might fade away.

Mel Copeland
---
7.31.08 Pentagon study says Bush's 'war on terror' off target
WASHINGTON, July 30 - A Pentagon-commissioned study published Wednesday said the Bush administration's 7-year-old war-on-terror is off target. The report, done by Rand Corp. under a Pentagon commission, said the current strategy for defeating alQaeda has not been successful and is unlikely to do better without a shift in emphasis. It said since 2001, al-Qaeda has conducted a greater number of attacks across a larger geographic area than at any time in its history. The authors evaluate al-Qaeda since 2001 as being both "strong" and "competent."

Therefore, the study calls for "fundamental rethinking of US strategy" to focus on minimizing overt military action and increasing intelligence collection and partnerships with law enforcement agencies around the world. The report could not have been clearer in its refutation of one of the pillars of the Bush administration's war-on-terror strategy: the characterization of the conflict as a "global war." But the 200-page report suggests that using the label "global war" skews priorities and sends the wrong political message.  "Almost all of our allies, from the Great Britain to Australia, have stopped using the concept of a global war on terror," it noted. [>xinhuanet.com]
---
7.31.08 Bomb targets Pakistani consulate in Afghanistan
KABUL, Afghanistan (AP) July 31 - An explosives-rigged bicycle detonated outside a Pakistani consulate in western Afghanistan on Thursday, wounding two people at the gates of the building, officials said. Pakistan's government, which has had tense relations with Afghanistan, was quick to remind the Afghan government of its duty to protect diplomatic offices. "We hope that Government of Afghanistan will take its responsibility seriously," a statement from Pakistan's foreign ministry said. The Afghan government said in a statement that it also "strongly condemned the blast."
The explosives detonated outside the gates of the consulate in the city of Herat, said Naeem Khan, spokesman for the Pakistani Embassy in the Afghan capital, Kabul. He said a policeman was wounded. Mir Ahmad, a police official in Herat, said two people were hurt — a police guard and a woman. No one was injured inside the consulate, Khan said. Pakistan has four consulates in Afghanistan, he said...In other violence, Taliban militants killed Bacha Khan, a tribal elder, and his two sons, and wounded his wife in Arghandab district of the southern Kandahar province, said district chief Zemarai Khan. The militants kidnapped seven other elders during the Wednesday raid, Khan said. Arghandab is seen as a strategic location that is key to controlling access to Kandahar city, the main hub of southern Afghanistan and the Taliban's former stronghold. [Full story>>indianexpress.com: hosted.ap.org]
---
7.31.08 13 killed as mortar shells hit houses in Kabal
SWAT, Pakistan, July 31 - Thirteen people have been killed when mortar shells fell on two houses in tehsil Kabal whereas 10 Taliban have been killed during operation. According to sources, a pesh imam, his wife and five children were killed when a mortar shell hit their house in Dulai area in Kabal tehsil. Also, six of a family was killed in Derai Sakai area of tehsil Kabal when a mortar fell at their house.

Meanwhile, unidentified miscreants torched a girls school in Khawazakhel and two schools in Kashora areas. A couple was injured when a mortar shell landed at their house in Nusrat Kalay area. Security forces targeted Taliban hideouts with mortar shells in Sarbanda, Barmaba Khela, Peochar, Numl and Gutshor areas in tehsil Matta. Sources said that 10 Taliban were killed and several injured during the operation. Taliban attacked Kabal police station and Wanai check post. They were managed to flee after joint retaliatory action by police and security forces. Fresh contingents of FC have reached in Matta and Kabal areas. According to ISPR, curfew has been relaxed from 10:00 am to 12: noon in the district. [>thenews.com.pk; See more details, aljazeera.net, July 31, "Deadly Clashes in Pakistan's Swat."]
---
7.31.08 Suicide car bomb kills 3 Iraqi policemen
BAGHDAD (AP) July 31 - A suicide car bomber rammed an explosives-laden vehicle into the wall of a police station near the northern city of Mosul on Thursday, killing three policemen and wounding four, police said. It was the fifth suicide attack in Iraq this week and shows that insurgents can still carry out assaults despite security gains in urban areas. Four suicide bombers killed 57 people in Baghdad and the northern city of Kirkuk on Monday. President Bush declared progress in the Iraq war Thursday, saying terrorists "are on the run" and a generally improved security environment should permit further US troop reductions.
The attack on the police station happened in the Qayara area about 30 miles south of Mosul, according to a police officer who spoke on condition of anonymity because he was not authorized to speak to the media. A statement posted Wednesday on a Web site in the name of the Islamic State of Iraq, an al-Qaeda front group, warned of a campaign of attacks in the Mosul area in retaliation for the killing of one of its "hero brothers." [More>>indianexpress.com: hosted.ap.org]
---
7.31.08 Gazprom's net profit more than doubled to $12 billion in 1H08
MOSCOW (RIA Novosti) July 31 - Russian energy giant Gazprom [RTS: GAZP] said Thursday its net profit calculated to Russian Accounting Standards more than doubled, year-on-year, in January-June 2008 to 285.7 billion rubles ($12.2 billion). Gazprom, which accounts for nearly 20% of global and 85% of Russia's natural gas production, said its net profit in January-June 2007 totaled 138.67 billion rubles ($5.9 billion). [>en.rian.ru; See related stories:

timesonline.co.uk, July 31, "Consumer fury at hikes and profits" : Consumers were left furious today as British Gas' parent company posted almost £1 billions worth of profit for the first half of this year just one day after announcing huge price rises for their customers. Customers were told there would be energy price hikes across the board with some people facing an immediate 44 per cent rise in their gas bills. Today, Energywatch, a consumers' group, concluded: "Prices are going up because £992 million profit in six months isn't enough."
Centrica, which owns British Gas, made its profit announcement on the same morning that Shell, the world's second biggest oil company, posted a near £4 billion profit in the last quarter while petrol prices continue to soar...

nytimes.com, July 31, "Rising oil prices swell profits at Exxon and Shell" : Exxon Mobil, the world's largest publicly traded oil company, reported on Thursday its best quarterly profit in history, but investors sold off shares in morning trading after expecting even higher earnings because of soaring oil and natural gas prices. Record earnings for the world's largest publicly traded oil company have become almost as predictable as the surge of gasoline prices at the pump in recent years, and for the second quarter income rose 14 percent, to $11.68 billion.
It was the highest quarterly profit ever for any American company, as Exxon made nearly $90,000 a minute. Such profits have made Exxon Mobil a target of politicians in recent years, propelling calls for windfall profits taxes to finance research and development for renewable fuels to replace oil. The principal reason for the company's banquet of riches is rising fuel prices. Crude oil prices in the second quarter averaged more than $124 a barrel, 91 percent higher than the same quarter in 2007, according to Oppenheimer & Company. Natural gas prices averaged $10.80 per thousand cubic feet, up 43 percent from the quarter a year ago...
---
7.31.08 Switzerland votes on banning Islam's minarets
ZURICH, Switzerland (Reuters) July 31 - Switzerland will hold a referendum on whether to ban building any more minarets in the Alpine country, the government said on Tuesday. A group of politicians from the Swiss People's Party (SVP) and Federal Democratic Union gathered more than 100,000 signatures to support the initiative, saying the minarets threaten law and order. Switzerland has two minarets, in Zurich and Geneva, which would be unaffected by the vote. Neither issues a Muslim call to prayer. "The Federal Chancellery checks of the signature list showed that of the total 114,137 signatures turned in, 113,540 are valid," the government said in a statement. The proposal has to be discussed by parliament before being put to a popular vote and the process could take several years. [>alarabiya.net]
---
7.31.08 Judge rules White House aides can be subpoenaed
WASHINGTON, July 31 - President Bush's top advisers must honor subpoenas issued by Congress, a federal judge ruled on Thursday in a case that involves the firings of several United States attorneys but has much wider constitutional implications for all three branches of government. "The executive's current claim of absolute immunity from compelled Congressional process for senior presidential aides is without any support in the case law," Judge John D. Bates ruled in United States District Court here. Unless overturned on appeal, a former White House counsel, Harriet E. Miers, and the current White House chief of staff, Joshua B. Bolten, would be required to cooperate with the House Judiciary Committee, which has been investigating the controversial dismissal of the federal prosecutors in 2006. [More>>nytimes.com]
---
Update 7.31.08, 7.30.08 Negative equity threat to 1.7 million properties in Britain
LONDON, July 30 - The spectre of negative equity on a scale not seen since the housing crash of the early 1990s is about to haunt the nation again, with unknowable but certainly dramatic political and economic consequences. According to research from the Standard & Poor's credit agency, some 1.7 million homeowners — one in seven — will see the value of their home fall below the outstanding balance on their mortgage in the next year. The gloomiest prediction circulating the City would see that number ballooning to 3.7 million households — almost one in three. Prices are already 9 per cent off their peak.
Meanwhile, and partly as a result of the widespread gloom around property, consumer confidence has fallen to lows last seen during the slump of the 1970s. Then, as now, consumers are facing steep rises in energy prices, the latest being Centrica's announcement of a 35 per cent rise in British Gas bills, with their electricity prices up by 9 per cent. Many economists say inflation will top 5 per cent this autumn; even higher than the Bank of England has so far conceded likely, and way above the Government's 2 per cent target. The phenomenon of "stagflation" — stagnating output and unemployment coupled with high inflation — appears set to join negative equity in spooking the British economy out of its wits. [More>>independent.co.uk; See updated story,

independent.co.uk, July 31, "Home price falls hit record" : House prices are falling at a record rate as the credit crunch continues to squeeze the property market, figures showed today. The average UK home lost 8.1 per cent of its value during the past year, the biggest annual drop since Nationwide's monthly house price index was launched in 1991. House prices fell for the ninth month in a row during July, losing a further 1.7 per cent of their value, nearly double the 0.8 per cent drop seen in June...
---
7.30.08 Sweeping housing bill signed by Bush
WASHINGTON, July 30 - President Bush signed into law on Wednesday a huge package of housing legislation that included broad authority for the Treasury Department to safeguard the nation's two largest mortgage finance companies and a plan to help hundreds of thousands of troubled borrowers avoid losing their homes. Mr. Bush signed the legislation, which Congress approved last week, shortly after 7 a.m. in the Oval Office, the deputy White House press secretary, Tony Fratto, said. The law authorizes the Treasury to rescue the mortgage finance giants, Fannie Mae and Freddie Mac, should they verge on collapse, potentially by spending tens of billions in federal monies. Together, the companies own or guarantee nearly half of the nation's $12 trillion in mortgages. [More>>nytimes.com]
---
7.30.08 UN: Millions hungry in North Korea
BEIJING, July 30 - With shriveled harvests and a cutback in imports, North Korea has slipped back into a serious food shortage that is causing millions of people to go hungry, the United Nations announced Wednesday. The main UN aid agency in North Korea, the World Food Program, will resume emergency operations there in the next two weeks to help feed more than 5 million people over the next 15 months at a cost of $500 million, said Jean-Pierre de Margerie, the agency's country director in Pyongyang.