01.24.06 Al Qaeda sees resurgence in Pakistani tribal areas
January 24 – Al Qaeda and its former protectors — the Taliban — are in the midst of a powerful resurgence, according to accounts by local officials and information contained in new al Qaeda videotapes obtained by ABC News. US troops are not permitted inside Pakistan, and the Pakistani army is barely seen in this part of Waziristan Province. he new videotapes show open recruitment for the jihad, or holy war, to kill Americans and their allies.

The narrator says, "Come join the jihad caravan."

"The Taliban resurgence this year has been enormous and quite extraordinary," said Ahmed Rashid, author of the book "Taliban: Militant Islam, Oil, and the Fundamentalism in Central Asia." [More>>abcnews.go.com]
---
01.24.06 Warmest year on record was 2005 – NASA
WASHINGTON (Reuters) January 24 – Last year was the warmest recorded on Earth's surface, and it was unusually hot in the Arctic, US.space agency NASA said on Tuesday. All five of the hottest years since modern record-keeping began in the 1890s occurred within the last decade, according to analysis by NASA's Goddard Institute for Space Studies. In descending order, the years with the highest global average annual temperatures were 2005, 1998, 2002, 2003 and 2004, NASA said in a statement.

"It's fair to say that it probably is the warmest since we have modern meteorological records," said Drew Shindell of the NASA institute in New York City. "Using indirect measurements that go back farther, I think it's even fair to say that it's the warmest in the last several thousand years." [More>>thestar.com.my ; See NASA data and charts at data.giss.nasa.gov]
---
01.24.06 Musharraf says US likely hit al-Qaida
OSLO, January 24 – Pakistan President General Pervez Musharraf said Tuesday there were indications that al-Qaida members were killed in a US airstrike near the Afghan border on Jan. 13. "Investigations have found that there are foreigners there, that is for sure, in the general area," Musharraf said of the airstrike in Damadola, a village in Bajaur tribal region.

"There is an indication that there were some people also, al-Qaida people, who have gotten killed and we need to ascertain that. I'm not 100 percent sure of that," he told newsmen in Oslo. [jang.com.pk]
---
01.24.06 Taleban prisoners escape from Afghan jail
KABUL (AFP) January 24 – Seven mid-ranking Taleban prisoners have escaped from Afghanistanıs main high security jail, prison authorities said on Tuesday. Ten warders are being questioned over their possible involvement in Sundayıs breakout from Pul-e-Charki jail near the capital, said the director of Afghanistan prisons, Abdul Salam Bakhshi. "Seven Taleban prisoners have escaped the jail on Sunday," Bakhshi told reporters in his Kabul office. "They were mid-level to low-level Taleban."

Nine people five guards and four inmates with suspected links to Al Qaeda and the Taleban died during a stand-off at Pul-e-Charki in December 2004. Four foreign militants described as dangerous enemy combatants escaped from a heavily fortified jail at Bagram, the main US base in Afghanistan, in July last year. They have not been caught and the Taleban, the hardline regime ousted by US-led forces in late 2001 for sheltering Osama bin Laden, later said they were looking after them. [More>>khaleejtimes.com]
---
01.24.06 Russia: Is Georgian gas crisis evidence of Moscow's new energy strategy?
January 23 – Georgia's contentious relations with Russia hit a new low in the wake of the 22 January attacks on a pipeline supplying gas to Georgia. Without supplying evidence to support their claims, President Mikheil Saakashvili and other Georgian officials accused Russia of engineering the explosions as a means of triggering a political crisis in Georgia. The twin blasts in North Ossetia – which borders the Georgian breakaway province of South Ossetia that seeks union with Russia – effectively shut down the main pipeline supply Georgia with Russian gas at a time when the region is weathering a brutal cold snap. The same day, electricity supplies to Georgia were interrupted following an explosion at a transmission tower on Russian territory. Saakashvili wasted little time in pointing the finger at Russia, claiming the attacks "were done so that Georgia will break apart...and fall into the hands of Russia."

...Georgia is not alone in its perception that Russia is using its wealth of natural resources to impose its will on those who rely on it for energy imports. Russia's recent gas disputes with Ukraine and Moldova, which have only temporarily been resolved, serve to provide credence to this view. [More>>rferl.org]

Editorial note: "Pipeline Wars" : There is a trend where source countries of pipelines may continue to use their pipelines to exercise force against countries that depend upon fuel from their pipelines. We can call these actions, for lack of a more precise term, "Blackmail." We have recently seen Iran threatening the EU's fuel supply if Iran is referred to the UN over its nuclear development ambitions. The US, on the other hand, has threatened countries against supplying oil to other countries, as in the case of Iran. See article, dawn.com, "Pipeline to be built in segments" : ISLAMABAD, January 23 – Pakistan, Iran and India are likely to adopt a segmented approach on the construction of over $7 billion trans-Pakistan gas pipeline to ward off effects of possible US sanctions against Iran over nuclear issue, sources say. Petroleum ministry officials are, however, not clear if such an approach could help parry similar UN sanctions. The segmented approach means construction of the pipeline by the three countries within their respective territories. The 2,670-km pipeline would have about 1,115-km length in Iran, 705kms in Pakistan and 850kms in India.

US threats to Pakistan and India in placement of the pipeline from Iran focus one side of the "Pipeline Wars" issue. Russia's threats against the Ukraine – who protested Russia's quadrupled transit fees – (see Maravot News archives) illustrate the other side of the "Pipeline Wars." Terrorists have been bombing the pipelines in Iraq, Pakistan and India recognizing how vulnerable the pipelines are. There are other pipelines in the works that are vulnerable, one of which crosses from Kazakhstan to India and China. The security of this pipeline is dependent upon the security of Afghanistan, whose northern border guards the Khyber Pass adjacent to a proposed pipeline route. See maps in sidebar.]

Mel Copeland
---
01.24.06 Report accuses US of 'outsourcing' torture
January 24 – An investigation into alleged CIA secret prisons in Europe reported today that there was evidence that the United States was relying on other countries to torture terror suspects - and it was highly likely that European governments knew of it. But there was no formal proof so far of the existence of illegal secret detention centres in Romania or Poland, as had been alleged by the New York-based Human Rights Watch, said Dick Marty, a Swiss senator who led a Council of Europe inquiry into the issue.

"There is a great deal of coherent, convergent evidence pointing to the existence of a system of 'relocation' or 'outsourcing' of torture," Mr. Marty said. "Acts of torture, or severe violation of detaineesı dignity through the administration of inhuman or degrading treatment, are carried on outside national territory, and beyond the authority of national intelligence services." [More>>timesonline.co.uk]
---
01.24.06 Iraqi militants turn on Al Qaeda
BAGHDAD, January 24 – Iraqi nationalist rebels in the Sunni Arab city of Ramadi have turned against their former Al Qaeda allies after a bomb attack this month killed 80 people, sparking tit-for-tat assassinations.

Residents said on Monday that at least three prominent figures on both sides were among those killed after local insurgent groups formed an alliance against Al Qaeda, blaming it for massacring police recruits in Ramadi on January 5. "There was a meeting right after the bombings," one Ramadi resident familiar with the events said. "Tribal leaders and political figures gathered to form the Anbar Revolutionaries to fight Al Qaeda in Anbar and force them to leave the province," said the resident. [More>>dailytimes.com.pk]
---
01.24.06 Afghanis march against terror
HERAT, Afghanistan, January 25 – Women in burqas and men in wheelchairs are among hundreds of Afghans taking part in a protest march in the western city of Herat to denounce a wave of suicide bombings that many blame on neighboring Pakistan. The march was the third well-organized protest in Afghanistan since a suicide bomber killed 23 people in the town of Spin Boldak, on the border with Pakistan, on January 16. "Many people were sacrificed for our freedom. Now, thank God, we have freedom but our enemies don't want us to have peace," said a woman in a burqa. Protesters waved the Afghan flag and carried banners with messages such as: "Death to terrorism." [More>>theaustralian.news.com.au]
---
01.23.06 Ford to cut up to 30,000 jobs and 14 plants by 2012
January 23 – The Ford Motor Company said today that it would eliminate 25,000 to 30,000 jobs and close up to 14 manufacturing plants in the next six years in an extensive restructuring that executives said would make the company's North American division profitable by 2008. The job cuts and restructuring plan, which the company dubbed "Ford Fights Back," were larger than what many auto industry analysts had been expecting. Seven of the 14 plants Ford is closing are vehicle assembly plants, but the company only identified five plants in Michigan, Georgia, Missouri, Ohio and Ontario representing 26 percent of its production capacity today that will be closed through 2008. Officials said it would identify two other assembly plants later this year. [More>>nytimes.com]
---
01.23.06 Aix : les enquêteurs découvrent 40 bâtons de dynamite (France: 40 sticks of dynamite discovered – bomber dies)
(Avec AFP) 23 janvier – Deux caches contenant de la dynamite ont été découvertes à Aix-en-Provence dans le cadre de l'enquête sur l'attentat contre les locaux du Trésor public dimanche dans cette ville, qui a coûté la vie au poseur présumé de la bombe, a-t-on appris lundi de sources proches de l'enquête. Au total, 40 bâtons : «de quoi alimenter toute personne itinérante qui, avertie de leur présence, pouvait venir s'y approvisionner», a déclaré l'une de ces sources. «Il s'agit de planques tout à fait accessibles à une personne au courant, dans des lieux accessibles au public», a-t-elle précisé.

Ces caches ont été découvertes par les enquêteurs qui tentent d'élucider les raisons du décès, dans la nuit de samedi à dimanche, d'un jeune Corse de 24 ans, tué dans l'explosion d'une bombe de faible puissance qu'il tentait de placer sur le rebord d'une fenêtre du bâtiment, selon les mêmes sources. [More>>lefigaro.fr]
---
01.23.06 Car bomber hits Iraqi police patrol
January 23– A car bombing and pre-dawn raid by dozens of armed men in police uniforms have killed at least six Iraqis across Baghdad, while three US soldiers died in separate roadside bomb blasts. The bomber blew up his car on Monday, targeting an Iraqi police patrol near the Iranian embassy, which is near a main checkpoint into the fortified Green Zone, said Major-General Abdul-Razaq al-Samarie, the top Baghdad police officer. Two civilians and a policeman were killed and six Iraqis were wounded, including five policemen, al-Samarie said. [More>>aljazeera.net]
---
01.23.05 Update, 01.22.06 Saudi king in China for oil talks
January 22 – King Abdullah has begun the first ever state visit to China by a Saudi leader, expected to focus on boosting cooperation to fuel China's soaring energy needs. The visit marks the first part of an Asian tour that will take him on to India, Malaysia and Pakistan. During his three-day stay in China, Abdullah is scheduled to meet President Hu Jintao on Monday and Wu Bangguo, the No 2 Communist Party leader, and Wen Jiabao, the prime minister, on Tuesday. Kong Quan, a spokesman for the Chinese foreign ministry, said on Thursday that the two sides were expected to discuss energy cooperation, anti-terrorism, politics, economics, culture, health and telecommunications. He gave no information about possible energy deals to be signed. [More>>aljazeera.net ; See also chinabroadcast.cn (CRIonline) ; See update January 23, xinhuanet.com, Chinese, Saudi groups plan new oil company."]
---
01.23.06 Russian FSB identifies four British "spies," seizes spying devices
MOSCOW (RIA Novosti) January 23 – The Russian Federal Security Service (FSB) has identified four British agents who were operating in Moscow under diplomatic cover and has seized a high-tech British spying device used to contact agents, an FSB spokesman said Monday. The FSB had linked the discovery of the agents and their equipment to financing of non-governmental organizations working in Russia, it said. "We found out that they were financing a number of non-governmental organizations," Colonel Sergei Ignatchenko said. It remained to be established how exactly the funds had been used, he added.

The spying device was disguised as a rock and had a range of 20 meters, according to Ignatchenko. It took only two seconds to establish contact with anyone carrying the appropriate equipment, he said. British agents had installed the electronic device in a Moscow district, Ignatchenko said, but had later removed it when it had stopped working. The spokesman said FSB officers had subsequently launched a search for similar devices, and had found a second. [More>>rian.ru ; See also timesonline.co.uk, "Anglo-Russian relations rocked by 'bugged boulder' claim."]
---
01.23.06 Mad cow confirmed again in Alberta
OTTAWA, Canada, January 23 – Canada's latest case of mad-cow disease has been found in a six-year-old animal from Alberta, the Canadian Food Inspection Agency announced Monday. Marisa Etmanski from Premier Ralph Klein's office said the animal was born and raised in the province. What had been termed as "a suspicious animal" was sent to a Winnipeg lab on the weekend for final tests. There is no indication that any part of the animal entered the human-food or animal-feed systems. [More>>theglobeandmail.com via jang.com.pk]
---
01.23.06 China's 10th human case of bird flu
(Xinxuah) January 23 – China's Ministry of Health on Monday announced one more human case of bird flu. The infected is a 29-year-old peddler surnamed Cao from Jinhua Town of Chengdu City, southwest China's Sichuan Province, said a report released by the ministry. She showed symptoms of fever and pneumonia on January 12 and is hospitalized in Chengdu currently in critical condition. [More>>chinabroadcast.cn]
---
01.23.06 Livedoor President Horie, 3 top execs arrested for alleged financial fraud
TOKYO, January 23 – Livedoor Co President Takafumi Horie, 33, was arrested Monday on suspicion of spreading false financial information to deceive investors, investigative sources said. Also arrested were Livedoor Chief Financial Officer Ryoji Miyauchi, Livedoor Director Fumito Okamoto and Livedoor Finance Co President Osanari Nakamura, all of them 38, the sources said. Miyauchi is the company's No. 2 man and a close ally of Horie, who shot to fame with a series of audacious challenges to Japan's business and political old guard. [More>>crisscross.com ; The revelation of the Livedoor financial scandal caused the Japanese, Korean and other stock markets to fall, followed by a major drop in the US stock markets. Yesterday, Korea's Kosdaq market suspended trading when stocks tumbled below 1,300 due to panic selling. See koreaherald.co.kr]
---
01.23.06 Police name two more Bali bombing suspects
JAKARTA (Reuters) January 23 – Two Indonesians arrested this month, including a close aide to the country's most wanted militant, were named suspects on Monday for involvement in last year's restaurant bombings on Bali, a police spokesman said. Police last week declared four other men suspects in the same case on charges of helping hide accused militant mastermind Noordin M. Top during and after the bombings that killed 20 people at three eateries on the famed resort island. [More>>thejakartapost.com]
---
01.22.06 Fugitive militant Zarqawi seeking new Iraq alliances
LONDON (Reuters) January 22 – Abu Musab al-Zarqawi, the Jordanian Islamist militant and most wanted man in Iraq, is alive, well and seeking new alliances among Sunni opponents of US-led forces in Iraq, Britain's Sunday Times reported. Citing the leader of a Sunni resistance group who said he recently spent time with Zarqawi, the newspaper said the insurgent leader wore a suicide belt at all times – even when asleep.

"He told me: 'I would rather blow myself up and die as a martyr – and kill a few Americans along the way – than be humiliated by them,'" Sheikh Abu Omar al-Ansari, leader of the Jeish al Taiifa al Mansoura (Army of the Victorious Sect) group, was quoted as saying.

Zarqawi, believed to have been behind several videotaped beheadings of foreign hostages in Iraq, has a $25 million dollar US bounty on his head – the same as that for the killing or capture of al Qaeda leader Osama bin Laden. Although the newspaper report is based on a third-hand account of the meeting as the information was passed on from Ansari through an intermediary, it contains rare details. [More>>thestar.com.my ; See also timesonline.co.uk, "Zarqawi 'sleeps in suicide belt'"]
---
01.22.06 Pakistani authorities arrest al-Qaida suspect in Damadola
DAMADOLA, January 22 – Pakistani authorities arrested a suspected militant with links to al-Qaida operatives that were targeted in U.S. attack last week, an official said Sunday. The man, who was not identified, was picked up in Damadola village, the remote hamlet where U.S. missiles struck Jan. 13, the security official said on condition of anonymity according to official policy. The man arrested was a relative of Faqir Mohammed, the pro-Taliban cleric intelligence officials believe is responsible for removing – and concealing – the bodies of the extremists following the airstrike, the official said. The official refused to be identified because he was not authorized to speak to the media. [jang.com.pk]
---
01.22.06 Pakistan's push in border areas is said to falter
PESHAWAR, Pakistan, January 19 (Published January 22) – Two years after the Pakistani Army began operations in border tribal areas to root out members of Al Qaeda and other foreign militants, Pakistani officials who know the area say the military campaign is bogged down, the local political administration is powerless and the militants are stronger than ever.

Both Osama bin Laden, who released a new audiotape of threats against the United States this week, and his deputy, Ayman al-Zawahiri, are believed to be living somewhere in the seven districts that make up these tribal areas, which run for more than 500 miles along the rugged Afghan border and have been hit by several American missile strikes in recent weeks.

The officials said they had been joined by possibly hundreds of foreign militants from Arab countries, Central Asia and the Caucasus, who present a continuing threat to the authorities within the region. [More>>nytimes.com]
---
01.22.06 Insurgent attacks kill at least 13 in Iraq
January 22 – Insurgents fired rocket-propelled grenades at the home of an Iraqi police officer Sunday, killing his four young children and his brother and wounding his wife. Bombings and shootings around the country killed at least eight other people, officials said. As Iraq's dominant Shiite leaders prepared for talks with Kurdish and Sunni politicians to form a national unity government, Sunni Arabs warned they would reject the inclusion of any minister who had been involved in violence against Sunnis by Shiite-backed security forces. The US military said American soldiers Saturday killed three gunmen firing from several cars north of Beiji, 155 miles north of Baghdad. They destroyed four cars after one was found rigged for a car bombing.

There was no word, meanwhile, on the fate of American journalist Jill Carroll, kidnapped in Baghdad on Jan. 7 and last seen in a video released Jan. 17. Her kidnappers threatened to kill the 28-year-old if all Iraqi female prisoners were not released within 72 hours. [More>>chinabroadcast.cn]
---
01.22.06 France investigating possible case of bird flu
Paris (Reuters) January 22 – France is investigating a possible case of bird flu in a French woman who has returned from Turkey, the French health ministry said on Sunday. "A first test has come out as negative. Other tests are under way," a ministry spokesman said. The woman, 32, was hospitalised in Montpellier following a two-week stay in the Tarsus region, which, the ministry said, is not known to have be been affected by the disease. The woman had been travelling on her own. Tarsus lies in Turkey's East Mediterranean part.

Turkey has reported at least four deaths from the H5N1 strain of bird flu this month, bringing the strain to the gates of Europe and the Middle East. The epicentre of Turkey's outbreak is in the east, near to Syria, Iraq, Iran and Armenia. The woman, who had seen dead birds while travelling the country, showed symptoms of flu combined with breathing difficulties and was hospitalised on Saturday, the ministry said in a statement. [More>>thestar.com.my ; See also lefigaro.fr, "Grippe aviare : une jeune femme examinée à Montpellier."]
---
01.22.06 Natural gas flow from Iran slows down
ANKARA, January 22 – The natural gas flow from Iran to Turkey has considerably slowed down, said Turkish sources today. According to information received from the Turkish Ministry of Energy and Natural Resources, the daily natural gas flow, which actually has to be 26 million cubic meters, is currently 5-6 million cubic meters. Iranian authorities reported that the slow down in natural gas flow has been caused by a technical problem at the production facilities. [More>>turkishpress.com]
---
01.20.06 Tomb in Rome hailed as milestone find
ROME (AP) January 20 – Archeologists said Friday they have spotted what appears to be the roof of another tomb in a 3,000-year-old necropolis, the latest discovery about a little-known hut-dwelling people who preceded the legendary founders of Rome by some three centuries. Archeologist Alessandro Delfino said the roof is just metres from a tomb he discovered and dug up on Thursday that appears to date to about 1000 BC. The location was under Caesar's Forum, which is part of the sprawling complex of imperial forums in the heart of modern Rome. Thursday's find set off a storm of excitement among archeologists in Rome, as they anticipate a possible treasure trove of artifacts and architecture that could greatly enlarge knowledge about that period, which roughly straddles the transition from Bronze to Iron ages...The tomb excavated Thursday is exceptionally big and well-preserved, with its 1.2-metre-wide hut-like roof. Its form resembles a well... [Full story>>theglobeandmail.com via megalithic.co.uk]

Editorial note: The Aeneid by Virgil (19 B.C.) recounts the history of the Roman people as refugees from the Trojan War (circa. 1180 B.C.). The Hittite Capital was destroyed about this time and the Egyptians record how they were invaded by many groups of Sea Peoples about this time, among whom may have been the Etruscans (Tyrsi, Tyrrhenians, Tyrrheni). The Etruscans, also mentioned in Virgil's poem, which follows the Iliad and the Odyssey by Homer, lived next to the early Romans, also mentioned in Virgil's poem. The Aeneid presupposes a continuation of the Iliad and the Odyssey by Homer.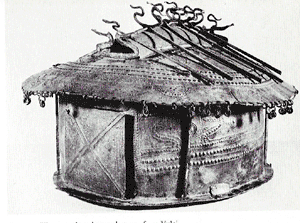 Villanovan hut urn
The Etruscans (modern Tuscany derives its name from them) also claimed to be descendents of refugees from Troy / Lydia during the time of the Trojan War. An early form of the Etruscan culture was the Villanovan (~1,000 B.C.) and a famous urn from that civilization is called "The Hut Urn." The description of the tomb excavated under the Roman Forum resembles this distinctive Villanovan hut urn.
The Etruscans (also called Tyrrhenians – Herodotus I.94) dominated the Western Mediterranean – the Tyrrhenian Sea being named after them – and they were pirates. The myth of Dionysus records how he was abducted by Etruscan pirates but he responded by causing snakes, lions, etc. to appear on the deck of the ship, terrifying the captain and crew so much they all jumped overboard. The Tyrrhenians according to Herodotus were driven from their homeland as a result of a prolonged famine (The Trojan War lasted ten years). They took their name from the son of the Lydian king Atys, Tyrsensu, who led them to a new home among the Ombrici of northern and central Italy. The name Atys is mentioned in a few of the Etruscan inscriptions.
The Etruscans called themselves Rasna, introduced writing to Italy, and the first king of Rome was an Etruscan. Our alphabet was derived from the Romans who received it from their predecessors, the Etruscans. Whether the finds under the Roman Forum are Etruscan or proto-Roman the connection to the well-like tomb with a hut roof is interesting. More on the Etruscans>>
Etruscan_Phrases
]
Mel Copeland
---
01.20.06 Heads of 10 Palestinian terrorist leaders received in Damascus by Iranian president Ahmendenijad
JANUARY 20 – He promised to support their "struggle." Among them were Khaled Mashaal, whose Hamas is running for election in five days, Abdallah Ramadan Shalah, head of Jihad Islami, whose suicide bomber injured 25 Israelis in Tel Aviv Thursday, Ahmed Jibril, head of the radical PFLP-General Command, and Hizballahıs Hassan Nasrallah. DEBKAfile adds: The Olmert government is standing aside as Hamas heads for certain victory in the Palestinian elections. This group, like the other Palestinian terrorist groups whose commands are comfortably ensconced in Damascus, receives funding, aid and support from the hands of a leader who openly advocates wiping Israel off the map. The Tel Aviv suicide bombing was hailed enthusiastically by Iranıs state TV. [debka.com ; See also haaretzdaily.com, January 21, "Iran's leader challenges Europe to take back Jews in Israel" : (AP) DAMASCUS – In a new attack on the existence of Israel, Iranian President Mahmoud Ahmadinejad has challenged Europe to take back the Jews who emigrated to Israel, adding that no Jews would remain in Israel if Europe were to open its doors. Ahmadinejad delivered the challenge after arriving in Syria for a two-day visit on Thursday. Addressing Europe, he asked: "Would you open the doors of your own countries to these (Jewish) immigrants so that they could travel to any part of Europe they chose?"

"Would you offer the necessary guarantees that you would provide for their security when they came to your countries and not allow another anti-Semitic wave in Europe?" he added in an apparent reference to recent attacks on Jewish cemeteries and properties in European states...]
---
01.20.06 Qaeda's Zawahri praises fighters in Afghanistan – Web
DUBAI (Reuters) January 21 – Al Qaeda's second-in-command, Ayman al-Zawahri, praised Islamic fighters in Afghanistan, according to an Internet audio tape posted on Friday, a day after Osama bin Laden warned of attacks on America. The speaker on the latest tape sounded like the Egyptian-born Zawahri. The little-known Web site which carried the tape said it was new but this could not be verified. "I am honoured to recite this jihadist poem," he said, praising mujahideen fighters. "We shall remain true to our oath (with the Afghan mujahideen)." [More>>thestar.com.my ; See also expressindia.com : ...In his 17-minute tape, Zawahri praised an Islamist Afghan poet, Mohebullah Kandahari: "The owner of the sword and pen, who carried both a machine gun and the Koran, known in scholarly circles ... and who could be seen in jihadi arenas from the time of the Russian communist attack on Afghanistan until the crusader raid (led by the United States in 2001)." The CIA spokeswoman said: "After conducting a technical analysis, the CIA concludes with high confidence that the voice on the tape is that of Ayman al-Zawahri." The little-known Web site which carried the tape said it was new, but the U.S. counter-terrorism official cast doubt on that assertion. "There is no reason to believe it was done recently. It could have been done at any time," the official said...]
---
01.20.06 Iran, at risk of UN sanctions, says moving assets
TEHRAN (Reuters) January 20 – Embroiled in a nuclear standoff with the West, Iran said on Friday it was moving its foreign assets to shield them from possible UN sanctions and flexed its oil muscles with a proposal to cut OPEC output. "Yes, Iran has started withdrawing money from European banks and transferring it to other banks abroad," said a senior Iranian official, who asked not to be named.

Central Bank Governor Ebrahim Sheibani was quoted earlier as saying Tehran had started shifting funds, but he sidestepped a question on whether the assets would go to accounts in Asia. It is far from clear how placing assets in Asia or anywhere abroad would protect them from being frozen as few governments or major banks would be willing to flout UN sanctions openly.

The United States and the European Union want the International Atomic Energy Agency (IAEA) to refer Iran to the Security Council at an emergency meeting on February 2. [More>>iranfocus.com ; See also jang.com.pk, "Iran shifting foreign assets to Asia: central bank" : The chief of Iran's Central Bank has indicated that Tehran has already started shifting its foreign hard currency deposits to southeastern Asia amid the threat of sanctions, Iranian media reported Friday... Sheibani made his comments to Iranian reporters on Wednesday but other agencies only published stories reporting the comments on Friday. His comments contrasted with remarks by Iranian Economy Minister Davoud Danesh-Jafari on Thursday dismissing a report in pan-Arab newspaper that Iran had ordered government departments to withdraw currency from European banks. The report said that Iran feared possible sanctions over its disputed nuclear programme.

"A number of Iranian regime-linked figures have already withdrawn their private capital from European banks and deposited it in private banks in Hong Kong, as well as Dubai, Beirut, Singapore and Malaysia, over fears of account freezing," it said...

haaretzdaily.com, "Russia rejects Israeli proposal to impose sanctions on Iran" : Russia rejected Israel's suggestion to impose immediate sanctions on Iran in reaction to its nuclear program, it emerged Friday. Israeli and Russian delegates met as part of Israel's attempts to garner the support of Western and other countries for a "sanctions basket" against Iran. In the wake of growing international debate over possible sanctions Iran on Friday began moving its foreign reserves out of Europe to an undisclosed destination. ]
---
01.20.06 Israel blames Iran, Syria over Tel Aviv attack
(AFP) January 20 – Israel blamed arch enemies Iran and Syria on Friday for a Palestinian suicide bombing in Tel Aviv that has escalated tension just days before a legislative election in the Gaza Strip and West Bank. At least 19 Israelis were wounded when a Palestinian university student blew himself up at a food stand in a down-and-out area of the commercial capital on Thursday, the first such attack since a Palestinian truce ended this month. At a security meeting, Israelıs Defence Minister Shaul Mofaz pointed the finger of blame at Teheran and Damascus, both under US sanctions for their alleged sponsorship of terrorism and quest for weapons of mass destruction. [More>>khaleejtimes.com]
BAGHDAD, January 21 – Iraqi Shi'ite-based religious parties won last month's general elections, but failed to obtain an absolute majority of seats in parliament, according to uncertified results released today. The conservative United Iraqi Alliance, which controls the outgoing government, won 128 of parliament's 275 seats, the electoral commission announced. Their allies in the Kurdish Alliance won 53 seats. The two formations were just three seats short of the two-third majority needed to elect a president and push through constitutional reforms. The Sunni-based National Concord Front took 44 seats and another Sunni-based party, the National Dialogue Front, won 11 seats. [More>>theaustralian.news.com.au]
January 20 – Marine wildlife experts scrambled today to save the life of a rare North Atlantic whale that entered the Thames overnight and swam upstream past Westminster, leaving a second whale – possibly its mother – stranded off the Essex coast. The unprecedented visit by the northern bottle-nosed whale - from an endangered species that breeds off the coast of Nova Scotia and is rarely seen in British waters - brought television crews and bystanders flocking to the banks of the Thames for an impromptu bout of whale-watching.

But Alan Knight, chairman of the British Divers Marine Life Rescue service, which looks after stranded cetaceans and immediately sent a team to London this morning, said that he feared that the whale would not survive the encounter. The situation was further complicated by the appearance this afternoon of another, larger whale of the same species that was trying to beach itself off more than 30 miles away at Southend-on-Sea, at the mouth of the Thames. [More>>timesonline.co.uk]
WASHINGTON, January 20 – The Bush administration offered its fullest defense to date Thursday of the National Security Agency's domestic eavesdropping program, saying that authorization from Congress to deter terrorist attacks "places the president at the zenith of his powers in authorizing the N.S.A. activities." In a 42-page legal analysis, the Justice Department cited the Constitution, the Federalist Papers, the writings of presidents both Republican and Democratic, and dozens of scholarly papers and court cases in justifying President Bush's power to order the N.S.A. surveillance program. [More>>nytimes.com]