---
---
12.02.05 New US-Iraqi operation launched in Ramadi
BAGHDAD (AFP) December 02 – US and Iraqi forces in Iraq launched a new operation in Ramadi on Friday, the day after militants staged a symbolic attack on the town, as a new report suggested the insurgency could get stronger. Approximately 200 Iraqi Army soldiers and 300 Marines are taking part in Operation Shank, the fifth operation over the last few weeks targeting insurgents in the area around Ramadi, west of Baghdad. The offensive came a day after residents of Ramadi reported on Thursday a sudden insurgent presence on the streets, with dozens of fighters roaming unchecked through Ramadi and putting up Al Qaeda posters. [More>>khaleejtimes.com]
---
12.02.05 Iran and Russia sign $1 billion defence deal
MOSCOW (Reuters) December 02 – Russia plans to sell more than $1 billion worth of tactical surface-to-air missiles and other defence hardware to Iran, media reported on Friday. Moscow is already at odds with the West over its nuclear ties with Tehran but has sought to use its warm relations with Iran to be recognized as a key mediator between the West and the Islamic Republic.

The Vedomosti business daily cited military sources as saying Iran would buy 29 TOR-M1 systems designed to bring down aircraft and guided missiles at low altitudes. The paper, calling it the biggest sale of Russian defence hardware to Iran for about five years, said Moscow and Tehran had already signed the contract. [More>>thestar.com.my]
---
12.02.05 Torture in China 'widespread'
December 02 – A United Nations rights investigator said today torture was still widespread in China and accused authorities of trying to obstruct his work on a historic 12-day fact-finding mission. "Torture is on the decline but it is still widespread," Manfred Nowak, the UN Human Rights Commission's special rapporteur on torture, told a press briefing at the end of his trip.

"There is much that still needs to be done, there is a need for many more structural reforms." Torture methods cited in a press release at the end of his trip included use of electric shock batons, cigarette burns, submersion in pits of water or sewage and exposure to conditions of extreme heat or cold. [More>>theaustralian.news.com.au]
---
12.01.05 Blair faces allegations of complicity in torture
December 02 – Pressure is mounting on the White House to answer claims that the CIA is using UK airports to fly terrorist suspects for torture in secret prisons in Europe. Elizabeth Wilmshurst, the former Foreign Office lawyer who resigned over the Iraq war, warned Tony Blair last night that he cannot duck the questions crowding in about the flights which could mean Britain has been complicit in torture. In The Independent, Ms. Wilmshurst, now a fellow of Chatham House, said the Prime Minister could not justify breaking the international convention against torture by saying the "rules of the game have changed" because of the war on terrorism. Britain's European partners stepped up the pressure for details to be disclosed about hundreds of secret flights by CIA-operated jets...Twenty-six planes apparently used by the CIA have made 307 flights in Europe since 9/11. Of these, 94 had stops in Germany and 76 in Britain, at Luton, Glasgow, Prestwick and Northolt. The UK government has denied prisoners are being held on a US-operated base on British-owned Diego Garcia.

John Sifton, a researcher for Human Rights Watch, which has released a list of 26 "ghost detainees" held by the US without access to lawyers, said probably only a few of the 307 flights involved moving prisoners. Most, he said, were likely transferring CIA personnel. "It's impossible to know for sure how many are innocent," he said. [Full story>>independent.co.uk]
---
12.01.05 IDF soldiers arrest Al Jazeera TV reporter based in West Bank
(Reuters) December 01– Israel Defense Forces troops operating in the West Bank town of Hebron on Wednesday arrested a reporter for the Web site of the Arabic satellite channel Al Jazeera television station. Awad Rajoub, 29, was arrested at his home, Walid al-Amari, Al Jazeera bureau chief for the West Bank, Gaza and Jerusalem, said on Thursday. Israel has not explained the arrest, he told Reuters. "We are checking to find out why they arrested him." An IDF spokeswoman said that Awad was being held "for security reasons." [haaretzdaily.com ; See also aljazeera.net : A journalist working for Aljazeera.net has been arrested by Israeli forces from the occupied West Bank....]
---
12.01.05 Rebels launch brief assault in western Iraq city
BAGHDAD (Reuters) December 01 – Insurgents launched a brief assault west of Baghdad on Thursday, firing mortar rounds and rockets at a US base and local government buildings, the day after Washington unveiled its new strategy for victory in Iraq. Residents said heavily armed men wearing masks attacked a US garrison in the centre of Ramadi, a rebellious city 110 km (65 miles) west of Baghdad, and fired on nearby council offices before seizing several streets. Leaflets were distributed saying that Al Qaeda in Iraq, the group led by Jordanian militant Abu Musab Al Zarqawi, was taking control. But after a couple of hours, most of the militants dispersed and the city appeared to return to relative calm. [More>>khaleejtimes.com]
---
12.01.05 Two US allies leaving Iraq, more may go
(AP) December 01 – Two of America's allies in Iraq are withdrawing forces this month and a half-dozen others are debating possible pullouts or reductions, increasing pressure on Washington as calls mount to bring home U.S. troops. Bulgaria and Ukraine will begin withdrawing their combined 1,250 troops by mid-December. If Australia, Britain, Italy, Japan, Poland and South Korea reduce or recall their personnel, more than half of the non-American forces in Iraq could be gone by next summer.

Japan and South Korea help with reconstruction, but Britain and Australia provide substantial support forces and Italy and Poland train Iraqi troops and police. Their exodus would deal a blow to American efforts to prepare Iraqis to take over the most dangerous peacekeeping tasks and craft an eventual U.S. exit strategy.

"The vibrations of unease from within the United States clearly have an impact on public opinion elsewhere," said Terence Taylor of the International Institute for Strategic Studies in Washington. "Public opinion in many of these countries is heavily divided." Although the nearly 160,000-member U.S. force in Iraq dwarfs the second-largest contingent — Britain's 8,000 in Iraq and 2,000 elsewhere in the Gulf region — its support has shrunk substantially. [More>>chinadaily.com.cn]
---
12.01.05 Blasts kill five militants in N. Waziristan
PESHAWAR, Pakistan, December 02 – Five suspected militants, including three Uzbek nationals, blew themselves up while making bombs in a North Waziristan house early on Thursday, official said. But residents of Haisori village, 4 kms off Miranshah headquarters of the agency, said the explosions were caused by missile attacks by US aircraft, — a charge the political administration and Pakistan Army flatly rejected. Political Agent of North Waziristan, Syed Zaheerul Islam said the explosives were stored to make improvised explosive devices or IEDs. Other officials said the razed house was owned by a local tribesman Sadeeq, son of Karamat. [More>>jang.com.pk]

Editorial note: Maravot News has recorded several stories out of Pakistan involving accidental explosions in this region – where al-Qaeda and Taliban are believed to be hiding. This is speculative, but it would appear that attrition through arrests, and possibly the earthquake, may be takings its toll, leaving terrorists without teachers, so the remnants are improvising and this explosion, together with others in the past, may be the consequence of the attrition. If this is so, one might wonder whether they might be calling for recruits out of Iraq or the Saudis...

Mel Copeland
---
12.01.05 US is said to pay to plant articles in Iraq
WASHINGTON, December 01 – Titled "The Sands Are Blowing Toward a Democratic Iraq," an article written this week for publication in the Iraqi press was scornful of outsiders' pessimism about the country's future.

"Western press and frequently those self-styled 'objective' observers of Iraq are often critics of how we, the people of Iraq, are proceeding down the path in determining what is best for our nation," the article began. Quoting the Prophet Muhammad, it pleaded for unity and nonviolence. But far from being the heartfelt opinion of an Iraqi writer, as its language implied, the article was prepared by the United States military as part of a multimillion-dollar covert campaign to plant paid propaganda in the Iraqi news media and pay friendly Iraqi journalists monthly stipends, military contractors and officials said.

The article was one of several in a storyboard, the military's term for a list of articles, that was delivered Tuesday to the Lincoln Group, a Washington-based public relations firm paid by the Pentagon, documents from the Pentagon show. The contractor's job is to translate the articles into Arabic and submit them to Iraqi newspapers or advertising agencies without revealing the Pentagon's role. Documents show that the intended target of the article on a democratic Iraq was Azzaman, a leading independent newspaper, but it is not known whether it was published there or anywhere else. [More>>nytimes.com]

Editorial note: It is custom in the world of newspaper publishing that any articles submitted to a newspaper that are paid for by the source / author have a heading above it: "Paid Advertisement." The practice of planting propaganda by governments is not new. It may be, however, that in light of the Bush administration's false representations in the beginning of the war to the American people and Congress, the propaganda practices my reflect a deeper problem with the presidency than the American people realize. In listening to the president's speech on CNN last evening I was struck with the number of times he used the word "victory." I must admit I took a bath in the middle of the speech and when I came back, after about 20 minutes, I realized I hadn't missed anything. In fact it sounded like CNN was replaying the speech. The concept of "complete victory" is disturbing and the speech had a terrible, tone, cadence and content that recalled Hitler's speeches. (The only thing missing from the speech was an occasional "Hail Bush.") Hitler made the same speeches of " complete victory" all the way to his bunker. In Bush's case I have a deep concern – since the issue is really over oil – that he would never allow the Iraqis to throw out the presence of US oil interests. That is to say, he will keep Iraq dependent upon us so that his corporate friends and interests can be continued to be served; also, dominion over Syria and Iran would appear to come into play.

Mel Copeland
---
12.01.05 Most Americans doubt Bush: poll
WASHINGTON (AFP) December 01 – A MAJORITY of Americans doubt US President George W. Bush has a strategy for Iraq that will achieve victory, according to a new poll released after Mr Bush laid out his Iraq policy. The CNN/Gallup poll showed that 55 per cent did not believe Mr Bush has a plan that will achieve victory for the United States in Iraq, while 41 per cent thought he did. The survey was conducted by telephone among 606 Americans after Mr Bush's televised speech at the US Naval Academy, although CNN noted that only 10 per cent had seen it live and two-thirds had not heard or read news coverage about it. It showed, however, that six in 10 Americans believe US troops should not be withdrawn from Iraq until certain goals are achieved, while 35 per cent said they want a timetable for their pullout. [More>>theaustralian.news.com.au ; See also related story washingtonpost.com, "An offering of detail but no new substance" ]
---
12.01.05 Six charged with terror offences in Belgium
BRUSSELS, December 01 – Six people have been charged with terrorism offences in Belgium in an investigation into a woman who carried out a suicide attack in Iraq last month, prosecutors said on Thursday. One of the six was freed on conditional release. They were among 15 people arrested on Wednesday -- 14 in Belgium and one in France -- in raids linked to the bomb attack in the Baghdad region on November 9 which killed up to six people.

The woman, identified by a passport found at the scene as 38-year-old Muriel Degauque, is believed to have begun converting to Islam after marrying a Moroccan extremist. He travelled with her to Iraq and, according to Belgian justice authorities, was killed by US troops there. She is thought to be the first female suicide bomber to have been recruited from Europe by the insurgents. The six suspects have been charged with taking part in terrorist activities and falsifying and using false documents, the prosecutor's office said. They are due to appear in court on December 5. [jang.com.pk]
---
12.01.05 Bird flu reappears in Romania
BUCHAREST, Romania (AFP) December 01 – A New case of the H5 strain of bird flu has been detected in a duck and a chicken at Periprava in the Danube Delta. "As from today, Thursday, we are going to start the slaughter of about 1500 birds at Periprava," said Ioan Boieru, the sub-prefect of the south-east Tulcea region of Romania. "We are counting on the good cooperation of breeders, since they will all be compensated."

Scientists will not know until further tests have been done whether the influenza is the potentially lethal H5NI strain, which has killed more than 60 people in Asia and which it is feared could cause a global flu pandemic. Periprava is the second source of the H5 virus discovered in recent weeks. Last weekend, Health Minister Gheorghe Flutur announced the slaughter of 15,000 domestic birds in the eastern village of Scarlatesti following detection of the H5 virus in a Turkey. [More>>theaustralian.news.com.au] ; See also another bird flu story, chinadaily.com.cn, "New bird flu cases reported in Xinhjiang."]
---
12.01.05 View from Titan's surface
November 30 – Images from the European Space Agency's Huygens probe descent imager/spectral radiometer side-looking imager and from the medium resolution imager, acquired after landing, were merged to produce this image.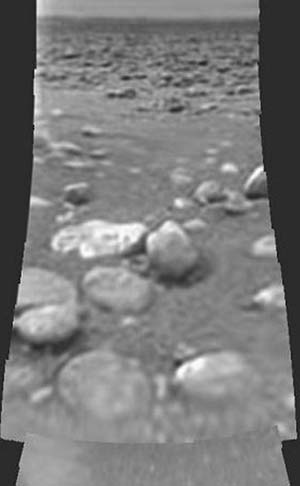 Photo of Titan's surface by the Huygens probe. [(saturn.jpl.nasa.gov). While it is viewed as a dry "'lake bed" the probe's camera lens had a splash of something on it according to the first images.
The horizon's position implies a pitch of the imager/spectral radiometer, nose-upward, by 1 to 2 degrees with no measurable roll. "Stones" in the foreground are 4 to 6 inches (10 to 15 centimeters) in size, presumably made of water ice, and these lie on a darker, finer-grained substrate. A reg
ion with a relatively low number of rocks lies between clusters of rocks in the foreground and the background and matches the general orientation of channel-like features in the panorama of Titan's Surface #2.

The scene evokes the possibility of a dry lakebed. The Huygens probe was delivered to Saturn's moon Titan by the Cassini spacecraft, which is managed by NASA's Jet Propulsion Laboratory, Pasadena, Calif. NASA supplied two instruments on the probe, the descent imager/spectral radiometer and the gas chromatograph mass spectrometer. [More>>saturn.jpl.nasa.gov]


---
11.30.05 Gunmen kill 9 in Iraq; Bush to flag war strategy
BAGHDAD (Reuters) November 30 – Masked men shot dead nine Iraqis near Baghdad on Wednesday, underscoring the country's dire security situation two weeks before elections and as President George W. Bush was due to unveil a comprehensive new strategy. In a speech to be delivered at the U.S. Naval Academy later on Wednesday, Bush was to lay out plans for boosting the funding and training of Iraqi security forces, putting them in charge of fighting insurgents and allowing U.S. forces to slowly withdraw. Amid intense and mounting criticism at home over how the war in Iraq is going, Bush is scheduled to make a series of speeches in the run up to Iraqi elections on Dec. 15 in an effort to show U.S. forces are on top and that victory is possible.
[More>>thestar.com.my]
---
11.30.05 Saudi women score twice in first poll run
JEDDAH, Saudi Arabia (AFP) November 30 – Two Saudi businesswomen swept to a surprise victory in chamber of commerce elections on Wednesday in the first polls in which women stood as candidates in the conservative Muslim kingdom. "Iım happy, but Iım still under shock," Lama Al Suleiman, one of the two winners, told AFP. She was summing up the feelings of many election activists and watchers who had expected, at best, one woman to be elected to the board of directors of the Jeddah Chamber of Commerce and Industry.

"Itıs a big leap for Saudi women, an answer to what people want," said Suleiman, a 39-year-old mother of four. Suleiman and fellow female winner Nashwa Taher ran on a list of heavyweight business people and industrialists which clinched the 12 board seats up for grabs. [More>>khaleejtimes.com]
---
11.30.05 Korea starts DMB mobile television service today
November 30 – Major Korean broadcasting companies will begin land-based mobile television services today, allowing people on the move to view multimedia broadcasting programs anytime and anywhere via cell phones and other communication devices. The terrestrial digital media broadcasting, as the service is better known here, however, debuts amid lingering doubts over its demand and as the nation's mobile operators are reluctant to market DMB-enabled handsets and terminals in the absence of a clear profit revenue model for them. Further, service providers have yet to show they can provide attractive contents and services instead of re-runs of their programs on fixed-line channels. Nonetheless, the launch of the mobile television service, the world's first, marks a step forward in Korea's initiative to integrate broadcasting and communication and usher in the ubiquitous era of communications. [More>>koreaherald.co.kr]
---
11.30.05 Suspected Indonesian bird flu patient dies in hospital
JAKARTA (AFP) November 30 – A 25-year-old Indonesian woman suspected of suffering from bird flu has died in a Jakarta hospital, its spokesman said Wednesday. Sri Wahyuni, who returned positive results to initial tests for the deadly H5N1 avian influenza strain carried out by the Indonesian health ministry, died at Sulianti Saroso Hospital Tuesday, said spokesman Ilham Patu. Further tests are being conducted at the World Health Organization laboratory in Hong Kong to confirm whether Wahyuni is Indonesia's eighth bird flu fatality and 13th case in the world's fourth most populous country. More than a dozen deaths are suspected to have occurred here, with an overstretched health system battling to respond to outbreaks and animal health experts also struggling to keep track of numerous clusters of bird infections. [More>>thejakartapost.com]
---
11.30.05 Myanmar government attacks ethnic villages, 1,000 flee
MAE SOT, Thailand (Reuters) November 30 – Myanmar troops have launched attacks on ethnic rebel villages near the Thai-Myanmar border, setting fire to homes and forcing 1,000 civilians to flee, a rebel leader said on Wednesday. Government forces raided six villages in Karen and Kaya states over the weekend, burning 100 homes and rice barns, Mhan Shar La Pan, secretary-general of the Karen National Union, told Reuters by telephone from his base in Myanmar. "They have arrested some villagers and fired artillery at civilians who had fled," he said, adding that he had no reports of casualties.

The raids began a week before the junta's constitution-drafting National Convention was set to resume on Dec. 5 in the capital Yangon. Ethnic rebel groups, many of whom are boycotting the convention, had expected a government offensive at the end of the rainy season in late November. [More>>thestar.com.my]
---
11.29.05 Russian gas dispute puts European supply at risk
November 30 – Vital gas supplies to Western Europe are under threat because of an acrimonious dispute between Russia and Ukraine over that countryıs recent embrace of the European Union and Nato. The row is focusing attention on the Westıs growing dependence on Russian gas, and raising fears that the Kremlin has started to use its status as a leading energy producer as an instrument of foreign policy. Russia wants to triple the price of the gas it sells to Ukraine, starting from January 1, in part because the country has shifted its allegiance to the West.

Ukraine is resisting. If the two fail to resolve their dispute in the next month, Ukraine could halt the flow of Russian gas to Western Europe, nearly 80 per cent of which goes through a pipeline that crosses the country. Both nations openly acknowledge the threat to Western Europeıs supplies. A spokesman for Naftogaz Ukraine, the state energy company, said that Russia would have to carry the blame for any delay in gas supplies to Western Europe. [More>>timesonline.co.uk ; See related article, rian.ru, "NATO membership for Ukraine to hit cooperation with Russia." and ukrainianjournal.com, "Russia, Ukraine gas dispute worsens."]
---
11.29.05 Iranian pilgrims, German woman seized in Iraq
BAGHDAD (Reuters) November 29 – Four Iranian pilgrims and a German woman were missing in Iraq on Tuesday after being seized by gunmen, in an apparent return to the dire security conditions foreigners faced from hostage takers in the country last year. The abductions follow the seizure of four foreign aid workers -- two Canadians, a Briton and an American -- who were snatched from their vehicle in western Baghdad on Saturday. The six Iranians, four men and two women, were taken on Monday with an Iraqi woman as they were returning from a visit to a Shia Muslim holy site, Iraqi police said. The three women were later released, but it was not clear under what circumstances. Teheran has asked Iraqi Prime Minister Ibrahim Jaafariıs government to assist in securing the release of the remaining four hostages, Iranian television reported. [More>>khaleejtimes.com]
---
11.29.05 China reports two new bird flu outbreaks
(Reuters) November 30 – China has confirmed two new outbreaks of the deadly H5N1 strain of bird flu in poultry as the virus continues to take its toll on Asia, heightening concern among health experts searching for ways to contain it.

China has culled more than 20 million birds this year and has reported 24 outbreaks of avian influenza since mid-October in nine regions and provinces from the far southwest to the frigid northeast. [More>>chinadaily.com.cn]
---
11.29.05 Ex-Powell aide rips Bush on Iraq, detainees
WASHINGTON (AP) November 29 – A top aide to former Secretary of State Colin Powell said Monday that wrongheaded ideas for the handling of foreign detainees arose from White House and Pentagon officials who argued that ³the president of the United States is all-powerful² and the Geneva Conventions irrelevant. In an Associated Press interview, former Powell chief of staff Lawrence Wilkerson also said President Bush was ³too aloof, too distant from the details² of postwar planning. Underlings exploited Bushıs detachment and made poor decisions, Wilkerson said.

Wilkerson blamed Vice President Dick Cheney, Secretary of Defense Donald Rumsfeld and like-minded aides. He said Cheney must have sincerely believed that Iraq could be a spawning ground for new terror assaults, because ³otherwise I have to declare him a moron, an idiot or a nefarious bastard.² [More>>msnbc.msn.com]
---
11.29.05 EU members face sanctions over secret CIA prisons
November 29 – The dispute over CIA detention centres threatened to open a fresh rift within Europe last night after the European Commission warned that any country found to be hosting the secret prisons could be penalized. Meanwhile, the United States said that it needed more time to respond to allegations about the centres - the first time, at least in public, that Washington has not simply refused to comment on the issue. Franco Frattini, the European commissioner for justice and home affairs, warned that any countries found to be allowing the CIA to operate the detention centres - part of a global secret gulag used to hold al-Qa'ida suspects and other "ghost detainees" - could have its voting rights suspended. [More>>independent.co.uk]
---
11.29.05 Global warming set to hit Europe
PARIS, November 29 – Europe is facing the worst climate change in five millennia as a result of global warming, the European Environment Agency (EAA) has warned in a report. Europe's four hottest years on record were 1998, 2002, 2003 and 2004, the agency said. "Ten per cent of Alpine glaciers disappeared during the summer of 2003 alone," the report said. "At current rates, three-quarters of Switzerland's glaciers will have melted by 2050. Europe has not seen climate changes on this scale for 5,000 years." The report was issued at the agency's headquarters in Copenhagen, coinciding with the first full day of debate at key UN talks on curbing the greenhouse gases that stoke global warming. [More>>theaustralian.news.com.au]
---
11.29.05 Pneumonia cases rocket in Pakistan quake zone
MUZAFFARABAD, Pakistan (Reuters) November 29 – Hundreds of people, most of them children, have contracted pneumonia in Pakistanıs earthquake-stricken zone as harsh winter weather sets in, health officials said on Tuesday. But the United Nations and government officials denied reports of any cold-related deaths so far in the region where more than 73,000 people were killed in the Oct. 8 earthquake.

"Cases of pneumonia are coming in. Theyıre in the hundreds, affectees are mostly children," said Sardar Mehmood Ahmed, district health officer in Muzaffarabad, the devastated capital of Pakistani Kashmir. Ahmed said pneumonia was common in Kashmir during the winter but said it would be worse this year because so many people were living in poor shelter. "Such cases are bound to increase but we are prepared for that," he said.

UN and Health Ministry officials denied reports that two or three people had died because of the cold. The UN Childrenıs Fund said there had as yet been no dramatic increase in the number of patients suffering from cold-related diseases. [More>>khaleejtimes.com]
---
11.28.05 China: Bird flu virus in humans mutating
(AFP / Xinhua) November 29 – The H5N1 strain of bird flu seen in human cases in China has mutated as compared with strains found in human cases in Vietnam. Chinese labs have found that the genetic order of the H5N1 virus seen in humans infected in China is different from that found in humans in Vietnam, Xinhua news agency reported Monday. In China's human cases, the virus has mutated "to a certain degree," health ministry spokesman Mao Qun'an was quoted as saying. "But the mutation cannot cause human-to-human transmission of the avian flu," he noted.

Mao said since the H5N1 bird flu first broke out in 1997, most human cases have been reported in Hong Kong, Thailand, Vietnam, Cambodia, Indonesia and the Chinese mainland. No human case has been found in Europe so far. The major channels of human infection involve direct contact with infected poultry or their secretion and excretion, as well as inhalation of the particles of the virus from the poultry's secretion and excretion, said Mao, noting that the general public won't get infected if they keep themselves away from sick and dead poultry. [More>>chinadaily.com.cn]
---
11.28.05 Saddam trial adjourned after brief witness testimony
BAGHDAD (Reuters) November 28 – Saddam Hussein argued with the judge and complained about Iraq's "occupiers" when his trial for crimes against humanity reconvened in Baghdad on Monday with the prosecution presenting the first witness testimony.

But after less than three hours of hearings, including videotaped testimony from a witness who has since died, the judge ordered a week-long adjournment to allow one of the eight defendants to secure legal representation. Former Vice President Taha Yassin Ramadan was left without counsel after two defence lawyers were killed and a third fled Iraq after threats following the first trial session in October. Ramadan rejected a lawyer appointed by the court, so the judge, Rizgar Mohammed Amin, ordered the adjournment. The next session will be on Dec. 5, just 10 days before Iraq holds parliamentary elections, a time when guerrilla violence is expected to surge.

Saddam, dressed in a white shirt, dark jacket and carrying a Koran, arrived late for Monday's session, only the second of the trial, which opened on Oct. 19 only to be adjourned for 40 days. "They brought me here to the door and I was handcuffed. They cannot bring in the defendant in handcuffs," Saddam said when Amin asked him to explain his lateness. [More>>thestar.com.my ; See also aljazeera.net for a different slant on the story ; 11.29.05 updates refer to Saddam taking charge of the courtroom. See timesonline.co.uk article, "Trial of the century becomes a trial of patience, with Saddam in charge" and thestar.com.my, "Saddam harangues judge, trial adjourned again."]
---