01.05.06 Still shining after all this time
January 4 – The most recent self-portrait of NASA's Mars Exploration Rover Spirit shows the solar panels still gleaming in the Ma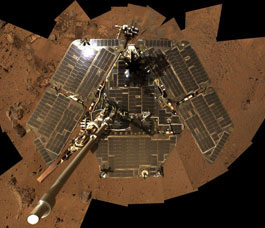 rtian sunlight and carrying only a thin veneer of dust two years after the rover landed and began exploring the red planet. Spirit's panoramic camera took this mosaic of images on the 586th sol, or Martian day, of exploration (Aug. 27, 2005), as part of a mammoth undertaking that resulted in the largest panorama ever acquired by Spirit [More>>marsrovers.jpl.nasa.gov]
---
01.05.06 Bird flu outbreak reported in Ukraine
January 6 – An outbreak of suspected bird flu has been discovered in a village near Simferopol on the Crimean peninsula, Ukrainian television reported overnight. A large number of fowl have died in Soniatchne village and preliminary analysis confirmed the presence of the virus, local officials told the Kanal 5 television station. It is not yet known if the latest outbreak is the deadly H5N1 strain which has killed almost 70 people, mainly in east Asia. The presence of the H5N1 strain was first confirmed in Ukraine's Crimea region in December, after bird flu was first detected in the peninsula's northeastern corner near a migratory site for wild birds [More>>theaustralian.news.com.au]
---
01.05.06 Gas truce sparks talk of EU energy pact
January 5 – Russia and Ukraine agreed a five-year gas supply deal yesterday, easing fears of impending shortages in continental Europe and prompting talk of new EU policies to head off supply problems in the future. Reacting to the deal between Russia's Gazprom and Ukraine's Naftogaz, top EU policymakers signalled the need for less reliance on Russian gas and even raised the notion of a drawing up a common European energy policy.

"We will have to learn the lesson of what has happened in the past few days," said Martin Bartenstein, the Economy Minister of Austria, which holds the EU presidency. Speaking after a meeting of EU energy experts, Mr. Bartenstein said he hoped the Russia-Ukraine agreement "will ensure ... the long-term security of supply of gas to the European Union," but added the bloc should wean itself off its Russian source. "Diversification in terms of pipeline systems is something to work on," he said. [More>>independent.co.uk]
---
01.05.06 Suicide bombers kill 85 in two Iraqi cities
KARBALA, Iraq (Reuters) January 5 – Two suicide bombers killed at least 85 people and wounded more than 100 in the Iraqi cities of Karbala and Ramadi on Thursday in one of the countryıs deadliest days for months. The attacks raised fears of an escalation in sectarian tensions, coming as they did in one of Shia Islamıs holiest cities, Karbala, and the Sunni Arab stronghold of Ramadi.

The first bomber detonated an explosive belt laced with ball bearings and a grenade in Karbala, killing 50 and wounding 69 in the worst single attack in Iraq since July. Television pictures showed pools of blood in the street, which was littered with debris. Passers-by loaded the wounded into the backs of cars and vans, and one black-clad woman stood crying while clutching her dead or wounded baby to her chest. Soon afterwards, another bomber blew himself up near a group of police and army recruits in the western city of Ramadi, a day after seemingly coordinated attacks across Iraq killed at least 58. [More>>khaleejtimes.com ; See also expressindia.com, "120 killed in one of Iraq's bloodiest days."]
---
01.05.06 Update, 01.04.06 PM Sharon suffers serious stroke, cerebral hemorrhaging
January 4, 2:30am – Prime Minister Ariel Sharon suffered a serious stroke and had been anesthetized, the director general of Hadassah Ein Karem hospital in Jerusalem said late Wednesday. The prime minister was reportedly in serious condition and was suffering from cerebral hemorrhaging. He is currently undergoing emergency neurosurgery in an effort to stop internal bleeding in his brain. A short while after 1 a.m., Sharon's personal physician, Dr. Shlomo Segev told reporters, "PM is in surgery; the surgery is going as planned. We need to be patient. I have nothing else to add."

PM Spokesman Raanan Gissin said, "Once the operation ends, the public will be notified. Until then, I suggest not to engage in speculation." According to a medical expert, the procedure is life threatening. Asked what are the chances of surviving this type of surgery, the doctor replied, "Let's be optimistic, some people survive it." [More>>Jerusalem Post ; Update 01.05.06 haaretz.com, "Sharon to remain under sedation for next 48 hours at least" : Prime Minister Ariel Sharon will remain under heavy sedation and on a respirator for at least 48 hours more, the director of Hadassah University Hospital, Ein Karem, Jerusalem said Thursday evening, some 24 hours after he suffered an "extensive" stroke and a massive brain hemorrhage.

"This is a lengthy process," Professor Professor Shlomo Mor-Yosef said when asked when Sharon could be expected to regain consciousness. "It won't be in the coming hours. It will be at least 48 hours after the prime minister's emergence from surgery."

Mor-Yosef said that Sharon's pupils were responding to stimulation...According to Mor-Yosef, "All vital signs are functional and stable. The prime minister is in critical condition." There was no word as to the damage Sharon may have suffered.

Israel Radio, noting that Sharon was in intensive care, said "The assessment is that he is in a lfe-threatening state." [Full story>>haaretz.com :

See related story, jang.com.pk, "Iran president hopes Sharon dead" : TEHRAN: Iran's president Mahmoud Ahmadinejad said Thursday that he hoped Israeli Prime Minister Ariel Sharon was dead and wished the same for the rest of the Jewish state's leaders, an Iranian news agency reported.

"Today you will all have heard, and I hope that this is final, that the criminal of Sabra and Chatila has rejoined his ancestors," Ahmadinejad said referring to Sharon's alleged role in the massacre of Palestinians by Lebanese militiamen in Beirut refugee camps in 1982. "God willing, the others will join him soon," he added...; See also iranfocus.com, "Iran's Ahmadinejad: Sharon dead and "others to follow suit"]
---
01.04.06 Two patients tested positive for bird flu, Health Minister of Turkey
ANKARA, January 4 – Turkish Minister of Health Recep Akdag has confirmed this evening that two of the three patients brought to the Van Yuzuncuyil University Medical Faculty from eastern city of Agri's Dogubayazit town tested positive for bird flu. The third patient's illness has not been diagnosed yet.

"One of the patients diagnosed with bird flu is Mehmet Ali Kocyigit who died earlier. The other patient is Fatma Kocyigit from the same family. Fatma's condition is serious and she is currently in hospital. The third patient is suspected of carrying the bird flu virus but this is not certain yet,"' said Akdag. [More>>turkishpress.com ; See also related story, turkishpress.com, "Dr. Oner : We have been medicating 8 patients against bird flu."]
---
01.04.06 Air rage castaway sent £3,000 bill for detour
January 4 – The airline that dumped a drunken passenger on a remote Atlantic island after he was allegedly abusive to its cabin staff has launched a legal claim to recover the £3,000 cost of the detour. David Wilson, 53, was cast away after Monarch Airlines claimed that he swore at its crew when refused a bottle of wine on a four-hour flight from Manchester to Tenerife, two days after Christmas.

Forty-five minutes from the Canary Islands, the Airbus pilot decided that the only way to resolve the crisis at 35,000ft was to divert to Porto Santo, part of the Madeira archipelago. Mr. Wilson, from Preston, Lancashire, was left on the runway of the island's tiny airstrip with his luggage as the plane resumed its journey, delayed by four hours. On board, fellow passengers were said to have applauded the pilot's action. [More>>timesonline.co.uk]
---
01.04.06 Multiple attacks on Iraq's bloodiest day in weeks
BAGHDAD (Reuters) January 4 – A suicide bomber killed 36 people and wounded 40 at a Shia funeral and gunmen ambushed a vital fuel convoy outside Baghdad amid a wave of attacks that made Wednesday Iraqıs bloodiest day in weeks. Car bombs also went off in the capital and in the recently peaceful Shia holy city of Kerbala, suggesting a level of coordination that may be a response by Sunni Arab insurgents to last monthıs largely peaceful parliamentary election. [More>>khaleejtimes.com]
---
01.03.06 Abramoff pleads guilty to 3 felony charges
WASHINGTON, January 3 – Former high-powered lobbyist Jack Abramoff pleaded guilty today to three felony charges in a deal with federal prosecutors that helps clear the way for his testimony about members of Congress and congressional staffers in a wide-ranging political corruption investigation.

Appearing crestfallen and speaking softly in U.S. District Court in Washington early this afternoon, Abramoff, 46, expressed "profound regret" for what he called his "multitude of mistakes" in a career that once brought him to the pinnacle of power and influence among Washington lobbyists. After pleading guilty to charges of conspiracy, mail fraud and tax evasion, he told US District Judge Ellen S. Huvelle that he would spend "all my remaining days" seeking "forgiveness from the Almighty."

Although the charges could bring Abramoff a sentence of up to 30 years in prison, the actual sentence is more likely to be a third of that if he fulfills his part of the plea agreement, lawyers said.

The plea bargain settles one of two fraud and corruption cases against Abramoff, involving charges stemming principally from his lobbying activities in Washington on behalf of Native American tribes. The other case, arising from an indictment in Miami in connection with the purchase of a fleet of casino cruise ships, is expected to be settled by another plea agreement. [More>>washingtonpost.com ; See also abcnews.go.com, "Abramoff plea could have far-reaching implications." : ...But beyond just exposing the corrupt behavior of a rogue lobbyist and possibly some lawmakers, some political analysts say the scandal could have broader implications and shed light on a system in which Republicans, in control of Congress over the last decade, pressured lobbying firms to give top positions to GOP loyalists, and then took contributions from those lobbyists and their clients, which helped solidify their own power even further.

"I believe it's much more widespread than people had thought, and thoroughly corrupt," says Norman Ornstein, a congressional expert at the American Enterprise Institute. "It's part of a broader scheme that says, we're in power now, and to the victor go the spoils"...]
---
01.02.06 Newsweek : How much power should president have? "Full speed ahead"
January 9 issue – Evan Thomas and Daniel Klaidman, Newsweek, report: The talk at the White House in the days and weeks after 9/11 was all about suitcase nukes and germ warfare and surprise decapitation strikes. Every morning, as they crossed West Executive Drive on their way to work in the West Wing, Bush administration staffers recall seeing a plain white truck with a galvanized metal chimney. Sensors sniffing for pathogens or radioactivity, they guessed, though they couldn't be sure. Like just about everything else at that spooky time, the purpose of the truck was a secret.

Such chilling sights are not likely to inspire thoughtful ruminations about the separation of powers or the true meaning of the Fourth Amendment's ban on unreasonable searches and seizures. The message to White House lawyers from their commander in chief, recalls one who was deeply involved at the time, was clear enough: find a way to exercise the full panoply of powers granted the president by Congress and the Constitution. If that meant pushing the boundaries of the law, so be it. The Bush administration did not throw away the Bill of Rights in the months and years that followed; indeed, NEWSWEEK has learned, ferocious behind-the-scenes infighting stalled for a time the administration's ambitious program of electronic spying on US citizens at home and abroad. [More>>msnbc.msn.com/newsweek]
---
01.02.06 Car bomber kills Iraq police recruits
January 2 – At least 16 people have been killed in Iraq, including seven police recruits blown up by a car bomber as they travelled on a bus. The recruits, who had just joined the force, were killed on Monday when the car bomber rammed his car into their bus near Baquba, north of Baghdad, as they travelled to the Kurdish northern region for training. Thirteen other recruits were wounded. At least eight more Iraqis were killed by machine gun fire in attacks elsewhere in the country, including children in a car. [More>>aljazeera.net ; See separate story, turkishpress.com, "Turkish ambassador survives Baghdad ambush."]
---
01.02.06 Iraq oil exports slip; minister quits
BAGHDAD (Reuters) January 2 – Iraq's oil exports hit their lowest level since the war, according to figures released on Monday, heightening a sense of crisis as fuel supplies grow scarce and political leaders struggle to form a government.

Iraq exported 1.1 million barrels per day (bpd) of oil in December, a senior official said – less than any month since exports resumed in mid-2003 after the US invasion and about half the level seen during sanctions under Saddam Hussein. Sabotage is damaging plants and blocking investment, keeping exports at a fraction of targets officials say should be met if Iraq's vast reserves are to provide its people with the prosperity that might draw the sting of civil conflict. The oil official was speaking after Oil Minister Ibrahim Bahr al-Uloum announced his resignation in opposition to fuel price rises imposed last month as part of an aid deal with the International Monetary Fund that demands big cuts in subsidies. [More>>thestar.com.my ; See separate stories, dailystar.com.lb, "iraqi fuel hike leads to protest and four demonstrators dead." and washingtonpost.com, "Major oil refinery in Iraq reopens." :BAGHDAD, January 1 – Iraq's most productive oil refinery reopened Saturday after closing for 10 days under the threat of insurgent attacks, a move that might ease a fuel crisis that has worsened long lines of anxious buyers at gas stations across the country. But the battle over the linchpin of Iraq's economy – its enormous oil supply – is far from over.]
---
01.02.06 Assad "will not meet with UN hariri commission"
BEIRUT / DAMASCUS (DPA) January 2 – Syrian President Bashar Assad will not respond to a request to meet with the United Nations commission into the assassination of former Lebanese Prime Minister Rafik Hariri, a high-ranking Syrian official said on Monday. Ahmed Haj Ali, an official with Syriaıs ruling Baath party and advisor to the countryıs Information Ministry, told DPA that no meeting with Assad would take place that implied a "premeditated intention" by the Syrian leader in regard to the Hariri killing.

"There is no law that could respond to such request as President Assad is immune according to international law," Haj Ali said, adding that there would be new political and diplomatic activity from Syria to deal with the request. [More>>khaleejtimes.com]
---
01.02.06 Bush defines intercepts as 'limited'
WASHINGTON, January 2 – President Bush yesterday defined as "limited" a once-secret program to intercept al Qaeda-linked calls to and from the United States, saying, "This is a limited program designed to prevent attacks on the United States of America, and I repeat -- limited," Mr. Bush told reporters after visiting wounded troops at Brooke Army Medical Center in San Antonio.

"It seems logical to me that if we know there's a phone number associated with al Qaeda or an al Qaeda affiliate, and they're making phone calls, it makes sense to find out why," he said. Mr. Bush repeated his view that a president is empowered by the Constitution to authorize such warrantless intercepts, and said there has been judicial and congressional oversight of the top-secret program. "I have a responsibility, obviously, to act within the law, which I am doing," he said. "It's a program that's been reviewed constantly by Justice Department officials, a program to which the Congress has been briefed, and a program that is, in my judgment, necessary to win this war and to protect the American people." [More>>washtimes.com]
---
01.02.06 Citizens vow to make 2006 "The year of impeachment"
January 2 – David Swanson of afterdowningstreet.org reports: ImpeachPAC today announced the formation of a Citizens Impeachment Commission to make 2006 the "Year of Impeachment."

"We are honored by the broad support for impeachment from this distinguished group of true American patriots," said Bob Fertik, President of ImpeachPAC. "Impeachment is not a 'fringe' position, as the Bush Administration would like Americans to believe. With a recent Zogby poll showing Americans support impeachment hearings by a solid majority of 53%-42%, there is far more support for impeachment than there is for the War in Iraq," Fertik said.

"Despite three rounds of Iraqi elections, 845 brave young Americans died in Iraq in 2005, only 3 fewer than the 848 lost in 2004. Also 30,000 to 100,000 innocent Iraqis have been killed in the wake of the U.S. invasion. George Bush and Dick Cheney are personally responsible for each of those deaths, because they deliberately lied to Congress and the American people to start this disastrous and never-ending war," Fertik added.

ImpeachPAC is a political action committee that supports Democratic candidates for Congress who support the immediate and simultaneous impeachment of George Bush and Dick Cheney for their Iraq War lies. ImpeachPAC's efforts have forced the Washington establishment to admit that the many misdeeds of the Bush administration – including the latest revelation of warantless wiretapping of American citizens – are valid grounds for impeachment. The question now facing Washington is not whether Bush and Cheney committed impeachable crimes, but whether Democrats and Republicans in Congress will fulfill their solemn Constitutional duty to investigate and prosecute those crimes, as proposed in December by Rep. John Conyers (D-MI) in H.Res.635. [See related story, Maravot News 12.30.05, "The future of democracy as we knew it," an interview by David Swanson of Congressman John Conyers, where Conyers describes a Constitutional Crisis involving Bush administration national and international crimes and their rule through 'intimidation.']
---
01.02.06 Iran closes women's publication
TEHRAN, January 3 – The Iranian Government has ordered the closure of a daily newspaper and banned a new women's biweekly from publication in the first media crackdown since President Mahmoud Ahmadinejad took office in August. "The Supervisory Board on the Press agreed to the temporary closure of Asia newspaper and Nour-e Banovan and ordered their cases sent to court," said the Culture Ministry in the ban. No reason was given for the closure and ban although a journalist at the economic daily Asia said the paper had been given a warning in recent months for printing photographs of women considered to have been improperly dressed.

Nour-e Banovan, a planned biweekly publication aimed at women, has not yet been published. More than 100 publications have been closed by the Iranian government since 2000 although many have re-opened under different names and scores of titles still exist. [More>>theaustralian.news.com.au]
---
01.02.06 'Iranian children prefer non-didactic Western stories'
LONDON, January 2 – Iranian children's book author Hushang Moradi Kermani believes that Western children's stories are received warmly in Iran because the writers avoid giving explicit and direct advice, both in non-fiction and fiction stories, unlike Iranian authors...Commenting on the popularity of the "Harry Potter" stories among Iranian children, Moradi Kermani said that the young readers feel they have escaped from boring and repetitious advice while reading the books. Children don't like didacticism in stories because it makes them feel like they are reading another schoolbook," he said. [Full story>>iranmania.com]
---
01.02.06 Update, 01.01.06 Russia cuts gas supply to Ukraine, Europe at risk
MOSCOW (Reuters) January 1 – Russia cut gas supplies to Ukraine on Sunday in a dispute that could hit deliveries to a wintry Europe just as Moscow takes over as chairman of the Group of Eight wanting to showcase its role as a reliable energy source. The Russian state monopoly Gazprom said it had cut supplies to Ukraine by a quarter – the level of Ukraine's own imports – after Kiev refused to sign a new contract requiring it to pay four times as much. [More>>thestar.com.my ; See also rian.ru, "Gazprom cuts gas supplies to Ukraine by 120mln cu m a day." ; Update 01.02.06, timesonline.co.uk, "Russia to increase gas supply to Europe." and nytimes.com, "Russia restores most of gas flow despite dispute with Ukraine." : MOSCOW, January 2 – The Russian gas monopoly said tonight that it would restore most of the natural gas that it withheld from a giant pipeline running through Ukraine to Western Europe. The decision does not resolve the dispute between Russia and Ukraine over price increases for the gas, but is meant to answer European complaints that its fuel supplies were jeopardized. Officials of the monopoly, Gazprom, said they would pump 95 million of the 125 million cubic meters of natural gas that it withheld from the flow on Sunday. As the Russians described it, this was to make up for gas that was not getting to Europe because Ukraine was siphoning off gas for itself, a charge that Ukraine officials denied...]
---
01.01.06 Turkish child being tested for bird flu dies
ANKARA, January 1 – A 14-year-old Turkish boy, one of six people tested for bird flu, died on Sunday in eastern Turkey and his sister was in a critical and worsening condition, doctors said. Authorities were still waiting for test results and could not immediately confirm whether the fatality was caused by bird flu. If confirmed, it would be the first human fatality in the country from the virus.

Authorities expect preliminary test results as early as Monday. Four other children and a 35-year-old woman suffering from fever and pneumonia-like symptoms have also been tested for the bird flu virus over the past two days.

The 14-year-old boy, Mehmet Ali Kocyigit, had been on life support after his brain functions stopped, Huseyin Avni Sahin, chief physician at 100th Yil Hospital in the country's southeastern Van province, told the Anatolia news agency. The boy was among two brothers and two sisters between 6 and 15 years old, who were admitted to hospital on Saturday after developing high fevers, coughing, and bleeding in their throats. The children helped to raise poultry on a farm and were in close contact with sick birds. They became sick after reportedly eating one of them. Two other patients, aged 35 and 5, were sent to the same hospital on Sunday, the Anatolia news agency reported, as Turkish health and security authorities gathered to coordinate a response. One of Kocyigit's sisters was in critical condition, doctors said. [jang.com.pk]
---
01.01.06 'US planning to strike Iran's nuke facilities'
JERUSALEM (PTI) January 1 – The United States is mulling a strike on Iran's nuclear facilities this year and has informed NATO member states to make similar preparations, a report claimed on Sunday. Military action against Teheran to foil its nuclear ambitions is one among several options being considered by NATO members, military Intelligence officials familiar with the Iran file told German daily Der Spiegel. Pakistan, Saudi Arabia, Jordan and Oman are also being updated with the plan, with American officials saying a military operation is 'a possible option', without giving a timetable, Ynetnews reported citing the report. [More>>expressindia.com ; See separate articles, thestar.com.my, "Iran develops uranium separation machinery." and spiegel.de, "Is Washington planning a military strike?"] : Recent reports in the German media suggest that the United States may be preparing its allies for an imminent military strike against facilities that are part of Iran's suspected clandestine nuclear weapons program. It's hardly news that US President George Bush refuses to rule out possible military action against Iran if Tehran continues to pursue its controversial nuclear ambitions. But in Germany, speculation is mounting that Washington is preparing to carry out air strikes against suspected Iranian nuclear sites perhaps even as soon as early 2006.

German diplomats began speaking of the prospect two years ago -- long before the Bush administration decided to give the European Union more time to convince Iran to abandon its ambitions, or at the very least put its civilian nuclear program under international controls. But the growing likelihood of the military option is back in the headlines in Germany thanks to a slew of stories that have run in the national media here over the holidays.

The most talked about story is a Dec. 23 piece by the German news agency DDP from journalist and intelligence expert Udo Ulfkotte. The story has generated controversy not only because of its material, but also because of the reporter's past. Critics allege that Ulfkotte in his previous reporting got too close to sources at Germany's foreign intelligence agency, the BND. But Ulfkotte has himself noted that he has been under investigation by the government in the past (indeed, his home and offices have been searched multiple times) for allegations that he published state secrets -- a charge that he claims would underscore rather than undermine the veracity of his work.

According to Ulfkotte's report, "western security sources" claim that during CIA Director Porter Goss' Dec. 12 visit to Ankara, he asked Turkish Prime Minister Recep Tayyip Erdogan to provide support for a possibile 2006 air strike against Iranian nuclear and military facilities. More specifically, Goss is said to have asked Turkey to provide unfettered exchange of intelligence that could help with a mission...]
---
01.01.06 Syria expels former vice president
DAMASCUS, January 2 – Syria's Baath party has expelled former vice president Abdel Halim Khaddam, who has implicated the regime in the murder of Lebanese ex-premier Rafiq Hariri. The party, which has ruled Syria with an iron grip since 1963, said Mr. Khaddam's comments to Dubai-based satellite channel Al-Arabiya from his base in exile in Paris were a "slander which violates the principles of the nation. The national leadership has decided to throw Khaddam out of the party. It considers him a traitor. Khaddam has betrayed the party, the homeland and the (Arab) nation," the party leadership said. [More>>theaustralian.news.com.au ; See separate story, dailystar.com.lb, December 31, 2005, Khaddam: Assad threatened Hariri over extension." : BEIRUT: Syrian President Bashar Assad directly threatened former Lebanese Premier Rafik Hariri months before the latter's assassination, it was revealed Friday night in a devastatingly frank interview by a former Syrian vice president ; See another story, turkishpress.com, December 30, 2005, "Erdogan: It is our sincere hope that what took place in Iraq will not be repeated in Syria."]
---
01.01.06 Mladic arrest for Srebrenica massacre is 'imminent'
January 1 – The arrest of Ratko Mladic, the Serb general wanted for the 1995 massacre of 8,000 Bosnian Muslims in Srebrenica, is thought to be imminent after Serbia's Prime Minister, Vojislav Kostunica, in a surprising turnaround, called the indicted war criminal "a stone around Serbia's neck." Mr. Kostunica, a conservative nationalist who in the past was a warm friend of Radovan Karadzic, the former Bosnian Serbian president, also indicted over Srebrenica and also on the run, conceded for the first time yesterday that his government needed to deliver Mladic to the Hague war crimes tribunal to avoid being at a disadvantage in talks on the future of Kosovo. International negotiations on the hotly disputed Serbian province whose Albanian majority clamours for independence are due to start this month. [More>>independent.co.uk]
---
01.01.06 Justice deputy resisted parts of spy program
WASHINGTON, January 1 – A top Justice Department official objected in 2004 to aspects of the National Security Agency's domestic surveillance program and refused to sign on to its continued use amid concerns about its legality and oversight, according to officials with knowledge of the tense internal debate. The concerns appear to have played a part in the temporary suspension of the secret program. The concerns prompted two of President Bush's most senior aides - Andrew H. Card Jr., his chief of staff, and Alberto R. Gonzales, then White House counsel and now attorney general - to make an emergency visit to a Washington hospital in March 2004 to discuss the program's future and try to win the needed approval from Attorney General John Ashcroft, who was hospitalized for gallbladder surgery, the officials said.

The unusual meeting was prompted because Mr. Ashcroft's top deputy, James B. Comey, who was acting as attorney general in his absence, had indicated he was unwilling to give his approval to certifying central aspects of the program, as required under the White House procedures set up to oversee it. [More>>nytimes.com]
---
01.01.06 Palestinian forces free hostage after shootout with abductors
January 1 – Palestinian security forces on Sunday stormed a building where an Italian hostage was being held, freeing the man after a shootout with his kidnappers, security officials said. The hostage, identified as Alessandro Bernardini, was seen being taken out of the building to safety by security personnel. There were no immediate reports of casualties from the shootout. The Italian was kidnapped from a minibus traveling through the southern town of Khan Yunis early Sunday. Armed men stopped the minibus, forced the Italian out and sped away with him. [More>>haaretzdaily.com]
---
01.01.06 Five Italians kidnapped in Yemen
January 1 – Five Italian men have been taken hostage by Yemeni tribesmen, one day after a German family of five was freed after a long ordeal, a security source says. "We have received a report of the kidnapping of five Italians, all men, in Sirwa in the region of Marib," the source said, requesting anonymity. He said the tribe that kidnapped them on Sunday "could not be identified as yet". The area is 170km east of the capital, Sanaa. A former German diplomat and his family, who were taken hostage by Yemeni tribesmen in the east of the country, were freed on Saturday after security forces laid siege to the kidnappers' hideout. [More>>aljazeera.net]
---
01.01.06 Youths burn more than 400 vehicles in scattered New Year's Eve unrest in France
PARIS (AP) January 1 – Rowdy revelers in France torched 425 vehicles overnight in scattered New Yearıs Eve unrest that has become an annual problem in troubled neighborhoods, the national police chief said Sunday. Last year, 333 cars were burned. Police Chief Michel Gaudin also said there were no major clashes this year between youths and police overnight, as had been feared. In what has become an annual tradition every New Yearıs Eve, youths set several hundred cars ablaze in France as festivities get out of hand.

Police were especially cautious this time because of the wave three weeks of rioting and car burning that started in late October. A state of emergency imposed during the rioting is still in effect, and 25,000 police were on alert for the holiday. The burnings have become a barometer of unrest in France...[More>>khaleejtimes.com]
---