News Headlines & Trends
---
2.24.09 Asia stocks fall on growing US economic fears
February 24 - Asian stocks fell heavily on Tuesday following last night's sharp decline in American shares. Investors responded to fears that the world's largest economy is sinking further into recession and speculation that the US Government may be forced to buy stakes in ailing banks, despite assurances from Washington that lenders would not be nationalized. Japan's Nikkei Index fell by 1.5 per cent to a four-month low, narrowly avoiding a slide to below 7,000 for the first time in 26 years, closing at 7,268.56. In Hong Kong, the Hang Seng lost 461.46 points, or 3.5 per cent, to end the day at 12,713.64. Last night, the Dow Jones industrial average fell to an 11-year low, losing 250.89 points to 7,114.78. [More>>timesonline.co.uk; See also:
xinhuanet.com, February 24, "Chinese shares tumble 4.56% on Wall Street woes" : Chinese share prices tumbled 4.56 percent Tuesday, as fears of economic downturn loomed and confidence was dampened by Wall Street's overnight fall to its worst finish since 1997. The benchmark Shanghai Composite Index, which covers both A and B shares, fell 4.56 percent, or 105.12 points, to 2200.65. The Shenzhen Component Index on the smaller Shenzhen bourse was down 3.72 percent, or 324.68 points to 8403.02. Total turnover stood at 250.4 billion yuan (36.66 billion U.S. dollars). Losers led gainers by 768 to 172 in Shanghai and 691 to 116 in Shenzhen...

cbsnews.com, February 24, "Frank demands bank give bailout funds back" : Massachusetts Congressman Barney Frank is demanding that Northern Trust, a bank that received $1.6 million in bailout funds, pay the government back for the money it spent on lavish parties and concerts last week in Los Angeles, according to entertainment Web site TMZ. Frank, the Chairman of the House Committee on Financial Services, is sending the letter on behalf of the committee, TMZ reports. Northern Trust sponsored a PGA event, the Northern Trust Open last weekend at the Riviera Country Club in Los Angeles. According to TMZ, the bank flew out hundreds of employees and clients to stay at lavish hotels, and attend parties and concerts with acts like Earth, Wind & Fire, as well as Sheryl Crow.

The bank responded to TMZ's claims by arguing that the Northern Trust Open is "an integral part of Northern Trust's global marketing activities, focusing on retaining and growing business with existing clients and attracting new clients." Northern Trust also said that the bank did not seek the government's help during the November 2008 Capital Purchase Program when it was issued $1.6 billion in preferred stock and warrants, but agreed to the "government's goal of gaining the participation of all banks in the United States." The bank has said that none of the CPP funds are allocated to operating expenses, including marketing and advertising...

independent.co.uk, February 24, "FTSE riding out global sell off."
---
2.24.09 Mumbai attackers' phones traced to Italy, US
ROME (Reuters) February 24 - Militants behind last year's attacks on Mumbai used cell phones that were activated in the United States and paid for with funds sent from Italy, an Italian newspaper reported on Tuesday. Corriere della Sera daily said India sent the intelligence information to Italy and other countries so anti-terrorism investigators could attempt to expose any ties to the network behind the November assault that killed at least 179 people. Islamabad acknowledged for the first time this month that the November assault was launched from, and partly planned in, Pakistan. Corriere said Italian authorities were investigating a wire transfer sent to the United States from the northern Italian city of Brescia by a Pakistani-born suspect.

The suspect, named as Javaid Iqbal, sent the funds via Western Union to pay for five cell phones with Austrian country codes — three of which were used by the attackers, Corriere said, citing the Indian dossier. Iqbal, a former resident of Barcelona, has been arrested in Pakistan and Italian authorities were attempting to understand how he arrived in Brescia and whether he had support from anyone there. The cell phones were activated in the United States by a US company, Corriere reported, and registered to another man, who identified himself as an Indian citizen. [More>>timesofindia.indiatimes.com]
---
2.24.09 Terror convictions reversed in France
PARIS, February 24 - A French appeals court on Tuesday overturned terrorist conspiracy convictions for five former inmates of the Guantánamo Bay prison camp who had been tried and convicted in 2007, after they were returned to France. The court ruled that information gathered by French intelligence officials in interrogations at Guantánamo Bay violated French rules for permissible evidence, and that there was no other proof of wrongdoing. None of the men, who were originally captured in Afghanistan in 2001 and 2002, is currently in jail, having been given time off for time already served.

But the ruling is likely to be seen as a precedent for similar cases, as well as inject more uncertainty into the sensitive process of repatriating inmates being released from Guantánamo Bay, which President Obama has vowed to shut down. Various European countries have expressed willingness in principle to take some of the inmates, depending on their potential for dangerous behavior and whether the United States also accepts some. Some European countries prefer that the European Union come up with a unified position, so Washington cannot play one country against another while trying to negotiate placements.
The case is also interesting because it involves Mourad Benchellali, now 26, a member of a family with numerous other connections to jihadist violence. His older brother, Menad, was arrested in 2002 on suspicion of planning to bomb Russian targets, including the Russian embassy in Paris,as a response to the Chechen war. He was convicted in 2006 and sentenced to 10 years in prison. [More>>nytimes.com]
---
2.24.09 'Israelis unhappy with election results'
February 24 - The majority of Israelis were dissatisfied with the results of the February 10 Knesset elections, according to a study released Tuesday. Only 17 percent of respondents said they were satisfied, while 43% said they were dissatisfied. 35% were somewhere in between, and the remaining 5% were unsure. Nonetheless, the study found that an overwhelming majority of the Israeli public, some 90%, would still vote for the same party even knowing the end result.

..In terms of coalition building, some 36% of Israelis were shown to prefer a national unity government consisting of Likud, Labor and Kadima, while 22% would opt for a more right-leaning coalition of Likud, Israel Beiteinu, Shas, National Union, Habayit Hayehudi and United Torah Judaism. A further 16% said they backed a coalition consisting of Likud, Kadima and Israel Beiteinu. Israelis who voted for religious parties, according to The War and Peace Index, naturally favored the second, more right-wing coalition option, while left-wing voters overwhelmingly preferred a Likud, Kadima, Labor partnership. The report also pointed out that some 43% of the Israeli population currently defines themselves as Right, 26% as Center, 20% as Left, and the rest undecided. [Full story>>jpost.com]
---
2.24.09 Abbas: Hamas must recognize Israel to gain world legitimacy
February 24 - Palestinian President Mahmoud Abbas said Tuesday a new national unity government that includes rival Hamas must be in place and internationally recognized to manage humanitarian aid for Gaza and the West Bank. Abbas said he hopes the upcoming round of reconciliation talks would lead Hamas to accept deals with Israel agreed to by previous Palestinian administrations even if they are not in line with the group's own political platform. [More>>haaretz.com; See related story,

haaretz.com (Reuters) February 24, "Hamas says it reserves right to bring arms into Gaza" : Gaza-based Hamas strongman Mahmoud Zahar declared Tuesday that his Islamist militant group reserves the right to bring arms into Gaza. "It's our right to bring in everything — money and arms. We will not give anyone any commitment on this subject," Zahar told Reuters in an interview in the Egyptian town of Ismailia.

...Zahar, who served as Palestinian foreign minister in the government Hamas formed in Gaza after winning elections in 2006, also said Hamas had asked Egypt to let it import 1,000 containers into Gaza for use as temporary housing for Palestinians displaced during the Israel Defense Forces campaign, which ended in mid-January. A group of Hamas engineers arrived in Cairo on Monday to study the purchase of the 1,000 containers. Hamas has also asked Egypt to press Israel to let wood, glass, aluminium, steel and electrical supplies into Gaza to rebuild what was destroyed in the offensive, Zahar said...
---
2.24.09 US appoints Gulf aide for Clinton
February 24 - Dennis Ross, a foreign policy veteran, has been appointed special adviser to Hillary Clinton, the US secretary of state, on the Gulf region, the US state department has announced. Ross, a veteran of Arab-Israeli negotiations when Clinton's husband, Bill Clinton, was president, will advise on Iran, the broader Middle East region and southwest Asia...The administration of Barack Obama, the US president, is reviewing US policy towards Iran. It is looking into ways of engaging Tehran on a broad range of issues from seeking cooperation in Afghanistan to giving up sensitive nuclear work that the West suspects is aimed at building an atomic bomb. [More>>aljazeera.net]
---
2.24.09 Russian tanker escapes pirate attack off Nigeria
MURMANSK (Ria Novosti) February 24 - A Russian oil tanker was attacked by pirates off the Nigerian coast but managed to escape with no casualties or damage, a source at a Russian shipping company said on Tuesday. The Khatanga, owned by the Murmansk Maritime Shipping Company, was attacked on Monday 30 kilometers (20 miles) from the Nigerian coast by a speedboat with five pirates on board, but managed to shake off its pursuers after about an hour.

The source said what looked like a fishing vessel, which was moving a short distance away from the tanker, had suddenly changed course heading straight for the Khatanga, ignoring all identification requests. The tanker turned off all lights, issued a distress call and started moving at full steam while the attackers opened fire with light weapons. The crew escaped unhurt as they had taken shelter in the engine room before the attack. [>en.rian.ru]
---
2.24.09 Saudi cleric calls for end to anti-Shia actions
RIYADH, Saudi Arabia (AP) February 24 - A prominent Shia cleric in Saudi Arabia appealed to King Abdullah to put an end to "extremist practices and insults" by members of the religious police against Shia pilgrims following a series of incidents at a revered cemetery. Sheik Hassan al-Saffar's posted the appeal on his Web site Monday, following reports of several incidents of confrontations between Shias and riot police at the al-Baqee Cemetery in Medina, Islam's second-holiest city. The confrontations aggravate the friction between the overwhelmingly Sunni population and the Shias, who say they make up 10-15 percent of Saudi Arabia's 22 million people.

Saudi Arabia follows the severe Wahhabi interpretation of Sunni Islam that considers Shias infidels*. Shias routinely complain of discrimination, including being banned from joining the religious police. Shia witnesses said the first clash took place Friday evening after members of the religious police filmed female Shia pilgrims outside the cemetery, which contains the graves of several revered imams...On Monday night, another confrontation took place when the religious police banned female Shia pilgrims from visiting an area reserved for them outside the cemetery that overlooks the graves, according to the same witness. Women in Saudi Arabia are banned from visiting graves. The witness said police used batons against the angry Shia crowd, which he estimated at 3,000-4,000. Sunni onlookers also joined the fray, attacking Shia pilgrims. [Full story>>khaleejtimes.com]

---
Editorial note: *"infidels" - See Maravot News 12.04.08 article 12.01.08 Muslims condemn Mumbai attacks, worry about image and editorial note, "Confusion over the teachings of the Koran," for a greater discussion on the Koran's teachings, as they confirm the Bible — including the Gospel and Jesus as the Messiah — and conversely pronounce violence against unbelievers (something Jesus would not seem to condone).

Mel Copeland
---
2.24.09 Iraqi police shoot dead four US soldiers: ministry
BAGHDAD, February 24 - An interior ministry official said Iraqi policemen shot dead four US soldiers and their local interpreter in the main northern city of Mosul on Tuesday. But the US military, in an initial report, said three soldiers and an interpreter were wounded and a second interpreter killed, although its information was yet to be confirmed..."Three US soldiers were injured in the attack at an Iraqi police station in Nineveh province along with an interpreter. A second interpreter was killed during the attack," the US military said in a statement. [Full story>>thenews.com.pk]
---
2.24.09 Fighting kills at least 13 in Somali capital
MOGADISHU (Reuters) February 24 - At least 13 people were killed and scores wounded in the Somali capital on Tuesday as Islamist rebels battled police and African Union peacekeepers throughout the day. Witnesses said battles that began mid-morning were still going on at dusk. Both sides fired heavy machine guns and artillery and the insurgents unleashed volleys of mortar bombs at the hill-top Villa Somalia presidential palace. It was the worst fighting in weeks in Mogadishu. [More>>thestar.com.my]
---
2.24.09 Blast kills 4 US coalition troops, Afghan civilain
KABUL, Afghanistan (Reuters) February 24 - Four soldiers with US-led coalition forces and an Afghan civilian working for them were killed in southern Afghanistan on Tuesday when their vehicle struck a roadside bomb, the US military said. It said the coalition troops were on a patrol with Afghan security forces, but did not give any further details. Some 38,000 US troops are currently serving in Afghanistan alongside another 30,000 from 40 other mostly NATO nations. [More>>khaleejtimes.com]
---
2.24.09 Plague looms as rats take Bangladesh by storm
DHAKA, Bangladesh, February 24 - Farmers, shopkeepers struggle to control rat population. A year long rat plague has taken Bangladesh's remote Chittagong Hill Tracts region by storm thanks to a ballooning rat population that has eaten everything in its way, causing a prolonged famine in the tribal area. The UN's World Food Program (WFP) began distributing three million dollars of emergency food supplies to some 120,000 people in the southeastern tribal area bordering India and Myanmar last May, after the rat population exploded. The rats — some weighing as much as 1.5 kilograms (3.3 pounds) — feed on bamboo forests in the hilly region.

Dhaka University zoology professor Nurjahan Sarker recently visited the hill tracts and sounded the alarm over the "devastating" impact of the year-long rat plague...Steven Belmain, a rodent ecologist of Britain's University of Greenwich — in Bangladesh studying the impact of the rat infestation — said the rodent population was doubling in size every three weeks...The last rat flood in the region was in 1958, when the bamboo flowers last blossomed. Back then, the plague lasted three years.

..But Belmain said the rats had left some areas only after they had eaten everything they could and then had to move on...He said the risk of an outbreak of bubonic plague was high in the country of 144 million, one of the world's poorest. The disease is caused by bacteria picked up from the bite of fleas that are carried by rats, and which is believed to be the Black Death that killed millions in 14th century Europe. [Full story>>alarabiya.net]
---
2.23.09 UK: Northern Rock to pay bonuses despite £1.4 billion loss
LONDON, February 23 - Nationalized bank says number of mortgage customers falling into arrears soars as annual losses total £1.4bn. Northern Rock crashed to a £1.4 billion loss in 2008, the state-owned bank revealed today and warned that the number of mortgage customers getting into difficulties was rocketing. But senior staff regarded as essential to the company's future will still receive bonuses for the year, it said. The bank wrote off £900 million because of defaulting borrowers and lost a further £300 million in investments, it warned today as it announced an abrupt U-turn in strategy. Instead of calling in loans as quickly as possible in order to pay back government loans, it will now make available £14 billion in new mortgage lending over the next two years. A total of £256.4 billion was lent by British mortgage lenders last year. [More>>timesonline.co.uk]
---
2.23.09 US: bank shares rise, but market falls
NEW YORK, February 23 - Do not get stressed. That was the message the Treasury Department tried to telegraph to jittery investors before financial markets opened Monday in New York. With America's banking system facing a round of "stress tests," the prospect of greater governmental control and an uncertain future, the government tried to assure investors that it would stand behind the banking system, and that it would provide additional temporary aid to banks.

Despite the attempt at reassurance, Wall Street's early gains on Monday stalled, and markets headed into the red, adding to their losses from a week of brutal declines. Analysts said that investors remain worried about how America's biggest banks will deal with the troubled assets on their balance sheets, and how they will weather a prolonged economic contraction. [More>>nytimes.com; Update, "Stocks slump on corporate woes, indexes fall by 3.4%" : ...The Dow Jones industrial average closed down 3.4 percent to 7.114.78 while the broader S. & P. 500 fell 3.47 percent, or 26.72 points, to 743.33. The technology heavy Nasdaq was down 3.7 percent, or 53.51 points, to 1,387.72 as shares of technology companies turned lower; See related stories,

nytimes.com, February 23, "Latest plan could give US a voting stake in banks" : WASHINGTON - The Obama administration put the nation's biggest banks on notice Monday that the government could become their biggest shareholder if regulators decide they are not strong enough to weather a deeper than expected downturn in the economy. In an unexpectedly assertive joint statement, the Treasury Department, Federal Reserve and federal bank regulatory agencies announced that the government might end up demanding a direct ownership stake in major banks after they undergo a tough evaluation of their strength that is to begin shortly.
"The capital needs of major US banking institutions will be evaluated under a more challenging economic environment," the administration said. "Should that assessment indicate that an additional capital buffer is warranted," it continued, the banks could be required to give the government a right to acquire common shares, with voting rights...

cnn.com, February 23, "Citi in talks over bigger US stake - report" : NEW YORK - Bank and regulators said to discuss plan for government to convert preferred shares to common stock. Citigroup Inc. is in discussions with regulators about a plan for the federal government to take a larger ownership stake in the bank, according to published reports. The Wall Street Journal, citing sources familiar with the matter, reported that the government would convert a large portion of its preferred Citigroup shares to common shares. The government received the preferred shares in return for investing $45 billion in Citi as part of the $700 billion bailout of the financial system...
---
2.23.09 Gulf in an arms race despite global downturn
DUBAI, February 23 - Arming for security against Iran. Gulf countries are upping their arms spending despite the global economic turn down and massive drop in oil prices as the United Arab Emirates placed weapons orders of nearly $1 billion on Monday and Bahrain leased several fighter jets. The UAE military contracts worth 2.54 billion dirhams ($692 million), mostly to local companies, during the IDEX 2009 defense show in Abu Dhabi. Two other deals still under negotiation would be worth over 469 million dirhams ($128 million), IDEX spokesman General Obeid al-Ketbi told reporters on the second day of the region's largest arms fair. [More>>alarabiya.net; See related stories,
alarabiya.net, February 23, "Iran says respects Bahrain's sovereignty" : Iran's foreign minister said on Sunday his country respects Bahrain's independence and countering anger in the tiny island state about alleged remarks by an Iranian official. Bahrain's cabinet earlier on Sunday branded as "irresponsible" comments by Ali Akber Nateq Nouri, a prominent conservative member of Iran's powerful expediency council, after he allegedly said the Gulf kingdom used to be Iran's 14th governorate and had a representative in its parliament...

Maravot News 11.20.08 Jerusalem Post article 11.18.08 Iran opens fourth navy base in Gulf. The Islamic Revolutionary Guards Corps (IRGC) announced the opening of its fourth navy base on the shores of the Persian Gulf, opposite the United States Navy Base in Bahrain...Iran has warned it would close down the Strait in case of a military attack against the country.

washington-report.org, (March 1993) "Iran's dispute with the UAE over three gulf islands."
---
2.23.09 S. Korea: February brings a surplus in trade
SEOUL, February 23 - Korea posted a trade surplus in the first 20 days of this month. The Ministry of Knowledge Economy said exports gained 0.4 percent on-year to $17.79 billion in the period, while imports plunged 23.2 percent to $16.86 billion. The result is a $930 million surplus. "The gains were brought on by a $1.5 billion increase in ship exports vis-a-vis the previous month, a drop in crude oil prices and seasonal factors like the Lunar New Year holiday," an official said. He cautiously added that despite overall uncertainties, the country may be able to pull off a surplus in March if current trends continued. Ships make up a sizable part of the country's exports and are not easily affected by sudden downturns as they are ordered well in advance. The Lunar New Year holiday, which fell in February last year, took place in late January, leaving more working days this month and helping industrial production. [More>>joongangdaily.joins.com]
---
2.23.09 Islamic terror suspects go on trial in Spain
MADRID (AP) February 23 - A Spanish court official says 14 people have gone on trial charged with involvement with Islamic terrorist groups and recruiting extremists to fight in Iraq. Some of the 14 are also accused of helping suspects in the March 11, 2004 train bombings in Madrid to flee Spain. The 14 suspects, mainly from Morocco, were arrested in a series of raids over recent years, mostly in the northeastern region of Catalonia. They are charged with belonging to or collaborating with Islamic terrorism groups. The prosecution is seeking sentences of between 7 and 14 years. The official says the trial at San Fernando de Henares, just outside of Madrid, is likely to last several days. He spoke on condition of anonymity in keeping with court regulations. [>thejakartapost.com]
---
2.23.09 Pakistan to arm village militias to fight terror
ISLAMABAD, February 23 - Authorities in a Pakistani border province plan to arm villagers with 30,000 rifles and set up an elite police unit to protect a region increasingly besieged by Taliban and al-Qaeda militants, an official said Sunday. Stiffer action in the North West Frontier Province could help offset American concern that a peace deal being negotiated in the Swat valley, a Taliban stronghold in the province, could create a haven for Islamist insurgents only 160 kilometers from the Pakistani capital. Village militias backed by the United States have been credited with reducing violence in Iraq. Washington is paying for a similar initiative in Afghanistan. [More>>japantoday.com; See related story,

washingtonpost.com, February 23, "Taliban pledges cease-fire in 2nd Pakistani region" : KHAR, Pakistan - A Taliban commander has announced a unilateral cease-fire against government troops in a northwest Pakistan district. The military was not immediately available for comment on the Taliban's move in Bajur district Monday. The Pakistan has been engaged in a military offensive in Bajur for several months that it says has inflicted heavy casualties on the militants. Last week, the government and militants agreed to a cease-fire in the Swat Valley, another northwestern region, in support of a peace process there. That development has been criticized by the United States and other Western governments who said the government was not negotiating from a position of strength and that the deal could create a safe haven for militants...
---
2.23.09 Al-Qaeda no. 2 warns against Gaza truce
February 23 - Al-Qaeda's No. 2 warned Palestinians in Gaza against accepting a truce with Israel in an audio message posted on extremist Web sites, an Internet monitoring service said Monday. Egyptian-born Ayman al-Zawahri said "Israel's Arab aides" are trying to impose a truce in Gaza to defeat the Palestinians and he called on them to be steadfast while Jewish targets are attacked around the world. "The jihad to liberate Palestine and all the homelands of Islam mustn't cease, and if the field tightens in one place, it widens in other places, and Crusader and Jewish targets are spread all over the world," he said in a transcript of the speech provided by the US-based SITE Intelligence Group, which monitors Islamic extremist Web sites. [More>>jpost.com; See related story,

metimes.com, February 23, "Rift within al-Qaeda? Is Osama about to be found?" : This has not been a good week for al-Qaeda and its top leadership. First, one of the founders of the number one terror group in the world has come out with a stunning attack on the current top leadership of al-Qaeda, accusing them of being immoral, corrupt and on the payroll of Arab intelligence services. And second, geographers from the University of California at Los Angeles (UCLA) believe to have narrowed down the possible hiding place of the organization's mastermind, Osama bin Laden, to three buildings in Pakistan.

Sayyid Imam al-Sharif, better known by his pseudonym of Dr. Fadl, has accused both bin Laden and his Egyptian deputy Ayman al-Zawahiri, of hijacking the cause and derailing the original ideology he helped establish almost two decades ago. Does this unexpected turn of events herald the beginning of a major shift in the world of takfiri Islamists? Perhaps. In any case it is bound to have repercussions on many of those sitting on the fence of radical Islamism, teetering between falling prey to those calling for terrorist acts and those advocating that the killing of innocents is un-Islamic and goes counter to everything that the Koran and Islam stand for. [More>>metimes.com]
---
2.23.09 Police arrest three after deadly bazaar bombing
February 23 - Egyptian police have arrested three suspects after a bomb ripped through a famous Cairo bazaar leaving one French teenager killed and at least 25 others injured. The victim was part of a group of 54 teenagers visiting Egypt. Egyptian police said on Monday they have arrested three suspects over a bomb attack at a famed Cairo bazaar that killed a French teenager and wounded 25 people, most of them tourists. Sunday's attack was the first deadly violence since 2006 against Westerners in Egypt, where the tourism industry is a vital foreign currency earner. The bomb blast ripped through a street lined with cafes and restaurants in Khan al-Khalili, a market dating back to the 14th century that is one of the Egyptian capital's main tourist attractions.
   
"Three people there were arrested on the site as suspects after the attack," a police official said. "Others are being questioned as witnesses." There has been no claim of responsibility but analysts said the attack could have been the work of an isolated Islamist cell. The dead 17-year-old French girl was part of a tour group of 54 teenagers from the Paris region who were on a trip to buy souvenirs in the market before heading home on Monday.

..It was the first deadly attack on tourists in Cairo since a bombing in the same neighbourhood killed two tourists and wounded 18 in 2005. A series of bombings from 2004 to 2006 also killed a total of 130 people in Red Sea resorts on the Sinai peninsula that were blamed on militants loyal to al-Qaeda. Sunday's attack took place outside a hotel across the square from the Hussein mosque, one of Egypt's oldest places of worship and witnesses said the force of the blast shook the surrounding buildings. It wounded 17 French tourists, including one seriously, as well as a 37-year-old German, three Saudis and four Egyptians, officials said. [Full story>>france24.com]
---
2.23.09 New government should include Hamas, respect commitments: Abbas
PRAGUE (DPA) February 23 - Palestinian President Mahmoud Abbas said Monday that a new Palestinian government should include the Islamist movement Hamas and respect existing peace commitments. "We wish that Hamas be represented within (a government) of national unity and that this government takes a unified stance towards accomplishing peace," he told reporters after meeting his Czech counterpart Vaclav Klaus during a visit to Prague. A government that would marry the two rival factions should "respect all agreements and commitments" made so far in peace talks between Israelis and Palestinians, such as honouring a two-state solution, Abbas said. Hamas, which does not recognize Israel, violently ousted Abbas's Western-backed, secular Fatah movement from the Gaza Strip in the summer of 2007, confining it to the West Bank. [More>>khaleejtimes.com]
---
2.23.09 Hamas: Fatah spies told IAF where to hit in Gaza
February 23 - Hamas has accused the rival Fatah movement of running a spy ring in Gaza that provided the Israel Air Force with information on targets during Israel's punishing offensive in the coastal territory last month. The Islamist militant group has released an audio tape that it claims documents 10 Fatah security officials confessing to collaborating with Israel in exchange for money. A Fatah official in Cairo for reconciliation talks with Hamas said in response that the claim was merely an attempt by the group to sabotage the Egyptian-brokered negotiations. Hamas on Monday also accused the rival Fatah movement of arresting 80 of its members in the West Bank in a bid to sabotage Palestinian inter-factional talks due to begin this week. [More>>haaretz.com]
---
2.23.09 Radio host shot dead
PAGADAN, Philippines (AFP) February 23 - A radio broadcaster has been shot dead in the southern Philippines today shortly before he was due to begin his daily talk show, police said. Ernie Rullen, 58, was waiting for a minibus to take him to work in Ozamiz City on the southern island of Mindanao when two unidentified gunmen on a motor bike shot him at point-blank range. Joy Reyes of Radio DXSY in Ozamiz City told local media that police were investigating the shooting. "Rullen had parked his motorcycle and was walking to the bus stop when he was gunned down," Reyes said.

Reyes said the motive for the shooting was not known but could be related to Rullen's morning talk show on Radio DXSY, which Rullen had hosted for the past eight years and which discussed corruption and crime. Rullen is the second journalist shot dead in the Philippines this year. In January, Badroddin Abbas, a part-time radio broadcaster and Muslim peace activist, was killed in an ambush in southern Cotabato City.

Rullen is the 64th journalist killed since President Gloria Arroyo came to power in 2001, according to the National Union of Journalists of the Philippines. The Paris-based Reporters Without Borders and the New York-based Committee to Protect Journalists rank the country as the second-most dangerous for journalists, after Iraq. [>news.com.au]
---
2.23.09 Pakistan: FC kills 10 militants in Khyber Agency
BARA, Pakistan, February 23 - FC forces killed 10 militants in an action carried out in Khyber Agency. FC sources said communication system of the militants has also been destroyed in the action besides 15 of their vehicles. [>thenews.com.pk]
---
2.23.09 11 killed in attack on peacekeepers in Somalia
MOGADISHU, Somalia, February 23 - An attack on an African Union peacekeeping base in the Somali capital Sunday killed 11 people and injured 15, the AU said, but it denied insurgent claims of a suicide attack. El Ghassim Wane, a spokesman for the AU in Addis Ababa, said the insurgents had fired mortars onto the base in Mogadishu. He gave no further details. But Sheik Muktar Robow, a spokesman for the al-Shabab insurgent group, insisted that "Our fighters have carried out two suicide attacks on the infidels in Mogadishu, inflicting heavy losses." [More>>japantoday.com]
---
2.23.09 Iran's gas to reach Europe via Turkey
TEHRAN, February 22 - Iran's natural gas will be transferred to Europe via Turkey, the semi-official Fars news agency reported on Sunday. "Iran and Turkey have signed an agreement to transfer Iran's natural gas to Europe via Turkey," Fars quoted Iran's Deputy Oil Minister Seyyed Reza Kassaeizadeh as saying. "Under the new agreement, Turkey can transfer up to 35 billion cubic meters of gas from Iran to Europe," the report said. Kassaeizadeh also announced that Tehran is intending to deliver gas at the Bazargan border point in northwestern Iran, but added that the two parties had not yet agreed on the best transfer route.

Earlier in November, Turkish Energy Minister Hilmi Guler said he anticipated Turkey to make an investment of 12 billion U.S. dollars in Iran on the basis of an agreement signed between the two countries in Tehran to construct a 1,800-kilometer gas pipeline from Assalouyeh, a gas field in southern Iran's Bushehr province, to the Turkish border, IRNA said. Tehran and Ankara also signed a MOU on the basis of which the Turkmenistan's gas would be transferred via Iran to Turkey to be piped to Europe. [More>>xinhuanet.com]
---
2.23.09 Scores of Zimbabwe farms 'sezed'
February 23 - Scores of white-owned farms in Zimbabwe have been invaded since the country's national unity government took office, a union chief has told the BBC. Commercial Farmers Union President Trevor Gifford said 77 properties had been occupied in the last fortnight. MPs, police, the military and Reserve Bank of Zimbabwe officials had taken part in the invasions, he said. Many of the farmers targeted recently mounted a successful legal challenge to government land reforms, he added.

The Southern African Development Community (Sadc) Tribunal ruled in November the Zimbabwe government's programme of seizing white-owned property for redistribution to landless blacks was discriminatory and illegal. The government said at the time that it would not comply with the ruling. Meanwhile, Roy Bennett — the MDC's nominee for deputy agricultural minister — faces a bail hearing on Tuesday after he was arrested this month accused of terrorism on charges his supporters say are trumped-up. [More>>bbc.co.uk]
---
2.21.09 Obama pledges to seek deficit cuts
WASHINGTON, February 21 - President Obama pledged on Saturday to look for ways to "cut the trillion-dollar deficit we inherited," and said he was turning his attention toward restoring discipline to the nation's budget now that he has put forth his housing plan and signed the $787 billion economic recovery package into law. After a week dominated by programs that involve spending — in addition to the stimulus package, the plan to stave off foreclosures could cost taxpayers as much as $275 billion — Mr. Obama used his weekly radio and Internet address to chart the immediate road ahead.

On Monday, he said, he will hold a "fiscal summit" at the White House that will bring together business and union leaders, as well as financial experts and lawmakers. He will address a joint session of Congress on Tuesday, and he will release his 2010 budget on Thursday. "It will require doing all we can to get exploding deficits under control as our economy begins to recover," Mr. Obama said, promising to submit a budget that was "sober in its assessments, honest in its accounting, and lays out in detail my strategy for investing in what we need, cutting what we don't, and restoring fiscal discipline."

In the address, Mr. Obama described the stimulus package as "the most sweeping economic recovery plan in history," saying it would put 3.5 million Americans back to work. In compliance with the tax provisions of the bill, he said, the Treasury Department has already begun "directing employers to reduce the amount of taxes withheld from paychecks — meaning that by April 1st, a typical family will begin taking home at least $65 more every month." [More>>nytimes.com]
---
2.21.09 Pakistani Taliban agree to 'permanent ceasefire' in Swat
MINGORA, Pakistan (Reuters) February 21 - Taliban and Pakistani officials agreed on Saturday to a 'permanent ceasefire' in the northwestern Swat valley, a senior government official said on Saturday. ( Watch ) Taliban commander Maulana Fazlullah, also known as Mullah Radio because he uses illegal FM radio to spread his message, was expected to announce the ceasefire later. "They have made commitment that they will observe a permanent ceasefire and we'll do the same," Syed Mohammad Javed, the commissioner of Malakand, told reporters after meeting with elders in Swat. [More>>timesofindia.indiatimes.com; See related stories:

aljazeera.net, February 21, "Doubts cast over Swat ceasefire" : Taliban fighters in Pakistan have said they will review a 10-day truce in Pakistan's Swat valley when it runs out next week, disputing a government claim that a permanent ceasefire had been agreed. The group's announcement on Saturday came after a government official said that the fighters had agreed to a deal and that a ceasefire was soon to be announced. "We heard that the government announced a permanent ceasefire, but we have announced a 10-day ceasefire and we will consider an extension when it ends," Maulana Fazlullah, the leader of Pakistani-Taliban, said...

Indianexpress.com, February 21, "Obama widens missile strikes inside Pakistan: report" : NEW YORK - After targeting al-Qaeda and Taliban militants in their 'safe havens' on the Pak-Afghan border, US forces have now also started hitting Pakistani Taliban. US President Barack Obama has broadened the list of radical groups to be targeted by the Central Intelligence Agency (CIA) and the group led by Baitullah Mehsud is one of them, 'The New York Times' reported. The strikes are another sign that Obama is continuing, and in some cases extending, Bush administration policy in using American spy agencies against terrorism suspects in Pakistan, as he had promised to do during his Presidential campaign. The missile strikes on training camps run by Baitullah Mehsud represent a broadening of the American campaign inside Pakistan, which has been largely carried out by drone aircraft...
---
2.21.09 Iran blocks web sites promoting reformist Khatami
February 21 - A reformist politician in Iran says authorities have blocked two Web sites promoting the presidential bid of challenger Mohammed Khatami. The former president declared this month that he would challenge President Mahmoud Ahmadinejad in the June 12 election. That set the stage for a major political showdown in coming months between the popular reformist and the country's ruling hard-liners. Khatami made dialogue with the West a centerpiece of his eight years in office. Prominent reformist Majid Ansari said Saturday that by blocking the sites, authorities were seeking to increase pressure on reformists before the election. [>thejakartapost.com]
---
2.21.09 Katyusha hits Galilee, 3 people hurt
February 21- Two and a half weeks after United Nations peacekeepers in southern Lebanon discovered five rockets ready to be launched toward Israel, a Katyusha rocket slammed into the western Galilee near the town of Ma'alot on Saturday morning, lightly wounding three people. Magen David Adom teams evacuated three people who were lightly wounded from shrapnel to hospital in Nahariya. Two people are suffering from shock. A building was also damaged in the attack.

Lebanese security officials said that two rockets were fired from south Lebanon toward Israel, but one fell short of the target, landing in an empty field inside Lebanese territory close to the border. While police and security forces arrived at the scene to investigate the attack, the IDF responded by firing artillery shells at the Katyusha launch pads. [More>>jpost.com]
---
2.21.09 Calif. man charged with al-Qaeda links
February 20 - Afghan Man Lied About Ties To Several Terror Groups While Gaining US Citizenship, Indictment Says. Federal agents arrested a naturalized US citizen from Afghanistan on Friday after he allegedly lied about ties to terrorist groups on citizenship and passport papers, authorities said. FBI, immigration and local law enforcement agents from an anti-terrorism task force arrested Ahmadullah Sais Niazi, 34, at his home in Tustin, California, on Friday morning, according to the US attorney's office. He faces charges of perjury, naturalization fraud, procuring a passport by fraud and making a false statement.

According to the indictment, Niazi lied when he wrote on his naturalization papers that he had never been a member of or in any way associated with a terrorist organization. "In fact, as defendant Niazi then well knew, he was associated in any way with one or more terrorist organizations," the indictment states. Those organizations include al-Qaeda, the Taliban and a terrorist organization called Hezb-e-Islami, which fights international and US troops in Afghanistan...[More>>cbsnews.com]
---
2.21.09 US House speaker assures Afghanistan of support
KABUL, Afghanistan (AFP) February 21 - US House Speaker Nancy Pelosi assured President Hamid Karzai Saturday that Washington would accelerate Afghanistan's reconstruction as part of a new "war on terror" strategy, his office said. Pelosi visited the country at the head of an eight-member Congressional delegation as the United States was reviewing its strategy here, with extremist violence mounting more than seven years after the Taliban were ousted. [More>>khaleejtimes.com]
---
2.21.09 US-led coalition kills 13 Afghan civilians
KABUL, Afghanistan, February 21 - Thirteen people, described by the US military as "noncombatants," were killed in western Afghanistan earlier this week during a coalition operation, the military said Saturday. "We expressed our deepest condolences to the survivors of the noncombatants who were killed during this operation," said Brig. Gen. Michael Ryan, US Forces-Afghanistan. Three militants also died in Tuesday's operation in the Gozara district of Herat province, the military said. The killings further inflame Afghans' anger and frustration over the killing of civilians in US-led coalition and NATO operations. Many civilians also die in the crossfire between coalition forces and Taliban militants. [More>>cnn.com]
---
2.21.09 Norway drops plan to let police wear headscarf
OSLO, Norway (AFP) February 20 - Says new measures soon to ensure recruitment of minorities. Norwegian Justice Minister Knut Storberget on Friday reversed a decision to allow Muslim women police officers to wear the Islamic head scarf following massive criticism of the ruling. "We have today decided to not pursue the proposal. This has been a very difficult case," Storberget told a press conference, according to the NTB news agency. Storberget's comment came just weeks after Norway's centre-left government approved a police decision to allow female officers to wear the Islamic headscarf, or hijab, in a bid to improve recruitment of Muslim officers. [More>>alarabiya.net]
---
2.21.09 Saudi officials block children's marriages: report
(AFP) February 21 - Marriage officials in Saudi Arabia have refused to marry three 13-year-old girls, amid an outcry by rights activists over child marriages. Last week marriage officials told the parents of three girls they were too young, citing a recent instruction by the head of the Dammam regional courts, Sheikh Abdulrahman al-Raqib, Al-Watan newspaper reported. When the father of one then sought permission from Raqib, he was told to wait until she was 15. Saudi Arabia has no law setting a minimum age for marriage for either gender, leading to occasional cases in which girls are married off by their parents before reaching their teens, some even younger than age 10. [More>>news.com.au]
---
2.20.09 Economic concerns send global shares lower
February 20 - A global sell-off set in motion by losses on Wall Street came back home on Friday morning, sending markets in New York sharply lower. The Dow burrowed even lower, a day after it recorded at its lowest close in six years. Gold prices flirted with $1,000 an ounce. And markets from Hong Kong to London fell sharply on more glum economic data and a round of disappointing corporate news, including the bankruptcy filing of the automaker, Saab. "You can look at everybody's trading screen and see nothing but red," said Tim Smalls, head of United States stock trading at Execution LLC in Greenwich, Conn.

At noon, the Dow Jones industrial average was down 137 points to 7,328, while the broader Standard & Poor's 500-stock index was off 1.9 percent. The technology-heavy Nasdaq was down 0.7 percent. Financial stocks slid the farthest, with shares of Bank of America falling below $3.35 a share and Citigroup sinking to less than $2.10 a share — a tenth of what it cost a year ago. Analysts said that fear and uncertainty were driving trading once again. They said investors remained skeptical about the Obama administration's plan to shore up the banking system and were uncertain that the $787 billion economic stimulus package would be able to prop up the floundering economy. The Dow Jones Euro Stoxx 50 index, a benchmark for the euro region, was down 3.6 percent in late-afternoon trading. The DAX in Frankfurt slid 3.6 percent as investors shed financial and industrial stocks, while the CAC 40 in France was down about 3 percent and FTSE 100 in London fell 2.4 percent.

..In Britain, the Council of Mortgage Lenders reported Friday that 40,000 people had lost their homes in 2008, an increase of 54 percent on a year earlier, and the number is expected to nearly double in 2009 to 75,000. "The next trap for the financial markets is state debt," Mr. Cayla said. "We're concerned about the health of governments, and what their signatures mean."

Closing Update: The week on Wall Street started bad and only got worse, as worries about Eastern European banks gave way to fears that the United States would have to take over major financial institutions. By the end of trading on Friday, the Dow had tumbled 6.2 percent, its worst week since October. Signs of concern abounded: Gold prices briefly rose above $1,000 an ounce and Treasury prices rose as investors looked for safer investments. Most market sectors finished lower. Citigroup fell below $2 a share. On Friday, the Dow Jones industrial average climbed back from a 200-point loss and other indexes partly recovered after the White House issued a statement assuring investors it supported a privately owned banking system.

Even with its afternoon recovery, the Dow Jones industrial average declined 100.28 points, or 1.34 percent, to 7,365.67, while the Standard & Poor's 500-stock index fell 8.89 points, or 1.14 percent, to 770.05. The Nasdaq composite index slipped 1.59 points, or 0.11 percent, to 1,441.23. For the week, the Dow lost 485 points, to close at a six-year low. The S.& P. 500 fell 6.5 percent, but was still slightly above its bear-market lows of Nov. 20...[More>>nytimes.com; See also, news.com.au, February 20, "World stocks tumble in fierce sell-off" and:

thejakartapost.com, February 20, "Anglo American cuts 19,000 jobs as profits fall" : Mining company Anglo American PLC said Friday it will cut 19,000 jobs this year and suspend dividend payments after reporting a 29 percent drop in 2008 profits. The company said it hoped to cut the jobs — 10 percent of its managed work force — through layoffs, natural attrition and scaling back contractor arrangements.

..Operating profit in the base metals division — including copper, nickel and zinc — were down 42 percent in 2008, the company said. Base metals contributed 45 percent of Anglo American's operating profit in 2007. Operating profit for platinum declined 17 percent, The ferrous metals division, however, posted a 135 percent gain because of increased sales and higher prices in the early part of the year. Operating profit from coal was up 265 percent, and diamond sales rose 5 percent.

metimes.com, February 20, "As oil price goes down so do Mideast economies"

timesonline.co.uk, February 20, "UK: Home repossessions jump 54% as mortgage arrears soar" : The number of people losing their homes rose by 54 per cent last year to a 12-year high, while the number of homeowners in arrears soared by 70 per cent, figures show. Lenders repossessed some 40,000 homes last year, fewer than the 45,000 than had been forecast, the Council of Mortgage Lenders said. But some 219,000 people were three or more months behind with their mortgage payments at the end of the year, up from 127,500 at the end of 2007. The CML has forecast that 500,000 people could fall behind with three or more mortgage payments this year. The CML said that the lower repossession figures indicated that lenders were making "strenuous efforts" to try to keep people in their homes...

xinhuanet.com, February 19, "Dow Jones average plunges to six-year low on financial woes, grim economic outlook" : Dow Jones average was down 89.68 to 7,465.95, the lowest close since October 2002.·Concerns about credit-card defaults sent financial stocks to a 14-year low. Expert: US economy will keep deteriorating before reaching a low point in second half of 2009. NEW YORK - Wall Street plunged on Thursday with the Dow Jones average dropping below 7,500 to a six-year low on financial woes and grim economic outlook. The Dow Jones industrial average was down 89.68, or 1.19 percent, to 7,465.95, the lowest close since October 2002. The Standard & Poor's 500 index fell 9.48, or 1.20 percent, to 778.94,and the Nasdaq composite index fell 25.15, or 1.71 percent, to 1,442.82...
---
2.20.09 Twenty nations offer to boost Afghan troops
KRAKOW, Poland, February 20 - Gates urges NATO to provide more forces to fight Taliban, Up to 20 nations have offered to boost their civilian or military commitments to Afghanistan, United States Defense Secretary Robert Gates said Friday, as NATO battles a Taliban-led insurgency there."Over the last couple of days, 19 or 20 countries announced at one point or another in the meetings that they would be increasing their contribution, either on the civilian or the military or the training side," he said. [More>>alarabiya.net]
---
2.20.09 25 dead as bomb rips through Pakistan funeral procession
PESHAWAR, Pakistan, February 20 - Twenty-five people were killed on Friday in a suicide bombing at a funeral procession for an assassinated local Shia Muslim leader in northwest Pakistan, officials said. Ashiq Salim, a doctor at the main hospital in the city of Dera Ismail Khan, said 25 bodies had been brought there and that medics were scrambling to treat another 60 people who were wounded. "A curfew has been imposed in the city," district administration chief Syed Mohsin Shah said. The explosion targeted the 1000 people-strong funeral procession of cleric Sher Zaman, who was shot dead by unidentified gunmen on Thursday. [More>>timesofindia.indiatimes.com; See related story,
thestar.com.my (Reuters) February 20, "Tribes could be bin Laden's downfall - ex-spy" : BRUSSELS - Osama bin Laden will probably be killed or captured when some "brave souls" in the Afghanistan-Pakistan border area decide to betray him, a former senior CIA official said on Thursday. Henry Crumpton, who led the CIA's operations in Afghanistan after the Sept. 11 attacks, said local chiefs sheltering the militant leader were likely to abandon him one day due to disenchantment with his agenda and its perceived failure to bring a better life...
---
2.20.09 Clinton condemns North Korea threats
February 20 - North Korea must end its provocative stance and stop its insults toward South Korea if it hopes to build better relations with the US, Hillary Clinton, the US secretary of state, has said. Speaking in Seoul on Friday after talks with Yu Myung-hwan, her South Korean counterpart, Clinton urged the North to honour its previous commitments and dismantle its nuclear weapons programme. "We maintain our joint resolve to work together and through the six-party talks to bring about complete and verifiable denuclearization of the Korean peninsula," she told a joint news conference. [More>>aljazeera.net; See related story,

washingtonpost.com, February 20, "In China, Clinton says human rights 'can't interfere' with talks" : BEIJING - Human rights violations by China cannot block the possibility of significant cooperation between Washington and Beijing on the global economic crisis, climate change and security threats such as North Korea's nuclear program, Secretary of State Hillary Rodham Clinton said Friday.
---
2.20.09 Hamas denies giving Kerry letter for Obama
GAZA (Reuters) February 20 - Hamas denied on Friday it had given U.S. Senator John Kerry a letter for President Barack Obama when the senator visited the Gaza Strip this week. A spokesman for the United Nations Relief and Works Agency (UNRWA) had said Hamas left a letter for Obama at a UN compound in Gaza where Kerry paid a call on Thursday. "Hamas denies any such thing had happened. No letter was given to John Kerry," said Fawzi Barhoum, a spokesman for the Islamist group.

"At the same time we stress that we are open to hold dialogue with any country and our only enemy is the Zionist occupation," Barhoum said. Kerry, chairman of the Senate Foreign Relations Committee, and two US Congressmen shunned Hamas during their visit to Gaza, which took place a month after a 22-day Israeli offensive in which some 1,300 Palestinians and 13 Israelis died. [>khaleejtimes.com]
---
2.20.09 Myanmar to free 6,000 prisoners: state media
YANGON, February 20 - Myanmar's military government will release more than 6,300 prisoners to allow them to take part in elections next year, state media said Friday, a day after a UN rights envoy visited the country. State television did not say if any of the country's estimated 2,000 political prisoners would be among those to be freed starting from Saturday, but the main opposition party said some of them may be released. The authorities were releasing a total of 6,313 prisoners so they would be "able to participate for the benefit of the state, like other citizens, in coming 2010 free and fair elections," state television said.

It added that the government was freeing them to "respect humanitarian reasons and be sympathetic to family members of those prisoners who have learned good morals." The announcement came a day after the United Nations special rapporteur on human rights in Myanmar, Tomas Ojea Quintana, wrapped up a six-day trip to the country during which he called for the "progressive" release of political detainees. [>thenews.com.pk]
---
2.20.09 Scientists detect huge radiation blast
February 20 - Astronomers have detected the strongest radiation blast from deep space ever known, exceeding the power of 9,000 exploding stars. The gamma ray burst occurred 12.2 billion light years away, and its light has taken most of the age of the universe to reach us. Scientists believe such bursts occur when stars run out of fuel and collapse to form a black hole. It has been calculated that the material emitting the gamma rays must have been moving at 99.9999 per cent of the speed of light. The explosion was spotted by a NASA telescope. [>independent.co.uk]
---
2.19.09 No. of HIV-infected, AIDS patients in Japan hits record high in 2008
TOKYO, February 19 - The number of people newly infected with the HIV virus and those who contracted AIDS in Japan in 2008 totaled 1,545, marking an all-time high for the sixth straight year, the health ministry said in a report released Wednesday. Of the 1,113 newly HIV-positive people and 432 AIDS patients, 1,442 were male, according to the report compiled by the AIDS Trend Committee of the Ministry of Health, Labor and Welfare. "An increasing number of people are getting infected as a result of male-male sexual contact and the age range is widening," said Aikichi Iwamoto, the committee chairman and an authority on infectious diseases and professor at the University of Tokyo's Institute of Medical Science. [More>>japantoday.com; See related story,

xinhuanet.com, February 17, "AIDS ranks top fatal infection among Chinse in 2008" : BEIJING - The AIDS virus, which claimed 6,897 lives from January to September in 2008, became the top killer among infectious diseases in China for 2008, according to a government epidemic report released Tuesday. Tuberculosis and rabies ranked the second and third followed by hepatitis and infant's tetanus, said the report released by the Ministry of Health (MOH) on its Website...
---
2.19.09 Judges award Abu Qatada £2,500 compensation for 'unfair' detention
February 19 - European judges awarded the radical preacher Abu Qatada compensation of £2,500 after ruling that his detention without trial after the 9/11 attacks was a breach of his human rights. The controversial award came just 24 hours after the man once labelled Osama bin Laden's right hand man in Europe lost the latest round of his legal battle to stay in Britain with the House of Lords ruling he could be deported to Jordan to face trial. Ten other detainees — none of whom were named by the court — also received similar modest cash awards.

They had all been rounded up in the wake of the September 11 attacks on the United States under terror legislation introduced at the time by the Government. The judges at the European Court of Human Rights in Strasbourg accepted, when awarding the damages, that the 11 men were held in the face of a "public emergency." However, they added that, even allowing for the special circumstances, the terms of the detention under the Anti-Terrorism, Crime and Security Act (2001), violated the defendants' right to liberty and security, the right to have the lawfulness of detention decided by a court and the right to compensation for unlawful detention. [More>>timesonline.co.uk; See earlier story, 2.18.09 Smith signs deportation order for Abu Qatada
---
2.19.09 Europe opens covert talks with 'blacklisted' Hamas
February 19 - European nations have opened a direct dialogue with Hamas as the US intensifies the search for Middle East peace under Barack Obama. In the first meeting of its kind, two French senators travelled to Damascus two weeks ago to meet the leader of the Palestinian Islamist faction, Khaled Meshal, The Independent has learned. Two British MPs met three weeks ago in Beirut with the Hamas representative in Lebanon, Usamah Hamdan. "Far more people are talking to Hamas than anyone might think," said a senior European diplomat. "It is the beginning of something new — although we are not negotiating." Mr. Hamdan said yesterday that since the end of last year, MPs from Sweden, the Netherlands and three other western European nations, which he declined to identify, had consulted with Hamas representatives. [More>>independent.co.uk]
---
2.19.09 Bangladesh minister points to Dhaka link to 26/11
NEW DELHI, February 19 - Bangladeshi minister for foreign affairs Hassan Mahmud has hinted that terrorists, who launched the November 26 Mumbain attacks, may have used Bangladeshi soil. This is the first time an official from the Bangaladeshi government has pointed to a Dhaka hand in the attack. (Watch ) "Since terrorist attacks have been happening in the region in the past few months, even in Mumbai, there are cross-border linkages of these terrorists," Mahmud was quoted as saying by the Bangladesh-based newspaper, "The Independent."

"Not only Lashkar (Laskhar-e-Toiba) and HuJI (Harkat-ul-Jihad-e-Islami), but other terror organizations also. They trained in Afghanistan, they were in Pakistan, then they came here. It is dangerous. They cooperate among themselves, now we have to cooperate among ourselves in the region to combat them," Mahmud said. Earlier reports published in Pakistan's "Dawn" newspaper said that Islamabad is likely to indicate that the 26/11 attacks were carried out by "an international network of Muslim fundamentalists present in South Asia and spread all the way to Middle East," while making a case for regional anti-terror cooperation.

The daily (in its report dated Feb. 2, 2009) had said Pakistani sleuths were "closing in on a Bangladeshi connection" to the attacks and had "evidence of not only the involvement of a banned militant organization, Harkat-ul-Jihad-e Islami of Bangladesh, but also of its role in planning the attack and training the terrorists." [>timesofindia.indiatimes.com; See also thenews.com.pk]
---
2.19.09 'Taliban earning $200-$300 million annually from Opium trade'
NEW DELHI, February 19 - Linking prevailing security scenario with illicit opium cultivation in Afghanistan, United Nations said the Taliban are earning 200 to 300 million dollars annually from a surcharge it levies on illegal trade in that country. The United Nations Office on Drugs and Crime (UNODC) estimates that "the Taliban have an annual revenue of between USD 200-300 million from a surcharge levied on illicit drug trade." This was revealed by International Narcotics Control Board in its report for the year 2008. The report was released today. The report said security is "weak" in southern provinces of Afghanistan and an "overwhelming" majority of villages are involved in illegal opium poppy cultivation.

It, however, said the illegal opium cultivation has dropped by 19 per cent from its record level of 1.93 lakh hectares in 2007 to 1.57 lakh hectares last year. Despite this, the country accounts for 90 per cent of illegal opium in the world. The eradication efforts in Afghanistan are being "hampered" by lack of security, poor planning and inadequate equipment and funding, the report said. In a welcome trend, the report noted, there has been an increase in the number of provinces that have become free of opium poppy and there have been more voluntary eradication efforts by farmers. [>indianexpress.com; See full report at unodc.org and another report, UNODC report on human trafficking exposes modern form of slavery."
---
2.19.09 Saudi scholar warns alcohol in bio fuel is a sin
DUBAI, February 19 - Sheikh advises ethanol bio fuel use prohibited by Islam. A prominent Saudi scholar warned youths studying abroad of using ethanol or other fuel that contains alcohol in their cars since they could be committing a sin, local press reported Thursday. Sheikh Mohamed Al-Najimi, member of the Saudi Islamic Jurisprudence Academy, based his statement on a saying by the prophet that prohibited all kinds of dealings with alcohol including buying, selling, carrying, serving, drinking, and manufacturing, the Saudi newspaper Shams reported Thursday. Saudi and Muslim youth studying abroad would violate the prohibition if they used bio fuel, he said, since it "is basically made up of alcohol." [More>>alarabiya.net]
---
2.19.09 Venezuela becomes China's oil-providing partner for 500 years
CARACAS, Venezuela, February 19 - Venezuela and China Wednesday signed 12 cooperation agreements and doubled their joint investment fund to 12 billion dollars, as Vice President Xi Jinping's wound up his visit before heading to Brazil. The China-Venezuela investment fund, set up in 2007 with a starting capital of six billion dollars, was boosted to 12 billion, with China contributing eight billion and Venezuela the rest, officials said...China currently imports about 364,000 barrels of crude oil per day from OPEC member Venezuela, a figure expected to rise to 500,000 barrels in late 2009. [Full story>>thenews.com.pk]
---
2.18.09 Geo TV reporter shot dead in Swat
NEW DELHI / ISLAMABAD, February 18 - Pakistan's Geo TV and The News daily reporter Musa Khan on Wednesday was killed by unknown gunmen in Swat valley. Musa Khan's killing comes two days after the Pakistan government signed an agreement with militants to restore Sharia law in Swat valley. Musa Khan Khel was shot dead in the Matta area of Swat, considered a stronghold of the local Taliban, PTI reported.

Khan Khel had gone to the area to cover talks expected to be held between Taliban leader and hardliner cleric Maulana Sufi Mohammad, whose organization has reached an agreement with the North West Frontier Province government on enforcing Sharia law in Swat and in parts of the province...No group claimed responsibility for the killing. Khan Khel was the second journalist to be shot dead in Swat valley in three months. [More>>timesofindia.indiatimes.com; See related stories:
thenews.com.pk, February 18, "Eight militants killed in Bajaur airstrikes" : BAJAUR, Pakistan - Eight militants were killed when fighter jets pounded suspected hideouts in Bajaur Agency on Wednesday. According to sources, security forces continued operation against militants in tehsil Khar of Bajaur Agency. The fighter jets also bombed militant hideouts killing eight militants. Sources said that [the] death toll is expected to rise. [end]

khaleejtimes.com (AFP) February 18, "Bomb destroys Pakistan press club" : PESHAWAR, Pakistan - A bomb destroyed a local press club building on Wednesday in a restive tribal area of Pakistan bordering Afghanistan, but caused no casualties, an official said. The two-storey building was reduced to rubble by the explosives, planted by unidentified people in Wana, the main town of South Waziristan tribal district, deputy administrator for the region Ghafoor Shah told AFP. [end]
thenews.com.pk, February 18. " ' Democracy is a system of Kufr' " : MINGORA, Pakistan - The chief of Tanzim Nifaz Shariat-i-Mohammadi (TNSM), Maulana Sufi Mohammad has said the concept of democracy is against the teachings of the Holy Quran and Sunnah. In an exclusive interview with Geo news, TNSM chief said he regarded democracy a system of Kufr (unbelief). Maulana Sufi said he would remain in the troubled Swat valley till restoration of peace. He said the government held discussions with TNSM after it staged peaceful protest spanning over four months. [end]
---
2.18.09 Smith signs deportation order for Abu Qatada
February 18 - Home Secretary Jacqui Smith today signed a deportation order for radical cleric Abu Qatada, after a court ruled he could be sent home. The firebrand preacher wants to stay in Britain and argued he would not face a fair trial in Jordan, where he is wanted on terror charges. But the Law Lords ruled unanimously in favour of the Government, which said he posed a threat to UK national security. The case could now go to the European Court of Human Rights. Ms. Smith said she was delighted with the decision. She said: "It highlights the threat these individuals pose to our nation's security and vindicates our efforts to remove them. My top priority is to protect public safety and ensure national security and I have signed Abu Qatada's deportation order which will be served on him today. I am keen to deport this dangerous individual as soon as I can."

Qatada, who is known as al-Qaeda's "spiritual leader in Europe," faces trial on terror charges if he is returned to Jordan. His lawyers argued he could not be tried fairly because evidence against him was extracted by torture. Last year the Court of Appeal ruled in his favour, but today the Law Lords overturned the judgment, saying there were no reasonable grounds for believing he would be denied a fair trial in Amman...He was first detained in 2002, when an immigration court described him as a "truly dangerous individual", heavily involved in terrorist activities associated with al-Qaeda...The Special Immigration Appeals Commission said he had given religious authority to numerous high-profile terrorists across the world, including those behind the September 11 attacks.
...Qatada has issued a series of influential fatwas from Britain in support of the killing of non-believers [kafirs, kufurs] and a number of his videos were found in the Hamburg flat of Mohammed Atta, one of the ringleaders of the September 11 hijackers. In 1999, he was convicted in Jordan in his absence of conspiracy to carry out bomb attacks on two hotels in Amman and providing finance and advice for another planned series of bombings. He was sentenced to life imprisonment. [Full story>>independen t.co.uk]

---
Editorial note: Non-believers are called "kafirs" or "kufurs" in Islam. For Islam's teachings on what to do with kafirs, see Maravot News 12.22.08 article and editorial note,12.20.08 Stop 'demonizing' Muslims: Islam chief."..Maravot News also recorded other arguments complaining about Islamic persecution, such as Maravot News 8.08.05, article 08.07.05 Inside the sect that loves terror. Links to an Islamic scholars' work, based on the Koran, "Punishing the Disbelievers," are provided here..."
---
2.18.09 Court reverses ruling bringing 17 detainees to US
February 18 - A federal appeals court this morning blocked the transfer to the United States of a small band of Chinese Muslims held at the US military prison at Guantanamo Bay, Cuba. In a decision released this morning, the three-judge panel of  the Court of Appeals for the D.C. Circuit reversed a lower court ruling that ordered the transfer. The 17 Chinese Muslims, all Uighurs, have been held at Guantanamo Bay since 2002. P. Sabin Willett, an attorney representing the Uighurs, called today's decision "one of the darkest days in the history of our judiciary." The Uighurs present a tough problem for the US government, which no longer deems the men to be threats or enemy combatants. The men cannot be sent back to China, where they are viewed as terrorists and might be tortured and killed. [More>>washingtonpost.com]
---
2.18.09 Obama plans $75 billion outlay to fight foreclosures
February 18 - Seeking to stabilize the foundering housing market, President Obama is offering a plan to help as many as nine million families refinance their mortgages or avoid foreclosure, according to a summary released by the White House on Wednesday morning. The plan, which is more ambitious than expected, would spend $75 billion to help keep as many as four million families in their homes, and would help as many as five million more refinance their mortgages to take advantage of lower interest rates. "The plan not only helps responsible homeowners on the verge of defaulting, but prevents neighborhoods and communities from being pulled over the edge too," the White House said in a fact sheet. Mr. Obama is set to detail the plan later Wednesday at a high school in Phoenix, a city emblematic of housing's boom and bust in the last nine years. [More>>nytimes.com]
---
2.18.09 Saab may go bust in 10 days, warns GM
February 18 - Saab, the Swedish carmaker owned by America's General Motors (GM), could go bust within ten days without an immediate injection of state aid, the US company warned last night. GM said last night that as part of a sweeping restructuring of its global operations, it aimed to sell Saab along with other underperfoming businesses including its Hummer brand. However, GM said that Saab was losing so much money so quickly that, without government intervention to secure its future, the subsidiary could be forced to file for reorganization by the end of this month. "Given the urgency of stemming sizeable cash demands associated with Saab operations, GM is requesting Swedish Government support prior to any sale," the Detroit-based group said. [More>>timesonline.co.uk; See related story,
nytimes.com, February 18, "Automakers seek $14 billion more in aid" : DETROIT - The price tag for bailing out General Motors and Chrysler jumped by another $14 billion Tuesday, to $39 billion, with the two automakers saying they would need the additional aid from the federal government to remain solvent. In return, the two companies also promised to make further drastic cuts to all parts of their operations, in the hope that they can eventually strike a balance between their bloated cost structures and a dismal market for new car sales. G.M., for example, said it would cut 47,000 more of its 244,000 workers worldwide; close five more plants in North America, leaving it with 33; and cut its lineup of brands in half, to just four: Chevrolet, Cadillac, GMC and Buick...
---
2.18.09 'Russia freezes sale of S-300 to Iran'
February 18 - Russia has frozen the sale of the state-of-the-art S-300 anti-aircraft missiles to Iran, the Russian newspaper Kommersant reported Wednesday. Iranian Defense Minister Mostafa Mohammad Najjar was reportedly informed of the decision by his Russian counterpart Anatoly Serdyukov on his visit to Moscow on Wednesday. Russia said the delivery of the systems would be delayed at least until the upcoming meeting between President Dmitry Medvedev and his US counterpart, Barack Obama. Kommersant cited Russia's wish to prevent hindering dialogue with the new US administration. Military diplomatic sources were quoted by Kommersant as saying that the issue had been the focus of Najjar's visit. [More>>jpost.com]
---
2.17.09 Dow nears lowest level in a decade
February 17 - Financial gloom was everywhere on Tuesday. Markets from Hong Kong to Stockholm to London staggered lower. On Wall Street, the Dow came within sight of its lowest levels in more than a decade. Financial shares were battered. And rattled investors clamored to buy rainy-day investments like gold and Treasury debt. It was a global wave of selling spurred by rising worries about how banks, automakers — entire countries — would fare in a deepening recession. At 12:50pm, the Dow Jones industrial average was down more than 270 points, skidding below 7,600 as losses in General Motors, Bank of America and American Express dragged the blue chips lower. The only Dow stock in positive territory was Wal-Mart, which rose after reporting better-than-expected profits. The broader Standard & Poor's 500-stock index slid 4 percent to drop below 800, which analysts said was an important trading threshold. [More>>nytimes.com]
---
2.17.09 SEC charges Stanford Financial in $8 billion fraud
February 17 - The Securities and Exchange Commission today charged a prominent Texas businessman and three of his companies with an $8 billion fraud in the sale of certificates of deposit. The case appears to mark one of the largest alleged frauds by a money manager in US history. Robert Allen Stanford and his companies sold $8 billion of CDs — guaranteed fixed-income investment products — to investors by "promising improbable and unsubstantiated high interest rates," the SEC said in a statement. The agency named in its complaint Stanford International Bank Ltd., based in Antigua, and related firms based in Houston.

The SEC said the firms falsely claimed that their deposits were safe, that more than 20 analysts monitor the investments, and that yearly audits were being conducted. In addition, one of Stanford's companies falsely told customers that it was not exposed to the $50 billion Ponzi scheme allegedly orchestrated by Bernard L. Madoff, the SEC said. A federal judge in North Texas, where the case was filed, has frozen Stanford's assets. The SEC said Stanford had not cooperated and that it is still investigating the alleged fraud. [>washingtonpost.com; See more details, cnn.com, February 17, "Financier charged with $8 billion investment fraud."]
---
2.17.09 Amnesty for 60 Taliban: Afghan government
KABUL, February 17 - The Afghan government announced Tuesday it had given amnesty to nearly 60 Taliban fighters who had agreed to lay down their weapons, as some of them claimed they were misled into jihad or "holy war." The men who received amnesty from the government's Commission for Peace and Reconciliation were the latest of nearly 7,680 over the past three years to agree to not fight the government, a commission official said. It comes after President Hamid Karzai again called last week at a security conference in Germany for Taliban who are not part of al-Qaeda to give up the insurgency against his government, backed by thousands of foreign soldiers.

Most of the men in the latest group covered their faces with large Afghan shawls at a ceremony at which they handed certificates of amnesty in return for pledges to not fight. The head of the commission, former Afghan president Sebghatullah Mujaddedi, urged them to stand by their commitment and not return to the militants, adding that the fighting was hurting mainly civilians. [>thenews.com.pk; See related stories:

khaleejtimes.com, February 17, "Pakistan denies 'concession' in deal with militants" : ISLAMABAD - Pakistan denied Tuesday making concessions to militants after signing a deal allowing them to impose Islamic law in an area where government troops have failed to put down a bloody insurgency. The United States, which puts South Asia on the frontline of the "war on terror," has branded extremists in northwest Pakistan a direct threat to the country, its neighbor Afghanistan, US security and other powers. Analysts have derided the deal as a defeat that will embolden Islamists in the violent, nuclear-armed Muslim nation, but the government and pro-Taliban cleric Soofi Mohammad, who signed the deal, hailed it as a chance for peace.

Information Minister Sherry Rehman denied it was a "concession." "It is in no way a sign of the state's weakness. The public will of the population of the Swat region is at the centre of all efforts and it should be taken into account while debating the merits of this agreement," she said. The government hopes that Islamist hardliners will now disarm in the Swat valley, where the deal will be implemented, and Rehman insisted President Asif Ali Zardari will only validate the agreement after peace has been established...

timesofindia.indiatimes.com, February 17, "Swat valley locals happy to buy Sharia peace" : NEW DELHI - The world may be outraged over [the] Pakistan government's truce with the Taliban but Swat valley, the focal point of the deal, erupted in joy on Tuesday. There was general merriment on the streets of Mingora, the valley's most important town, say activists based in Peshawar and Mingora. Not everybody supports Taliban. But many are relieved by the promise of normalcy after being sandwiched between Taliban and the army over a 20-month stretch of bloodbath...
---
2.17.09 Spain: Couple held for promoting jihad
MADRID (AP) February 17 - Police say they have arrested a Spanish soldier and his girlfriend for making and distributing videos promoting Islamic jihad, or holy war, and calling for attacks in Spain. A police statement says the couple detained Tuesday in the southern city of Granada have placed at least 11 videos on the Internet. The clips have been viewed some 2,000 times. The statement identifies the man as Christian Peso Ruiz Coello and his Russian girlfriend as Maria Choubina. Both are 24. The statement says both are Muslims. Police say the videos praise mujahedeen fighters and call for the recovery of Andalucia, the southern region around Granada that was a treasured part of 800 years of Moorish rule in Spain up to the 15th century. [>timesofindia.indiatimes.com]
---
2.17.09 Iran seeks advanced Russian weapons: reports
MOSCOW, February 17 - Delivery of air defense system awaits Russian political decision. Iran's defense minister will seek to convince Russia on Tuesday to deliver sophisticated air defense systems that could help repel possible Israel and U.S. air strikes, Russian media reported. Iran's Defense Minister Mostafa Mohammad Najjar, in a meeting with his Russian counterpart, was expected to urge Moscow to fulfill a controversial contract for the delivery of Russian S-300 anti-aircraft missile systems to Tehran, Russian press reported.

Russia's Kommersant newspaper reported that an $800 million contract for five S-300 systems were signed between Iran and Russia, but the paper cited a source in the Russian weapons industry saying that Moscow had not yet made a decision on whether to deliver them. An Iranian lawmaker said last year those deliveries had already begun and some Russian media have reported that Russia is fulfilling an S-300 contract with Iran. In October, Russia's foreign ministry denied media speculation that Moscow would sell the medium-range S-300 system, saying it had no intention of selling weapons to "troubled regions." [More.>alarabiya.net]
---
2.17.09 Several die in Mexico drug violence
February 17 - Felipe Calderon, the president of Mexico, has asked the US for "firm" measures against weapons trafficking, following the deaths of 15 people in drug violence in the country's border areas with the US since Sunday. The victims included five women and four boys less than 17-years-old, local officials said on Monday. Rival drug cartels are fighting increasingly bloody battles in the region to control narcotic trafficking to the US. The boys were shot and killed in Ciudad Juarez, Mexico's most violent city, situated across the border from El Paso in Texas. Among those killed was a local official in Ejido Reforma, close to the border. The bodies of two half-naked women were found in the suburbs of Chihuahua city. Mexico says that most of the sophisticated weapons used by drug cartels come from the US. [More>>aljazeera.net; See related story,

elpasotimes.com, February 16, "Mexican army hopes to tighten grip in town plagued by drug-related violence" : Mexican army soldiers flying in helicopters and riding over desert brush on Humvees continue operations near the town of Villa Ahumada a week after a battle left 14 suspected gunmen dead. "On air and land, we are searching for any group that is looking to transport weapons or drugs," Enrique Torres, spokesman for the military's Joint Operation Chihuahua, said Monday. Soldiers are watching highways, dirt roads and trails surrounding Villa Ahumada, which is about 90 miles south of Juárez on the Panamerican Highway. Villa Ahumada, best known for its asadero cheese and burritos sold to travelers, has been without local police since officers and the police chief were killed last year...
---
---
*Visitor statistics on maravot.com from 1&1. com. 46,153 page views in May 2007; monthly visitors in 2008 range between 40,000-45,0000..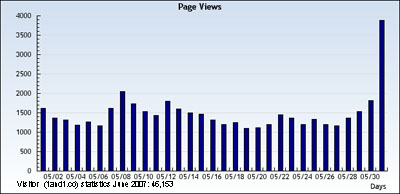 Privacy Policy: We do not store any personal data from you. We have no way of knowing any vital information about you — not even your name. Third-party distribution: We do not distribute information about your site usage to any third party. We are not responsible for the content of links from our site. Usage data: supplied by our Web Hosting service, 1and1.com, which consists of usage reports, such as page views / impressions and web pages visited, visitors' servers and geographical data (ISP's and country of origin).

---
Launched: 10.25.04 / 11.02.04 – | — |
Updated: 2.17.09; 2.18.09; 2.19.09; 2.20.09; 2.21.09; 2.23.09; 2.24.09
Copyright © 1981-2009 Maravot. All rights reserved
Copyright © 1981-2009 Mel Copeland. All rights reserved
Background: tile from Cicero's villa (Marcus Tullius Cicero 106 B.C. - 43 B.C.)