News Headlines & Trends
---
7.08.09 Another US drone strikes in SWA , 35 militants killed
WANA, Pakistan, July 8 - Thirty-five militants were killed when one more US drone launched a strike in South Waziristan Agency (SWA) on Wednesday. The two strikes leave 43 militants killed in a single day. The drone targeted a convoy of militants with 6 missiles in Dhela and Janta areas of SWA in which 35 militants were killed and 5 vehicles were destroyed completely. According to initial reports, so far 35 bodies have been pulled out of the wreckage of vehicles. Nine militants were killed and 5 others injured in an earlier drone strike today in Karwan Manza area of SWA. Meanwhile, the political administration has imposed curfew in North Waziristan Agency today from 9pm to 6am. [>thenews.com.pk; See also,

aljazeera.net, July 8, "Taliban chief in Swat 'wounded'": Maulana Fazlullah, the commander of the Pakistani Taliban in the northwest Swat valley, has been reported injured during an offensive against the group, the Pakistani army spokesman has said. Major-General Athar Abbas told a news conference in Islamabad, the Pakistani capital, on Wednesday that they had "credible" information that Fazlullah was hit...Military and government officials say they will open up a second front against Baitullah Mehsud, Pakistan's main Taliban commander, who is believed to be in the tribal areas along the Afghan border.
---
7.08.09 Pakistan 'created and nurtured' terrorists, concedes Zardari
July 8 - For the first time, Pakistan President Asif Ali Zardari admitted that militants and extremists were "created and nurtured" in the country as a policy to achieve some short-term tactical objectives. But they began to haunt the country in the post-9/11 era, Zardari said in a candid admission during an interactive meeting with former senior civil servants at the presidency on Tuesday night. Militants and extremists emerged on the national scene and challenged the state not because the civil bureaucracy was weakened and demoralised, but because they "were deliberately created and nurtured as a policy to achieve some short-term tactical objectives," he said. "Let us be truthful to ourselves and make a candid admission of the realities," Zardari said. [More>>indianexpress.com]
---
7.08.09 Twin car bombing hits Iraqi city
July 8 - Two car bombs in the northern Iraqi city of Mosul have killed at least nine people and left more than 25 injured. The attacks were reported to have happened within minutes of each other near Shia mosques. The first injured at least seven people in northern Mosul, while the second killed nine and wounded more than 20. As attacks have declined across much of Iraq violence has continued in Mosul, which is home to a volatile ethnic mix of Arabs, Kurds and Christians. [More>>bbc.co.uk]
---
7.08.09 Chinese police chief urges hardline crackdown on thugs in Xinjiang riot
URUMQI, July 8 - China's top police officer on Wednesday urged no leniency in the punishment of thugs who took part in the Urumqi riot. Meng Jianzhu, state councilor and public security minister, made the remarks when visiting local residents injured by the rioters and family members of those victims in Urumqi, capital of northwest China's Xinjiang Uygur Autonomous Region. In the July 5 riot at least 156 people died and more than 1,000 were injured. Leading rioters should be punished with the utmost severity and those taking part in the riot, who were provoked and cheated by separatists, should be given persuasion and education, Meng said. [More>xinhuanet.com; See also,

khaleejtimes.com, July 8, "New protests in China as Hu rushes back from G8": URUMQI, China - Banks of anti-riot police tried to drive a wedge into a crowd of about 1,000 Han Chinese protesters on Wednesday in Urumqi after 156 people were killed at the weekend in the region's worst ethnic violence for decades...
---
7.08.09 Iran protests continue despite crackdown
July 8 - Protests against the reelection of Iranian President Mahmoud Ahmadinejad have moved to a "second level" with his opponents adopting more subtle tactics like writing protests on paper currency, spray painting on walls and using a rarely observed religious holiday for a three day strike. The opposition is also trying to revive street protests by calling for demonstrations on Thursday, which marks the 10th anniversary of Iran's student uprising of 1999. That protest ended when police and Basijis launched a violent raid on the dormitories of Tehran University. The fresh protests are planned at multiple locations in Tehran and other major cities in hopes they can amass a large public showing. [More>>abcnews.go.com]
---
7.08.09 Tribunals convict 330 of al-Qaeda links
RIYADH, Saudi Arabia (AFP) July 8 - Special security courts in Saudi Arabia have convicted a number of militants of plotting attacks inside the country with al-Qaeda, the state news agency SPA has reported. The militants were convicted today on charges of conspiring with al-Qaeda, plotting to disrupt national security and financing terrorism, the Bureau of Investigation and Public Prosecution said. Altogether 330 people were convicted in the secret security tribunals, with one sentenced to death, according to Al-Arabiya television which has close links to the Saudi Government. The Bureau of Investigation gave no details on any individuals, but they are believed to be among 991 suspected militants arrested during an al-Qaeda campaign of attacks and assassinations of both Saudis and foreigners around the country between 2003 and 2006.

Well over 100 people were killed in the attacks before they were halted by an intense Saudi crackdown. The trials of the militants are believed to have begun in early 2009 but were never officially confirmed. Human rights activists have criticized them for being held in secret based on poorly defined charges, and said the suspects were denied fundamental rights including legal help in their defence. However, last month Bandar al-Aiban, president of the official Saudi Human Rights Commission, said his group was monitoring the trials and that the defendants had received access to legal representation. [>news.com.au]
---
7.08.09 Aussie court cancels Friday prayers for Muslims
CAIRO, July 8 - Muslim turnout for Friday prayers exceeds space limit: court. A Muslim center in Australia can no longer hold Friday prayers in Cannington, Perth, a court ordered Tuesday, citing complaints that the faithful jam the neighborhood on a weekly basis and exceed the center's designated limit. The court complained Muslims attending the congregational prayer, held once every week, exceed their numbers and take over all parking spots in the industrial neighborhood in Perth,western Australia,where the Daawah Association of Western Australia prayer center is located. [More>>alarabiya.net]
---
7.08.09 H2O researchers: Drink tap over bottled
July 8 - New Reports Say Bottled Water Should Get Stricter Labeling. Consumers know less about the water they pay dearly for in bottles than what they can drink almost for free from the tap because the two are regulated differently, congressional investigators and nonprofit researchers say in new reports. Both the Government Accountability Office and the Environmental Working Group, a nonprofit research and advocacy organization, recommend in reports released Wednesday that bottled water be labeled with the same level of information municipal water providers must disclose. The researchers urged Americans to make bottled water "a distant second choice" to filtered tap water because there isn't enough information about bottled water. The working group recommends purifying tap water with a commercial filter, however. [More>>cbsnews.com]
---
7.08.09 Cyberattacks hit US and South Korean web sites
SEOUL, South Korea, July 8 - Cyberattacks that have crippled the Web sites of several major American and South Korean government agencies since the July 4th holiday weekend appear to have been launched by a hostile group or government, South Korea's main government spy agency said on Wednesday. Although the National Intelligence Service did not identify whom they believed responsible, the South Korean news agency Yonhap reported that the spy agency had implicated North Korea or pro-North Korea groups. A spokesman at the intelligence agency said it could not confirm the Yonhap report, which said that the spy agency briefed lawmakers about their suspicions on Wednesday. The opposition Democratic Party accused the spy agency of spreading unsubstantiated rumors to whip up support for a new anti-terrorism bill that would give it more power. [More>>nytimes.com; See also,

koreaherald.co.kr, july 8, "North Korea suspected in cyber attack" : SEOUL- The nation's spy agency yesterday pinpointed North Korea as the mastermind of the latest cyber attack on key administrative websites both here and in the United States. The National Intelligence Service, while briefing lawmakers, said the reclusive communist state seemed to have unleashed the "Distributed Denial of Service" virus...
---
7.08.09 Top UN official slams W. Bank barrier
July 8 - UN High Commissioner for Human Rights, Navi Pillay said Wednesday that Israel must tear down the West Bank security barrier, marking five years since the International Court of Justice declared the barrier illegal and a violation of Palestinian rights. Palestinians charge the complex of walls, trenches, barbed wire and electronic sensors, which were built to stop a wave of deadly Palestinian suicide bombings, is a land grab that cuts people off from their property and basic services. [More>>jpost.com]
---
7.08.09 74 illegal Afghan immigrants missing after ship sinks
JAKARTA, Indonesia, July 8 - A group of 74 illegal immigrants from Afghanistan are missing after their motor boat sank in the Sape Strait, West Manggarai, East Nusa Tenggara, early Wednesday morning...The accident is the third of its kind in East Nusa Tenggara in the past six months. Last month, 71 illegal Afghan and Pakistani immigrants were rescued after their boast sank off Sumba Island. In January, four of 18 would-be immigrants died after escaping from detention. It is believed that the groups were seeking asylum in Australia. [Full story>>thejakartapost.com]
---
7.07.09 Michael Jackson's daughter Paris gives tearful good-bye
July 7 - The lavish memorial service for Michael Jackson concluded with the simple, heartbreaking remarks of his 11-year-old daughter Paris. "I just wanted to say, ever since I was born, Daddy has been the best father you could ever imagine," said Paris, flanked by her aunts and uncles and grandmother. "And I just wanted to say I love him so much," said Paris before she clenched her eyes tightly shut, burst into tears and threw herself into Janet Jackson's arms. Paris' unexpected comments were so moving because she and her two brothers have rarely been seen without veils or masks, and other than a few short remarks on home videos, Paris has never before spoken in public.

Paris' appearance was the most moving moment of the more than two hour service, which featured performances and eulogies by some of the world's biggest stars. Motown founder Berry Gordy said the title "King of Pop" was not big enough for the moonwalking singer. "I think he is simply the greatest entertainer that ever lived," Gordy said, drawing a standing ovation and a roar of approval from the thousands in the Los Angeles Staples Center. [>abcnews.go.com]
---
7.07.09 US considers curbs on speculative trading of oil
WASHINGTON, July 7 - Reacting to swings in oil prices in recent months, federal regulators announced on Tuesday that they were considering trading restrictions on hedge funds and other "speculative" traders in markets for oil, natural gas and other energy products. In a big departure from the hands-off approach to market regulation of the last two decades, the chairman of the Commodity Futures Trading Commission, Gary Gensler, said his agency would consider new limits on the volume of energy futures contracts that purely financial investors would be allowed to hold.
The agency also announced that it would pull back part of the veil on the oil and gas markets, publishing more detailed information about the aggregate activity of hedge funds and traders who arbitrage between domestic and foreign energy prices. "My firm belief is that we must aggressively use all existing authorities to ensure market integrity," Mr. Gensler said in a written statement. Mr. Gensler announced that his agency will hold several hearings in July and August, the first of which will examine whether to impose federal "speculative limits" on futures contracts for energy products. Oil prices have swung wildly in the last year, hitting about $145 a barrel last summer, then plunging to $33 in December before rising to about $70. [More>>nytimes.com]
---
7.07.09 Suspected US attack kills 12 in Pakistan: officials
ISLAMABAD (AP) July 7 - Suspected US missiles slammed into a training camp ran by Pakistani Taliban leader Baitullah Mehsud on Tuesday, killing at least 12 militants in the latest in a flurry of strikes against him and his followers, intelligence officials said. The attack took place in the Makeen area of South Waziristan close to the Afghan border, four officials told The Associated Press on condition of anonymity because they were not authorized to speak to media. The missiles were believed launched by unmanned American planes. [More>>khaleejtimes.com]
---
7.07.09 Eight Afghan police, 21 rebels killed in border clash
JALALABAD, Afghanistan, July 7 - Fierce fighting erupted near Afghanistan's border with Pakistan Tuesday in which eight policemen and 21 insurgents were killed, a provincial governor said. Nuristan governor Jamaluddin Badar said the militants had arrived from across the frontier and local Afghan villagers had joined the border police in trying to drive them out in battles that continued for hours. "Up to now 21 Taliban were killed and eight police were also killed," Badar said. [More>>thenews.com.pk; See more details,

aljazeera.net, July 7, "Deaths in Pakistan missile strike" : At least 16 people have been killed in a suspected US missile strike on a training camp run by Baitullah Mehsud, the Pakistani Taliban leader, in South Waziristan, close to the Afghan border, intelligence officials say. Five foreigners were among the dead in the attack on Tuesday, which were believed to be carried by unmanned US aircraft, the officials said. Top Arab leaders of the al-Qaeda network are believed to be hiding in the region, as well as scores of fighters from nearby countries, especially Afghanistan and Uzbekistan.

Two missiles hit the camp in Jangara, a village close to Makeen, the hometown of Mehsud, four officials told The Associated Press news agency on condition of anonymity because they were not authorised to speak to media. One official said communication intercepts indicated that fighters were now telling one another to move to safe places because there were more drones in the sky and there could be more attacks.The officials said Mehsud was not among the victims...

Related story:

cnn.com, July 7, "Pakistan: Taliban buying children for suicide attacks" : ISLAMABAD - A top Taliban leader in Pakistan is buying and selling children for suicide bombings, Pakistani and US officials said. Taliban leader Baitullah Mehsud has been increasingly using the children in attacks, the officials said. A video released by Pakistan's military shows the children training for the task. In the video of a training camp, children can be seen killing and going through exercises. Mehsud has been selling the children, once trained, to other Taliban officials for $6,000 to $12,000, Pakistani military officials said.

Some of the children are as young as 11, the officials said. "He has been been admitting he holds a training center for young boys, for preparing them for suicide bombing. So he is on record saying all this, accepting these crimes," said Major General Akhtar Abbas, spokesman for the Pakistani army. The young suicide bombers may be able to reach targets unnoticed, the military said. "If he is approaching on foot, there is a possibility he will bypass security," Abbas said...
---
7.06.09 Medvedev, Obama sign deal to cut nuclear arsenals
MOSCOW (RIA Novosti) July 6 - The Russian and US presidents signed a preliminary agreement on Monday to cut their countries' nuclear arsenals to 1,500-1,675 operational warheads within seven years after a new arms reduction treaty comes into force. The framework deal agreed during Kremlin talks between Dmitry Medvedev and Barack Obama during the US leader's first visit to Russia sets guidelines for a new treaty to replace the START 1 pact, due to expire in December. The two countries' current levels are estimated at over 2,200 warheads.

"Within seven years after this treaty comes into force, and in the future, the limits for strategic delivery systems should be within the range of 500-1,100 units and for warheads linked to them within the range of 1,500-1,675 units," the framework agreement said. Medvedev called the treaty a "basic element of our mutual security." The document says the new treaty should be signed in the near future and would be in effect for 10 years. Russian officials earlier said it could be signed late this year or early in 2010. Under the agreement, the two nations can only deploy warheads on their sovereign territories, and the new treaty will not cover cooperation in the sphere with third countries. [>en.rian.ru; See also nytimes.com.]
---
7.06.09 Yemen court condemns seven Shia rebels to death
SANAA, Yemen (AFP) July 6 - A Yemeni court on Monday sentenced seven Shia rebels to death for their role in a series of gunbattles against the security forces near the capital last year that left hundreds of people dead or wounded. The court convicted the seven of "belonging to an armed gang in 2008 to carry out a collective criminal project." It sentenced seven other defendants to jail terms of between 12 and 15 years. "Death to America and death to Israel," the defendants cried out from the dock after the sentences were announced. They are all expected to appeal. [More>>khaleejtimes.com]
---
7.06.09 140 killed, hundreds injured in riots
(AFP) China says at least 140 people were killed in rioting by Muslim Uighurs in its restive Xinjiang region in the deadliest ethnic unrest reported in the country for decades. The violence in the regional capital Urumqi on Sunday involved thousands of people, and the official Xinhua news agency said the death toll was likely to rise. More than 800 other people were injured in the rampage, it added. "Death toll in Xinjiang riot rises to 140, still climbing," Xinhua reported in its latest dispatch on Monday, after initially saying only three had died. More than 800 other people were injured in the rampage, it added. [More>>news.com.au]
---
7.06.09 Pakistan jets pound Taliban stronghold, 14 militants killed
ISLAMABAD, July 6 - Pakistani combat jets today pounded Taliban positions in the troubled South Waziristan tribal region as the army claimed 14 militants were killed in clashes with security forces in the northwestern Swat Valley. The jets attacked militant positions in Ladha area of South Waziristan, a stronghold of Pakistani Taliban chief Baitullah Mehsud though there were no reports of casualties. The army has said it is preparing for an offensive against Mehsud and his network. In Swat, where an operation against the Taliban is in its final phase, 14 militants were killed in an exchange of fire when troops engaged rebel hideouts in the Tiligram area. A large quantity of ammunition, explosives and detonators were seized during the action.

In the Matta area of Swat, security forces apprehended five militants, including a Taliban fighter named Hazrat Karim, who had beheaded two children for providing food to an army unit deployed near their home. Two militant bases and three training centres located in an area between Tank and Dera Ismail Khan were destroyed in strikes by gunship helicopters, Express 24/7 news channel reported. About 25 suspected militants were arrested during a search operation on the outskirts of Dera Ismail Khan town today. The houses of several militants were also demolished. Reports said Taliban fighters exchanged fire with security forces during the operation. [>timesofindia.indiatimes.com]
---
7.06.09 2 killed in Afghan suicide blast
KANDAHAR, Afghanistan, July 6 - A suicide car bomber killed at least two civilians in an attack outside a major international military base on Monday in Afghanistan's southern Kandahar province, army officials said. The bomber apparently targeted a group of Afghan soldiers and truck drivers providing supplies for foreign troops at the sprawling Kandahar air field south of Kandahar city. "It was a suicide car attack which killed two truck drivers and wounded 10 more of them, along with two Afghan army soldiers," said General Sher Mohammad Zazai in Kandahar. [>thenews.com.pk; See related story,

cnn.com, July 6, "6 US soldiers killed in Afghanistan" : Six US soldiers were killed Monday in two roadside bombings in Afghanistan, a representative for NATO forces told CNN. Four were killed in an attack in the northern Afghanistan province of Kunduz, the US military said. The Taliban claimed responsibility for the attack, saying it struck a military vehicle, killing five "foreign" soldiers and wounding two others. Two other US soldiers were killed in an improvised explosive device attack in southern Afghanistan, NATO's International Security Assistance Forces said. It had no further details on the attack...
---
7.06.09 Sale of most GM assets given green light
NEW YORK (AP) July 6 - Ruling Clears Potentially Major Roadblock To Quick Emergence From Bankruptcy. A bankruptcy judge has ruled that General Motors Corp. can sell the bulk of its assets to a new company, potentially clearing the way for the automaker to quickly emerge from bankruptcy protection. US Judge Robert Gerber said in his 95-page ruling late Sunday that the sale was in the best interests of both GM and its creditors, whom he said would otherwise get nothing. But it appears the ruling will be appealed. A Chicago law firm representing people who have sued GM in several auto accident cases filed paperwork Monday saying it would appeal to US District Court in New York. [More>>cbsnews.com]
---
7.06.09 World's oldest Christian Bible digitized
LONDON (AP) July 6 - British Library Unites World's Earliest Known Christian Bible Digitally on the Internet. The surviving pages of the world's oldest Christian Bible have been reunited — digitally. The early work known as the Codex Sinaiticus has been housed in four separate locations across the world for more than 150 years. Starting Monday, it became available for perusal on the Web at http://www.codexsinaiticus.org so scholars and other readers can get a closer look at what the British Library calls a "unique treasure."

Scot McKendrick, head of Western manuscripts at the British Library, said the book "offers a window into the development of early Christianity and firsthand evidence of how the text of the Bible was transmitted from generation to generation." The 4th-century book, written in Greek on parchment leaves, has been housed in four separate locations across the world for more than 150 years. It has been digitally reunited in a project involving organizations from Britain, Germany, Russia, and Egypt, each of which possessed parts of the 1,600-year-old manuscript. [>abcnews.go.com; See more details, telegraph.co.uk, July 6, "World's oldest Bible published in full online."]
---
7.05.09 Iranian clerical group says vote result 'invalid'
TEHRAN (Reuters) July 5 - A pro-reform Iranian clerical group said on Sunday the outcome of last month's presidential vote was "invalid," even though Supreme Leader Ayatollah Ali Khamenei has upheld the result. In a sign of a deepening rift among Shi'ite clerics, the Assembly of Qom Seminary Scholars and Researchers also called for the release of Iranians arrested in protests after the hardline president was declared winner of the June 12 vote.
"Other candidates' complaints and strong evidence of vote-rigging were ignored ... peaceful protests by Iranians were violently oppressed ... dozens of Iranians were killed and hundreds were illegally arrested," said a statement published on the Assembly's website. "The outcome is invalid." Qom is Iran's centre of Shi'ite learning, about 80 miles (125 km) south of Tehran. The assembly has little political influence but its statement is a significant act of defiance since Qom is the power base of the clerical establishment. [More>>thestar.com.my]

---
7.05.09 Biden: US will not stand in Israel's way on Iranian issue
July 5 - The US will not stand in Israel's way if Israel believes military action is needed to eliminate Iran's nuclear threat, Vice President Joe Biden said on Sunday, during an interview with ABC's "This Week." Biden opined that the US "cannot dictate to another sovereign nation what they can and cannot do." Speaking to interviewer George Stephanopolous during a three-day visit to Iraq, the US vice president said that Israel can determine for itself "what's in their interest and what they decide to do relative to Iran and anyone else." When questioned if Israel could make that decision "whether [the US] agrees or not," Biden answered in the affirmative, noting, "Any sovereign nation is entitled to do that." [More>>jpost.com]
---
7.05.09 Belgian surgeons implant heart muscle made from bone marrow
BRUSSELS (RIA Novosti) July 5 - Surgeons in Belgium have carried out the world's first ever operation to implant a cardiac muscle made from a patient's bone marrow, the Belgian news channel VRT reported on Sunday. The unique operation was carried out as part of a US-led global research project to develop methods for replacing damaged heart tissue using stem cells. Acute heart attacks destroy up to 50% of a cardiac muscle's cells. Until now, heart failure patients have been treated with medication or a defibrillator implant. Medical experts say cell-based technology opens strong prospects for the treatment of cardiac disease, and in some cases could prevent the need for heart transplants. However, Doctor Mathias Vrolix, who carried out the surgery, said that at least twelve months had to pass to be sure that the operation was effective. [>en.rian.ru]
---
7.05.09 Bugs! The critters eating America's forests
July 5 - They may be tiny, but they're marching across the US in their billions, killing vast swathes of woodland. Graham Mole reports on a modern-day plague. America's 4 July bonfires served a dual purpose yesterday. They burned the wood of trees destroyed by a trio of bugs that are devastating parts of the nation's forests. With 750 million acres of forests in the United States, the scale of the problem is massive. Since 1999, the country has lost, on average, 1 percent of its tree cover per year. This means these small insects have killed about 10 percent of all US forests in 10 years. Two of the bugs, says the government, have the potential to destroy $700bn (£429bn) worth of forests. Already, one beetle — the emerald ash borer — has invaded 13 US states and two Canadian provinces. In those places, all movements of firewood are illegal and contractors who have moved logs have been fined by the courts and banned from working in the quarantined areas.
Last month, the emerald ash borer (or EAB) was identified in New York State, home to 700 million ash trees which sustain a profitable furniture industry and even provide the raw material for baseball bats. Ironically, the trees were replacements for elms killed off by Dutch elm disease. America's chestnut trees have also suffered catastrophic damage from blight. The borer, which comes from China, first entered America in the wood of crates shipped to Detroit in the early 1990s, but it was 2002 before it was formally identified. The tiny, creamy-white larvae bore through the bark and adults start emerging in mid-June. The larvae damage causes general yellowing and thinning of the foliage, followed by crown dieback and the eventual death of the tree. The borer has killed around 50 million trees in Michigan and tens of millions in 12 surrounding states and in Canada's Ontario and Quebec. [More>>independent.co.uk]
---
7.05.09 Islamic group planning coup in Pakistan: Report
LONDON, July 5 - An Islamic militant group based in Britain plans to overthrow the Pakistani government, a British media report said Sunday. Followers of the fundamentalist group Hizb ut-Tahrir have called for a "bloodless military coup" in Islamabad and the creation of a caliphate in which strict Islamic laws would be rigorously enforced, The Sunday Times reported. The group is believed to have been set up in Pakistan in the early 1990s by Imtiaz Malik, a British-born Pakistani who may still be secretly operating as its leader in the country.

Members of the group, which is banned in Pakistan and calls itself the Liberation party in Britain, said last week that it planned to make Pakistan a base to spread Islamic rule across the world. "Pakistan was neglected and ignored until it had a nuclear bomb and then the global leaders realized it would be a good strategic base for the caliphate," said Maajid Nawaz, one of the organization's pioneers in Pakistan, who has since renounced the group. [More>>timesofindia.indiatimes.com]
---
7.05.09 16 UN mine-clearing personnel kidnapped in Afghanistan
KABUL, Afghanistan, July 5 - Gunmen abducted 16 mine-clearing personnel working for the United Nations in eastern Afghanistan, a provincial police chief said on Sunday. The men were kidnapped as they traveled between Paktia and Khost provinces on Saturday, said Paktia's police chief Azizullah Wardak. While insurgents operate in the area, Wardak could not say who was responsible for the kidnapping. Similar incidents have happened twice before in Paktia but were resolved successfully, he said. Wardak criticized the demining team, part of the UN's effort to rid the country of decades of planted land mines, for going into the area without informing the police. All of those kidnapped were Afghans.

Afghanistan is one of the most heavily mined countries in the world, and the increase in violence amid a thriving Taliban insurgency has slowed clearance work. Some 50 people are killed and maimed by mines every month. Two-thirds of the country's mines have been cleared over the past two decades, with the rest expected to be removed by 2013. But experts fear Afghanistan can no longer meet that goal because of increased fighting and a drop in international funding. [>indianexpress.com]
---
7.05.09 Forces kill 10 extremists in Swat
MINGORA, Pakistan, July 5 - At least four explosive-packed vehicles have been destroyed in Swat areas of Kokari and Mangaltan, sources said Sunday. The security sources said at least ten extremists have been killed in bombardment by the security forces' helicopters on the militants' hideouts in Mangaltan. [>thenews.com.pk; See related stories,

aljazeera.net, July 5, " 'Fighters killed' in Pakistan raid," : At least nine suspected Taliban fighters have been killed in air attacks in Pakistan's northwest, police and security officials say. At least six Taliban-linked fighters were killed in North Waziristan on Sunday, while three more died in the Orakzai tribal district, officials said. Pakistan's armed forces are laying the groundwork for a full-scale offensive against Baitullah Mehsud, who heads the Pakistani Taliban in South Waziristan.
"Six or seven militants were killed and four were injured when jet fighters bombed Taliban hideouts in different parts of Datta Khel" in North Waziristan, Aziz Khan, a tribal police official, said. The air attacks on Sunday morning hit the Bagan, Mohammad Khel and Syed Abad areas, about 20km west of Miranshah, the main district town in the semi-autonomous mountain region bordering Afghanistan...

khaleejtimes.com, July 5, "Pakistani raids kill five near Afghan border" : ISLAMABAD - Pakistani warplanes attacked suspected Taliban positions in the restive north-western region near Afghanistan on Sunday, killing at least five people, an intelligence official said. The strikes came in two villages of the North Waziristan tribal district, one of the seven lawless territories in the north-west which are littered with Taliban hideouts. "Five people were killed when jet fighters bombed the Mohmandkhel and Baegan villages," the intelligence official said on condition of anonymity. Around a dozen more were also wounded in the attacks that destroyed several houses...
---
7.05.09 Blast near south Philippine cathedral kills 3
MANILA, Philippines, July 5 - Suspected Muslim guerrillas detonated a bomb near a Roman Catholic cathedral in the southern Philippines on Sunday, killing at least three people and wounding 48 others. Eight were in critical condition. he bomb exploded outside the Immaculate Conception cathedral in Cotabato city as churchgoers walked out after attending Mass. Two passers-by were killed instantly in the attack and a third died on the way to a hospital, said regional military commander Maj. Gen. Alfredo Cayton. [More>>japantoday.com]
---
7.05.09 Egypt deports 20 French suspected Islamists
CAIRO, July 5 - French "Islamists" may have links to Cairo bazaar bombing. Egypt has expelled about 20 suspected French Islamists over the past month, an Egyptian security official told AFP Saturday. "About 20 French Muslims detained in the investigation into the Cairo attack in February that cost the life of a French girl have been expelled, little by little," the official said, declining to be named. He said that no charges were filed against the French nationals but they were considered religious extremists and undesirable in Egypt...The identities of the 20 French nationals were not released. [Full story>>alarabiya.net]
---
7.05.09 Police use 'cattle prods, guns' in Uighar dispute
BEIJING (AFP) July 6 - Violence has broken out in the capital of China's mainly Muslim northwest region of Xinjiang, where an unknown number of people attacked passers-by and torched vehicles. The state news agency Xinhua said police are rushing to restore order in Urumqi, capital of the restive Xinjiang Uighur Autonomous Region. Activist groups said thousands of protesters from the Uighur ethnic group clashed with police yesterday and two people had died. [More>>news.com.au]
---
7.03.09 EU angered over Iran trial threat
July 3 - European Union nations are considering recalling their ambassadors to Iran after it was suggested that local British embassy staff would face trial over their alleged role in protests over the disputed presidential election. Foreign ministries from across the 27-nation bloc reportedly summoned Iran's ambassadors on Friday to protest over the comments by Ayatollah Ahmad Jannati, the head of Iran's powerful Guardian Council. "In these incidents, their embassy had a presence, some people were arrested. Naturally they will be put on trial, they have made confessions," Jannati said during Friday prayers in Tehran. At least nine Iranians working for the British embassy in Tehran have been detained since mass protests broke out after defeated presidential candidates complained that the results of the June 12 poll was rigged. [More>>aljazeera.net]
---
7.03.09 US drone strike kills fifteen in Pakistan
ISLAMABAD (AP) July 3 - US missiles struck a training facility operated by Pakistani Taliban leader Baitullah Mehsud and a militant hide-out Friday, killing 15 people and wounding 27 others, intelligence officials said. The two attacks by drone aircraft took place in South Waziristan, a Mehsud stronghold close to the Afghan border where Pakistani troops are gearing up for a military offensive, two officials said on condition of anonymity because they were not authorized to speak to the media. They took place as US Homeland Security Secretary Janet Napolitano met government officials in the Pakistani capital, Islamabad. She discussed topics of "mutual interest" with them, a US Embassy spokesman said. [More>>khaleejtimes.com; See related story,

thenews.com.pk, July 3, "11 terrorists killed in last 24 hours - ISPR" : (Report contains a summary of all ISPR operations) RAWALPINDI - The security forces killed 11 terrorists including terrorist commander Naeemullah while 24 others [were] apprehended along with [a] lot of arms, ammunition and equipment from Swat and Dir during last 24 hours of operation. According to a press release issued on Friday by Inter Services Public Relations (ISPR), the security forces conducted [a] house-to-house search operation at Kabbal and Akun Kalle and recovered 3 rifles, 2 pistols, 1 communication set and 30 mobile phone SIMs and ammunition of various calibres...During search operation at Gokdara and Tandodag areas, two terrorists were killed in exchange of fire. Two SMGs and cache of arms and ammunitions was also recovered...
---
7.03.09 Marines push deeper into S. Afghan towns
(AP) July 3 - One Marine Killed, Several Injured in Helmand Province Operation; Little Resistance from Taliban Reported. US Marines moved into villages in Taliban strongholds in southern Afghanistan on Friday, meeting little resistance as they tried to win over local chiefs on the second day of the biggest military operation here since the fall of the Taliban government in 2001. One Marine was killed and several others injured or wounded on Thursday, when some 4,000 Marines launched the operation Helmand province — a remote area that is the center of the country's illegal opium cultivation, which helps finance the insurgency. So far, however, there has been little resistance from the Taliban, according to a military spokesman Capt. Bill Pelletier. [More>>cbsnews.com]
---
7.03.09 Russia opens route for US to fly arms to Afghanistan
MOSCOW, July 3 - The Russian government has agreed to allow American troops and weapons bound for Afghanistan to fly over Russian territory, providing an important new corridor for the United States military as it escalates efforts to win the eight-year-old war, officials from both sides said Friday. The agreement, to be formally announced when President Obama visits here on Monday and Tuesday, represents one of the most concrete achievements of the effort to rebuild a relationship severely strained by last year's war between Russia and Georgia. The new transit route will give American forces more alternatives as they encounter increasing trouble elsewhere.
"Afghanistan is one of the areas where we must cooperate," Mikhail Margelov, chairman of the foreign affairs committee in Russia's upper house of Parliament, said in an interview. Russia understands, he said, that the United States and NATO forces in Afghanistan are effectively defending Russia's southern flank. Until now, Russia has allowed only restricted use of its territory for the Afghan war, permitting shipments of nonlethal supplies by train. Under the new agreement, American officials said, military planes carrying lethal equipment as well as troops will be allowed to make thousands of flights a year through Russian airspace. [More>>nytimes.com]
---
7.03.09 Israeli navy performs 'unusual' drill in Suez
JERUSALEM, July 3 - An Israeli submarine sailed the Suez Canal to the Red Sea as part of a naval drill last month, defense sources said on Friday, as an Israeli minister warned against the expanding population of Arab Israelis that do not "love" Israel. A defense source said the Israeli navy held an exercise off Eilat last month and that one of Israel's Dolphin-class submarines took part, having travelled to the Red Sea port though Suez, in the unusual maneuver that was described as a show of strategic reach in the face of Iran. [More>>alarabiya.net]
---
7.03.09 'Fighter influx' for Somali group
July 3 - An Islamist commander in Somalia has told the BBC there has been an influx of fighters from overseas joining their battle against the interim government. The al-Shabab militant leader, who spoke on condition of anonymity, said several hundred foreigners had joined their militia, many from Pakistan. [More>>bbc.co.uk]
---
7.02.09 Pakistan's Taliban chief Fazlullah may be dead: Reports
ISLAMABAD, July 2 - Pakistan's Taliban chief Maulana Fazlullah may have been killed during an operation in the restive Swat Valley, a media report said on Thursday. The The security forces had traced a phone call of Fazlullah, who was giving directions to his commanders for conducting more attacks, the News International quoted sources as saying.

Though the news portal said Fazlullah "may have been killed" in the Swat operation, it did not cite any officials or government sources to corroborate its claim. The call indicated that the top militant commander was somewhere in Swat and the security forces targeted his satellite system. In his phone tap, Fazlullah said he has a security forces' siege all around him with nowhere to sneak out from, the report said. [More>>timesofindia.indiatimes.com; See related story,

thenews.com.pk, July 2, "Rawalpindi blast kills one, injures 29" : RAWALPINDI, Pakistan - At least a man was killed and 29 others were injured, when a powerful explosion occurred in Chauhar Chowk of Rawalpindi, Geo News reported Thursday...According to reports, a motorist ran into the bus at his fuel tank, blowing himself up, killing one on the spot...RPO confirmed that it was a suicide attack.

washingtonpost.com, July 2, "Suicide bomber targets government workers in Pakistan" : ..A suicide bomber riding a motorcycle blew himself up alongside a government bus near Islamabad on Thursday afternoon, the latest in a spate of attacks following the Pakistani army's military offensive against the Taliban. The death toll in the blast in the garrison city of Rawalpindi ranged from one to six, with as many as 30 people injured, according to initial reports from police. The senior police official in Rawalpindi, Nasir Durrani, told reporters that the bomber struck along the gas-tank side of a white bus carrying about 25 people. The bus was coming from a government facility that is used for Pakistan's nuclear program, government officials said, and the blast struck within a couple miles of the Pakistani military headquarters...
---
7.02.09 US soldier sold to Afghan militant clan, official says
KABUL, Afghanistan, July 2 - The American soldier abducted in southeastern Afghanistan is now being held by a notorious militant clan, a senior US military official said. This soldier and three Afghan soldiers were captured by low-level militants and then quickly "sold" to the clan and network led by warlord Siraj Haqqani — believed to be deeply involved in the action. The Haqqanis — who operate on both sides of the Afghanistan-Pakistan border and are well known to the US military — are assembling shuras, or local councils of leaders, to talk and try to "legitimize" what they have done, the official said. US, Afghan and Pakistani troops are sealing off the area and also are talking to tribal chiefs, village elders and leaders. They are telling them to "do the right thing and solve this," the official said. [More>>cnn.com; See related story,

nytimes.com, July 2, "US marines try to retake Afghan valley from Taliban": KABUL, Afghanistan - Almost 4,000 United States Marines, backed by helicopter gunships, pushed into the volatile Helmand River valley in southwestern Afghanistan on Thursday morning, reporting little resistance from Taliban fighters, whose control of poppy harvests and opium smuggling in the area provides major financing for the Afghan insurgency.
---
7.02.09 Deadly blast targets Iraqi troops
July 2 - At least three people have been killed in two bomb blasts in Baghdad — the first such attacks in the capital since the US military's withdrawal from urban areas. Two civilians were killed and 15 others injured when a car bomb exploded at a market in the Doura district in southern Baghdad on Thursday, police sources told Al Jazeera. Earlier, an Iraqi soldier was killed and 10 others injured in a roadside bomb blast directed at an army patrol in the Abu Nawas area of the city, an interior ministry official said. The blasts came a day after police reported a day of calm in Baghdad, saying there had not been a single bombing in the capital on Wednesday. [More>>aljazeera.net]
---
7.02.09 Hamas, Israel reject Amnesty claims
July 2 - Hamas joined Israel on Thursday afternoon in rejecting a 105-page Amnesty International report that accused Israel of the reckless use of weapons and wanton destruction during Operation Cast Lead, and Gaza terror groups of committing war crimes by firing rockets at the Israeli civilian population. Hamas spokesman Sami Abu Zuhri called the report "unbalanced, unfair and unprofessional," blasting what he said was a comparison of the aggressors to the victims. Zuhri called the firing of rockets "self defense," saying it was a legitimate response to Israel's actions. On Wednesday night, the IDF said it was surprised that "a respectable organization" like Amnesty did not appropriately portray the unbearable reality of constant rocket attacks that Israeli citizens suffered from for the past eight years. [More>>jpost.com; See also

alarabiya.net, July 2, "Israel's Gaza war crimes not ;collateral damage' " :Tel avivl accuses rights group of "manipulation" by Hamas. Israel sought to defend itself Thursday against the latest accusations by a major international organization that it committed war crimes against people in Gaza, claiming that the Islamist group Hamas manipulated the group responsible for the most recent report...
---
7.02.09 Meat-free diet 'could reduce cancer risk'
July 1 - A meat-free diet could reduce the risk of developing cancer, according to a new study. More than 61,000 people were monitored over 12 years by Cancer Research UK scientists from Oxford, who found that vegetarians were 12% less likely to develop cancer than people who ate meat. The risk was almost halved for cancers of the blood including leukaemia, multiple myeloma and non-Hodgkin lymphoma where vegetarians' risk was 45% lower than meat eaters. People who ate fish but no meat also had a "significantly lower" chance of developing many cancers, according to the research which was published in the British Journal of Cancer today.

The group which was studied included 32,403 meat eaters, 8,562 people who ate fish but no meat (pescetarians) and 20,601 vegetarians who ate neither. During the study, 3,350 (5.4%) of the participants were diagnosed with cancer. Some 2,204 (6.8%) of the meat eaters were diagnosed with a form of cancer, compared with 317 (3.7%) of pescetarians and 829 (4%) of vegetarians.

Professor Tim Key, the study's author from the Cancer Research UK Epidemiology Unit at Oxford University, said: "Our large study looking at cancer risk in vegetarians found the likelihood of people developing some cancers is lower among vegetarians than among people who eat meat. In particular, vegetarians were much less likely to develop cancers of the blood which include leukaemia and non-Hodgkin lymphoma. More research is needed to substantiate these results and to look for reasons for the differences." [More>>independent.co.uk]
---
7.02.09 Vegetarian diet found to weaken bones
(AFP) July 2 - People who live on vegetarian diets have slightly weaker bones than their meat-eating counterparts, Australian researchers said. A joint Australian-Vietnamese study of links between the bones and diet of more than 2700 people found that vegetarians had bones 5 percent less dense than meat-eaters, said lead researcher Tuan Nguyen. The issue was most pronounced in vegans, who excluded all animal products from their diet and whose bones were six percent weaker, Mr. Nguyen said. There was "practically no difference" between the bones of meat-eaters and ovolactovegetarians, who excluded meat and seafood but ate eggs and dairy products, he said.

"The results suggest that vegetarian diets, particularly vegan diets, are associated with lower bone mineral density," Mr. Nguyen wrote in the study, published in the American Journal of Clinical Nutrition."But the magnitude of the association is clinically insignificant," he added. Mr. Nguyen, who is from Sydney's Garvan Institute for Medical Research and collaborated on the project with the Pham Ngoc Thach University of Medicine in Ho Chi Minh City, said the question of whether the lower density bones translated to increased fracture risk was yet to be answered. "Given the rising number of vegetarians, roughly 5 percent (of people) in western countries, and the widespread incidence of osteoporosis, the issue is worth resolving," he said. [>news.com.au]
---
7.02.09 Jobless rate at 9.5 percent; 26-year high
July 2 - Employers cut 467,000 jobs in June; Data suggests road to economic recovery may be bumpy. US employers cut a larger-than-expected 467,000 jobs in June, driving the unemployment rate up to a 26-year high of 9.5 percent, suggesting that the economy's road to recovery will be bumpy. The Labor Department report, released Thursday, showed that even as the recession flashes signs of easing, companies likely will want to keep a lid on costs and be wary of hiring until they feel certain the economy is on solid ground. June's payroll reductions were deeper than the 363,000 that economists expected and average weekly earnings dropped to the lowest level in nearly a year. However, the rise in the unemployment rate from 9.4 percent in May wasn't as sharp as the expected 9.6 percent. [More>>cbsnews.com; See related story,

cnn.com, July 2, "Stocks tank on job losses": Wall Street retreated Thursday, with the major market gauges all off at least 2%, as a worse-than-expected jobs report exacerbated fears that the recession could drag on longer than has been thought. The Dow Jones industrial average (INDU) fell 200 points, or 2.4%, with 20 minutes left in the session. The S&P 500 (SPX) index lost 24 points, or 2.7% and the Nasdaq (COMP) fell 48 points, or 2.6%...
---
6.30.09 UK economy shrinks at fastest rate for 50 years
June 30 - The UK economy shrank by 2.4 per cent in the first quarter at the fastest rate in more than 50 years and far worse than expected, according to official figures today. Revised figures from the Office for National Statistics (ONS) showed that, between January and March, the economy contracted by its fastest pace since 1958. The ONS revised down its initial estimate, showing a contraction of 1.9 percent. Analysts had predicted that the revised numbers would show a 2.1 percent fall in GDP.

Today's shock data is in part due to a change in methodology in the way that the ONS calculates construction and services output, but will do nothing to boost Alistair Darling's hopes of a recovery by the end of the year. Construction output was revised down from -2.4 percent to -6.9 percent in the first quarter, but there was also a bigger than expected drop in output from the services sector, that accounts for more than two thirds of the economy, which was revised down from 1.2 percent to 1.6 percent. Industrial output was revised up slightly to -5.1 percent, from the initial estimate of -5.3 percent. [More>>timesonline.co.uk; See related story,

bbc.co.uk, June 30, "Eurozone inflation turns negative" : The eurozone's annual rate of inflation turned negative in June for the first time since the single currency was introduced in 1999. Prices in the 16-nation zone fell 0.1% in the past year, Eurostat said. The inflation rate had been 0% in May. Inflation in the eurozone has been dragged down by lower energy and food prices, and by falling demand for goods from companies and households. The European Central Bank's target rate for inflation is just below 2%. Some analysts fear that this is the start of a period of deflation for the eurozone. Deflation is considered damaging to an economy as consumers tend to delay making purchases until prices fall further. Without consumer spending to stimulate growth, economic output falls...
---
6.30.09 Ruth Madoff faces fresh fight for her fortune
June 30 - Wife of the Wall Street swindler has given up $80m but could face a battle for the remainder of her fortune. Ruth Madoff, the 68-year-old wife of the jailed Wall Street swindler, broke her long silence yesterday to claim she had been "betrayed and confused" by her husband's scam. Mrs. Madoff had not been charged with any crimes but has been vilified by her husband's victims and left ostracized within New York high society. Court documents released on Friday revealed that she gave up her potential claim to more than $80 million worth of assets though she has held onto $2.5 million that prosecutors could not directly link to the fraud.

She consented to the sale of a $7.5 million property in Palm Beach, a $7 million beachfront property in Montauk, her deluxe apartment on the Upper East Side and a 55-foot yacht to help cover the funds looted by her husband. Despite the agreement, which was finalized three days before Madoff's sentencing for 150 years yesterday, his wife has been left with no protection from efforts by other bodies such as government agencies or bankruptcy trustees to claim further money from her...Documents released earlier this year revealed that Mrs. Madoff held a number of assets in her name. These included:
....— All funds of approximately $17 million on deposit in any and all accounts at Wachovia Bank in the name of Ruth Madoff, and any accounts to which said funds have been transferred, and all traceable funds.

— Any and all securities, funds and other property in the name of Ruth Madoff at COHMAD Securities Corp including but not limited to, municipal bonds valued at approximately $45 million.
[Full story>>timesonline.co.uk]
---
6.30.09 Bomb kills 25 in Kirkuk as US troops withdraw from Iraq cities
(Reuters) June 30 - A car bomb in the northern Iraqi city of Kirkuk killed at least 25 people on Tuesday, just after US troops handed over full control of Iraq's cities to the domestic security forces six years after the invasion. The bomb, which wounded at least 40 people, struck a busy market in a largely Kurdish part of Kirkuk, a city viewed as a potential flashpoint between the Shi'ite Arab-led central government and Kurds. Police said the death toll could rise. Many Iraqis fear the US pullback from towns and cities and into rural bases, the first step toward a full US withdrawal by the end of 2011, leaves them open to attack. But the government declared Tuesday a holiday, "National Sovereignty Day," and held a parade to show off the military muscle it will use against a stubborn insurgency. [More>>haaretz.com; See related story,

khaleejtimes.com, June 30, "4 US soldiers killed during Iraq cities pullout" : BAGHDAD - Four US soldiers were killed in combat shortly before the American military completed a withdrawal from Iraq's cities, and the prime minister assured Iraqis that government forces taking control of urban areas on Tuesday were more than capable of protecting the country. Nouri al-Maliki said in a televised address that "those who think that Iraqis are not able to protect their country and that the withdrawal of foreign forces will create a security vacuum are committing a big mistake."...
---
6.30.09 Taliban scrap peace deal in Pakistan
(AP) June 30 - Taliban militants in a tribal region bordering Afghanistan say they have pulled out of a peace deal with the government, raising the prospect of wider unrest as the Pakistani army extends its efforts to eliminate insurgents. The militants in North Waziristan blamed continuing US missile strikes and army offensives against the Taliban for their decision, which was announced in the wake of a Taliban ambush that killed 16 soldiers. Separately, a car bombing in Pakistan's southwest killed four people Tuesday, police said — a reminder of how insecurity in the country stretches far beyond the northwest regions near Afghanistan. Government leaders and Taliban representatives reached the North Waziristan deal in February 2008, but few details have been released about it. US officials have criticized peace deals with militants or tribes representing them in the border region, saying they allow the insurgents to gain strength. [More>>indianexpress.com]
---
6.30.09 Muslims offer 100,000 Qurans to US leaders
DUBAI, June 30 - "Share the Quran" inspired by Obama's Muslim outreach. America's top Muslim civil liberties advocacy group launched its "Share the Quran" campaign on Tuesday in which it will hand out 100,000 free copies of Islam's holy book in an effort to reach out to the country's elected officials and influential opinion shapers. The initiative, which has been labeled an educational campaign, was announced by the Council on American-Islamic Relations (CAIR) at a press conference in Washington and was said to be prompted by President Barack Obama's recent speech in the Egyptian capital of Cairo in which he repeatedly quoted from the Quran to reach out to Muslims.

"When he quoted the Quran on the fundamental values we share such as sanctity of human life, racial diversity, importance of speaking the truth, we believe it was a surprise to many people not familiar with Islam," CAIR's executive director Nihad Awad told the Washington Post.

...In 2007, a group of 24 Oklahoma lawmakers refused to accept a copy of the Quran as a gift from the Ethnic American Advisory Council as part of the state's centennial celebration. Republican lawmaker Rex Duncan said at the time that he had researched the Quran on the Internet and found it "supports killing." [Full story>>alarabiya.net]

---
Editorial note (Mel Copeland) "Confusion on the Koran" : The Quran (Koran) is a curious document. In many places it claims that it was recited (Koran means 'recital') to confirm that the Jewish Scriptures and Gospel of Christ are true. It also recognizes Jesus as the "Messiah" (Greek: "Christ"). At the same time, as it should be an advocate of peace, fulfilling the Gospel of Christ, it advocates killing unbelievers. See Maravot News 4.09.09 article 4.07.09 US Muslims urge Obama to focus on civil rights with editiorial note "Confusion over the teachings of the Koran." (reprinted from Maravot News 12.04.08)
Koran's Confirmation of the Bible
(The Torah, Prophets and Gospel; Jesus as the Messiah):

The Book of Jonah: This Koran could not have been composed by any but Allah. It confirms what was revealed before it and fully explains the scriptures. It is beyond doubt from the Lord of the Creation.
This is no invented tale, but a confirmation of precious scriptures...

The Cow: And now that a book confirming their own [the Jewish scriptures] has come to them from Allah, they deny it, although they know it to be the truth and have long prayed for help against the unbelievers. May Allah's curse be on the infidels! ..When it is said to them: "Believe in what Allah has revealed," they reply, "We believe in what was revealed to us.' But they deny what has since been revealed, although it is the truth, corroborating their own scriptures.

Adoration 13.21 We gave the scriptures to Moses (Never doubt that you will meet him!) and made it a guide for the Israelites...We appointed leaders from among them who gave guidance at our bidding...

The Creator 35:25...What we have revealed to you in the Book is the truth confirming previous scriptures..

Counsel 42.13 He has ordained for men the faith He has revealed to you and formerly enjoined on Noah and Abraham, on Moses and Jesus, saying: "Observe this faith and be united in it."

Kneeling 45: 16 We have the Scriptures to the Israelites and bestowed on them wisdom and prophethood.

AL-AHQAF 46:12 Yet, before it the Book of Moses was revealed, a guide and a blessing to all men. This book confirms it.

Women 4:47 You to whom the Scriptures were given! Believe in that which we have revealed, confirming your own scriptures, before we obliterate your faces and turn them backward, or lay our curse on you as we laid it on the Sabbath-breakers.

The Cow 2:81 The Apostle [Mohammed] believes in what has been revealed to him by his Lord, and so do the faithful. They all believe in Allah and His angels, His scriptures, and His apostles: We discriminate against none of His apostles.

The Table 5:44 There is guidance, and there is light, in the Torah which we have revealed...After these prophets we sent forth Jesus, the son of Mary, confirming the Torah already revealed, and gave him the Gospel, in which there is guidance and light, corroborating that which was revealed before it in the Torah...And to you we have revealed the Book with the truth. It confirms the Scriptures which came before it and stands as a guardian over them.

The Table 5:64 If the People of the Book [Jews} accept the true faith and keep from evil, we will pardon them their sins and admit them to the gardens of delight. If they observe the Torah and the Gospel and what is revealed to them from Allah, they shall be given abundance from above and from beneath.

The IMRANS 3:45 The angels said to Mary: "Allah bids you rejoice in a Word from Him. His name is the Messiah, Jesus the son of Mary

Koran advocates violence against unbelievers (kuffar) / enemies:

Repentance 9.20 Those that have embraced the faith and fled their homeland and fought for Allah's cause with their wealth and their persons are held in higher regard by Allah. It is they who shall triumph. Their Lord has promised them joy and mercy, and gardens of eternal bliss where they shall dwell forever. Allah's reward is great indeed.
9.116 ...Allah has purchased of the faithful their lives and worldly goods and in return has promised them the Garden. They will fight for His cause, slay, and be slain. Such is the true pledge which he has made them in the Torah, the Gospel, and the Koran. And who is more true to his promise than Allah? Rejoice then in the bargain you have made. That is the supreme triumph.

Women 4.91 Others you will find who seek security from you as well as from their own people. Whenever they are called back to idol-worship they plunge into it headlong. If these do not keep their distance from you, if they neither offer you peace nor cease their hostilities against you, lay hold of them and kill them wherever you find them. Over such men We give you absolute authority.
4.92 It is unlawful for a believer to kill another believer except by accident.
4.98 He that flies his homeland for the cause of Allah shall find numerous places of refuge in the land and great abundance. He that leaves his dwelling to fight for Allah and His apostle and is then overtaken by death, shall be rewarded by Allah.
4.104 Seek out your enemies relentlessly.

Islamic scholars teachings against unbelievers - "kuffars": In an editorial note of Maravot News 8.08.05, article 8.07.05 Inside the sect that loves terror (a short article on the London Tube bombing worth reading) we referred to an Islamic scholar's website, as follows:

An interesting site by an Islamic scholar defines what "kuffar" (disbelievers) means. His site, renaissance.com.pk – Arguments and Rational – details the Koran's verses and traditional and modern applications of the verses dealing with disbelievers: identifying them, punishing them, preaching to them and "'displaced directives." His argument refers heavily to Old Testament verses that set the foundation for verses of the Koran involving the punishment of disbelievers. The site (Punishing the Disbelievers) says, "In other words, what authorizes a Messenger to punish the Kuffar is that it can be ascertained in this very world that they are guilty of denying the basic truths in spite of being convinced about them. Good and evil are elucidated with ultimate clarity and people who accept evil do so not because of any confusion but because of their own stubbornness.

So it can be concluded that since a Messenger reveals the basic truths in their ultimate form and those who deny it do so because of their stubbornness and even confess their sins, a Messenger has the perfect justification to punish his people after they have denied him." But in other places says, (Misplaced Directives) "In other words, what is construed from this Hadith is that a Muslim will be rewarded with Paradise if he kills a non-Muslim. Consequently, Imam Abu Da¹ud, the celebrated Muslim scholar and compiler of Hadith has placed this Hadith in a chapter entitled: (bab fi fadli man qatala kafiran: Chapter on the Reward of a Muslim who Kills a Kafir). Again, it needs to be appreciated that these words relate to the Idolaters of the Prophet¹s times who had lost their right to live after they had deliberately rejected the truth. These words are not related to later Muslims."...
---
6.30.09 Spain closes Gaza bombing case against Israeli officials
June 30 - Spanish Judge Fernando Andreu cannot investigate the IAF bombing in Gaza on July 22, 2002 that killed Hamas terrorist Sheikh Salah Shehadeh and 14 others, Spain's National Court ruled Tuesday. Earlier this month, the Jerusalem Post reported exclusively that the Spanish Appellate Court was due to make a decision on the matter. The Penal Hall of the court decided, in a vote of 14 against 4, not to proceed with the war crimes allegations against seven senior Israeli officials, including former IDF chiefs of staff Dan Halutz and Moshe Ya'alon, and former defense minister Binyamin Ben-Eliezer. The panel supported prosecutors who opposed the probe on the ground that Israel was already investigating the attack, the court said in a statement. The judges announced only their decision, not the specific legal reasoning behind it. The court said that the reasoning would be published in a matter of days. [More>>jpost.com]
---
6.30.09 North Korean ship turning around
June 30 - Report: Kang Nam, Under Threat Of UN Resolution, Changes Course. The North Korean ship Kang Nam has turned around and is heading back toward the south coast of China, reports CBS News national security correspondent David Martin. The ship, which left a North Korean port on June 17, is the first vessel monitored under UN sanctions that ban the regime from selling arms and weapons-related material. It is currently in the vicinity of the Parcel Islands 100 miles off Vietnam, Martin reports, adding that there is no specified reason as of now for why it has changed course. "With still no long range missiles on the launch pads and no time to get them ready for a July 4 launch, it would appear the temperature is being lowered," Martin said of North Korea's threats to launch missiles at Hawaii on the US's Independence Day. [More>>cbsnews.com]
---
6.29.09 Madoff sentenced to 150 years for Ponzi scheme
June 29 - For one brief moment on Monday morning, Bernard L. Madoff stood up in a Manhattan courtroom and turned to face the people who lost their life savings to his huge Ponzi scheme. "I'm sorry," he told them. "I know that doesn't help you." What did help some of the victims — if anything could — was the sentence Mr. Madoff received minutes later: 150 years in prison for operating one of the largest frauds in Wall Street history, an operation that ensnared millionaires, private foundations, a Nobel Prize laureate and hundreds of small investors who lost their life savings to an investment guru they had trusted completely. In pronouncing the sentence — the maximum he could have handed down — Judge Denny Chin turned aside Mr. Madoff's own assertions of remorse and rejected the suggestion from Mr. Madoff's lawyers that there was a sense of "mob vengeance" surrounding calls for a long prison term. Mr. Madoff's crimes, the judge said, were "extraordinarily evil." [More>>nytimes.com; See related story, haaretz.com, June 29, "In pictures / The victims of Bernard Madoff's fraud scam."]
---
6.29.09 Aerial strikes, ground clashes kill 21 in Pakistan
ISLAMABAD, June 29 - At least 21 people, most of them militants, were killed as Pakistani jets bombarded terrorist hideouts in Taliban commander Baitullah Mehsud's stronghold of South Waziristan, where the Army is readying for a full-scale ground offensive. Fifteen militants were killed when fighter jets pounded three hideouts, including one established in a school in Ladha and Sam areas of South Waziristan. Air strikes and artillery have targeted areas dominated by Mehsud tribesmen ahead of a planned offensive by ground forces codenamed "Operation Rah-e-Nijat (Path of Salvation)".

The military is preparing for a major ground assault in Waziristan after claiming to have cleared most of the North West Frontier Province of Taliban fighters. Meanwhile, a shell hit a house in Kari Khel area of Azam Warsik, killing three persons believed to be tribesmen, and injuring seven, TV channels said. In another incident, unidentified persons in Garapathar region of South Waziristan gunned down a man identified as a commander of Baitullah Mehsud's group. The authorities yesterday announced rewards for information leading to the capture, dead or alive, of 11 militant commanders, including a bounty of Rs 50 million for Baitullah. [More>>indianexpress.com; See also thenews.com.pk, June 29, "15 militants killed in S. Waziristan bombardment"; related story:

bbc.co.uk, June 29, "Banned Pakistani groups 'expand' " : Militant groups banned in Pakistan are expanding operations and recruitment in Pakistani-run Kashmir, according to a government report seen by the BBC. The observations are from a detailed secret report submitted to the region's government on the groups' activities in the city of Muzaffarabad and elsewhere. Pakistan banned the groups in 2002 after an attack on India's parliament brought the two states close to war.

There was no immediate comment on the revelations from Pakistan's government. Pakistan's allies, including the US, have expressed fears regarding the groups' proliferation and their close links to al-Qaeda. A copy of the report, which was submitted by regional police to Pakistan-administered Kashmir's cabinet on 25 March, was obtained by the BBC in Islamabad.

It finds that three banned groups — Harkatul Mujahideen, Jaish-e-Mohammad and Lashkar-e-Taiba — are active in Muzaffarabad. Harkatul Mujahideen and Jaish-e-Mohammad are said to be planning to open madrassas, or Islamic schools, in the city where Lashkar-e-Taiba is already operating a madrassa. "No officials are allowed to enter these premises to gather any sort of information," the report says. "We fear these madrassas maybe a cover for furthering militant activities."...
---
6.29.09 Bombing kills four foreign troops in central Afghanistan
KABUL, Afghanistan (DPA) June 29 - Four international soldiers were killed Monday in a roadside bombing outside Kabul, said a spokesman for the government of Maidan Wardak province. Shahidullah Shahid said the troops died when their convoy was hit by a roadside bomb in the Jalrez district, about 40 kilometers west of Kabul. [More>>khaleejtimes.com]
---
6.29.09 World tells Honduras to reinstate ousted president
TEGUCIGALPA, Honduras (AP) June 29 - Western Hemisphere leaders turn up pressure on Honduras to reinstate ousted president. Honduras' newly appointed leader vowed Monday to resist pressure from across the Americas to reinstate the president ousted in a military coup, as protesters burned tires outside the occupied presidential palace. Leaders from Hugo Chavez to Barack Obama called for the reinstatement of Manuel Zelaya, who was arrested in his pajamas Sunday morning by soldiers who stormed his residence and flew him into exile. Roberto Micheletti, appointed president by congress, insisted that Zelaya was legally removed by the courts and Congress for violating Honduras' constitution — allegedly to extend his rule. Zelaya's ouster was Central America's first coup in at least 16 years, a blow from the barracks that reminded many of the military dictatorships the region has tried to bury in its past. [More>>abcnews.go.com]
---
6.29.09 Historic moment in Iraq marked by little fanfare, mixed feelings
BAGHDAD, June 29 - Tuesday marks the long-anticipated deadline for American troops to pull out of Iraqi towns and cities, but on Monday, there will be no long lines of tanks rolling out of Baghdad or thousands of troops marching out of other cities. The US military has been gradually pulling its combat troops out of Iraq's population centers for months to meet the deadline agreed to by Washington and Baghdad.

Since January, Americans have handed over or shut down more than 150 bases across the country, leaving US troops in a little more than 300 locations in Iraq that gradually will be handed over to Iraqi control. Iraqis expressed mixed feelings in the run-up to what the government has been describing as National Sovereignty Day. Many Iraqis publicly say they are glad to see Americans out of their neighborhoods, but there are some who are worried about what the future may hold without the US military nearby. Baghdad resident Hanaa Abdul Hassan told CNN she feels "fear and horror..." [More>>cnn.com]
---
6.29.09 President Ahmadinejad orders inquiry into 'suspicious' death of Neda
June 29 - President Mahmoud Ahmadinejad of Iran has ordered an inquiry in to the "suspicious" death of Neda Soltan, the woman shot by government militiamen during a protest in Tehran. The President sent a letter to the chief of Iran's judiciary, Ayatollah Mahmoud Hashemi Shahroudi, requesting a serious investigation to help to identify and prosecute "the elements" behind the killing earlier this month. "Given the many fabricated reports around this heartbreaking incident and the widespread propaganda by the foreign media... it seems there is clear interference by the enemies of Iran who want to misuse the situation politically and tarnish the clean image of the Islamic republic," the president wrote. [More>>timesonline.co.uk; See related stories:

independent.co.uk, June 29, "iran says five local British embassy staff freed" : Iran said today five of the nine detained local staff at the British embassy in Tehran had been released while the other four were being held for questioning, state television reported. Iranian media said on Sunday several local embassy staff had been held on accusations of involvement in the street protests that rocked Iran after a disputed 12 June presidential election. "Out of nine people, five of them have been released and the rest are being interrogated," Foreign Ministry spokesman Hassan Qashqavi told a news conference in comments translated by Iran's English-language Press TV. On Sunday, British Foreign Secretary David Miliband demanded the release of all the staff held and said his European Union colleagues had agreed to a "strong, collective response" to any "harassment and intimidation" against EU missions...
---
6.29.09 1 killed, 15 injured in S. Philippine market blast: military
COTABATO, Philippines, June 29 - One civilian was killed while 15 others were wounded as a homemade bomb exploded in a public market in southern Philippines Monday morning, the military said. Major Randolph Cabangbang, a regional military spokesman, said the blast occurred at 06:00 a.m. local time at Kitango village of Datu Saudi Amputuan town in Maguindanao province. A local witness earlier told Xinhua that at least three people were killed and seven others were injured when the improvised explosive device, hidden in front of a cafeteria, went off. Military bomb experts were sent to secure the scene and investigate the incident. Roads to the Kitango market were closed, witnesses said. [>xinhuanet.com]
---
---
*Visitor statistics on maravot.com from 1&1. com. 46,153 page views in May 2007; monthly visitors in 2008 range between 40,000-45,0000..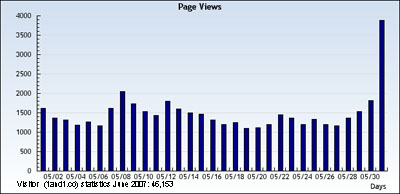 Privacy Policy: We do not store any personal data from you. We have no way of knowing any vital information about you — not even your name. Third-party distribution: We do not distribute information about your site usage to any third party. We are not responsible for the content of links from our site. Usage data: supplied by our Web Hosting service, 1and1.com, which consists of usage reports, such as page views / impressions and web pages visited, visitors' servers and geographical data (ISP's and country of origin).

---
Launched: 10.25.04 / 11.02.04 – | — | —
Updated: 6.29.09; 6.30.09; 7.02.09; 7.03.09; 7.05.09; 7.06.09; 7.07.09; 7.08.09
Copyright © 1981-2009 Maravot. All rights reserved
Copyright © 1981-2009 Mel Copeland. All rights reserved
Background: tile from Cicero's villa (Marcus Tullius Cicero 106 B.C. - 43 B.C.)