News Headlines & Trends
---
7.30.09 Study: Bank bonuses far exceeded profits
July 30 - Several Bailed-Out Banks' Bonuses Topped Their Net Income in 2008, According To N.Y. AG's Report. Several financial giants that received federal bailout money in the last year paid out bonuses to employees in 2008 that greatly exceeded the amount of profit generated by the banks, according to a study on executive compensation released by New York Attorney General Andrew Cuomo Thursday. Despite claims by bank executives that bonuses are tied to the company's performance, the report states that "there is no clear rhyme or reason to how the banks compensate or reward their employees." Cuomo's investigation "suggests a disconnect between compensation and bank performance that resulted in a 'heads I win, tails you lose' bonus system."

According to the report: Goldman Sachs, which earned $2.3 billion last year and received $10 billion in TARP funding, paid out $4.8 billion in bonuses in 2008 — more than double their net income. Morgan Stanley, which earned $1.7 billion last year and received $10 billion in bailout funds, handed out $4.475 billion in bonuses, nearly three times their net income. JPMorgan Chase, which earned $5.6 billion in 2008 and received $25 billion from the government, paid out $8.69 billion in bonus money. [More>>cbsnews.com]
---
7.30.09 Global oil woes send Exxon Mobil profit down 66%
July 30 - Exxon Mobil, the world's largest oil company, today added to growing fears over the market for crude when it revealed that profits fell 66 percent in the second quarter. Earlier today, Royal Dutch Shell, Europe's largest oil company, revealed a near 70 percent fall in profits, and hinted at job cuts. Its results reflected a pattern established earlier this week by BP as the industry grapples with declining natural gas and crude oil prices, weak demand, excess capacity, and high industry costs, with no early respite expected.

Oil prices soared to a peak of $147 a barrel in July last year but are now trading 57 percent lower at $63 a barrel. Exxon reported a slump from $11.68 billion (£7.1 billion) in the second quarter last year to $3.95 billion. Revenue fell 46 percent to $74.5 billion from $138.1 billion a year ago. Production fell 3 percent from a year earlier. [More>>timesonline.co.uk]
---
7.30.09 Pak-Afghan-Tajik agreement on cooperation
DUSHANBE, Tajikistan, July 30 - Pakistan, Afghanistan and Tajikistan on Thursday agreed to strengthen cooperation in trade, energy and communication sectors besides tackling the challenges of terrorism and extremism in the region. This was agreed in a trilateral meeting of the leaders of three countries at the picturesque resort Varzob, some 40 kilometers from Dushanbe. During the meeting, the three leaders underscored the importance of further promoting bilateral and economic relations, with implementation of joint projects in areas of energy transfer from Tajikistan to Pakistan and Afghanistan as well as construction of inland rail road for transportation of passengers and goods. The three sides agreed that terrorism is a regional phenomenon that necessitates a comprehensive, concerted and coordinated approach with full participation of regional states and local communities. [More>>thenews.com.pk]
---
7.30.09 The Army's $10m Afghan flop
NEW QALAT CITY, Afghanistan, July 30 - The new buildings in this corner of the ancient city of Qalat were supposed to represent the US commitment to creating a new Afghanistan. Back in 2006, the U.S. and other international donors spent more than $10 million to create what was meant to be a sort of Emerald City, just down the hill from Alexander the Great's ruined castle. A new hospital. A new governor's house. A fire station. A justice center. A visitor's center. A cultural affairs building. Today, nearly all of those buildings are empty and crumbling. The power director's building has no water, so nobody works there. The hospital is collapsing, reeks of urine, and its equipment lies unused since the staff was never trained on it. The governor's house has no security and he refuses to move in. And the fire station was never going to be filled. Qalat has never had a single firefighter.

New Qalat City feels like a ghost town out of the Wild West, desolate and quiet. "This province has been so long neglected," says Lt. Col. Andrew Torelli, the lead officer for the military's reconstruction team in Zabul province. "You basically have to start from scratch again." Seven and a half years and nearly $8 billion after the war began, there is a striking lack of development across Afghanistan, especially in the south, and especially in this corner of the country. Zabul Province is one of the least developed areas, in part because of the decisions that the military, USAID and its international partners made a few years ago, and in part because of decades of inattention. The effect is obvious. US military officials admit that their soldiers control only the areas immediately around their bases. That means that about 90 percent of the province is essentially run by the Taliban. [More>>abcnews.go.com]
---
7.30.09 Judge orders Guantanamo release
July 30 - A US judge has ordered the release of one of the youngest detainees at the US detention centre in Guantanamo Bay. US District Court Judge Ellen Huvelle said Mohammed Jawad would be released by late August. If so, he is expected to return home. But US lawyers say they have not yet decided whether to pursue a criminal case against him. Mr. Jawad has been accused of injuring two US soldiers and their interpreter by throwing a grenade at their vehicle. He was 12 when he was arrested in Afghanistan in 2002, his lawyer says, but 17 according to the Pentagon. He has been held at the camp for the past six-and-a-half years. Earlier, Mr. Jawad's lawyer, Jonathan Hafetz, told the BBC he was "cautiously optimistic" his client would be set free. [More>>bbc.co.uk]
---
7.30.09 Taliban calls for Afghan elections boycott, jihad
KANDAHAR, Afghanistan, July 30 - Urges fighters to prevent people from going to polls. The Taliban demanded Thursday that Afghans boycott the August 20 presidential elections and instead "free their invaded country" through holy war. In a media statement, the Islamist militia ordered its fighters to block all roads on the eve of Afghanistan's second presidential ballot and stop voters from going to polling stations. "To achieve real independence instead of going to fake election centers, they must go to jihadi trenches, and through resistance and jihad they must free their invaded country from the invaders," the statement said...The Taliban, however, did not directly order strikes on voting centers, according to an e-mailed copy of the Pashtu-language statement seen by AFP. [Full story>>alarabiya.net]
---
7.30.09 Moussavi barred, clashes erupt at Neda memorial
TEHRAN, July 30 - Clashes erupted as two of Iran's main opposition leaders tried to join the several thousand people at a memorial for the slain woman who became the symbol of Iran's post-election violence, witnesses said. Security forces barred opposition leaders Mir Hossein Moussavi and Mehdi Karrubi from the grave site of Neda Agha-Soltan, the 26-year-old woman shot in election protests on June 20, witnesses and news reports said. About 2,000 to 3,000 people were gathered at Agha-Soltan's grave, Iran's Press TV reported.

Mourners arrived on the religiously significant 40th day after the fatal shooting in Tehran. For Iranians, a predominantly Shiite Muslim population, the 40th day after a death marks the last official day of mourning. Security forces worked to clear the area of demonstrators and mourners. A witness said riot police and Basij militia were there, but confrontations with people in the crowd involved the militia. The witness spotted instances of the baton-wielding militia charging the gathering, and reported as many as nine beatings. Other people appeared to have been beaten as they ran from police, the witness said. [More>>cnn.com]
---
7.30.09 Nigerian Islamists routed as army storms mosque
July 30 - The Nigerian army claimed today that it has decisively overpowered a violent sect of radical Islamists who have murdered hundreds in the name of al-Qaeda. Soldiers shelled the group's compound and killed around 100 militants in a fierce gun-battle at their mosque last night. Mohammed Yusuf, the leader of the militant Boko Haram sect, managed to escape the fighting in Maiduguri along with about 300 of his followers, but his deputy was killed, soldiers said.

The army was scouring the outskirts of the city today looking for Yusuf and the missing fighters, who style themselves as the Nigerian Taleban...Soldiers shot their way into the Boko Haram mosque yesterday and then apparently raked those holed up inside with gunfire. About 50 bodies were seen inside the building and another 50 in the courtyard outside. The militants were armed with homemade hunting rifles, bows and arrows and scimitars. [Full story>>timesonline.co.uk]
---
7.30.09 EU seeks anti-terror banking deal with US
BRUSSELS (AP) July 30 - The European Union said Thursday it eventually wants access to banking data in the United States in return for US access to European bank transfers to track funds supporting terror groups. EU Justice and Home Affairs Commissioner Jacques Barrot said the EU's long-term goal is a "reciprocal exchange" with Washington EU nations on Monday backed the expansion of the bloc's anti-terror cooperation with the United States to give US Treasury investigators access to European operation centers of SWIFT, the global electronic payments consortium used by banks worldwide. [thejakartapost.com]
---
7.30.09 China cracks down on rights lawyers
July 30 - The authorities in China appear to have mounted a sweeping crackdown on human rights lawyers, revoking the licences of more than 50 lawyers in the past week. The lawyers handle a wide-range of cases, from families affected by last year's tainted milk scandal, to Tibetan and Uighur rights and the representation of prominent dissidents. But the government's crackdown has now forced many of these law firms to the brink of closure. [More>>aljazeera.net]
---
7.30.09 Drug-resistant malaria sparks alert
July 30 - An outbreak of drug-resistant malaria in western Cambodia poses a major threat to global efforts to eradicate the mosquito-born disease, the World Health Organization has warned. The alert follows a study which found that treatments derived from artemisinin, the basis of the most effective anti-malaria drugs, took twice as long to clear malaria parasites from Cambodian patients as it did in neighboring Thailand. The findings, published in the New England Journal of Medicine on Thursday, are expected to add urgency to efforts to halt the spread of the new strain which experts say could lead to millions more deaths from the disease.

The report comes on the same day researchers in Europe claimed a significant breakthrough, using mosquitoes themselves as a way to a potential malaria vaccine. In the study conducted at Radboud University in the Netherlands volunteers using the drug chloroquine were given gradual exposure to malaria-infected mosquitoes. The experiment produced dramatic results, with all 10 subjects in the vaccine group all acquiring immunity to malaria, while five others in a non-vaccinated comparison group did not. [More>>aljazeera.net]
---
7.30.09 Gunmen kill Mexican policeman, family in home as drug war escalates
VERACRUZ, Mexico, July 30 - Gunmen shot up and torched the home of a Mexican police commander Wednesday, killing the officer, his wife and his four children, including a 6-year-old boy. The interior of the house in the Gulf coast city of Veracruz was completely burned, and its facade was riddled with bullet holes. Inside, police found the bodies of municipal police commander Jesus Antonio Romero and his family, Veracruz state Public Safety Secretary Sergio Lopez said. Police said the youngest was a 6-year-old boy and the oldest was a 15-year-old girl. The motive was unclear but the pre-dawn attack bore hallmarks of Mexico's brutal drug cartels. Lopez said police believe the assailants set fire to the house by hurling grenades. He said neighbors reported hearing explosions. [More>>japantoday.com]
---
7.29.09 Saudi rejects recognition before Israel leaves Arab land
RIYADH, July 29 - Regional powerhouse Saudi Arabia will not recognise Israel until it withdraws from occupied Arab land and makes committed steps toward a lasting two-state solution, a senior official said on Wednesday. Foreign ministry spokesman Osama Nugali also called Israeli policy "schizophrenic" and said it was jeopardizing attempts to revive Middle East peace talks aimed at creating an independent Palestinian state. "Our position is well known. It is Israel that has to move seriously towards the peace process," Nugali said. "As we all know, Israel is continuing to take unilateral measures by changing the geographic and demographic facts on the ground, by building settlements and expanding the existing ones," he said. [More>>thenews.com.pk]
---
7.29.09 Taliban kill another prog-government militia leader
ISLAMABAD, Pakistan, July 29 - To instil fear among defectors from its ranks before its decisive battle against the Pakistan army in Waziristan, Taliban militants stormed into the premises of a pro-government militia leader and shot him dead. A big band of 50 heavily armed militiamen raided the residence of Khalilur Rehman in Shangla district near Buner and killed him, local official were quoted by TV channels as saying. Rehman is the second big pro-government lashkar leader to have been killed by the Taliban over the past five weeks.

Earlier, another top militant commander Qari Zainuddin, a rival of Tehrik-e-Taliban chief Baitullah Mehsud, was shot dead by the Taliban. Zainuddin was fatally shot reportedly by one of his own guards at his house in Madina Colony in Dera Ismail Khan. The assailant who fled was later identified as a Taliban militant.

The killings of pro-government Pashtun tribesmen comes as the Pakistan army has massed armor, artillery and troops to launch a major offensive on Waziristan, the stronghold of Tehreek-e-Taliban chief Baitullah Mehsud. Rehman, 60, had formed a tribal lashkar to back Pakistan army push into Waziristan and other areas of the restive northwest. In another incident Taliban fighters attacked a paramilitary force checkpoint near Buner injuring three personnel. Four Taliban fighters were killed in the attack. [>timesofindia.indiatimes.com; See related story,

khaleejtimes.com (AP) July 29, "Bomb outside Pakistan court kills 2, wounds 4" : DERA ISMAIL KHAN - A bomb ripped through the parking area at a court in northwestern Pakistan on Wednesday, killing two men guarding a Shia Muslim lawyer, authorities said. Troops waging an offensive elsewhere in the region killed at least four suspected Taliban fighters, the military said. No one immediately claimed responsibility for the blast in Dera Ismail Khan, but the city has witnessed both Taliban-related violence and sectarian fighting between Sunni and Shia Muslims. The lawyer, Mastan Khan, was among four people wounded in the remote-controlled explosion, police official Bawahal Khan said...
---
7.29.09 Pakistan provides fresh proof of Lashakr involvement in 26/11
ISLAMABAD, July 29 - Pakistan investigation agencies have, for the very first time, revealed that they have adequate proof that the banned Lashkar-e-Toiba (LeT ) is directly involved in the 26/11 terror attack. A Federal Investigation Agency (FIA) report handed over to India says the material recovered from LeT camps in Karachi and Thatta indicates that the terrorists received training and weapons. "The investigation has established beyond any reasonable doubt that the defunct LeT activists conspired, abetted, planned, financed and established communication network to carry out terror attacks in Mumbai," the report states.

Officials said they have also recovered handwritten diaries, training manuals, Indian maps and operational instructions from Lashkar camps. "The accused were running training camps for terrorists, providing sea and navigational training, conducting intelligence courses and directions for terrorist attack," the report said. It discloses that training sessions for the attackers was codenamed "Azizabad" (Azizabad is one of the neighbourhoods of Gulberg Town in Karachi). The investigators seized militant literature, inflatable lifeboats, detailed maps of the Indian coastline, handwritten literature on navigational training and an intelligence course manual. [More w/ blog comments>>indianexpress.com]
---
7.29.09 Iraq official confirms two UK hostages killed
LONDON (Reuters) July 29 - Two more British hostages held in Iraq have been killed by their captors, meaning four of a group of five Britons seized in May 2007 are now dead, an Iraqi official confirmed on Wednesday. "Four of the hostages are dead,"Sami Al Askari, a legislator in the governing Shia  Muslim alliance who is close to Prime Minister Nuri Al Maliki, told Reuters.
"Two of them have been handed over and there are efforts being made by the government with the abductors to release (the bodies of) the others," he said...The fifth hostage, computer engineer Peter Moore, is believed to still be alive, Askari and a source close to the Islamic Shia  Resistance in Iraq both said. All five men were seized by a Shia  Muslim militia group. [Full story>>khaleejtimes.com]
---
7.29.09 I bombed Jakarta hotels: Noordin Mohammed Top
July 29 - Islamist terrorist Noordin Mohammed Top has claimed responsibility in a website posting for the July 17 Jakarta bomb attacks. The posting claims the attacks, in which two suicide bombers killed seven people at the J.W. Marriott and Ritz-Carlton hotels, were specifically directed at US business interests and at the Manchester United football team, which was to have played an exhibition match in Jakarta, The Australian reports. It promises to release video footage of the bombers' statements. The posting's origin has not been verified, but police say they are investigating.

Identifying itself for the first time as "al-Qaeda Indonesia," under the auspices of Top, the group claims to have engaged in extensive research before the blasts to identify its targets. Top has previously called his group, which is an offshoot of the radical Jemaah Islamiah movement founded by preacher Abu Bakar Bashir and the late Abdullah Sungkar, "al-Qaeda for the Malay archipelago." This is the first time it has specifically identified itself as an Indonesian branch of Osama bin Laden's terror organization.

The targets the posting claims to have identified for the attacks include what it calls the "American chamber of commerce" at the Marriott hotel - presumably a reference to the business breakfast being hosted by US lobbyist James Castle, where three Australians and a New Zealander were killed. It also claims the attacks were designed to be "a lesson to Muslims ... regarding the arrival of the Mancester (sic) United football club, (since) its players include Christians, and it is not appropriate for us to show respect to these enemies of Allah." [>news.com.au; the website posting (via thejakartapost.com, July 29, "Police to investigate 'Noordin's blog" ) of Noordin Top is at: http://www.mediaislam-bushro.blogspot.com/]
---
7.29.09 Bin Laden's son likely not dead: Osama's friend
DUBAI - Disputes US media reports saying Saad likely in Afghanistan. A close friend of Osama bin Laden told Al Arabiya that he thought the al-Qaeda mastermind's son was probably still alive casting doubt on reports by American media that he was killed in Pakistan. Yemeni national Rashad Saied, who stayed with bin Laden in Afghanistan before the September 11, 2001 attacks, said there is no proof to US media reports last week that Saad bin Laden was killed in an American airstrike on Pakistan earlier this year. "If Saad had been killed, al-Qaeda would have announced that," Saied told Al Arabiya. "They announced the death of many key figures in the organization before. It is considered a source of pride for them."

According to American officials, the 29-year old Saad fled to Pakistan after spending years in Iran, where he was arrested in 2003. Intelligence officials said bin Laden's third-oldest son played an active role in establishing a link between Iraq and al-Qaeda. In January 2009, the US Department of Treasury froze Saad's bank accounts because of his affiliation to al-Qaeda and his active, though relatively minor, role in the terrorist organization. He was also believed to have been leading al-Qaeda from Iran. But Saied dismissed the idea that Saad's bank accounts had been frozen since al-Qaeda eschewed the formal banking system. "The organization has never used banks. Money was always carried by people," he said.

Although Saied, who now lives in Yemen where he is retired, is not active in al-Qaeda he supports their mission. He said he thought it was likely that Saad was leading al-Qaeda from Iran. "I agree that he played an important role in Iran. He has good relations with Iranians and he speaks very good Persian. Plus, he has the trust of his father as well as Ayman al-Zawahiri and Sheikh Aboul-Yazid, the second and third men in al-Qaeda, respectively," he explained. [More>>alarabiya.net]
---
7.29.09 Spain car bomb: Dozens hurt in explosion outside police barracks
BURGOS, Spain, July 29 - A car bomb has exploded outside a police barracks in the northern Spanish city of Burgos, injuring dozens of people. Several children were among the 46 wounded in the attack, who were mostly Civil Guard police officers and members of their families. Most of the injured suffered cuts and bruises, and 38 of the victims were transferred to hospital - none of whom are in a serious condition. The explosion, which occurred at around 4.30am, has been blamed on the Basque separatist group ETA. [More>>news.sky.com]
---
7.28.09 Americans arrested for plotting 'violent jihad' abroad
July 28 - Federal agents arrested seven men in North Carolina on Monday and charged them with plotting to wage "violent jihad" outside the United States, according to an indictment unsealed in federal court in Raleigh, N.C. The full text of the indictment is embedded below. The government charged Daniel Boyd, a 39-year-old American who traveled to Afghanistan two decades ago to fight the Soviets, with recruiting six young men, including two of his sons, to take part in a conspiracy "to advance violent jihad, including supporting and participating in terrorist activities abroad and committing acts of murder, kidnapping or maiming persons abroad." According to the indictment, members of the group practiced military tactics and the use of weapons in rural North Carolina, and traveled to Gaza, Israel, Jordan and Kosovo hoping "to engage in violent jihad."

A North Carolina newspaper, The News & Observer, reported on Monday night: "The charges are related to allegations that they helped raise money and provide training for terrorism operations in Tel Aviv, Israel." The newspaper added "Federal officials will not say where the men are being held." The Justice Department identified two of the suspects as Mr. Boyd's sons Zakariya Boyd, 20 and Dylan Boyd, 22. The others are Anes Subasic, 33; Mohammad Omar Aly Hassan, 22; Ziyad Yaghi, 21 and Hysen Sherifi, 24. All are American citizens except Mr. Sherifi, who is a native of Kosovo but a permanent legal resident of the United States.

...The Justice Department's summary of the charges lays out several apparently unsuccessful efforts by members of the group to take part in attacks in other countries:
Among other acts, the indictment alleges that Daniel Boyd traveled to Gaza in March 2006 and attempted to enter Palestine in order to introduce his son to individuals who also believed that violent jihad was a personal religious obligation...

Full story>>nytimes.com; See related story,

cbsnews.com (AP) July 28, "N.C. terror suspect may be in Pakistan" : RALEIGH, North Carolina - Feds seeking 8th member of group that sought to wage "violent Jihad" overseas. Federal authorities searched overseas Tuesday for a U.S. citizen charged with plotting "violent jihad" as part of a North Carolina-based group of aspiring international terrorists. Authorities think the eighth suspect is in Pakistan, according to a law enforcement official who spoke on condition of anonymity because they were not authorized to discuss the investigation. US Attorney George E.B. Holding declined to discuss the suspect's whereabouts but said the public should not be worried.

"Federal authorities hope to have him apprehended shortly," Holding said. Holding wouldn't identify the person, and the defendant's name is redacted from court papers. The indictment said the person went to Pakistan in October to "engage in violent jihad." Investigators arrested seven men involved in the group Monday, accusing them of military-style training at home and plotting terror attacks abroad. The men purchased several weapons over the past year, and in June and July, three of them went to private land in north-central North Carolina to practice "military tactics," according to the indictment. "It's clear from the indictment that the overt acts in the conspiracy were escalating," Holding said. The men do not appear to be connected to any larger terror group or any plot against US targets, CBS News correspondent Bob Orr reported....
---
7.28.09 Iran's Khamenei orders closue of detention center
TEHRAN (Reuters) Supreme Leader Ayatollah Ali Khamenei has ordered the closure of the Kahrizak detention centre where detainees are believed to have been held since Iran's disputed presidential election. The order is regarded as a move to calm simmering discontent among leading moderates and their supporters, particularly when the clerical establishment faces rifts over President Mahmoud Ahmadinejad's appointment of his first vice-president. Lawmaker Kazem Jalali said 140 detainees were released from Evin prison after members of a parliamentary committee visited the prison on Tuesday, ISNA reported. "Those with minor charges have been released on bail," said Jalali.

The semi-official Mehr news agency quoted Jalali as saying the detention centre was ordered closed because it could not preserve the "rights of detainees." Reformist websites have reported some detainees involved in protests following the June 12 election were being held at Kahrizak under "severe physical and mental pressure." "Kahrizak is the detention centre which the leader ordered closed because it lacked necessary conditions to preserve rights of detainees," said Jalali, spokesman of a special parliamentary committee set up to investigate detentions after the election. Jalabi said 150 people who were involved in post-election protests and 50 others, including political activists, members of anti-revolution groups and some foreigners, remained in jail following the releases from Evin. [More>>thestar.com.my]
---
7.28.09 Iraqi army storms Iranian opposition camp
BAQUBA, Iraq (AFP) July 28 - The Iraqi army seized control on Tuesday of the main base for Iran's main armed opposition in exile after months of a tense standoff, military officials said. The storming of Camp Ashraf, which was disarmed by the United States in 2003 and surrounded by American forces until recently, coincided with a visit to Iraq by US Defence Secretary Robert Gates. The offensive, which one police source said left 15 people wounded, came after the People's Mujahedeen said it was ready to return to Iran if the authorities there would guarantee its members would not be abused.

...The group's leader Maryam Rajavi said in a statement the Iranian regime would have to pledge "not to arrest, torture, prosecute or restrict the freedom of expression" of residents of Camp Ashraf willing to return to Iran. The Mujahedeen, which seeks to overthrow Iran's Islamic regime, is branded a terrorist organization by the United States, while the European Union only removed it from its blacklist earlier this year. It was founded in 1965 in opposition to the shah, but was sidelined by the rival clerical regime which took power in the 1979 Islamic revolution. [Full story>>khaleejtimes.com]
---
7.28.09 Robbers net $3.8 mln in deadly Baghdad heist
BAGHDAD (AFP) July 28 - Thieves stole salaries of Iraqi police at the interior ministry. Bank robbers made off with at least $3.8 million before dawn on Tuesday, leaving eight police guards dead in one of Iraq's biggest-ever heists. The money had just been transferred to state-owned Al-Rafidain bank's branch in the central Baghdad shopping district of Karrada on Monday, and none of the branch's doors or windows were damaged in the overnight raid...A police officer, who asked not to be identified, said an unknown number of gunmen entered the bank and managed to open the bank's safe, stealing all the money inside and killing eight police guards in the process. [Full story>>alarabiya.net]
---
7.28.09 Taliban carries out suicide attack in Waziristan
ISLAMABAD, July 28 - As the Pakistani army is poised for a major offensive into terrorist infested Waziristan district, Taliban on Tuesday carried out a brazen suicide car attack on a police checkpost killing two policemen and wounding five others. The bomber struck just two kilometers outside Miran Shah, the capital of Waziristan ramming his vehicle straight into the police post, local officials were quoted by TV channels as saying. [More>>timesofindia.indiatimes.com]
---
7.28.09 US to probe fund flows to Afghan insurgents
BRUSSELS, July 28 - The United States is setting up a task force to investigate how money is reaching insurgents in Afghanistan, much of it from within the Gulf states, a US regional envoy said Tuesday. "This is a huge problem, and we are forming up a task force to work on this in which Treasury (Department) will take the lead," US Ambassador Richard Holbrooke told reporters at NATO headquarters in Brussels. He said the Pentagon, the US Federal Bureau of Investigation (FBI) and other "relevant agencies" would be involved. While he would not mention any figures, Holbrooke said: "More money is coming from the Gulf than is coming from the drug trade to the Taliban." [More>>thenews.com.pk]
---
7.27.09 New US home sales rise sharply as prices fall
July 27 - Sales of new homes in the United States posted their largest monthly gain in nearly eight years in June, the government reported on Monday, a sign that the housing market is bottoming as buyers take advantage of lower prices. The Commerce Department reported that new single-family home sales rose 11 percent in June, an increase that dwarfed economists' expectations of a 3 percent increase. The pace of home sales rose to a seasonally adjusted rate of 384,000 a year, the highest level since November.

But the figures offered no sign that the housing market had returned to health. Despite the monthly increase, sales of new homes were still down 21 percent from June 2008. The market is still swamped by a glut of for-sale houses. And new homes, facing competition from cheap foreclosures, are sitting on the market for close to a year before they sell, compared with a median time of six months on the market in 2007. [More>>nytimes.com]
---
7.27.09 Iran's Mousavi says protests will continue - website
TEHRAN (Reuters) July 27 - Iran's opposition leader Mir Hossein Mousavi said on Monday the pro-reform protests which erupted after the country's disputed June presidential vote will continue, his website reported. "The pro-reform path will continue," Mousavi said in a statement. "The establishment should respect the constitution and let us to gather to commemorate our killed loved ones on Thursday." "The killings and arrests are a catastrophe, people will not forgive those behind such crimes," it said, adding, "I am sure the judiciary is not informed about many arrests."

The June 12 vote plunged the country into its biggest internal crisis since the 1979 Islamic revolution and exposed deepening divisions in its ruling elite. Iranian media have reported several cases of protesters' deaths following the vote, including those of Sohrab Aarabi and Mohsen Ruholamini. Iran's top judge Ayatollah Mahmoud Hashemi-Shahroudi ordered the judiciary on Monday to follow the cases of detained protesters, the students news agency ISNA reported. [>thestar.com.my; See related story,

khaleejtimes.com (AFP) July 27, "Embattled Ahmadinejad battles new Iran crisis" : TEHRAN - Iranian President Mahmoud Ahmadinejad was grappling on Monday with a new political crisis that has weakened his standing even among hardline supporters as the opposition warned it would press on with its protest campaign. The embattled Ahmadinejad, already forced into a climbdown over his choice of a top aide, was again under fire on Monday over the sacking of the intelligence minister and the resignation of his culture minister. And in a new defiance of the regime, the Iranian opposition is calling for a ceremony this week to mourn the protesters slain in the aftermath of the bitterly disputed June election that returned Ahmadinejad to power.

"The country's regime has no choice but to return to the principles of the constitution and if it does not, then people will force it to return," Ahmadinejad's defeated rival Mir Hossein Mousavi said. "The more people you arrest, the more the movement will spread." Iran's judicial chief has ordered a decision soon on the fate of hundreds of detained demonstrators who remain behind bars and urged investigations into complaints of rights violations.

...MP Mousalreza Servati said 200 lawmakers had written to Ahmadinejad asking him to "correct his behavior" and follow Khamenei's words. In another humiliating blow for Ahmadinejad, Culture Minister Mohammad-Hossein Saffar-Harandi quit on Sunday over what he said were "recent events which show the esteemed government's weakness." The departure of the ministers has compounded Ahmadinejad's woes, with some suggestions he might need to seek a new vote of confidence in his present cabinet even though he is preparing a new government line-up.

ran's constitution stipulates that if half of the 21-member cabinet is reshuffled during its four-year term, a new vote of confidence is required. Ahmadinejad has changed 10 ministers, including Ejeie, in his current mandate. But Mohammad Jafar Mohammadzadeh, communications director at Ahmadinejad's office, said the president had rejected Saffar-Harandi's resignation and "the government does not need to secure a vote of confidence."...
---
7.27.09 'US lifts ban on Syrian air industry'
July 27 - Imad Mustafa, the Syrian envoy to the US, said Monday that the Obama administration had lifted the ban imposed on exporting goods to the Syrian Aviation Industry, the Kuwait News Agency reported. Speaking on Syrian national television, Mustafa revealed that the US had also lifted the ban on exporting IT products, whether they were hardware or software, adding that US President Barack Obama was considering lifting more such restrictions.

Mustafa said that each item of the penal code of the economic sanctions on Syria would be discussed thoroughly by the US administration in order to improve relations with Syria. According to the report, the ambassador also said that he was present at the Sunday meeting between Syrian President Bashar Assad and US special envoy to the Mideast George Mitchell, in which Syria welcomed the new American steps toward developing bilateral relations. [>jpost.com]
---
7.27.09 Is the ocean Florida's untapped energy source?
July 27 - The answer to easing the energy crunch in one of the nation's most populous states could lie underwater. Imagine if your utility company could harness the ocean's current to power your house, cool your office, even charge your car. Researchers at Florida Atlantic University are in the early stages of turning that idea into reality in the powerful Gulf Stream off the state's eastern shore. "If you can take an engine and put it on the back of a boat or propel a ship through water, why not take a look at the strength of the Gulf Stream and determine if that can actually turn a device and create energy?" asked Sue Skemp, executive director at Florida Atlantic University's Center for Ocean Energy Technology.

The demand for energy in Florida — the fourth most populous state, with an estimated 19 million residents — is quickly outpacing the capacity to create it, according to experts. "Right now in Florida, we are at the cusp of an energy crisis. Our energy demand keeps growing," said Frederick Driscoll, director of Florida Atlantic University's Center of Excellence in Ocean Energy Technology. Beginning in the Caribbean and ending in the upper-North Atlantic, the Gulf Stream lies on the eastern shore of Florida. Its powerful currents have been used by many fishermen, sailors and explorers to expedite their passage in the Atlantic north and east to Europe, but scientists say the energy within its currents could propel Florida out of its potential energy crisis, powering 3 million to 7 million Florida homes — or supplying the state with one-third of its electricity.

"The predictions at this point estimate that the strength of the Gulf Stream could generate anywhere between four to 10 gigawatts of power, the equivalent of four to 10 nuclear power plants," said Skemp. "The Gulf Stream is the strongest current in the world, so we want to harness our greatest resource. It's renewable, emission free and reliable," said Jeremy Susac, executive director of the Florida Energy and Climate Commission. [More>>cnn.com; See also Florida Atlantic University, coet.fau.edu, "Pilot Project."]
---
7.27.09 Four killed in Iraq violence
BAGHDAD (AFP) July 27 - A senior Iraqi army officer, a Sunni tribal chief and at least two other people were killed in violence across the country on Monday, police said. In Fallujah, west of Baghdad, Captain Ibrahim Khairallah Hamadi died when a bomb attached to his car exploded in his housing complex, police Major Yassin Mohammed told AFP. One of Hamadi's guards was wounded in the attack. In Mosul, a Sunni tribal chief was killed and his driver wounded in a similar attack in the centre of the restive northern city, according to a police officer who declined to be identified. He said six police officers and soldiers were wounded by a roadside bomb in western Mosul targeting a joint patrol.

And in eastern Baghdad, one person was killed and four others were wounded by a roadside bomb on Palestine Street. According to another police officer, gunmen shot dead the brother of a police major outside Baquba, north of the Iraqi capital. The attacks come less than a month after US troops withdrew from urban centres in line with a security pact between Baghdad and Washington that calls for American forces to leave Iraq by the end of 2011. Violence had dropped markedly throughout the country in recent months but attacks increased in the run-up to the US military pullback, with 437 Iraqis killed in June — the highest death toll in 11 months. [>khaleejtimes.com]
---
7.27.09 At least 200 killed in Bauchi religious crisis in Nigeria
LAGOS, Nigeria, July 27 - At least 200 persons have been killed and many others seriously injured in the early hours of Sunday, following a renewed religious crisis in northern Nigeria's Bauchi State, the Tribune newspaper reported on Monday. The Islamic fundamentalists, popularly called "Boko Haram" which was said to have been campaigning against anything Western, claimed that its adherents were not allowed by the Bauchi government to publicly practice their religion as well as win more souls to the sect, the report said.

It was learnt that members of the sect had been planning a demonstration in Bauchi for a long time but were not given the chance because of the fear by government that their doctrine, if allowed to be preached publicly, would cause religious crisis, considering the fact that the teachings were completely contrary to those of other Islamic sects as regards peaceful coexistence. The reports added that the sect members in there hundreds trooped to the Dutsen Tanshi police station in the early hours of the day and attacked it. [More>>xinhuanet.com]
---
7.27.09 Taliban issues code of conduct
July 27 - The Taliban in Afghanistan has issued a book laying down a code of conduct for its fighters. Al Jazeera has obtained a copy of the book, which further indicates that Mullah Omar, the movement's leader, wants to centralise its operations. The book, with 13 chapters and 67 articles, lays out what one of the most secretive organisations in the world today, can and cannot do. It talks of limiting suicide attacks, avoiding civilian casualties and winning the battle for the hearts and minds of the local civilian population. Al Jazeera's James Bays, reporting from the capital, Kabul, said every fighter is being issued the pocket book entitled "The Islamic Emirate of Afghanistan Rules for Mujahideen." The book sheds considerable light on the structure, organisation and aims of the group, he said. [More>>aljazeera.net]
---
7.27.09 Pakistan: 31 Taliban militants killed, 28 nabbed in NW
July 27 - At least 31 Taliban were killed and 28 more arrested in Pakistan's troubled northwest, as the authorities opened investigations into alleged links between arrested radical cleric Maulana Sufi Mohammad and militants active in the lawless region. A "lashkar" or tribal militia killed 10 militants and apprehended six more during a search operation at several places in Dir district, which is part of the restive Malakand division. Security forces captured six suspects during an operation at Awishah in Dir, the military said. Officials of the paramilitary Frontier Corps told TV news channels that 20 militants were killed in an operation conducted in the Tirah valley of the Khyber tribal region.

Four rebel hideouts and 12 vehicles were also destroyed during the operation. In the Mohmand tribal region, seven militants surrendered to the civil administration, the military statement said. The federal Government formed an investigation team to probe whether Sufi, who had brokered a now-defunct peace deal between the militants and authorities in the Swat valley, aided the Taliban. Sufi was arrested along with his three sons from the outskirts of the provincial capital of Peshawar yesterday after he chaired a meeting of his banned group. [>indianexpress.com; See related story,

thenews.com.pk, July 27, "200 boys being trained for suicide bombing recovered" : PESHAWAR: Security forces have succeeded in recovering 200 children who were being trained for carrying out suicide bombing from Swat. According to sources, the children's age ranges between 6 to 13 years. The security forces have kept the recovered children in Mardan where they are being mentally rehabilitated to become common citizens. Steps are being taken to get the children through a treatment from psychiatrist. Senior NWFP Minister Bashir Bilour talking to Geo News, said the children were completely brainwashed who now consider all others as infidels.

"These children have brainwashed in a way that now they even want to kill their own parents," he said, adding, however that they were not administered any drugs in the process. Bashir Bilour said some children were pleased when they were handed over to their parents. But, a few days later, the parents came back with complaints that the boys are now threatening to kill them which, they (parents) said, is a worrisome thing for them. [end]
---
7.27.09 'Offer Taliban incentives to switch sides'
July 27 - Taliban militants must be offered incentives to switch sides in order to undermine the insurgency in Afghanistan, according to David Miliband. Outlining NATO's political strategy in the country, the Foreign Secretary said the violence should be dealt with through "reintegration and reconciliation." He described the insurgency as a "wide but shallow coalition of convenience" which people are drawn into for "pragmatic," rather than "ideological," reasons.

"The basis for both reintegration and reconciliation is a starker choice: bigger incentives to switch sides and stay out of trouble, alongside tougher action against those who refuse," he told an audience at NATO headquarters in Brussels...But former Liberal Democrat leader Sir Menzies Campbell said Afghan president Hamid Karzai showed no desire to engage with the insurgents... "President Karzai, who is almost certain to be re-elected next month, shows no inclination for the kind of engagement with the Taliban that David Miliband envisages." He added: "The most notable thing about Miliband's speech was his failure to attach any significance to a role for Karzai." [More>>news.sky.com]
---
7.27.09 Color secret of a delicious prawn
July 27 - Australian scientists have discovered why prawns, crabs and lobsters turn bright orange when cooked. It is by consuming a small molecule, known as a carotenoid, and then linking it to protein unique to crustaceans, that the creatures become so brightly colored. When they are in the sea prawns, crabs and lobsters are able to control the color for communication and make themselves darker for camouflage. But when cooked, the process is disrupted, and the original orange color is released.

The team of Queensland-based scientists behind the discovery say it is the first time we have really understood the process. Their work could help conservationists, fish farmers and may even lead to a new food colorant. "This knowledge of how crustaceans produce and control color helps us understand the genetic diversity and evolution that underpins this group of highly successful group of animals," Dr. Nick Wade said. The scientist made the discovery with colleagues from the Australian Institute of Marine Science and published the findings in the Journal of Molecular Biology and Evolution. [More>>news.com.au]
---
7.27.09 Elephant kills seven in Thailand
BANGKOK, Thailand (RIA Novosti) July 27 - A female elephant has killed seven people in Thailand's Trang province in the past month and continues to scare locals, Thai media said on Monday. In late June, the elephant, called Nathalie, became enraged and broke free from her ties, trampling three people to death. After that the owner chained the animal to a tree, but on July 15 Nathalie broke the chain again and killed four more people, the Thai Post reported. Nathalie was again caught and chained and local authorities are considering what to do with the killer elephant. The elephant cannot be put down because Thais consider the giant mammals as family members and even sacred animals, symbols of Buddhism and attributes of royalty. Local authorities have not put responsibility for the deaths on the owner of the elephant, Somchoke Chooban, a local clerk, and are investigating the causes of the two accidents. [More>>en.rian.ru]
---
7.26.09 India joins elite club with nuclear submarine launch
JULY 26 - India joined an elite club of nations with the induction of indigenously-built nuclear-powered submarine, reaching a significant milestone in completing its nuclear triad with capacity to launch missiles from land, air and sea. The 6000-tonne nuclear submarine, known as boomer in popular parlance and named Arihant (destroyer of enemy), will carry "Sagarika" ballistic missile[s] and will come in handy in [/] for retaliation in case of an enemy nuclear strike. The missile will have a range of 700 km. With the launching of the sea trials of the Arihant, India's dream of 25 years culminated in the form of a 110 metre-long and 25 metre-wide submarine moving out from its building base "INS Virbhau" here into the Bay of Bengal.

...With a diving depth of around 500 metres, Arihant will have the capability to keep itself hidden from the enemy's probing eyes for very long periods and can fire the 700 Km range submarine launched ballistic missile (SLBM) K-15, which was tested from pontoon docks by Defence Research and Development Organization (DRDO) last year. The submarine can carry a component of 12 SLBMs. The DRDO is working on increasing the range of the missile up to over 3,000 km. It is expected to continue its sea and harbour trials for another 12-16 months before it joins the naval fleet with its complement of around 23 officers and 72 men. [Full story>>indianexpress.com]
---
7.26.09 No more sanctuary to Mullah Omar, Afghan Taliban: Qureshi
LONDON, July 26 - Pakistan will no longer provide sanctuary to top militant commander Mullah Omar and the Afghan Taliban and will not allow its territory to be used against anyone, Foreign Minister Shah Mehmud Qureshi has said. "We are clear we have to deal with all elements that are challenging the writ of the government and making Pakistan or other places insecure," Qureshi told the Sunday Times. "We don't want our soil, our national territory, to be used against anyone." Qureshi also said they are "no more differentiating between good terrorists and bad terrorists."

"They've created havoc, made our environment insecure, and wherever they are, we'll take them on," he said. Asked specifically if this would include Mullah Omar and his Quetta shura, which runs the Afghan Taliban, the minister replied: "Absolutely, we'll be taking them on." Taliban militants yesterday struck at government buildings in the city of Khost in southeastern Afghanistan with suicide bombs, AK-47 rifles and rocket-propelled grenades, wounding 14 people, and provoking fears of a bloody election campaign. At least three suicide bombers blew themselves up during the onslaught, which began in the early afternoon near a US military base, the report said. [>indianexpress.com; See related stories,

dawn.com, July 26, "Sufi Mohammad arrested from Peshawar: NWFP Information Officer" : PESHAWAR - Pakistani police on Sunday arrested pro-Taliban cleric Sufi Muhammad, who brokered a peace deal between the government and militants in the Swat Valley that has since faltered. Muhammad negotiated a truce with the government in February that imposed Shariah, or Islamic, law in Swat in exchange for an end to two years of fighting. But it was widely seen as an acquiescence to Taliban control of the valley.

The deal collapsed in April when the Taliban advanced into neighboring districts, triggering a military offensive that prompted a spree of retaliatory attacks by militants in the northwest and beyond. Mian Iftikhar, information minister for the North West Frontier Province, said Muhammad was arrested for encouraging violence and terrorism. "Instead of keeping his promises by taking steps for the sake of peace, and speaking out against terrorism, he did not utter a single word against terrorists," Iftikhar said in a news conference, adding that the cleric's stance "encouraged terrorism. It encouraged violence."...

thenews.com.pk, July 26, "23 militants killed in SF operation in Dir Bala" : DIR, Pakistan - Twenty-three militants were killed during the operation by the security forces in district Dir Bala while Qaumi Lashkar has also claimed tokill three militants and destroy their training centre. As per Dir Media Centre, the security forces carried out shelling on hideouts of militants in Dogdara and Ghazi, areas of Upper Dir while 23 militants were killed and their many hideouts were also destroyed in the operation...

thenews.com.pk, July 26, "Local commander killed in army's search operation in Swat." SWAT: Pakistan Army's search operation is in progress in Swat and Malakand and during the last 24 hours, one local commander was killed while ten militants including an Imam of mosque were arrested...
---
7.26.09 NATO, Afghan soldiers among 22 killed in unrest
KABUL, Afghanistan (AFP) July 26 - A wave of Taleban-linked violence across Afghanistan over the weekend has killed 22 people including insurgents, a foreign soldier and two Afghan troops, authorities said Sunday. Clashes and attacks have surged this month, with NATO-led offensives in the south leading to record foreign military casualties and the Taleban insurgency at its fiercest since the 2001 US-led invasion toppled their government. In the Bargi Matal district of Nuristan, a mountainous province near Pakistan, Afghan forces backed by foreign troops pounded Taleban positions with artillery, killing 16 militants on Saturday, the defence ministry said. [More>>khaleejtimes.com]
---
7.26.09 Five killed in Baghdad attack
BAGHDAD (AP) July 26 - Five people were killed Sunday in a daylight attack at a popular money exchange office, a reflection of the increasing crime in Iraq even as violence is on the decline. The gunmen broke into the al-Nibal money exchange office in downtown Baghdad shortly before noon, killing three employees and two customers, said two Iraqi police officials. They said 12 others, including eight employees, were wounded in the attack in Baghdad's commercial Karradah district. A witness described a chaotic scene inside the office...Though extremist attacks have declined dramatically in Iraq over the past two years, the number of armed robberies targeting jewelry stores, currency exchanges and pawn shops appears to be increasing. [Full story>>nytimes.com]
---
7.26.09 Police intensify investigations of man bearing likeness to Noordin
MAKASSAR, Indonesia, July 26 -The police's anti-terror unit, Densus 88, is currently questioning a 50-year-old man arrested in Makassar, South Sulawesi, recently, resembling Indonesia's most-wanted terror suspect, Noordin M. Top. "We have intensified our investigations with Densus 88. We arrested [the suspect] because he bears a likeness to Noordin M. Top," South Sulawesi Police spokesman Sr. Comr. Herry Subiansauri said on Sunday. Police suspect Noordin was behind the recent bombings of the JW Marriott and Ritz-Carlton hotels in Jakarta.

The new suspect carried five identity cards and two passports bearing different names, Herry said. He allegedly claimed to have used the different ID to commit several criminal acts, including stealing around Rp 100 million [US$9,900] from four banks via their internet banking services.
"We won't just believe what he said. We will cross-check this information with the four banks and will trace the flow of his money," Herry said. The suspect was arrested at his rented house on Jl. Pengayoman in Makassar early on Saturday morning. Police confiscated his five ID cards (all with the same picture), two passports, four debit cards, nine credit cards and a number of cell phone chips. [>thejakartapost.com]
---
7.26.09 Four police officers killed in Chechnya suicide blast
GROZNY, Chechnya (RIA Novosti) July 26 - Four police officers were killed on Sunday in an explosion near a concert hall in the center of Grozny, the capital of Chechnya, a police source at the scene of the attack said. "An explosive device was set off by a suicide bomber, who had approached the police officers. Law enforcement officials are working at the site," the source told RIA Novosti. A law enforcement source in the Southern Federal District said nine other people were injured in the blast. The blast occurred on a square 40 meters (130 feet) from the concert hall at 17:00 Moscow time (13:00 GMT). At the time of the blast, there was a crowd of the people on the square. The body of the suicide bomber was destroyed beyond recognition in the blast. The last terrorist attack to hit the Russian North Caucasus republic was on July 7, when a bomb went off in a trash can, injuring nine people. [>en.rian.ru]
---
7.25.09 World-wide protests at Iranian rulers
July 25 - There has been a wave of protests in major cities across the world today in support of Iranian activists. Iran's clampdown on demonstrations against the country's disputed elections has sparked a global protest from fellow Iranians and human rights groups. More than 80 cities, including London, Islamabad, Brussels, Sydney, Tokyo, Seoul and Amsterdam, took part in the event, which was backed by Amnesty International and Human Rights Watch. Last month Ayatollah Khamenei ordered an end to demonstrations against the re-election of hardliner Mahmoud Ahmadinejad. Despite their supreme leader's command thousands have continued to take to the streets in Iran, prompting the arrests of activists and violent clashes with riot police, military and Ahmadinejad's supporters. [More>>timesonline.co.uk; See related story,
alarabiya.net, July 25, "US Senate counters Iran's curb on information" : The US Senate passed a bill late on Thursday to help Iran's opposition groups defeat curbs of news and internet social networking sites they have used to organize since a disputed presidential vote. Lawmakers, some of whom have charged the Islamic republic's June 12 election was rigged, approved the legislation late Thursday without dissent amid widespread US criticism of Tehran's crackdown on opposition demonstrators.

Republican Senators John McCain and Lindsey Graham, Independent Senator Joseph Lieberman and Democratic Senators Ted Kaufman and Robert Casey were the lead authors of the Victims of Iranian Censorship (VOICE) Act. US lawmakers approved the act to "discourage businesses from aiding efforts to interfere with the ability of the people of Iran to freely access or share information," according to the legislation's text found on the Senate's website...[See also contents of the bill, Senator John McCain.]
---
7.25.09 Four killed in Iraq car bombing
(AFP) July 26 - Four people were killed and 12 wounded in a car bomb blast today outside the offices of a Sunni Arab party in the western Iraqi city of Fallujah, a police officer said. Security forces locked down the city, preventing individuals and vehicles from entering or exiting in the aftermath of the attack. The car bombing this morning targeted the Islamic Party's offices in the city, damaging nearby shops and private health clinics, according to the police major, who spoke on condition of anonymity. He said all of the casualties appeared to be civilians. [More>>news.com.au]
---
7.25.09 Fourteen terrorists killed, 29 apprehended: ISPR
ISLAMABAD, July 25 - As many as 14 terrorists were killed and 29 others were rounded up the security forces in parts of Swat and Malakand, an ISPR update issued on search and clearance operation on Saturday said. The security forces have also destroyed various hideouts of terrorists including training camp and a cave besides recovering huge cache of arms. The details in this regard revealed that during search operation at Torshe Khan Sar, two terrorists were killed and four others were apprehended. A terrorist training camp and a cave was also destroyed besides recovering huge cache of arms and ammunition. In search operation at Bararai near Khawzakhela, Malakand and Qambar the security forces apprehended 21 suspects. [More operations listed>>geo.tv]
---
7.25.09 Suicide bombers attack east Afghan city
(Reuters) July 25 - Fighting erupted in the volatile east Afghanistan city of Khost today, security officials and witnesses said, with at least three suicide bombers attacking government buildings. The US military had heard reports of attacks by suicide bombers in Khost and was investigating but had no further details, a spokeswoman for US forces in Kabul said. US and Afghan forces are battling a growing Taliban-led insurgency in the east. Interior Ministry spokesman Zahir Azimi said a car packed with explosives had been detonated in Khost city, followed by three suicide bombers. He said details were still unclear but sporadic fighting was continuing.

A statement by the Ministry of Defence said "a group of suicide bombers" had attacked government offices in Khost and three had blown themselves up, causing "casualties and damage." Salahuddin Ayubi, a spokesman for the al-Qaeda and Taliban-linked Haqqani network, said a suicide car bomber had attacked a district government building in the city, blowing open the gates to allow gunmen and more suicide bombers to enter. He said they had inflicted "heavy casualties." [More>>independent.co.uk]
---
7.25.09 Police arrest terror suspect in Makassar
MAKASSAR, Indonesia, July 26 - Local police officers from Makassar, the capital city of South Sulawesi, have arrested a man for his alleged link to the terror network responsible for a series of bomb attacks in the country over the last seven years. As of Saturday afternoon, the East Makassar police office was questioning the man, identified only as MA alias TH. The police nabbed MA, who said was a native of East Java, at his boarding house on Jl. Pengayoman in Makassar at around 5:30am. local time. Police confiscated five ID cards bearing his photograph but with different names, birth dates and birthplaces. Birthplaces include Surabaya and Magetan in East Java, as well as Makassar and Luwuk Banggai in Central Sulawesi. Police also seized two passports, one of them revealing he once visited Thailand, Malaysia and Singapore, a laptop, four automatic teller machine cards and nine credit cards. [More>>thejakartapost.com]
---
7.25.09 Suspected bomber behind Philippine deadly church blast arrested
MANILA, July 25 - Security forces have arrested a suspect believed to engineer a series of bombings, including a recent one that killed six and injured 50 in front of a Catholic church in southern Philippines, the authorities said Saturday. Salman Mohamadali, tagged as a member of the Special Operations Group of the Muslim secessionist group Moro Islamic Liberation Front (MILF), was arrested on Thursday in the town of Shariff Aguak in Maguindanao province. Mohamadali is blamed for the July 5 explosion in front of the Cotabato Cathedral that killed six civilians and injured 55 others and the Oct. 5, 2007 twin explosions in Kidapawan City, authorities said.

A string of bombings struck the restive southern Philippines in July, leaving 12 people dead and more than 100 injured. The MILF has been fighting government troops for decades for establishing a self-rule Muslim state in the south of the predominantly Catholic country. Some radical MILF guerrillas are believed to cooperate with the al-Qaeda-linked regional militant network Jemaah Islamiayh and the local Abu Sayyaf group, which is blamed for a series of terrorist attacks and high profile kidnapping-for-ransom activities. [More>>xinhuanet.com]
---
7.24.09 UK: Economy shrinks at record annual rate in Q2
July 24 - The economy shrank much more than expected in the second quarter to record an record annual decline, official figures show. The dire figures have raised fears that the country may take longer to emerge from the worst economic downturn since the second world war than previously thought. GDP tumbled by 0.8 per cent in the second quarter meaning the country has been mired in recession for five consecutive quarters.
Analysts had expected a fall of just 0.3 percent, after a massive 2.4 per cent decline in the first three months of the year. While the pace of contraction has still slowed significantly from the first quarter in every corner of the economy, the worse than expected figures have dashed hopes that the country was starting to recover from recession. The economy has now shrunk by 5.7 percent since the recession began in April last year, bigger than the downturn in the 1990s and in the early 1980s. [More>>timesonline.co.uk]
---
7.24.09 Iran cleric warns over moves against Khamenei
TEHRAN (Reuters) July 24 - A hardline Iranian cleric said on Friday there had been plots in the Islamic state to weaken Supreme Leader Ayatollah Ali Khamenei's position after a disputed election last month. Iran's disputed presidential poll on June 12 plunged the country into its biggest internal crisis since the 1979 Islamic revolution and has exposed deep divisions in its ruling elite.
"We know of some insulting private meetings. We know about the plots against the leader but you (who hold these meetings) should know that you will not be able to stand against the people," Ahmad Khatami told Friday prayer worshippers. "Our people will defend the leader until the last drop of their blood,," Khatami, a member of the Assembly of Experts, added.
Akbar Hashemi Rafsanjani, a former president and the head of the Assembly of Experts which in theory can dismiss the supreme leader, declared the Islamic republic in crisis last Friday and said there were doubts about the election result...Separately on Friday, 50 members of the 86-seat Assembly of Experts, called on Rafsanjani in a statement to show more support for the leader. "Many ... expect the head of the assembly, who has always helped the leader in solving problems and obstacles in the past, to show more and clearer support for the leader during these sensitive times," the statement read. Also during the prayers Khatami renewed his call on Ahmadinejad to dismiss Esfandiar Rahim Mashaie, who said Iran was friendly with everyone even the people of its sworn foe Israel, as the new vice president. [Full story>>thestar.com.my; See related stories,

alarabiya.net, July 24, "Iran's Khamenei wants new VP sacked:: cleric" : TEHRAN - A leading Iranian hardline cleric on Friday urged President Mahmoud Ahmadinejad to sack his controversial first vice president, saying this was the wish of Supreme Leader Ayatollah Ali Khamenei. Ayatollah Ahmad Khatami also said there had been plots in the Islamic state to weaken Khamenei after the disputed elections and the last week's appointment by Ahmadinejad of Esfandiar Rahim Mashaie as his first deputy, which sparked a chorus of opposition from conservatives in Iran...

bbc.co.uk, July 24, "Iranian leader 'orders dismissal' " : Iran's Supreme Leader, Ayatollah Ali Khamenei, has ordered President Mahmoud Ahmadinejad to dismiss his choice to serve as vice-president, state TV says. Appointing Esfandiar Rahim Mashaie was "against your interest and the interests of the government," the ayatollah wrote to Mr. Ahmadinejad. His remarks came after another leading cleric also demanded the dismissal...
---
7.24.09 Maliki upset at US contacts with Iraqi insurgents
(AFP) July 24 - Iraqi Prime Minister Nouri Al Maliki has complained to President Barack Obama about a US meeting with alleged Iraqi insurgents, Baghdad's top diplomat said. Iraqi Foreign Minister Hoshyar Zebari said in Washington Thursday the Iraqi government found it "shocking" that representatives of the "Iraqi resistance movement" met Turkish officials and at least one US official last spring. "We, the Iraqi government, were amazed that representatives from the American and Turkish sides met with representatives from those groups," Zebari told Al-Hurra, the official Arabic-language US television station, saying the insurgent groups "adopt violence and terrorism." 

Zebari said Baghdad was "still investigating" the alleged meeting with the "resistance political council," adding that it apparently took place in March in Istanbul and that the Iraqi government had discussed the issue with US officials. "The interesting part is that neighboring countries and allies are guaranteeing the freedom of movement of those groups in an independent country like Iraq," Zebari said, adding that militants who fight both Iraqis and Americans participated in the meeting. "How do you expect allies and friends of the government and the political process to meet and negotiate with parties that are accused of terrorism?" [More>>khaleejtimes.com]
---
7.24.09 Bin Laden son may have been killed in US airstrike
WASHINGTON, July 24 - Saad bin Laden, a son of al-Qaeda leader Osama bin Laden, may have been killed in a US airstrike, US officials said Thursday. The son was likely killed in Pakistan in the last several months, approximately in late spring, said a counterterrorism official, one of three Obama administration officials who spoke on condition of anonymity to discuss intelligence. Though many in the intelligence community believe he is dead, they can't be 100 percent certain because no body or DNA evidence was recovered to prove it, one official said.
The US has carried out more than 45 missile attacks with drones in Pakistan's border region since last August, most targeting foreign al-Qaeda militants and those accused of violence in neighboring Afghanistan. Saad was not considered a heavy hitter in his father's organization and was not the target of the strike, but rather was killed during a strike intended for someone else, National Public Radio said, quoting unidentified officials. [More>>japantoday.com]
---
7.24.09 Turkey detains 200 suspected Islamic extremists in national raids
ANKARA (RIA Novosti) July 24 - Turkish special forces detained some 200 suspected members of the banned Hizb ut-Tahrir group on Friday in simultaneous raids spread across 23 provinces in the country, Ankara's security forces said. Hizb ut-Tahrir, created in 1953 in Palestine, says it promotes nonviolent political Islam with the aim of uniting Muslims into a pan-Islamic state. The group insists it does not support terrorism, but is outlawed as a religious extremist group in Turkey and many other countries.

The United States does not consider Hizb ut-Tahrir a terrorist group and some 500 Hizb ut-Tahrir members gathered for a conference called "The Fall of Capitalism and the Rise of Islam" near Chicago on Monday, causing much alarm in the area and sparking protests. Walid Phares, director of the Future of Terrorism Project at the Foundation for Defense of Democracies, told FOXNews.com that Hizb ut-Tahrir does not train members to carry out terrorist acts like al-Qaeda but focuses on indoctrinating young people in an ideology that calls for the formation of an empire governed according to Islamic law and condones any means to achieve it, including militant jihad. [>en.rian.ru]
---
7.24.09 N. Korea 'tests weapons on children'
SEOUL, South Korea, July 24 - When Im Chun-yong made his daring escape from North Korea, with a handful of his special forces men, there were many reasons why the North Korean government was intent on stopping them. They were, after all, part of Kim Jong-il's elite commandos — privy to a wealth of military secrets and insights into the workings of the reclusive regime. But among the accounts they carried with them is one of the most shocking yet to emerge — namely the use of humans, specifically mentally or physically handicapped children, to test North Korea's biological and chemical weapons.
"If you are born mentally or physically deficient, says Im, the government says your best contribution to society… is as a guinea pig for biological and chemical weapons testing." Even after settling into the relative safety of South Korea, for 10 years Im held on to this secret, saying it was too horrific to recount. But with Kim's health reportedly failing, and the country appearing increasingly unpredictable, Im felt it was time he spoke out. The former military captain says it was in the early 1990s, that he watched his then commander wrestle with giving up his 12-year-old daughter who was mentally ill.

The commander, he says, initially resisted, but after mounting pressure from his military superiors, he gave in. Im watched as the girl was taken away. She was never seen again. One of Im's own men later gave him an eyewitness account of human-testing. Asked to guard a secret facility on an island off North Korea's west coast, Im says the soldier saw a number of people forced into a glass chamber. "Poisonous gas was injected in," Im says. "He watched doctors time how long it took for them to die." [More>>aljazeera.net]
---
7.24.09 North Korea crackdown on pants wearers
(AFP) July 24 - North Korean women face hard labour if they are caught wearing trousers rather than skirts, under the communist regime's latest crackdown on public morals, South Korean activists say. Offenders can be punished with hours of forced labour or fines of 700 won, almost a week's salary for the average worker, human rights group Good Friends said, citing its own sources within the isolated nation. The Stalinist leadership's campaign is angering women who see skirts as less practical than trousers, Good Friends director Lee Seung-Yong said. "Women are told to wear skirts in public places and in the streets, sparking complaints among them as they often have to work in tough conditions," he said. Disciplinary officials from students' bodies and women's organisations stand at street corners during the morning rush hour and lunch breaks, to keep watch for any women violating the pants ban, according to Good Friends.
Uriminzokkiri, an official North Korean website, noted on Monday that ruler Kim Jong-Il had issued a decree in 1986 urging women to wear traditional Korean attire. "The Dear Leader has said national character shows up not only in language, etiquette and morals but in attire as well." the site says. It quoted Kim as saying the country's traditional skirts and jackets are a "source of our (national) pride" and that women should be "actively encouraged" to wear them. [>news.com.au]
---
7.24.09 Report: North Korea publicly executes Christian woman for distributing Bible
SEOUL, South Korea (AP) July 24 - North Korea publicly executed a Christian woman last month for distributing the Bible, which is banned in the communist nation, South Korean activists said Friday. Ri Hyon Ok, 33, was also accused of spying for South Korea and the United States and organizing dissidents. She was executed in the northwestern city of Ryongchon near the border with China on June 16, according to a report from an alliance of several dozen anti-North Korea groups.
Ri's parents, husband and three children were sent to a political prison camp in the northeastern city of Hoeryong the following day, the report said, citing unidentified documents it says were obtained from North Korea. It showed a copy of Ri's North Korean government-issued photo ID. It is virtually impossible to verify such reports about secretive North Korea, where the government tightly controls the lives of its citizens and does not allow dissent.
On Thursday, an annual report from a state-run South Korean think tank on human rights in the North said that public executions, though dropping in number in recent years, were still carried out for crimes ranging from murder to circulating foreign movies. North Korea claims to guarantee freedom of religion for its 24 million people but in reality severely restricts religious observances. [More>>foxnews.com]
---
7.22.09 Clinton says US would arm its allies against a nuclear Iran
July 22 - America would arm its allies and extend its "defence umbrella" across the Middle East if Iran succeeded in producing nuclear weapons, the US Secretary of State said today. Hillary Clinton's statement at the ASEAN meeting of foreign ministers in Thailand swiftly provoked an anxious reaction from Israel. Israel's minister for intelligence and atomic energy, Dan Meridor, bristled at the implication that Iran's nuclear status might be regarded as a strategic reality. "I was not thrilled to hear the American statement that they will protect their allies with a nuclear umbrella, as if they have already come to terms with a nuclear Iran," he told Israeli army radio. "I think that's a mistake." Speaking at a meeting of Asian foreign ministers in Thailand, Mrs. Clinton said that acquiring nuclear weapons would not make Iran more secure. [More>>timesonline.co.uk]
---
7.22.09 Podcast interview: Treasury Department is not being transparent
July 22 - On this week's ABC News Shuffle podcast, we spoke to Neil Barofsky, Special Inspector General for the Troubled Asset Relief Program (TARP), who just this week released a report on the whopping potential federal obligation of the bailout and other programs to jumpstart the economy. You can download the podcast on iTunes or listen to it HERE.
Barofsky told us that the Treasury Department "is not being transparent with respect to the TARP," the $700 billion in funds (and more) the government is using as loans and bailouts to help stabilize the financial markets. "They've failed to adopt some very basic recommendations we've had toward transparency," he said. [More>>abcnews.com]
---
7.22.09 Morgan Stanley posts 3rd straight quarterly loss
July 22 - Morgan Stanley reported its third consecutive quarterly loss on Wednesday, the latest indication of the challenges it faces as it tries to pull itself out of the financial crisis. The bank said that its net loss was $1.26 billion, or $1.10 a share, which included a charge to repay government bailout money. That compared with earnings of $1.06 billion, or $1.02 a share, in the period a year earlier. The loss from continuing operations was $159 million, or $1.37 a share, in the second quarter. In the first quarter, Morgan Stanley had reported a loss of $177 million. Morgan shares were down 1.6 percent in mid-morning trading after being down almost 6 percent.
The results were in sharp contrast to rivals Goldman Sachs and JPMorgan Chase, which both reported strong second-quarter profits last week. Those two banks in particular have rebounded quickly, mostly by taking on more risk in trading for their customers. But Morgan Stanley, which was burned more severely by the crisis, has moved to reduce its risk taking and try to build a stable, less volatile firm. [More>>nytimes.com]
---
7.22.09 Total solar eclipse dazzles thousands in Varanasi
VARANASI, India, July 22 - For three minutes and four seconds on Wednesday morning, an ethereal blue-grey darkness descended on this eternal city of light.
To the east across the Ganga, it was like God's own eye flashing in the sky above, giving pilgrims, bathers and eclipse-watchers in the jam-packed ghats sights they are unlikely to forget in their lifetimes. While clouds blotted out the view in most other places in India, the century's most spectacular total eclipse of the Sun was witnessed in full glory in holy Benaras. It was a sight to behold.

The eclipse displayed all the classical phases associated with the event. Seconds before the Sun was fully blocked by the lunar disc, a brilliant 'diamond ring' formed in the sky. Moments later, brightness dropped dramatically as totality began, a phase technically called second contact that began at 10 seconds past 6.24am . A roar went up at the ghats as people gasped and screamed in awe. Some stared in stunned silence while others shook hands with total strangers in fits of joy. The city was suddenly clothed in a surreal glow of faint light that was eerie, exhilarating and nothing like most had ever seen before...planets like Venus and Jupiter came back on, shining brightly in the sky under totality. Birds around the ghats flew in random circles, confused and dazed by the sudden darkness hours after dawn. [Full story w/ photos>>timesonline.indiatimes.com; See also aljazeera.net]
---
7.22.09 Massive glacier in sub-Antarctic island shrinks
(AFP) July 23 - One of the biggest glaciers in the southern hemisphere has shrivelled by a fifth in 40 years, French scientists say. The Cook glacier on Kerguelen, an island in France's southern Indian Ocean territories, covered 501sq km in 1963...By 2003, the glacier covered only 403sq km, a retreat of 20 per cent compared with 1963. [Full story>>news.com.au]
---
7.22.09 Security force kill 27 more militants: ISPR
RAWALPINDI, July 22 - Search and clearance operations were conducted in Swat and Malakand during [the] last 24 hours, ISPR said on Wednesday. It said that the security forces conducted [a] search operation at Malukabad and killed 2 terrorists and apprehended 1. Security forces carried out [a] search operation at Tsapparai Kandao, Dir, killing 16 terrorists and also destroyed 3 Markaz cum terrorists training centers. During operation at Ningulai, Swat, 6 terrorists were killed and 4 suspects were apprehended along with 5 machine guns and ammunition. [More operations>>thenews.oom.pk]
---
7.22.09 2 US troops killed in Afghanistan blast
(AP) July 22 - Deaths Increase US Death Toll in Deadliest Month of War to 34. A military spokesman says a bomb blast in Afghanistan has killed two American troops. Tech Sgt. Chuck Marsh says the explosion happened in southern Afghanistan. Officials released no other details, including what branch the troops served in or where the blast occurred. Southern Helmand province is the site of the largest US Marine operation since the 2001 invasion to oust the Taliban regime. Some 4,000 Marines are taking part. They have met little resistance from Taliban fighters but have had to contend with dozens of roadside bombs hidden in the region's dirt roads. July has been the deadliest month for U.S. forces in the almost eight-year war. Thirty-four have now died. The US has close to 60,000 troops in Afghanistan, a record number. [>cbsnews.com; See related story, news.sky.com, July 22, "British soldier killed in blast in Helmand Afghanistan.."]
---
7.22.09 Long Island man charged in attack on US base in Afghanistan
July 22 - A 26-year-old American-born Long Island man who traveled to Pakistan and trained in a Qaeda camp there last year has been charged with taking part in a rocket attack against a United States base in Afghanistan, according to court papers unsealed on Wednesday. The man, Bryant Neal Vinas, who was arrested in Peshawar, Pakistan, last November, was also charged with assisting al-Qaeda by providing "expert advice and assistance" that was "derived from specialized knowledge of the New York transit system and the Long Island Rail Road, communications equipment and personnel," according to the papers. The court papers, a criminal information charging Mr. Vinas with conspiracy and carrying out the attempted missile attack, providing material support to al-Qaeda and receiving military support from the group, did not mention a specific New York City plot involving the Long Island Rail Road. [More>>nytimes.com]
---
---
*Visitor statistics on maravot.com from 1&1. com. 46,153 page views in May 2007; monthly visitors in 2008 range between 40,000-45,0000..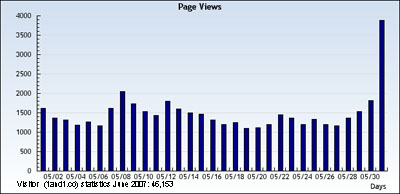 Privacy Policy: We do not store any personal data from you. We have no way of knowing any vital information about you — not even your name. Third-party distribution: We do not distribute information about your site usage to any third party. We are not responsible for the content of links from our site. Usage data: supplied by our Web Hosting service, 1and1.com, which consists of usage reports, such as page views / impressions and web pages visited, visitors' servers and geographical data (ISP's and country of origin).

---
Launched: 10.25.04 / 11.02.04 – | — | —
Updated: 7.22.09; 7.24.09; 7.25.09; 7.26.09; 7.27.09; 7.28.09; 7.29.09; 7.30.09
Copyright © 1981-2009 Maravot. All rights reserved
Copyright © 1981-2009 Mel Copeland. All rights reserved
Background: tile from Cicero's villa (Marcus Tullius Cicero 106 B.C. - 43 B.C.)