---
11.04.05
Dalai Lama visits Stanford, espouses new creed for Buddhism: "the end justifies the means"
November 4 – A San Francisco KTVU Channel 2 TV presentation, 9:30pm, reported by Bob MacKenzie, on the Dalai Lama's visit to Stanford University recorded the Buddha Incarnate (according the Tibetan Buddhist tradition) commenting on two important issues to Buddhists: the War in Iraq and "when war is justified." With regard to the justification of war, the Dalai Lama conceded that there are times when war is justified but was vague as to the terms. The leader-in-exile from Tibet, a nation violently appropriated by China, seems to have been attempting to reconcile Buddha's teachings with his own dilemma and the problematic situation of George W. Bush's [unprovoked] invasion of Iraq. He conceded that it is too early to judge the Iraq War and we must wait a couple of years to determine whether Bush's invasion of Iraq was good or bad. This point of view reduces to the old idea that "the end justifies the means," which is the touchstone of Bush's plot towards Iraq's oil and other objectives. While Maravot News could not locate a link to the MacKenzie report, a cbs5.com report, "Dalai Lama spreads message of nonviolence at Stanford visit," carries the conversation from the Dalai Lama:

``History shows the second World War protected the Western World protected democracy,'' he said, speaking sometimes in English and other times through his longtime principal translator, Geshe Thupten Jinpa. ``The Iraq war it's too early to say, right or wrong.''

However, the Dalai Lama cautioned, war and violence generally leads to more war and more violence, more hatred and more resentment. He pointed to the situation of Tibetan people, who he said should not react violently to oppression by the Chinese government, but should instead gather support from the Chinese people for their liberation.

``We must live with nonviolent principles, so that later we can live happily'' in the same society, he said.
That the Dalai Lama expressed a point of view in agreement justifying Bush's Iraq War is a puzzle that Buddhists will probably debate for eons to come and no doubt toss out the regrets earlier expressed at Kalinga. (For those who are not history buffs, In the 3rd century BC [268 BC], Ashoka the great Mauryan ruler of the same dynasty, sent a powerful army to annex Kalinga into his empire. The battle of Kalinga was fierce and bloody. It led to much destruction and carnage. Kalinga was subdued by Ashoka at Dhaulagiri near Bhubaneshwar, but so was his heart, because after seeing the aftermath of the war, he felt great remorse. Seeing the ephemeral nature of everything earthly and the uselessness of running after it, he converted to Buddhism and spent the rest of his life spreading the light of Buddhist teachings far and wide.) [See>>indyahills.com ; for those interested in the evolution of Buddhist thought, The Tapestry of One, may be helpful. In that document the concepts, "the end justifies the means" and "it's everyman for himself" may be explored in more detail, particularly as they relate to the teachings of Christ and any divine mission in Iraq.]

Mel Copeland
---
11.04.05 Thousands protest against Bush at Summit in Argentina

MAR DEL PLATA, Argentina, November 4 – Thousands of protesters turned up to demonstrate today against President Bush, who is attending a gathering of Western Hemisphere leaders in this resort today. The president arrived here on Thursday night after one of the worst weeks of his presidency, only to be greeted by strong anti-American sentiment and taunts from Venezuela's populist president, Hugo Chávez.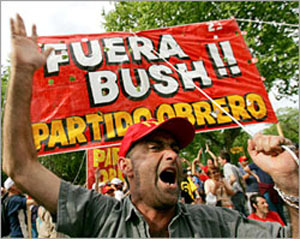 Protesters against Bush at Mar Del Plata; image from several internet sources, including aljazeera.net.
Mr. Chávez, who has repeatedly accused the Bush administration of trying to assassinate him and invade his oil-producing country, is using the international summit meeting here to protest the administration's free trade message and to attempt a showdown with Mr. Bush, the man the Venezuelan government calls "Mr. Danger." [More>>
nytimes.com
; See also
buenosairesherald.com
, "Strikes and go-slows greet Bush."]
---
11.04.05 Ishihara says US can't win war with China, calls US forces incompetent

WASHINGTON, November 4 – Tokyo Governor Shintaro Ishihara used a speech in the US capital Thursday to convey his views on China, arguing that economic containment is the best strategy because the United States would "certainly" lose a war with China, which he said would not hesitate to sacrifice its people on a massive scale when fighting against an enemy... The governor, an outspoken politician known for his nationalistic views, also said U.S. ground forces, with the exception of the Marines, are "extremely incompetent."

"Therefore, we need to consider other means to counter China," he said. "The step we should be taking against China, I believe, is economic containment." [Full story>>japantoday.com]
---
11.04.05 Suburbs burn in worst night of Paris riots

November 4 – The poor suburbs of Paris were set ablaze in the worst of eight consecutive nights of rioting, with 500 cars torched and a gym and primary school razed. Police today reported that the wave of unrest has now spread to at least 20 provincial towns. An army of 1,300 police reinforcements moved into the streets of the impoverished north-east of Paris last night, to enforce a belated pledge by Dominique de Villepin, the Prime Minister, to stop the rioting that has engulfed the largely Muslim ghettos.

Despite hopes that Eid-ul-Fitr, the festivities ending the fasting month of Ramadan, would calm the unrest, police reports suggest an escalation in the violence. At least 80 arrests were made. According to one report, a disabled woman was doused in petrol and set on fire when she was unable to escape a bus under attack in the northern suburb of Sevran. [More>>timesonline.co.uk]
---
11.04.05 update, 11.03.05 Riots in Parisian suburbs take dangerous new turn
AULNAY-SOUS-BOIS, France (AP) November 4 – France¹s prime minister has vowed to restore order to the Parisian suburbs as police deployed for a feared eighth night of clashes after violence took a dangerous new turn, with rioters shooting at police and firefighters, and attacking trains and symbols of the French state. Facing mounting pressure and criticism, Prime Minister Dominique de Villepin told parliament Thursday that restoring order was his "absolute priority."

The unrest cast a cloud over the end of Ramadan, the Muslim holy month. In Clichy-sous-Bois, where the violence first erupted, men filled the Bilal mosque for night prayer, but streets were subdued and shops shut early.

"Look around you. How do you think we can celebrate?" said Abdallah Hammo as he closed the teahouse where he works.

From an outburst of anger over the accidental deaths of two teenagers, the rioting has grown into a broader challenge against the French state and its forces of order. The violence has laid bare discontent simmering in suburbs where African and Muslim immigrants and their French-born children are trapped by poverty, unemployment, racial discrimination, crime and poor education and housing. France¹s Muslim population, at an estimated 5 million, is Western Europe¹s largest. But rather than being embraced as full and equal citizens, immigrants and their French-born children often complain of police harassment and of being refused jobs and opportunities. [More>>khaleejtimes.com; See also article November 4, liberation.fr., "Les élus sonnent l'alarme face a la violence."]
---
11.04.05 Musharraf criticizes West for quake aid shortfall

MUZAFFARABAD, Pakistan (AFP) November 4 – Pakistani President Pervez Musharraf on Friday accused the West of double standards for failing to meet the country¹s quake aid needs, adding that he would delay buying US fighter jets to focus on relief efforts. Musharraf, who met quake survivors in stricken Kashmir during the Muslim holiday of Eid Al Fitr, said the world had given less money than it had after the Indian Ocean tsunami and Hurricane Katrina in the United States because there were no Westerners involved.

...The quake on October 8 killed more than 73,000 people, while the December 2004 tsunami killed at least 215,000 but aid officials say the challenge in Pakistan is worse because most victims are in remote mountain areas. The United Nations says the South Asian quake left around three million people homeless and one million short of food, with only weeks left to help them before the winter blocks off isolated mountain villages. Musharraf told reporters in Muzaffarabad that Pakistan would postpone its long-awaited plans to buy around 25 F-16 jets from Washington, each of which cost around 25 million dollars. [Full story>>khaleejtimes.com]
---
11.04.05 Israeli troops beat Al Jazeera cameraman: TV official

DOHA (AFP) November 4 – Al Jazeera satellite news channel said one of its cameramen was beaten and arrested by Israeli troops while filming a protest on Friday against the separation barrier being built by Israel in the West Bank. "Nabil Al Mazzawi was filming one of the Israeli soldiers who was beating activists during a protest," the Doha-based channel¹s editor-in-chief Ahmad Sheikh told AFP.

"Then, another soldier came on and beat Nabil Al Mazzawi who was later detained. He is from our office in Ramallah and our crew in the West Bank is engaged in contacts to try to free him," he said. The incident took place in the village of Beilin, near the town of Ramallah, at a weekly protest against Israel¹s controversial separation barrier. [More>>khaleejtimes.com; See also haaretzdaily.com]

Editorial note: For a background on the barrier, click on the image and map of the separation barrier in our sidebar. The barrier was contrived with the intention of stopping Palestinian suicide bombers, but – like the Berlin Wall – has taken on sinister characteristics from the point of view of the Palestinians separated from their lands. While the Berlin Wall no longer exists, a similar wall exists dividing the island and capital city of Cyprus, Nicosia. The wall in Cyprus divides the Greek and Turkish territories. People who live on either side of the walls tend to have relatives on the "other side" and many complained in 1985, when I was there, that they couldn't visit their family graves "on the other side." This issue involving Cyprus is a bone of contention with regard to the admission of Turkey into the EU. The fence / wall between Mexico and the US is a similar type of wall that separates families and prevents the movement of people.
Mel Copeland
---
11.04.05 Six Iraqi policemen killed
November 4 – Fighters firing mortars and guns have attacked a checkpoint in northern Iraq, killing six policemen and wounding 10, an official says. The Friday attack on an Iraqi police checkpoint occurred in Buhriz, a town 55km (35 miles) north of Baghdad. The fighters first fired mortar rounds and then arrived at the scene in eight cars to open gunfire on the policemen, a police officer said, speaking on condition of anonymity out of concern for his safety. The violence came as Shias began the three-day religious holiday of Eid al-Fitr which ends a month of fasting during the Islamic holy month of Ramadan. Most of Iraq's Sunni Arabs began to celebrate the Eid holiday on Thursday – based on their different interpretation of the lunar calendar. [More>>aljazeera.net]
---
11.04.05 Egyptian blogger arrested

CAIRO (AP) November 4 – Egyptian police have detained a blogger for his anti-Islamic and anti-government writings and confiscated his books and copies of his articles, his family and other bloggers said Thursday. Abdolkarim Nabil Seliman, a 21-year-old law student at Al-Azhar University, was arrested on Oct. 26. His whereabouts are not known.

"A group of seven police officers knocked at the door at 3 a.m. and asked about Abdolkarim,'' his mother, who identified herself as Yousseria, told The Associated Press by telephone from Alexandria. She said the police searched the house, confiscated Seliman books and copies of his articles, which he posts to his blog.

...Seliman was detained three days after posting an article to his blog commenting on the violent riots that erupted when thousands of security forces clashed with streams of angry Muslim worshippers in front of a Coptic Christian church over a play put on by Christians deemed offensive to Islam. The play had gone unnoticed when it was first performed at St. George's two years ago. Though it has not been performed recently, it caught Muslims' attention when, according to security officials, Islamic extremists may have been distributing DVDs.

Titled "The Naked Truth of Islam as I saw it in Mouharm Bay,'' Seliman said of the riots: "Muslims revealed their true ugly face, and appeared to all the world that they are at full of brutality, barbarism and inhumanity.''

In addition to his anti-Islamic writings, Seliman posted several articles blatantly attacking Egypt's President Hosni Mubarak regime and describing it as a "symbol of dictatorship.'' It is the first security crackdown on an Egyptian blogger, a growing community that has flourished in Egypt over the last couple of years. [Full story>>thestar.com.my]
---
11.04.05 update, 11.03.05 New bird flu outbreak confirmed in Liaoning, China
November 4 – China reported its fourth bird flu outbreak in three weeks Thursday, saying the virus killed nearly 9,000 chickens in a northeastern village, prompting authorities to cull 369,900 poultry. The outbreak occurred October 26 in Jiangtai village in the town of Badaohao, in Heishan county of Liaoning province in northeast China, the Agriculture Ministry said in a report posted on its website on Thursday.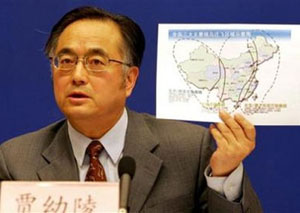 China's chief veterinary officer with the Ministry of Agriculture, Jia Youling, displays Friday October 28 a map showing migration routes for wild birds that have been found to carry bird flu. [AP] More>>
chinadaily.com.cn
]
The report came despite Chinese government efforts to tighten controls on the country's vast poultry flocks and vaccinate millions of birds. Authorities also found 20 dead magpies and other wild birds, said the report by the ministry's Veterinary Bureau. [More>>
chinadaily.com.cn
via jang.com.pk; See also
jang.com.pk story, "4,000 birds dead in new avian flu outbreak in Vietnam."
; See also update 11.04.05,
aljazeera.net, " New bird flu outbreaks in Asia"
]
---
11.03.05 United protest groups against Bush administration continue across country
WASHINGTON, November 3 – Demonstrations against the Iraq War continue across the country, following Cindy Sheehan's placement of Camp Casey outside the President's ranch in Texas in August 2005 (See Maravot News08.13.05, "Anti-Iraq War protest at Bush ranch in Texas."). Following disruptive marches across the US November 2, protesters plan a Stand-Down at recruiting stations on November 18, 2005. The principal groups sponsoring the event include Code Pink Women for Peace, National Campaign for Nonviolent Resistance, Progressive Democrats of America and Iraq Pledge of Resistance; however, the protests have ramified, with new groups appearing each day. Conspiracy issues involving the Bush administration continue to add fuel to the protests. That many people – Christians and non-Christians – are questioning the Bush administration's lies associated with the Iraq War goes to the heart of both secular and nonsecular values. The philosopher and statesman Cicero over 2,000 years ago set a guideline for all democracies: "Leaders have an obligation to tell the people what they have a right to know." The failure to do so can set the demise of a republic, as was the case during Cicero's time, when Julius Caesar put an end to the Roman Republic and established himself as dictator of Rome and its empire. While wars continue, we all know that there are international standards and covenants that provide for reconciliation of international differences without bloodshed. And of course the protesters remind us all that Christ was a Peacemaker and never condoned lying. Whether Bush agrees with Cicero or not George W. Bush always stands accused by a foundation of the Protestant faith – espoused by Bush et al. – that rests on this, expressed by the Apostle Paul:

2Cor. 6:14 ...For what do righteousness and wickedness have in common? Or what fellowship can light have with darkness?

2Cor. 6:15 What harmony is there between Christ and Belial ?
Belial (meaning lawlessness) is a vile, worthless person, reckless of God and man, first described in Deut. XIII.13 , Judges xix.22, 1 Samuel ii.12. Paul used the term in place of Satan. Many in this country and around the world are viewing George W. Bush as the American Belial.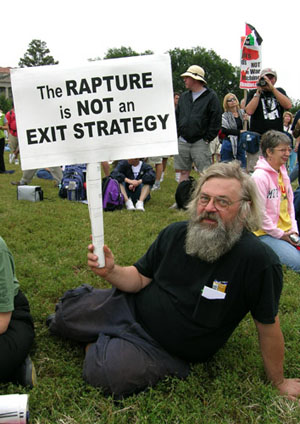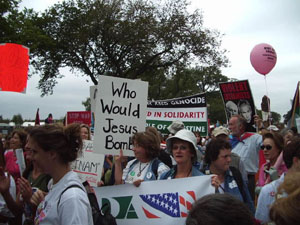 Photos showing the complexity of the issues against the Iraq War. Above photo, protest September 15, 2005 rally against the Iraq War at the White House (from benslade.com). Bottom photo from September 24, 2005 rally in Washington D.C. Photos
afterdowningstreet.org
.
Allied with anti-Iraq War protests is another recurring event , global Minute for Peace day, to be held December 22, 2005. Writes John McConnell, Founder of Earth Day:

The first observance of a global Minute for Peace was at the time of President John F. Kennedy's death. His efforts to see peace realized through the United Nations were ended in Dallas at 19:00 GMT, the very moment on the global clock when the United Nations Charter was signed eighteen years earlier. In the Minute for Peace broadcast given at the end of the mourning period (December 22, 1963), a recording of President Kennedy was broadcast globally -- proceeded by Front Page announcements in many newspapers telling when this would occur.

The recording was from Kennedy's speech at the United Nations, September 25, 1961:

"Never have the nations of the world had so much to lose or so much to gain. Together we shall save our planet, or together we shall perish in its flames. Save it we can--and save it we must – and then shall we earn the eternal thanks of mankind and, as peacemakers, the eternal blessing of God."

Click on the globe in the sidebar to read more about the upcoming global Minute for Peace day.

Mel Copeland

David Swanson of afterdowningstreet.org gives us a heads up on another protest for November 18 : "...The President and Congress have breached a sacred trust with our soldiers and abused their oath to defend the Constitution by leading young Americans to kill and die in a war based on lies.
As the Bush Administration refuses to make plans to bring our troops home, join us for ³National Stand Down Day² November 18, as we halt the machinery that takes young Americans off to this illegal and endless war in Iraq.
We welcome, and will provide coordination and support as possible, for all manner of protests and demonstrations at recruiting centers. We want to especially encourage and assist nonviolent resistance actions, such as civil resistance or civil disobedience. As we recognize and support soldiers who take great risks to refuse fighting in this unjust war, so it is our moral responsibility to share that risk to the extent that we can, by preventing even more young Americans from being placed in such jeopardy – particularly in light of the lies and abusive practices being used in the recruiting process.
Our violation of these unjust practices is undertaken in a spirit of nonviolence and love, with compassion and respect for all we encounter. But our nonviolence will not be mistaken for lack of resolve: we cannot stand by while our schools and communities are militarized by the "No Child Left Behind Act," or as potential recruits are deceived by clauses that allow the armed forces to disregard the terms of their contract..."
---
11.03.05 Bush 'operating secret gulag in eastern Europe'
WASHINGTON, November 3 – The Bush administration has been accused of operating secret detention facilities beyond the reach of the law and outside official oversight at bases in two eastern European countries. The facilities – said to be located in Poland and Romania – are part of a larger "gulag" used by the US to hold prisoners seized in the so-called war on terror. Using the flight logs of a plane used by the CIA for transporting prisoners and other unspecified information, a leading human rights group said it believed the facilities were located in the two former Soviet bloc countries and first used in 2003.

Tom Malinowski of Human Rights Watch told The Independent: "These are the areas we are highly confident about, based on the flights logs and other information we have."

The investigation by the New York-based group has focused on the logs of a Boeing 757 jet with the tailgate marker N313P. This plane has been widely identified as being used by the CIA for the transportation and "renditioning" of terror suspects outside the US. Until recently, it was registered to a Massachusetts-based company believed to be a front for the CIA. Using this data Human Rights Watch discovered that, in September 2003, it flew directly from Kabul to Szymany airport, near the remote Polish town of Szczytno, north of Warsaw, home to a training facility for the Polish intelligence service.

From there, the plane flew directly to Mihail Kogalniceanu air base, close to the Romanian city of Constanta on the Black Sea coast. The Pentagon is involved in negotiations to take over the airbase's operation. Throughout 2004, the plane made a number of other visits to Kogalniceanu, on which the US has spent at least $3 million upgrading facilities in preparation for taking it over. [More>>independent.co.uk]
---
11.03.05 Iraqi Shia cleric slams al-Qaida
November 3 – A cleric close to Shia leader Muqtada al-Sadr has called on Iraqis to unite and fight Al-Qaida during prayers being held to mark the Muslim festival of Eid al-Fitr. Iraqis must "unite to fight terrorism and to get rid of people like Al-Qaida," said the cleric Hazem al-Araji. These groups "sometimes act in the name of Ansar as-Sunna (partisans of the Sunnis), but they are enemies of the Sunnis,² he said on Thursday.

"You who call yourselves Qatda al-Jihad (base of the holy war), you are the base of apostasy," he said, referring to Abu Musab al-Zarqawi's group. [More>>aljazeera.net]
---
11.03.05 Pirates use 'flag-hopping' to plunder world's fish stocks
SYDNEY, November 3 – The world's fish stocks are being plundered by pirates using "flags of convenience" to mask their illicit activities, according to a report. Fishing vessels using those flags - which are often purchased online for a few hundred pounds - are responsible for illegal fishing worth £700m a year, the report released yesterday concludes. They are also accused of endangering the marine environment and abusing their crews.

The report – commissioned by the conservation charity WWF, the Australian government and the International Transport Workers Federation (ITF) – found that 15 per cent of the world's large-scale fishing fleet, or a total of 2,800 vessels, flew a flag of convenience or of unknown origin.

The European Union and Taiwan have the largest number of companies operating such vessels, with Spain said to be one of the worst offenders. Forty-six of the boats that fish illegally or unofficially are based in Spain, with 18 in Cyprus and eight in Britain. [More>>independent.co.uk]
---
11.03.05 Qaeda says Morocco hostages to be killed, warns envoys
DUBAI, November 3 – Supporters of Al-Qaeda's front man in Iraq Abu Musab al-Zarqawi said they have decided to kill two Moroccan embassy staff they are holding hostage, in an Internet statement posted Thursday. They warned diplomats in Baghdad of a similar fate. "After examining the cases of the detainees, the court decided that they were without doubt loyalists of the oppressors and elements of the apostate regime in Morocco," said the statement whose authenticity could not be independently verified.

"Based on that, the sharia court of the Al-Qaeda Organization in the Land of Two Rivers has decided to apply God's judgement on apostates and ruled that they be executed."

The group had previously posted a statement on Tuesday that it had completed an investigation of the hostages and referred the pair to trial by its Islamic tribunal. Embassy driver Abdelrahim Boualam and agent Abdelkrim El Mouhafidi went missing on October 20 while travelling on the treacherous highway between Amman and the Iraqi capital.

.. It repeated previous warnings to all countries with a diplomatic presence in Iraq and said the execution of the Moroccans should serve as another example to these missions "not to set foot in the glorious land of the two rivers in defiance of the holy fighters."

"They should keep the 'diplomatic immunity' that they argue about to themselves," said the statement. "There is no immunity in the land of Islam except the one granted by Islam itself." [Full story>>jang.com.pk; See also aljazeera.net story, "Death threat to Moroccan hostages."]
---
11.03.05 Italian FM says won't attend pro-Israel protest outside Iranian embassy in Rome
November 3 – Italy's foreign minister said he will not participate in a pro-Israel rally in Rome on Thursday evening to avoid damaging Italian national interests. Foreign Minister Gianfranco Fini issued a statement a few hours before the torch-lit demonstration outside the Iranian embassy to protest remarks by the Iranian President Mahmoud Ahmadinejad that Israel should be "wiped off the map."

"My physical presence, as foreign minister, at this evening's rally could cause harmful consequences to our national interests and to the security of our fellow citizens from the Iranian side," Fini said. [More>>haaretzdaily.com]
---
11.03.05 Libby pleads not guilty in CIA leak case
WASHINGTON (AP) November 3 – Vice President Dick Cheney's former chief of staff pleaded not guilty Thursday in the CIA leak scandal, marking the start of what could be a long road to a trial in which Cheney and other top Bush administration officials could be summoned to testify.

I. Lewis Libby entered the plea in front of U.S. District Judge Reggie Walton, a former prosecutor who has spent two decades as a judge in the nation's capital. Once the charges were read and the judge asked for his response, Libby said: "With respect, your honor, I plead not guilty." [More>>abcnews.go.com]
---
11.03.05 US forces capture leader of an insurgent group in Iraq
WASHINGTON, November 3 – US forces have captured the leader of an insurgent network responsible for kidnappings and bombings in the restive Iraqi city of Ramadi, the US military said Thursday. Issa Daham Abed Al-Julibawi was taken into custody on Tuesday for illegal weapons possession and identified by another detainee, the US Marines said in a statement.

"Daham was the head of an insurgent network in Ramadi that involved kidnapping, extortion and counterfeiting passports," the statement said. "He was also responsible for emplacing improvised explosive devices (IED's) in and around the city."

The statement said he replaced his brother as the leader of the insurgent group earlier this year after his brother's capture. [jang.com.pk; See separate reports, khaleejtimes.com, "Pakistan kills Al Qaeda suspect, captures another." : ISLAMABAD – Pakistani forces killed an Al Qaeda suspect and seized another in a shootout, ministers said on Thursday, but intelligence officials played down reports that one was a wanted Syrian militant. Agents got into a gunbattle with the foreign suspects when they raided a house on Tuesday in the restive southwestern city of Quetta near the Afghan border, Information Minister Sheikh Rashid told AFP...; and aljazeera.net, Pakistan kills suspected al-Qaida man." : A suspected Al-Qaeda member has been killed and another captured during a shoot-out with Pakistani security men in the south western city of Quetta, a government minister has said. Information Minister Sheikh Rashid Ahmed said on Thursday that the incident took place on Tuesday. "They are Arabs but their nationality is not yet known," he said.

Also on Thursday, Aljazeera television said two suspected Al-Qaeda members had been arrested in Quetta on Monday. The television station said it had also received a statement that identified one of the two as Mustafa al-Sit Mariam Nasar, a Syrian wanted for questioning in connection with the Madrid bombings in March 2004...]
---
11.03.05 ADB sees heavy economic toll if bird flu spreads
MANILA (Reuters) November 4 – The Asian Development Bank (ADB) estimates a year of shock to demand from an outbreak of bird flu in humans would cause up to $283 billion in damage to Asia's economies and could push the world into recession. In a report released on Thursday, the Manila-based bank said even a mild pandemic would hurt consumption, investment and trade in the region, with Hong Kong and Singapore likely to be worst hit because of their export-driven economies. [More>>thejakartapost.com]
---
11.03.05 CSIS: terror cell busted
TORONTO, November 3 – Canadian counter- terrorism investigators have dismantled a suspected terrorist cell in Toronto whose members included an al-Qaeda-trained explosives expert, the National Post has learned. The cell consisted of four Algerian refugee claimants who had lived in Canada for as long as six years and were alleged members of a radical Islamic terror faction called the Salafist Group for Call and Combat. The central figure of the Toronto-area cell was a former al-Qaeda training camp instructor who studied bomb-making at Osama bin Laden's Al Farooq and Khaldun training camps in eastern Afghanistan.

The group was watched by intelligence officers before being broken apart in an inter-agency operation involving the Canadian Security Intelligence Service, Canada Border Services Agency and police.

A senior CSIS counterterrorism official, Larry Brooks, announced the dismantling of the cell at a closed-door national security workshop held this week at a hotel north of Toronto. Mr. Brooks told workshop delegates that three members of the group were deported this summer and the key figure left Canada voluntarily in March, 2004, after he was confronted by investigators. The investigation was described as ongoing. [More>>canada.com/nationalpost via theaustralian.news.com.au]
---
11.03.05, Seventh night of violence hits Paris suburbs
PARIS (AFP) November 3 – Violence broke out in impoverished Paris suburbs for the seventh straight night, with rioters clashing with police and leaving a trail of torched cars and vandalized premises. In Aulnay-sous-Bois in the worst-affected area of Seine-Saint-Denis, a police station was briefly besieged by gangs of youths while a gymnasium and a garage were set ablaze and a commercial centre vandalized, a fire service spokesman said.

A total of 40 vehicles, including two buses, were torched before midnight in nine towns in the Seine-Saint-Denis department, a high-unemployment largely-immigrant department, according to local police who made 15 arrests. Two primary schools were also damaged in the area northeast of the French capital. Elsewhere a France 2 TV crew were forced by hooded youths to abandon their car, which was then set ablaze by 40 rioters. [More>>turkishpress.com]
---
11.02.05 Paris rioting spreads
November 3 – The French Government was reeling overnight after nearly a week of suburban rioting outside Paris spread to other areas around the capital, laying bare what observers said was the country's failure to address deep problems of poverty and immigration. Gangs of stone-throwing youths torched cars and clashed with police overnight in several towns north and west of Paris in an escalation of dusk-to-dawn violence that erupted following the death of two teenagers in the northeastern suburb of Clichy-sous-Bois. More than 34 people were arrested and 60 vehicles torched in the rampages, prompting President Jacques Chirac to call for calm and vow to investigate the teens' deaths.

Prime Minister Dominique de Villepin delayed a trip to Canada to attend a parliamentary session in which he called the violence "extremely serious."

In all, more than 80 people have been arrested and two dozen police hurt since the start of the riots last week. They were triggered by the accidental electrocution of two youths, aged 15 and 17, who had scaled an electrical relay station's walls to escape a police identity check in the street. [theaustralian.news.com.au; See also timesonline.co.uk, "Chirac begs for calm as Paris riots continue."]
---
11.02.05 Thousands rally across US against Bush policies
NEW YORK (Reuters) November 3 – Thousands of protesters staged rallies on Wednesday across the United States against the policies of President George W. Bush, including the war in Iraq and response to Hurricane Katrina.

The World Can't Wait organization, a coalition of groups formed recently to stage the rallies, used the anniversary of Bush's re-election to call for his resignation in protests that took place in cities including New York, Los Angeles, Seattle, San Francisco and Chicago. In New York, students walked out of schools and colleges and joined other supporters as thousands rallied in Union Square before marching nearly 2 miles (3.2 km) to Times Square along avenues lined with police on motorbikes.

"The Bush regime is out to remake the world with its policies," said organizer Sunsara Taylor. "From the war in Iraq to environmental policies to the remaking of the Supreme Court ... we are staring down the barrel of fascism in this country." Demonstrators chanted and carried banners in a mainly peaceful protest. Police said three people were arrested. [More>>thestar.com.my; See also cbs5.com, "War protesters swarm San Francisco streets."]
---
11.02.05 Al Qaeda chief escapes US base
KABUL, Afghanistan (AP) November 2 – Security has been tightened at the US military prison in Afghanistan following the escape of a suspected al-Qaeda leader, a U.S. official said Wednesday, as Indonesian terror officials accused Washington of failing to inform them of the breakout. Omar al-Farouq, born in Kuwait to Iraqi parents, was considered one of Osama bin Laden's top lieutenants in Southeast Asia until Indonesian authorities captured him in 2002 and turned him over to the United States. He was one of four suspected Arab terrorists to escape in July from the detention facility at Bagram, the main U.S. base in Afghanistan. It was not clear how long he had been held in Afghanistan. [More>>abcnews.go.com]
---
11.02.05 Defiant Iran steps up nuclear programme
November 2 – Iran today set itself on a collision course with the West by announcing that it was escalating its contentious nuclear programme. Mahmoud Ahmadinejad, the republic's new hardline President, has reportedly given orders for a fresh batch of uranium to be brought to the plant in Isfahan for processing from next week. Reports suggest that Iran has produced 6.8 tonnes of enriched uranium – theoretically enough for a single bomb – since resuming activity at the plant in August, in defiance of an agreement with Europe.

The latest move to heighten tensions with the West comes hours after The Times revealed that the President had ordered a purge of senior ambassadors. The envoys, who were appointed by Mr Ahmadinjed's two most recent - and more moderate - predecessors, are considered too liberal by the new administration.

At first it appeared that about 20 had been recalled to Tehran. It emerged today that as many as 40 heads of mission and other top diplomats have been sacked or reassigned, in the biggest shake-up since the Iranian Revolution of 1979. The majority were appointed during the decade of rapprochement that Mr Ahmadinejad has abruptly reversed. [More>>timesonline.co.uk; See also independent.co.uk, "Explosion near BA offices in Tehran."]
---
11.02.05 Car bomb kills at least 20 Iraqis as violence continues
BAGHDAD (AP) November 2 – A suicide car bomb killed about 20 Iraqis and wounded 61 in a town south of Baghdad on Wednesday, and four US service members died in the western city of Ramadi in a car bomb attack and the crash of a military helicopter, officials said. The suicide attack by Sunni-led insurgents occurred at 4:55 p.m., heavily damaging an area with an outdoor market, a restaurant, a mosque and a bus stations in Musayyib, a mostly Shiite town about 60 kilometers (40 miles) south of Baghdad, said police Capt. Muthana Khalid. [More>>khaleejtimes.com]
---
11.02.05 Afghan ambush kills five policemen
November 2 – Five Afghan policemen have been killed in a battle near Afghanistan's southern border with Pakistan, the latest in a spate of attacks on the fledgling security force, an official said. The police were ambushed late on Tuesday as they were driving in the mountains of Helmand province's Dishu district, said Ghulam Muhiddin, the provincial administrator. A purported spokesman for the Taliban, Qari Mohammed Yousaf, said fighters beheaded the men after the battle, but this could not be confirmed. Yousaf spoke to The Associated Press by satellite telephone from an undisclosed location. His exact tie to the Taliban leadership is not clear. [More>>aljazeera.net]
---
11.02.05 Violence across Ethiopian capital
November 2 – At least 23 people have been shot dead in a second day of violence in Ethiopia's capital, Addis Ababa. Hundreds of heavily armed police and troops deployed across the city as the sounds of heavy machine guns and loud explosions reverberated. Doctors told reporters of more than 150 people coming to hospital wounded in clashes between stone-throwing opposition supporters and police. The opposition resumed protests this week over polls they say were rigged. They are the worst disturbances in Africa's second most populous country since protests ignited after the May elections when some 36 people died and hundreds were arrested. [More>>bbc.co.uk]
---
11.02.05 China bans poultry imports from 14 countries
BEIJING (AFP) November 2 – China has banned imports of poultry products from 14 countries including Thailand and Japan until further notice in a bid to protect itself from the bird flu threat, state media reported Wednesday. The import ban, announced by the ministries of commerce and agriculture and other agencies, took effect Tuesday and will stay in force until the government explicitly announces it has been lifted, the Beijing News said.

Exports hit by the ban are from the countries of Thailand, Vietnam, Indonesia, Cambodia, Japan, North Korea, Romania, Croatia, Kazakhstan, South Africa, Mongolia, Turkey, Russia and Sweden.

China reported three outbreaks of avian flu in birds last week, in the northern region of Inner Mongolia and in the provinces of Anhui and Hunan. [More>>thejakartapost.com; See also a related story, thejakartapost.com, "Malaysians ignore bird flu fears by smuggling pet birds, fighting cocks from Indonesia."]
---
11.02.05 Pakistan quake toll leaps to more than 73,000
ISLAMABAD (AFP) November 2 – Pakistan on Wednesday raised its death toll from last month¹s catastrophic earthquake to more than 73,000, making it one of the deadliest tremors in recent history. The new figure was a jump of more than 16,000 from the number given on Tuesday and the United Nations has warned it could rise still further unless the international community gives more cash to relief efforts.

³There are 73,276 dead and 69,260 injured² from the 7.6 magnitude quake that struck on October 8, disaster relief commissioner chief Major General Farooq Ahmad Khan told a news conference in Islamabad. Officials in Indian Kashmir say another 1,300 people died there. [More>>khaleejtimes.com]
---
11.02.05 Terrorist strikes near Mufti's house, 7 killed
SRINAGAR, November 2 – A suicide bomber blew his car at a checkpoint, killing seven including two policemen and four civilians, near the residence of outgoing Chief Minister Mufti Mohammad Sayeed. The attack came the same day when Ghulam Nabi Azad takes the oath as the new Chief Minister of Jammu and Kashmir. Pakistan based militant organisation Jaish-e-Mohammad has claimed responsibility for the attack. The militant detonated the bomb in his explosive laden Maruti car, when he was stopped at a checkpoint at Nowgam on the Srinagar-Jammu national highway at 11:20 am after the police received a tip-off about the attack. [More>>expressindia.com; See an update on the Delhi bombing story, expressindia.com, "Linkage to Delhi blasts traced to Muzaffarabad."]
---
11.02.05 China, Viet Nam to jointly explore oil, gas
HANOI, November 2 – Visiting President Hu Jintao yesterday became the first foreign leader to address Viet Nam's parliament, as he called for closer links between Beijing and Hanoi. Hu said the two neighbors are both at a "crucial stage" of reform and development, a stage that demands more co-operation and mutual trust...Hu said China-Viet Nam relations have entered a new era of "all-round friendship and co-operation," and reiterated China's pursuit of peace, mutual benefit and dialogue over divergences in diplomacy with neighboring countries.

On China's domestic front, Hu told the 500 people present that the country had scored an average 9.4-per-cent gross domestic product (GDP) growth in the past 26 years, and the GDP is expected to quadruple to US$4 trillion by 2020...In a related development, China National Offshore Oil Corp. (CNOOC), the country's biggest offshore oil and gas producer, on Monday signed a framework agreement with a Vietnamese oil firm to jointly explore oil and gas in the Beibu Bay.

The agreement was one of more than 10 deals signed by the two countries in Hanoi on the sidelines of talks between the top leaders. [Full story>>chinadaily.com.cn]
---
11.01.05 GOP angered by closed Senate session
WASHINGTON, November 1 – The US Senate went into a rare closed session today after Democrats invoked a seldom used rule to back their demands for greater oversight by the Republican-controlled body, particularly on the Bush administration's use of intelligence in taking the country to war in Iraq.

The unexpected shutdown immediately provoked a furious reaction from Senate Republicans, who denounced it as a stunt and an affront. The closed session lasted a little more than two hours before Republicans mustered a vote to resume meeting in open session...The Senate's Democratic leader, Harry M. Reid of Nevada, initiated the closed session by invoking Rule 21, which was seconded by Sen. Richard J. Durbin (D-Ill.), the minority whip. In a floor speech, Reid declared that "a cloud hangs over this Republican-controlled Congress for its unwillingness to hold the administration accountable" on a variety of issues. He was particularly incensed about what he said was the refusal of the Senate Intelligence Committee under Sen. Pat Roberts (R-Kan.) to follow up on an investigation of the intelligence that led to the war in Iraq. A report was issued in July last year, but a "phase two" inquiry into how the Bush administration used that intelligence has not been held... [Full story>>washingtonpost.com]
---