---
11.24.05 update, 1.23.05
Fury over gagging threat 'to spare Bush's blushes'
November 24 – Rosemary Bennett, Deputy Political Editor, timesonline.co.uk, reports: ::nobreak::THE Attorney-General was accused last night of using the Official Secrets Act "big stick" to gag newspapers in an attempt to save President Bush from further embarrassment over Iraq. Lord Goldsmith threatened newspapers on Tuesday with prosecution under the Act if they published details from a record of a conversation between Mr. Bush and Tony Blair from April last year, when the President is alleged to have suggested bombing al-Jazeera, the Arabic television network.

A record of the conversation was leaked by a Cabinet Office official to the researcher of an MP, and details appeared in a newspaper this week. Both men have been charged under the Official Secrets Act and will appear in court next week.

Mr. Blairıs Government has never threatened newspapers with prosecution under the Act, lawyers say. This is despite numerous leaks of documents relating to the war in Iraq, including the Attorney-Generalıs own legal advice on the war. That led to accusations from MPs yesterday that the Act was being used to avoid further embarrassment to Mr. Bush over Iraq rather than to protect Britainıs security.

"In my view I can see no other explanation for this than an overwhelming desire to placate President Bush and prevent him being embarrassed," Peter Kilfoyle, the Labour MP for Liverpool Walton, said. He has tabled a motion calling on the Government to publish the record of the conversation. [More>>timesonline.co.uk; for background see article, "British government censors report on bombing Al-Jazeera." ; November 24 story, aljazeera.net, "US, UK asked to explain Jazeera memo."]
---
11.23.05 Chemical plant blast causes 'major pollution'
(AFP/Reuters/China Daily) November 24 – China confirmed Wednesday that an explosion at a petrochemical plant had caused "major pollution" of the Songhua River, from which Harbin, capital of northeastern Heilongjiang province, draws its drinking water.

The explosion at a PetroChina factory in the northeastern province of Jilin led to an outpouring of the carcinogen benzene and nitrobenzene into the 1,897-kilometer-long (1,176-mile) Songhua river, the Environmental Protection Administration (EPA) said Wednesday. "After the blast at the chemical plant the monitoring station in Jilin found that benzene went into the river and polluted the water," the EPA said in a statement on its website. "Benzene levels were 108 times above national safety levels."

In Harbin, about 380 kilometers downstream from the blast site, water supplies were cut off at midnight on Tuesday over the pollution fears, the local government said. The Songhua is the main source of drinking water for more than three million urban residents of Harbin, which has a total population of about nine million and is one of China's biggest cities. [More>>chinadaily.com.cn]

---
11.23.05 Protesters arrested near Bush's ranch
CRAWFORD, Texas (AP) November 23 – A dozen war protesters were arrested Wednesday for setting up camp near President Bush's ranch in defiance of new local bans on roadside camping and parking. About four hours after the group pitched six tents and huddled in sleeping bags and blankets, McLennan County sheriff's deputies arrested them for criminal trespassing. Another dozen or so demonstrators left the public right of way after deputies warned them they would be arrested. The protest was set to coincide with Bush's Thanksgiving ranch visit.

The arrests were made by more than two dozen deputies who calmly approached the demonstrators in their tents and asked if they wanted to walk out on their own or be carried. Two chose to be carried. They were to be taken to jail for booking.

Anti-war activist Cindy Sheehan wasn't among the protesters Wednesday because of a family emergency in California, but she planned to be at the camp later in the week. [More>>abcnews.go.com]
---
11.23.05 Iraqi 'soldiers' kill Sunni chief
BAGHDAD (CBS/AP) November 23 – Gunmen wearing Iraqi army uniforms broke into the home of a senior Sunni leader on Wednesday and killed him, his three sons and his son-in-law on the outskirts of Baghdad, his brother and an interior ministry official said. Khadim Sarhid al-Hemaiyem was the leader of the Sunni Batta tribe and the brother of a parliamentary candidate in the Dec. 15 election, the official, Maj. Falah al-Mohammedawi said. Another of the slain man's brothers said the family has been attacked before. [More>>cbsnews.com]
---
11.23.05 British government censors report on bombing Al-Jazeera
November 23 – This is a story Maravot News saw in aljazeera.net when the story first broke. Tuesday evening American TV carried the story which today is appearing in several newspapers around the world. As a side note, Al-Jazeera has curiously been the outlet for bin Laden's propaganda. This is an issue that deserves UN attention, perhaps best related to the trial and condemnation of another news publisher, Julius Streicher, under the Nazis. This report, carried in the khaleejtimes.com, adds a new twist to the issue of Bush and Blair's alleged discussion of bombing Al-Jazeera.
Mel Copeland

LONDON (AFP) November 3 – The British government has threatened to prosecute newspapers if they reveal further details of a leaked document alleging US President George W. Bush suggested bombing Al Jazeera television. Three newspapers—the Daily Mirror, The Times and The Guardian—said on Wednesday the governmentıs most senior legal adviser had warned them they could face High Court action under the Official Secrets Act if more details appeared.

The Daily Mirror published a front-page story on Tuesday headlined "Bush plot to bomb his Arab ally," based on details of an alleged conversation in which British Prime Minister Tony Blair is said to have talked Bush out of attacking the Qatar-based TV station.

Washington has accused Al Jazeera of being a mouthpiece of anti-US sentiments by airing statements from Al Qaeda leaders. The White House dismissed the report as "outlandish."

Former British defence minister Peter Kilfoyle, who was opposed to the war in Iraq, also called for Blair to explain the situation to lawmakers, if records of the conversation existed. "There was an attack on the hotel in Baghdad used by Al Jazeera journalists, which caused great controversy. The US also attacked a Serbian TV station (during the Kosovo war)," he told The Times. "It is easy to dismiss this as a glib comment but I donıt find it very funny at all."

The Daily Mirror said on Wednesday that despite Downing Street doing nothing to prevent Tuesdayıs article being published, Attorney General Peter Goldsmithıs warning had effectively "gagged" them. "We have essentially agreed to comply," the newspaper said.

The Guardian used similar language, describing the spectre of prosecution under section five of the act as a "legal gag" ; the Times also spoke of "being threatened." [khaleejtimes.com]
---
11.23.05 Archeologists surprised to discover ancient horse skeletons in Jaffa dig
November 23 – Israel Antiquities Authority archaeologists conducting a salvage dig in the Armenian monastery in Jaffa expected to find artifacts connected to the ancient fortifications of the city. However, a few days ago they were surprised to discover, some 60 centimeters below the monastery floor, no fewer than 10 horse skeletons.

Excavation directors Amit Re'em and Martin Peilstoker said yesterday the horses may have died in battle, and if so, it occurred long before the 17th century, when the monastery was constructed. It was possible, the archaeologists said, that the horses were buried as early as the Hellenistic period, about 2,200 years ago, or in the Early Arab period, 1,500 years ago. The archaeologists assume the horses were buried outside the city wall because of the stench of them decaying. [More>>haaretz.com]
---
11.23.05 China confirmed three new bird flu outbreaks
November 23 – Ministry of Agriculture yesterday confirmed bird flu outbreaks in Northwest China's Xinjiang Uygur Autonomous Region, Northwest China's Ningxia Hui Autonomous Region, and Southwest China's Yunnan Province. It said in a statement that 38 fowls died last Wednesday in the Dabancheng District of Urumqi in Xinjiang. A State avian flu lab confirmed that they were highly pathogenic bird flu cases. [More>>chinadaily.com.cn ; See also khaleejtimes.com, " China announces new fatal human case of bird flu" : BEIJING (AFP) November 23 – A woman farmer in east China has died from bird flu after contact with sick poultry, becoming the third confirmed human case in the country, state media reported on Wednesday. The 35-year-old woman surnamed Xu from Xiuning county in Anhui province developed fever and pneumonia-like symptoms on November 11 after contact with sick and dead poultry, it said, adding that the ministry of health had confirmed the case. She died on Tuesday, becoming the countryıs third confirmed case of bird flu and second confirmed fatality...]
---
11.22.05 Car bomber kills 18 in north Iraq city of Kirkuk
BAGHDAD (Reuters) November 23 – A suicide car bomb blast killed 18 people, including 10 police, in the northern city of Kirkuk on Tuesday, and mortars landed near the U.S. ambassador to Iraq during a ceremony in Saddam Hussein's hometown of Tikrit. The bomber detonated his explosives-laden car next to a group of police vehicles on the main road leading south from Kirkuk to Baghdad shortly after sunset. Police Colonel Borhan Tayyib Taha said 28 people were wounded in the blast. Ambulances ferried the worst cases to hospitals in Kirkuk, where distraught relatives gathered to search for loved ones.

Police said they expected the toll to rise as many of those injured were badly wounded. Kirkuk is a mixed Arab, Kurdish and Turkmen city that has seen frequent episodes of violence, some the result of tensions between the separate communities, all of whom claim ownership of the city, which lies close to vast oil reserves. [More>>thestar.com.my]
---
11.22.05 Suspect in assassination plot convicted
ALEXANDRIA, Virginia (AP) November 22 – An American Muslim student was convicted Tuesday of joining al-Qaida and plotting to assassinate President Bush. The federal jury rejected Ahmed Omar Abu Ali's claim that Saudi authorities whipped and tortured him to extract a false confession. Abu Ali, a 24-year-old U.S. citizen born to a Jordanian father and raised in Falls Church, Va., could get life in prison on charges that included conspiracy to assassinate the president, conspiracy to hijack aircraft and providing support to al-Qaida. The jury deliberated for 2 1/2 days. Abu Ali swallowed hard before the verdict was read but otherwise showed little emotion. He did not testify at his trial.

"Obviously the jury has spoken, but the fight is not over," defense attorney Khurrum Wahid said. "We intend to use the justice system to prove our client's innocence."

Abu Ali told authoritiees shortly after his arrest at a Medina, Saudi Arabia, university in June 2003 that he joined al-Qaida and discussed various terrorist plots, including a plan to personally assassinate Bush and to establish himself as a leader of an al-Qaida cell in the United States. [More>>abcnews.go.com]
---
11.22.05 Second bird flu case in Canada
VANCOUVER, Canada, November 22 – The second case of bird flu in a week had been discovered in domestic poultry in Canada's western-most province, a federal official said overnight. Authorities suspect it was a low-pathogenic H5 strain that was common in North American wild fowl. The infected bird was found on one of 62 farms quarantined last Thursday after the first case was discovered in a domestic duck in the Fraser Valley, an agricultural area 100km east of the port city of Vancouver.

"All the testing has not been done yet," a spokesman with the Canadian Food Inspection Agency said. "There are no dead animals around, so it's not likely that it's the high pathogenic version." [More>>theaustralian.news.com.au]
---
11.22.05 Iraqi factions seek timetable for US pullout
CAIRO, November 21 – For the first time, Iraq's political factions on Monday collectively called for a timetable for withdrawal of foreign forces, in a moment of consensus that comes as the Bush administration battles pressure at home to commit itself to a pullout schedule. The announcement, made at the conclusion of a reconciliation conference here backed by the Arab League, was a public reaching out by Shiites, who now dominate Iraq's government, to Sunni Arabs on the eve of parliamentary elections that have been put on shaky ground by weeks of sectarian violence.

About 100 Sunni, Shiite and Kurdish leaders, many of whom will run in the election on Dec. 15, signed a closing memorandum on Monday that "demands a withdrawal of foreign troops on a specified timetable, dependent on an immediate national program for rebuilding the security forces," the statement said. [More>>nytimes.com; See related story, November 22, aljazeera.net, "Iran urges Iraq to set pullout timetable." : Iran's spiritual leader, Ayatollah Ali Khamenei, has called on visiting Iraqi President Jalal Talabani to press for a timetable for the withdrawal of foreign troops from Iraq. On Tuesday, Khamenei also argued it was the US that was to blame for the ongoing violence in Iraq, amid efforts by Talabani to win Iranian help in combatting the fighting ravaging his country.

"The Islamic Republic of Iran holds the American government responsible for the suffering of the Iraqi people and all the crimes and assassinations now being committed in Iraq," Khamenei was quoted as saying by official media. "The presence of foreign troops is damaging for the Iraqis, and the Iraqi government could ask for their departure by proposing a timetable," Khamenei said, adding: "The US and Britain will eventually have to leave Iraq with a bitter experience..."]
---
11.22.05 Iraq's oil: The spoils of war
November 22 – Iraqis face the dire prospect of losing up to $200bn (£116bn) of the wealth of their country if an American-inspired plan to hand over development of its oil reserves to US and British multinationals comes into force next year. A report produced by American and British pressure groups warns Iraq will be caught in an "old colonial trap" if it allows foreign companies to take a share of its vast energy reserves. The report is certain to reawaken fears that the real purpose of the 2003 war on Iraq was to ensure its oil came under Western control.

The Iraqi government has announced plans to seek foreign investment to exploit its oil reserves after the general election, which will be held next month. Iraq has 115 billion barrels of proved oil reserves, the third largest in the world.

According to the report, from groups including War on Want and the New Economics Foundation (NEF), the new Iraqi constitution opened the way for greater foreign investment. Negotiations with oil companies are already under way ahead of next month's election and before legislation is passed, it said.

The groups said they had amassed details of high-level pressure from the US and UK governments on Iraq to look to foreign companies to rebuild its oil industry. It said a Foreign Office code of practice issued in summer last year said at least $4bn would be needed to restore production to the levels before the 1990-91 Gulf War. "Given Iraq's needs it is not realistic to cut government spending in other areas and Iraq would need to engage with the international oil companies to provide appropriate levels of foreign direct investment to do this," it said.

Yesterday's report said the use of production sharing agreements (PSAs) was proposed by the US State Department before the invasion and adopted by the Coalition Provisional Authority. "The current government is fast-tracking the process. It is already negotiating contracts with oil companies in parallel with the constitutional process, elections and passage of a Petroleum Law," the report, Crude Designs, said. [More>>independent.co.uk]
---
11.22.05 We have killed Indian hostage: Taliban
KANDAHAR (Reuters) November 22 – Taliban have killed an Indian road engineer after his company failed to meet an ultimatum to cease operations in Afghanistan, a spokesman for the militants said on Tuesday. P.M. Kutty was shot dead on the orders of the Taliban's council at 6:00 pm, after a deadline passed for his company to pull out of Afghanistan, Qari Mohammad Yousuf said. [expressindia.com; See more details, khaleejtimes.com]
---
11.22.05 China tightens bird flu measures further
(AP / China Daily) November 22 – China ordered already strict anti-bird flu measures tightened on Monday following two new outbreaks in poultry, while Romania said it would destroy 2,000 farm birds after finding the virus in hens and North Korea tightened border controls. "There is a growing threat to human health," Yin Chengjie, a deputy Chinese agriculture minister, said at a news conference. Yin warned that the disease's virulence, or its ability to cause illness, appeared to be increasing. He pointed to rising numbers of cases in ducks and geese, while earlier outbreaks were limited to chickens.

"It shows the increasing virulence of avian influenza," he said. Yin and other officials announced new rules requiring local Chinese officials to set up disease-warning networks and to stockpile disinfectant and other emergency supplies. Officials who fail to pinpoint and report outbreaks quickly face firing or jail. [More>>chinadaily.com.cn]
---
11.22.05 Travelers from bird flu areas to be asked to disinfect shoes at airport
TOKYO, November 22 – Japan will request that travelers from bird flu-affected areas have their shoe soles disinfected upon arrival at four Japanese airports from Tuesday, the Agriculture, Forestry and Fisheries Ministry said Monday. The nonbinding request will be made to travelers arriving at Narita, Chubu, Kansai and Fukuoka airports from China, Russia, Mongolia, Indonesia, Vietnam, Laos, Cambodia, Thailand, Kazakhstan, Turkey and Romania. [More>>japantoday.com]
---
11.22.05 Vietnamese teenager confirmed with H5N1 bird flu
HANOI (Reuters) November 22 – A Vietnamese teenager has been confirmed with the H5N1 bird flu virus, health officials said on Tuesday...Hoa was hospitalized late last week together with four other patients from Haiphong who were suspected having bird flu. A total of 16 of Vietnam's 64 provinces have declared bird flu outbreaks in poultry flocks, according to the Agriculture Ministry. The H5N1 virus has killed 67 people in Asia, including 42 in Vietnam, since late 2003. Experts fear the virus could mutate into a form that passes easily among people and trigger a global pandemic of killer flu. [Full story>>thestar.com.my]
---
11.21.05 Japan comic books fan hatred towards China
TOKYO, November 21 – A young Japanese woman in the comic book "Hating the Korean Wave" exclaims, "It's not an exaggeration to say that Japan built the South Korea of today!" In another passage the book states that "there is nothing at all in Korean culture to be proud of." In another comic book, "Introduction to China," which portrays the Chinese as a depraved people obsessed with cannibalism, a woman of Japanese origin says: "Take the China of today, its principles, thought, literature, art, science, institutions. There's nothing attractive."

The two comic books, portraying Chinese and Koreans as base peoples and advocating confrontation with them, have become runaway best sellers in Japan in the last four months. In their graphic and unflattering drawings of Japan's fellow Asians and in the unapologetic, often offensive contents of their speech bubbles, the books reveal some of the sentiments underlying Japan's worsening relations with the rest of Asia.

They also point to Japan's longstanding unease with the rest of Asia and its own sense of identity, which is akin to Britain's apartness from the Continent. Much of Japan's history in the last century and a half has been guided by the goal of becoming more like the West and less like Asia. Today, China and South Korea's rise to challenge Japan's position as Asia's economic, diplomatic and cultural leader is inspiring renewed xenophobia against them here.

Kanji Nishio, a scholar of German literature, is honorary chairman of the Japanese Society for History Textbook Reform, the nationalist organization that has pushed to have references to the country's wartime atrocities eliminated from junior high school textbooks. Mr. Nishio is blunt about how Japan should deal with its neighbors, saying nothing has changed since 1885, when one of modern Japan's most influential intellectuals, Yukichi Fukuzawa, said Japan should emulate the advanced nations of the West and leave Asia by dissociating itself from its backward neighbors, especially China and Korea. [More>>chinadaily.com.cn ; See related article, koreaherald.co.kr, "Korea-Japan ties are very grave: Ban."] : Foreign Minister Ban Ki-moon said relations with Japan are very rigid and that it is currently inappropriate to talk about holding a summit meeting between the presidents of the two nations. Aggravating relations between Korea and Japan are showing no signs of abating as the two countries locked horns over Japanese Prime Minister Junichiro Koizumi's visit to the Yasukuni Shrine last month. Korea, along with China and other Asian neighbors condemn the tribute visit as instigating painful memories of Japan's invasion of Korea and imperial era as the shrine honors war criminals along with the dead from World War II. Roh and Koizumi were originally set to meet in Japan next month as part of their shuttle summit...]
---
11.21.05 Lawmakers overwhelmingly approve Knesset disbanding
November 21 – A massive majority of some 80 lawmakers approved eight bills to dissolve the Knesset on Monday evening. The Knesset House Committee, chaired by Prime Minister Ariel Sharon ally, MK Roni Bar-On, has not yet decided whether to debate the bills themselves or pass them on to the Constitution, Law and Justice Committee, chaired by MK Michael Eitan, who is staying in Likud. Slightly earlier, eight Labor Party ministers submitted letters of resignation from the government. [More>>haaretz.com ; See also, haaretzdaily.com, "PM Sharon quits Likud, holds first meeting of new party."]

---
11.21.05 Bush's Asia trip meets low expectations
BEIJING, November 21 – When President Bush was flying toward Asia a week ago, his national security adviser, Stephen J. Hadley, predicted to reporters in the back of the plane that the four-nation trip would yield no "headline breakthroughs." He turned out to be right. As Bush wrapped up his stay in Beijing on Sunday and prepared to head home Monday after a brief stop in Mongolia, the trip has produced no real breakthroughs of any sort. On a wide variety of issues, from trade to security to human rights, Bush won no concrete agreements from any of his summit partners. White House officials said that did not mean the trip was unsuccessful, because they never expected to bring home any major agreements in the first place. Such trips, they said, reflect a more mature diplomacy aimed at building relationships and achieving steady progress that will produce gains at some later date. Yet at the same time, it means that a politically weakened Bush returns home without anything high-profile to brag about when he could use some good news. [More>>washingtonpost.com]
---
11.21.05 Iraqi civilians killed by US troops as Cairo talks continue
BAGHDAD (AFP) November 21 – Five Iraqi civilians were shot dead by US forces at a roadblock northeast of Baghdad on Monday as political leaders finalized preparations for a national reconciliation conference next year that will address the issue of foreign forces. Five family members, including three children, were killed outside a military base near Baquba, northeast of Baghdad, as they were returning from a funeral. ³The soldiers started shooting at us from all over,² said Ahmed Kamel Al Sawamra, a 22-year-old student who was driving the car and who escaped injury. ³I slowed down and pulled off the road, but they continued firing.²

The incident was followed two hours later by a failed car bomb attack on a passing US convoy southeast of Baquba that killed four civilians and wounded 10 people, police said. The attacks come as Iraqi leaders in Cairo were laying the groundwork for a reconciliation conference in late February or early March which will discuss a timetable for the withdrawal of occupation forces from the war-torn country, the foreign ministry said. [More>>khaleejtimes.com ; See also, aljazeera.net, "Iraqi leaders agree on resistance right" : Iraqi politicians have saved a reconciliation conference in Cairo from collapse with compromise language saying all peoples have a right to resist, Sunni Arab politicians say. On Monday, all parties to the three-day meeting called by the Cairo-based Arab League agreed to the formula: "Resistance is a legitimate right of all peoples", said Mezher al-Dulaimi, a Sunni Muslim from the defiant west of Iraq. Shaikh Emad Mohammed Ali, an official of the Sunni Muslim Iraqi People's Gathering, confirmed the agreement.

The participants in the conference went outside for a group photograph in the grounds of the Arab League headquarters, the venue for the meeting. The Iraqi government, which depends on US military support, has opposed any language that could be interpreted as support for armed groups that are opposed to the US presence in Iraq and have been fighting to drive US-led troops out of the country.]
---
11.21.05 Violence plagues Egypt's second round of polling
November 21 – Egypt's police arrested over 450 Muslim Brotherhood supporters while thugs shot dead one man in nationwide riots that marred the second round of parliamentary vote. Scores of voters and campaign workers were also reported injured in clashes between Brotherhood supporters and police across the nine provinces where 1,706 candidates were battling in 72 constituencies over 144 seats.

The Egyptian Organization for Human Rights (EOHR) and police said the dead man, caught up in clashes in Alexandria, was a driver for an independent candidate and identified him as Mohammad Khalil Ibrahim. Another group monitoring elections, the Independent Committee on Election Monitoring, reported a taxi driver in Alexandria also was killed when thugs destroyed six cars outside a polling station, but police had not confirmed that death. [More>>dailystar.com.lb]
---
11.21.05 Iraq asks Russia for security help, signals boosted cooperation
November 21 – Iraqi Foreign Minister Hoshyar Zebari called on Russia Monday to help stop security threats from Iraq's neighbors at a meeting with his Russian counterpart in Moscow that heralded a greater role for Russian businesses in Iraq. "We asked Russia to... use its authority to help us come to an agreement with some of our neighbors to decide a series of questions linked to security," Zebari said after meeting Foreign Minister Sergei Lavrov.

"We discussed with my colleague Mr. Lavrov a series of regional questions particularly the question of interference in the internal matters of Iraq," he added. US and Iraqi officials have accused Syria and Iran – both countries with which Moscow has close diplomatic and trade links – of undermining security in Iraq. [More>>jang.com.pk]

---
11.20.05 Sixty years on from Nuremberg, US balks at international court
Noveber 21 – Controversy over the United Statesıs role in bringing dictators to book has dogged the 60th anniversary of the ground breaking Nuremberg trial of Nazi leaders. The US was the main force behind the war crimes trial that put 21 top Nazis before the International Military Tribunal. It now finds itself under heavy criticism for not supporting the International Criminal Court. ³The system of international criminal justice that was put in place with the clout of the United States is now coming back to haunt it,² said Philippe Sands, Professor of Law at University College London.

The International Criminal Court (ICC) was set up in 2002 to try genocide, crimes against humanity and war crimes. A hundred countries have ratified it, but not the US. Ulrich Maly, the Mayor of Nuremberg, said: ³We want to emphasize the significance of the Nuremberg trials for a global form of justice and draw the connection to current times. That means including the problem that the US does not recognize the ICC.² William Timkin, the US Ambassador to Germany, declined to participate in a discussion in Nuremberg on Saturday with Philippe Kirsch, the Canadian President of the ICC, and Brigitte Zypries, the German Justice Minister.
[More>>timesonline.co.uk]
---
11.20.05 Al-Zarqawi may be among dead in Iraq fight
(AP) November 21 – US forces sealed off a house in the northern city of Mosul where eight suspected al-Qaida members died in a gunfight — some by their own hand to avoid capture. A US official said Sunday that efforts were under way to determine if terror leader Abu Musab al-Zarqawi was among the dead. Insurgents, meanwhile, killed an American soldier and a Marine in separate attacks over the weekend, while a British soldier was killed by a roadside bomb in the south.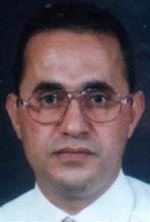 Abu Musab al-Zarqawi is seen in this undated photo released by the US Department of State. [AP] via chinadaily.com.cn
In Washington, a US official said the identities of the terror suspects killed in the Saturday raid were unknown. Asked if they could include al-Zarqawi, the official replied: "There are efforts under way to determine if he was killed." The official spoke on condition of anonymity because of the sensitivity of the information.
On Saturday, police Brig. Gen. Said Ahmed al-Jubouri said the raid was launched after a tip that top al-Qaida operatives, possibly including al-Zarqawi, were in the house in the northeastern part of the city. During the intense gunbattle that followed, three insurgents detonated explosives and killed themselves to avoid capture, Iraqi officials said. Eleven Americans were wounded, the US military said. Such intense resistance often suggests an attempt to defend a high-value target. American soldiers controlled the site Sunday, and residents said helicopters flew over the area throughout the day. Some residents said the tight security was reminiscent of the July 2003 operation in which Saddam Hussein's sons, Odai and Qusai, were killed in Mosul. The elusive al-Zarqawi has narrowly escaped capture in the past. US forces said they nearly caught him in a February 2005 raid that recovered his computer. [More>>
chinadaily.com.cn
]
---
11.20.05 Morocco arrests 17 suspected al-Qaeda activists
RABAT (Reuters) November 21 – Security forces in Morocco have arrested 17 radical Islamists on suspicion of belonging to a "terrorist structure" linked to al-Qaeda, the state news agency MAP said on Sunday, quoting a police source. Morocco has been on high alert since 2003 when suicide bombings killed 45 people in Casablanca, the country's financial capital. "The 17 members involved in this project have been arrested and will face prosecution," the news agency said.

The police source said two Belgians of Moroccan origin, Khalid Azig and Mohamed R'ha, entered Morocco earlier this year to recruit members for the unnamed "terrorist structure" among Moroccans "permeated with extremist ideas."

Azig, who studied theology in Syria, arrived in Morocco in June and was followed three months later by R'ha, who had also been in Syria and who has links with North African radical Islamists in Europe, MAP quoted the police source as saying. MAP said that during their mission to Morocco, Azig and R'ha had recruited a number of people to their group.

The agency said two Moroccans who had been held by the United States at Guantanamo Bay, Brahim Benchekroun and Mohamed Mazouz, were among the recruits. Benchekroun and Mazouz, who had been out of jail pending trial in Morocco, were arrested early this month, government officials have said. [More>>thestar.com.my]
---
11.20.05 'Osama evaded capture by just 30 minutes'
LONDON (PTI) November 20 – Al-Qaeda leader Osama bin Laden, the world's most wanted terrorist, has evaded capture by Pakistani troops by just 30 minutes as they zeroed in on him in a remote village close to the Afghan border, a media report claimed on Sunday. Data from a mobile phone used by one of bin Laden's closest aides helped the Pakistani troops to pinpoint his hideout but by the time they could mount a raid, the al-Qaeda chief had slipped away, News of the World tabloid reported.

Details of the operation earlier this year were revealed to American TV interviewer Daphne Barak by Pakistan President Pervez Musharraf, it said. "It was in the spring. We acted on intelligence reports and were close. Such fleeting opportunities come and either you succeed in a moment or you fail and miss the opportunity for a long time," it quoted Musharraf as saying in Islamabad. [More>>expressindia.com]
---
11.20.05 Al-Khalayleh tribe disowns al-Zarqawi
AMMAN, Jordan (AP) November 20 – Family members of Jordanian-born al-Qaida in Iraq chief Abu Musab al-Zarqawi have renounced the terror leader, telling King Abdullah II on Sunday that they were "sever links with him until doomsday."

Al-Zarqawi, whose real name is Ahmed Fadeel Nazzal al-Khalayleh, claimed responsibility for the Nov. 9 deadly attacks on three Amman hotels, which killed 58 people. In half-page advertisements in Jordan's three main newspapers, 57 members of the al-Khalayleh family, including al-Zarqawi's brother and cousin, also reiterated their strong allegiance to the king

Al-Zarqawi had threatened to kill the king in an audiotape Friday. "As we pledge to maintain homage to your throne and to our precious Jordan ... we denounce in the clearest terms all the terrorist actions claimed by the so-called Ahmed Fadheel Nazzal al-Khalayleh, who calls himself Abu-Musab al-Zarqawi," the family members said. "We announce, and all the people are our witnesses, that we - the sons of the al-Khalayleh tribe - are innocent of him and all that emanates from him, whether action, assertion or decision." The statement is a serious blow to al-Zarqawi, who will no longer enjoy the protection of his tribe and whose family members may seek to spill his blood. [More>>Jerusalem Post]
---
11.20.05 Pilgrims flock to see 'Buddha boy' said to have fasted six months
November 21 – Thousands of pilgrims are pouring into the dense jungle of southern Nepal to worship a 15-year-old boy who has been hailed as a new Buddha. Devotees claim that Ram Bomjon, who is silently meditating beneath a tree, has not eaten or drunk anything since he sat down at his chosen spot six months ago. Witnesses say they have seen light emanating from the teenager's forehead.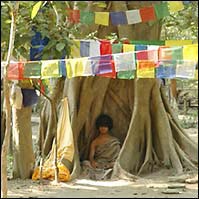 Ram Bomjon maintains his vigil in the shade of his pipal tree [telegraph.co.uk]
"It looks a bit like when you shine a torch through your hand," said Tek Bahadur Lama, a member of the committee responsible for dealing with the growing number of visitors from India and elsewhere in Nepal.
Photographs of Ram Bomjon, available for five rupees (4p) from his makeshift shrine, have become ubiquitous across the region. "Far and wide, it's the only topic of conversation," said Upendra Lamichami, a local journalist. He said no allegation had yet emerged of Ram breaking his fast or moving, even to relieve himself. [More>>
telegraph.co.uk
]
---
11.20.05 US-Iraqi army patrol ambushed
November 20 – An ambush on a joint US-Iraqi patrol northeast of Baghdad has left 15 civilians, eight armed fighters and a US marine dead from a roadside bomb and the fire fight that followed. The attack began with an improvised explosive device detonating next to the marine's vehicle in the town of Haditha, 220km northwest of Baghdad, on Saturday, the US command said on Sunday. Fifteen civilians were also killed by the blast, which was followed by an attack with small arms, the statement said. "Iraqi army soldiers and marines returned fire killing eight insurgents and wounding another," the statement added. At least 2091 members of the US military have died since the war began in March 2003, according to an Associated Press count. [More>>aljazeera.net]
---
11.20.05 Iraqi president willing to talk to insurgents
CAIRO (Retuters) November 20 – Iraqi President Jalal Talabani said on Sunday he was willing to talk to violent opponents of his government if they wanted to contact him. ³If those who call themselves the Iraqi resistance desired to contact me, I would welcome them. I would not refuse to meet any Iraqi who wants to meet me. But of course that does not mean I will accept what he says,² he told a news conference.

Talabani was in Egypt for a reconciliation meeting of Iraqi politicians, organized by the Cairo based Arab League to prepare for a bigger conference in Baghdad after elections in December. Iraqi government leaders have previously said they will talk to those who are not responsible for killing Iraqis and are committed to laying down their arms. [More>>khaleejtimes.com]
---
11.20.05 The big thaw
November 20 – Greenland's glaciers have begun to race towards the ocean, leading scientists to predict that the vast island's ice cap is approaching irreversible meltdown, The Independent on Sunday can reveal. Research to be published in a few days' time shows how glaciers that have been stable for centuries have started to shrink dramatically as temperatures in the Arctic have soared with global warming. On top of this, record amounts of the ice cap's surface turned to water this summer.

The two developments - the most alarming manifestations of climate change to date - suggest that the ice cap is melting far more rapidly than scientists had thought, with immense consequences for civilization and the planet. Its complete disappearance would raise the levels of the world's seas by 20 feet, spelling inundation for London and other coastal cities around the globe, along with much of low-lying countries such as Bangladesh. More immediately, the vast amount of fresh water discharged into the ocean as the ice melts threatens to shut down the Gulf Stream, which protects Britain and the rest of northern Europe from a freezing climate like that of Labrador. [More>>independent.co.uk]
---
11.20.05 China reports two new cases of bird flu
BEIJING (Reuters) November 20 – China reported on Sunday two new outbreaks of bird flu in which almost 3,700 poultry died and more than 7,000 were culled as provinces hit by the deadly virus tightened preventive measures. About 3,500 geese died at a family farm in a development zone in Shishou city in the central province of Hubei, the official Xinhua news agency said, adding that 3,800 poultry were slaughtered within a radius of 3 km. In the northern region of Inner Mongolia, 176 domestic poultry died and 3,202 poultry were culled, Xinhua said. It gave no further details. [More>>thestar.com.my ; See also chinadaily.com.cn]
---
11.19.05 India, Pakistan open frontier for civilians in landmark event
TEETHWAL, India (AP) November 19 – India and Pakistan on Saturday opened their disputed frontier in earthquake-devastated Kashmir, allowing people to cross over on foot for the first time in 58 years to meet separated relatives. Begum Jaan, 82, was the first one to cross from Indian-held Kashmir to the Pakistani side. She was greeted by Pakistani army officers before heading off with her son to visit relatives. A Pakistani army official said that 23 civilians crossed from the Indian side, but that no one from Pakistan was allowed to cross into Indian territory. Pakistan had forwarded a list of 127 people who had wanted to visit families and friends on the Indian side, but New Delhi had not given permission for them to enter, the official said on condition of anonymity due to policy. [More>>khaleejtimes.com]
---
11.19.05 Car bomb kills 13 in Baghdad; Bush says Iraq on track
BAGHDAD (Reuters) November 19 – A car bomb killed 13 people in Baghdad on Saturday, a day after more than 80 were killed in suicide blasts across the country and as U.S. President George W. Bush pledged never to relent in his war on terror.

The car bomb detonated in a crowded market in the Diyala Bridge area in the south of the Iraqi capital. As well as the dead, around 20 people were wounded, the Interior Ministry said. The attack followed twin suicide bombings at Shi'ite mosques in northeastern Iraq on Friday, strikes that appeared intent on aggravating the country's deep sectarian divisions, which have only worsened in the run-up to elections set for December 15.

Those blasts followed two suicide car-bomb attacks on a Baghdad hotel popular with journalists and contractors. All told, Friday's violence left 83 people dead and more than 100 wounded, one of the bloodiest days for Iraq in recent months.

In Cairo, several dozen leaders from across Iraq's political and sectarian spectrum met to discuss the country's relentless insurgency and a way forward in talks sponsored by the Arab League. It was the highest level gathering so far organized between Iraqi government leaders and opposition figures. [More>>thestar.com.my]; See also haaretzdaily.com, "Death toll in series of bombings throughout Iraq rises to 145."]
---
11.19.05 Shia, Kurds storm out of Iraq talks
November 19 – Shia and Kurdish delegates have walked out of the Iraqi reconciliation conference in Cairo bringing the meeting to an abrupt halt. "They are insulting the Iraqi people and they are insulting the constitution on which several million Iraqis have voted," , the senior Iraqi Shia legislator Jawad al-Maliki says said, referring to fellow delegates at the conference.

It was not clear who al-Maliki was referring to, but there is long standing tension between the groups represented at
the conference that opened on Saturday. Earlier Iraqi President Jalal Talabani told the conference that violent extremists and associates of former president Saddam Hussein have no part in Iraq's political process.

"Our national unity ... does not include under any circumstance the murderers and criminals among the followers of the old regime, who left us mass graves, or among the takfiris (religious extremists)," Talabani said.

The landmark meetings, due to lay the basis of a reconciliation conference in Baghdad, came against a tense domestic backdrop, after bombings in Iraq over the past 24 hours killed more than 90 people. [More>>aljazeera.net]
---
11.19.05 Qatar and US launch world's biggest LNG refinery project
DOHA (AFP) November 19 – Qatar and the US have launched a joint project to build the world's largest liquefied natural gas (LNG) refinery mostly for export to the US, in a $14-billion strategic alliance between the two countries. Qatar Petroleum has a 70-percent stake in the project and ExxonMobil Ras Laffan III Limited, a subsidiary of the US oil major ExxonMobil, the remaining 30 percent. In a first phase, the RasGas-3 plant is to produce 15.6 million tons a year of LNG through two trains, the first of which will be operational from the second half of 2008, according to an official statement. Under the 25-year accord starting in 2008 – signed Tuesday during a visit by US Energy Secretary Samuel Bodman – Washington will import 25-30 percent of its LNG needs from Qatar, said Qatari Energy Minister Abdullah bin Hamad al-Attiya. [More>>dailystar.com.lb]
---
11.19.05 House rejects Iraq pullout after GOP forces a vote
WASHINGTON, November 19 – Differences over policy on the Iraq war ignited an explosion of angry words and personal insults on the House floor yesterday when the chamber's newest member suggested that a decorated war veteran was a coward for calling for an immediate withdrawal of U.S. troops.

As Democrats physically restrained one colleague, who appeared as if he might lose control of himself as he rushed across the aisle to confront Republicans with a jabbing finger, they accused Republicans of playing political games with the war. GOP leaders hastily scheduled a vote on a measure to require the Bush administration to bring the troops home now, an idea proposed Thursday by Rep. John P. Murtha (D-Pa.). The Republican-proposed measure was rejected 403 to 3, a result that surprised no one. The idea was to force Democrats to go on the record on a proposal that the administration says would be equivalent to surrender. Recognizing a political trap, most Democrats – including Murtha – said from the start they would vote no. [More>>washingtonpost.com]
---