---
11.08.05
France declares state of emergency
November 8 – France today declared a state of emergency to allow the introduction of localised curfews in an attempt to end the wave of riots which has flared across the country for 12 nights. President Jacques Chirac announced the extreme measure - which bans the movement of people and vehicles after dark and allows police to set up roadblocks - after a crisis meeting of his Cabinet this morning. In their now routine assessment of the previous night's carnage, police reported 330 arrests, 12 officers hurt and 1,173 vehicles burned in about 300 towns last night. This compares to 1,408 cars burnt on the previous night. The focus of the trouble has shifted from Paris to other major cities, with the worst violence reported in Toulouse and Lille, where a crèche was torched in a previously tranquil working class neighborhood. [More>>timesonline.co.uk]
---
11.08.05 Osama's Aussie offspring
November 9 – A massive terrorist attack on Australian soil has been narrowly averted after sweeping raids across Sydney and Melbourne led to the arrest of 17 members of a suspected terrorist cell. One of those arrested, Melbourne man Abdulla Merhi, 20, is said to have been impatient to carry out Australia's first suicide bombing but was refused permission by the group. Another, a former bit-part actor in a TV drama, Omar Baladjam, 28, was shot in the neck after allegedly firing on Sydney police.

In the largest and most important anti-terror operation in the nation's history, hundreds of state and federal police officers in NSW and Victoria raided homes in the dead of night, believing an attack was imminent. Another man was taken away by police last night after federal officers and specialists from the hazardous chemicals and bomb squads hit another home in western Sydney.

The earlier raids – the culmination of an 18-month investigation – uncovered stockpiles of chemicals similar to those used in the London bombings in July.

Members of the group had also undergone military-style training, had guns and had downloaded bomb-making information from the internet, it was alleged. The spiritual leader of the alleged terror cell is an Algerian-born radical cleric from Melbourne, Abdul Nacer Benbrika, also known as Abu Bakr, who has publicly described Osama bin Laden as a great man and who supports violent jihad overseas. One of the Sydney men arrested in the pre-dawn raids, Mohamed Ali Elomar, has family links to a NSW southern tablelands property exposed as a terrorist training camp five years ago. All nine men in Melbourne were charged with intentionally being a member of a terrorist organisation between July last year and this month. [More>>theaustralian.news.com.au]
---
11.08.05 Israel may export fence to Russia
November 8 – The Russian government is mulling the construction of a security barrier along the border with Chechnya similar to Israel's West Bank security fence as part of its efforts to combat Muslim terror, The Jerusalem Post has learned. Prime Minister Ariel Sharon and Internal Security Minister Gideon Ezra met on Monday with Dmitry Kozak, head of counterterrorism in Chechnya and the Kremlin's envoy to southern Russia, for talks on the effectiveness of the security fence and Israel's overall success in fighting Palestinian terror.

The talks, Israeli officials said, focused primarily on the construction of a security fence. Kozak told the participants he would bring the issue up back in Russia and recommend it as a viable means to fight terror. Just last month, a small army of Chechen fighters launched a massive attack on police and army in the town of Nalchik in Russia's turbulent Caucasus. Dozens were killed in the attack. [More>>Jerusalem Post]
---
11.08.05 Second Saddam trial defence lawyer killed
BAGHDAD (Reuters) November 8 – Gunmen shot two lawyers defending Saddam Hussein's codefendants in a trial for crimes against humanity on Tuesday, killing one and slightly wounding the other, police and defence team sources said. The attack followed the murder of another defence lawyer who was shot the day after the trial started in Baghdad on Oct. 19 and was certain to stoke controversy over whether the former president can get a fair trial amid Iraq's daily violence. The defence team had already threatened not to turn up for the next hearing on Nov. 28 unless measures are taken to protect them.

Police and defence team sources said Adil al-Zubeidi was killed when the two lawyers' car came under fire in the western Baghdad district of Hay al-Adil, while Thamer Hamoud al-Khuzaie was wounded. Both men were on a team defending Saddam's brother Barzan al-Tikriti and former vice president Taha Yassin Ramadan, legal sources said. [More>>thestar.com.my]
---
11.08.05 US reports ongoing fighting in Ramadi
November 8 – US marines say they have killed five fighters and captured 10 others in a city west of Baghdad as US forces there step up their campaign to suppress deadly roadside bombs. The US military said in a statement on Tuesday that the five fighters died on Monday in Ramadi, 115km west of Baghdad, in a series of shootings that began when marines discovered them trying to plant bombs in a hole used in the past to conceal explosives. The incident occurred one day after army snipers killed eight people who were also trying to conceal explosives in Ramadi, capital of Iraq's most volatile province, al-Anbar, the US military added. [More>>aljazeera.net]
---
11.08.05 ImpeachPAC raises $25,000 over weekend
November 8 – (Maravot News) A new Political Action Committee, ImpeachPAC, says it raised $25,000 over the weekend from 549 donors through its internet appeal. The movement to impeach Bush and now Cheney for lying continues to grow and is surfacing through more organizations, the newest of which is ImpeachPAC. "The response to our announcement has been tremendous," said ImpeachPAC founder Bob Fertik. "As the CIA scandal sinks in, as the death toll increases in Iraq, as fresh evidence of pre-war lies is revealed, and as George Bush's polls fall through the floor, Americans are ready for a change. They want to impeach George Bush and Dick Cheney – and they are ready to do it now," Fertik said. "President Bush and Vice President Cheney were co-conspirators in taking the United States into the disastrous War in Iraq on the basis of lies. We must therefore impeach them together."

Over the weekend, impeachment became a major discussion topic on progressive blogs and talk shows. Technorati lists 10,196 blog posts on "impeach Bush," while Google blog search lists 11,991 posts.

Despite broad support for impeachment – and months of lobbying by activists – not a single Democrat in Congress has yet introduced Articles of Impeachment. ImpeachPAC is using internet-based fundraising to prove to Democrats that a majority of Americans will support incumbents and candidates who step forward to begin the impeachment process.

A poll released on Friday and conducted by Zogby International found that 53% of American adults agreed with the statement:

"If President Bush did not tell the truth about his reasons for going to war with Iraq, Congress should consider holding him accountable through impeachment."
---
11.08.05 Eight-year old boy declared bird flu positive
JAKARTA, Indonesia, November 8 – An eight-year-boy identified as Ilham Junaidi was declared bird flu positive on Monday, bringing the number of bird flu cases to nine in the country, a hospital official says. Sulianti Saroso Hospital spokesman Ilham Patu, however, was quick to dismiss suggestions that Ilham, a younger brother of Ina Sholati, who died of bird flu last week, had contracted the disease from his deceased elder sister. "Although he had close contact with Ina, Ilham did not get the disease from her. You see, Ina had many birds in her house, and the boy (Ilham) often came and played with them," he said. [More>>thejakartapost.com; Another bird flu case was reported today: khaleejtimes.com, "Man dies of bird flu in Vietnam as global experts meet."]
---
11.07.05 Riots claim first life
November 7, 14:50 – A man who was attacked by a hooded youth while talking to a neighbor during the French riots has died, becoming the first fatality of the unrest. Police say Jean-Jacques Le Chenadec, 61, was beaten into a coma north of Paris last week and died of his injuries in hospital. His widow said: "I want these people punished." Mr. Le Chenadec and his friend had been targeted before the attack by stone-throwing youths when they had tried to stop bins being vandalized.

France has suffered 11 nights of rioting, with the latest wave leaving 30 police officers injured and more than 1,400 cars torched. A total of 395 people were also arrested, bringing the total since trouble first erupted to more than 1,200. Police were shot at during an ambush in the suburbs of Paris as hundreds of people took to the streets across the country. [More>>sky.com; See also liberation.fr, "Policiers blessés à Grigny, écoles et tramways incendiés.." and theaustralian.news.com.au, "Rioters thumb noses at Chirac."]
---
11.07.05 Conspiracy seen in al-Farouq's escape
JAKARTA, November 7 – Reports of the escape of Omar al-Farouq, a suspected al-Qaeda leader, from a U.S.-run detention facility in Afghanistan have created confusion and suspicion among some Muslim leaders here. Zaenal Ma'arif, deputy speaker of the House of Representatives who hails from the Islamic-based Star Reform Party (PBR), was baffled as to how al-Farouq, who was captured in Indonesia in 2002 and subsequently handed over to the U.S. authorities, had escaped. He suspected that "a certain group" with interests in Southeast Asia had arranged for the escape of al-Farouq in a bid to give power to terrorism in the region. He declined to name the group.

"It is possible that there is a bigger scenario since Osama bin Laden is not that influential anymore," Zaenal said over the weekend, referring to the al-Qaeda terror network leader who remains at large.

He even said that the recent beheadings of three Christian schoolgirls in religiously divided Poso, Central Sulawesi was also arranged by the group to create security instability in Indonesia.

Zaenal urged the government to actively seek explanations from the US government on the escape of al-Farouq, believed to be the lieutenant of bin Laden and leader of al-Qaeda's Southeast Asia operation. Al-Farouq was one of four suspected Arab terrorists to escape from the heavily fortified detention facility inside a US base in Bagram, Afghanistan, in July. Although the escape was widely reported at the time, al-Farouq was identified by an alias and the US military only confirmed last week that he was among those who fled. The identity of the two other al-Qaeda leaders as well as a fourth man who escaped with them has not been revealed. [More>>thejakartapost.com]
---
11.07.05 China culls 6 million birds in avian flu-hit region
BEIJING (Reuters) November 7 – China has culled 6 million birds in its northeastern region hit by the country's fourth outbreak of avian flu in a month, state media said on Monday.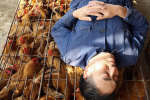 A Chinese vendor takes a nap on his chickens' basket in a chicken market in Shanghai November 7, 2005. Photo: Reuters/Nir Elias via thestar.com.my
All poultry within a 3-km radius of the site in Liaoning province where the deadly H5N1 virus was found last week had been killed, Xinhua news agency said.
China has yet to report any human cases of bird flu from the latest outbreaks, but on Sunday said it would invite World Health Organisation experts to probe three suspicious cases of pneumonia in the southern province of Hunan, the site of one of the recent outbreaks of bird flu. Tests on the three did not show the presence of H5N1, Xinhua said, but it added the virus could not be ruled out due to the fact the three lived close to the site of the outbreak. One, a 12-year-old girl, died.
Authorities had placed 192 people in the area, one of whom has acute bronchitis, under medical observation, the China Daily said, citing the health ministry. [More>>
thestar.com.my
]
---
11.07.05 Iraqi insurgent toll rises as offensive continues
BAGHDAD (Reuters) November 7 – US and Iraqi forces searched house-to-house for the third day of a major offensive near Iraq¹s border with Syria on Monday, with at least 17 insurgents and one Marine killed, the military said. Operation Steel Curtain continued its cautious progress through areas in and around Qusayba, a dusty, low-lying town in western Iraq, most of whose 30,000 residents appeared to have already fled.

US Marines and Iraqi scouts, supported by tanks and air strikes, have met what they describe as sporadic resistance from Sunni Arab insurgents and foreign fighters armed with Kalashnikov assault rifles and improvised bombs.

Sectarian tensions have dominated the campaign for the December 15 elections, where the 20 percent minority Sunni Arabs are expected to vote in large numbers for the first time since the fall of fellow Sunni Saddam Hussein.

A New York Times reporter travelling with the Marines said troops had been searching an apparently empty house in Qusayba when an insurgent suddenly opened fire, killing the Marine. The gunman was killed by other Marines as he tried to escape across a roof, the newspaper said. CNN quoted troops in the town saying that between 60 and 80 insurgents had been killed. A statement by the US military late on Sunday put the insurgent death toll at 17. [More>>khaleejtimes.com]
---
11.07.05 Fujimori arrested in Chile upon arrival from Japan
TOKYO, November 7 – Former Peruvian President Alberto Fujimori has been arrested by Chilean police after arriving in Chile from Japan on Sunday. Fujimori, wanted at home on corruption and human rights charges, was arrested just hours after his unannounced arrival on board a private plane from Tokyo. Fujimori was detained on an arrest warrant issued by judge Orlando Alvarez, who was told by Chile's Supreme Court to consider Lima's request for Fujimori's extradition lodged hours earlier. Police picked up the former president at the Marriott Hotel here, and he gave no resistance, police sources said.

Fujimori, 67, went to Chile to defiantly press on in a fresh bid for the Peruvian presidency. "I plan a temporary stay in Chile as part of a return to Peru to keep a promise with a large part of the people of Peru that has called me to participate as a candidate for the presidency of Peru in the 2006 election," Fujimori said in a statement before his arrest.

Police said Fujimori would be held pending a decision on the Peruvian extradition request. After his plane from Tokyo made a brief stopover in Mexico, Fujimori arrived with a tourist visa and headed for a Marriott Hotel in Santiago. Japan has refused to extradite him to Lima because Fujimori, the son of Japanese emigrants to Peru, holds Japanese nationality. [More>>japantoday.com]

Editorial note: The fact that former Peruvian President Alberto Fujimori is wanted by Peru for corruption and human rights violations and is yet a Japanese citizen poses an interesting situation and may serve as a lesson to nations who do not admit foreign nationals to the highest offices in their land. For example, supporters of Governor Arnold Schwarzenegger of California have discussed through the media the hope of changing US law to allow Schwarzenegger to run for the office of President of the United States. The governor was born in Austria and has an unhappy following of protesters everywhere he goes in California. He has established a reputation of circumnavigating the California State Assembly to change laws and is most unpopular among teachers, nurses, police, firemen and other public servants who protest at Schwarzenegger's public appearances. According to the taipeitimes.com report, "Unpopular Arnie facing special election ordeal," : ...A recent poll found that just 36 percent of voters want to see Schwarzenegger re-elected next year, with 55 percent opposed. Schwarzenegger was elected as a moderate Republican in a Democratic state, but veered to the right to promote his reform initiatives, which target Democratic lawmakers and public-sector unions. He has paid a price for that gamble, losing support from large numbers of Democrats and independents, who constitute more than 60 percent of the California electorate.

IA sfgate.com report June 21, 2005, "Support for governor plunging, poll finds Special election, budget unpopular among Californians," : Governor Arnold Schwarzenegger suddenly ranks among the most unpopular governors in modern California history, as residents grow increasingly unhappy about the action hero-turned-politician's budget plans and his call for a special election, according to a new Field Poll.

Less than a third – 31 percent – of the state's adults approve of the job the governor is doing in Sacramento, down from 54 percent in February. The numbers are only slightly better among registered voters, 37 percent of whom are happy with Schwarzenegger's performance and 53 percent dissatisfied.

The examples discussed here show how elected officials can change for good or for worse.
Mel Copeland
---
11.07.05 Indian FM stands aside over UN report
NEW DELHI (AP) November 7 – India¹s foreign minister became the first political casualty of the UN oil-for-food scandal, stripped of his post on Monday over allegations in an independent report that he profited from massive corruption in the effort to help Iraqis suffering under sanctions. The accusation that Foreign Minister Natwar Singh was among the thousands of prominent companies and politicians worldwide to illegally benefit from the program has roiled India for days and led to widespread calls that he step down. Prime Minister Manmohan Singh on Monday summoned Natwar Singh for an hourlong meeting at his residence and demoted him to minister without portfolio, the prime minister¹s office said in a statement. [More>>khaleejtimes.com]
---
11.07.05 Syria invites foreign investors to bid for oil and gas fields
DAMASCUS (RIA Novosti, Nadim Zuauyi) November 7 – Syria has invited foreign investors to bid for nine new oil and gas deposits in the country, the Syrian petroleum minister said Monday. Speaking at an international conference on investment in the Syrian oil and gas sector, Ibrahim Haddad said his country had concluded several contracts for the development of new fields and expressed the hope that many bids would come from foreign companies for nine new deposits. He also mentioned special guarantees from Syrian government for foreign oil companies.

Russia's independent energy company ITERA, the oil major LUKoil and the energy construction company Stroitransgaz, which won a tender to build the Syrian stretch of a 300-km Arab gas pipeline in early October, are participating in the conference. In March 2005, Russia's Tatneft oil company signed a contract to explore and develop a new oil and gas field in eastern Syria. [More>>rian.ru]
---
11.06.05 Neo-Nazi attacks in slovakia leave one dead, several wounded
BRATISLAVA, Slovakia (DPA) November 6 – ava have left one person dead and at least three severely wounded, the TASR news agency reported Sunday. According to the TASR news agency, police and human rights organizations fear the resurgence of neo-fascist murders afer several years of relative calm. The attacks occurred overnight on Tuesday and Saturday. In the latter attack, a 19-year-old died after being stabbed repeatedly. All the victims were "punks and other members of alternative lifestyles" who were targeted by the assailants due to their unusual appearence, DPA reported. Police said they believed that there may have been additional attacks that had not been reported. [haaretzdaily.com]
---
11.06.05 World's astronauts push for strategies, spacecraft to prevent cosmic collision
CAPE CANAVERAL, Florida (AP) November 6 – Imagine last year¹s tsunami, last month¹s earthquake in Pakistan, and Hurricanes Katrina, Rita and Wilma all rolled into one - and then some. If nations can¹t handle those calamities, what¹s going to happen when an asteroid collides with Earth? In 30 years, there is a 1-in-5,500 chance that a smallish asteroid will land a bull¹s eye on our planet. At 360 yards (meters) wide, it could take out New York City and much of the surrounding area.

Fortunately, experts believe further observations of the asteroid, 99942 Apophis, will almost certainly rule out an impact in 2036. Nevertheless, it¹s precisely that kind of predictable and preventable threat - and the thought of being ill-prepared for it - that alarms the world¹s normally intrepid spacefarers who are calling for action.

...Astronauts know better than most just how small and fragile and vulnerable the planet is.

³When you go around it in an hour and a half, again and again and again and again, day after day, in some cases now, month after month after month, the Earth becomes a pretty small place,² Schweickart said. ³And then, of course ... most astronauts tend to be aware of things like asteroids and their impacts. I mean, we romped around the moon after spending years in preparation by looking at every impact crater and volcano here on the Earth.²

It¹s time, the space explorers say, for NASA to step up to the plate.

The association wants NASA to expand its Spaceguard Survey, a program that discovers and tracks near-Earth objects - asteroids and comets - that are at least two-thirds of a mile (one kilometer) across. So far, 807 of an estimated 1,100 of these big rocky asteroids have been discovered in the inner solar system along with 57 comets; California¹s Jet Propulsion Laboratory is plotting their future tracks.

An asteroid two-thirds of a mile (one kilometer) wide, at impact, would be enough to easily take out a good-sized European country. By comparison, an asteroid or comet believed to be six to seven miles (10 to 11 kilometers) across wiped out the dinosaurs 65 million years ago.

The space explorers want the many smaller, but still dangerous asteroids tracked as well. Altogether, 3,611 near-Earth asteroids of all sizes have been discovered, with an estimated 100,000 more capable of setting off a tsunami the size of the one that shook the Indian Ocean last December. [Full story>>khaleejtimes.com]
---
11.06.05 Prison dig may have found the world's earliest church
November 6 – A mosaic and the remains of a building uncovered recently in excavations on the Megiddo prison grounds may belong to the earliest church in the world, according to a preliminary examination by the Israel Antiquities Authority. One of the most dramatic finds suggests that, instead of an altar, a simple table stood in the center of the church, at which a sacred meal was held to commemorate the Last Supper. Photographs of three Greek inscriptions in the mosaic were sent to Hebrew University expert Professor Leah Di Segni, who told Haaretz yesterday that the use of the term "table" in one of them instead of the word "altar" might lead to a breakthrough in the study of ancient Christianity. It is commonly believed that church rituals based on the Last Supper took place around an altar.

The excavation was begun prior to the issuing of building permits for a new wing of the Megiddo prison, which houses security prisoners. Some 60 inmates from the Megiddo and Tzalmon prisons took part in the excavation.

The site is close to Tel Megiddo, believed to be Armageddon of the New Testament book of Revelation. The northern inscription mentions a Roman army officer who donated the money to build the floor. The eastern inscription commemorates four women, and the western inscription mentions a woman by the name of Ekeptos, who "donated this table to the God Jesus Christ in commemoration." The mosaic also contains geometric patterns and a medallion with a fish design. [More>>haaretz.com]
---
11.06.05 Six killed in North Waziristan blast
PESHAWAR, Pakistan, November 7 – Behroz Khan, jang.com.pk, provides more details on a curious explosion first reported Saturday : Six members of the family of a suspected foreign militant were killed in mysterious explosion in North Waziristan Agency, triggering a heated debate among the tribesmen about their nationality and activities in the region.

A blast took place at the fort-like residence of Attiqur Rehman in Musaki village, some 1.5 kilometres south of Mirali, the second major town of the tribal agency in the wee hours of Saturday. Locals as well as official sources claimed that six persons, three daughters, two sons and wife of a Saudi national residing in a portion of Attiqur Rehman¹s house were killed while the head of the family sustained serious injuries and was removed to some undisclosed location by some militants. The dead bodies were also removed to the mountainous region for burying secretly, locals confided to ŒThe News¹ on condition of anonymity.

However, local administration and the Inter-Services Public Relations (ISPR) officials termed the foreigners as Uzbeks but several tribesmen from Mirlai claimed they were Arabs. Some sources close to the family even claimed the family was from Riyadh, capital of Saudi Arabia.

The head of the family had returned to the house about a month ago from South Waziristan Agency and was identified by his local name as Muhammad Nawab concealing his actual identity due to security reasons.

...Local tribesmen also claimed that drones were seen flying in the area for more than a week and their sound was heard during nights, as one of them had once come very low. They also said that two light beams were seen coming down towards that direction on the night between Saturday and Friday, which most likely hit the residence of Attiqur Rehman. The rest of the family of the host was safe but the spacious room housing the suspected foreigners was hit.

The tribesmen said that Nawab was very careful and always avoided the use of satellite telephone but insistence of his wife to exchange Eid greetings with kith and kin compelled the family head to give in, which led to the action.

The injured man, some sources said, used to discuss with his close aides how Commander Nek Muhammad and another suspected Arab, Ali Habibi Al-Yemeni, paid the price for frequently using satellite telephone when they were hit with laser-guided missiles in the same manner and killed in South and North Waziristan agencies in the past.

The regular use of satellite phone by Al-Yemeni, the sources said, was because that he wanted to develop some mechanism to jam the devices that trace satellite phone but the research work ultimately led to his killing. The rank and importance of Nawab in the al-Qaeda hierarchy, the sources said, are still not known but it had been established that he was expert in assembling explosive devices. [Full story>>jang.com.pk]

---
11.06.05 Unrest reaches French capital
PARIS, France (CNN) November 6, 1:15 EST – Protesters in France expanded their arson rampage into the capital city of Paris and along Mediterranean resort communities as the nation's Interior Ministry warned the violence might grow Sunday. Police helicopters flew over Paris and other locations in an effort to identify and stop the vandals, French radio reported.

The latest violence, sparked by the deaths of two teenagers in suburban Paris, spread west to the Normandy region and south to the Mediterranean and the resort cities of Cannes and Nice, where arson was reported. By early Sunday, more than 900 cars had been burned, 193 people detained and several police officers and firefighters injured after a 10th night of rioting across France, according to national police spokesman Patrick Hamon. Thirteen cars were torched in Paris, including several in the Place de la Republique in the central city.

In the Normandy city of Evreux, five police officers and three firefighters were injured when two schools, a post office, a shopping center and 50 cars were burned, Hamon said. A child care center was burned in Lille in northern France. Two schools in Grigny, south of Paris, were set ablaze and firefighters responded to 30 reports of arson in Toulouse, in southern France, the Interior Ministry said. Several cars were on fire and several trash cans were burning outside public buildings. A cultural center in the central city of Nantes was destroyed by fire, and a youth hostel burned in Paris, the ministry said. [More>>cnn.com; See also independent.co.uk, " La Haine: Schools, synagogues and hundreds of cars burn. It's Paris 2005" : The 1996 hit film showed a French capital in flames as its underclass rioted. That was fiction. This time it's for real. Hugh Schofield reports from the streets of a suburb its inhabitants now call Baghdad-sur-Seine. France's worst urban violence since 1968 spread this weekend, with riots in Toulouse, Marseille, Lille and Rouen after more than a week's unrest in the deprived areas around Paris. On Friday there were attacks on schools, a town hall and a synagogue, and more than 750 cars were burnt out. At least 250 people were arrested.

At Aulnay-sous-Bois, one of the worst-affected towns in the eastern Paris suburbs, a group of five or six adolescents in baseball caps and hooded sweatshirts lounged last week in the parking lot of the notorious estate known as the City of the 3,000...

See also (AFP) liberation.fr, "Evreux, Toulouse, Paris...la nuit la plus violent" : Au dixième jour de violence urbaine, le bilan est le plus lourd jamais enregistré. Selon les autorités de police, 1295 véhicules ont été brûlés dans toute la France, dans la nuit de samedi à dimanche, et 312 personnes ont été interpellées au total.

La veille, le bilan définitif des troubles faisait état de 897 véhicules incendiés. Les appels au calme se sont pourtant multipliés ce week end. Samedi, les parents de l'un des deux jeunes de Clichy-sous-Bois mort par électrocution le 27 octobre, avaient eux mêmes lancé un appel au calme.

Sept hélicoptères munis de puissants projecteurs et de caméras vidéo avaient été mobilisés dans la nuit pour dissuader les fauteurs de troubles. Mais ni ces nouveaux moyens matériels, ni les renforts en policiers n'ont semblé intimider les incendiaires, qui ont opéré au coeur même de la capitale, dans le 3e arrondissement où quatre voitures ont été brûlées par un engin incendiaire tandis qu'une demi-douzaine de véhicules étaient en flammes dans le 17e...]
---
11.06.05 Al-Qaeda woos recruits with nuclear bomb website
November 6 – An Al-Qaeda website containing detailed instructions in Arabic on how to make nuclear, ³dirty² and biological bombs has attracted more than 57,000 hits and hundreds of readers¹ inquiries. Terrorism experts are warning that the site could be boosting the organization¹s appeal to would-be assassins in Britain and abroad.

The manual, posted on October 6 on a forum titled Al-Firdaws, or Paradise, contains 80 pages of instructions and pictures of kitchen bomb-making techniques. It is divided into nine lessons under the overall heading The Nuclear Bomb of Jihad and the Way to Enrich Uranium, and is dedicated as a ³gift to the commander of the jihad fighters, Sheikh Osama Bin Laden, for the purpose of jihad for the sake of Allah."

As well as describing how to make a nuclear bomb from enriched uranium — impossible for the layman — the manual explains how to make simple bombs that can blow up anything from electrical generators to petrol stations.

...It is unclear who the author is or where he is based: he describes himself simply as ³Layth al-Islam," or the ³Lion of Islam," belonging to a group called ³the Black Flags²...The site¹s appeal is evident from the enthusiasm of its correspondents. One of the most recent, Mariyam al-Jihadiyya, writes: ³God bless you for this precious topic . . . fight them, through your hands God tortures them . . . and heal the hearts of the faithful people.² Beneath she includes a couple of pictures for her hero. ³I love you, Osama,² she writes

...Nuclear physicists were alarmed by the site. ³Normally you just get generic principles, but this appears to be more like a proper instruction manual,² said John Hassard, reader in physics at Imperial College, London. ³The thing about this website that is striking is that it is very particular. A lot of effort has been put into it.²

...³Al-Qaeda strives to move directly from the stage of obtaining the WMD to the stage of using it,² said Matti Steinberg, an Israeli expert on the organisation. He said efforts by Al-Qaeda, whose members are Sunni Muslims, to produce a nuclear weapon also reflected its fear that Shi¹ite Iran was on the brink of producing a bomb. Bin Laden wanted to ³balance the efforts by Iran to obtain the first Shi¹ite bomb by building the first Sunni one." [Full story>>timesonline.co.uk]
---
11.06.05 Aksa Brigades endorse Iran's call to eliminate Israel
November 6 – The armed wing of the ruling Fatah party, Aksa Martyrs Brigades, on Sunday became the first Palestinian group to publicly endorse Iran's call to eliminate Israel. In a leaflet distributed in the Gaza Strip, the group voiced full support for Iranian President Mahmoud Ahmadinejad's statements in which he said that Israel "must be wiped off the map." Ahmadinejad also warned Arab countries against developing economic ties with Israel in response to its withdrawal form the Gaza Strip, which he dubbed as a "trick."

"Anybody who recognizes Israel will burn in the fire of the Islamic nation's fury," he was quoted as saying. "Any [Islamic leader] who recognizes the Zionist regime means he is acknowledging the surrender and defeat of the Islamic world." The leaflet by the Fatah group is the first of its kind since the Iranian president's speech. Both Hamas and Islamic Jihad, which are believed to be receiving financial aid from Iran, have refrained from reacting to the call to wipe Israel off the map.

"We affirm our support and backing for the positions of the Iranian president toward the Zionist state which, by God's will, will cease to exist," said the leaflet. "Recognizing Israel's right to exist means underestimating the Palestinian people, who are making daily sacrifices to liberate Palestine and Jerusalem."

The Fatah group also hailed Ahamdinejad's appeal to the Palestinians to unite their ranks so they would be able to destroy Israel. [More>>Jerusalem Post]

Editorial note: This is testimony demonstrating that Ahmadinejad's appeal to wipe out Israel is now no longer a speech but an act of criminal leadership, where the Aksa Martyrs Brigade have put into action Ahmadinejad's direction. While the UN voiced a strong condemnation of Ahmadinejad's speeches), it is apparent that Iran has now stepped into the realm of being a nation that has sponsored terrorism. When the leader of a nation promotes the annihilation of another nation or its people, that leader becomes guilty of crimes against humanity – from the point of view of international precedent, where Nazi leaders were brought to account by the Nuremburg Trials, with other leaders now being brought to judgment in the Hague. The Nuremburg judgment of Julius Streicher (see photo in our sidebar) is a precedent that now calls for the judgment of leaders of Iran who have committed a similar crime. To appreciate the extent of the threat, Iran has requested the EU to reengage in nuclear talks (See aljazeera.net, "Iran calls for reopening EU nuke talks,"), a scary prospect considering the criminal behavior of Iran. For a background on this issue / to read Ahamdinejad's speach, see Maravot News 10.26.05.

Mel Copeland

---
11.06.05 Rove linked to investigation of conservative broadcaster
November 6 – Karl Rove, still under investigation for his alleged role in leaking the identity of an undercover CIA agent, faced possible implication in further scandal yesterday after the resignation of an ally accused of misusing public broadcasting funds for partisan political purposes. Kenneth Tomlinson, a friend of the powerful presidential adviser for a decade, was forced to resign on Thursday as chairman of the Corporation for Public Broadcasting (CPB), where he set out to correct what he saw as liberal media bias. An internal report found he had overreached in those ambitions.

Yesterday it emerged that Mr. Tomlinson is also under investigation by the State Department for possible abuses of power in a second job, as head of the federal agency overseeing government broadcasts to foreign countries. The New York Times reported he was suspected of diverting federal funds to further his partisan agenda at the CPB. The investigation is also looking at allegations that he put unqualified cronies and ghost employees on the federal payroll. [More>>independent.co.uk]
---
11.06.05 Report warned Bush team about intelligence doubts
WASHINGTON, November 6 – A top member of Al Qaeda in American custody was identified as a likely fabricator months before the Bush administration began to use his statements as the foundation for its claims that Iraq trained Al Qaeda members to use biological and chemical weapons, according to newly declassified portions of a Defense Intelligence Agency document. The document, an intelligence report from February 2002, said it was probable that the prisoner, Ibn al-Shaykh al-Libi, ³was intentionally misleading the debriefers¹¹ in making claims about Iraqi support for Al Qaeda¹s work with illicit weapons.

The document provides the earliest and strongest indication of doubts voiced by American intelligence agencies about Mr. Libi¹s credibility. Without mentioning him by name, President Bush, Vice President Dick Cheney, Colin L. Powell, then secretary of state, and other administration officials repeatedly cited Mr. Libi¹s information as ³credible¹¹ evidence that Iraq was training Al Qaeda members in the use of explosives and illicit weapons. [More>>nytimes.com]
---
11.06.05 The FBI's secret scrutiny
November 6 – The FBI came calling in Windsor, Conn., this summer with a document marked for delivery by hand. On Matianuk Avenue, across from the tennis courts, two special agents found their man. They gave George Christian the letter, which warned him to tell no one, ever, what it said.

Under the shield and stars of the FBI crest, the letter directed Christian to surrender "all subscriber information, billing information and access logs of any person" who used a specific computer at a library branch some distance away. Christian, who manages digital records for three dozen Connecticut libraries, said in an affidavit that he configures his system for privacy. But the vendors of the software he operates said their databases can reveal the Web sites that visitors browse, the e-mail accounts they open and the books they borrow

...The Connecticut case affords a rare glimpse of an exponentially growing practice of domestic surveillance under the USA Patriot Act, which marked its fourth anniversary on Oct. 26. "National security letters," created in the 1970s for espionage and terrorism investigations, originated as narrow exceptions in consumer privacy law, enabling the FBI to review in secret the customer records of suspected foreign agents. The Patriot Act, and Bush administration guidelines for its use, transformed those letters by permitting clandestine scrutiny of U.S. residents and visitors who are not alleged to be terrorists or spies.

The FBI now issues more than 30,000 national security letters a year, according to government sources, a hundredfold increase over historic norms. The letters -- one of which can be used to sweep up the records of many people -- are extending the bureau's reach as never before into the telephone calls, correspondence and financial lives of ordinary Americans. [Full story>>washingtonpost.com]
---