News Headlines & Trends
---
3.15.09 At A.I.G., Good luck following the money
March 15 - We return this week to the subject of the American International Group, the giant insurer that has received $170 billion in taxpayer guarantees, because the clamor over its rescue continues to grow. Of concern to those on both Capitol Hill and Main Street is the secrecy surrounding the $50 billion funneled to A.I.G.'s counterparties since it nearly collapsed last fall.

...According to people briefed on the situation who were granted anonymity because they were not authorized to talk about it, the counterparties that taxpayers have bailed out include Goldman Sachs, Merrill Lynch and two French banks, Calyon and Société Générale. Along with other unidentified entities, the counterparties have received 30 percent of the $170 billion allocated to A.I.G. (Goldman has said that it had insulated itself from any financial damage that might have resulted from an A.I.G. collapse.) Even A.I.G.'s own independent directors haven't been told which of the counterparties were paid, according to a person with direct knowledge of the matter who requested anonymity because of confidentiality agreements.

SUCH secrecy raised hackles because the insurance claims were paid off in full, even though widespread defaults on the underlying debt have not occurred. Why, many people wonder, did the Fed make A.I.G.'s counterparties whole on losses that have not happened yet? Why didn't it force these financial companies to close out the contracts at a discount, making them take what is known on Wall Street as a "haircut"? [More>>nytimes.com; See also

nytimes.com, March 15, "Bonus money at troubled A.I.G. draws heavy criticism" : WASHINGTON — Obama administration officials and Republicans alike were nearly universal in condemning the $165 million in bonuses that the American International Group, which has received more than $170 billion in taxpayer bailout money from the Treasury and Federal Reserve, is to pay executives in the business unit that brought the company to the brink of collapse last year.
"There are a lot of terrible things that have happened in the last 18 months, but what's happened at A.I.G. is the most outrageous," said Lawrence H. Summers, President Obama's chief economic adviser, during an appearance Sunday on ABC's "This Week With George Stephanopoulos." "What that company did, the way it was not regulated, the way no one was watching, what's proved necessary — is outrageous."

The payments to executives in A.I.G.'s financial products unit are in addition to $121 million in previously scheduled bonuses for the company's senior executives and 6,400 employees across the sprawling corporation. Last week, Treasury Secretary Timothy F. Geithner pressured A.I.G. to cut the $9.6 million going to the top 50 executives in half and tie the rest to performance...
---
3.15.09 Taliban leader Mullah Omar backs peace talks
March 16 - Taliban leader Mullah Omar has given his approval for talks aimed at ending the war in Afghanistan and has allowed his representatives to attend Saudi-sponsored peace negotiations. Mullah Omar has given the green light to talks, said one of the mediators, Abdullah Anas, a former friend of Osama Bin Laden who lives in London. The breakthrough emerged after President Barack Obama admitted that US-led forces are not winning the war in Afghanistan and called for negotiations with moderate Taliban. "A big, big step has happened," Mr. Anas was quoted as saying by The Sunday Times today. "For the first time, there is a language of ...Peace on both sides," he said. US President Barack Obama recently underlined the need for negotiations with moderate Taliban to bring peace to the region.

Obama's new strategy for a war in Afghanistan, which he said Washington was not winning, is to shift more American efforts towards problems in neighboring Pakistan and to seek some kind of political reconciliation with the vast majority of insurgents in the nation. One of the negotiators for the Afghan government confirmed the contacts with Mullah Omar's representatives. "Its extremely sensitive but we have been in contact both with Mullah Omar's direct representatives and commanders from the front line," the negotiator for the Afghan government said. [>news.com.au; See related story,

cnn.com, March 15, "Taliban threaten to kill aid workers as spies" :KABUL, Afghanistan - A top Taliban commander has issued a new threat to foreign aid workers, saying that under the insurgent group's new "constitution" they will execute them as spies or hold them in exchange for the release of Taliban fighters. In an exclusive telephone interview Friday night with CNN, Mohammed Ibrahim Hanafi said the Taliban intelligence wing was actively gathering information on foreign aid workers.

"If we get someone, that is how we will deal with it under our new constitution," he said. He added that he was telling "Afghan brothers not to work with NGOs." In the 15-minute interview, arranged by an intermediary for CNN, Hanafi repeated the Taliban's pledge to keep girls out of public schools. "Our law is still the same old law which was in place during our rule in Afghanistan," he said. "Mullah Mohammad Omar was our leader and he is still our head and leader and so we will follow the same law as before."...
---
3.15.09 Osama hiding in Pakistan's Hindu Kush mountains: Report
NEW YORK, March 15 - The United States is said to have tracked down the world's most wanted terrorist, Osama bin Laden, in the impenetrable Hindu Kush mountains in Pakistan's scenic Chitral region, according to a media report. ( Watch ) America won't say it officially, but the world's biggest manhunt for bin Laden who murdered nearly 3,000 people on 9/11 has zeroed in on Chitral's stunning peaks and valleys, the "New York Daily News" reported. The region has been sealed off to outsiders and is now regularly buzzed by American spy drones, it said.

Six US and foreign officials have also confirmed that the Hindu Kush mountains in the Chitral region have been eyed as bin Laden's hideout since 2006 by Osama hunters aiming for the big kill. A lengthy review of evidence, including recent Predator fly-bys, bin Laden's tapes since 9/11 and interviews with three dozen experts on al-Qaeda, Pakistan and special operations, point to these vast mountains as Osama's likely haven, the report said. Two senior foreign officials said the nearby town of Kalam also is suspect.

In fact, drones were first spotted spying on Chitral last summer and were seen again as recently as February 2. It is so far from US-run airfields that drone sorties are limited to just a few hours due to fuelling issues, the report said. Moreover, Islamic militancy is taking root in several Chitrali valleys leading to Afghan border, prompting Pakistan to decree them off-limits to foreigners, local sources said, reinforcing the suspicion Osama is nearby. [>timesofindia.indiatimes.com; See also
forums.army.ca, March 15, "Has OBL been found?" ....The CIA believes a Jan. 14 Bin Laden rant about Gaza was recorded in December - before Israel's incursion and before Chitral was cut off from the rest of Pakistan by heavy snows. The News has found that only four of his tapes were ever recorded in the harsh winter months from January to March. Most were made in the fall, and no tapes were recorded in winter after 2003 until a year ago. Experts say this is a new clue which may mean he lives so high up he's snowbound in winter — safer from attack but unable to dispatch couriers on foot with his screeds. "It does suggest some sort of seasonal limitation," said Arthur Keller, an ex-CIA case officer in Pakistan. "It fits the known facts, including rumors and hints he had long since moved away from Waziristan and was hiding further north in Bajaur or Chitral."...Chitral "is a natural route from Afghanistan" into the Hindu Kush, observed an ex-operative in "Alec Station," the CIA's Bin Laden unit. The jagged range of shark's teeth peaks have always been a sanctuary for brigands lying low. "It's closed by snow in winter, has hard to reach high villages and difficult helicopter access, a Sunni Muslim population and no random visitors," said one expert, who needs anonymity to protect Chitrali allies. But, it's "hard to get out of if cornered."

More about Chitral — a region with several access routes into Afghanistan — can be read at pakistanpaedia.com: "...Being landlocked by mountain ranges, Chitral is only accessible through dozens of mountain passes, some of which are even more than 15,000 feet high. To the south, the dangerous jeep-able Lowari Pass (3,200 m or 10,499 ft) leads 365 kilometres to the region of Peshawar. In the north, the easiest route during summer (it is closed by snow in the winter), and the only one which allows the use of pack animals, runs over the Baroghil Pass (3,798 m or 12,460 ft) to Afghanistan's Wakhan Corridor. To the east, there is a 405 kilometres route to Gilgit over the 3,719 m (12,201 ft) Shandur Pass. And in the west, the Dorah Pass provides an additional route to Afghanistan. However, the easiest access to Chitral is in the southwest along the Chitral/Kunar valley towards Jalalabad (Afghanistan); this route is open all year and provides direct access to Kabul. However the Pakistan-Afghanistan border prevents this being used as an internal route to Peshawar and the south."...

See related story,

alarabiya.net, March 15, "Pakistan fighters torch Afghan supply truck" : PESHAWAR, Pakistan - Pakistani Taliban set fire to 20 trucks carrying supplies to Western forces in Afghanistan Sunday in the first major attack on a vital supply route through Pakistan in several months, police said. A dozen more trucks and trailers were damaged when the militants, armed with automatic weapons and rockets, attacked a terminal on the outskirts of Peshawar city. "Taliban militants fired four rockets on a truck terminal on the ring road on the city's outskirts and destroyed eight trucks completely," local police official Gohar Khan told AFP.

...Khan also said police arrived during the attack, in which the two truck drivers were shot and injured, but the Taliban fled to the neighboring tribal area...The route from Peshawar up to the border through the Khyber Pass is the most important of two routes through Pakistan...The main land route into Afghanistan, where international forces are battling a Taliban fighters, passes through Pakistan's lawless Khyber area.
---
3.15.09 Cleric asks followers to donate cash for Afghan militants
LONDON, March 15 - A Muslim cleric has asked his followers in the UK to give cash to help front-line mujaheddin fighting the US-led NATO forces in Afghanistan. A recording has emerged of Anjem Choudary, a self- styled Sharia judge and former leader of the outlawed Al-Muhajiroun, telling his followers to stop spending money on their families and divert it to Muslim soldiers waging jihad or holy war, The Sunday Times reported on Sunday. According to the report, he has earlier called for British women to be forced to wear burqas and for adulterers to be stoned to death. The emergence of the tape coincided with the death of a British soldier in Afghanistan, the 150th to die there since 2001, on Saturday. Last week Choudary's followers shouted abuse at soldiers from the Royal Anglian Regiment as they paraded through Luton, calling them "butchers and killers." [>indianexpress.com]
---
3.15.09 Six NATO soldiers among 17 killed in Afghanistan
KABUL, Afghanistan (DPA) March 15 - Five NATO-led soldiers, three Afghan civilians, two Afghan police officers and five Taliban militants were killed in the latest series of blasts and clashes in Afghanistan, while a sixth NATO soldier died in a traffic accident, officials said Sunday. In the latest incident, four NATO-led International Security Assistance Force (ISAF) soldiers were killed in a roadside bomb blast in eastern region of the country, the alliance said in a statement. The statement did not disclose the nationalities of the soldiers, nor say where exactly in eastern region the incident took place.

But, Zabiullah Mujahid, a Taliban spokesman said that their forces attacked a US military tank in Kot district of eastern Nangarhar province on Sunday afternoon. Mujahid who was speaking from an undisclosed location by phone said that "several American soldiers were killed" in the attack and that their destroyed tank was still on the site. It was not immediately clear if the Taliban and NATO statement were referring to the same incident.

Meanwhile, a French soldier was killed in a Taliban attack in an area east of Kabul city on Saturday, French Defence Ministry and NATO military in Kabul said. The sixth NATO fatality was a German soldier, who was killed in a traffic accident in northern Afghanistan, the German Defence Ministry said. A British soldier was also killed in an insurgent attack in southern province of Helmand on Saturday, bringing the total number of NATO fatalities to seven in the past two days. The ISAF has more than 50,000 forces deployed from 41 nations to the war-torn Afghanistan.

Meanwhile, a suicide bomber detonated an explosives-packed vehicle near a convoy of foreign forces in the Afghan capital Kabul on Sunday afternoon, killing two civilians and wounding 14, Zemarai Bashary, spokesman for the Interior Ministry said. The attack, which took place in Qala Kashif, an area in the western outskirts of Kabul, caused no casualties among the foreign military personnel, he said, adding that several children were among the wounded as the blast occurred near a school in the area.

In the south of the country, a roadside bomb targeting Kandahar city's mayor on Sunday killed one bystander and wounded six more civilians, Abdul Khaliq, a senior police official in the province. The bomb in a push-barrow damaged the mayor's vehicle, but he escaped unharmed. In a separate incident in the same province, US-led coalition forces said they killed five suspected Taliban insurgents in an operation in Maiwand district of the province on Sunday morning. A statement said troops killed the militants after they fired at the joint forces who were approaching their compound. Four suspects were also detained.

In the neighboring Helmand province, two Afghan police forces were killed Saturday night when the Taliban militants attacked their unit in Nawa district, Assadullah Sherzad, the provincial police chief, said. The poorly trained and equipped Afghan forces bear the brunt of Taliban attacks in Afghanistan. More than 2,300 police forces were killed in the past two years. Seven years from the ouster of their regime, Taliban militants continue to grow stronger and extend their writ to wider swathes of the country.

More than 70,000 foreign soldiers and around 160,000 indigenous troops are battling the Taliban, who are aiming to topple the Western-backed Afghan government and expel its foreign patrons. The US government is sending 17,000 addition troops by mid-summer this year to help other forces quell the Taliban-led insurgency. [>khaleejtimes.com]
---
3.15.09 Tourists killed in Yemen explosion
March 15 - Four tourists and a Yemeni man have been killed in an explosion at a tourist site in Yemen, a security official has said. The tourists were believed to have been from South Korea, the official said on Sunday. Authorities were investigating what caused the blast at the archaeological site in the southern province of Hadramout. The explosion happened as the tourists passed a vehicle, one official told the Reuters news agency. "Preliminary information indicates there may have been a suicide attack, but this has not yet been confirmed," another official said on Sunday. In January 2008, two Belgian tourists were killed in Yemen in an attack blamed on al-Qaeda-linked fighters. The Arabian peninsula country, one of the poorest outside Africa, has been seen as a stronghold for al-Qaeda-linked fighters. [>aljazeera.net; See more details,

alarabiya.net, March 15, "Five killed in blast at Yemen tourist site" : ..The explosion occurred as the tourists visited the city dubbed the Manhattan of the Desert, which boasts the world's oldest skyscrapers dating back to the 16th century, the official told Reuters...That attack took place at the entrance to Mahram Bilqis, an ancient oval-shaped temple which legend says belonged to the Biblical Queen of Sheba. Separately, authorities said they had arrested Abdullah al-Harbi, a Saudi man who was on a list of 85 suspected militants issued by Saudi Arabia in February...The Saudi list was issued after al-Qaeda's wing in Yemen, Osama bin Laden's ancestral home, issued a video on the Internet in which it changed its name to al-Qaeda in the Arabian Peninsula, in an apparent attempt to revive the militant group in Saudi Arabia. The leader of the group, a Yemeni, appeared on the video and threatened attacks against Westerners in the region. [end]
---
3.15.09 Clashes between Somali Islamist militias kill 14
MOGADISHU, Somalia (AP) March 15 - Clashes between rival Islamist militias have killed at least 14 people in central Somalia, residents said Sunday. The fighting is the latest sign of deep divisions among Islamist insurgents. Residents said most of those killed in Saturday and Sunday's clashes were fighters for the al-Shabab group or its rival Ahlu-sunah Wal-jamea. The US State Department says some al-Shabab leaders have links to al-Qaeda and the group has launched several attacks on African Union peacekeepers.

Ahlu-sunah Wal-jamea has a more moderate reputation for promoting Somalia's traditional Sufi form of Islam. The weekend clashes in the town of Wabho killed eight people, mainly fighters, said resident Ali Mohamed. Six people were killed in the nearby village of Dac, says Hassan Ali. Both sides used heavy machine guns, artillery and mortars in Wabho and Mohamed said many civilians had been injured. [More>>thejakartapost.com]
---
3.14.09 Nasrallah vows Hezbollah will never recognize Israel
March 14 - Hezbollah Secretary-General Hassan Nasrallah vowed on Friday that his organization will never recognize Israel. In a speech delivered from his secret hiding place and beamed via video to thousands of Hezbollah followers in Lebanon, Nasrallah said his organization will never officially accept Israel, which in his words represents "a rapacious, racist, and illegal entity." "We are strong and we are capable," Nasrallah said. "If we will stand on our feet, we can destroy this entity." "As long as this rapacious entity exists, then resistance is our honor and our lives," Nasrallah added, imploring all Arabs and Muslims to adhere to the same path.

The Hezbollah chief also commented on the possibility of future talks with the United States in light of recent reports that Britain plans on reaching out to the political wing of the Lebanon-based Shi'ite movement. "The United States is ready now to talk with any party, not out of a sense of morality, but because it failed in its attempts to implement its plans in the region," Nasrallah said. "It failed in its plan to conduct regime change in Syria and it failed in stopping Iran." [More>>haaretz.com]
---
3.14.09 'Saudi must give domestic workers equal rights'
RIYADH, Saudi Arabia, March 14 - Saudi Arabia should guarantee that domestic workers are given the same rights as other workers, Human Rights Watch said, as the kingdom's legislative body prepares to discuss a draft labour law. The New York-based watchdog said in a statement late yesterday that the Shura Council should ensure that the proposed legislation on domestic workers adheres to international standards. "The Shura Council should ensure that the proposed reforms provide domestic workers the same rights accorded other workers under the labour law," said Nisha Varia, deputy director of the women's rights division of HRW.

"Working in private homes does not mean they should lose basic protections, and guaranteeing these rights by law can be especially important since they work out of the public view." The rights group estimates that there are around 1.5 million domestic workers from Indonesia, Sri Lanka, the Philippines and other countries in the Arab world's biggest economy. It says workers are routinely underpaid, overworked, confined to the workplace or subjected to verbal, physical and sexual abuse. The Shura Council, a consultative body, is planning to discuss the draft annex to the labour law next week and to make recommendations to the Saudi cabinet, which can enact the measure into law, HRW said. [>indianexpress.com]
---
3.14.09 5 killed in Afghan operation targeting bomb-maker
KABUL, March 14 - An overnight raid conducted by US coalition troops and Afghan special forces killed five militants during a mission against the leader of a roadside bomb-making cell south of Kabul, a US spokesman said Saturday. However, a spokesman for the governor of Logar province said five civilians were killed in the operation. US spokesman Col Greg Julian denied that claim and said militants fired on the combined force after American and Afghan troops ordered them to surrender...Local Afghan officials have been known to falsely claim that civilians were killed in an operation, either under pressure from militants or in hopes that villagers would be able to claim payment from the US or Afghan government. [Full story>>japantoday.com]
---
3.14.09 High-profile republican arrested over murder of soldiers
March 14 - High profile republican Colin Duffy is one of three men arrested over the murder of two soldiers outside Massereene barracks in Northern Ireland last week. Police arrested the 41-year-old Duffy and two other men aged 32 and 21 in the Lurgan area of Co Armagh and in Bellaghy, Co Londonderry over the fatal shooting of soldiers, Patrick Azimkar, 21, and Mark Quinsey, 23, who were ambushed as they took a pizza delivery outside the base hours before flying off to Afghanistan. Two other soldiers were injured and two pizza delivery men were also wounded.

Former IRA prisoner Duffy had broken away from mainstream republicans and is part of a protest group that criticized Sinn Fein's decision to back the new Police Service of Northern Ireland. Duffy came to prominence in the 1990s after he was acquitted of the murder of a soldier when it emerged a key witness against him was a loyalist paramilitary, but was later arrested over the subsequent murder of two police constables though the case collapsed. [More>>timesonline.co.uk]
---
3.14.09 Chavez open to Russian strategic bombers using Venezuelan island
MOSCOW (RIA Novosti) March 14 - Venezuelan President Hugo Chavez has proposed to Russia using a Venezuelan island for temporary hosting of Russian long-range aviation, a top-ranking Russian Air Force official said Saturday. "There is such a proposal on the part of the Venezuelan president. Chavez proposed to us a whole island with an airfield that we can use for temporary basing of strategic bombers," said Maj.-Gen. Anatoly Zhikharev, the chief of the long-range aviation staff. "If there is the relevant political decision, the island ... could be used by the Russian Air Force," Zhikharev told journalists. He said the temporary basing opportunity could be used for air patrol missions. In September 2008 two Russian Tu-160 Blackjack multi-mission strategic bombers arrived in Venezuela after a 13-hour flight over the Arctic and Atlantic oceans. There were no nuclear weapons on board the aircraft. After that, they carried out a patrol mission over the Caribbean. The Tu-160 Blackjack is a supersonic, variable-geometry heavy bomber, designed to strike strategic targets with nuclear and conventional weapons deep in continental theaters of operation. [>en.rian.ru]
---
3.14.09 Bin Laden accuses Arab leaders
March 14 - Osama bin Laden, the leader of al-Qaeda, has said in an audio tape obtained by Al Jazeera that some Arab leaders were "complicit" with Israel during its offensive in Gaza. Bin Laden said in the tape aired on Saturday that Arab leaders were "hypocrites," and that "liberating Jerusalem needed honest Arab leadership" to fight and liberate the Arab people. "It has become clear that some Arab leaders were complicit with the crusade Zionist alliance against our people. These are the leaders that America calls moderate," bin Laden said.

He said that "Gaza's holocaust" was a "historic event and a tragedy" adding that the Arab world needed a "devoted committee of scholars from the Islamic world to establish an advisory body" on the future of the region, "not leadership that is formed by hypocrites." Al-Qaeda's leader also called for support for the mujahidin in Iraq and said that his network of fighters would "go to Jordan from the sea to the river to liberate Palestine."
The tape, whose authenticity could not be verified, was the second by the al-Qaeda leader in two months in which he has focused on the Gaza offensive. In an audio tape posted on an internet site on January 14, he called on Muslims across the world to take revenge against Israel for the war on the coastal territory. He said that the onslaught had been timed to take advantage of the dying days of the presidency of George Bush, the former US president. The 22-day Israeli offensive on Gaza over the new year, killed more than 1,300 Palestinians. [>aljazeera.net]
---
3.13.09 China 'worried' about US Treasury holdings
BEIJING (AP) March 13 - China's premier expressed concern Friday about its massive holdings of Treasuries and other US debt, appealing to Washington to safeguard their value, and said Beijing is ready to expand its stimulus if the economy worsens. Premier Wen Jiabao noted that Beijing is the biggest foreign creditor to the United States and called on Washington to see that its response to the global slowdown does not damage the value of Chinese holdings.

"We have made a huge amount of loans to the United States. Of course we are concerned about the safety of our assets. To be honest, I'm a little bit worried," Wen said at a news conference following the closing of China's annual legislative session. "I would like to call on the United States to honor its words, stay a credible nation and ensure the safety of Chinese assets." Wen's comments foreshadowed possible appeals to President Barack Obama, who will meet with Chinese President Hu Jintao at a London summit of leaders of the G-20 group of major economies on April 2 to discuss the global financial crisis. [More>>thejakartapost.com; See related stories,

xinhuanet.com, March 13, "Premier: China ready to roll out new stimulus package if needed.";

cbsnews.com, March 13, "Summers: $50 trillion in global wealth has been erased" : Lawrence Summers, Director of the White House National Economic Council, at left, gave a speech at the Brookings Institution in Washington this morning detailing why the economic crisis started and defending the Obama administration's strategy for combating it. As for the cause, Summers said the recession came from the "spontaneous correction of financial excesses."

He then threw out some staggering numbers about how bad things have gotten. "On a global basis, $50 trillion dollars in global wealth has been erased over the last 18 months. This includes $7 trillion dollars in US stock market wealth which has vanished, and $6 trillion dollars in housing wealth that has been destroyed," he said. "Inevitably, this has led to declining demand, with GDP and employment now shrinking at among the most rapid rates since the second World War."...

cbsnews.com, March 13, "Congress keeps automatic pay raises" : Despite the efforts of Republican Sen. David Vitter, it looks like automatic Congressional pay raises, first instituted in 1989, are not going away anytime soon. Vitter, a Louisianan whose personal issues have threatened his political career, pushed to add a ban on the automatic raises to the $410 billion spending bill signed into law this week. With the economy in turmoil, members of Congress are particularly sensitive to the pitfalls of publicly backing automatic pay raises for themselves. At the same time, they know that if they ban the automatic raises, they will be forced, in the future, to hold a vote every time they want their salaries to go up. And there is never a good time for headlines about relatively rich public officials deciding to give themselves more taxpayer money...
---
3.13.09 Switzerland announces easing of bank secrecy
BERN, Switzerland (AFP) March 13 - Switzerland announced on Friday that it would relax its practices on banking secrecy, saying it would conform to OECD standards after similar decisions by several other European countries. The government said in a statement that by accepting standards laid down by the Organization for Economic Cooperation and Development, Switzerland was undertaking to strengthen the exchange of information with other countries. This would be done "case by case" and on the basis of "concrete and justified" requests.

..Three weeks before a summit meeting of leaders from the Group of 20 (G20) leading countries in London, and in the face of a risk that Switzerland might be included on a so-called black list of uncooperative centres sheltering tax evasion, the Swiss authorities also stressed that its "banking secrecy does not protect tax crimes." The Swiss statement came the day after Liechtenstein, Andorra and Belgium said that they would relax their banking secrecy practices. And on Friday, Austrian finance minister Josef Proll said that Austria would agree to lift its banking secrecy, case by case, if "justified suspicions" were presented. [Full story>>timesofindia.indiatimes.com]
---
3.13.09 Inter-American relations roiled
RIO DE JANEIRO, March 13 - Ouster of Several US Officials Highlights Strains in Hemisphere. An American diplomat accused by the Bolivian government of conspiring with opposition factions left the country Thursday, one of several US officials forced out of Andean nations in recent months and another sign of the deep discontent with US policy that the Obama administration faces in Latin America. The ejection of Francisco Martinez, the second secretary of the US Embassy, for allegedly meeting with the political opposition and spies, follows Bolivia's decision to throw out Ambassador Philip S. Goldberg in September, Venezuela's expulsion of Ambassador Patrick Duddy the same month and Ecuador's move against two American diplomats last month.

The departures do not include Bolivia's decision to banish 38 Drug Enforcement Administration agents and support personnel, its request to remove US Agency for International Development employees from the coca-growing region of the Chapare or the US government's decision to pull Peace Corps volunteers out of Bolivia. "We are talking here about diplomats who are taking advantage of privileges and immunities, who use those privileges and immunities to perform intelligence tasks on behalf of a foreign power," Bolivian Government Minister Alfredo Rada said this week at a news conference in La Paz, the capital. "No government in the world would accept that."
The State Department has denied any untoward conduct in the cases. The meeting that the Bolivian government alleges occurred between American officials including Martinez and Ernesto Suárez, an opposition governor of the Beni region — part of what President Evo Morales described as the American "conspiracy" against his administration — never happened, according to the State Department. And other recent allegations, including that a Bolivian police captain working in the state oil company had been trained by the CIA to infiltrate it, were also false, US officials said. [More>>washingtonpost.com]
---
3.13.09 Queensland oil spill: saving wildliefe from a man-made disaster
March 13 - It's a delicate job - painstakingly wiping deadly oil from the tiny claws of ghost crabs, degunking pelicans' necks and bills and cleaning the scaly skin of a venomous sea snake. Yesterday volunteers, wildlife carers and two of the Sunshine Coast's biggest tourist attractions combined to save creatures great and small from the toxic oil spill which has coated sections of Queensland beaches and rocky headlands from Noosa to Caloundra. Meanwhile, hard questions were being asked as to how the disaster could have happened. The Hong Kong-flagged cargo ship responsible has been detained and its owners could face $2 million in fines. The company, Swire Shipping, may also be liable for up to $250 million for environmental damage to the shoreline. Up to 100 tones of oil may have leaked from the ship, battered by cyclonic seas off Moreton Island on Wednesday. [More>>news.com.au with picture gallery of disaster]
---
3.13.09 US missile strike kills 24 in Pakistan
PESHAWAR, Pakistan, March 13 - The death toll from a suspected U.S. air strike in northwest Pakistan rose to 24 on Friday as Taliban fighters sifted the rubble for more bodies, local officials reported. Four missiles believed to have been fired by at least two pilotless US drone aircraft on Thursday evening hit a militant hideout and training camp in the Kurram tribal region on the Afghan border. "We've so far found 24 bodies in the debris and we're still looking," a Taliban official in the ethnic Pashtun region said by telephone. He declined to be identified.

Two missiles destroyed a Taliban training camp in Kurram, officials said, one of seven semi-autonomous regions near Pakistan's porous border with Afghanistan, where US troops are battling Taliban fighters. Earlier in the day, a local administration official told AFP that the death toll has risen to 18 as three more bodies were found and as Taliban fighters were "still sifting the rubble for more bodies." A senior security official told AFP there were "foreigners" among the dead, in reference to al-Qaeda fighters, and that 50 others, mostly armed men were wounded. No high-value targets were believed to have died, the official added. Another security official said most of the dead were Afghan Taliban. "The training centre was run by local Taliban commander Fazal Saeed and training was underway at the time of the strike," the official added. [More>>alarabiya.net]
---
3.12.09 Stocks rally for a third day
(AP) March 12 - Stocks pushed higher on Thursday, trying to rally for a third consecutive day, despite reports of a cut in General Electric's credit rating and an increase in jobless claims. The Labor Department said first-time claims for unemployment benefits rose to 654,000 from the previous week's figure of 645,000, more than analysts' expectations. The data showed the economy remained troubled, but analysts said they believed that investors had largely factored in bleak numbers. The Commerce Department said retail sales fell by 0.1 percent in February — less than the 0.5 percent drop economists predicted.

In addition, the ratings agency Standard & Poor's said it was cutting G.E.'s top credit rating because of problems at the conglomerate's lending arm. S.&P. lowered G.E.'s rating to AA+ from AAA, a one-notch reduction. The long-expected move means it will be more expensive for G.E. to raise money in the credit markets. At about 1 p.m., the Dow Jones industrial average was 131 points higher. The Standard & Poor's 500-stock index was 2.1 percent higher and the Nasdaq was 1.8 percent higher. Oil prices rose $1.47 a barrel, to $43.80.

Markets in other countries stalled Thursday, with Japan's Nikkei 225 index off more than 2 percent, as investors began to doubt a rally could be sustained. Most Asian markets ended in the red, led by automakers and financial firms, in lackluster trade that defied slim gains on Wall Street overnight. Major European exchanges were all lower, but were trying to rally in afternoon trading. Stocks worldwide rallied on Wednesday as indications that the struggling bank giant Citigroup might be starting to turn around lifted optimism about the hard-hit financial system, whose recovery is seen as essential to ending the global slump.

But there was little to entice investors Thursday after figures this week showed a continued sharp drop-off in Chinese exports and Japanese industrial spending — the latest evidence that Asia's economies were being badly hurt by an economic crisis that has leveled overseas consumer demand for exports. On Thursday, revised figures showed that Japan's economy, the world's second-largest after the United States, suffered its biggest contraction in 35 years in the fourth quarter. Gross domestic product shrank at a 12.1 percent annual rate in the October-December period, less than the Cabinet Office's preliminary reading of a 12.7 percent contraction, but still confirming a serious recession. [More>>nytimes.com; Update:...The Dow Jones industrial average jumped 239.66 points, or 3.46 percent, to 7,170.06. The Standard & Poor's 500-stock index leaped 29.38 points, or 4.07 percent, to 750.74. The Nasdaq composite index rose 54.46 points, or 3.97 percent, to 1,426.10...

See also:

xinhuanet.com, March 12, "China's industrial output up 3.8% in 1st 2 months" : BEIJING - China's industrial output grew 3.8 percent in the first two months this year, with a rise of 11 percent in February, the National Bureau of Statistics said Thursday. (The page contains special reports on various aspects of China's economy.)

thestar.com.my, March 12, "Japan revises 4Q GDP to 12.1% contraction, fastest pace in 35 years" : TOKYO: Japan's economy in the fourth quarter didn't shrink quite as much as initially estimated, but revised figures still marked the fastest pace of contraction in 35 years, the government said Thursday. Gross domestic product, or the total value of the nation's goods and services, fell at a 12.1 percent annual rate in the October-December quarter, slightly better than the Cabinet Office's preliminary reading of a 12.7 percent contraction. That's the steepest drop for Japan since the oil shock of 1974 and is double the pace of the decline in the US. On a quarterly basis, GDP dropped 3.2 percent, improved from an initial reading of a 3.3 percent decline due in part to more-than-expected public investment, the government said...

japantoday.com, March 12, "Japan stocks sink as economic worries linger" : TOKYO - Japanese stocks tumbled Thursday, dragged down by lingering pessimism over the global economy after Wall Street failed to convincingly build on a recent rebound. The benchmark Nikkei 225 index lost 177.87 points, or 2.4%, to 7,198.25 after vaulting more than 4% a day earlier. The broader Topix index dropped 3% to 700.93, the lowest since Dec. 14, 1983 when it closed at 696.19...
---
3.12.09 Congresswoman with ties to bank helped seek funds
WASHINGTON, March 12 - Top banking regulators were taken aback late last year when a California congresswoman helped set up a meeting in which the chief executive of a bank with financial ties to her family asked them for up to $50 million in special bailout funds, Treasury officials said. Representative Maxine Waters, Democrat of California, requested the September meeting on behalf of executives at OneUnited, one of the nation's largest black-owned banks.

Ms. Water's husband, Sidney Williams, had served on the bank's board of directors until early last year and has owned at least $250,000 in stock in the institution. Treasury officials said the session with nearly a dozen senior banking regulators had been intended to allow minority-owned banks and their trade association to discuss the losses they had incurred from the federal takeover of Fannie Mae and Freddie Mac. But Kevin Cohee, OneUnited's chief executive, instead seized the opportunity to plead for special assistance for his bank, federal officials said. [More>>nytimes.com]
---
3.12.09 Applause for justice as swindler Madoff is sent to slammer
March 12 - No More Penthouse Lifestyle for the Financial Scammer. Applause broke out in a Manhattan courtroom today when a judge denied admitted Ponzi scheme operator Bernard Madoff's request to return to his luxury penthouse, and instead ordered him handcuffed and taken straight to jail. Madoff pled guilty to 11 felony counts Thursday including securities fraud, mail fraud, wire fraud, money laundering, and perjury. He faces a 150 year sentence. [More>>abcnews.go.com; See related ponzi story,

timesonline.co.uk, March 12, "First picture: City trader Terry Freeman, in hiding after being accused of £40 million fraud : Police are concerned for the safety of a City trader alleged to have masterminded a £40 million "Ponzi" fraud. Terry Freeman, 61, a foreign exchange trader, has been in hiding since he was freed on police bail after being arrested on suspicion of market offences and money laundering. The house in Buckhurst Hill, Essex, where he lived with his Russian wife Yegana, 30, is empty and someone has splattered white paint on the doors and windows.

..More than 800 people invested in GFX Capital Markets, set up by Mr. Freeman in 2004 to trade on the foreign exchange market. Some people, including a number of professional sportsmen and minor celebrities, invested up to £1 million and saw high returns which continued last year even as the markets faltered. All those investing allegedly gave Mr. Freeman power of attorney over their trading accounts which were held by the Swiss bank Saxo. But the business ran into trouble last year and investors found they were unable to withdraw money or that their account balances were zero...
---
3.12.09 Iran missile, nuclear threat 'real, dangerous' - Russian analyst
MOSCOW (RIA Novosti) March 12 - Russia and the West would be making a big mistake if they ignored or underestimated the potential missile and nuclear threat coming from Iran, a Russian military expert said on Thursday. "Iran is actively working on a missile development program. I won't say the Iranians will be able to develop intercontinental ballistic missiles in the near future, but they will most likely be able to threaten the whole of Europe," said Maj. Gen. Vladimir Dvorkin, head of the Moscow-based Center for Strategic Nuclear Forces.

Some Western and Russian sources claim that Iran may be currently running a program, dubbed Project Koussar, to develop a totally different missile with a range of 4,000-5,000 km (2,500-3,300 miles). "Iran has long abandoned outdated missile technologies and is capable of producing sophisticated missile systems," Dvorkin said at a news conference in RIA Novosti.

Iran successfully launched last year an upgraded Shahab-3 ballistic missile as part of a navy exercise, dubbed Great Prophet 3, in the Persian Gulf and the Strait of Hormuz. With a reported range of 2,000 kilometers and armed with a 1-ton conventional warhead, the Shahab-3 puts Israel, Turkey, the Arabian peninsula, Afghanistan and Pakistan within striking distance. Western powers led by the United States, along with Israel, accuse Tehran of attempting to develop nuclear weapons and ballistic missile technology for their delivery. Iran says it needs its nuclear program for the peaceful generation of electricity and missile program for space exploration. [More>>en.rian.ru; See related stories:

metimes.com, March 12, "Chairman of Joint Cheifs: Iran can develop nukes" : Iran is at the point where it can develop nuclear weapons said Admiral Michael Mullen, the chairman of the Joint Chiefs of Staff Wednesday in Washington. Addressing an audience of the Young Professionals in Foreign Policy group, Admiral Mullen said he believed the Islamic Republic of Iran "is at the center of an awful lot of what is going on in the world." He pointed to Iran's backing of Hezbollah in Lebanon, of Hamas in Gaza, and of its support of terrorism, saying that Iran could be "a constructive power in that part of the world," but instead chooses to support and promote terrorism...He called on NATO allies to play a greater role in both the military as well as the civilian assistance in containing the enemy in Afghanistan, a problem, which he linked to Pakistan. "You cannot solve the problem of Afghanistan without solving the problem of Pakistan," said the chairman of the Joint Chiefs of Staff...

jpost.com (AP) March 12, " 'Iran seeking banned carbon fiber' " : Two diplomats on Thursday said that Iran's national car company has made plans to purchase large quantities of carbon fiber, which is under UN embargo because it could be used in the country's nuclear program. The automaker's chief executive denied the allegation. The two diplomats independently told The Associated Press that their countries' intelligence agencies had gathered information that Iran Khodro executives were planning international orders for carbon fiber. Some would be used for fuel tanks in a new car that runs partly on compressed natural gas, the diplomats said. But carbon fiber is also a component of advanced centrifuges used to enrich uranium. Iran is enriching uranium that it says it wants only as nuclear fuel. The US and others fear it could be used in nuclear weapons...
---
3.12.09 Islamic courts start funcitoning in Swat valley
ISLAMABAD, March 12 - Islamic courts today started functioning in Pakistan's insurgency-hit Swat valley under an agreement signed last month by religious hardliners and provincial authorities, a senior official said. Qazis or judges started presiding over the Shariah courts at four places in Swat valley to pacify armed Taliban fighters, who waged a violent campaign and battled security forces over the past 18 months to press for the enforcement of Islamic laws in the region. "We have revived the Islamic courts and Qazis (judges) today," Commissioner Syed Muhammad Javed said.

Javed and Sufi Muhammad, whose Tehrik-e-Nifaz-e-Shariah Muhammadi group signed an agreement with the North West Frontier Province government to enforce Islamic laws, led a large procession to the four places and appointed the Qazis in the presence of hundreds of people. The areas where the Qazis have started functioning, Matta, Khwazakhela, Kabal and Barikot, are considered strongholds of the Taliban. The Taliban in Swat are led by Maulana Fazlullah, who is Sufi Muhammad's son-in-law. Sufi struck the deal with the government last month. Under the agreement, the NWFP government agreed to scrap all "un-Islamic" laws. [>timesofindia.indiatimes.com]
---
3.12.09 Pakistani forces kill 18 militants in northwest
PESHAWAR, Pakistan (Reuters) March 12 - Pakistani army helicopter gunships fired on suspected militant hideouts in the Mohmand region on the Afghan border on Thursday, killing at least 18 militants, security officials said. Pakistan is under international pressure to eliminate militant enclaves in lawless ethnic Pashtun areas on the Afghan border from where the Taliban orchestrate their insurgency in Afghanistan and al-Qaeda plots violence.

"The area was a main militant base and they were carrying out attacks on security forces from there ... now the militants are on the run," said a paramilitary force spokesman in the region. Mohmand is in the south of the Bajaur region, which has seen the heaviest fighting in recent months between security forces and militants. The commander in charge of forces in Bajaur said late last month his men had defeated militants there after a six-month campaign. [>khaleejtimes.com]
---
3.12.09 Police clash with lawyers in Pakistan protest
KARACHI, Pakistan (Reuters) March 12 - Pakistani police clashed on Thursday with black-suited lawyers and opposition activists after the launch of a cross-country protest rally in defiance of government attempts to stop it. The so-called long march protest for an independent judiciary could destabilize President Asif Ali Zardari's government at a time when the nuclear-armed US ally faces severe problems from Islamist militants and a sinking economy.

...Opposition leader and former prime minister Nawaz Sharif has thrown his weight behind the lawyers, putting him into open confrontation with Zardari. Infuriated by a Supreme Court ruling barring him and his brother from elected office, and by Zardari ejecting his party from power in Punjab province and imposing central rule, Sharif has called the protest a defining moment for Pakistan. Stoking tension in a country with a grim record of assassinations, a spokesman for Sharif said the government had 'hatched a plot' to kill him. [Full story>>khaleejtimes.com]
---
3.12.09 Hamas condemns Gaza rocket strikes on Israel
(AP) March 12 - Gaza's Hamas rulers issued rare criticism Thursday of Palestinian rocket attacks on Israel from the strip, saying now is the wrong time for such attacks. The Islamic militant group has fired thousands of rockets at southern Israel in recent years. But Hamas said Thursday that it was not behind recent attacks and that it was investigating who was responsible. It apparently fears that new rocket fire could disrupt the reconciliation talks currently underway in Cairo. [More>>haaretz.com]
---
3.12.09 Darfur kidnappers release Sudanese aid workers, hold three
DUBAI, March 12 - Kidnappers still holding 3 foreign staff workers. Kidnappers in Darfur have released two local staff of Medecins Sans Frontieres (Doctors Without Borders) but were still holding three foreigners abducted with them, its Belgian branch said Thursday. "Medecins Sans Frontieres confirms the abduction last night, of three international volunteers in Saraf Umra, in the Sudanese province of North Darfur. Two Sudanese personnel, captured at the same time, were quickly released," a statement said. "The three international volunteers, a Canadian nurse, an Italian doctor and a French official, work for the Belgian section of MSF."

..The French and Dutch chapters of MSF were among the groups ordered expelled from Darfur last week after the International Criminal Court issued an arrest warrant for President Omar al-Bashir for war crimes over the six year-conflict in the region...The United Nations says about 300,000 people have died in Darfur from the combined results of war, famine and disease after ethnic rebels rebelled against the Arab-dominated Khartoum government in Darfur, complaining of discrimination. [Full story>>alarabiya.net]
---
3.12.09 Violent spillover from Mexico is focus of House hearing
March 12 - A House subcommittee is expected to grill Department of Homeland Security officials about concerns that violence in Mexico may spill over the border into the United States. Mexico's military and police have been embroiled in increasingly violent clashes with drug cartels, which are battling among themselves for control over an ever-growing market in the United States. Rep. Loretta Sanchez, chairwoman of the House committee holding the hearing, said Thursday that what's happening in Mexico is becoming a growing problem for the United States.
"Well, it certainly has always been a problem at the border, but in the last couple of decades, it's gotten even worse. Now we see some spillover, just a little bit, coming into the United States," she said on CNN's "American Morning." "I think it's time that we make a comprehensive plan to figure out, not just what we do about the violence at the border — but it's all tied together with the economy down there, with our economy, ... commerce routes between the two countries." [More>>cnn.com; See related story,

signonsandiego.com (San Diego Union Tribune) via banderasnews.com, March 12, "Fugitive drug lord makes Forbes' Billionaire List" : MEXICO CITY - Who says crime doesn't pay? A suspected drug lord who is Mexico's most-wanted fugitive made the Forbes list of billionaires on Wednesday with a fortune described as "self made." The magazine estimates Joaquin "El Chapo" Guzman's worth at $1 billion — No. 701 on the list, right between a Swiss oil-trading tycoon and a US chemical heir. Dozens of other people were also tied for the spot. It is unclear what Guzman thinks of the distinction. Forbes senior editor Luisa Kroll notes that "unfortunately ... Guzman could not be reached for comment."...

Background stoires:

Maravot News 2.24.09 article 2.17.09 Several die in Mexico drug violence : ...Mexico says that most of the sophisticated weapons used by drug cartels come from the US...

Maravot News 10.17.08 article 10.11.08 Mexico: Gunment posing as police slaughter 11 .

Maravot News 9.01.08 article 8.31.08 More than 100,000 Mexicans protest crime wave.

Maravot News 6.24.08 article 6.23.08 Soldiers raid Tijuana cartel party
---
3.11.09 Indonesia: Local Adidas shoes manufacturer faces bankruptcy suit
JAKARTA, Indonesia, March 11 - The local manufacturer of Adidas shoes, PT Prima Inreksa Industries (PII), is facing bankruptcy litigation for failing to pay debts worth more than US$37 million. The plaintiffs are PII's leather supplier, CV Cisarua and state owned Bank Negara Indonesia (BNI). PII  has not yet paid its debts to either. "The litigation is our last resort. We have tried the mediation process, but it always ended up with PII saying they don't have the money to pay the bills," Yakobus Eko Adrianto, a lawyer representing CV Cisarua, told The Jakarta Post on Tuesday.

Yakobus said legal steps were being taken because Cisarua observed that PII was still operating and employing about 5,000 workers, contradicting their claim of insufficient funds...Adidas, which ordered 201 million pairs of shoes from the Indonesian shoe industry last year, had been ordering 500,000 pairs of shoes per month from PII since 1997. Adidas and PII signed last August a final partnership agreement in which the final date for the termination of the business relationship was Dec. 31, 2008. PII was one of six Indonesian companies manufacturing sport shoes for Adidas. [Full story>>thejakartapost.com; See related stories,

xinhuanet.com, March 11, "China's Feb. trade worst in decade as global downturn deepens" : BEIJING - China's exports plummeted 25.7 percent year-on-year in February, the worst decline in more than a decade, as global demand deteriorated amid the deepening recession, the General Administration of Customs said Wednesday.  Exports contracted for the fourth month in a row to 64.90 billion US dollars, while imports slumped 24.1 percent to 60.05 billion US dollars. The surplus narrowed to 4.84 billion U.S. dollars, less than one-seventh of the figure for January. "Such a drastic fall in exports is rare, showing the severity of the impact of the global downturn," said Zhuang Jian, senior economist with the Asian Development Bank...
---
3.11.09 Tibet is paradise on earth: China tells Dalai Lama
BEIJING, March 11 - China on Wednesday reacted strongly to the Dalai Lama's accusation that it had created "hell on earth" in Tibet, saying his comments were childish and that the Himalayan plateau had become "paradise on earth," but remained silent on his call for greater autonomy. Apparently stung by the remarks, China ran a number of commentaries in official Xinhua news agency accusing the spiritual leader of being "childish." A commentary said if the Dalai Lama really wants to do something beneficial for his fellow Tibetans, "he should stop lying, abandon his separatism mentality and show some sincerity in settling the Tibet issue properly."

"This (Tibet) hell on earth is precisely paradise on earth for the ordinary Tibetans. Under no circumstances would these people allow the Dalai Lama to restore the old social strata in their homeland, under the name of the middle way or meaningful autonomy," another strongly-worded commentary said. These comments come a day after Tibet observed the 50th anniversary of a failed uprising in 1959, which led the Dalai Lama and his supporters to seek refuge in India. [>timesofindia.indiatimes.com; See also:

xinhuanet.com, March 11, "Dalai Lama's utter distortion of Tibet history" : ...Unfortunately, the Dalai Lama has not only been on the wrong side of history, but also has got the history upside down. Miseries of "hell on earth" and "untold suffering" occurred nowhere but in the slavery Tibet symbolized by the Dalai Lama. Even from historical books written by Western scholars, people can draw the conclusion that Tibet under the rule of the Dalai Lama clique was a society of feudal serfdom that trampled human rights and easily reminded visitors of the dark age of medieval Europe.

The feudal serfdom had truly brought "untold suffering and destruction" to the serfs and slaves who accounted for 90 percent of the then population. The slavery Tibet was just "hell on earth" as Carles Bell, who lived in Lhasa as a British trade representative in the 1920s, observed that the Dalai Lama's theocratic position enabled him to administer rewards and punishments as he wished. That was because he held absolute sway over both this life and the next of the serfs and coerced them with that power. In 1959, after the failed rebellion by the Dalai Lama and his followers, the central government of China carried out the long-delayed emancipation of millions of serfs and slaves in Tibet...
---
3.11.09 Four dead in assassination bid
PESHAWAR, Pakistan (AFP), March 12 - Four people were killed in a failed attempt to assassinate a provincial minister in Pakistan's northwestern city of Peshawar overnight, police said. Bashir Bilour, senior minister of North West Frontier Province - which is racked by militant violence - was unhurt, a police officer said. The minister was visiting a congested neighbourhood in the city to inaugurate a development project when a young male jumped out and threw a hand grenade, killing one person and wounding two others.

Mr. Bilour said that the attacker, who was young with a short beard, tried to blow himself up but his suicide jacket failed to explode. After throwing the grenade, he fled into a narrow lane. The attacker took refuge in a house, where he detonated his explosives, said the police officer, Ijaz Khan. The roof of the house collapsed, killing two women and wounding three other people, including a child. A 24-year-old man later died of his injuries, according to police and hospital officials. A policeman was also injured in an exchange of fire, Mr. Khan said.
Mr. Bilour, a senior member of the secular Awami National Party, also survived an assassination attempt last November. He blamed the latest incident on Taliban militants, saying: "Those who want to see anarchy in the country are behind this attack." Peshawar is the gateway to Pakistan's lawless tribal districts that border Afghanistan. The region has been a stronghold of Taliban and al-Qaeda-linked militants since the 2001 US-led invasion toppled the Taliban regime in Afghanistan. [>news.com.au]
---
3.11.09 Muslim anger mars UK parade for Iraq troops
DUBAI, March 11 - Racist residents label Muslim group "scum." A welcome home parade for British soldiers returning from Iraq turned ugly as a group of anti-war Muslim protestors chanting slogans branding the returning troops "killers" were confronted by local residents who began shouting abuse with one throwing bacon at the group, press reports said Wednesday. The trouble broke out as 200 soldiers, from the 2nd Battalion The Royal Anglian Regiment, paraded through Luton in Bedfordshire and were confronted by around 20 men carrying placards with slogans including "Anglian Soldiers: Butchers of Basra,"

"Anglian Soldiers: cowards, killers, extremists" and "British government terrorist government." Police dogs and riot vans were called in as the atmosphere continued to deteriorate as angry local residents waving the British flag turned on the group and began chanting "scum" and "no surrender to the Taliban." "Those soldiers were in Iraq murdering and mutilating innocent people. They had blood on their hands," anti-war protestor, Abu Omar, was quoted by The Sun Tabloid as saying.
"They have come into a town with a large Muslim population to promote an illegal war. It is a disgrace," Omar, 30, told the paper, adding he was born in Luton, which is home to 30,000 Muslims. "We are supposed to congratulate and support terrorists who are no better than Hitler," he retorted.

Two people were arrested and one of the troop's supporters climbed on to a shopping center roof to throw a packet of bacon at the anti-war protestors. "These Muslims were lucky they didn't get lynched," a local resident told The Sun Tabloid. "To hear people scream 'baby killers' at our soldiers was appalling. On one hand they profess to hate everything about Britain and on the other they're only too happy to live here and benefit from the protection of our police," another resident said. Britain's defense minister strongly condemned the incident as "insulting" while Prime Minister Gordon Brown also voiced disappointment at the protest. [More>>alarabiya.net; See also
timesonline.co.uk, March 11, " ' Disgraceful' Islamist protesters plan to target more soldiers returning from Iraq" : Islamist extremists in the UK are plotting to repeat their protest of yesterday in which they held up banners labelling British troops on their homecoming parade as "cowards" and "butchers." The Islam for the UK group, believed to be a spin-off of the extremist al-Muhajiroun, called for similar rallies against other regiments coming home following protests in Luton town centre targeting the 2nd Battalion The Royal Anglian Regiment. Members of the local community in Luton claim that the protesters were members of al-Muhajiroun itself, a virulently anti-Semitic organization which claimed to have been disbanded in 2004. Its founders replaced it with two spin-off groups, both of which were then subsequently made illegal by the Government for glorifying terrorism.

The Home Office said today that anyone found to be guilty of belonging to a banned organization would be prosecuted, and that it was constantly reviewing whether to ban further groups emerging throughout the UK. Yet in a statement posted on its website, Islam for the UK said further protests in a similar vein were needed, labelled the British troops as "terrorists" and compared them to the Nazis. Islam for the UK is run by Anjem Choudhury, the radical preacher who was right hand man to Omar Bakri Mohammed, former al-Muhajiroun leader.

...Margaret Moran, the Luton South MP, led a chorus of condemnation after yesterday's demonstrations, telling BBC Radio 4's Today programme that she was surprised police had authorised the protest which caused clashes involving those who had come out to welcome the troops. "I am absolutely disgusted with the demonstration by a small number of extremists linked to al-Muhajiroun. It is not representative of Luton," she said...In response to claims that the protesters were members of an underground al-Muhajiroun group — or spin-offs created to avoid any government ban — the Home Office said it was carefully monitoring any proscribed organizations which reappeared, or took alternative names...
---
3.10.09 Obama's call on moderates illogical: Taliban
KABUL, Afghanistan, March 10 - Afghanistan's Taliban on Tuesday turned down as illogical US President Barack Obama's bid to reach out to moderate elements of the insurgents, saying the exit of foreign troops was the only solution for ending the war. Obama, in an interview with the "New York Times," expressed an openness to adapting tactics in Afghanistan that had been used in Iraq to reach out to moderate elements there. This does not require any response or reaction for this is illogical, Qari Mohammad Yousuf, a purported spokesman for the insurgent group, said when asked if its top leader Mullah Mohammad Omar would make any comment about Obama's proposal.

The Taliban are united, have one leader, one aim, one policy...I do not know why they are talking about moderate Taliban and what it means? If it means those who are not fighting and are sitting in their homes, then talking to them is meaningless. This really is surprising the Taliban...Yousuf said expulsion of foreign troops was the only solution for Afghanistan's spiraling violence. Afghans know better how to decide about their destiny, he replied when asked if the Taliban were willing to hold talks with Karzai's government should and when the troops leave. [Full story>>indianexpress.com; See related stories:

Maravot News 3.09.09 article 3.09.09 Commentary: Deals with Taliban could be dangerous and 3.08.09 Taliban kill 14 kidnapped Pakistani soldiers with the following links:

Maravot News 2.24.09 article 2.19.09 'Taliban earning $200-$300 million annually from Opium trade

jamestown.org, "Afghanistan's Drug Trade and how it funds Taliban operations."

cfr.org article "Afghanistan's role in Iran's drug problem."

csmonitor.com, 11.21.2006, "Taliban drug trade: Echoes of Columbia" : .

Maravot News article 01.18.09 Al-Qaeda threatens German soldiers in web video ...A sign behind his head identified him as "Abu Talha the German" and he spoke in German, with a slight foreign accent. Whoever tried to make a distinction between al-Qaeda and the Taliban had not understood his enemy, he added.

---
3.10.09 Stocks push higher on upbeat memo from Citigroup
MARch 10 - Wall Street soared on Tuesday in its biggest rally of the year after investors got a taste of a glimmer of optimism in the financial sector. That faint whiff of hope came in several forms: a memorandum from Citigroup saying that the bank had been profitable in the first two months of the year; calls for regulatory reforms from the Federal Reserve chairman, and the possibility that the government would reinstate rules governing short sales of stocks. Even with a deep downturn choking the global economy and troubles still looming in the financial system, investors seized on these inklings of hope and pushed financial markets about 5 percent higher in a broad rally. The Dow has gained more than 300 points, erasing almost a week's worth of losses. Banking shares surged, and safety investments like gold and Treasury debt slipped back...In the last hour of trading, the Dow Jones industrial average was up 4.75 percent while the broader Standard & Poor's 500-stock index had crossed back above 700, and was 5.4 percent higher. [Full story>>nytimes.com]
---
3.10.09 Gitmo prisoners defend 'blessed' 9/11 attack
March 10 - Five Guantanamo prisoners accused in the September 11, 2001, terror attacks on the US staunchly defended their actions, calling the operation "blessed" and "great" and the accusations against them "badges of honor." "You are the last nation that has the right to speak about civilians and killing civilians," the five said in a response this month to the US government's war crimes charges. "You are professional criminals, with all the meaning the words carry," the response said. "Therefore, we will treat you the same. We will attack you, just like you have attacked us, and whomever initiated the attacks is the guilty party."

The six-page response from Khalid Sheikh Mohammed, who plotted the attacks, and four others castigates the actions of the United States and its allies in the Middle East and calls the United States "the terrorist country number one in the world." The military commission set up to hear the men's cases at the Guantanamo Bay inmate facility received the signed document Thursday, and a military judge ordered its release on Monday. The five are members of the al-Qaeda terror network. Mohammed, who has taken credit for planning the attack, and the four other prisoners call themselves members of the 9/11 Shura Council.
"With regards to these nine accusations that you are putting us on trial for; to us, they are not accusations. To us they are badges of honor, which we carry with pride. Many thanks to God, for his kind gesture, and choosing us to perform the act of Jihad for his cause and to defend Islam and Muslims," the response stated...Quranic verses were cited in the filing, and the men underscored their defense of "oppressed" Muslims."Our religion is a religion of fear and terror to the enemies of God: the Jews, Christians and pagans. With God's willing, we are terrorists to the bone." [Full story>>cnn.com; See also cbsnews.com, March 10 with pdf download:

"The Islamic response to the government's nine accusations,"
(Quaranic extracts as follows):
Many thanks to God who revealed the Torah, the Bible, and the Quran, and may God praise his messenger, the prophet Mohamed, so that he causes mercy to the two realms. Also, may God praise the prophet's household, his entire companionship, and his followers until judgment day.

With regards to these nine accusations that you are putting us on trial for; to us, they are not accusations. To us they are badges of honor, which we carry with pride. Many thanks to God, for his kind gesture, and choosing us to perform the act of Jihad for his cause and to defend Islam and Muslims. Therefore, killing you and fighting you, destroying you and terrorizing you, responding back to your attacks, are all considered to be great legitimate duty in our religion. These actions are our offerings to God. In addition, it is the imposed reality on Muslims in Palestine, Lebanon, Afghanistan, Iraq, in the land of the two holy sites [Mecca and Medina, Saudi Arabia], and in the rest ofthe world, where Muslims are suffering from your brutality, terrorism, killing ofthe innocent, and occupying their lands and their holy sites. Nevertheless, it would have been the greatest religious duty to fight you over your
infidelity. However, today, we fight you over defending Muslims, their land, their holy sites,and their religion as a whole.

The following is our Islamic response back to your nine untenable, just like a spider web, accusations:

...With regards to us, we were exercising caution and secrecy in our war against you. This is a natural matter, where God has taught us in his book, verse 71 from An-Nisa: ((0 you believers! Toke your precoutions, and either go forth (on on expedition) in parties, or go forth together.))

...In God's book, verse 193, AI-Baqara, he states: ((The sacred month is for the sacred month, andfor the prohibited things, there is the law of equality. Then, whoever transgresses the prohibition against you, you transgress likewise against him.))
God stated, in verse 179, AI-Baqarah: ((And there is (a saving of) life for you in AI-Qisas (The law of equality in punishment), 0 men of understanding, that you may become A/~Muttaquin (the pious).)) God also stated, in verse 40, AI-Shura: ((The recompense for an evil is an evil like thereof.))

...In verse 45, AI-Maida: ((Life for life, eye for an eye, nose fora nose, ear for an ear, tooth for a tooth, and wounds equal for equal.))
In verse 193, AI-Baqara: ((... Let there be no hostility except to those who practice oppression.))

...We fight you to defense our nation, our religion, and our land. All heavenly and earthly laws guarantee our rights to do so. We, Muslims, are content with God's book, the Quran, to fight you with. God has granted us to fight, in verse 39, AI-Hajj: ((To those against whom war is waged, permission is given (to fight,) because they are wronged and verily, Allah is most powerful for their aid.))
God stated in his book, verse 190, AI-Baqara: ((And fight in the way of Allah those who fight you, but be not the transgressor, Allah likes not the transgressors.))

...If you do not respect the innocent in our countries, then we will do the same, by exposing you to danger and hijacking in the air, at sea, and land.
In God's book, he ordered us to fight you everywhere we find you, even if you were inside the holiest of all holy cities, The Mosque in Mecca, and the holy city of Mecca, and even during sacred months.
In God's book, verse 9, AI-Tawbah: (("rhen fight and slay the pagans wherever you find them, and seize them, and besiege them and lie in wait for them in each and every ambush,))

...We do not possess your military might, not your nuclear weapons. Nevertheless, we fight you with the almighty God. So, if our act of Jihad and our fighting with you caused fear and terror, then many thanks to God, because it is him that has thrown fear into your hearts, which resulted in your infidelity, paganism, and your statement that God had a son and your trinity beliefs.
God stated in his book, verse 151, AI-Umran: ((Soon shall we cast terror into the hearts of the unbelievers, for that they joined companies with Allah, for which he has sent no authority; There place will be the fire; and evil is the home of the wrongdoers.))

...God also stated in his book, verse 60, AI-Anfal: ((Against them make ready your strength to the utmost of your power, including steeds of war, to strike terror into the heart of the enemies of Allah and your enemies.))
Also, God has informed us, in his book, of what is in your heart from fear and terror towards us, and that you fear and have been terrorized from us more than God himself. Verse 13, AI-Hashir: ((Of a truth you (Muslims) are more feared in their (the infidels from Christians, Jews, and others) hearts, than Allah. This is because they are men devoid of understanding.))

...So, our religion is a religion of fear and terror to the enemies of God: the Jews, Christians, and pagans.
With God's wiling, we are terrorists to the bone. So, many thanks to God.
The Arab poet, Abu-Ubaydah AI-Hadrami, has stated: ((We will terrorize you, as long as we live with swords, fire, and airplanes.))
...God has ordered us to spend for Jihad in his cause. This is evident in many Quranic verses.

...Verse 195, AI-Baqara: ((And spend of your substance in the cause of Allah, and make not your own hands contribute to your destruction, but do good; for Allah loves those who do good.))
We ask to be near to God, we fight you and destroy you and terrorize you. The Jihad in god's cause is a great duty in our religion.

...So we ask from God to accept our contributions to the great attack, the great attack on America, and to place our nineteen martyred brethren among the highest peaks in paradise.
God is great and pride for God, the prophet, and the believers...

---
Editorial note: Islamic scholars need to comment, whether the arguments made by the 9/11 terrorists are valid Koranic arguments. Such arguments are, in any event, in conflict with the foundation of the Koran, which is the Bible, and, in particular, they conflict with Western values and laws.

See Maravot News 12.04.09 article, 12.01.08 Muslims condemn Mumbai attacks, worry about image, links and editorial note,"Confusion over the teachings of the Koran," and a Muslim scholar's discussion on the treatment of unbelievers (Kuffars):

..."The site (Punishing the Disbelievers) says, 'In other words, what authorizes a Messenger to punish the Kuffar is that it can be ascertained in this very world that they are guilty of denying the basic truths in spite of being convinced about them. Good and evil are elucidated with ultimate clarity and people who accept evil do so not because of any confusion but because of their own stubbornness.

So it can be concluded that since a Messenger reveals the basic truths in their ultimate form and those who deny it do so because of their stubbornness and even confess their sins, a Messenger has the perfect justification to punish his people after they have denied him.' "

Mel Copeland
---
3.10.09 Dalai Lama: Tibet 'hell on earth'
Maarch 10 - Tibet under Chinese rule has become "hell on earth", the Dalai Lama has said, marking 50 years since a failed uprising against Chinese rule forced him to flee across the Himalayas to India. "These 50 years have brought untold suffering and destruction to the land and people of Tibet," the region's spiritual leader told thousands of Tibetans in the northern Indian town of Dharamshala, the seat of Tibet's government-in-exile. His comments came as Tibetan exiles and their supporters held rallies around the world while Chinese authorities imposed a lockdown in the Tibetan region in a bid to head off protests inside its borders. "Having occupied Tibet, the Chinese communist government carried out a series of repressive and violent campaigns," the Dalai Lama said on Tuesday.
'Meaningful autonomy'
"These thrust Tibetans into such depths of suffering and hardship that they literally experienced hell on earth. The immediate result of these campaigns was the deaths of hundreds of thousands of Tibetans."Lamenting that Tibetan culture and identity were "nearing extinction," he said "even today Tibetans in Tibet live in constant fear ... regarded like criminals, deserving to be put to death."

The 74-year-old leader of the Tibetan government-in-exile also repeated a demand for "legitimate and meaningful autonomy" for Tibet, not independence from China. Beijing brands the Dalai Lama a "splittist" bent on separating Tibet from China, but he said that Tibetans were seeking "an arrangement that would enable Tibetans to live within the framework of the People's Republic of China."

The Dalai Lama fled from Lhasa on March 10, 1959 after Chinese forces crushed an uprising against its rule in the Himalayan region. Tibet's government-in-exile says that more than 80,000 people died between March and October of 1959 alone and that at least 200 more were killed last year when Chinese security forces clamped down on protests marking the anniversary. China denies that it used violence to stop anniversary commemorations last year, saying instead that rioters were responsible for nearly two dozen deaths. [More>>aljazeera.net]
---
3.10.09 35 militants killed in Darra
PESHAWAR, Pakistan, March 10 - At least 35 militants were killed and many others wounded in [a] fresh offensive by security forces here on Tuesday. The army'sspokesman said that 35 militants were killed so far in [a] two-day operation in Darra Adamkhel. [>thenews.com.pk]
---
3.10.09 Iraq bomber kills 33 dignitaries touring market
BAGHDAD, March 10 - Journalists, police and soldiers among dead: source. A suicide bomber blew himself up on Tuesday amid tribal leaders and army officers killing at least 33 people, including two journalists, and injuring 46 others outside the town hall in Abu Ghraib, on Baghdad's western edge, security officials said. Major-General Qassim Moussawi said the attack took place as the dignitaries, including army officers, toured a market in the Abu Ghraib district. Journalists, police and soldiers were among those killed, the source said.

A source at Yarmouk hospital, the main hospital in western Baghdad, said it had received the body of a journalist working for al-Baghdadiya, an independent television station. Another journalist with al-Iraqiya state television was wounded, he said. Today's carnage came after a suicide bomber on a bicycle killed 28 people and injured 56 outside a Baghdad police academy on Sunday, the bloodiest attack in weeks. [More>>alarabiya.net]
---
3.10.09 17-year-old arrested after third Ulster killing
(AP) March 10 - A 17-year-old and a 37-year-old man are in custody in connection with last night's murder of a Northern Ireland policemen, the third killing in two days claimed by an IRA splinter group. The arrest came as the Catholic and Protestant leaders of Northern Ireland's coalition government jointly pledged to crush Irish Republican Army dissidents in an exceptional show of unity today. The Continuity IRA said in a message to Belfast media that it carried out the fatal shooting of a policeman last night in a religiously divided town south-west of Belfast — 48 hours after the killing of two British soldiers claimed by the Real IRA. [>independent.co.uk]
---
3.10.09 75-year-old widow to be flogged
March 10 - The sentencing of a widow to 40 lashes for mingling with two young men has sparked new criticism of Saudi Arabia. Khamisa Sawadi, who is Syrian but was married to a Saudi, was convicted and sentenced last week for meeting with men who were not her immediate relatives. The two men, including one who was Mrs. Sawadi's late husband's nephew, were reportedly bringing her bread. They were also found guilty and sentenced to prison terms and lashes. The woman's lawyer, Abdel Rahman al-Lahem, said today that he plans to appeal against the verdict, which also demands that Mrs. Sawadi be deported after serving her prison term. Saudi Arabia's strict interpretation of Islam prohibits men and women who are not immediate relatives from mingling and women from driving. The playing of music, dancing and many movies also are a concern for hard-liners who believe they violate religious and moral values. [More>>independent.co.uk]

---
Editorial note: The state religion of Saudi Arabia is of the Wahabbi sect of Islam. This sect lies at the foundation of the teachings expressed among Sunnis, significantly in Pakistan, Afghanistan, the UK and other places where the Saudi government has sponsored madrassas (schools) and mosques, including several hundred in the United States.

Mel Copeland
---
3.10.09 Scientists warn of catastrophic rises in sea level
March 10 - Sea levels will rise much faster over the next century than had been expected even if governments are successful at controlling greenhouse gas emissions, scientists warned today. Advances in the understanding of the mechanisms that control how quickly ice sheets melt have shown that sea levels are likely to rise a metre by 2100. The estimate is almost double the projection of 20 to 59 cm made in 2007 by the United Nations' Intergovernmental Panel on Climate Change (IPCC). Equally worrying, scientists were told at a conference in Copenhagen, the sea rises will continue to speed up and will have catastrophic impacts for generations of people.

Professor Stefan Rahmstorf, of the Potsdam Institute for Climate Change, said that unless greenhouse gas emissions are controlled within 50 years the planet will be locked into rises of "tens of metres." He presented data to the conference suggesting a metre's rise by the end of the century is the minimum that can be expected...He pointed out that analysis of sea level rises in previous eras has shown a direct relationship between the amount of ice cover and the depth of seas. In the Pleiocene 3 million years ago temperatures were about 3C warmer than they are today and sea levels were 25-30 metres higher. Temperatures by the end of the century are forecast to rise by more than 6C if emissions aren't reduced dramatically and rapidly. Each degree of temperature is associated with "tens of metres" of sea level and while he was confident the ice caps will lose nothing like that over the next 100 or even 200 years, he said the future of the Arctic and Antarctic will be decided over the next 50 years. [Full story>>timesonline.co.uk]
---
---
*Visitor statistics on maravot.com from 1&1. com. 46,153 page views in May 2007; monthly visitors in 2008 range between 40,000-45,0000..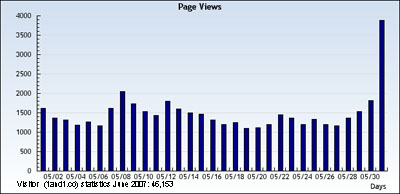 Privacy Policy: We do not store any personal data from you. We have no way of knowing any vital information about you — not even your name. Third-party distribution: We do not distribute information about your site usage to any third party. We are not responsible for the content of links from our site. Usage data: supplied by our Web Hosting service, 1and1.com, which consists of usage reports, such as page views / impressions and web pages visited, visitors' servers and geographical data (ISP's and country of origin).

---
Launched: 10.25.04 / 11.02.04 – | — |
Updated: 3.10.09; 3.11.09; 3.12.09; 3.13.09; 3.14.09; 3.15.09
Copyright © 1981-2009 Maravot. All rights reserved
Copyright © 1981-2009 Mel Copeland. All rights reserved
Background: tile from Cicero's villa (Marcus Tullius Cicero 106 B.C. - 43 B.C.)