---
3.22.06 US asks Japan to stop Iran oil development – report
TOKYO (Reuters) March 23 – The United States has informally asked Japan to suspend its plans to develop an Iranian oil field as part of world efforts to prevent Iran from obtaining nuclear weapons, a Japanese newspaper said on Thursday. Resource-poor Japan has been planning to develop Iran's Azadegan oil field, estimated to hold the world's second-biggest single oil reserve, despite objections from Washington.

According to US government sources quoted by the daily Sankei Shimbun, US Deputy Secretary of State Robert Zoellick and Undersecretary of State Robert Joseph have informally asked Japan to at least temporarily suspend its plans to develop the Azadegan field. The request was based on the belief that developing the field would provide income for Iran that could support its nuclear activities, as well as make it hard for the international community to present a united front in dealing with Iran, the Sankei said...Japan sealed a deal with Iran two years ago on a billion-dollar project to develop Azadegan. The Japanese government has a 36 percent stake in INPEX Corp., Japan's biggest oil developer, which plans to develop the southern part of Azadegan, estimated to hold 26 billion barrels of oil. [Full story >>thestar.com.my]
---
3.22.06 Is ETA serious about a ceasefire?
March 22 – Rumours of an ETA truce persist, but the Basque terrorist organisation refuses to use the word. Graham Keeley reports on how experts say it shows a terrorist organisation without clear leadership. The latest statement from the terrorist organisation ETA referred to speculations about a possible truce and said "the solution to the conflict will not come through unilateral decisions."

ETA (ETA means 'Homeland and Freedom') called on Basque groups "to take steps now without waiting for anyone. The time has come to make firm commitments and important decisions on the future of Euskal Herria (the Basque region), moving boldly from words to deeds." Last week, Jose Luis Rodriguez Zapatero lent weight to the expectation that ETA would finally lay down its arms by saying that the time was right for thinking that it might be the "beginning of the end" for the terrorist organization.

ETA said the conflict could only be resolved if decisions taken by the Basque region about its own future are respected, adding that "a change in its present political status is indispensable" and that dialogue and negotiation are the only way to reach an accord. The terrorist organization accepted responsibility for several attacks carried out in recent weeks which caused material damages but injured no one. It has not killed anyone for nearly three years. The Spanish government did not wish to comment on the latest ETA statement, saying only that it awaited an announcement of an end to the violence. [More>>expatica.com]
---
3.22.06 Analysis – Iraqis' economic woes add to desperation
LONDON (Reuters) March 20 – Iraqis may now have mobile phones and internet cafes, but they have seen few real economic benefits since the fall of Saddam Hussein three years ago and are far poorer than they were before the first Gulf War. Staying alive remains the first priority for Iraqis in a country which some say is teetering on the brink of civil war. But improving the economy would go a long way to boosting public morale and could even help curb the relentless violence. The figures show that goal is a long way off. While World Bank statistics demonstrate per capita income rose from $479 in 2003 when US-led forces invaded Iraq to an estimated $1,188 in 2005, that compares with $3,240 in 1980.

...The key oil sector, crippled by decades of war, international sanctions and underinvestment, was relatively steady before the 2003 invasion but has since lurched from crisis to crisis. Iraq pumped some 2.5 million barrels per day (bpd) and sold 1.7 million bpd before the war, while prior to the previous conflict in 1990, output levels were at around 3 million bpd. [Full story>>thestar.com.my]
---
3.22.06 Russian parliamentarian blasts US national security strategy
MOSCOW (RIA Novosti) March 22 – The speaker of the upper chamber of the Russian parliament harshly criticized Wednesday the new national security strategy of the United States. "In short, it states: If I want - I pardon, but if I want - I punish," Sergei Mironov said. He said the new national security strategy, which was published March 16, raises certain questions. Mironov added that under the strategy "every country is judged from the standpoint of America's view on freedom."

...The Russian Foreign Ministry said Monday that the new U.S. national security strategy might worsen relations between the U.S. and Russia. The ministry said the document was evidence of the further ideologization of US foreign policy. [Full story>>rian.ru]
---
3.22.06 Clashes erupt at Turkey's spring festival
March 22 – Kurdish demonstrators hurled rocks at Turkish police on Tuesday as more than 75,000 Kurds gathered in the city of Diyarbakir for a spring festival and many shouted support for autonomy-seeking guerrillas. At least eight people were wounded, hospital officials said. In Afghanistan and Iraq, people celebrated New Year or Norouz on Tuesday with dancing, singing and prayers for an end to violence. In an apparent show of force, Turkish warplanes flew over the demonstrators in Diyarbakir, the largest city in overwhelmingly Kurdish southeastern Turkey. Several policemen were among the eight wounded during the clashes, hospital officials said. Television footage showed police trying to defend themselves with shields against a shower of rocks. [More>>dailystar.com.lb]
---
3.22.06 Another Iraqi police station attacked
March 22 – Armed men have attacked an Iraqi police station in a town near Baghdad, killing a police commander and three policemen. The assault before dawn on Wednesday was similar to one carried out the day before on a police station and a jail in Miqdadiya, northeast of Baghdad, in which 22 people were killed. The gunmen used automatic rifles and rocket-propelled grenades to enter the station in Madaen, which is about 20km southeast of Baghdad, a spokesman for police in Baghdad said. [More>>aljazeera.net ; See nytimes.com, March 22, "Insurgents captured in new assault on Iraqi police station."]
---
3.22.06 Fatwas not binding: Muslim law board, India
NEW DELHI, India (PTI) March 22 – Asserting that fatwas were only opinions not binding on any person, the All India Muslim Personal Law Board today petitioned Prime Minister Manmohan Singh against a writ petition moved in the Supreme Court for prohibiting issuance of the religious edicts. Alleging that the petition was aimed at "causing disaffection among Muslims against the UPA government", a high-level delegation of the board, which called on the Prime Minister here, also urged him to ensure that "the law officers of the Union government make thorough scholastic representations before the apex court against the plea for disbanding Dar-ul-Quazas."

"Fatwa means opinion...Opinions are not binding on any person including the person who has sought such opinion. Prohibiting expression of opinions by Islamic scholars on issues pertaining to religious, social, cultural issues of the Muslims will directly hit the fundamental freedom of expression guaranteed under Article 19 of the Constitution", the board said in a representation. [Full story>>expressindia.com]
---
3.22.06 Muslim leaders in UK fear thousands of children are abused at madrassas
March 22 – Thousands of Muslim schoolchildren are being physically and sexually abused by their religious teachers every year, according to a report into the Islamic education system in this country. The potential scale of the abuse has led to fears among Muslim leaders that Britain's Mosque-based schools will face the kind of child abuse claims that has recently scandalized the Roman Catholic Church.

Up to 100,000 children are taught at 700 Islamic schools, or madrassas, of which almost a half use unlawful corporal punishment to discipline pupils, says the report into child protection published today by the Muslim Parliament of Great Britain. The authors also warn that each year at least a dozen children are sexually abused by their teachers and Imans with very few cases ever being made public. [More>>independent.co.uk]
---
3.21.06 Update, 3.19.06 Afghan Christian convert could face death penalty – Italy, Germany defend convert
KABUL, March 19 – An Afghan man detained for converting to Christianity could face the death penalty if he refuses to become Muslim again, police and a judge said Sunday. Abdul Rahman was detained two weeks ago after his relatives reported to the police about his conversion which is forbidden under Islamic Sharia law. "Yes that's true, a man has converted to Christianity. He's being tried in one of our courts," Supreme Court judge Ansarullah Mawlavizada said, adding that his trial began early last week.

He said the man could face the death penalty if he refused to revert to Islam as Sharia law proposes capital punishment for any Muslim who converts to another religion. Afghanistan's constitution states: "No law can be contrary to the sacred religion of Islam." If sentenced, the man will be the first to be punished for conversion since the ouster of the Taliban who introduced and implemented tough Sharia law. [jang.com.pk ; See also khaleejtimes (AFP) March 19, "Afghan who converted to Christianity faces death penalty."]


March 21 update, theaustralian.news.com.au, "Italy, Germany defend Afghan convert" : March 22 – Italy and Germany, NATO countries with troops in Afghanistan, expressed urgent concern to the Kabul government today about reports that an Afghan convert to Christianity faced the death penalty there. Italy called in the Afghan ambassador in Rome and its former President Francesco Cossiga suggested withdrawing Italian troops unless the man is spared. Two Berlin cabinet ministers spoke out and Germany's top Catholic cardinal demanded his freedom.

The protests present a dilemma for President Hamid Karzai, a key ally in the US-led war on terrorism, who needs foreign troops to defend against al-Qaeda and Taliban remnants. Germany has 2700 soldiers in Afghanistan and Italy 1775. An Afghan judge said on Monday that a man called Abdur Rahman had been jailed for converting from Islam to Christianity and could face the death penalty if he refused to become a Muslim again...
---
Editorial note, March 19: President Bush's concept of democracy for the Middle East and his invasion of Iraq reflect his naivety towards Islam. Democracy as we know it involves equality and freedom of religion. That a person could face the death penalty for choosing a religion contrary to the state religion seems undemocratic. This story compares to another published widely on the internet of a woman who had been raped by her uncle required by a Sharia Court to divorce her husband and marry the man who raped her. See Maravot News 6.27.05, "Woman's marriage dissolves if raped by husband's blood relative – Islamic Court."

In the formative period of the US democracy, tradition / religious culture overruled principles listed in the Declaration of Independence and US Constitution. We recall the Salem Witch Trials (1692 A.D.) before the US Revolutionary War and the practice of slavery (resolved via the US Civil War – 1861-1865) as cultural traditions that conflicted with US principles of democracy. Witch trials are in the news today, in fact. See a related story at bbc.co.uk March 19, "Indian 'witchcraft' family killed" : A family of five has been beheaded in Sonitpur district, north-east India, by a mob who accused them of witchcraft. The tea plantation worker and his four children had been blamed for causing a disease which killed two other workers and made many unwell in Assam state. About 200 villagers tried and sentenced the family in an unofficial court, then publicly beheaded them with machetes. They then marched to a police station with the heads, chanting slogans denouncing witchcraft and black magic.

The incident occurred at the Sadharu tea plantation near the town of Biswanath Charali, about 300 km (190 miles) north of Guwahati, Assam's main city. Sixty-year-old Amir Munda, who was killed alongside his two daughters and two sons, was reportedly a traditional healer. After two plantation workers died and many others became ill from mysterious illness, other members of the Adivasi Santhal community accused him and his family of being the cause...

India has been praised by President Bush as a good example of a democratic state. The rape trial also occurred in India. Mr. Bush should explain how it is that he established a government in Afghanistan that imposes the death penalty for choosing another faith or how his view of democracy relates to the practices in India noted above.

Mel Copeland
---
3.21.06 Growing oil demand from China intensifies regional conflicts on energy
March 21 – When China's state-controlled CNOOC Ltd. made an $18.5 billion bid for California-based oil major Unocal Corp. last year, Beijing seemed to send a hidden but clear message to the world that China would do anything for bigger oil stakes. Though the bid got stranded by mounting political pressures from Washington, the Chinese politburo and major oil companies have long been eagerly spreading such a message by aggressively buying up oil fields overseas.

"The Chinese firmly believe oil is the crucial blood to run their fast-growing economy," said Kim Jin-seok, executive vice president of Korea National Oil Corp. As the world's second-largest oil consumer focuses on feeding its rapidly increasing oil demand, Asia's geopolitical tensions are escalating so fast as to threaten the region's half century-long peace.

The striking example comes from the East China Sea, where China and its longtime political and economic rival Japan have been confronting each other for years over three hotly-disputed gas and oil fields. The Chunxiao, Duanqiao and Tianwaitian fields, which Japanese call Shirakaba, Kusunoki and Kashi, are in waters near the median line that Tokyo asserts is the boundary between the two nations' exclusive economic zones. However, Beijing refused to recognize this demarcation, maintaining it will keep exploring and drilling the resources in the contested waters. [More>>koreaherald.co.kr ; See related stories, chinadaily.com.cn, March 21, Russia to build large-scale gas pipelines to China."] and rian.ru, March 21, "Moscow, Beijing make political partnership breakthrough – Putin."]
---
3.21.06 Twenty-eight killed in Iraq police station attack
March 21 – Insurgents stormed a jail in the Sunni Muslim heartland north of Baghdad, killing at least 17 police officers and a courthouse guard. Authorities said all 33 prisoners in the lockup were freed and 10 attackers were killed in the pre-dawn battle on Tuesday. In the capital, a powerful group of US senators met with Ibrahim al-Jaafari, the interim prime minister, to discuss prospects for formation of a national unity government, a step viewed as all important in working towards peace and a withdrawal of US troops from Iraq. Al-Jaafari said he thought Iraq's most difficult political hurdles had been crossed and predicted a new government would be ready in weeks. "I hope that the formation of the new government does not last beyond April," al-Jaafari said. [More>>aljazeera.net]
---
3.21.06 Europeans giving blood money to Iraq insurgents
March 21 – Posters showing an American soldier with blood spurting out of his head are being used by Iraqi insurgents to raise money in Europe. The campaign is called "10 Euros for Resistance." That's about $12, and people in Italy and the Netherlands seem to be chipping in, according to Rep. Sue Kelly, R-N.Y. "Ten euros for resistance, and people who are giving the money don't care if it buys weapons. It's all for the resistance," Kelly said. [More>>abcnews.go.com]
---
3.21.06 Bush denies Iraq is in civil war
WASHINGTON (CBS/AP) March 21 – President Bush said Tuesday there will be "more tough fighting ahead" in Iraq, but denied claims that the nation is in the grips of a civil war. "The Iraqis had a chance to fall apart and they didn't," he said at a White House news conference. The president's second full-blown news conference of 2006 was part of an ongoing call for public patience with the Iraq war now into a fourth year. The White House is trying to counter critics of the war policy as it responds to polls showing sagging support for the war. In an opening statement, Mr. Bush said that despite continued violence in Iraq, "We're making progress and that's important for the American people to understand."

He also touted a new report showing a dramatic drop in wholesale inflation. "Productivity is strong. Inflation is contained. Household net worth is at an all-time high," Mr. Bush said, crediting his administration's policies. [More>>cbsnews.com ; See cnn.com for (partial) transcript]

---
3.21.06 Some US officials fear Iran is helping Al Qaeda
WASHINGTON, March 21 – US intelligence officials, already focused on Iran's potential for building nuclear weapons, are struggling to solve a more immediate mystery: the murky relationship between the new Tehran leadership and the contingent of Al Qaeda leaders residing in the country. Some officials, citing evidence from highly classified satellite feeds and electronic eavesdropping, believe the Iranian regime is playing host to much of Al Qaeda's remaining brain trust and allowing the senior operatives freedom to communicate and help plan the terrorist network's operations. And they suggest that recently elected President Mahmoud Ahmadinejad may be forging an alliance with Al Qaeda operatives as a way to expand Iran's influence or, at a minimum, that he is looking the other way as Al Qaeda leaders in his country collaborate with their counterparts elsewhere.

"Iran is becoming more and more radicalized and more willing to turn a blind eye to the Al Qaeda presence there," a US counter-terrorism official said. [More>>latimes.com via iranfocus.com]
---
3.21.06 Pakistan test fires nuclear-capable cruise missile
ISLAMABAD (AFP) March 21 – Pakistan on Tuesday successfully test-fired a nuclear-capable cruise missile for the second time, without informing rival India, officials said. The terrain-hugging Hatf VII Babur missile has a range of 500 kilometres (310 miles) and can carry all kinds of warheads, a senior military official told AFP. Pakistani President Pervez Musharraf witnessed the launch and congratulated the scientists involved, a military statement said.

"The strategic programme, which had come to symbolize the nationıs resolve for its security, will continue to go from strength to strength with credible minimum deterrence as the cornerstone," it quoted Musharraf as saying. The statement added that "all phases of the planned trajectory were extremely successful and the missile impacted with pinpoint accuracy." [More>>khaleejtimes.com]
---
3.21.06 Update, 3.20.06 Senator Feinstein calls for Rumsfeld's resignation
SAN JOSE, CA, March 20 – Senator Dianne Feinstein called for the resignation of Defense Secretary Donald Rumsfeld and for U.S. troop strength in Iraq to be halved by the end of the year. Speaking before the Silicon Valley Leadership Group in San Jose, Feinstein, D-Calif., said that on the third anniversary of the U.S. invasion of Iraq that President George W. Bush needs "to bring in a new team," starting with Rumsfeld. "He's been Secretary of Defense for a long period of time. It's not been a successful mission. We were not greeted as liberators," Feinstein said. California's senior senator also called for a dramatic reduction in American forces in Iraq this year. "If we're at 130,000 we ought to take it down by the end of the year by 80,000 or so," Feinstein said. [More>>abclocal.go.com ; See related article, turkishpress.com, March 20, War anniversary unleashes avalanche of criticism." WASHINGTON – The third anniversary of the US invasion of Iraq has unleashed an avalanche of criticism of the US administration with calls for high level resignations and a reappraisal of objectives. Some of the bleakest assessments of events in Iraq have come from independent analysts who generally support the US effort, reflecting a mood of deepening disillusion. The most dramatic came from a retired army general who was in charge of training Iraqi security forces in 2003 and 2004.

Retired major general Paul Eaton laid the blame for failures in Iraq on Defense Secretary Donald Rumsfeld, portraying him as a bullying micromanager who alienated allies and ignored military advice. "In sum, he has shown himself incompetent strategically, operationally and tactically, and is far more than anyone else responsible for what has happened to our important mission in Iraq," wrote in the New York Times Sunday...
---
3.20.06 FBI witness in Moussaoui trial faults superiors
ALEXANDRIA, Va, March 20 – The FBI agent who arrested Zacarias Moussaoui weeks before the Sept. 11, 2001 terrorist attacks described with great regret today how his superiors in Washington repeatedly blocked his attempts to find out whether Moussaoui was part of a widespread terrorist cell intent on attacking the United States.

Special Agent Harry Samit also said his superiors did not share other critical counterterrorism intelligence with him, such as a memo from the FBI's Phoenix office about suspected terrorists taking flight lessons and a briefing for President Bush citing intelligence that planes might be hijacked. Samit said his superiors told him right after the Sept. 11 attacks on the World Trade Center and Pentagon that it was "just a coincidence" unrelated to the case he was trying to make against Moussaoui. [More>>latimes.com]
---
3.20.06 US security strategy may worsen relations with Russia – ministry
MOSCOW (RIA Novosti) March 20 – Russia's foreign ministry Monday expressed concern over the United States' new national security strategy and said it could worsen bilateral relations. "The United States is ready to work closely with Russia on issues of mutual interest, but the development of our relations will depend on the correctness of [Russia's] internal and foreign policy in the opinion of the US," the ministry said in a statement.

The US National Security Strategy, released on March 16, "further states that recent tendencies in Russia point to allegedly decreasing adherence to democratic freedoms and institutions," the statement said. "Should this be treated as a direct indication that some bad times await Russian-American relations in the near future?" The ministry said the US document was evidence of the further ideologization of US foreign policy.

"From now on, the main criteria for the development of the United States' relations with foreign countries will be compliance or non-compliance ... with the American understanding of democracy and the necessities of the fight against unwanted [political] regimes as seen from Washington," the statement said. [rian.ru]
---
3.20.06 'Incompetent' Bush administration takes flak from all sides
WASHINGTON (AFP) March 20 – The war in Iraq, budget deficits, the damaged case against Zacarias Moussaoui, port security - all the bad news that is sapping American morale and undercutting President George W. Bush's popularity comes from one source, according to opposition Democrats: incompetence. The word figures prominently in speeches delivered by leading members of the opposition, who have turned charges of incompetence into a common refrain that can be heard in discussion of any issue at hand.

The charge has even eclipsed accusations of corruption that had been used for months to describe Republican legal woes, from the indictment of Lewis Libby, a former chief of staff for Vice President Dick Cheney, to the eight-year prison sentence handed down to Republican former congressman Randy Cunningham for accepting bribes. Democratic Senate Minority Leader Harry Reid mentioned "incompetence" three times in two sentences when he spoke to reporters last week. [More>>dailystar.com.lb]
---
3.20.06 Multiple layers of contractors drive up cost of Katrina cleanup
NEW ORLEANS, March 20 – How many contractors does it take to haul a pile of tree branches? If it's government work, at least four: a contractor, his subcontractor, the subcontractor's subcontractor, and finally, the local man with a truck and chainsaw. If the job is patching a leaking roof, the answer may be five contractors, or even six. At the bottom tier is a Spanish-speaking crew earning less than 10 cents for every square foot of blue tarp installed. At the top, the prime contractor bills the government 15 times as much for the same job. [More>>washingtonpost.com ; See related article, wwltv.com, March 20, "Hurricane recovery could take back seat at legislative session."]
---
3.20.06 Iraq enters fourth year of war with more deadly violence
BAGHDAD (AFP) March 20 – Iraq marked the third anniversary of the US-led invasion on Monday with a fresh spate of killings, a deadlock over the new government and warnings of civil war as Shias gathered in the south for a major religious ceremony. Sixteen people were killed in attacks around the country in a reminder of the endemic violence that has convulsed Iraq since the fall of Saddam Hussein's regime and jeopardized US plans to install a showcase Arab democracy. In Baghdad nine corpses showing signs of torture and gunshot wounds turned up around the city in what has become a daily ritual following the February 22 dynamiting of a Shia shrine in Samarra that ushered in a wave of sectarian violence.

US and Iraqi forces, meanwhile, were on high alert to avert Sunni extremist attempts to trigger renewed outbursts of communal strife by targeting Shia pilgrims descending on the shrine city of Karbala for a major ceremony coinciding with the war's anniversary. Officials said that 500,000 pilgrims had been streaming daily in and out of Karbala, where the commemoration of the death of Imam Hussein, grandson of the prophet Mohammed and a defining Shia figure, reached its peak on Monday. [More>>metimes.com]
---
3.20.06 Arinc: 100 thousand civilians have been killed in Iraq so for. It is a tragedy
ISTANBUL, March 20 – "Last night, it was told in a news program that 100 thousand civilians have been killed in Iraq so far. This is a huge tragedy," Turkish Parliament Speaker Bulent Arinc said on Monday..."Last night, in a news program it was announced that 100 thousand civilians have been killed in Iraq so far. It shows that Iraq turned into a hell. It also shows that our concerns before March 1st (2003) were totally rightful. We had talks with American officials before and after March 1st. We conveyed our recommendations to them. However, they did not take them seriously. Continuing image of occupation in Iraq and approaches to different ethnic and religious groups have caused severe damage. We hope that Iraq will become a democratic country. All diversities will be included in a newly developing democracy as richness of the country," he added. [Full story>>turkishpress.com ; See related story, nytimes.com, March 20, " On anniversary, Bush and Cheney see Iraq success" : WASHINGTON – On the third anniversary of a war that they once expected to be over by now, President Bush and senior officials argued Sunday that their strategy was working despite escalating violence in Iraq, even as a former Iraqi prime minister once favored by the White House declared that a civil war had already started. The death toll from the sectarian violence described by the former prime minister, Ayad Allawi, continued to mount, as nine more bodies were found in Baghdad this morning, an official in the Interior Ministry said. Fifteen bodies had been found on Sunday and more than 200 people are believed to have died in tit-for-tat sectarian killings over the last few weeks. Also today, three Iraqi police commandos were killed along with three suspected insurgents when a bomb struck a police convoy carrying suspects in southern Baghdad, the official said...
---
3.20.06 Officials confirm avian flu found in two more locations in south of Israel
March 20 – The Agriculture Ministry confirmed Monday afternoon that avian flu has been detected in two more locations in Israel, bringing the number of sites at which the disease has been found to six. Suspicions that the virus had reached Kibbutz Nir Oz and Moshav Amei Oz, both in southern Israel, were raised when dead turkeys were found at both locations, and the presence of the virus was confirmed Monday. [More>>haaretzdaily.com ; See related bird flu story, aljazeera.net, March 19, "Egypt reports bird flu case in man."]
---
3.20.06 Israel's wall securing control of West Bank's water
NAZLET ISA, West Bank (AFP) March 20 – Israel's vast separation barrier slices Nazlet Isa off from one of the richest water sources in the arid northern West Bank where the fight for water is a fight for survival. Israel is believed to monopolize around 75 percent of Palestinian water resources in a region where rainfall is infrequent and water a strategic asset. In the agriculture-dependent Palestinian territories, hemmed in by Jewish settlements, the lack of resources causes havoc for farmers, while pollution and inadequate waste disposal create manifold sanitation and health problems. In the northern West Bank town of Nazlet Isa, giant concrete slabs 10 meters high – lambasted as an apartheid wall by the Palestinians – have left six homes stranded on the Israeli side along with the rich underground aquifer. [More>>dailystar.com.lb ; See image of wall and map in sidebar]
---
3.20.06 Energy goals help 'cut global warming' : China
March 20 – The country's commitment to reduce energy consumption and pollutant emissions was lauded yesterday by world-renowned economists and leading business executives, who said it would be a positive contribution to cut down global warming. They also called for China's global leadership in tackling climate change and other environmental woes as the country pursues sustainable development in the newly-approved 11th Five-Year Plan (2006-10).

Referring to China's 2010 goal of cutting energy consumption per unit of GDP by a fifth from the 2005 figure, Nobel Laureate in Economics Joseph E. Stiglitz said that "it will be a contribution to the world" as it means less global-warming emissions. "China's 11th Five-Year Plan seems to have taken this message to heart," Stiglitz told China Daily during an interview on the sidelines of a high-level forum on China's harmonious development organized by the China Development Research Foundation.

Stating that the scientific evidence on the threat of global warming and the link with greenhouse gas emissions is overwhelming, Stiglitz said China's commitment to increasing energy efficiency is "particularly commendable."

"But China should do more in terms of its new role of global leadership," said Stiglitz. For example, he said, China could support the initiative of rainforest countries to curb deforestation within an expanded Kyoto Protocol as forests play an important role not only in avoiding global warming but also in preserving biodiversity. [More>>chinadaily.com.cn]
---
3.20.06 Dell to hire 10,000 in India – other companies moving to India
NEW DELHI (PTI) March 20 – Computer maker Dell expects to double the company's head count in India to 20,000 over the next three years, its Founder and Chairman Michael S. Dell said on Monday. He told a news conference that the company, with its headquarters at Round Rock in Texas, was aiming at continuing growing at the rate of 40 per cent in India. [More>>expressindia.com ; See also expressindia.com, "Microsoft to invest $1.7bn, hire 3,000 in India," and expressindia.com, "UK bank Lloyds to move 300 jobs to India."]
---
3.20.06 Microsoft seeks to catch phishers in legal net
March 20 – Microsoft has announced that it is launching legal action against more than a hundred "phishing" gangs, which seek to trick e-mail users into revealing passwords or credit card details and then use them to commit fraud. The software company said that the lawsuits will begin throughout Europe, Africa and the Middle East within the next three months. The first 53 cases will be launched this month and will include action against phishers in the UK, Germany, France, Sweden, Spain, Austria, Morocco Egypt and Turkey, the company said. [More>>timesonline.co.uk]
---
3.19.06 Is Iraq in Civil War?
(CBS/AP) March 19 – Three years to the day after the beginning of the war in Iraq, terrorists have reached a point of "desperation," U.S. Vice President Dick Cheney said on CBSıs Face The Nation, but on the same day the former Iraqi prime minister argued that civil was is already underway in his homeland. In a live interview with Bob Scheiffer, Cheney, one of the war's chief architects, echoed the Bush administration's line that the war in Iraq is progressing according to plan.

"The facts are pretty straightforward. The Iraqis met every single political deadline that's been set for them," Cheney said. "They haven't missed a single one." The vice president said that talk of civil war is overblown and the insurgency is being promoted mostly by terrorist groups.

"There's continuing violence because our adversaries understand what's at stake here, because they know that if we're successful in establishing a democratic government in Iraq, that that's going to put enormous pressure in that part of the world on all of those other regimes ad governments," Cheney said.

In a Washington Post column Sunday, US Defense Secretary Donald Rumsfeld argued many of the same points. He wrote that the terrorists "seem to recognize that they are losing in Iraq." Rumsfeld added that withdrawing US troops from Iraq, "would be the modern equivalent of handing postwar Germany back to the Nazis."

Former Iraqi Prime Minister Ayad Allawi said there was no other way to describe the increasing violence across the country. "It is unfortunate that we are in civil war. We are losing each day as an average 50 to 60 people throughout the country, if not more," Allawi told the BBC. "If this is not civil war, then God knows what civil war is."

When asked by Schieffer to address Allawi's comments, Cheney said, "I think the assessment that we get from General George Casey, who's our man commanding in Iraq, from Zal Khalilzad, the ambassador, from John Abizaid, who is the general in charge of Central Command, doesn't square with that.

"Clearly there is an attempt under way by the terrorists, by Zarqawi and others, to foment civil war. That's been their strategy all along, but my view would be they've reached a stage of desperation from their standpoint," Cheney added. [More>>cbsnews.com ; See also bbc.co.uk, March 19, "Iraq in civil war, says former PM" : Iraq is in the middle of civil war, the country's former interim prime minister Iyad Allawi has told the BBC. He said Iraq had not got to the point of no return, but if it fell apart sectarianism would spread abroad. The UK and US have repeatedly denied Iraq is facing a civil war, but Mr. Allawi suggested there was no other way to describe the sectarian violence...Analysts say Mr. Allawi's comments are part of political manoeuvring as talks continue over creation of a government. ..
---
3.19.06 Thousands in Europe protest Iraq war, but few in US
NEW YORK (AFP) March 19 – Tens of thousands of people in Europe and the Americas protested the war in Iraq on the eve of its third anniversary, with demonstrations in Europe drawing far greater crowds than those in the United States. Events in Washington, New York and Los Angeles drew approximately 1,000 people each, AFP reporters and police said.

At a rally near New York's Times Square, speaker after speaker denounced the Bush administration and US troops in Iraq. The group Troops Out Now called for immediate, complete, unconditional US military withdrawal. "Public opinion is now overwhelmingly on our side as it becomes clearer every day that this occupation itself is the source of the violence in Iraq," said organizer Dustin Langley. In Washington, a thousand protested outside Vice President Dick Cheney's home. "This racist war has to go," they chanted, some carrying signs reading "Bush step down," "Impeachment now" and "Hands off Iran." [More>>turkishpress.com ; See also independent.co.uk, "Iraq occupation: Three years on and still they're lying to us" : As global protests mark the day the invasion began, Raymond Whitaker examines the latest example of the self-delusion and spin that have characterized the occupation

Hundreds of American and Iraqi troops are engaged this weekend in Operation Swarmer, described as "the largest air assault operation" since the fall of Saddam Hussein in 2003. But yesterday, as protesters marched in dozens of cities around the world to mark the third anniversary of the invasion of Iraq, it became clear that this "assault" was little more than a propaganda exercise.

Three days into the offensive against suspected insurgents, there had been no clashes and no casualties among American or Iraqi troops. Fifteen caches of weapons and explosives were said to have been found, but television footage showed little more than the kind of small arms most rural Iraqis keep to protect their homes. An American spokesman said 83 people had been detained, of whom 17 were later released...
---
3.19.06 Iraqi Shias attacked by mortar on eve of major ceremony
KARBALA, Iraq (AFP) March 19 – A mortar bomb exploded in the holy Shia city of Karbala on Sunday on the eve of a major religious ceremony, highlighting Iraq's worsening sectarian crisis three years after the US-led invasion. The mortar attack came as hundreds of thousands of pilgrims gathered in the city, 110 kilometers (70 miles) south of Baghdad, to commemorate Imam Hussein, Prophet Mohammed's grandson, but there were no casualties, police said. There have been numerous attacks over the past few days on Shia pilgrims, adding to fears that the country – which is still without a new government three months after a landmark election – was moving to all-out civil war. [More>>metimes.com]
---
3.19.06 Seven die as blast hits Pakistani patrol
March 19 – Suspected Islamist attackers have blown up a police vehicle in northwestern Pakistan, killing seven people, including three policeman and three paramilitary troops. The vehicle was on a routine patrol on the outskirts of the town of Dera Ismail Khan on Sunday when the bomb, apparently planted in a dusty road, exploded as it passed over it. Daar Ali Khattak, the district police officer, speaking to reporters, said: "It was a remote-controlled bomb," Khattak said a passerby was among the dead, and hospital officials said five people were wounded including two women...Dera Ismail Khan is close to the troubled Waziristan tribal region where security forces have been battling with al-Qaeda-linked fighters and their local supporters over the past two years.

"It appears to be the spill over of what is going on in Waziristan," Sherpao told Reuters. Nearly 200 pro-Taliban fighters have been killed in clashes with the security forces in the North Waziristan tribal region this month. [Full story>>aljazeera.net]
---
3.19.06 Update, 3.18.06 Job protests grip French cities
March 18 – Tens of thousands of people have begun marches in French towns and cities to protest against a new law making it easier to dismiss young workers.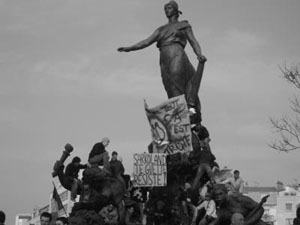 Vive la République –
etoya.skyblog.com
photo, Paris, Student Protest, March 18, 2006.
Organizers expect up to one million people at rallies from Marseille in the south to Lille in the north. The government says the law will reduce high youth unemployment but opponents fear it will entrench job insecurity. Protests in Paris earlier in the week resulted in hundreds of arrests. [More>>
bbc.co.uk
; See also
lefigaro.fr, March 18, "CPE : après la province, Paris défile"
: Plusieurs dizaines de milliers de personnes défilent dans les rues de la capitale. En province, à Lyon, Toulouse et Poitiers notamment, au moins 60.000 personnes ont manifesté ce matin pour exiger une nouvelle fois le retrait du contrat première embauche...
March 19 Update, timesonline.co.uk, "Protesters in clash with Paris riot police"
: Violence flared at the end of a giant anti-government protest in France yesterday as youths fought running battles with riot police in Paris after burning a car and smashing several shop windows. Four officers and 12 demonstrators were injured in the clashes in the capital, and police made 59 arrests.
According to the interior ministry, half a million people participated in largely peaceful protests in several French cities. But as darkness fell on the Place de la Nation, the finishing point for the demonstration in eastern Paris, rioters stormed a McDonaldıs restaurant, smashed telephone booths and threw projectiles at police...
---
3.18.06 US soldier killed, 30 people detained, in Samarra offensive
March 18 – The US military said one US soldier was killed and about 30 people detained by the end of the second day of their assault on Samarra. The military said Operation Swarmer, using 1500 US and Iraqi soldiers and 50 helicopters, was the biggest air assault since a similar airlift just after the war to oust Saddam Hussein, the Iraqi president, three years ago. It involved searching a 16km by 16km area for fighters, who gather support from the Sunni community, dominant under Saddam. US and Iraqi forces pressed on with the attack as Iraqi leaders failed again to form a coalition government widely seen as vital to avert any slide into civil war from sectarian bloodletting between Sunni Arabs and Shia Muslims. [More>>aljazeera.net]
---
3.18.06 Update, 3.17.06 Three people hospitalized for possible avian flu in Israel – first human death in Egypt
March 17 – Three workers at two Negev kibbutzim where more than 1,000 turkeys were found dead Thursday were taken to Soroka Medical Center in Be'er Sheva on Friday for treatment of possible bird flu. Meanwhile, the bird flu was suspected of spreading to two additional sites Friday - Moshav Sde Moshe, near the southern town of Kiryat Gat, and Kibbutz Nachshon, 25 kilometers from Jerusalem.

One of the patients, a Thai laborer who works at Kibbutz Ein Hashlosha, is being held in isolation. The other two, Bedouin from the Tel Arad region who work at Kibbutz Holit, said they had been feeling sick for the past few days but could not get off work. Hospital administrators said test results for the three kibbutz workers would be ready by Sunday...Israel on Friday halted all exports of unprocessed chicken and turkey meat to overseas destinations. [Full story>>haaretzdaily.com ; See also bbc.co.uk, March 18, "Egyptian woman 'dies of bird flu.' and washingtonpost.com, March 18, "World map : where bird flu has appeared."]
---
3.17.06 Twenty-two officials killed in Baluchistan clashes
TEHRAN, March 17 – Twenty-two Iranian government and provincial officials were killed in an ambush in the south-eastern province of Sistan-va-Baluchistan in the early hours of Friday morning, the government-owned news agency Fars reported. The incident occurred at 1:20 am as a convoy packed with officials was returning from a gathering in Zabol to the city of Zahedan. Unidentified gunmen opened fire on the convoy close to Shileh Bridge killing 22 and injuring seven officials, the report said.

Among those injured in the attack was believed to be the governor of Zahedan, Hossein-Ali Nouri. The report said that he was shot five times and is in critical condition. The head of security of the Zahedan governorate also died in the attack. The report quoted an "informed source" in a hospital in Zabol as saying that 50 individuals were killed or injured in the attack.

Sistan-va-Baluchistan Province is home to Baluchis, a predominantly Sunni Muslim ethnic minority. Iran has witnessed escalating unrest in recent months in areas populated by Baluchis, who complain of discriminatory and repressive policies by the Shiite clerics who rule the country. [iranfocus.com ; See more details, chinadaily.com.cn (AP) March 17, "Rebels in Iran kill 21 people on highway."]
---
3.17.06 White House cautiously welcomes Iran offer on Iraq talks
WASHINGTON, March 17 – The White House on Friday cautiously welcomed Iranıs offer for talks on Iraq, but offered mixed signals on its significance. White House press secretary Scott McClellan called the offer an ³interesting development² and said: "Weıre beginning to see some signs that the regime is beginning to listen."

But McClellan expressed some skepticism that talks would take place. If they do, he said, "What weıd like to see is for the regime to change its behavior. ... They should be playing a helpful role in the region."

The offer for talks on Iran was made Thursday by the secretary of Iranıs Supreme National Security Council, Ali Larijani. He told reporters any talks between the United States and Iran would be limited to Iraqi issues and would not address a dispute over Iranıs nuclear program. Privately, White House officials played down the significance of Larijaniıs offer, saying that similar statements were made late last year. "Itıs almost puffery," said a senior administration official, who spoke on condition of anonymity because of the sensitivity of the diplomatic situation. [khaleejtimes.com ; See related stories:

iranfocus.com, March 17, "Iran demands timetable for US troop withdrawal from Iraq." : Iranıs Foreign Minister Manouchehr Mottaki demanded on Friday that a timeline be announced for the withdrawal of United States-led troops from Iraq as he confirmed that the Islamic Republic would be willing to directly meet and hold talks with U.S. officials over the issue of Iraq. "A timetable for the exit of foreign forces [from Iraq] must be set up," Mottaki told the Friday prayers congregation in Tehran.

Mottaki added that the Islamic Republic had supported the efforts to prepare the stage for the withdrawal of "occupying forces" from Iraq. "The continuation of terrorist attacks in Iraq is one challenge and the continuing occupation is another aspect of these [challenges]," he said. The foreign minister also warned the West that Tehran would not be willing to overlook its "right" to nuclear development.]...

independent.co.uk, March 17, "Bush threatens force to end Iran's nuclear threat" : The United States sent a clear message to Iran yesterday that if all attempts fail at a diplomatic solution to the current stand-off, it is prepared to use force to end Tehran's perceived nuclear threat and its role as a fomentor of international terrorism. Offering a robust reaffirmation of the Bush administration's doctrine of preemptive action to deal with threats to national security, the latest four-yearly National Security Strategy published by the White House declares that the US "may face no greater challenge from a single country than from Iran"...

nytimes.com, March 17, "Iraqi Sunnis denounce plan for talks between US and Iran" : TEHRAN — Iran and the United States agreed Thursday to hold direct talks on how to halt sectarian violence and restore calm in Iraq, a plan that was denounced today by Iraq's largest bloc of Sunni parties. And while the agreement offered the first face-to-face conversation between Iran and the United States after months of confrontation over Iran's nuclear program, it was followed today by a new round of mutual criticism.

Iran's chief nuclear negotiator, Ali Larijani, announced in Iran's Parliament on Thursday that he would send a team of negotiators to Iraq to meet with American representatives there. But he also suggested in an interview that there would be stiff preconditions.

"I think Iraq is a good testing ground for America to take a harder look at the way it acts," Mr. Larijani said in his office shortly after making the announcement. "If there's a determination in America to take that hard look, then we're prepared to help"...

washingtonpost.com, March 17, "Iran, US at odds about Iraq talks" : The US ambassador to Iraq said today that contacts are being made to arrange talks with neighboring Iran, but statements issued by the two sides indicated that they remain at odds about the purpose of the discussions. In a brief telephone interview, Ambassador Zalmay Khalilzad said it was too early to say when the talks would take place but that he expected them to be held in Baghdad. He said he was not dealing with the Iranians directly to arrange the talks. Rather, those contacts are being handled by unspecified intermediaries...
---
3.17.06 Pakistan attacks US-India nuclear pact
March 17 – Pakistan has said a nuclear energy deal between India and the United States would wreck international agreements to stop the spread of atomic weapons, the Financial Times reports. On Friday, the newspaper quoted Khursheed Mehmood Kasuri, the Pakistani foreign minister, as saying that the US decision to give nuclear technology to India – which like Pakistan has a military nuclear programme – would encourage other nations to follow suit. In an interview, Kasuri told the Financial Times: "The whole Nuclear Non-Proliferation Treaty will unravel. It's only a matter of time before other countries will act in the same way..." [More>>aljazeera.net]
---
3.17.06 Bodies of four kidnapped Albanians found in Afghanistan: police
KANDAHAR, Afghanistan, March 17 – Police in Afghanistan found on Friday the bodies of four Albanians whom the Taliban said they had killed last weekend, a provincial governor said. [jang.com.pk ; See bbc.co.uk, "Afghans killed on hostage mission" : Five Afghan policemen have been killed retrieving the bodies of Macedonian hostages believed to have been killed by the Taleban, officials say. The officers died when a roadside bomb hit their convoy of vehicles, which was already carrying the dead hostages. The bodies of the four Macedonians, who were seized last week in the south of the country, had been retrieved in a mountainous area of Kandahar province. Taleban militants say they captured and shot dead the four men. The Macedonians were employed by a German cleaning company contracted to US-led forces. Earlier reports described them as Albanians. Four Afghan guards seized with them were later released...
Copyright © 1981-2006 Maravot. All rights reserved
Copyright © 1981-2006 Mel Copeland. All rights reserved
Painting of Apple by Mel Copeland, early 70's
Background: tile from Cicero's villa (Marcus Tullius Cicero 106 B.C. - 43 B.C.)