News Headlines & Trends
---
3.23.09 Treasury details plan to buy risky assets
WASHINGTON, March 23 - The Obama administration formally presented the latest step in its financial rescue package on Monday, an attempt to draw private investors into partnership with a new federal entity that could eventually buy up to $1 trillion in troubled assets that are weighing down banks and clogging up the credit markets. The Dow Jones industrial average was up sharply early Monday, gaining more than 300 points by midday. When the Treasury secretary, Timothy F. Geithner, spoke on Feb. 10 of a bank rescue plan without offering much detail, investors took that as a worrying sign and the Dow fell sharply, losing 380 points.

The Treasury secretary did not deny the uncertainties inherent in the new program on Monday but defended it as a practical approach. "There is no doubt the government is taking a risk," Mr. Geithner said, "the only question is how best to do it." The success or failure of the plan carries not only enormous stakes for the nation's recovery but certain political risks for Mr. Geithner as well. At least two Republican senators have called for his resignation. And on Sunday, Senator Richard C. Shelby of Alabama, the ranking Republican on the Banking Committee, told Fox News that "if he keeps going down this road, I think that he won't last long." [More>>nytimes.com; See related story, japantoday.com, March 23, "Japan stocks jump on US financial sector hopes."]
---
3.23.09 JPMorgan Chase to spend millions on new jets and luxury airport hangar
March 23 - Embattled bank JPMorgan Chase, the recipient of $25 billion in TARP funds, is going ahead with a $138 million plan to buy two new luxury corporate jets and build "the premiere corporate aircraft hangar on the eastern seaboard" to house them, ABC News has learned. The financial giant's upgrade includes nearly $120 million for two Gulfstream 650 planes and $18 million for a lavish renovation of a hangar at the Westchester Airport outside New York City. [More>>abcnews.go.com]
---
3.23.09 Lebanon bomb kills senor Fatah official, 4 others
SIDON, Lebanon (Reuters) March 23 - A bomb killed a senior official in the Palestinian Fatah faction and four other people in southern Lebanon on Monday, security sources said. Kamal Medhat, deputy head of the Palestine Liberation Organization in Lebanon, was killed with his companions on a road near Mieh Mieh camp outside the southern city of Sidon. The bomb, hidden under a manhole cover in the road, flipped one car off the road and badly damaged another. Television footage showed debris ablaze in a field.
Palestinian President Mahmoud Abbas condemned Medhat's killing as an act of terrorism. A Fatah spokesman in the West Bank said it was too early to speculate on who was behind the attack and that the Palestinian leadership would await the findings of investigations by the Lebanese security forces. Medhat had been accompanying Lebanon PLO representative Abbas Zaki, who was not injured in the blast, on a visit to Mieh Mieh camp. Lebanon is home to 12 Palestinian refugee camps that house more than 200,000 registered refugees. [More>>thestar.com.my; See more details, naharnet.com, March 23, "PLO representative deputy killed in bomb blast near Sidon."]
---
3.23.09 Eight killed in Baghdad bomb blast
BAGHDAD, March 23 - Eight people were killed and 16 wounded when a bomb exploded near a car repair workshop on the outskirts of Baghdad on Monday, police said. The blast occurred near Abu Ghraib to the west of the capital, a police officer told a foreign news agency. "Eight people have been killed and 16 wounded," the officer said, updating an earlier toll. "An IED (improvised explosive device) went off near a garage where people were gathered to have their cars repaired," he added. An army official confirmed the toll. [>thenews.com.pk]
---
3.23.09 NATO: Taliban commander among 10 killed in strike
KABUL, Afghanistan, March 23 - NATO killed a senior Taliban commander and nine other suspected militants in southern Afghanistan, while the coalition and its Afghan allies suffered an equal number of deaths in separate attacks in the same area, officials said Monday. The violence highlighted the deadly insurgency raging in the south as the US prepares to deploy thousands of additional troops to reverse Taliban gains in recent years. Senior Taliban commander Maulawi Hassan and his associates were killed Saturday when troops attacked an isolated compound in the Kajaki area of southern Helmand province, NATO said in a statement, adding there were no civilians involved.

"Maulawi Hassan was a senior insurgent figure in northern Helmand, and his influence extended into western Oruzgan," the statement said. Southern Afghanistan is the center of the Taliban insurgency, which has made a comeback in the last three years following the group's initial defeat by US-led forces in late 2001. Afghan and coalition forces have stepped up operations against militants in southern Afghanistan, and the US plans to send thousands of additional soldiers there this year. [More>>washingtonpost.com]
---
3.21.09 Tens of thousands march in Naples against mafia
NAPLES, Italy (Reuters) March 21 - Tens of thousand of people marched in Naples on Saturday to commemorate the victims of the mafia and demand an end to the stranglehold of organized crime on southern Italy. Organizers said they expected some 100,000 people from across Italy and 30 other countries to attend the rally, making it one of the biggest demonstrations against the powerful crime syndicates in recent years. Relatives of victims, some clad in white and holding pictures of their loved ones, led the rally as the names of some 900 people killed by the mafia were read out through loudspeakers. One banner said: "You didn't kill them. They are walking with us."

...The march was organized by Libera (Free), an association of civil society groups involved in many anti-mafia activities, including acquiring farms and buildings confiscated from the mafia and using them for social good, such as school and drug rehabilitation centres...the country's four biggest mafia organizations — Calabria's 'Ndrangheta, Sicily's Cosa Nostra, Naples' Camorra and Puglia's Sacra Corona Unita — are believed still to account for a large chunk of Italy's economy. [Full story>>khaleejtimes.com]
---
3.21.09 Activists protest outside AIG execs' homes
March 21 - A busload of activists - outnumbered 2-to-1 by reporters and photographers - is paying visits to the homes of American International Group Inc. executives in Connecticut to protest tens of millions in bonuses awarded by the company. About 40 protesters parked at a cul-de-sac Saturday afternoon and walked to the Fairfield home of Douglas Polling. They were met on the curb by two security guards. One activist read a letter detailing the financial struggles that many Connecticut residents have faced. The group then left the note in Polling's mailbox. Polling already agreed to forfeit his bonus, but the protesters want AIG executives to do more to help working families. AIG has received more than $182 billion in federal aid.

AIG Paid $218 Million In Bonuses

Connecticut's attorney general says documents turned over to his office by American International Group Inc. shows the company paid out $218 million in bonuses, higher than the $165 million previously disclosed. Attorney General Richard Blumenthal's office received the documents late Friday after issuing a subpoena. Blumenthal says the documents show that 73 people received at least $1 million apiece, and five of those got bonuses of more than $4 million. The financially ailing insurance giant has been under fire for giving bonuses after receiving more than $182.5 billion in federal bailout money. AIG spokesman Mark Herr declined to comment Saturday. Blumenthal said the newly revealed number will "further fuel the justified anger and revulsion that people feel." [>cbsnews.com; See related story,
cnn.com, March 21, "Connecticut, 19 other states launch AIG investigations" : Twenty state attorneys general announced investigations Friday into the $165 million bonuses paid by insurance giant AIG last week, with Connecticut's top lawyer issuing subpoenas to CEO Edward Liddy and 11 other executives. Connecticut Attorney General Richard Blumenthal and the Democratic chairman of the General Assembly's Banks Committee want Liddy and other executives to appear Thursday and bring with them "original or copies of documents regarding the AIG Financial Products Corp. retention bonus plan and any related contracts or agreements."

"Now living off supersized taxpayer-paid bonuses, these AIG employees have a moral and legal obligation to appear at this legislative hearing and disclose details about corporate compensation to employees as well as investment decisions by AIG Financial Products Corp. involving credit derivatives and dealings that have led to market destruction," said Blumenthal, a Democrat.

AIG officials are citing a Connecticut law to justify their payment of the bonuses. The law says that employees can sue in civil court for payments withheld that are due them and recoup double the amount of money. Many AIG employees live in Connecticut. New York Attorney General Andrew Cuomo is already investigating AIG's bonus payments, and on Thursday received a list of employees who received bonuses that he had demanded a day earlier...
---
3.21.09 Iran disses Obama: No change is seen
WASHINGTON and DUBAI, March 21 - But Iranian Public Shows Warmer Reaction to U.S. President's Overture. The supreme leader of Iran, Ayatollah Ali Khamenei, called for evidence of a substantive shift in US policy toward the country, a day after President Barack Obama broadcast a message of goodwill on the occasion of the Persian New Year. "Change in words is not enough … change must be real," said Khamenei, speaking Saturday in the holy city of Mashad. The cool reception by the top Iranian leader was belied, however, by signs that the Iranian public had responded favorably to an act of public diplomacy that analysts hailed as a potentially watershed moment in US-Iranian affairs. [More>>abcnews.go.com; See also:

arabtimesonline.com (AFP) March 21, "Iran ready to change if US leads way: Khamenei" : TEHRAN - Iran's supreme leader Ayatollah Ali Khamenei said on Saturday the Islamic republic is ready to reciprocate if US President Barack Obama changes American attitude towards his country. "If you change your attitude, we will change our attitude," Khamenei said in a groundbreaking address to thousands of Iranians in the northeastern holy city of Mashhad which was broadcast on state television...
---
3.21.09 Police disperse 'Palestinian Culture Festival" events
March 21 - Jerusalem Police on Saturday dispersed a number of small events staged as part of the Palestinian Culture Festival, meant to declare the city "the capital of Arabic culture for 2009." As of Saturday afternoon, police had shut down eight events and arrested 20 people, believed to be the events' organizers. Among the people detained were two employees of Al-Quds University, who were planning to hand out T-shirts promoting the festival. Police also prevented students from entering the university's campus."To the best of my understanding, this is an attempt to demonstrate Palestinian sovereignty in Jerusalem in an illegal manner," said Eyal. "The law...obligates the Palestinian Authority to respect the sovereignty of Israel within the boundaries of the State of Israel, including East Jerusalem." [Full story>>haaretz.com; See also:
alarabiya.net, March 21, "Israeli police stamp out Jerusalem celebrations" : Jerusalem as capital of Arab culture threatens Israel. CAIRO - Israeli government prevented Saturday Palestinian cultural celebrations marking Jerusalem as the "capital of Arab culture" for 2009 as Israeli security forces increased their presence in the Old City and all Arab neighborhoods of Jerusalem and Nazareth to stamp out any celebrations. Public Security Minister Avi Dichter ordered heavy police presence in Arab populated areas in Jerusalem to prevent any celebrations organized by the Palestinian Authority to mark Jerusalem as the capital of Arab culture of the year, Haaretz reported Saturday...
---
3.21.09 Diabetes drug grows in tobacco plants
LONDON (Reuters) March 20 - Scientists have found a healthy use for tobacco after breeding genetically modified plants containing a medicine that could stop type 1 diabetes. The move marks the latest advance in the emerging field of molecular farming, which may offer a cheaper way of making biotech drugs and vaccines than traditional factory systems. European researchers said they had produced tobacco plants containing a potent anti-inflammatory protein called interleukin-10 (IL-10) that could help patients with insulin-dependent type 1 diabetes and other autoimmune diseases.

A number of agrochemical companies, including Bayer and Syngenta, have been looking at ways to make complex protein drugs in plants, although progress has been slow. At the moment, antibody medicines and vaccines are produced in cell cultures inside stainless steel fermenters. However, Mario Pezzotti of the University of Verona, who led the tobacco study published in the journal BMC Biotechnology, believes they could be grown more efficiently in fields, since plants are the world's most cost-effective protein producers. Several different plants have been studied by research groups around the world, but tobacco is a firm favorite.

"Tobacco is a fantastic plant because it is easy to transform genetically and you can easily regenerate an entire plant from a single cell,"Pezzotti said. His group's work has attracted interest from tobacco giant Philip Morris, which is supporting a conference on plant-based medicine in Verona in June. His group's work has attracted interest from tobacco giant Philip Morris, which is supporting a conference on plant-based medicine in Verona in June. Pezzotti and his colleagues who received funding for their research from the European Union now plan to feed the plants to mice with autoimmune diseases to find out how they respond. [>gulfnews.com]
---
3.21.09 Indonesia: Wild elephants in Bengkulu under threat of extinction
JAKARTA, March 21 - Wild elephants in Bengkulu province are under threat of extinction because illegal loggers and land squatters have begun to operate in areas close to the Seblat Elephant Training Center in North Bengkulu district, a local nature conservation official said as reported by Antara newswire on Saturday. If the illegal activities were not stopped soon, the forest corridor linking the Elephant Training Center with the Kerinci Seblat National Park would be breached and the habitat of elephants under the center's care destroyed, Andi Basral, head of Bengkulu's Natural Resources Conservation Agency (BKSDA), said on Friday through Aswan Bangun, coordinator of the Seblat Elephants Training Center...Bangun said about 1,500 hectares of the 6,865-hectare forest-covered zone belonging to the Seblat Elephant Training Center were now in seriously damaged condition because of the illegal activities. [Full story>>thejakartapost.com]
---
3.21.09 Several die in Afghan bomb attack
March 21 - At least five people have been killed and five others injured in a roadside bomb attack near a shrine in Afghanistan's eastern Khost province, police officials say. The blast occurred in Nangarhar, on the outskirts of Khost city, on Saturday while people celebrated the Persian new year, Wazir Pacha, the provincial police spokesman, said. The Taliban discouraged people from celebrating the Persian new year, known as Nowruz, when they controlled the country in the 1990s. Earlier on Friday, four Canadian soldiers, part of the International Security Assistance Force (Isaf), were killed in two separate blasts in southern Afghanistan. [More>>aljazeera.net]
---
3.20.09 $2.5 billion in Merrill bonuses would not be covered by tax
March 20 - Merrill Lynch's $3.6 billion bonus pool has been among the most controversial payouts on Wall Street. But most of those bonuses, which included some 700 awards of over $1 million, would not be affected by a new bonus tax being considered in Congress. The tax, which passed in the House on Thursday, would affect only bonuses paid during 2009. Typically, Merrill's bonuses are paid in January, along with the rest of Wall Street's. But the investment bank pushed $2.5 billion of the bonuses out the door in December in advance of its merger with Bank of America..."By a technicality, the biggest giveaway on Wall Street will evade this bill," said Michael Garland, a spokesman with Change to Win, a federation of seven unions. "Bank of America is a major TARP participant, it was complicit in Merrill's payments and failure to correct this technical matter would give a pass to the most egregious bonus payout on Wall Street."

...Merrill's bonuses were paid 70 percent in cash, and 30 percent in shares of Bank of America stock. The stock was paid out Jan. 2, and so would fall into the timeframe of the proposed tax. Merrill's bonuses have spurred controversy because of the $15.8 billion loss the firm took in the fourth quarter and because they were paid earlier than usual. Andrew M. Cuomo, the attorney general of New York, is investigating Merrill's bonuses and its merger with Bank of America...Thomas K. Montag, who now heads capital markets at Bank of America, was promised a bonus of nearly $40 million when he joined Merrill after a career at Goldman Sachs. Some Wall Street executives may have already spent some of their bonus money. Peter Kraus, another Merrill executive who is now the chief of AllianceBernstein, received $25 million for his work at Merrill, and purchased a $37 million apartment last fall. [Full story>>nytimes.com]
---
3.20.09 New estimate has deficit topping $1.8 trillion
WASHINGTON, March 20 - The federal budget deficit for the current year will top $1.8 trillion under the latest estimates produced by congressional economists, say Capitol Hill aides briefed on the figures. The Congressional Budget Office's estimate of President Barack Obama's budget for next year show a worsening picture for 2010 as well, with a deficit of almost $1.4 trillion expected under administration policies. Obama had predicted about $200 billion less. The aides spoke on condition of anonymity in advance of public release of the figures later Friday.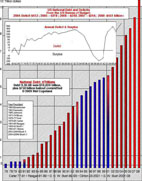 The latest figures, fueled by the $700 billion Wall Street bailout and diving tax revenues stemming from the worsening recession, would shatter the previous record for a federal shortfall of $459 billion, set just last year. [More>>cbsnews.com]

---
Editorial note: If the deficit remains at $1.8 trillion as of September 30, 2009 (the end of the fiscal year), then the National Debt will be $12.5 trillion. Interest on the $12.5 trillion — using a rate consistent with experienced interest payments during the previous eight years — would be $625 billion per year. This is consistent with Maravot News projections last fall. See Maravot News 03.05.09 "The consequences of national indebtedness", with charts showing National Debt and interest history, or click on chart. When pundits speak about the costs associated with the deficit they fail to mention the recurring interest expense on the National Debt and seem to be ignorant of the fact that borrowed money involves interest debt which has both immediate and long term affects. The National Debt may affect our children, as they seem to hope, and it also affects Federal interest rates. For instance, when the Fed sells bonds to China and other central banks, the Fed may have to raise interest rates to make reluctant buyers purchase the debt. When interest rates are raised by the Fed, those rates affect mortgage, auto and credit card rates. Part of the economic collapse seen through the subprime market fiasco may have been spawned by the Feds' rise in interest rates to sell bonds to finance the US debt.

Mel Copeland
---
3.20.09 Afghanistan unrest kills 50: officials
KABUL, Afghanistan, March 20 - Nine Afghan policemen and a district chief died in a battle with Taliban fighters Friday, as troops killed 40 militants in operations to counter the mounting insurgency, authorities said. The series of bloody clashes came as Afghanistan welcomed in its New Year, based on the solar calendar, amid alarm about the rise of a Taliban insurgency which has led Washington to deploy 17,000 extra troops. The police officers and district head died fighting the Taliban in the remote northern province of Jawzjan, an unusual battlefield for the extremists, who focus their activity in southern and eastern Afghanistan.

"Today in a clash between Taliban and police, the district chief and nine police were killed," provincial police chief Khalil Aminzada told a foreign news agency. The fighting was in a district called Koshtipa, on the border with Turkmenistan, he said. Aminzada was unable to say if any militants were also killed. A Taliban spokesman confirmed the fighting in an Afghan media report.

The US military said troops killed 30 militants on Thursday in the flashpoint southern province of Helmand, in a district where a key anti-Taliban lawmaker was killed in a bomb attack the same day. The toll was the highest from a single clash announced by the military in more than two months, with Afghanistan gearing up for another year of intense fighting against the Al-Qaeda-linked Taliban after the winter months. [>thenews.com.pk; See also:

washingtonpost.com (AP) March 20, "Afghan clerics urge Saudi-led talks with Taliban" : KABUL - Afghanistan's top Muslim clerics urged President Hamid Karzai on Friday to push ahead with a proposal for talks with the Taliban that would be mediated by Saudi Arabia's King Abdullah...In the latest violence, international forces killed 34 militants in two days of clashes in the country's volatile south and east, the US military said Friday...Meanwhile, US forces on Friday reported a series of clashes that killed 34 militants, although Afghan officials said it may have been fewer.
Thirty of the deaths occurred during a firefight that broke out Thursday when Afghan army and US-coalition troops came under attack in southern Helmand province, the US said in a statement...On Friday, Afghan and coalition forces killed three militants and captured another in eastern Logar province when fighting broke out during a raid targeting a bomb-making cell, a separate US statement said. Another militant was killed in a raid on another bomb-making network in the eastern border province of Kunar, the US said. In western Farah province, militants clashed with police, leaving eight officers and 14 Taliban dead, said provincial police spokesman Baryalai Khan. In the same province, a suicide bomber killed one police officer outside of a police station, Khan said. [end]

aljazeera.net, March 20, " 'Taliban rockets' hit Pakistan town" : Ten civilians have been killed and at least 38 others injured by rockets fired into the main town in Pakistan's tribal Khyber area. Rashid Khan, a local government official, said suspected Taliban fighters fired three rockets near the town of Landi Kotal, just west of the Afghan border, late on Thursday. He said one of the rockets, aimed likely at the security forces' base, hit the town's commercial area where 10 civilians were killed and 38 others injured...The Khyber region is on the route for lorries carrying supplies for foreign troops in Afghanistan...
---
3.20.09 Soldier says rabbis pushed 'religious war' in Gaza
JERUSALEM (Reuters) March 20 - Rabbis in the Israeli army told battlefield troops in January's Gaza offensive they were fighting a 'religious war' against gentiles, according to one army commander's account published on Friday."Their message was very clear: we are the Jewish people, we came to this land by a miracle, God brought us back to this land and now we need to fight to expel the gentiles who are interfering with our conquest of this holy land," he said.

The account by Ram, a pseudonym to shield the soldier's identity, was published by the left-leaning Haaretz newspaper in the second day of revelations that have rocked the Israeli military. (www.haaretz.com "Shooting and Crying, 2009"). They were leaked from a Feb. 13 meeting of armed forces members to share their Gaza experiences.

..Hamas clerics have often called for 'Zionist' blood to be spilled. The Islamists carried out dozens of suicide bombings in Israel before and during a Palestinian uprising that erupted in 2000, blowing up buses and cafes. The Jewish state tries to balance the needs of its non-observant majority with religious tradition. While the military does not provide data on the disposition of personnel, observers report a disproportionately high number of soldiers and officers wearing skullcaps—a symbol of Jewish faith. [Full story>>khaleejtimes.com]
---
3.20.09 US to aid in rescue of persecuted Yemen Jews
March 19 - The United States government is taking part in efforts to extricate Jews in Yemen who have been the subject of physical harassment from their Muslim neighbors. The rescue efforts focus on 300 Jews from the Yemenite town of Rada, north of the capital Sanaa. The State Department has maintained a weeks-long dialog with Yemenite authorities over the fate of the country's Jewish community. The issue took on more urgency following the murder this past December of a prominent activist in the Jewish community, Moshe Yaish Nahari.

It is unclear if the US involvement in helping facilitate the Jews' exit from Yemen is the result of an initiative by Washington or an appeal from Israel. The operation is the brainchild of the umbrella group United Jewish Communities, which is being aided by other organizations specializing in absorbing and resettling refugees. The Satmar Hassidic sect in New York is extending special assistance to help the new immigrants put down roots in the United States. Originally, the government intended to provide housing for the immigrants in North Dakota. [More>>haaretz.com]
---
3.20.09 Peres greets Iranians in Persian on Iranian new year festival
March 20 - President Shimon Peres issued an audio greeting to the Iranian people, urging them to shake off the rule of "an oppressive and fanatical regime" and return to relations of peace and harmony with Israel, which, he recalled, the two countries enjoyed when the Shah was in power, until 1979. He called on the "noble Iranian people" to eschew the rhetoric of hate and even offered a greeting for Nowruz, the Iranian New Year, in Persian. Israel Radio, which operates a channel in Persian, aired the message, also conducting an interview with Peres where he recalled a visit to Iran in the 1970s and recounted his visits to Iranian military bases and praised the "gracious" demeanor of the Shah. Peres heaped praise on the Iranian people and expressed his belief that they would eventually topple the regime because "leaders who do not serve their constituents are eventually removed."

...Also on Friday, Iran remained defiant after US President Barack Obama acted upon his promise and turned in a video address directly to the Iranians, congratulating them on the new Persian year. Teheran said it welcomes Obama's greetings but would nevertheless push on with its nuclear program. Iranian Energy Minister Pervez Fatah reiterated that the Bushehr nuclear facility would begin operations this year and emphasized that it was intended solely for peaceful purposes. He also said Iran would reveal further progress in its nuclear program within 20 days, but did not elaborate. [Full story>>jpost.com]
---
3.20.09 FBI planting spies in US mosques, Muslim groups say
March 20 - Ten US Muslim organizations threatened this week to cease working with the FBI, citing "McCarthy-era tactics" by the agency, including efforts to covertly infiltrate California mosques. The groups claim the FBI has sent undercover agents posing as worshippers into mosques, pressured Muslims to become informants, labeled civil rights advocates as criminals and spread misinformation.

The FBI declined to comment on specific allegations but called the proposed move unproductive...The FBI has sent "agents provocateur" into California mosques, according to the statement, which says an FBI agent threatened to make one mosque member's life a "living hell" if he did not become an informant. Though the statement does not name the mosque member, the Council on American-Islamic Relations said last month it would seek an investigation into the February 21 arrest of Ahmadullah Niazi, an Afghanistan native.

...Niazi, 34, was indicted last month on charges of perjury, procuring naturalization unlawfully, using a passport procured by fraud and making false statements. A search warrant for Niazi's Tustin, California, home said Niazi became a naturalized citizen in 2004 and made false statements about his past aliases and international travel. He also made false statements about contact with his brother-in-law Amin ul-Haq, the indictment said. Ul-Haq is said to be Osama bin Laden's security coordinator and has been labeled a "specially designated global terrorist" by the US government, the indictment said. An FBI agent said in open court that Niazi also had discussed terrorist plots with an undercover informant, according to media reports. Niazi has pleaded not guilty to the charges against him. [Full story>>cnn.com]
---
3.19.09 IDF confirms arrest of 10 Hamas men
March 19 - The IDF confirmed on Thursday that troops had arrested 10 senior Hamas officials during operations in the West Bank overnight Wednesday. According to the army, four of the detainees were members of the Hamas Legislative Council, and constituted the organization's West Bank "leadership." The IDF said they were arrested because of their recent activity in trying to bolster the group's presence in the area. "These men have been the leaders of the ongoing effort to restore the administrative branch of the Hamas terror organization in the region, while attempting to increase the power and influence of Hamas," the army said in a statement.

The detentions appeared to be an attempt to pressure the group after the failure of recent efforts to secure the release of IDF soldier Gilad Schalit, held captive in the Gaza Strip by Hamas since June 2006. In addition to the Hamas men, 10 other Palestinians were also arrested Wednesday night. The detainees in the latest raid include Nasser Shaer, a former Palestinian deputy prime minister, and several Hamas lawmakers. Some have already been arrested in the past. [More>>jpost.com]
---
3.19.09 Israeli soldiers admit to deliberate killing of Gaza civilians
March 19 - The Israeli army has been forced to open an investigation into the conduct of its troops in Gaza after damning testimony from its own front line soldiers revealed the killing of civilians and rules of engagement so lax that one combatant said that they amounted on occasion to "cold-blooded murder." The revelations, compiled by the head of an Israel military academy who declared that he was "shocked" at the findings, come as international rights groups are calling for independent inquiries into the conduct of both sides in the three-week Israeli offensive against Palestinian Islamists.

The soldiers' testimonies include accounts of an unarmed old woman being shot at a distance of 100 yards, a woman and her two children being killed after Israeli soldiers ordered them from their house into the line of fire of a sniper and soldiers clearing houses by shooting anyone they encountered on sight. "That's the beauty of Gaza. You see a man walking, he doesn't have to have a weapon, and you can shoot him," one soldier told Danny Zamir, the head of the Rabin pre-military academy, who asked him why a company commander ordered an elderly woman to be shot...One non-commissioned officer told Mr. Zamir, himself a deputy battalion commander in the reserves, that the army "fired a lot of rounds and killed a lot of people in order for us not to be injured or shot at..." [Full story>>timesonline.co.uk]
---
3.19.09 House passes tax on AIG bonuses
March 19 - The House today passed a bill that would impose a 90 percent income tax on $165 million in bonuses distributed to employees of the troubled insurance giant American International Group, the first of multiple steps that lawmakers are expected to take to quell public furor and tighten government control over AIG and other financial sector recipients of federal bailout aid. The bill was approved on a vote of 328 to 93.

The Senate Finance Committee also is preparing legislation aimed at capturing over 90 percent of the bonus money through a combination of excise and income taxes, and although a vote is not yet scheduled, action is possible this week. And Attorney General Eric H. Holder Jr. announced that the Justice and Treasury departments are jointly exploring "tools" to recover the money. Some Democratic lawmakers said the unprecedented tax measures are aimed in part at persuading bonus recipients to voluntarily return the money they have received. [More>>washingtonpost.com; See related stories:

washingtonpost.com, March 19, "How the Fed failed to tell Obama about the bonuses" :...Treasury Secretary Timothy F. Geithner, a central figure in the decision to bail out AIG last fall as president of the Federal Reserve Bank of New York, said in an interview yesterday that he had not been aware of the size of the bonuses and the timing of the payments. "I was stunned when I learned how bad this was on Tuesday [March 10]," Geithner said. "I shouldn't have been in that position, but it's my responsibility and I accept that."...When the government rescued AIG in mid-September, no one was more central to the decision than Geithner...

cbsnews.com, March 19, "Why Obama didn't know about AIG's bonuses" : ...When the government rescued AIG in mid-September, no one was more central to the decision than Geithner. AIG officials met with Geithner and then Treasury Secretary Henry M. Paulson Jr. in New York on Sept. 14 to warn them of the dire threat posed by the derivative business developed by AIG's Financial Products unit. Executives told the two men the firm needed help but had at least a week before it faced collapse, sources said. Paulson left for Washington. But Geithner stayed up all night with officials at the New York Fed to examine AIG's situation.

He discovered not only an enormous number of complicated trades, estimated at $2 trillion, but that AIG had backed retirements funds across the nation. He also realized that a collapse of AIG was imminent, and that the fallout would ripple across the banking system, sources familiar with the episode said. Geithner, with Paulson and Fed Chairman Ben S. Bernanke, decided to lend the company $80 billion in exchange for an 80 percent ownership equity stake. About a month later, Geithner redesigned the bailout package for AIG, which raised the total to about $123 billion.

..AIG executives said they disclosed in a quarterly filing late last year to federal regulators that employees at Financial Products would receive retention bonuses but the filings, with the Securities and Exchange Commission, did not detail how much individuals would be paid or the dates of the payments. The company revealed those details in meetings with New York Fed officials in January, AIG chief executive Edward M. Liddy said at a congressional hearing yesterday.

...AIG executives say the Fed had been intimately involved in reviewing the contracts before the first dime was paid. The payments, which were due by March 15, were ready to be distributed last Tuesday, a senior AIG executive said. But the firm didn't get the go-ahead from government officials to make the payments until late last week.

"We weren't authorized until Thursday night," the AIG executive said. "We were negotiating with the Treasury and the Federal Reserve. Treasury indicated that they needed it cleared by the White House, as well. We hit the go button for the payments on Friday." Geithner said the Fed did not tell him about the bonuses until March 10. He immediately huddled with his senior staff, examining options, but ultimately concluded that the government could not change contracts for work that had already been done...
---
3.19.09 TARP Corps. owe more than $220 million in back taxes
March 19 - At least 13 companies who have received some of the $300 billion in TARP funds owe hundreds of millions of dollars in back taxes, it was revealed today. Two of the companies owe more than $100 million in taxes, said Rep. John Lewis, D-Ga., chairman of the House Ways and Means Subcommittee on Oversight. Altogether, the 13 companies owed the government more than $220 million in unpaid taxes, he said. "This is shameful," he said. "It is a disgrace," Lewis said at the beginning of a hearing into how the TARP money is being spent. Lewis' committee discovered the unpaid taxes in a review of tax records from 23 of the firms receiving the most money, Lewis said...The Georgia lawmaker said the subcommittee learned of the unpaid taxes from IRS records. He said these firms were required to sign contracts that they did not have any unpaid taxes, but the Treasury Department never requested the tax records. [More>>abcnews.go.com]
---
3.19.09 US to aid auto industry with $5 billion for suppliers
DETROIT, March 19 - The Obama administration moved on Thursday to stabilize the American auto industry by creating a $5 billion fund to support troubled parts suppliers. The Treasury Department said the program would guarantee payments to suppliers for products shipped to ailing car companies. The supplier fund is the first direct action taken by President Obama's auto task force to prop up the auto industry, which has suffered big losses from the steep decline in new-vehicle sales.
"The Supplier Support Program will help stabilize a critical component of the American auto industry during the difficult period that lies ahead," Treasury Secretary Timothy F. Geithner said in a statement. The presidential task force is continuing to review requests for additional federal aid from General Motors and Chrysler, both of which are subsisting on government loans. [More>>nytimes.com]
---
3.19.09 North Korea detains two US female journalists
March 19 - North Korea has detained two female American journalists working near its border with China, a diplomatic source here said yesterday. "Two reporters working for a US-based internet news media outlet, including a Korean-American, were detained by North Korean authorities earlier this week, and they remain in custody there," the source said. The journalists were videotaping a scene near the North's border with China despite repeated warnings by North Korean border guards, according to the source. They were arrested after accidentally crossing into North Korea on Tuesday, the source said. The journalists from the California-based online media outlet Current TV were identified by a South Korean pastor as Euna Lee, editor of the news service section, and Laura Ling, a reporter.[More>>koreaherald.co.kr]
---
3.19.09 Russia's budget deficit to hit 7.4% of GDP in 2009 - Putin
MOSCOW (RIA Novosti) March 19 - Russia's federal budget deficit will reach 3 trillion rubles ($88 billion) in 2009 amid the ongoing financial crisis, Prime Minister Vladimir Putin said on Thursday. "Revenues will total 6.7 trillion rubles [$198 billion] and expenditures 9.7 trillion rubles [287 billion], with the deficit of 3 trillion rubles, which is almost 50% of revenues or 7.4% of GDP," Putin said. At the same time, the premier said he believed it unreasonable and dangerous to resort to printing money to cover the country's budget deficit. "The deficit problem must be resolved through civilized, internationally recognized methods — from reserves accumulated in previous years or, if the need arises — but I want to point out that we have had no need for this approach so far - through loans on market conditions," Putin said. Putin added that Russia would have to live with a budget deficit for the next several years. [>en.rian.ru]
---
3.19.09 Al-Qaeda, Taliban are not in Balochistan: Pakistan
WASHINGTON (AP) March 19 - The Pakistan Government does not believe Taliban or al-Qaeda officials have moved from the tribal border region to Pakistan's southwestern-most province and would oppose expanding US drone strikes there, a government official said. The Pakistani reaction followed a "New York Times" report Tuesday that the Obama administration is considering proposals to expand air strikes into the province of Baluchistan to target al-Qaeda and Taliban officials. US intelligence officials believe some militant leaders have fled there to avoid the US drone attacks in the lawless tribal region to the north.

The proposals are part of an ongoing larger review of US strategy in Pakistan and Afghanistan to counter terrorist organizations and help stabilise both countries, according to the Times. "As far as we're concerned we do not think Taliban leadership or al-Qaeda are present in Baluchistan or Quetta as some suggest," said a Pakistan embassy official, who asked for anonymity to discuss the sensitive intelligence issue. [>indianexpress.com; See related story (Maravot News, below)

3.18.09 NATO supplies' container attacked near Pak-Afghan border QUETTA, Pakistan, March 18 - Unknown people attacked a container supplying logistics to NATO forces using explosives here at [the] Pak-Afghan border, police sources said on Wednesday...
---
3.19.09 Bomb attack kills Afghan MP, four bodyguards
KABUL, Afghanistan (Reuters) March 19 - An Afghan lawmaker and four of his bodyguards were killed by a roadside bomb in southern Afghanistan on Thursday, a survivor said, the latest attack in a surge of Taliban-led violence this year. Violence is at its highest level since the Taliban was ousted by U.S.-led forces in 2001, with attacks spreading from the south and east to the outskirts of Kabul. Daad Mohammad, a member of parliament for southern Helmand province and a former intelligence officer, was in a vehicle when it was hit by the bomb in Lashkar Gah district, his cousin Akhtar Mohammad told Reuters. Insurgents often target lawmakers and some politicians complain that inadequate security leaves them vulnerable to attack. In November 2007, five parliamentarians were killed in a suicide attack in north Afghanistan. [More>>khaleejtimes.com]
---
3.19.09 Five alleged terrorists arrested in Lahore
LAHORE, Pakistan, March 19 - The Lahore police on Thursday arrested five suspected terrorists from Shamnagar Chauburji area and seized a large quantity of weapons and explosives from their possession. According to sources, the suspects were held from Shamnagar Chauburji area on the tip-off of Afghan nationals two days ago. Three suspects were identified as Qari Gul, Khasta Gul and Mehr Dad while identities of two others were yet to be known. [>thenews.com.pk]
---
3.18.09 World Bank cut China's 2009 growth forecast Wednesday
BEIJING, March 18 - The World Bank cut its forecast of China's 2009 growth from 7.5 percent to 6.5 percent on Wednesday due to plunging exports but expressed confidence in Beijing's ability to keep the world's third-largest economy expanding amid global turmoil. The drop in trade will hurt investment and job creation, the bank said in a quarterly report. But it said China still should grow faster than other major countries due to its huge stimulus package and strong banks, which were unhurt by the global crisis. "China's exports have been hit badly, affecting market-based investment and sentiment, notably in the manufacturing sector," the report said. [More>>thestar.com.my]
---
3.18.09 Allure of US treasuries set to fade
BEIJING, March 18 - Holdings of US Treasury bonds rose in January, but the increase is the slightest since last June, indicating the country's appetite for the securities is set to diminish as a result of the falling trade surplus and rising concern over investment security. The country's reserves of US Treasuries rose by $12.2 billion to $739.6 billion by the end of January, according to the latest International Capital Report by the US Treasury Department. Although China remained the largest creditor of the US government, analysts say its future purchases would shrink.

Treasury debt holdings grew by $14.3 billion in December. "Purchases of US Treasuries are set to decline, given the fall in the trade surplus," Erh-Cheng Hwa, chief economist of Bank of Communications, told China Daily. China ran hefty trade surpluses in the past years and accumulated $1.95 trillion in foreign exchange reserves by the end of 2008. In an attempt to seek stable returns, most of the reserves were channeled to low-risk assets such as US Treasury bonds. [More>>xinhuanet.com]
---
3.18.09 Libby calls bonuses 'distasteful'; asks execs to return money
March 18 - The CEO of the bailed-out insurance giant AIG told Congress today that he has asked executives who received $165 million in bonuses last week to "do the right thing," and return at least half the money. Some of AIG's officials have agreed to give up all of their controversial bonuses, said AIG CEO Edward M. Liddy. The testimony of Liddy, who took over as AIG's CEO in September as part of the government's rescue efforts for the embattled firm, comes amid a furor that erupted over the revelation that AIG awarded fat retention bonuses to employees of the AIG financial products unit.

AIG's financial products unit is blamed for plunging AIG into the financial turmoil that eventually led the government to lend and invest about $170 billion in taxpayer money in the company. "I've asked the employees of AIG financial products to step up and do the right thing," Liddy said. "Specifically I've asked those who received retention payments in excess of $100,000 or more to return at least half of those payments, some have already stepped forward and offered to give up 100 percent of their payments."

..."Make no mistake, had I been chief executive at the time, I would never have approved the retention contracts that were put in place more than a year ago," he wrote. Seven executives at the unit took home bonuses of more than $4 million each, with the top bonus recipient earning more than $6.4 million, according to New York Attorney General Andrew Cuomo. During this morning's hearing, several members of Congress spoke out against the bonuses, including Rep. Barney Frank, D-Mass., the chairman of the House Financial Services committee. Frank said that the government, as the effective owner of AIG, should sue to recoup the money. [Full story>>abcnews.go.com]
---
3.18.09 Madoff's accountant is charged with securities fraud
March 18 - The accountant who provided auditing services to Bernard L. Madoff's investment advisory business for more than a decade, operating out of a tiny storefront office in Rockland County, was charged on Wednesday with securities fraud and aiding investment adviser fraud in connection with Mr. Madoff's vast Ponzi scheme. The accountant, David G. Friehling, who became Mr. Madoff's primary auditor in the early 1990s when his father-in-law retired and he took over the two-man firm of Friehling & Horowitz, surrendered to federal authorities and prosecutors on Wednesday morning.
The charges are the first filed publicly since the 70-year-old Mr. Madoff pleaded guilty to fraud on Thursday and was ordered to a federal jail to await what is expected to be the equivalent of a life sentence. People briefed on the matter say they expect more cases to follow as prosecutors and F.B.I. agents focus on Mr. Madoff's family members and employees despite his assertion that he carried out the fraud alone...Mr. Friehling, 49, was charged in a six-count criminal complaint that accused him of one count each of securities fraud and aiding and abetting investment adviser fraud and four counts of making false filings to the Securities and Exchange Commission. If convicted, he faces a maximum of 105 years in prison. Mr. Friehling's lawyer, Andrew M. Lankler, declined to comment. [Full story>>nytimes.com]
---
3.18.09 Stocks waver as investors await Federal Reserve meeting
March 18 - Stocks were hovering around their starting points this afternoon, failing to build on yesterday's rally, as investors watched for details of a Federal Reserve meeting today. The Dow Jones industrial average fell 0.6 percent, or 47 points, by 1 p.m., while the Standard & Poor's 500-stock index was flat, down less than a point. The tech-heavy Nasdaq composite index was up 0.5 percent, or 8 points.
The Fed is expected to leave key interest rates low, but investors are looking for clues to whether the central bank's outlook of the economy has changed and whether it could take additional steps to help the credit markets, analysts said. In particular, investors are also watching for steps by the Fed to keep mortgage interest rates low. [More>>washingtonpost.com]
---
3.18.09 Gunmen kill 4 at university in Pakistan
MINGORA, Pakistan, March 18 - Dozens of gunmen opened fire at a university in a northwest Pakistan region near the Afghan border early Wednesday, killing three police officers and a security guard, authorities said. The attack occurred in Lower Dir, which borders Pakistan's militant-plagued tribal regions and is near the Swat Valley, where the government recently agreed to impose Islamic law to strike a peace deal with the Taliban. A top government official said Taliban fighters detained 14 of the suspected attackers in Swat later Wednesday.

Local police official Pervez Rahim said the gunmen's identity was not clear, but that they fired upon police who were in a vehicle guarding the school. A university security guard was also shot and died on the spot, Rah said. Dir lies next to the Bajur tribal region, where the Pakistani military recently declared victory over al-Qaida and Taliban fighters after a monthslong offensive. There are concerns that militants under fire might have fled to safer areas. [More>>japantoday.com]
---
3.18.09 Pakistan-based terror groups eyeing Lok Sabha polls: Intel
NEW DELHI, India, March 18 - Even as India continues to press Pakistan to act against those behind [the] Mmbai attacks, intelligence agencies have warned of a "heightened" threat from across the border to some political leaders during the Lok Sabha elections. Top government sources on Wednesday said intelligence agencies have intercepted cross-border "chatters" between terrorists who speak about intentions to target some political leaders here during the elections. There has been a marked increase in talk among the terrorists about attempts to disrupt the election process, they said. The intercepts suggest that terrorists want to target some politicians during elections as it could result in lot of media attention, the sources said but did not identify the leaders facing the terror threat. [More>>timesofindia.indiatimes.com]
---
3.18.09 Bomb hits Korean convoy in Yemen
March 18 - A bomb went off yesterday in Yemen near a police car that was escorting the families of the victims of yet another terrorist attack there, intensifying suspicions that South Koreans have become the target of international terrorism. There were no casualties, the Foreign Ministry reported. The bomb blew up in front of the police car that was part of a convoy carrying ministry officials and three family members of the four South Korean tourists who were killed in the city of Shibam in the Arab country. Aside from the police vehicle, the victims' families were riding in two other cars. They were traveling to the airport at the Yemeni capital of Sanaa after identifying the bodies of the deceased.

All three members boarded a plane back home yesterday. The bodies are to arrive today. "We are deeply concerned over this second bombing, which appears to be the work of a suicide bomber. We are investigating whether the attack was specifically aimed at our people or at the Yemeni government," said Moon Tae-young, the ministry spokesman. Seoul has joined the Yemeni government's investigation to decipher if the terrorists — seen to be tied to al-Qaeda — were aiming for South Koreans, or simply any foreigners in the area. The militant group reportedly was in stand-off with the Yemeni government, which has been cracking down on their terrorist activities. [More>>koreaherald.co.kr]
---
3.18.09 Syria's Assad praises Obama, wants meeting
ROME (Reuters) March 18 - Syrian President Bashar al-Assad said he hoped to meet US President Barack Obama and expressed his willingness to help mediate between the West and Iran. Assad, in an interview with Italian newspaper La Repubblica published on Wednesday, also confirmed he was ready to resume peace negotiations with Israel but expressed concern about the political climate there. "With the pullout in Iraq, the will for peace, the closing of Guantanamo, (Obama) has shown himself to be a man of his word," he said, referring to the US naval base in Cuba where hundreds of suspected Islamist militants have been held, most for years without trial. But Assad said it was too soon to speak of a "historic shift" in US foreign policy. Asked about meeting Obama, Assad said: "Yes, in principle. It would be a very positive sign. But I'm not looking for a photo opportunity. I want to see him, to talk." [More>>khaleejtimes.com]
---
3.18.09 NATO supplies' container attacked near Pak-Afghan border
QUETTA, Pakistan, March 18 - Unknown people attacked a container supplying logistics to NATO forces using explosives here at Pak-Afghan border, police sources said on Wednesday. The attackers planted explosives by the side of the container near Chaman Custom House which blew up with loud blast. The explosion caused a minor damage to the container. No loss of life has been reported in the incident. [>thenews.com.pk]
---
3.18.09 Russian media: Defense official confirms S-300 sale to Iran
(AP) March 18 - Russian news agencies reported on Wednesday that a top defense official confirmed Russia had indeed signed a contract to sell S-300 air-defense missiles to Iran, but that none of the weapons had been delivered. Russian officials have consistently denied claims that it already provided some of the powerful missiles to Iran, and had not clarified whether a contract existed. The state-run ITAR-Tass and RIA-Novosti news agencies, in addition to the independent Interfax, quoted an unnamed top official in the Federal Military-Technical Cooperation Service as saying Wednesday the contract had been signed two years ago.

Service spokesman Andrei Tarabrin told The Associated Press he could not immediately comment. Supplying the S-300s to Iran would markedly change the military balance in the Middle East. Israel has consistently stated it would do everything possible to stop Iran from developing a nuclear weapon, including a military strike on various nuclear facilities in the country. However, the S-300 anti-aircraft system would make an air strike significantly more difficult. [>jpost.com; See also:

en.rian.ru, March 18, "Russia has not delivered S-300 missile systems to Iran - source" : MOSCOW - Iran has not yet received any S-300 air defense systems under a 2007 contract and the deal depends on the leadership in Moscow, a Russian military exports source said on Wednesday. "S-300 systems have not been yet delivered to Iran under the contract concluded two years ago. The contract itself, though, is being gradually executed," the source in the Federal Military-Technical Cooperation Service told RIA Novosti. Iranian media have repeatedly reported, citing senior security officials, that Russia has started delivering elements of the advanced version of the S-300 missile to Tehran.

"Russia is interested in fulfilling the contract, which is worth hundreds of millions of dollars," the source said, adding that the future of the contract would largely depend on the current situation in international affairs and the position of the Russian leadership. The latest version of the S-300 family is the S-300PMU2 Favorit, which has a range of up to 195 kilometers (about 120 miles) and can intercept aircraft and ballistic missiles at altitudes from 10 meters to 27 kilometers. It is considered one of the world's most effective all-altitude regional air defense systems, comparable in performance to the US MIM-104 Patriot system...
---
3.18.09 Muslim cleric arrested over child bride
JAKARTA, Indonesia (AFP) March 18 - A wealthy Indonesian Muslim cleric who married a 12-year-old girl faces up to 15 years in jail after being arrested for obscenity, local media reports. Pujiono Cayho Widiyanto, a 43-year-old businessman and cleric, was arrested by police in the Central Java city of Semarang yesterday, The Jakarta Globe English-language daily said. Mr. Widiyanto sparked nationwide outrage by taking a poor village girl, Lutfiana Ulfa, as his second wife in August last year...Mr. Widiyanto and his supporters say his actions are acceptable under Islam but others say he should abide by state law, which sets 16 as the minimum age for marriage. [Full story>>news.com.au]

---
3.17.09 Lower bonuses, higher pay? Banks may skirt Government caps
(Reuters) March 17 - Report: Citi, Morgan Stanley Look to Sidestep Obama Pay Caps. Anticipating restrictions on bonuses, officials at Citigroup Inc and Morgan Stanley are exploring ways to sidestep tough new federal caps on compensation, the Wall Street Journal said. Executives at these banks and other financial institutions that received government aid are discussing increasing base salaries for some executives and other top-producing employees, the paper said, citing people familiar with the situation.

The discussions are at an early stage, partly because the government has not yet issued specific rules on the bonus payments that will be allowed at companies that received aid under the government's Troubled Asset Relief Program, the paper said. The report comes on the heels of widespread outrage that insurer AIG, kept alive on a government bailout of up to $180 billion, was paying its employees bonuses of $165 million. In February, President Barack Obama set a $500,000 annual cap on pay for top executives at companies receiving taxpayer funds. [More>>abc.go.com]
---
3.17.09 Senate committee to explore taxing AIG bonuses
WASHINGTON, March 17 - AIG paid 73 employees bonuses of $1 million or more; 11 of whom are no longer there, according to NY Atty. Gen. Cuomo. Senate Democrats want to tax the controversial bonuses doled out to AIG employees who work for the division that led to the company's downfall. Senate Majority Leader Harry Reid announced on the Senate floor Tuesday that the tax-writing Senate Finance Committee will pursue a legislative fix in such a way that the "recipients of those bonuses will not be able to keep all their money — and that's an understatement." Senate Finance Committee Chairman Max Baucus, D-Montana, will propose a special tax within the next 24 hours, Reid said. "I don't think those bonuses should be paid," Baucus said Tuesday.

AIG has received $173 billion in US government bailouts over the past six months. The provision would help the government get back the money in the form of tax revenue. The special-tax idea was first floated Monday by Sen. Chris Dodd, chairman of the Committee on Banking, Housing and Urban Affairs. "We have a right to tax," the Connecticut Democrat told CNN. "You could write a tax provision that's narrowly crafted only to the people receiving bonuses." At an unrelated hearing Tuesday at which IRS Commissioner Douglas Shulman was testifying, Baucus asked the nation's top tax official, "What's the highest excise tax we can impose that's sustainable in court?" Shulman did not respond directly, but Sen. Bill Nelson, D-Florida, chimed in to suggest the tax could be as high as "90 percent." [More>>cnn.com]
---
3.17.09 Arab League rejects ICC request to arrest Bashir
DUBAI, March 17 - Sudan's president safe to attend Arab Summit in Qatar. The Arab League rejected a request from the International Criminal Court to implement an arrest warrant against Sudan's President Omar Hassan al-Bashir, clearing the way for the leader to attend an Arab Summit in Qatar later this month, Sudan official news agency SUNA reported on Tuesday. Secretary General, Amr Moussa, did not specify when the court had made the request for Bashir to be apprehended during the summit, but stressed the Arab League was concerned about the implications of the warrant...Qatar is not a signatory of the ICC's Rome Statute and is not legally obliged to arrest Bashir. Jordan, Djibouti and Comoros are the only Arab League states that recognize The Hague-based court and it was unclear whether they had endorsed Moussa's statement. [Full story>>alarabiya.net]
---
3.17.09 Darfur peacekeeper shot dead
March 17 - A peacekeeper with the joint UN-African Union force (Unamid) in Sudan's western Darfur region has been shot dead by unknown assailants, a spokesman for the mission says. The attack on Tuesday was the second targeting international peacekeepers since the International Criminal Court (ICC) issued an arrest warrant for Omar al-Bashir, the Sudanese president, on war crimes charges. "Unamid peacekeepers coming back from a patrol in Nyala were ambushed by eight unidentified gunmen," Kemal Saiki, a spokesman, said. "This was not a carjacking gone wrong. This was a cold-blooded ambush. They were waiting for us." The soldier, whose nationality was not released, died after he was airlifted to the mission's headquarters in the North Darfur capital of Al-Fasher. On March 10, four Unamid troops were wounded in another ambush near Geneina in West Darfur. [More>>aljazeera.net; See related story,

alarabiya.net, March 17, "Sudan vows to expel all foreign aid groups" : KHARTOUM, Sudan - Sudan's president said on Monday he wanted all foreign aid groups leave Darfur in a year's time, stepping up defiance of an international war crimes warrant against him. In a speech to thousands of soldiers and police, President Omar Hassan al-Bashir said he had ordered his Ministry of Humanitarian Affairs to hand over the distribution of all relief aid to Sudanese groups — a move that could freeze the work of more than 70 foreign organizations still working in Darfur and other areas.
---
3.17.09 Suspected Qaeda cell in Yemen go on hunger strike
SANAA, Yemen (AFP) March 17 - Sixteen suspected members of an al-Qaeda cell on trial in Yemen said they have started a hunger strike in protest at being tortured and refused to talk at a court hearing on Tuesday. The group, whose trial opened on March 11, is accused of a spate of attacks against foreign targets in the impoverished Arabian peninsula state. Rawi Ahmad al-Sairi, 22, said the prison's administration did not allow them to pray or read the Quran, Islam's holy book. "This prison is harsher than Guantanamo (Bay detention centre on Cuba), and we suffer various forms of torture," Sairi said, after which the group remained silent for the entire two hours of the hearing.

Judge Mohsen Elwan set March 24 for the next hearing and ordered an investigation into the prison conditions. The defendants — 11 Yemenis, four Syrians and a Saudi — denied the charges at the trial's start. They are accused of carrying out 13 armed operations against foreign targets and oil installations in Yemen, the ancestral homeland of al-Qaeda chief Osama bin Laden. These include a January 2008 shooting that killed two Belgian female tourists, a March 2008 attack targeting the US embassy, and a rocket strike on a compound housing American oil workers. A Yemeni security court last month sentenced three members of another alleged al-Qaeda cell to seven years in jail for plotting attacks and possession of explosives. [>khaleejtimes.com]
---
3.17.09 Quran is compatible with modern US values: Film
DUBAI, March 17 - Says Muslims do not have monopoly on Allah or Islam. espite being revealed some 1,400 years ago, Islam's holy book is compatible with contemporary American values, Indian filmmaker Faruq Masudi argues in his new documentary that describes the Quran as a "matrix that leads you into a spiritual journey like none other." Quran Contemporary Connections, set to be released online in the coming months, is a documentary-type film based on research by a group of American professors who were asked to delve deep into the minds of Muslims and find out if the Quran is out of step with modern times. "In Islam, sex is a good thing. Allah is not a Muslim specific God; even Arabic speaking Jews and Christians use the word Allah in their liturgies. Polygamy is a blessing. Muslims do not worship Muhammad. Everybody is a born Muslim," were among the panel's findings according to the documentary's website.

"The film talks about the major themes of the Quran, including the most controversial ones, like jihad, women, sex, polygamy, peace and violence," Masudi told AlArabiya.net. Masudi explained that the documentary places Islam in a modern context and refutes the view that Islam is out-dated by linking the Quran to modern concepts like democracy, charity and diversity. "There are so many similarities between Islam and the West because the Quran was meant to be for all of mankind, Muslims do not have a monopoly on Islam, on the book or on Allah," Masudi said.

..Islamophobes are constantly trying to create a divide between the faith and America whereas they are essentially very similar, he explained. Masudi described American people as "civil, sophisticated, polite and generous" and said these are in fact the core principles laid out in the Quran...The seasoned filmaker also argued that critics who say Islam does not grant women equal rights have it wrong because ayats, or verses, are twisted and taken out of context by Islamphobes to condemn Islam and by patriarchal Muslim societies to subjugate women. "This subjugation is man-made and condemned by God, as Allah repeatedly says in the Quran that all creatures are equal in front of Him," Masudi explained.

..The biggest problem is the lack of intelligence in discussion about Islam, which though often passionate is full of extremism on both sides, he added, so too often people on either side miss the point entirely. "Nobody has taken the trouble of looking into the Quran and seeing what it talks about," he said. This film will delve into the details and, he hopes, correct the destructive misconceptions propogated by films like Fitna and Obsession. [Full story>>alarabiya.net]

---
Editorial note: The first place to begin in understanding the Koran (Quran) is with its claim that it confirms the Jewish scriptures, prophets and Gospel (sic. the Bible). A document that claims to confirm another — i.e., using the Bible as its foundation for the worship of God — cannot contradict that document. Since the Koran also recognizes Jesus as the Messiah (Gr. Christ), we must also conclude that Christ's teachings must apply in the use of the Koran. However, as can be seen in the following links there are substantial inconsistencies in the Koran and its interpretation with regard to the Bible and Gospel of Christ. See Maravot News 12.04.08 article 12.01.08 Muslims condemn Mumbai attacks, worry about image and Editorial note "Confusion over the teachings of the Koran." Here we discuss:

—Koran's Confirmation of the Bible
—Koran advocates violence against unbelievers (kuffar) / enemies:
—Islamic scholars teachings against unbelievers - "kuffars"

Mel Copeland
---
3.17.09 Shelling kills four militants in Mohmand Agency
PEShAWAR, Pakistan, March 17 - Four militants were killed when security forces backed by helicopter gunships pounded militants' hideouts in different parts of Mohmand Agency on Tuesday. According to sources, security forces targeted several key positions of militants in Pindyali and Ambar tehsils. According to initial reports, four militants were killed and three vehicles were destroyed in shelling in Deozai area of Pindyali. [>thenews.com.pk]
---
3.16.09 AIG threatened with subpoenas over bonuses
March 16 - NY Attorney General Cuomo Wants Names and Numbers by 4pm Monday. The hot seat is getting even hotter for AIG Chairman and CEO Edward Liddy. Not only has President Barack Obama called on his Treasury Secretary to do everything possible to block the bailed-out insurance company from doling out $165 million in bonuses, but now the New York Attorney General has set a deadline of 4pm Monday for Liddy to release the names and job descriptions of those receiving bonuses stating that if the information is not received this afternoon that he will seek a subpoena to force compliance. "Taxpayers of this company are now supporting AIG, and they deserve at the very least to know how their money is being spent," wrote Attorney General Andrew Cuomo in a letter he sent to Liddy Monday. "And we owe it to the taxpayers to take every possible action to stop unwarranted bonus payments to those who caused the AIG meltdown in the first place." AIG has received over $170 billion from the government so far. [>abcnews.go.com; See also

nytimes.com, March 16, "Obama orders Treasury chief to try to block A.I.G. bonuses" : WASHINGTON - President Obama vowed to try to stop the faltering insurance giant American International Group from paying out hundreds of millions of dollars in bonuses to executives, as the administration scrambled to avert a populist backlash against banks and Wall Street that could complicate Mr. Obama's economic recovery agenda. "In the last six months, A.I.G. has received substantial sums from the US Treasury," Mr. Obama said. He added that he had asked Treasury Secretary Timothy F. Geithner "to use that leverage and pursue every single legal avenue to block these bonuses and make the American taxpayers whole."

In strongly-worded remarks delivered in the White House East Room before small business owners, Mr. Obama called A.I.G. "a corporation that finds itself in financial distress due to recklessness and greed." "Under these circumstances, it's hard to understand how derivative traders at A.I.G. warranted any bonuses at all, much less $165 million in extra pay," Mr. Obama said. "How do they justify this outrage to the taxpayers who are keeping the company afloat?" ...
---
3.16.09 Prosecutors will seek Madoff's wife's money too
NEW YORK (AP) March 16 - Bernard Madoff's wife could theoretically claim more than $100 million in assets — and should forfeit it all, according to federal prosecutors. The move by prosecutors seeks the court's help in recovering $22 million in Madoff properties, all of which are solely in Ruth Madoff's name except for one $3 million property. It also seeks $62 million in cash and securities in her name, $10 million in furnishings in the properties and $10 million for a yacht and other boats. Madoff, 70, traded his $7 million Manhattan penthouse for a federal lockup on Thursday, immediately after he described how he created a two-decade Ponzi scheme which paid off early investors with proceeds from new investors. Investors have reacted angrily to previous defense claims that Ruth Madoff is entitled to keep $69 million in assets that are in her name.

Authorities say Madoff notified his 4,800 investors in November that they had nearly $65 billion in assets when there actually was about $1 billion left. He could face up to 150 years in prison when he is sentenced in June. The assets that the government hopes to seize include four properties, $10 million in home furnishings and a $7 million yacht in France. The court document did not mention $2.6 million in jewelry, but the government did say it would seek forfeiture of "all insured and readily salable personal property" in any of the Madoff properties. Prosecutors also are seeking the forfeiture of a $39,000 Steinway piano and a $65,000 silverware set kept in the Manhattan penthouse. Peter Chavkin, a lawyer for Mrs. Madoff, declined to comment. [>washingtonpost.com]
---
3.16.09 Dow stretches rally to day 5
NEW YORK, March 16 - The Dow surged Monday afternoon, stretching its recent run to a fifth straight session thanks to a rally in bank shares and some upbeat comments from Federal Reserve Chairman Ben Bernanke. The Dow Jones industrial average (INDU) added 130 points, or 1.8%, with under 2 hours left in the session. The S&P 500 (SPX) index added 13 points, or 1.8%. The Nasdaq composite (COMP) was little changed, with weakness in technology shares keeping it from gaining with the broader market. Stocks rallied last week, bouncing back after the Dow and S&P 500 hit 12-year lows. The week was Wall Street's best since last November, with the Dow gaining 9%, the S&P 500 gaining 10.7% and the Nasdaq adding 10.6%. [More>>cnn.com; See also

cbsnews.com, March 16, "Wall St. optimistic off Bernake comments" : Investors buoyed by comments on the economy from Federal Reserve Chairman Ben Bernanke sent stocks mostly higher Monday. The Dow Jones industrials and Standard & Poor's index rose for a fifth straight day. Bernanke said Sunday the recession would probably end this year if the government's program to boost the banking industry succeeds...Bernanke's comments come as some of the hardest hit banks have said in recent days that operations were improving in early 2009. Last week, both Citigroup Inc. and Bank of America Corp., reported improving trends for January and February.

British bank Barclays PLC said Monday its operations were also improving. In early morning trading, the Dow Jones industrial average rose 60.77, or 0.84 percent, to 7,284.75. The Standard & Poor's 500 index rose 7.30, or 0.96 percent, to 763.85, while the Nasdaq composite index fell 1.35, or 0.09 percent, to 1,430.15. The KBW Bank Index, which tracks 24 of the nation's largest banks, jumped 4.3 percent to 26.69...
---
3.16.09 US says it shot down Iranian drone north of Baghdad
BAGHDAD (Reuters) March 16 - US warplanes shot down an Iranian drone inside Iraqi airspace north of Baghdad last month, an American military spokesman said on Monday. "This was not an accident on the part of the Iranians," the unnamed spokesman said in a statement, without elaborating. "The Unmanned Aerial Vehicle (UAV) was in Iraqi airspace for nearly one hour and 10 minutes and well inside Iraqi territory before it was engaged." The drone was about 60 miles (100 kilometers) from Baghdad. [More>>khaleejtimes.com]
---
3.16.09 Venezuela: Russian bombers OK, but no base
CARACAS, Venezuela (AP) March 16 - President Hugo Chavez Denies Report Of Russia Building Base, But Venezuela Is "Available." President Hugo Chavez said Sunday that Russian bombers would be welcome in Venezuela but the socialist leader denied that his country would offer Moscow its territory for a military base. Chavez — a fierce critic of Washington with close ties to Russia and Cuba — said his government did not raise the possibility, as Russian media had reported.

"It's not like that," the president said, responding to a report by Interfax news agency quoting the chief of staff of Russia's long range aviation, Maj. Gen. Anatoly Zhikharev, as saying some strategic bombers could be based on an island offered by Venezuela..."I told President Medvedev that any time Russia's strategic aviation needs to make a stop in Venezuela as part of its strategic plans, Venezuela is available," he said. [Full story>>cbsnews.com]
---
3.16.09 Suicide bomber kills 9 in Rawalpindi
RAWALPINDI, March 16 - March 16 - At least nine people were killed and several others were injured when a suicide bomber blew himself up outside local hotel near Pir Wadhai Chowk here on Monday. According to the police, the suicide blast occurred near Pir Wadhai Chowk at Ghousia Adda in Rawalpindi, killing at least nine persons and injuring several others. Capital City Police Officer (CCPO) Rawalpindi Nasir Durrani confirmed that it was a suicide attack. Rescue work is underway as police officials have also reached the scene. On the other hand, hospital sources told that four dead bodies and 20 injured have been brought to the District Headquarter Hospital. [>thenews.com.pk]
---
3.16.09 Suicide attack leaves 11 dead, 28 injured in S. Afghanistan
KABUL, March 16 - A suicide bombing which shocked Lashkar Gah the capital of Helmand province in south Afghanistan Monday morning left 11 people dead and 28 more injured, officials said. "Eleven people including nine policemen and two civilians were killed and 28 others including three civilians were injured," head of provincial health department Anayatullah Ghafari told Xinhua. Earlier, a senior police officer Kamaludin Khan told Xinhua that a man in [a] police uniform and with [an] explosive device tied to his body blew himself up at the front gate of police department in Lashkar Gah at around 10am local time (0530 GMT). No group has claimed responsibility for the attack...[More>>xinhuanet.com]
---
---
*Visitor statistics on maravot.com from 1&1. com. 46,153 page views in May 2007; monthly visitors in 2008 range between 40,000-45,0000..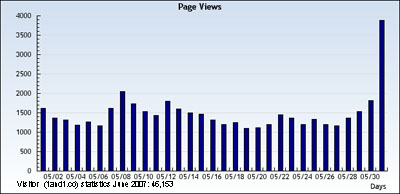 Privacy Policy: We do not store any personal data from you. We have no way of knowing any vital information about you — not even your name. Third-party distribution: We do not distribute information about your site usage to any third party. We are not responsible for the content of links from our site. Usage data: supplied by our Web Hosting service, 1and1.com, which consists of usage reports, such as page views / impressions and web pages visited, visitors' servers and geographical data (ISP's and country of origin).

---
Launched: 10.25.04 / 11.02.04 – | — |
Updated: 3.16.09; 3.17.09; 3.18.09; 3.19.09; 3.20.09; 3.21.09; 3.23.09
Copyright © 1981-2009 Maravot. All rights reserved
Copyright © 1981-2009 Mel Copeland. All rights reserved
Background: tile from Cicero's villa (Marcus Tullius Cicero 106 B.C. - 43 B.C.)