3.26.06 Iraqi police find 30 bodies, most beheaded
BAGHDAD (AP) March 26 – Police found 30 corpses, most beheaded, near a village north of the capital Sunday night, in the latest wave of sectarian killings engulfing Iraq. At least 16 people were killed during a clash involving U.S. forces at a Shiite mosque in Baghdad. Elsewhere in the capital, American troops raided an Interior Ministry building on Sunday and briefly detained about 10 Iraqi policemen after discovering 17 Sudanese prisoners in the facility, Iraqi authorities said. The short-lived raid was reminiscent of a U.S. raid last November that found detainees apparently tortured, but in this case the Americans quickly determined the Sudanese were being legitimately held and had not been abused, said Maj. Gen. Ali Ghalib, a deputy interior minister. [More>>abcnews.go.com]
---
3.26.06 Afghan court drops trial of Christian, doubts his sanity
KABUL (AFP) March 26 – An Afghan court on Sunday dropped its case against a Christian who faces execution for converting from Islam, referring the matter to Kabul's top prosecutor for a final decision, an official said. The Supreme Court had decided not to pursue its case against Abdul Rahman after hearing testimony that he was mentally disturbed, court spokesman Wakil Omari said. The attorney general's office in the capital would now decide if the case against Abdul Rahman, 41, should be pursued or dropped. Its investigation was likely to include medical tests, Omari said. [More>>metimes.com]
---
3.26.06 Scientists find skull of human ancestor
ADDIS ABABA, Ethiopia (AP) March 26 – Scientists in northeastern Ethiopia said Saturday that they have discovered the skull of a small human ancestor that could be a missing link between the extinct Homo erectus and modern man. The hominid cranium — found in two pieces and believed to be between 500,000 and 250,000 years old — "comes from a very significant period and is very close to the appearance of the anatomically modern human," said Sileshi Semaw, director of the Gona Paleoanthropological Research Project in Ethiopia.

Archaeologists found the early human cranium five weeks ago at Gawis in Ethiopia's northeastern Afar region, Sileshi said. Several stone tools and fossilized animals including two types of pigs, zebras, elephants, antelopes, cats, and rodents were also found at the site. [More>>usatoday.com]
---
3.26.06 Gadhafi criticizes 'backward' Middle East societies
March 25 – Libyan leader Moammar Gadhafi lashed out at what he described as "backward" societies in the Middle East, arguing that government heavy-handedness in dealing with political opposition stemmed from the violent nature of that dissent. "You ask us, ''Why do you oppress opposition in the Middle East?'" Gadhafi told attendees at a Columbia University panel discussion on democracy late Thursday, speaking in Arabic during a live video appearance.

"Opposition in the Middle East is quite different from opposition in advanced countries. In our countries, the opposition takes the form of explosions, assassinations, killing ... Because opposition in our country is different from opposition in your country. Our opposition resorts to bombs, assassinations, explosions, subversive acts, trains in military camps - in some cases before the September 11 events," said Gadhafi. [More>>dailystar.com.lb]
---
3.25.06 Near Paul Revere country, anti-Bush cries get louder
HOLYOKE, Mass., March 25 – To drive through the mill towns and curling country roads here is to journey into New England's impeachment belt. Three of this state's 10 House members have called for the investigation and possible impeachment of President Bush. Thirty miles north, residents in four Vermont villages voted earlier this month at annual town meetings to buy more rock salt, approve school budgets, and impeach the president for lying about Iraq having weapons of mass destruction and for sanctioning torture. It would be a considerable overstatement to say the fledgling impeachment movement threatens to topple a presidency -- there are just 33 House co-sponsors of a motion by Rep. John Conyers Jr. (D-Mich.) to investigate and perhaps impeach Bush, and a large majority of elected Democrats think it is a bad idea. But talk bubbles up in many corners of the nation, and on the Internet, where several Web sites have led the charge, giving liberals an outlet for anger that has been years in the making.

..."The value of a powerful idea, like impeachment of the president for criminal acts, is that it has a long shelf life and opens a debate," said Bill Goodman of the Center for Constitutional Rights, which represents Guantanamo Bay detainees.

The San Francisco Board of Supervisors voted last month to urge Congress to impeach Bush, as have state Democratic parties, including those of New Mexico, Nevada, North Carolina and Wisconsin. A Zogby International poll showed that 51 percent of respondents agreed that Bush should be impeached if he lied about Iraq, a far greater percentage than believed President Bill Clinton should be impeached during the Monica S. Lewinsky scandal. [Full story>>washingtonpost.com via msnbc.msn.com ; See related article (via afterdowningstreet.org) startribune.com, March 23, "Parties jockey as impeachment talk grows" : WASHINGTON – As Democratic Rep. Jim Oberstar travels in and out of Minnesota, he says he's hearing one question over and over again: "When is Congress going to impeach this president?"

Oberstar says he's not ready to seek impeachment, but he's one of 32 House Democrats – including two other Minnesotans, Reps. Martin Sabo and Betty McCollum – who are promoting a bill that would create a select committee to investigate whether there's enough evidence to impeach President Bush.

Democrats are split on the issue, but as some of them intensify the impeachment buzz in Washington, Republicans have come up with a response: Bring it on....Sabo said his decision to cosponsor the bill "reflects my desire for a serious look into President Bush's incompetent handling of just about every major issue our nation has faced during his presidency. ... Enough is enough."

And McCollum said she signed on because she wants Congress to find out "whether this disastrous Iraq policy is the result of deceit and deception or simply reckless incompetence." ...]
---
3.25.06 Arab leaders to push for troop withdrawal from Iraq : draft
KHARTOUM, March 25 – Arab leaders will urge Iraqis to form a national unity government which would lead to the withdrawal of coalition forces, said a draft of a resolution to be issued at their Khartoum summit. The 22 leaders will urge for "a quick formation of a national unity government in Iraq which would help in achieving security and stability, preserve the unity of Iraq and its people and pave the way for the withdrawal of foreign troops," said the draft. This would be the first time Arab leaders call collectively for the withdrawal of the coalition forces from the war-torn country. [jang.com.pk ; See more details at aljazeera.net]
---
3.25.06 Russian spy agency denies Pentagon report
MOSCOW, March 25 – Russia's foreign spy agency denied Saturday that Moscow gave Saddam Hussein information on U.S. troop movements and plans during the invasion of Iraq, while analysts speculated the Pentagon claim was tied to a growing rift between the West and the Kremlin. A Pentagon report Friday cited two captured Iraqi documents as saying Russia obtained information from sources "inside the American Central Command" in Qatar and passed battlefield intelligence to Saddam through the former Russian ambassador in Baghdad, Vladimir Titorenko

...Albats noted the report appeared on the heels of Putin's trip last week to China, which added to US unease over strengthening Moscow-Beijing ties. That development has caused Washington to recognize "it had lost whatever leverage it had over Russia," she said. "It wasn't just another visit to China, it was a statement addressed to the United States," she added. "There is concern in Washington that China plus Russia, combined, will present a real problem for the United States." A leading Russian Internet news agency, Gazeta.ru, speculated the Pentagon report was released to affect the UN Security Council debate on what to do about Iran's nuclear program as Russia and China are resisting US and European demands for a tough stand. [Full story>>washingtonpost.com ; See also rian.ru, March 25, "Russia denies accusation of providing Hussein with intelligence."]
---
3.25.06 Battle for Baghdad 'has already started'
March 25 – The battle between Sunni and Shia Muslims for control of Baghdad has already started, say Iraqi political leaders who predict fierce street fighting will break out as each community takes over districts in which it is strongest. "The fighting will only stop when a new balance of power has emerged," Fuad Hussein, the chief of staff of Massoud Barzani, the Kurdish leader, said. "Sunni and Shia will each take control of their own area." He said sectarian cleansing had already begun.

Many Iraqi leaders now believe that civil war is inevitable but it will be confined, at least at first, to the capital and surrounding provinces where the population is mixed. "The real battle will be the battle for Baghdad where the Shia have increasing control," said one senior official who did not want his name published. "The army will disintegrate in the first moments of the war because the soldiers are loyal to the Shia, Sunni or Kurdish communities and not to the government." He expected the Americans to stay largely on the sidelines.

Throughout the capital, communities, both Sunni and Shia, are on the move, fleeing districts where they are in a minority and feel under threat. Sometimes they fight back. In the mixed but majority Shia al-Amel district, Sunni householders recently received envelopes containing a Kalashnikov bullet and a letter telling them to get out at once. In this case they contacted the insurgents who killed several Shia neighbours suspected of sending the letters.

...The Shia and Kurds will have the advantage in the coming conflict because they have leaders and organizations. The Sunni are divided and only about 30 per cent of the population of the capital. Nevertheless they should be able to hold on to their stronghold in west Baghdad and the Adhamiyah district east of the Tigris. The Shia do not have the strength and probably do not wish to take over the Sunni towns and villages north and west of Baghdad. [Full story>>independent.co.uk ; See related article, nytimes, March 25, "Bound, blindfolded and dead: The face of atrocity in Baghdad" : ...Mr. Azawi was among the few Sunni Arabs on the block, and, according to witnesses, when a Shiite friend tried to intervene, a gunman stuck a pistol to his head and said, "You want us to blow your brains out, too?"

Mr. Azawi's body was found the next morning at a sewage treatment plant. A slight man who raised nightingales, he had been hogtied, drilled with power tools and shot.

In the last month, hundreds of men have been kidnapped, tortured and executed in Baghdad. As Iraqi and American leaders struggle to avert a civil war, the bodies keep piling up. The city's homicide rate has tripled from 11 to 33 a day, military officials said. The period from March 7 to March 21 was typically brutal: at least 191 corpses, many mutilated, surfaced in garbage bins, drainage ditches, minibuses and pickup trucks...
---
3.25.06 Al-Qaeda trial lands FBI in dock for criminal ineptitude
March 25 – They filed into court three weeks ago — the grieving families, the press, the curious public, the jury — expecting to see the Bush Administration lay out in devastating detail why Zacarias Moussaoui, the only person convicted in the US for his connection to the September 11, 2001, terrorist attacks, should be put to death.

What they have witnessed is a dark tragicomedy, a courtroom farce with the FBI and the Government revealed in excruciating detail as the Keystone Kops, and Moussaoui himself, hood-eyed, thickly bearded and constantly ranting, an onlooker as blunder has followed blunder.

Displaying an exceptional level of incompetence, prosecutors have managed to put the Government in the dock on charges of criminal ineptitude and cronyism, while the self-confessed al-Qaeda terrorist and disciple of Osama bin Laden they are desperate to execute sits on the sidelines, with every chance of reaching old age.

...This week a wealth of new evidence of how the FBI bungled the Moussaoui investigation became so Pythonesque in its absurdity that even the victims¹ families were roaring with laughter. Into the witness box stepped Harry Samit, the FBI agent who arrested Moussaoui. He was called by the prosecution but became the star witness of the defence. He said that he warned his supervisors more than 70 times that Moussaoui was an al-Qaeda operative who might be plotting to hijack an airplane and fly it into a building. He said that he was regularly thwarted by two superiors, David Frasca and Michael Maltbie, from obtaining a warrant to search Moussaoui¹s flat. He accused the men of being criminally negligent.

Mr. Maltbie told him that getting a warrant, which could be troublesome, might harm his — Maltbie¹s — career prospects. Mr. Maltbie has since been promoted.

On Tuesday Ed MacMahon, Moussaoui¹s defence laywer, cross-examined Michael Rolince, of the FBI. He was there to defend the bureau, but his answers brought down the house. Mr. Rolince was forced to concede that he had never seen an April 2001 intelligence briefing paper warning that bin Laden was preparing to mount an attack, even though he had signed it. Mr. MacMahon then introduced an April 13, 2001, FBI communication, approved by Mr. Rolince, giving warning about bin Laden¹s threat inside the US. Mr. Rolince said that he had not approved it.

"Is it possible for a document to say you approved it if you have not approved it?" the judge asked.

"Absolutely," he replied. With that, the jury, the press benches, the victims¹ families and the press gallery erupted in laughter. [Full story>>timesonline.co.uk]
---
3.24.06 Bush: I am a war president
March 24 (Maravot News, Mel Copeland) – In 2004 George W. Bush reiterated that he is a "War President" to remind people that he is a War President – as opposed to a "Peace President." I wondered why he chose the characteristic of war versus peace when he said it. In his latest seance with the News Media he stated that the US troop withdrawal from Iraq would be determined by "future Presidents and leaders of Iraq." At least from 2004 forward Bush had no plans of US withdrawal from Iraq, and his concept of Democracy in Iraq (and we presume the Middle East, including Afghanistan) was "a constitution that recognizes minority rights and freedom of religion."

Bush helped create in Afghanistan a "Democracy" that is considering at this moment executing a man who converted from Islam to Christianity. While the Democratic world has protested this, and Bush among the world leaders has sent President Karzai a message to not allow the Sharia Court of Aghanistan to murder the Christian convert, we all know that war in the Middle East establishes religious bounds, and those states that are established on religious bounds may not recognize the freedoms appreciated by democracies worldwide. Bush and all of his wisemen from the East should have known this from the beginning.

Bush also began his war in Iraq with the comment that he was on a Crusade. This illustrates what, in my opinion, historians will record, that Bush was a War President and not affiliated with what could be construed as a Peace President, except how he pieced out wealth to his patrons and cronies through his ruthless extortion of the American Presidency. We note that the Crusaders of the 12th-14th centuries were not bent on spreading democracy to the Middle East any more than President Bush was in the current era. The Crusaders then and now were in it for the money. The last Crusade got diverted in Constantinople (Istanbul), for instance, when the Crusaders realized that there was more money to be gotten there by sacking the city, than in Jerusalem. When Rome's Caesars promised their troops that they were "War Caesars" it meant to the troops that they would reap the booty of the Emperors' expeditions. In modern Iraq and Afghanistan the booty was in their museums and many relics of their museums have found their way to New York and London, as we have recorded in Maravot News. Of course, there is other booty today, such as oil and war / reconstruction contracts. It may be that history will record Bush as the president of looters. See msnbc.msn.com, "Meet the Press with Tim Russert" interview February 8, 2004 for the comment, "I am a War President."
Mel Copeland
---
3.24.06 Iraq hostages 'were saved by rift among kidnappers'
March 25 – The British hostage Norman Kember and his two Canadian colleagues owe their freedom to a rift among their Iraqi kidnappers, a western security source close to the rescue operation said yesterday. The source said their guards got cold feet when more senior and ruthless members of the group turned up at the house in Baghdad and took away a fourth hostage, Mr. Kember's American colleague, Tom Fox, and shot him dead.

Mr. Kember, 74, a Christian peace activist, is due to arrive home in Britain today. He was transported from the British embassy in Baghdad's heavily fortified Green Zone yesterday to catch a plane from the international airport...But the guards holding Mr. Kember and his colleagues were part of a cell motivated by money rather than politics. "It's a bit absurd that they consider themselves innocent, even though they were looking for money. They don't see themselves as criminals," the source said. "The guards were involved, which is why it was a soft operation. They played a significant role in allowing the authorities to find the hostages." He added: "The death of Fox changed the whole thing. Someone higher up the chain took him away. Because the ante had gone up and it had become more serious, it's quite possible that the operation began to open up and they got nervous about the repercussion." [Full story>>guardian.co.uk]
---
3.24.06 Leave or face elimination: Musharraf to militants
ISLAMABAD (PTI) March 24 – Amidst escalating violence in the tribal region perpetrated by al-Qaeda and Taliban militants, Pakistan President Pervez Musharraf has said the presence of 'foreign elements' violated the sovereignty of the country and asked them to leave forthwith, failing which they would be 'eliminated'...According to Pakistani security officials, over 400 foreign fighters of al-Qaeda and Taliban were present in the remote Waziristan tribal agency. [Full story>>expressindia.com ; See related stories, thestar.com.my, March 24, "Pakistani forces kill up to 20 militants," – more details at aljazeera.net, March 24, "Pakistani troops kill 20 rebels," and khaleejtimes.com (Reuters) March 24, "Pakistani pamphlets link militants to Hindus, Jews" : TANK, Pakistan – Pakistan¹s military airdropped pamphlets this week over towns in restive tribal regions near the Afghan border urging tribesmen to shun ²foreign terrorists², saying they were part of a Hindu and Jewish plot. The pamphlets were dropped over Wana, the main town in South Waziristan, and Miranshah in North Waziristan as part of a campaign to win support among tribesmen who have shown sympathy for both Taleban and remnants of Al Qaeda living among them...
---
3.24.06 Cars and shops set ablaze as Paris riots continue
PARIS, March 24 – Shops and cars were set ablaze and police stoned in the tourist heart of Paris last night after a jobs law protest by tens of thousands of young people degenerated into random violence. Scores of hooded youths ran riot around Les Invalides after a tense, but mostly peaceful, march protesting at the law passed by the Prime Minister, Dominique de Villepin, making it easier to hire, and fire, people under 26. Flames spread from cars to two shops as riot police pleaded with peaceful demonstrators to leave the area around the Foreign Ministry, which began to resemble a battlefield.

Multi-racial gangs of youths, mostly from the deprived Paris suburbs, had earlier charged through the protest march, smashing car windows and beating up other demonstrators who refused to hand over their mobile telephones. As the official protest ended, these youths, not the main bulk of the marchers, confronted riot police and tried to occupy the large open space in front of the golden-domed Invalides building in the heart of Paris. Several cars were set-alight and the windows of a car-hire office smashed.

Firemen called to the blazes were attacked by the youths with stones and iron bars. CRS riot police fired tear gas and arrested scores of rioters. At one point, fighting also broke out between the rioting youths and a group of ultra-right-wing skinheads. [More>>independent.co.uk]

See also washingtonpost.com, March 24, "Protest turns violent in heart of Paris" : PARIS, March 23 – It was just the scene the French government had been dreading: burning cars seven blocks from the Eiffel Tower, shop windows smashed along one of the capital's toniest streets, and columns of helmeted riot police advancing across the greensward of a prominent tourist venue.
"I never imagined I would ever see this in Paris."
Antoil Ethuin, 48, stood outside the shattered windows of his Bike n' Roll rental shop Thursday, stunned by the destruction of the worst violence in two weeks of student protests in Paris and other French cities. "My country is broken," said Ethuin, gazing at the smoldering automobile carcasses a few yards away and the carpet of glass shards, broken dishes and computer pieces covering the sidewalk in the heart of one of the city's most affluent neighborhoods. "I never imagined I would ever see this in Paris."
Thursday's violence came at the end of a demonstration by tens of thousands of high school and college students protesting a new job law. The unrest intensified a political crisis that now threatens to unravel President Jacques Chirac's government – much the way previous French governments have been felled by strikes and street protests when they attempted even modest reforms of the country's costly welfare state... [See background
3.23.06 Youths from multi-racial troublespots join riots
]
---
3.24.06 Outraged by English, Chirac storms out of summit
BRUSSELS, March 24 – Under mounting political pressure at home, the French President, Jacques Chirac, yesterday stormed out of an EU summit in a fit of pique over a fellow Frenchman's decision to speak in English. Already at the heart of a row over economic protectionism in Europe, M. Chirac gave the EU's spring summit a combustible start, quitting the opening session in protest at a perceived insult to the French language. [More>>independent.co.uk]
---
3.24.06 Bombing targets Sunni faithful in Iraq
BAGHDAD (AFP) March 24 – A bombing outside an Iraqi mosque left at least five Sunnis dead and 17 wounded on Friday, the latest in a series of sectarian attacks, as three Westerners rescued after a four-month hostage ordeal prepared to fly home.

Briton Norman Kember, 74, and Canadians Harmeet Sooden, 33 on Friday, and Jim Loney, 41, from the peace group Christian Peacemaker Teams, were freed on Thursday following a raid on a house in west Baghdad. Their captors, who two weeks ago executed the fourth member of the peace group, US national Tom Fox, 54, were not in the house at the time, the US military said. The former hostages were expected to be flown home on Friday or Saturday, embassy spokeswoman Lisa Glover indicated.

The latest bombing came as the faithful were leaving the Saad Ibn Abi Wakkas mosque, in Khalis, 80 kilometers (50 miles) from the capital, after Friday prayers. Another Sunni, in the southern port city of Basra, was shot dead by unidentified gunmen, also on leaving a mosque after prayers. [More>>metimes.com]
---
3.24.06 UN agency concerned over threats against Palestinians in Iraq
(AP) March 24 – The United Nations refugee agency said Friday it was concerned about deteriorating conditions for Palestinians in Iraq, citing death threats against Palestinian families in one Baghdad neighborhood. The UN's High Commissioner for Refugees said it did not know who was behind the threats, but in the sectarian strife that has roiled Iraq, many Shiites and Kurds have come to view the Palestinians living in Iraq as sympathetic to the Sunni-dominated insurgency. There is also resentment over privileges they received under Saddam Hussein's rule.

...There are no exact figures for the number of Palestinians who lived in Iraq before the fall of Saddam's regime, but some estimates put the number at about 50,000. UNHCR estimates about 34,000 currently live in Iraq. Many of them came to Iraq as refugees of the Arab-Israeli wars...Pagonis said the agency also was concerned about 88 Palestinians who fled earlier this week to Iraq's Jordanian border, where they were denied entry into Jordan. [Full story>>haaretzdaily.com]
---
3.24.06 US to slap sanctions on Belarus
WASHINGTON, March 24 – The United States on Friday denounced a crackdown on protesters in Belarus, demanding they be freed "without delay," and vowed to impose sanctions on officials in Minsk. "We strongly condemn the actions by Belarussian security services in the early-morning hours of March 24," said White House spokesman Scott McClellan. The spokesman said Washington would follow the European Union and impose "targeted travel restrictions and financial sanctions" that could target officials up to Belarus President Alexander Lukashenko.

Early Friday, Belarus authorities quashed an unprecedented mass protest against Lukashenko, smashing a tent camp and arresting hundreds of opposition supporters after the authoritarian leader won a new term in office in Sunday elections that Washington denounced as fraudulent. [More>>turkishpress.com ; See also nytimes.com, March 24, "Europe and US denounce crackdown in Belarus."]
---
3.24.06 US witness says he supplied computers for Al Qaeda
LONDON (Reuters) March 24 – A US informant, testifying at the trial of seven Britons accused of planning bombings in the UK, told a London court on Friday he had supplied computers to help Al Qaeda. Mohammed Babar, 31, a Pakistan-born American who has admitted terrorism-related offences in New York, also said he had met a number of the accused Britons in Pakistan and southern England and had shown one of them a stash of hidden weapons.

The Old Bailey court has heard how Babar would be the key prosecution witness against the Britons, accused of planning to use ammonium nitrate fertilizer to make bombs for attacks on possible targets such as pubs and clubs. Babar has admitted in closed US hearings trying to acquire the ingredients for what American authorities call ³the British Bomb plot², the court was told. [More>>khaleejtimes.com]
---
3.24.06 Han set to become first female P.M.
March 24 – South Korean President Roh Moo-hyun yesterday selected Han Myeong-sook, a feminist lawmaker in the ruling Uri Party, as the next prime minister. If approved by the National Assembly, she will become the first woman in the history of this traditionally male-dominated country to hold the top Cabinet post.

"The president has decided to name Han as prime minister and has asked the National Assembly to take the necessary confirmation proceedings. We expect the nominee to implement the polices of the Participatory Government with a strong yet gentle leadership, as the first woman premier in the country's Constitutional history," said Cheong Wa Dae chief of staff Lee Byung-wan. [More>>koreaherald.co.kr]
---
3.24.06 Bird flu spreads to Jordan
AMMEN, Jordan (Reuters) March 24 – The deadly H5N1 strain of bird flu has spread to Jordan but there are no human cases, Jordan's Health Minister Said Darwazeh said today. He said at least three dead turkeys at a domestic farm in Ajloun had tested positive for the disease but none of the humans tested in the area was infected. [More>>theaustralian.news.com.au ; See related bird flu story, chinadaily.com.cn, March 25, "Bird flu confirmed in woman's death in Shanghai."]
---
3.23.06 US blocks assets of al-Manar
March 23 – The US treasury has frozen the assets of the Lebanese satellite channel al-Manar. The treasury also blocked any US assets of al-Nour Radio and Lebanese Media Group, which it said was the parent company of al-Manar and al-Nour. It said both media outlets had facilitated the activities of Hizb Allah, the Lebanese resistance group which the US brands a terrorist organisation, including giving support by fundraising and recruitment. The treasury's action prohibits transactions between Americans and the companies in addition to freezing any assets they may have under US jurisdiction. [More>>aljazeera.net]
---
3.23.06 Woman named Syrian vice-president
DAMASCUS, March 23 – Syria has named a veteran former culture minister, Najah Al Attar, as its first woman vice-president, the official SANA news agency reported on Thursday. "Mrs. Najah Al Attar was sworn in as vice-president in charge of cultural policy by head of state Bashar Al Assad," SANA said...She has a doctorate from Edinburgh University and has published a number of books...The nominations followed the resignation in June last year and subsequent self-imposed exile in France of former vice-president Abdel Halim Khaddam. Khaddam was branded a traitor by Damascus for suggesting that Assad knew about the February 2005 slaying of former Lebanese premier Rafiq Hariri. [Full story>>metimes.com]
---
3.23.06 Clerics want Chrisitian convert's death
KABUL, Afghanistan (AP) March 23 – Senior Muslim clerics said Thursday that an Afghan man on trial for converting from Islam to Christianity should be killed regardless of whether a court decides to free him. Abdul Rahman, a 41-year-old former medical aid worker, faces the death penalty for becoming a Christian under Afghanistan's Islamic laws. His trial, which began last week, has caused an international outcry. US President George W. Bush said Wednesday he was "deeply troubled" by the case and expects the country to "honor the universal principle of freedom."

Diplomats say the Afghan government is searching for a way to drop the case, and on Wednesday authorities said Rahman is suspected of being mentally ill and would undergo psychological examinations to see whether he is fit to stand trial. But four senior clerics interviewed by The Associated Press in their mosques in Kabul said Rahman deserved to be killed for his conversion. [More>>Jerusalem Post ;

See nytiimes (Reuters) March 23, "Afghan judge says he won't bot to pressure on conversion case"

spiegel.de, March 23, "Afghanistan's democratic deficiency," a great editorial by Claus Christian Malzahn : A few caricatures in a Dutch newspaper caused bloody riots in the Muslim world. But now an Afghan man has been sentenced to death for converting to Christianity. Afghanistan has told the West it should mind its own business. Come again?....The response to Western criticism of the Kabul verdict is being dismissed as a case of foreigners "meddling" in Afghanistan's "domestic affairs." This means it's high time to send a clearer message. It's not just about Abdul Rahman, who has chosen to become a Christian for reasons that are no one's business but his own. It's also about the women locked away in Afghan prisons for having been accused of adultery. It's about female students who can't walk down the street by themselves because a few male illiterates might get it into their heads to attack them. And it's about the many hundreds of thousands of Afghan women forced to live their lives behind walls -- without access to education, without the right to happiness. There is a good chance that President Hamid Karzai will pardon Abdul Rahman, as he has many of the imprisoned women, who are often convicted on bogus adultery charges made up by men who simply want to get rid of them. But this is not about mercy; it's about basic human rights. The West should insist on nothing less...

and previous reports, Maravot News3.22.06, "Afghan convert could face death penalty."]
---
3.23.06 US, British troops rescue Iraq hostages
BAGHDAD (AP) March 23 – US and British troops Thursday freed three Christian peace activists in a rural area of Iraq without firing a shot, ending a four-month hostage drama in which an American among the group was shot to death and dumped on a Baghdad street. Maj. Gen. Rick Lynch, the U.S. military spokesman, said the hostages were being held by a "kidnapping cell" in a house, and the operation to free the captives was based on information from a man captured by US forces only three hours earlier. "They were bound, they were together, there were no kidnappers in the areas," Lynch told a news briefing. He also said military operations concerning other hostages were ongoing, "probably as a result of what we're finding at this time." [More>>abcnews.go.com]
---
3.23.06 Youths from multi-racial troublespots join riots
March 23 – France is facing disturbing signs of renewed violent unrest in its poor suburbs, ignited by the deepening student protests against a new jobs law for the young. There were running battles between police and lycee (sixth-form) pupils in several parts of the northern Paris suburbs yesterday – in the same deprived areas where five weeks of nationwide rioting began last October.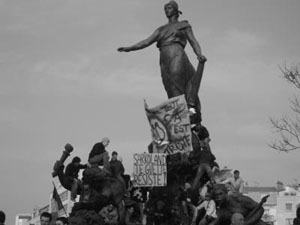 Vive la République – etoya.skyblog.com photo, Paris, Student Protest, March 18, 2006. See
Maravot News 3.22.06
Groups of teenagers stoned riot police and smashed cars after leaving their schools to join the protests against a new "first job" contract, which makes it easier to hire, and fire, first-time workers under 26.The French Prime Minister, Dominique de Villepin, now faces the prospect that the student unrest could re-kindle a separate, but related, crisis: the smouldering problems in the poor multi-racial banlieues. Police fear that an influx of teenagers from the suburbs could add a violent edge to peaceful student marches planned in Paris and many other French cities today.
The degree of real political commitment of the suburban youths to the wider student cause is open to doubt. In recent days, small, multi-racial groups of teenagers from the banlieues have been joining the university demonstrations, burning cars and fighting the riot police – but also mugging the older, middle-class students. [More>>
independent.co.uk
; See also
liberation.fr, March 23, "Forte mobilisation anti-CPE à Paris."
]
---
3.23.06 Blair: Iran meddling "furiously" in Iraq
LONDON, March 23 – British Prime Minister Tony Blair accused Iran on Wednesday of meddling ³furiously² in Iraq and said that the ruling theocracy had a terrorist ³ideology² at its heart. Blair also hinted at an Iran-Al-Qaeda axis and said that for them, Britain and ³democratic² countries were the enemy. "The conventional view is that, for example, Iran is hostile to al-Qaeda and therefore would never support its activities. But as we know from our own history of conflict, under the pressure of battle, alliances shift and change. Fundamentally, for this ideology, we are the enemy," the British Prime Minister said. [More>>iranfocus.com]
---
3.23.06 F.B.I. agent says Moussaoui could've helped Al-Qaeda hunt
ALEXANDRIA, Virginia, March 23 – The confession given by al-Qaeda terrorist Zacarias Moussaoui last year could have helped track down several Sept. 11, 2001, hijackers if investigators had heard it when he was arrested in the month before the attacks, a former FBI agent testified Thursday. In particular, Moussaoui's admission that he received more than $14,000 in wire transfers from a man using the name Ahad Sabet could have allowed the FBI to backtrack through Western Union, cell phone, calling-card and motor vehicle records, as well as leases, to identify at least five of the 19 hijackers, former agent Aaron Zebley said at Moussaoui's death penalty trial. [More>>nytimes.com]
---
3.23.06 Pakistan outraged by Kabul killings
March 23 – Islamabad has lodged a protest with Kabul over the killing of 16 Pakistanis in Afghanistan, claiming they were executed while on holiday by Afghan soldiers. Pakistan said those killed, mostly men of the Noorzai tribe, were visiting Afghanistan for a traditional New Year holiday. However, an Afghan army officer, General Abdul Raziq, said on Thursday that his forces had killed 16 members of the Taliban on Tuesday night in mountains 8km east of the town of Spin Boldak near the Pakistani border. Afghan authorities said they were investigating the killings. [More>>aljazeera.net]
---
3.23.06 Terror suspect 'was involved in al-Qaeda plot to obtain a dirty bomb'
March 23 – An alleged Islamist terrorist accused of planning attacks on targets in Britain was involved in a plot to buy a ³dirty bomb² from the Russian mafia, the Old Bailey was told yesterday. Salahuddin Amin was said to have been entrusted by senior figures in a terror cell in Pakistan to act as a go-between in their planned purchase of the radioactive device.

He is standing trial alongside six alleged accomplices for conspiring to detonate explosives at key sites in Britain, causing maximum damage and fatalities. Among the intended targets were the Bluewater shopping centre in Kent, the National Grid, synagogues and a nightclub in Central London, the court was told during the second day of the trial. However, the plotters did not realise that as they pondered which of many potential targets to strike, their movements were being monitored by police, David Waters, QC, for the prosecution, said...[More>>timesonline.co.uk]
---
3.23.06 Somalia clashes leave 60 dead
March 23 – Two days of fierce clashes between rival militias in the northern part of the Somali capital have killed at least 60 people. Medical workers said at least 20 people were killed in fighting on Thursday, while the toll from Wednesday rose to 40 after families took their wounded to hospitals after clashes subsided at night...Witnesses and medical sources said the clashes were sparked on Wednesday when armed men allied to Bashir Raghe Shiral, a member of the Alliance for the Restoration of Peace and Counter-Terrorism (ARPCT) and rival fighters who back Abukar Omar Adan of the Islamic courts clashed over land ownership. [Full story>>aljazeera.net]
---
3.23.06 Labourers at Burj Dubai site halt work for second day
DUBAI (AP) March 23 – A labour strike on Dubai¹s Burj Dubai construction site dragged into its second straight day on Thursday, as some 2,500 workers refused to return to work after a night rampage two days ago in which they smashed cars and offices. The workers, employed by the Dubai-based firm Al Naboodah Laing O¹Rourke, have idled construction on several buildings surrounding the Burj Dubai, a skyscraper expected to be the world¹s tallest when it is completed in 2008...Al Jumairi said the labourers were demanding overtime pay, better medical care and humane treatment by foremen. He said Al Naboodah had agreed to some of the demands, but not all. The workers agreed to their employment conditions when they signed contracts, he said. [Full story>>khaleejtimes.com] ; previous reports by Khaleejtimes.com included complaints of "slave-labor-like conditions"; See khaleejtimes.com, March 23, "Violent protest by more than 5,000 workers over 'ill treatment.'"]
---
3.23.06 Cambodian girl 'died of bird flu'
PHNOM PENH, Cambodia (AFP) March 24 – Initial tests on a three-year-old Cambodian girl who died after playing with sick birds show she was infected the deadly H5N1 type of bird flu, officials of the health ministry and the UN World Health Organisation say. The girl, whose name was not immediately available, died on Tuesday, a few days after playing with birds in the province of Kampong Speu, about 45km west of the capital Phnom Penh, said Ly Sovann, chief of the disease control bureau of Cambodia's Health Ministry. [More>>theaustralian.news.com.au ; See related bird flu stories, rian.ru, March 23, "Five people dead of bird flu in Azerbaijan."], Jerusalem Post, March 23, "Israel to give PA bird flu medication," and haaretzdaily.com, March 23, "Officials confirm avian flu killed birds in Jordan Valley coop" : The Agriculture Ministry said on Thursday that dead birds found in a poultry coop in the Jordan Valley tested positive for the deadly strain of avian flu, confirming the virus was continuing to spread across the country...
---
MOSCOW (RIA Novosti) March 23 – Global competition for Russian natural gas will increase now that the country has signed a memorandum on energy cooperation with China, experts said Thursday. Europe will have to compete with China and Asian markets in the future to get Russian natural gas, said Yevgeny Satskov, an analyst at Metropol brokerage. "Previously, only Europe and the United States competed for Russian natural gas supplies. Now China and Asia-Pacific nations will join the competition," he said. [More>>rian.ru ; See earlier reports: