---
5.13.06 Questions raised for phone giants in spy data fuoror
May 13 – The former chief executive of Qwest, the nation's fourth-largest phone company, rebuffed government requests for the company's calling records after 9/11 because of "a disinclination on the part of the authorities to use any legal process," his lawyer said yesterday. The statement on behalf of the former Qwest executive, Joseph P. Nacchio, followed a report that the other big phone companies — AT&T, BellSouth and Verizon — had complied with an effort by the National Security Agency to build a vast database of calling records, without warrants, to increase its surveillance capabilities after the Sept. 11 attacks...Legal experts said the companies faced the prospect of lawsuits seeking billions of dollars in damages over cooperation in the program, citing communications privacy legislation stretching back to the 1930's. A federal lawsuit was filed in Manhattan yesterday seeking as much as $50 billion in civil damages against Verizon on behalf of its subscribers. [Full story>>nytimes.com]
---
5.11.06 Drought affects 14 million in China
(Xinhua) May 11– A drought is threatening supplies of drinking water to more than 14 million Chinese, a national environmental protection official said Thursday. The drought has affected 16.3 million hectares of farmland in the China's northern, northeastern and southwestern regions, said Zhang Zhitong, executive director of the State Flood Control and Drought Relief Headquarters. The drinking water shortage had also affected 11.55 million head of livestock, Zhang said. Weather forecasters say there is no sign of the drought breaking in most parts of northern and southwestern regions in the foreseeable future. Beijing, with a permanent population of 15.36 million and more than four million transients, is suffering its worst drought in 50 years, with only 17 millimeters of rainfall reported in the past four months, down 63 percent from the same period last year. [More>>chinadaily.com.cn ; See related story, 5.03.06, "Record levels of fatal metals in yellow dust."]
---
5.11.06 Update, 5.09.06 Update, 5.08.06 Iranian president writes letter to Bush
May 8 – Iran's President Mahmoud Ahmadinejad has written a letter to President Bush with suggestions on how to resolve current international tensions, Iranian officials said today, but there was no immediate information about whether he was proposing a solution to differences over Iran's nuclear program. Iran and the United States have had icy relations since Iran's Islamic Revolution in 1979 and the seizing of the American Embassy in Tehran, where American diplomats were held hostage for more than a year. The letter, which would be the first direct public communication sent by an Iranian president to an American president since their ties were severed, is being forwarded to Washington through the Swiss embassy, which represents American interests in Iran. [More>>nytimes.com ; report is carried by most newspapers in the Maravot News banner; See also thenews.com.pk, May 8, "White House 'unaware' of letter from Ahmadinejad." ;

Update 5.09.06 bbc.co.uk, May 9, "Ahmadinejad letter attacks Bush" : Details have emerged of the surprise letter written by Iranian President Mahmoud Ahmadinejad to US President George W. Bush. In it, Mr. Ahmadinejad criticizes the US invasion of Iraq and urges Mr. Bush to return to religious principles. US Secretary of State Condoleezza Rice dismissed the letter as "offering nothing new" and the White House said there would be no formal written reply.

The letter came as foreign ministers met for talks on Iran's nuclear crisis. But after three hours of discussions in New York, the ministers failed to agree on how to tackle the problem of Iran's atomic programme...

Ahmadinejad letter (El Monde via nytimes.com; also available at abcnews.go.com)

Update 5.11.09, washingtonpost.com, May 11, "US pressure to talk to Tehran" : The Bush administration is facing pressure both in the United States and overseas to drop its long-standing refusal to talk directly with Iran about its nuclear program, particularly in the wake of the unusual 18-page letter sent this week to President Bush by Iran's president.

Foreign policy moderates from both parties have spoken out in recent days, including Sen. Chuck Hagel (R-Neb.), a potential GOP presidential candidate; former secretary of state Madeleine K. Albright; former national security adviser Samuel R. "Sandy" Berger; and former Middle East negotiator Dennis Ross. All have published sharply worded opinion articles questioning the administration's stance, and Albright was joined in her commentary by five former European foreign ministers who said they were told by Iranian officials in recent months that there is "widespread interest" in holding a dialogue with Washington.

..."It really was a kind of philosophical and indeed religious attack on U.S. policies," Secretary of State Condoleezza Rice said yesterday on NBC's "Today" show. "There was nothing in it that suggested a way out of the nuclear stalemate."

But Albright said yesterday that the letter, despite its invective and religious musings, should be viewed as an opportunity both for a dialogue with Iran and to influence world opinion. She likened it to President John F. Kennedy's choosing to selectively respond to -- and ignore -- conflicting messages from his Soviet counterpart during the Cuban missile crisis. "In diplomacy, you make your opportunities," Albright said. "Acting in a dismissive way doesn't get you anywhere."...

---
Editorial note, May 8 : The Ahmadinejad letter does offer a foundation for discussion, contrary to Rice's assessment. Ahmadinejad repeatedly refers to Christian values being violated by the Bush administration and asks Bush to consider that both Ahmadinejad's and Bush's presidencies will be judged by those values. He provides a list of Bush's violation of Christ's teachings and invites him to return to a dialogue based upon Christ's teachings. With respect to nuclear energy, Ahmadinejad presents the argument that the development of science does not presuppose evil and defends the right to develop nuclear energy, for the sake of knowledge. Nuclear energy is, however, one of the things that comes out of Pandora's Box. Once it is let out of the box, it can be used for good or evil. Ahmadinejad's argument stresses the responsibilities of governments to provide for the welfare of their people and criticizes international agencies for not standing behind those values. He compares this need to governments that conduct war for riches, benefitting the rich at the expense of the poor. He uses the Old Testament prophets and Christ to argue the need for peaceful accords and quotes the Koran in the context that it supports those accords, for peace. He stays within the basic tenet of the Koran that views itself as an umbrella faith incorporating the teachings of the Old Testament and Christ. There is thus a good foundation for talks here, since it begins with ethics. The first step in the path to discussion, of course, is to agree not to lie. Not to lie would be a problem definitely for Bush and Ahmadinejad's continuing pogroms against Israel suggest that breaching the truth may be a problem for him as well. To review some issues in this regard, see "Why the crusade and jihad?" and "Philistia triumph thou because of me."

Mel Copeland
---
5.08.06 Car bombs continue to shake Baghdad
May 8 – Iraq has suffered another violent day with many people being killed in different incidents across the country, including two car bombs in the capital. [More>>aljazeera.net]
---
5.07.06 Forty-three bullet-riddled bodies found in Baghdad
BAGHDAD, May 7 – Iraqi police have found the bullet-riddled bodies of 43 men killed in apparent sectarian attacks, an interior ministry official said ON Sunday. He said 28 bodies were found in Baghdad's eastern Kharkh area, while another 15 were recovered from the western Rusafa district. "All men were handcuffed and shot in the head," he said, adding that the bodies had been recovered over the previous 24 hours. [More>>thenews.com.pk ; See related story, abcnews.go.com, May 7, "4 car bombings kill 17, hurt 44 in Iraq."]
---
5.07.06 Sniffer bees : New flying squad in war against terror
May 7 – An interesting report by Martin Hodgson : Terrorists, beware the ultimate sting: a British company has developed a device to detect explosives at airports with the help of specially trained honey bees. In remarkable field trials completed this week, scientists have harnessed the insect's powerful sense of smell to track down samples of TNT, Semtex, gunpowder and other explosives hidden in shipments passing through a busy cargo airport. The project is the result of five years of government-funded research carried out by scientists from Rothamsted Research Centre in Hertfordshire.

The prototype under trial consisted of a shoebox-sized device nicknamed the "buzz box", containing three trained bees harnessed into a removable drawer. An electric fan draws air into the box, while a video camera records the bees' response, which can alert the handler to even the faintest trace of explosives. According to the researchers, bees are able to detect the scent of explosives at concentrations as low as two parts per trillion. "It's the equivalent of finding a grain of sand in a swimming pool," said Rachael Carson, general manager of Inscentinel, the company behind the research.

"If you give them the smell, and then reward them with a sugar solution, they quickly make the association between the smell and the food," she said...Inscentinel is also exploring various non-security-related applications. The device could, for instance, be used to monitor food quality or even to detect changes in blood or urine caused by illness. [Full story>>independent.co.uk]
---
5.06.06 China lashes out against US report on religious freedom critical of Beijing
BEIJING (AP) May 6 – China on Saturday lashed out against a US report critical of Beijingıs policies on religious freedom, calling the assessment irresponsible and harmful to relations between the two countries. The report released this week by the US Commission on International Religious Freedom said the Chinese government "continues to engage in systematic and egregious violations of freedom of religion or belief." Along with Saudi Arabia, Iran and Sudan, China has been designated by the US State Department one of eight ³countries of particular concern² for denying religious openness based on commission recommendations.

Liu Jianchao, a spokesman for the Chinese Foreign Ministry condemned as ³irresponsible² the 250-page report by the US government panel that also includes sections on North Korea, Nigeria and Afghanistan. "It shows ... ignorance and prejudice," Liu said in a statement released by the ministry. "The Chinese government protects its citizensı freedom of religious beliefs according to law and Chinese citizens fully enjoy religious freedom according to law," he said. "This is a fact obvious to everyone."

Chinaıs communist authorities allow worship only in state-monitored churches, temples or mosques. Millions of believers attend unauthorized services, often in private homes, but are subject to arrest and harassment.

The report said there were ongoing crackdowns on groups in China including Muslims, Tibetan Buddhists and Roman Catholics who do not follow the state-sanctioned church.

"Prominent religious leaders and laypersons alike continue to be confined, tortured, 'disappeared,ı' imprisoned, and/or subjected to other forms of ill treatment on account of their religion or belief," the report said.

It highlighted several "cases of concern," including Gedhun Choekyi Nyima, the boy chosen by the Dalai Lama to be the Panchen Lama. He has not been seen in public for more than a decade and Chinese officials refuse to say where he is. Other cases include that of Liu Fenggang, an imprisoned activist in the independent Protestant church and two sisters who were sentenced to prison for distributing literature on the banned Falun Gong spiritual movement. [More>>khaleejtimes.com ; See also chinadaily.com.cn, May 6, "China refutes US religion body's report" : ...That part of the report which involves China skews and accuses China's policies on religion and ethnic minorities regardless of what some members of the organization witnessed during their visit to China last year, said Liu. The report also tries to encourage the practice of the Falungong cult...

See also falungong.org.uk]
---
5.06.06 Egyptian police identify two suicide bombers in Sinai blasts
CAIRO (AP) May 6 – Police identified the suicide bombers who attacked international peacekeepers and police in the Sinai peninsula last month as 19-year-old Eid Salman Salem and Eid Hamad el-Tarawi, 25, the official Egyptian news agency reported.

MENA, in a late report Friday, said that Salem blew himself up in the attack on a car carrying members of the multinational force that monitors the peace agreement between Israel and Egypt. El-Tarawi attacked a police vehicle nearby about 30 minutes later, MENA reported. Salem, a theology student, was a brother to one and a cousin to another of the militants involved in the deadly bombings two days earlier at the Sinai beach resort of Dahab in which 21 people were killed. Quoting security sources, MENA said that Salem was a member of the Monotheism and Jihad group which, in addition to Dahab bombings, carried out the attacks in the Sinai resorts of Taba and Ras Shitan in October 2004 and in Sharm el-Sheikh in July 2005. [More>>haaretzdaily.com]
---
5.06.06 Iraqi Kurds flee border region as tensions mount
May 6 – Kurdish villagers are fleeing their homes in northern Iraq after shelling and incursions by Iranian forces and a massive build-up of Turkish troops as both countries move to crush separatist guerrillas. Government leaders in Iraqi Kurdistan say Iran has attacked Kurdistan Workers Party (PKK) guerrillas in Iraq three times in the past two weeks, and Turkey insists it has the right under military law to carry out cross-border operations if need be.

The PKK, seeking a Kurdish homeland including southeastern Turkey, accuses Ankara and Tehran of mounting coordinated operations against the group and its Iranian wing, PJAK. About 60 of the 70 families in the village of Razaga, 10 kilometers from the Iranian border, fled after almost four hours of shelling on Monday, local people told visiting reporters later in the week. Iran denies hitting targets inside Iraq.

"We were sleeping and a shell landed behind our house," said 53-year-old shopkeeper Van Hama Ameen, speaking in a nearby village where she had sought shelter. "We woke up in horror and ran away screaming," she added. "The shelling was random and we left our house without taking even a scrap of spare clothing. Then we walked three hours to reach another, safer village."

Turkey, which traditionally launches a spring offensive against the rebels, has sent 40,000 troops to its own Kurdish areas to reinforce the 220,000 already there, the biggest build-up in years after an increase in PKK attacks. NATO member Turkey also has 1,500 special forces troops stationed in northern Iraq. [More>>dailystar.com.lb ; See earlier report Maravot News 5.03.06 Turks rattle saber over PKK bases in Iraq]
---
5.06.06 British helicopter shot down in Iraq
May 6 – A British military helicopter was brought down in Basra on Saturday, killing four people aboard and sparking clashes between troops and youths chanting militia slogans and hurling petrol bombs, officials said. Fire fighters said they had found four charred bodies in the wreckage. The helicopter burst into flames on impact and a thick cloud of black smoke billowed into the air. Police said it crashed into a building near the provincial governor's office, but there were no Iraqi civilian casualties on the ground. "A multinational forces helicopter was hit by a rocket and went down on houses in central Basra," Lieut. Colonel Kareem al-Zaidi, Basra police spokesman, said. He added there were no casualties on the ground. [More>>aljazeera.net]
---
5.06.06 Justice catches up with Khmer Rouge
May 5 – A long-stalled war crimes trial for Khmer Rouge leaders, accused of causing nearly one third of Cambodia's population to perish on the Killing Fields, drew a step closer after an international panel of 30 judges and prosecutors was appointed in Phnom Penh yesterday. King Norodom Sihamoni, himself held captive by Khmer revolutionaries as a boy, chaired the Supreme Council of Magistracy which picked the new legal team from United Nations and Cambodian nominees.

The tribunal is not expected to start until early 2007, but paperwork begins next month, more than 31 years after Pol Pot emptied the cities at gunpoint and forced the calendar back to "Year Zero" to install a totalitarian Maoist regime that banned education, religion and money. At least 1,700,000 Cambodians were murdered, tortured or starved to death between 1975 and 1979. Others died from forced labour or untreated diseases. The mass graves contain bones from almost every family in the country. [More>>independent.co.uk]
---
5.06.06 Pakistan not doing enough on terrorism : America
KABUL (Reuters) May 6 – Pakistan is not doing enough to help root out Taliban and al-Qaeda leaders who have found safe haven in its lawless tribal lands along the Afghan border, a senior US security official said on Saturday. Most al-Qaeda and Taliban leaders are in Pakistan, and while the United States did not know where Osama bin Laden was hiding, he was probably on the Pakistan side of the border, said Henry Crumpton, State Department coordinator for counterterrorism.

Pakistan, a vital US security ally, has arrested hundreds of al Qaeda members and lost hundreds of its troops battling militants. But Afghan officials have complained insurgents were able to gather support and launch raids from the safety of Pakistani territory. Violence has intensified in parts of Afghanistan in recent months to its worst level since US and Afghan opposition forces ousted the Taliban in 2001. [More>>expressindia.com ; See related story, msnbc.msn.com, May 6, "Copter crash kills 10 Americans in Afghanistan" and update, aljazeera.net, May 6, "Taliban claim helicopter kill."]
---
5.05.06 NASA and partners release new movies of Titan
May 4 – New views of the most distant touchdown ever made by a spacecraft are being released today by NASA, the European Space Agency and the University of Arizona. The movies show the dramatic descent of the Huygens probe to the surface of Saturn's moon Titan on Jan. 14, 2005.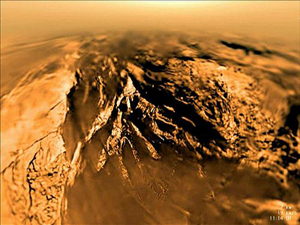 Click on image to view the Huygens movie
The movies were put together with data collected by the Descent Imager/Spectral Radiometer instrument during the probe's 147-minute plunge through Titan's thick orange-brown atmosphere to a soft sandy riverbed. The Descent Imager/Spectral Radiometer was funded by NASA.
The data were analyzed for months after the landing and represent the best visual product obtained from the Huygens mission. It is the most realistic way yet to experience the Huygens probe landing. The movie "View from Huygens on Jan. 14, 2005," provides in 4 minutes and 40 seconds of what the probe actually "saw" during the 2.5 hours of the descent and touchdown.
"At first, the Huygens camera just saw fog over the distant surface," said Erich Karkoschka, team member at the University of Arizona, Tucson, and creator of the movies. "The fog started to clear only at about 60 kilometers [37 miles] altitude, making it possible to resolve surface features as large as 100 meters [328 feet]," he said. "But only after landing could the probe's camera resolve little grains of sand millions and millions of times smaller than Titan. A movie is a perfect medium to show such a huge change of scale." [More>>
jpl.nasa.gov
]
---
5.05.06 UN anti-torture body scrutinises US record
GENEVA (AFP) May 5 – The UN's top anti-torture body opened its first public examination of the US government's record on torture since the United States began its "war on terror" following the September 11 attacks. Some 30 officials from the US State Department, the Pentagon and Department of Homeland Security were expected to take part in the public hearings Friday and Monday.

Human rights groups allege that abuse and ill-treatment are being used in secret, in contravention of the International Convention Against Torture which bans torture and cruel, inhumane or degrading treatment. "This is going to be the very first time that the United States is going to be held internationally accountable for its record since the fight against terror began in 2001," Jennifer Daskal, an advocacy director for Human Rights Watch, told journalists.
"The US government is not only failing to take steps to eradicate torture, it is actually creating a climate in which torture and other ill-treatment can flourish, including by trying to narrow the definition of torture," said Curt Goering of Amnesty International.

...US officials have expressed official opposition to the use of torture. But one issue expected to come under the spotlight in Geneva is a series of memos and statements in recent years effectively redefining torture, according to human rights groups. In 2004, the US Justice Department withdrew legal guidance intended for CIA interrogators which argued that physical pain amounting to torture had to be "equivalent in intensity to the pain accompanying serious physical injury, such as organ failure, impairment of bodily function, or even death."

But Justice Department lawyers argued earlier this year that freshly amended legislation banning cruel, inhuman or degrading treatment of detainees does not apply to terror suspects held at the US military's detention facility at Guantanamo Bay, Cuba...[Full story>>turkishpress.com]
---
5.05.06 Cold War is reheated as Cheney tells off Moscow
May 5 – Dick Cheney, the US Vice-President, accused Russia yesterday of eroding a decade of democratic reform and blackmailing Europe with its energy reserves, in Americaıs sharpest rebuke to President Putin. Speaking at a summit of eight former Eastern bloc countries that have turned against Moscow, Mr. Cheney said that the Kremlin should embrace democracy or risk harming relations with more countries.

"America and Europe want to see Russia in the category of healthy democracies, and yet opponents of democracy in Russia are seeking to reverse the progress of the past decade," he said. "In many areas of civil society — from religion and the news media to advocacy groups and political parties — the Government has unfairly and improperly restricted the rights of the people."

The speech caused outrage in Russia, with some senior figures accusing Mr. Cheney of trying to undermine Mr. Putin before the G8 summit in St. Petersburg in July. Dmitry Peskov, the Kremlinıs deputy spokesman, said that the speech was incomprehensible and "full of a subjective evaluation of us and of the processes that are going on in Russia." [More>>timesonline.co.uk ; See also rian.ru, May 5, "Lavrov refuses to be drawn on paper's Cheney-Churchhill parallels."]
---
5.05.06 Taliban kill five including Afghan tribal chief
KANDAHAR, Afghanistan (AFP) May 5 – Five people including a key tribal chief and his son were killed in the latest spate of violence blamed on the Taliban in restive southern Afghanistan, officials said on Friday. Chieftain Haji Lala died along with his son and his bodyguard on Thursday when a roadside bomb planted by suspected Taliban rebels exploded beneath their vehicle in Helmand province, interior ministry spokesman Yousuf Stanizai said. [More>>metimes.com ; See related stories, aljazeera.net, May 5, "Kabul blast kills two Italian soldiers" and timesonline.co.uk, May 5, "Taleban tell British to expect a river of blood."]
---
5.04.06 Moussaoui judge : It's clear who won
ALEXANDRIA, Va. (CBS/AP) May 4 – US Judge Leonie Brinkema sent Zacarias Moussaoui to prison for life Thursday, to "die with a whimper," for his role in the Sept. 11, 2001, terrorist attacks. He declared: "God save Osama bin Laden, you will never get him." Brinkema and the unrepentant Moussaoui capped the two-month trial with an intense exchange that will mark the defendant's last public words before his incarceration in a maximum security prison in Colorado. A day earlier, a jury rejected the government's case to have Moussaoui executed, deciding instead to send him to prison for life without a chance of parole. Not all jurors were convinced that Moussaoui, who was in jail on immigration charges Sept. 11, had a significant part in the attacks, despite his boastful claims that he did. [More>>cbsnews.com]
---
5.04.06 Pope strongly condemns Chinese church
ROME, May 4 – Pope Benedict XVI today issued an unusually strong condemnation of the state-controlled Catholic Church in China, noting that its consecration of two bishops without Vatican approval was an offense punishable by excommunication. "The Holy Father took notice of this with profound displeasure," said the Vatican statement by the pope's spokesman, Joaquin Navarro-Valls. "This represents a grave wound to the unity of the church, for which, as it is noted, there are severe canonical sanctions," that is excommunication for the offenders, in this case the bishops involved. [More>>nytimes.com]
---
5.04.06 Koran invokes violence, says Pell
May 5 – Australia's highest ranking Catholic priest has told an American audience the Koran is punctuated with "invocations to violence" and the central challenge facing Islam lies in the struggle between moderate and extremist forces. Archbishop of Sydney Cardinal George Pell said reading Islam's holy book was vital "because the challenge of Islam will be with us for the remainder of our lives." In a speech to leading Catholic businesses in the United States, Dr. Pell said the September 11 terrorist attacks had been his wake-up call to understand Islam better.

He said there were inconsistencies in claims that Islam was a faith of peace with those that suggested the Koran legitimised the killings of non-Muslims. Factual errors, inconsistencies, anachronisms and other defects were difficult for Muslims to debate openly, Dr. Pell said.

"In my own reading of the Koran, I began to note down invocations to violence. There are so many of them, however, that I abandoned this exercise after 50 or 60 or 70 pages," he said. Dr. Pell's speech was delivered in the United States on February 4 but only appeared on the archdiocese's website on Wednesday. [theaustralian.news.com.au ; See also smh.com.au (The Sydney Morning Herald), May 5, "Pell challenges Islam, O ye of little, intolerant faith" and Maravot News editorial, "Why the Crusade and Jihad?"]
---
5.04.06 Many Iraqis killed in US air attack
May 4 – At least 13 people have died in an air assault by US forces in the Iraqi city of Ramadi just an hour after a bomber killed nine people outside a Baghdad court. Ali al-Ubaidi, a medic at the Ramadi hospital said: "US planes bombed a house in the Aziziya area of Ramadi city centre, killing 13 civilians." Four others were wounded, he added. The US military confirmed it had conducted the assault, but did not immediately give further information.

Ramadi, populated by Sunni Arabs, is considered the most dangerous city in Iraq for US forces. US commanders say there are more attacks there than anywhere else in the country, with armed fighters and American troops exchanging fire several times a day - at least. On Wednesday in Ramadi, a bomber exploded his vehicle near the convoy of Maamoun Sami Rashid al-Alwani, the governor of al-Anbar province, killing 10 people. The governor was not injured, US officials said.

Again on Thursday, another bomber blew himself up in Baghdad in front of a courthouse near the impoverished district of al-Sadr City, killing nine people. It was the second such attack to cause multiple deaths in Iraq in less than 24 hours. [More>>aljazeera.net]
---
5.04.06 Drinkers shock at body in rum barrel
BUDAPEST, May 4 – Hungarian builders who drank their way to the bottom of a huge barrel of rum while renovating a house got a nasty surprise when a pickled corpse tumbled out of the empty barrel, a police magazine website reported. According to online magazine www.zsaru.hu, workers in Szeged in the south of Hungary tried to move the barrel after they had drained it, only to find it was surprisingly heavy and were shocked when the body of a naked man fell out. The website said that the body of the man had been shipped back from Jamaica 20 years ago by his wife in the barrel of rum in order to avoid the cost and paperwork of an official return. [More>>theaustralian.news.com.au]
---
5.03.06 Dozens of bodies surface as Iraq parliament meets
May 3 – Iraqi police have found 36 bullet-riddled bodies of men shot dead in apparent sectarian killings as lawmakers convened the first working session of parliament since it was elected in December. An interior ministry official said 14 bodies were found in eastern Baghdad Wednesday, while 20 other corpses were recovered from various areas in the capital late Tuesday. Two more bodies were found in the town of Al-Mussayib, 80 kilometers (50 miles) south of Baghdad.

Hundreds of such bullet-riddled bodies, the result of tit-for-tat sectarian killings, have been found across the country, mostly in Baghdad, since the bombing of a revered Shiite shrine in February. Iraq's Sunni Arab leaders blame the country's Shiite-led interior ministry forces of operating death squads who carry out these extra-judicial killings of Sunni Arabs. On Wednesday, insurgents also killed eight people, including four college students in Baghdad's notorious Al-Dura neighborhood. [More>>turkishpress.com ; See also washingtonpost.com, May 3, "Suicide bomber kills 17; 37 bodies found."]
---
5.03.06 Afghan police kill four Taliban, militants gun down court official
KANDAHAR, Afghanistan, May 3 – Afghan police and troops killed four suspected Taliban in the south on Wednesday, a day after gunmen riding a motorbike shot dead a judge in the western province of Farah, officials said. The suspected Taliban were killed in an exchange of fire in Helmand province, provincial police spokesman Moheedin Khan said. He said that troops from the Afghan National Army stationed nearby also joined in the fighting.

"The Taliban ambushed a police vehicle Wednesday. Fighting erupted and four Taliban were killed and one of our policemen was wounded," he said. Khan said that the security forces also seized a vehicle and some ammunition. Two gunmen on a motorcycle shot the provincial court's deputy chief Sheikh Mohammad while he was returning home in Farah city on Tuesday, local governor Ezatullah Wasifi said. [More>>metimes.com]
---
5.03.06 Turks rattle saber over PKK bases in Iraq
May 3 – The Turkish Army said Tuesday it reserves the right to venture into neighboring Iraq to pursue separatist Kurdish rebels based there, but denied reports that such operations were already under way. "All our activities ... are taking place within our borders," General Bekir Kalyoncu, head of operations at the general staff, told a group of reporters, Anatolia news agency reported. "If the conditions [for a cross-border operations] arise, Turkey will use its rights as any sovereign country," he said. "Those conditions are outlined in the UN Charter."

Turkey has amassed troops along the border with Iraq for what officials describe as a large-scale effort to prevent increasing infiltrations by rebels from the separatist Kurdistan Workers' Party (PKK), based in mountainous hideouts in northern Iraq. The army has repeatedly said that Article 51 of the UN Charter provides for the right of "hot pursuit" against the PKK on Iraqi territory. The article acknowledges the right "of individual or collective self-defense if an armed attack occurs against a member of the UN, until the Security Council has taken measures necessary to maintain international peace and security." [More>>dailystar.com.lb; See related stories Maravot News, 5.02.06, Baghdad accuses Tehran of shelling PKK rebels inside Iraq]
---
5.03.06 Record levels of fatal metals in yellow dust
May 3 – Record levels of harmful metals were contained in the yellow dust storms that blew in from China across the nation last month, the government said yesterday. The Ministry of Environment said the polluted dust that blanketed the peninsula last month contained a level of iron 12 times higher than that during a normal day in Seoul. The level was four times higher than that recorded in last year's yellow sand period.

...The storm picked up the metals from the topsoil where the storm originated in the desert regions of central China, the ministry said. The figures were even higher than those of the densest recorded yellow dust storm in 2002. The levels of manganese and iron this year were respectively three times higher than those in 2002. The sand storm in 2002 led to the deaths of 165 people and caused 1.82 million to seek medical treatment for respiratory problems and other illnesses, according to a state-run institute on environment. [Full story>>koreaherald.co.kr] See earlier stories:
5.02.06 Tibetan glacier melt leading to sandstorms

(AFP) May 5 – Global warming is melting glaciers in China's Tibetan region at a rate of 7.0 percent annually, triggering drought, desertification and sandstorms in other regions, state press reported. Data collected over four decades has shown that glaciers on the Qinghai-Tibet plateau, known as the "roof of the world," are shrinking at an unprecedented pace, Xinhua news agency said.

"The melting glacier will ultimately trigger more droughts, expand desertification and increase sandstorms," the report quoted Dong Guangrong, a specialist at the China Academy of Sciences, as saying. About 47 percent of China's glaciers are on the Qinghai-Tibet plateau in the Himalayas, where the Yangtze, Yellow, Brahmaputra, Mekong and Salween rivers all originate. The fast rate of glacier melt has meant more water run-off from the plateau which exacerbates soil erosion and leads to desertification, it said.

Northern China, including Beijing, has suffered from 13 dust storms this year which have been attributed to desertification in China's northwestern regions, including Qinghai province. In the worst storm on April 17, an estimated 336,000 tons of dust fell on Beijing, leaving the air quality in the capital at hazardous levels. [More>>chinadaily.com.cn ; See related story, Maravot News 4.30.06, "Malaysia experts : More stormy days for next few months."]
---
5.02.06 Indians a target as kidnappings rise in Manila
MANILA (Reuters) May 2 – Kidnapping is on the rise in the Philippine capital with gangs targeting Indian moneylenders for ransom, in addition to Chinese businessmen, a senior national police official said on Tuesday. Business rivalry and unpaid debt were among the key factors behind the abduction of Indian traders, Prudencio Banas, head of anti-kidnapping police task force, told reporters.

"Based on our previous experiences, some Chinese gangs were behind the kidnappings of fellow ethnic Chinese business people. Now, we've observed an increase in the number of Indian nationals being kidnapped," he said. "They were kidnapped and released on the same day, sometimes only for 60,000 pesos ($1,100)." [More>>expressindia.com]
---
5.02.06 Iran says it has enriched uranium to 4.8%
TEHRAN (RIA Novosti) May 2 – Iran has enriched uranium-235 to 4.8%, the country's vice president and head of the Atomic Energy Organization said Tuesday. Gholamreza Aghazadeh told the Iranian news agency ISNA that Iran was not planning to enrich uranium to more than 5%, as this level was enough to produce nuclear fuel [for a power station].

A report by IAEA Director General Mohamed ElBaradei on the Iranian nuclear problem was presented in the IAEA board of governors and the UN Security Council in late April. It said Iran had managed to enrich uranium-235 to 3.6% at the Natanz research center 1,000 miles from the Israeli border, using a cascade of 164 centrifuges, and was building two more. However, experts said uranium should be enriched to at least 80% to create nuclear weapons.

Aghazadeh said 3,000 centrifuges would be installed by March 21, 2007 at a uranium-enrichment plant in Natanz. Aghazadeh also said Iran had opened a uranium-concentrate field and would announce a tender for the construction of two new nuclear power plants within two months, adding that $200 million would be paid in advance to the tender's winner. "If the tender does not occur due to certain reasons, the money will be used to complete the construction of the Bushehr NPP," he said. [rian.ru]
---
5.02.06 Iran will hit Israel if US does "evil" : agency
TEHRAN (Reuters) May 2 – Iran will target Israel first if the United States does anything "evil," a senior commander in the Iranian Revolutionary Guards said on Tuesday. The United States says it wants Iranıs nuclear standoff with the West solved diplomatically but has refused to rule out military action. "We have announced that wherever America does something evil, the first place that we target will be Israel," Revolutionary Guards Rear Admiral Mohammad-Ebrahim Dehqani was quoted as saying by Iranıs student news agency ISNA. The Islamic Republic has never recognized Israel and Iranian President Mahmoud Ahmadinejad has called for the Jewish state to be "wiped off the map." [More>>khaleejtimes.com ; See also haaretzdaily.com and related story, iranmania.com, May 2, "Iran complains to Annan over threat of US attack."]
---
5.02.06 Baghdad accuses Tehran of shelling PKK rebels inside Iraq
BAGHDAD (AFP) May 1 – Baghdad accused Iranian forces Sunday of entering Iraqi territory and shelling Turkish-Kurdish PKK guerrilla positions, with the Kurds accusing Tehran of working with Ankara to attack their movement. "Iranian forces hit a border area called Haj Umran and then entered 5 kilometers into Iraqi territory and hit the area of Lollan with heavy artillery with 180 shells targeting PKK positions," an Iraqi Defense Ministry statement said.

The shelling was the second military attack on the Kurdish guerrillas by Iranian forces in 10 days. The previous attack on April 20 left two guerrillas dead and another 10 wounded. The Kurdish rebel group, Kurdistan Workers' Party (PKK), who have established themselves in Iraq's northern Kurdish-controlled area on the border with Iran and Turkey, have warned Iran not to interfere in their fight against Ankara's rule in southeast Turkey. [More>>dailystar.com.lb ; See also Maravot News 4.30.06, Iranian forces enter Iraq, shell Kurdish guerrillas."]
---
5.02.06 Six killed in Iraq as Shias, Sunnis talk cabinet lineup
BAGHDAD (AFP) May 2 – On Tuesday two Iraqis were killed as rebels bombed a minibus in central Baghdad's Shorjah market in an attack that also wounded five others, an interior ministry official said. In the southern Baghdad neighborhood of Bayaa, a roadside bomb killed one civilian and wounded four, while an Iraqi private security guard was shot dead near the restive city of Baquba, just north of the capital. Also west of Baquba, gunmen attacked a family traveling in a car, police said. One man was killed and two others were wounded in the attack.

Insurgents have stepped up attacks in and around Baquba, 60 kilometers (35 miles) from Baghdad. Last week they staged massive attacks on checkpoints in a bid to seize control of the city. The US military announced the death of a soldier, killed on Monday south of Baghdad, after his vehicle was struck by a roadside bomb, the most common but the deadliest weapon used by insurgents against coalition troops. The latest casualty took to 2,403 the death toll for US servicemen in Iraq since the March 2003 invasion, according to an AFP count based on Pentagon figures. [More>>metimes.com]
---
5.02.06 Afghan suicide blast kills two, wounds Canadian
KABUL (Reuters) May 2 – A suicide car-bomber attacked foreign troops near the Afghan capital Kabul on Tuesday, killing himself and a passer-by and wounding a Canadian soldier, police said. Violence has intensified in Afghanistan in recent months with scores of people killed in clashes and roadside and suicide blasts as NATO members build up troop numbers in the dangerous south. The blast on a main road just to the northeast of Kabul killed a man with a donkey cart beside the road, said provincial police official Maulana Sayedkhail. He said he did not know the identity of the foreign troops targeted but another police officer, Ajab Gull, said a Canadian soldier had been wounded. [More>>thestar.com.my]
---
5.02.06 'Don't be scared' Bolivia tells companies after gas grab
May 2 – President Evo Morales of Bolivia has ordered the military to seize 56 foreign-owned oil and gas fields in a nationalization move that hit shares of companies operating in the Latin American country today. Senor Morales called on the military to occupy the fields and gave warning he would throw out foreign companies who refused to recognize the nationalization of the countryıs oil and gas fields, which are the second largest reserves in the region after Venezuela.

The left wing President, who came to power on a platform of re-nationalization, warned of similar action in other sectors. "We are beginning by nationalizing oil and gas. Tomorrow we will add mining, forestry and all natural resources – what our ancestors fought for," he said in a May Day speech at the San Alberto gas field in southern Bolivia. Foreign investors were unable to assess the full impact of the decision, as details of the nationalization policy were not readily available. The President has given the companies 180 days to renegotiate contracts.

The nationalization policy would effectively downgrade the role of foreign companies from owners of the assets to simply operators. The Spanish Government swiftly declared its "profound worry" about the nationalization, as shares in the Spanish energy group Repsol YPF took a hit. [More>>timesonline.co.uk]
---
5.02.06 Immigrants take to US streets in show of strength
LOS ANGELES, May 2 – Hundreds of thousands of immigrants and their supporters skipped work, school and shopping on Monday and marched in dozens of cities from coast to coast. The demonstrations did not bring the nation to a halt as planned by some organizers, though they did cause some disruptions and conveyed in peaceful but sometimes boisterous ways the resolve of those who favor loosening the country's laws on immigration.

Originally billed as a nationwide economic boycott under the banner "Day Without an Immigrant," the day evolved into a sweeping round of protests intended to influence the debate in Congress over granting legal status to all or most of the estimated 11 million illegal immigrants in the country.

The protesters, a mix of illegal immigrants and legal residents and citizens, were mostly Latino, but in contrast to similar demonstrations in the past two months, large numbers of people of other ethnicities joined or endorsed many of the events. In some cases, the rallies took on a broader tone of social action, as gay rights advocates, opponents of the war in Iraq and others without a direct stake in the immigration debate took to the streets. [More>>nytimes.com ; See also sfgate.com (S.F. Chronicle), May 2, "A million say : Let us all stay."]
---
5.02.06 Dollar declines on trade deficit
May 2 – The US dollar is having a sinking spell – which is good news for US manufacturers and bad news for American tourists traveling abroad. Spurring the greenback's slide are recent statements by top economic policymakers, notably declarations about the need to reduce global trade imbalances. The dollar has suffered sharp losses against other currencies the past two weeks, and yesterday it hit a fresh, seven-month low against the Japanese yen. Although it rallied yesterday afternoon against the euro, it fell to an 11-month low against the European currency earlier in the day and is down nearly 6 percent against the euro since late February. [More>>washingtonpost.com]
---
5.02.06 Must looted relics be ignored?
May 2 – Inscribed on Sumerian clay tablets more than 4,000 years ago, the Code of Ur-Nammu may be the earliest known recorded set of laws in the world: dozens of rules written in cuneiform about commerce and taxes, family law and inheritance. But many scholars won't go near the one largely intact version of the code, and the top American journal of cuneiform research won't publish articles about it. The reason? The tablet was bought by a private Norwegian collector on the open market and does not come from a documented, scientific excavation. According to the ethics policies of the leading associations for antiquities scholars, that means it is off limits.

As scholars grapple with the reality that a growing number of important works — like the Ur-Nammu tablet and the recently unveiled Gospel of Judas — lack a clear provenance, those ethics policies are the focus of heated debate.

On one side are archaeologists and other experts who say that most objects without a clear record of ownership or site of origin were looted, and that the publication of such material aggrandizes collectors and encourages the illicit trade. On the other side are those who argue that ignoring such works may be even more damaging to scholarship than the destruction caused by looting.

Lending momentum to the debate is growing evidence that, amid the havoc of the American invasion of Iraq, Iraqi sites have been looted on an industrial scale. Many experts worry that the market will be flooded by vast numbers of unprovenanced cuneiform tablets and other objects: illicit finds that, in theory, should not be published. [More>>nytimes.com]
Copyright © 1981-2006 Maravot. All rights reserved
Copyright © 1981-2006 Mel Copeland. All rights reserved
Painting of Apple by Mel Copeland, early 70's
Background: tile from Cicero's villa (Marcus Tullius Cicero 106 B.C. - 43 B.C.)