4.13.06 Rumsfeld rebuked by retired generals
April 13 – The retired commander of key forces in Iraq called yesterday for Donald H. Rumsfeld to step down, joining several other former top military commanders who have harshly criticized the defense secretary's authoritarian style for making the military's job more difficult. "I think we need a fresh start" at the top of the Pentagon, retired Army Maj. Gen. John Batiste, who commanded the 1st Infantry Division in Iraq in 2004-2005, said in an interview. "We need leadership up there that respects the military as they expect the military to respect them. And that leadership needs to understand teamwork." Batiste noted that many of his peers feel the same way. "It speaks volumes that guys like me are speaking out from retirement about the leadership climate in the Department of Defense," he said earlier yesterday on CNN.

Batiste's comments resonate especially within the Army: It is widely known there that he was offered a promotion to three-star rank to return to Iraq and be the No. 2 U.S. military officer there but he declined because he no longer wished to serve under Rumsfeld. Also, before going to Iraq, he worked at the highest level of the Pentagon, serving as the senior military assistant to Paul D. Wolfowitz, then the deputy secretary of defense. [More>>washingtonpost.com]
---
4.13.06 Pakistani raid strikes hideout, killing senior Egyptian Al Qaeda member
April 13 – A senior Egyptian al Qaeda member was killed along with other militants during a Pakistani military raid of a hideout in the northern part of Pakistan, sources have told ABC News. Multiple intelligence sources in Pakistan confirmed to ABC News that they believed Abu Mohsin Musa, also known as Abdul Rahman, had died in the overnight raid. Rahman was one of the FBI's most wanted men with a $5 million bounty on his head. He was indicted in absentia in a New York court for his alleged involvement in the bombings of the United States embassies in Dar es Salaam, Tanzania; and Nairobi, Kenya, on Aug. 7, 1998.

Acting on a credible intelligence report about the presence of foreign militants, Pakistani helicopter gunships raided the suspected hideout near Miramshah in North Waziristan, which borders Afghanistan. Pakistani authorities are still trying to determine the identities of the slain militants, who were quickly buried in the area, the officials said. [abcnews.go.com ; See details, dailytimes.com.pk, April 13, "Foreign militants killed in Wasiristan raid," and jang.com.pk, April 13, 12:45 PST, "Al-Qaeda man killed in N. Waziristan security forces' raid."]
---
4.13.06 China hosts first Buddhism forum
April 13 – Buddhists from more than 30 countries are in China for the World Buddhist Forum - communist China's first international religious gathering. Hundreds of monks and scholars are visiting the eastern city of Hangzhou, but Buddhist spiritual leader, the Dalai Lama, has not been invited. China regards the exiled Tibetan leader as a separatist.

It has made its choice of Panchen Lama – Tibet's second most important figure – the figurehead of the conference. But according to Reuters news agency he appeared to be shunned by delegates. Fellow Buddhists made no attempt to greet Gyaltsen Norbu during greeting ceremonies ahead of the conference on Wednesday, the agency reported.

The Dalai Lama has nominated his own Panchen Lama, who has disappeared and is believed to be under house arrest. China appointed Gyaltsen Norbu in his place in 1995. [More>>bbc.co.uk ; See also chinadaily.com.cn, April 13, "Panchen Lama calls for self-cultivation."]

Editorial note: The bbc.co.uk comment, "the Dalai Lama, has not been invited," is not entirely correct. China did invite him through published reports in chinadaily.cn.com that placed certain conditions on the visit which were unacceptable to the Dalai Lama. China and the Dalai Lama have been at odds against one another involving other Buddhism conferences. China required that the Dalai Lama recognize China's sovereignty over Tibet. Discussions on the restoration of the Dalai Lama seem confused. Background on the Dalai Lama and China's takeover of Tibet can be read at cbc.ca, April 16, 2004, "The Dalai Lama" : ... In 1999, he announced that while he was not seeking independence from China, he wanted a form of self-rule that would satisfy Tibetans. He also accused the Chinese of cultural genocide...]

Mel Copeland
---
4.13.06 Girl, 12, has her heart returned after 10 years with replacement
April 13 – A 12-year-old girl from South Wales is believed to have become the first heart transplant patient in the UK to have her donor organ removed and her own heart brought reinvigorated. Hannah Clark, who has also suffered from cancer, had the operation, carried out on 20 February, after her body rejected her donor heart. The procedure is important as it shows that surgeons can allow a heart with acute inflammation to rest itself by using a "piggy back heart" before reconnecting their own organ. Previously, patients died or had transplants before their hearts had a chance to recover. [More>>independent.co.uk]
---
4.13.06 Official: Iran far from full-scale uranium enrichment
(AP) April 13 – Russia's nuclear chief said Thursday that Iran is far from being capable of industrial-scale uranium enrichment, the Interfax news agency reported.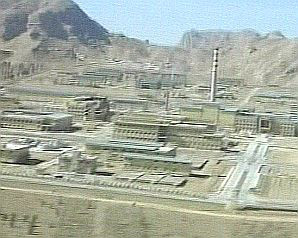 TV grab of Natanz facility in Iran– Jeruslaem Post
Russian Federal Nuclear Energy Agency chief Sergei Kiriyenko said the enrichment facility in the Iranian city of Natanz, equipped with 164 gas centrifuges, could not produce any significant amount of enriched uranium, which can be used to fuel power plants or produce atomic weapons. "These centrifuges allow Iran to conduct laboratory uranium enrichment to a low level in insignificant amounts," Kiriyenko was quoted as saying. "The acquisition of highly enriched uranium is unfeasible today using this method." [More>>
Jerusalem Post
; See also
rian.ru
and
iranfocus.com, April 13, "Iran nuclear 'slap in the face' for world: Russian press."
]
---
4.12.06 Straw reiterates call for Iran to suspend enrichment
MOSCOW (AP) April 12 – Russia joined Britain, Germany, France and the United States on Wednesday in criticizing Iran after its president said Teheran had successfully enriched uranium for the first time, a potential step toward developing nuclear weapons, reports said.

"We believe that this step is wrong. It runs counter to decisions of the IAEA (the UN nuclear watchdog) and resolutions of the UN Security Council," Russian Foreign Ministry spokesman Mikhail Kamynin was quoted as saying by the ITAR-Tass news agency. He said Russia, which has close ties with Teheran, had learned "with concern" of the Iranian announcement. But the foreign minister cautioned against dramatizing the situation. British Foreign Secretary Jack Straw said Wednesday he was "seriously concerned" by the Iranian president's assertion. [More>>
Jerusalem Post
; See also
crisscross.com, April 12, "Japan 'deplores' Iranian uranium enrichment"
]
---
4.12.06 Iraqi Shiite mosque bombing kills 20
BAQUBA, April 12 – At least 20 people were killed in a car bombing near a Shiite mosque in a restive area of Iraq late Wednesday, the latest in a wave of sectarian attacks plaguing the country.

At least 40 other people were wounded when the bomb went off in a busy market street as worshippers were leaving the mosque in the town of Howaider, near Baquba, 60 kilometers (36 miles) northeast of Baghdad. [More>>turkishpress.com]
---
4.12.06 Nine poultry farmers commit suicide
MUMbai (Reuters) April 12 – Nine poultry farmers in India have killed themselves and more are facing a grim future after bird flu slashed demand for chicken meat, an industry group said on Wednesday. India has culled hundreds of thousands of birds to contain several outbreaks of the H5N1 avian flu virus in poultry since February, but the disease has continued to resurface, mostly in Maharashtra. The scare has decimated the country's $7.8 billion poultry industry, which says losses in the past two months have reached $2.2 billion...The suicides have been reported during the past 15 days from West Bengal, Tamil Nadu, Assam, Andhra Pradesh and Maharashtra, the latter state being the epicenter of bird flu outbreaks in the country. The committee said there were 123,000 poultry farmers in India and about 70 per cent of them were in a 'dire situation.' [Full story>>expressindia.com]
---
4.12.06 US shelved evidence discounting Iraq's WMD – paper
WASHINGTON (Reuters) April 12 – The Bush administration publicly asserted that two trailers captured by U.S. troops in Iraq in May 2003 were mobile "biological laboratories" even after US intelligence officials had evidence that it was not true, The Washington Post reported on Wednesday. On May 29, 2003, President George W. Bush hailed the capture of the trailers, declaring "We have found the weapons of mass destruction."

But a Pentagon-sponsored fact-finding mission had already concluded that the trailers had nothing to do with biological weapons, the Post reported, citing government officials and weapons experts who participated in the secret mission or had direct knowledge of it. The Post said the group's unanimous findings had been sent to the Pentagon in a field report, two days before the president's statement. Bush cited the threat posed by weapons of mass destruction as the prime justification for invading Iraq. No such weapons ever were found.

A US intelligence official, speaking to Reuters on condition of anonymity confirmed the existence of the field report but said it was a preliminary finding that had to be evaluated.

"You don't change a report that has been coordinated in the (intelligence) community based on a field report," the official said. "It's a preliminary report. No matter how strongly the individual may feel about the subject matter."

The three-page field report and a 122-page final report three weeks later were classified and shelved, The Washington Post reported. It added that for nearly a year after that, the Bush administration continued to public assert that the trailers were biological weapons factories. [More>>thestar.com.my]
---
4.12.06 Hamas 'willing' to recognize Israel
April 12 – The Hamas-led Palestinian government is willing to recognize Israel if the latter withdraws fully from West Bank, East Jerusalem and Gaza Strip, Al Jazeera. net has reliably learnt. Sources close to Ismail Haniya, the Palestinian prime minister, described the Hamas decision as a "significant change in policy."

"What it means is that the Palestinian government is willing to recognize Israel if Israel met certain conditions, including a complete withdrawal from the territories Israel occupied in 1967," a source told Al Jazeera.net on Wednesday. [More>>aljazeera.net]

Editorial note: East Jerusalem is the "old city" which includes the Temple Mount, the site of the Temple of Jerusalem and the place Abraham began to sacrifice his son, Isaac, but stopped when God told him not to proceed with the sacrifice of his first born. It is also believed to be the last place Mohammed was seen before ascending to heaven (the peak of the mountain is preserved and can be observed in the center of the Dome of the Rock mosque). The domain of the Temple Mount, being holy to Jews, Moslems and Christians, is under the jurisdiction of the king of Jordan. Before the 1967 war the West Bank territory was ceded to the Hashemite Kingdom of Jordan by the United Nations when it created the state of Israel, under Israel's Declaration of Independence of Israel May 15, 1958. Interestingly, the United Nations reserved the territory including Jerusalem as a "Corpus Separatum" which extended from Jerusalem to the Mediterranean sea. While Israel's possession of the West Bank territory may be considered captured territory from Jordan, the possession of Jerusalem involves another issue: the United Nations' sovereignty over the Corpus Separatum of Jerusalem. I am not aware that the United Nations has ever ceded that territory.

The hard fact is that Jews, Christians and Moslems all consider Jerusalem to be one of their holiest sites, and none of them would appear to relinquish possession of the city. Both Israel and the Palestinians view Jerusalem as their capital city.

If one were to review Israel's Declaration of Independence one would find a declaration by the state of Israel to honor, preserve and protect all holy sites, honor religious freedom, etc. The issue is discussed in detail in "Philistia triumph thou because of me." The map of Israel and associated territories created by the UN November 1947 may be viewed in this book as well as the sidebar of Maravot News. The Hamas demand for Israel to give up the old city of Jerusalem is thus what would appear to be an insurmountable problem. A better plan might be for all sides to recognize the UN Corpus Separatum of Jerusalem, leaving Jerusalem to the world – of if you prefer, God. See also our editorial 03.24.05 Temple Mount controversy.

Another controversy involves the holy city of Mecca, where the Kaba (meaning "cube") – believed by Moslems to be the Temple of Abraham – is located and was the capital of the Hashemite Kingdom, which was reassigned to King Saud (Saudi Arabia) when the United Nations parceled out territories captured from the Turkish Ottoman Empire, giving the Hashemite princes (Sherifs) Jordan, Iraq and Syria with the formation of Israel in 1947. An interesting article has a bearing here:
metimes.com, April 12, "Qadhafi: Christians, Jews should see Mecca" : BAMAKO, Mali – Libyan leader Muammar Qadhafi called for allowing Christians and Jews to perform pilgrimage to Mecca, Islam's holiest place.

Speaking following prayers with the presidents of Mali, Sierra Leone, Niger, Mauritania and Senegal on the occasion of the Prophet Mohammed's birthday in Timbuktu, Mali, late on Monday, Qadhafi said "Mecca should be a meeting point to all people except heretics and impure." He said that Christians and Jews are not heretics or impure and "believe in God" and should be allowed to go to pilgrimage in Mecca.

Qadhafi challenged Muslim religious leaders to allow US President George W. Bush to enter the main mosque in Mecca and pray there, while considering him impure or a heretic. "If [Muslim leaders] consider him impure, why do they befriend him and eat with him," Qadhafi asked.

Qadafi posed a similar question that the Apostle Paul asked St. Peter and the Apostolic Council of Jerusalem, having to do with the future of the Christian Church. The early church was Jewish and ministered through synagogues. When Paul expanded his ministry among nonJews (the Gentiles / nations) he was presented with the problem of how to observe Jewish Law, including purification rites. Certain foods were banned, such as pork, and all males had to be circumcised. While the Church in Jerusalem gave Paul authority to minister to the Gentile (impure) it had not resolved the purification laws as they apply to the Gentile, at least in the mind of Paul. When Paul shared food with Gentiles and began teaching "against the law of Moses" it came to the attention of the Church in Jerusalem and he was chastized for it. Paul had taught, for instance:

I Corinthians 10.25. Whatsoever is sold in the shambles, that eat, asking no question for conscience sake.
In 58 A.D. Paul explained the confrontation:

Galatians 58.2.7 But contrariwise, when they saw that the Gospel of the Uncircumcision was committed unto me, as the Gospel of the Circumcision was unto Peter
2.8 (For he that wrought effectually in Peter to the apostleship of the circumcision, the same was mighty in me toward the Gentiles:)
2.9 And when James, Cephas (Peter) and John, who seemed to be pillars, perceived the grace that was given unto me, they gave to me and Barnabas the right hands of fellowship; that we should go unto the heathen, and they unto the circumcision.
2.10 Only they would that we should remember the poor; the same which I also was forward to do.
2.11 But when Peter was come to Antioch, I withstood him to the face, because he was to be blamed.
2.12. For before that certain came from James, he did eat with the Gentiles: but when they were come, he withdrew and separated himself, fearing them which were of the circumcision.
2.14 But when I saw that they walked not uprightly according to the truth of the Gospel, I said unto Peter before them all, If thou being a Jew, livest after the manner of Gentiles, and not as do the Jews, why compellest thou the Gentiles to live as do the Jews?
2.16 Knowing that a man is not justified by the works of the law, but by the faith of Jesus Christ...
In the book of Acts we learn that the "faith vs works" issue between the Church of Jerusalem and Paul came to a head when Paulo was arrested and brought before King Agrippa. For Paul not only suggested taking the 'impure' into the Temple of Jerusalem – as Quadafi has suggested with respect to Mecca – but did it.

Acts 2.27 (Paul was remonstrated for his teaching and told to purify himself for seven days) And when the seven days were almost ended, the Jews which were of Asia, when they saw him in the Temple, stirred up all the people, and laid hands on him.
2.28 Crying out, Men of Israel, help: This is the man, that teacheth all men everywhere against the people, and the Law, and this place: and further brought Greeks also into the temple, and hath polluted this Holy Place.

After the trial before King Agrippa, listed in Acts 2, Paul was sent to Rome for final judgment in having taught against / violated the Law of Moses.

In the metimes.com article Qadafi is chastised by his peers, and he responded that Christians and Jews are not "impure" and thus should be allowed to pray before the Kaba in Mecca. Quadafi explained, of course, that everyone outside of Islam, Christianity and Judaism is impure. Hindus and Buddhists would be impure, for instance (We recall a recent report on an Islamist bombing of the holiest site to Hindus).

The metimes.com article concludes with a comment by Quadafi "Qadhafi also called for reviewing the Bible, which he considers to be 'false and phony,'" and he was chastised by Islamic clerics, the truth is that the Koran repeatedly asserts that it was written to confirm the Jewish Scriptures (Old Testament) and endorses Jesus both as a prophet and the Messiah (Christ) – See IMRANS 3:.14. We discuss this in our article,11.24.05 Why the Crusade & Jihad?.

As daffy as Qadafi's suggestion may appear to clerics of the affected religions, he's made a good point, in my opinion, and that point ultimately returns us to the just disposition of Jerusalem. Incidentally, tourists are permitted to visit the Moslem holy shrine, Dome of the Rock atop the Temple Mount without being certified as pure or impure. The only requirement (when I was there in 1985) is to take off your shoes. The custodians of the mosque do forbid people from walking over to visit the sealed Golden Gate to the mount, however. The sealed Golden Gate is guarded atop the mount lest the Jewish Messiah attempt to enter the mount and reestablish the Temple of Jerusalem that was destroyed by Titus in 70 A.D. This involves a Moslem belief that the Jewish Messiah would destroy the Dome of the Rock and rebuild the Temple of Jerusalem in its place.

Mel Copeland
---
4.11.06 Former Iranian president Rafsanjani: We are producing atomic fuel
TEHRAN (Reuters) April 11 – Iran is producing enriched uranium from 164 centrifuges, influential former Iranian President Akbar Hashemi Rafsanjani said on Tuesday, a major step towards its goal of making nuclear fuel for power stations. Rafsanjani's comments to Kuwait's KUNA new agency came ahead of a planned announcement by President Mahmoud Ahmadinejad about progress in Iran's nuclear program, which media had speculated would be to say that Iran had produced low-grade uranium. The announcement is a serious setback to UN Security Council efforts to have Iran halt enrichment work. It could escalate a confrontation with Western powers leading to consideration of sanctions against the Islamic Republic. [More>>haaretzdaily.com ; See related stories, Jerusalem Post, (AP) April 11 19:30, "Enemies can't dissuade Iran from the path of progress : Iranian President Mahmoud Ahmadinejad said Tuesday that Iran "will soon join the club of countries possessing nuclear technology." Speaking to a crowd in northeastern Iran, Ahmadinejad was quoted by the television as saying, "Enemies can't dissuade the Iranian nation from the path of progress that it has chosen." Ahmadinejad had promised on Monday to announce "good nuclear news"...and rian.ru, April 11, Russia's uranium enrichment offer to Iran still valid – FM."]
---
4.11.06 Six children killed in rocket attack on Afghan school
KABUL (AFP) April 11 – Six young children were killed and 14 others wounded when a rocket slammed into a primary school yard in Afghanistan on Tuesday, in an attack blamed on Taliban militants and their Al Qaeda allies. Two rockets were fired into Asadabad, the capital city of Kunar province, and one hit a school in the grounds of a mosque, killing six students aged between seven and 10, deputy police chief Mohammad Hassan Farahi said. He said that the rockets were fired from across the border in Pakistan, and it was not immediately clear what the target was. The mosque is close to an Afghan army base and a compound used by international troops. The second rocket did not cause casualties. [More>>metimes.com]
---
4.11.06 Drug companies 'inventing diseases to boost their profits'
April 11 – Pharmaceutical companies are systematically creating diseases in order to sell more of their products, turning healthy people into patients and placing many at risk of harm, a special edition of a leading medical journal claims today. The practice of "disease mongering" by the drug industry is promoting non-existent illnesses or exaggerating minor ones for the sake of profits, according to a set of essays published by the open-access journal Public Library of Science Medicine. The special issue, edited by David Henry, of Newcastle University in Australia, and Ray Moynihan, an Australian journalist, reports that conditions such as female sexual dysfunction, attention deficit hyperactivity disorder (ADHD) and "restless legs syndrome" have been promoted by companies hoping to sell more of their drugs. [More>>timesonline.co.uk]
---
4.11.06 Bomb blasts rock Karachi, 45 dead
KARACHI (Reuters) April 11 – At least 45 people were killed and dozens more wounded in a bomb attack on a Sunni Muslim gathering in Karachi on Tuesday, officials said. Hospital sources said 45 people were killed and dozens wounded in the blast at Karachi's Mishtar Park during a prayer meeting attended by several thousand Sunni Muslims to celebrate the birth anniversary of Prophet Mohammad. [More>>expressindia.com]
---
4.11.06 President Musharraf says religious extremists harmed Islam
ISLAMABAD, April 11 – President General Pervez Musharraf said Tuesday the West including China and America view Islam as religion of terrorism and extremism and extremist religious elements are responsible for it...Addressing an international Seerat conference here at the Jinnah Convention Islamabad Centre, the president said: "There are four anti-Islam misconceptions at international level and it is being theorized as to: Islam is religion of terrorism, Jihad (holy war) as militancy, womenıs status in Islam is very subordinate and Islam is at odds with modernization." President Musharraf however termed the four notions as altogether wrong and held extremist religious forces responsible for it.

"Suicide bombing is not tantamount to Jihad and Islam is not at loggerhead with the modernization. It is at odds with westernization," he clarified. He made it further clearer as to Islam is based on tolerance, moderation, justice and modernization...[Full story>>jang.com.pk ; See more details, khaleejtimes.com, April 11, "Pakistan president seeks backing of scholars in anti-terror war."]
---
4.11.06 Sicilian Mafia boss is caught after 40 years
PALERMO, Sicily (Reuters) April 11 – Bernardo Provenzano, the undisputed chief of the Sicilian Mafia who had been on the run for more than four decades, was arrested while hiding in a farmhouse near Corleone in Sicily on Tuesday, officials said. "Thank God. The hunt is finally over," said Palermo police chief Giuseppe Caruso after agents nabbed Italy's most wanted man, scoring the state's biggest success against the Mafia in more than 13 years.

Provenzano, known as the "Phantom of Corleone" after his native hill town, made famous by the Godfather films, has been running the Mafia since former "boss of bosses" Toto Riina was arrested in 1993. He was arrested when police swooped on a farmhouse in the countryside near Corleone. Provenzano, who put up no resistance and acknowledged his identity after first denying it, was flown by helicopter to a secret location in Palermo. [More>>nytimes.com]
---
4.11.06 Rumors of war spark record high for Dubai oil
April 11 – Dubai oil prices surged to a new record high following reports that Washington is planning military strikes against Iran, the world's fourth largest oil producer. The price of Korea's mainstay crude imports rose to $62.11 per barrel on Monday in New York, up $0.72 from the previous trading day. On the London market, Brent Oil traded at $68.46, equal to the record set last August after Hurricane Katrina shut down oil production in Mexico.

Though the White House denied reports in the U.S. media that the Bush administration is preparing possible air strikes, including the use of tactical nuclear weapons to destroy Iran's nuclear facilities, geopolitical concerns still linger. The Straits of Hormuz, which lies between Iran and Oman, is the only waterway in and out of the Persian Gulf, through which about a fifth of the world's oil passes. [More>>koreaherald.co.kr]
---
4.11.06 Russia should make 20-30 ballistic missiles a year – expert
MOSCOW (RIA Novosti) April 11 – Russia needs to produce up to 30 intercontinental ballistic missiles a year to maintain a strategic nuclear balance with the United States, a senior security expert said Tuesday. Alexei Arbatov, head of the international security center at the Russian Academy of Sciences, told RIA Novosti that if Russia continued to produce only 6-8 Topol-M missiles a year it would have only 150 such missiles and three nuclear submarines in 10-15 years.

No country currently has missiles like the Topol-M, which is capable of penetrating anti-missile defense systems, he said, "and is unlikely to possess them in the next 20 years." Arbatov also said Russia and the US should boost strategic stability talks. "We need a more radical treaty on strategic offensive reductions with a reliable control mechanism," he said. "Such a treaty should fix a limit of 1,000 warheads for the two countries." [More>>rian.ru]
---
4.10.06 'Pakistan tampered with 9/11 report'
ISLAMABAD (PTI) April 10 – US media is investigating claims by a senior foreign office official that Pakistan spent thousands of dollars through its lobbyists to drop some of the negative findings about the country from the 9/11 Commission report. If this claim turns out to be true, it might land Pakistan in trouble in this country because it would amount to an attempt to improperly influence public officials assigned with ascertaining the truth about the 9/11 terrorist attacks, Pakistani newspaper Daily Times reported from Washington today.

A report in Lahore-based weekly Friday Times last month quoted a testimony before the Public Accounts Committee of Pakistan by Muhammad Sadiq, who was No.2 at the Pakistan embassy in Washington, stating that a lot of money had been spent to Œsilence 'members of the inquiry Commission and induce them to go Œsoft' on Pakistan. [More>>expressindia.com]
---
4.10.06 Chirac ditches jobs law after protests
April 10 – French student leaders celebrated "a decisive victory" today after President Chirac announced that he was ditching a contentious new jobs law that would have made it easier for employers to sack young workers. The cave-in was announced in a brief statement from the Elysée Palace after two months of protests brought millions onto the streets of France. "The President of the Republic has decided to replace Article 8 of the law on equal opportunities with measures in favour of the professional insertion of young people in difficulty," it said. The decision is a major blow to the credibility of M. Chirac and his protégé Dominique de Villepin, the Prime Minister who had been groomed to replace M. Chirac in next year's presidential elections. [More>>timesonline.co.uk]
---
4.10.06 Eight killed, including four doctors, in new Afghan attacks
KABUL, April 10 – Fresh attacks linked to Taliban insurgents killed eight people in insurgency-hit Afghanistan, officials said on Monday, with four of the dead working as doctors in a remote province. The four doctors and their driver – all Afghans – were killed in the normally calm western province of Badghis when unidentified attackers stormed a health clinic late on Sunday, a provincial governor said on Monday.

Governor Anayatullah Anayat blamed the attack on the clinic, funded by a range of foreign nongovernmental organizations (NGOs), on "enemies of the government and peace," a term often used to refer to Taliban fighters. Badghis has seen little of the violence that is plaguing southern and eastern Afghanistan. Those regions experience near daily attacks, mostly suicide attacks and roadside bomb blasts. [More>>metimes.com]
---
4.10.06 Lethal clashes continue in Turkey
DIYARBAKIR, Turkey (AFP) April 10 – Violent clashes between the Turkish security forces and Kurdish militants continued unabated on Saturday, causing deaths on both sides and sparking a short-lived hostage-taking in Istanbul. The last two weeks have seen a sharp surge in violence in the southeast, where the outlawed Kurdistan Workers' Party (PKK) has been waging an armed campaign for Kurdish self-rule since 1984. On March 25, Turkish army troops killed 14 presumed PKK rebels, sparking several days of riots in the southeast and a wave of deaths on both sides.

In the latest wave of attacks, security sources said on Saturday that six Kurdish militants suspected of involvement in the deaths of five soldiers were killed on the previous day in clashes with an army commando unit in the southeastern province of Sirnak, which is situated near the border with Iraq. A seventh militant was killed in a rural area near Batman, 180 kilometers northwest of Sirnak in a security sweep, the Anatolia news agency reported. It said that 25 kilograms of explosives had been found at the scene of the fighting. [More>>dailystar.com.lb ; See related stories, turkishpress.com, April 9, "Erdogan: Turkish government will not sit at negotiation table with terrorist organization PKK.", kurdistanobserver.com, April 5, News Snapshot, " Iran's ambassador to Turkey, Firouz Dowlatabadi, warned in an interview published Tuesday that Turkey, Iran and Syria need a joint policy on the Kurdish issue or "the US will carve pieces from us for a Kurdish state," reported AP." and map of the territory Kurds identify as Kurdistan, covering a slice of northerin Syria, northern Iraq, western Iran and southeastern Turkey. The Kurdish language is related to Persian.
---
4.10.06 Hamas: Israel severing security ties with PA is 'declaration of war'