4.19.06 Saturn's storms run rings around earths'
April 19 – On Saturn, it may be a very long wait for the calm after a storm. As big and destructive as hurricanes on Earth can be, at least they don't last long. Not like those on Saturn, where storms may rage for months or years. Viewed from space, hurricanes on Earth and the huge atmospheric disturbances observed on Saturn look similar.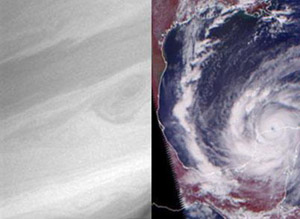 Two Saturnian storms swirl in the region informally dubbed "storm alley" by scientists; right, hurricane Isidore. (jpl.nasa.gov)
But their differences are greater and offer intriguing insights into the inner workings of the ringed world being investigated by scientists on NASA's Cassini mission.
Earth's hurricanes and Saturn's storms each have swirling clouds, convection, rain and strong rotating winds. "Hurricanes on Earth are low pressure centers at the ground and high pressures at the top where the storms flatten out," says Dr. Andrew Ingersoll, member of the Cassini imaging team and professor of planetary science at the California Institute of Technology in Pasadena, Calif. "Storms on Saturn could be like hurricanes if what we're seeing is the top of the clouds." The frequency of storms on Saturn seems to be about the same as on Earth, and the fraction of planet occupied by storms is also similar. Not surprisingly, since Saturn is so much larger than Earth -– nine Earths would fit across its equator – its storms are bigger.
Hurricane Katrina stretched more than 380 kilometers (240 miles) across, for example, while two storms the Cassini spacecraft spotted in February 2002 each extend more than 1,000 kilometers (620 miles) in diameter, about the size of Texas or France.
[More>>jpl.nasa.gov]
---
4.19.06 Scientists condemn US as emissions of greenhouse gases hit record level
April 19 – The United States emitted more greenhouse gases in 2004 than at any time in history, confirming its status as the world's biggest polluter. Latest figures on the US contribution to global warming show that its carbon emissions have risen sharply despite international concerns over climate change. The figures, which were quietly released on Easter Monday, reveal that net greenhouse gas emissions during 2004 increased by 1.7 per cent on the previous year, equivalent to a rise of 110 million tons of carbon dioxide.

This is the biggest annual increase since 2000 and means that in 2004 - the latest year that full data is available - the US released the equivalent of nearly 6,300 million tons of carbon dioxide into the atmosphere. Scientists in Britain condemned the increase, saying that it showed how the US was failing to take a lead in the international attempt to curb greenhouse gas emissions despite being the worst offender...Scientists have suggested that if the international community is to try to stabilize carbon dioxide levels at twice pre-industrial levels then countries such as the US and Britain need to reduce emissions by about 60 per cent by the middle of this century...[Full story>>independent.co.uk]
---
4.19.06 Rove loses a post in White House overhaul
WASHINGTON, April 19 – The overhaul of the White House staff continued today as Karl Rove gave up his portfolio as senior policy coordinator to concentrate more on politics and November's midterm Congressional elections and Scott McClellan stepped down as the president's chief spokesman. Mr. Bush announced that the policy position will be taken by Joel D. Kaplan, who is now the deputy budget director.

The moves came after a pledge on Monday by the new chief of staff, Joshua B. Bolten, to "re-energize" the White House's internal operations. They leave the White House with three deputy chiefs of staff: Mr. Rove, Mr. Kaplan and Joe Hagin, who handles administrative matters. Mr. Rove has been Mr. Bush's senior political adviser since his campaign for governor in Texas. Just over a year ago, he was promoted to deputy chief of staff in charge of policy development. [More>>nytimes.com]
---
4.19.06 Teachers beheaded in Baghdad in front of students
BAGHDAD (Reuters) April 19 – Separate groups of gunmen entered two primary schools in Baghdad on Wednesday and beheaded two teachers in front of their students, the Ministry of State for National Security said. "Two terrorist groups beheaded two teachers in front of their students in the Amna and Shaheed Hamdi primary schools in Shaab district in Baghdad," a ministry statement said. A ministry official said he believed the attacks were aimed at "intimidating pupils and disrupting learning." [khaleejtimes.com] ; See update, thestar.com.my (Reuters)April 19, Iraq police, US deny teachers beheaded at school."]
---
4.19.06 Han becomes first female prime minister
April 19 – The National Assembly yesterday endorsed the appointment of Han Myeong-sook as Korea's first female prime minister in a move hailed as a major step forward for women in the traditionally male-dominated society. Her nomination was approved by 182 lawmakers of the 264 who cast their ballots, a relatively strong endorsement that well exceeded the 132 votes required for confirmation. Seventy-seven voted against the appointment while three abstained. Two ballots were declared invalid. Han, a lawmaker of the ruling Uri Party and former jailed democracy activist, will now head the Cabinet and be the second only to President Roh Moo-hyun in power once Roh formally appoints her today. [More>>koreaherald.co.kr]
---
4.19.06 US urges all countries to cut nuclear ties to Iran
MOSCOW (RIA Novosti) April 19 – The US deputy secretary of state on Wednesday called for all countries to sever nuclear ties with Iran, including construction of a nuclear power plant at Bushehr being built with Russian help. Speaking following a Moscow meeting of the deputy foreign ministers of the five permanent UN Security Council members and Germany, Nicholas Burns Burns also said Iran had crossed the line drawn by the International Atomic Energy Agency, the UN's nuclear watchdog, and the Security Council had to offer an adequate diplomatic response to defiant Tehran.

He said the five permanent Security Council members and Germany, as well as the Group of Eight industrialized nations had to come to terms on specific moves toward Iran in the next two or three weeks. Burns said Tehran's announcement of successful accomplishment of a research-scale nuclear fuel cycle last week must prompt IAEA head Mohammed ElBaradei to conclude that Iran did not honor the IAEA and UN Security Council's demands to end uranium enrichment. [More>>rian.ru ; See related stories, thestar.com.my (Reuters) April 19, "Many Arabs favor nuclear Iran, even with weapons." and aljazeera.net, April 19, "Russia advises Iran to stop enrichment."]
---
4.19.06 Us Troops kill suspected suicide bomber in Afghanistan
JALALABAD, Afghanistan, April 19 – US forces shot dead a suspected suicide bomber Wednesday as he targeted a coalition convoy in eastern Afghanistan, while a policeman died in a separate incident, officials said. A man driving a small jeep tried to get between vehicles of the convoy on the main highway linking Jalalabad, the capital city of Nangahar province, to Torkham, a town on the Pakistani border, the official said.

"After American troops opened fire, the explosives-laden jeep blew up, which destroyed the vehicle," Abdul Jabar Durani, the chief of Ghanikhail district told...Earlier this week US troops injured a newborn baby girl, her mother, a boy of six and three other Afghan civilians when they fired at vehicles that ignored orders to stop, said Afghan police. Separately, a policeman was killed on Tuesday night when suspected militants ambushed a patrol with small arms fire in the northern province of Baghlan, provincial police chief Shir Alam told. [Full story>>jang.com.pk]
---
4.19.06 Jordan-Palestinian ties take a dive
AMMAN, Jordan (AFP) April 19 – Relations between Jordan and the Hamas-led Palestinian government took a sharp turn for the worse on Wednesday when Amman scrapped a visit by the new foreign minister saying that a Hamas arms cache had been discovered. Mahmoud Al Zahar had been due in Amman on Wednesday as part of a regional tour to raise funds for the Palestinian Authority (PA), which is facing a massive financial crisis after a cut in vital Western funding. But Jordanian government spokesman Nasser Jawdeh said that the visit was postponed until further notice "following the discovery of weapons, explosives and rockets in the hands of a Hamas group in Jordan." Zahar roundly denied that Hamas hid arms in any Arab country but played down the impact of the cancellation of his visit on relations with a key broker in the Middle East peace process. [More>>metimes.com]
---
4.19.06 Sudan man, chickens contract bird flu
April 19 – One man and five chickens have been found with the bird flu virus in Sudan, the health ministry says. Magdi Salih, the head of the epidemics department, said on Tuesday that tests carried out by Sudanese authorities on the man and chickens had proved positive for bird flu, but he did not say if the virus was the deadly H5N1 strain. The infected chickens were found at two farms in Sudan's Khartoum and Jazeera provinces, one of which belonged to the infected man. [More>>aljazeera.net] ; See related story, thejakartapost.com (AP) April 20, "Indonesia confirms 24th human death from bird flu."]
---
4.19.06 Japan confirms 25th mad cow case
TOKYO, April 19 – An expert panel of Japan's health ministry confirmed Wednesday that a dairy cow raised in western Japan has tested positive for mad cow disease, making it the 25th case of BSE in Japan. [More>>crisscross.com]
---
4.18.06 Two US 'spies' beheaded
MIRANSHAH, Pakistan (AFP) April 18 – Pro-Taliban militants beheaded two tribesmen in North Waziristan for allegedly working for American forces, said a security official on Monday. Gunmen captured one of the tribesmen and killed him in Khar Qamar on Sunday, said the official. "They beheaded the man and fled in his vehicle," the official said on condition of anonymity. Residents also found a headless body in Madhakhel, said the official. "All those working as US spies will face the same fate," proclaimed a note found near the body. [dailytimes.com.pk]
---
4.18.06 Lieberman: US could attack Iran's nukes
Apriil 18 – The US is probably incapable of completely destroying the Iranian nuclear program, but as a last resort it could attempt to knock out "some of the components" in order to "delay and deter it," Senator Joe Lieberman, the former Democratic vice presidential candidate and a serving member of the Senate Armed Services Committee, has told The Jerusalem Post.

Speaking at a time of almost daily declarations from Teheran concerning both progress in the nuclear program and hostility to Israel, Lieberman said he knew of no "set war plans" being drawn up by the Bush Administration and, "I don't think anyone's yearning for military action against Iran."

...Lieberman indicated that the US had learned a lesson, from both Osama bin Laden and from Adolf Hitler, to the effect that "sometimes when people say really extreme things, which at some level a lot of people don't want to even believe... they may actually mean it. They may intend to do it. So I do think that the statements of Ahmadinejad are taken very seriously, both with regard to [speaking of a world without] the US and with regard to Israel."

Asked what last-resort military option was available, Lieberman said: "I don't think anyone is thinking of this as a massive ground invasion, as in Iraq, to topple the government." Rather, he said, he envisaged "an attempt to hit some of the components of the nuclear program," primarily from the air, with some potential for covert ground assistance. [Full story>>Jerusalem Post ; See related story, aljazeera.net, April 18, "Iran says army can fend off any attack" and presentation by the Union of Concerned Scientists on the use of nuclear bunker busting bombs:
4.17.06 Nuclear Bunker Buster (RNEP) animation

April 17 – Click here for a Nuclear Bunker Buster (RNEP) animation by the Union of Concerned Scientists posted on the ucsusa.org website via afterdowninstreet.org.
---
4.18.06 Ruined treasures in Babylon await an Iraq without fighting
BABYLON, Iraq, April 18 – In this ancient city, it is hard to tell what are ruins and what's just ruined. Crumbling brick buildings, some 2,500 years old, look like smashed sand castles at the beach. Famous sites, like the Tower of Babel and the Hanging Gardens, are swallowed up by river reeds. Signs of military occupation are everywhere, including trenches, bullet casings, shiny coils of razor wire and blast walls stamped, "This side Scud protection."

Babylon, the mud-brick city with the million-dollar name, has paid the price of war. It has been ransacked, looted, torn up, paved over, neglected and roughly occupied. Archaeologists said American soldiers even used soil thick with priceless artifacts to stuff sandbags. ut Iraqi leaders and United Nations officials are not giving up on it. They are working assiduously to restore Babylon, home to one of the Seven Wonders of the World, and turn it into a cultural center and possibly even an Iraqi theme park. [More>>nytimes.com]
---
4.18.06 Viewpoint: AL Arabiya as new favorite satellite TV
April 18 – Alvin Snyder writes: The latest monthly television ratings in Saudi Arabia by the independent pollster IPSOS-STAT show Al Arabiya dramatically widening its lead over Al Jazeera as the number one satellite television news outlet for the Middle East. The United States government's choice to give Al Arabiya an exclusive interview with US Secretary of Defense Donald Rumsfeld could be an effect of the lead increase. At one time, Al Jazeera was the go-to news outlet for Middle Eastern viewers and the US used the popular network as a public diplomacy tool. However, it looks as if both viewers and US officials have found a new favorite.

Audience figures for March 2006 for Saudi Arabia, the Middle East's largest commercial market where approximately 70 percent of its advertising dollars are spent, show Al Arabiya with a 27.3 rating, opening a gap almost double the audience for Al Jazeera, which has a 16.7 rating. Only a year ago, in March 2005, Al Jazeera held an almost 10 point audience rating lead over Al Arabiya (29.5 percent to 20 percent), which went on the air only three years ago. [More>>metimes.com]
---
4.17.06 Strong worldwide condemnation for bomb attack in Israel
PARIS (AFP) April 17 – A Palestinian suicide attack that killed at least nine people in Tel Aviv on Monday provoked outrage in Israel, where the new parliament was being sworn in, as well as from observers around the world. Moderate Palestinian Authority president Mahmud Abbas condemned what he called an act of terrorism while Acting Prime Minister Ehud Olmert vowed that Israel would react in the "necessary fashion."

The Palestinian militant group Hamas, which recently formed a new government following its victory in January elections, laid the blame at Israelıs door, calling it a natural consequence of its "aggression." The attack was claimed by the Palestinian militant group Islamic Jihad, which has been behind all of the most recent bomb attacks in Israel.

In the United States, the White House called the bombing a "despicable act of terror.²...Russia – along with the United States, the European Union and the United Nations part of the so-called quartet, which proposed a "road map" for Middle East peace – called on both sides to resume negotiations for peace. [Full story>>khaleejtimes.com ; See related story, haaretzdaily.com, April 17, "Palestinian militants threaten to attack Jewish targets abroad."]
---
4.17.06 Iraq's political crisis deepens
BAGHDAD (AFP) April 17 – Iraq was thrown into deep political crisis on Monday after leaders canceled a much-awaited parliament session following their failure to resolve a bitter dispute over the prime minister. At least nine people were killed in violence across the country, while police recovered 12 bullet-riddled bodies in a notorious Baghdad district.

Despite the continuing political feuding, foreign minister Hoshyar Zebari predicted that the new government could be in place by the end of the month. "I hope by the end of April, to be very realistic with you," Zebari told the BBC. "We understand the impatience everybody is feeling, at home and abroad, among supporters of the new Iraq and we fully realize that time is of the essence." [More>>metimes.com]
---
4.17.06 Bush's new Chief of Staff signals shake up
WASHINGTON (AP) April 17 – Signaling a possible shake-up among President Bush's senior advisers, the new White House chief of staff told top presidential aides Monday to expect changes that ''refresh and re-energize the team.'' He invited anyone who is thinking of leaving before year's end to do so now.

Joshua Bolten, who took over the top staff job late Friday, did not ask for anyone's resignation in his first Monday morning staff meeting with the president's senior aides, presidential spokesman Scott McClellan said. No one stepped forward to say they would leave, either, McClellan said. But Bolten has Bush's full authority to make changes to the president's staff, which has had a low turnover rate, with many aides serving him for years. Bolten already has had closed door meetings with some top advisers and plans more in the coming days, McClellan said. [More>>nytimes.com via turkishpress.com]
---
4.17.06 US could attack Iran next year – Russian expert
MOSCOW (RIA Novosti) April 17 – The United States may attack Iran next year if it gains the support of the international community, a senior Russian international security expert said Monday. "If [the U.S.] ventures a military operation, it will conduct it next year after thorough political, military and propaganda preparations," Alexei Arbatov, head of the International Security Center in Moscow, told RIA Novosti.

But he said unilateral American actions, including the invasion of Iraq, had undermined Washington's position on the Iranian issue. "The Americans say Europe and Russia – with its proposal to enrich uranium for Iran – had an opportunity to reach and agreement with Iran. But these attempts have ended in failure, and therefore America will take another path," Arbatov said.

He also said the US would try to reach agreements with China, the EU and Russia separately, and would make concessions to them and neighboring Arab countries to isolate the Islamic Republic, as preventing Iran from creating nuclear weapons is Washington's key aim. [More>>rian.ru ; See related stories, khaleejtimes.com, April 17, "Iran has a nuclear right, but we're worried, say Gulf states." and Jerusalem Post (AP) April 17, "Iran testing sophisticated enrichment" : Iran's statement on Monday afternoon that it was conducting research and tests on a more sophisticated type of nuclear enrichment centrifuge could significantly speed the process of making fuel for either electrical plants or bombs, say analysts familiar with the technology. Iranian President Mahmoud Ahmadinejad told students that the country was testing the P-2 centrifuge - a more sophisticated type - in a speech last Wednesday, a day after he had trumpeted Iran's success in enriching uranium using a less-sophisticated type of centrifuge...
---
4.17.06 India says it won't commit to US on atomic testing
NEW DELHI (Reuters) April 17 – India said on Monday it would make no explicit commitment to the United States not to conduct fresh nuclear tests as part of a landmark civilian atomic cooperation agreement. New Delhi has refused to sign the Comprehensive Test Ban Treaty (CTBT), calling it discriminatory, but it did announce a unilateral moratorium on nuclear testing after it conducted atomic tests in 1998. The civilian nuclear agreement was finalized when President George W. Bush visited India last month. But a draft of the deal framed since suggested that the pact would be discontinued if India tested a nuclear device, the Indian Foreign Ministry said in a statement. [More>>expressindia.com ; See more details, aljazeera.net, April 17, "India: no ban on nuclear tests."]
---
4.17.06 Thousands evacuated as Danube reaches 111-year high
April 17 – A state of emergency was declared across much of the Balkans today as the Danube, swollen by heavy rain and the spring snow melt, rose to a 111-year high. Mass evacuations were being planned in riverside towns for 1,000 miles from the north-west tip of Serbia-Montenegro, through its neighbor Romania to coastal Bulgaria. Authorities are optimistic that water levels will subside in the coming week but fears are growing over the health risks caused by sewage and mosquitoes.

In Belgrade, the Serbian capital, low-lying streets are underwater and the city's ancient fortress has flooded. Hundreds of thousands of hectares of crops have been deliberately submerged in controlled floods to spare the downstream settlements. In Romania, the Danube's banks have crumbled under the river's fierce torrent: water flowed at a record rate of 15,900 cubic metres per second, double the normal flow of 7,900 cubic metres per second. At least 1,000 people have been evacuated from their homes. [More>>timesonline.co.uk]
---
4.17.06 The great betrayal: Pro-hunting Japanese seize control of whaling commission
April 17 – Through a lengthy, covert operation, Japan is poised to seize control of whale hunting – and that spells disaster for the endangered mammal. The environmental movement is facing one of its biggest-ever reverses, over one of its most cherished causes: Save The Whale. In a remarkable diplomatic coup, Japan, the leading pro-whaling nation, is poised to seize control of whaling's regulatory body, the International Whaling Commission (IWC), and so hasten the return of commercial whale hunting, which has been officially banned worldwide for the past 20 years.

While the world has been looking the other way, the Japanese have spent nearly a decade and many millions of dollars building up a voting majority in the IWC, by buying the votes of small member states with substantial foreign aid packages. Their aim is to reverse the moratorium on commercial whaling brought in by the IWC in 1986 as a result of the long Save The Whale campaign by Greenpeace and other environmental pressure groups. This has always been seen as of one of the environment movement's greatest success stories.

But anyone who opposes killing the great whales, or who thought that the main battle against the harpooners had been won, is in for a nasty surprise when at the IWC meeting in the West Indies, two months from now, this new majority is likely to become clear, and to be exercised for the first time. It will be a huge propaganda victory for the Japanese and the other nations determined to continue whale hunting, principally Norway and Iceland. [More>>independent.co.uk]
---
4.16.06 Anatomy of a revolt
April 16 – Evan Thomas and John Barry, Newsweek April 24, 2006 issue : What made a chorus of ex-generals call for the SecDef's head? The war over the war—and how Rumsfeld is reacting. Gen. Eric Shinseki, former chief of staff of the Army, says he is "at peace." But reached last week, he didn't sound all that peaceful. In the winter of 2003, alone among the top brass, Shinseki had warned Congress that occupying Iraq would require "several hundred thousand troops." Defense Secretary Donald Rumsfeld and his deputy, Paul Wolfowitz, had rewarded Shinseki for his honesty by publicly castigating and shunning him.

...The former four-star general appeared to be torn between his strong sense of duty and an uneasy conscience. The moral dilemma is as old as the republic. When does a military officer stand up to—and push back against—his civilian masters? And when does he just salute and say, "Can do, sir"?

It's a question of enormous consequence for a democracy with the world's most powerful military. The balance between the civilian and military is precarious. The model may be Lincoln, firing his commanders until he found one (Ulysses S. Grant) who would fight. But the modern reality is messier. It is generally forgotten that Franklin Roosevelt rejected the recommendation of his sainted Army Chief of Staff Gen. George C. Marshall to invade Europe in 1942—which would have been a fiasco. Harry Truman was widely vilified for—wisely—recalling the great Gen. Douglas A. MacArthur when MacArthur wanted to widen the Korean War by attacking China. On the other hand, Lyndon Johnson overreached when he stayed up at night picking bombing targets during the Vietnam War. In 1997, Army Gen. Hugh Shelton, then chairman of the Joint Chiefs of Staff, assigned the top brass to read "Dereliction of Duty," a classic study accusing Vietnam-era generals of failing to stand up to their civilian bosses.

...Somehow, the lesson did not sink in. Before the Iraq invasion, the senior military did not force a discussion of what to do after the war was won. Rumsfeld was obsessed with the plan of attack, but not the aftermath. [Full story>>Newsweek, msnbc.msn.com]

Editorial note: This article points out, as Gen. Shinseki aptly pointed out before Bush's invasion of Iraq, that when one attacks another nation one must occupy it, to establish a new infrastructure and government to sustain the objective of the invasion. Failure was assured and 30,000 - 100,000 Iraqi civilians have lost their lives along with US and allied deaths, when Paul Bremer disbanded the existing Baathist government, army and police without replacements – following the Rumsfeld strategy that was not concerned about the aftermath of the invasion. Many similar, failed strategies can be listed throughout history – from Hitler to Caesars like Domitian (I have compared George W. Bush to Domitian on a few occasions) – to confirm Shinseki's argument which recognized sectarian conflicts and insurgencies that could be trouble to an occupying force. For those of you who are history buffs, an ancient book, The Art of War, Sun-tzu , may be worth the read, through which one may discover that Bush has violated most of the commandments in that ancient book. Three years after the invasion, complaints of inadequate electrical, sewage, fuel and other necessities that were well supplied under Saddam Hussein persist. The reason for this neglect in US governance may be best explained by an article in the guardian.co.uk, July 5, 2005, "So, Mr. Bremer, where did all the money go?"

Mel Copeland
---
4.16.06 Six die in US strike on al-Qaida safehouse
BAGHDAD (AP) April 16 – Six people were killed during a raid Sunday as US troops stormed a house looking for an al-Qaida suspect south of Baghdad, the U.S. military said. In the capital, a bomb hidden in a shopping bag on a minibus killed at least three passengers. Iraqi politicians, meanwhile, continued talks over top posts in the next government ahead of a parliament session Monday. But there was little sign of progress, and some officials of the dominant Shiite alliance cast doubt on whether the session would take place.

US forces stormed the house in Youssifiyah, 12 miles south of Baghdad, about 2:15 a.m. Those inside started shooting, and the troops fired back, a U.S. statement said. Soldiers killed two men who were wearing suicide bomb vests, and a third detonated his explosives himself, the statement said. Two other suspected insurgents were killed. A woman also died in the crossfire, and three women and a child were wounded, the US said. Five American troops were injured, but none seriously. [More>>abcnews.go.com ; See related story, aljazeera.net, April 16, "Iraq attacks leave 17 dead."] : At least 17 people have died in two car bomb attacks and a bus shooting in Iraq. In the deadliest incident at least eight people were killed after a car bomb exploded near a market in Mahmudiya, south of Baghdad, police sources said. Earlier, at least four people died and several were wounded after a car bomb went off next to a minibus in Baghdad's Kamaliyah neighborhood. Gunmen also fired on a minibus in Baquba, north of Baghdad, killing five passengers and injuring four, police said. Meanwhile, US forces on Sunday killed five suspected fighters and detained five others in a raid on a house southwest of Baghdad. ...
---
4.16.06 Afghan clashes leave 14 Taliban dead
April 16 – Suspected Taliban fighters have attacked two police checkpoints along a highway in southern Afghanistan, sparking clashes that left 14 fighters dead, the Afghan police said. The clashes in Zabul province followed heavy fighting on Friday in neighboring Kandahar province, that officials say left 41 militants and six police dead - the biggest battle in a recent upsurge of rebel violence that threatens the war-battered nation's new democracy.

About 30 Taliban attacked the police posts late on Saturday in Qalat district, about 100km northeast of Kandahar, Ghulam Nabi Malakhail, the Zabul police chief said. There were no casualties among the police and the Taliban retrieved the bodies of their slain comrades after the fighting that lasted about 30 minutes, Malakhail said. [More>>aljazeera.net]
---
4.16.06 Massive fraud hits tsunami aid
April 16 – This was supposed to be the scene of the worldıs greatest aid effort, but endemic corruption has drained it of millions of pounds while leaving tens of thousands of tsunami victims stranded in tents. Banda Aceh was ground zero in the tsunami of Boxing Day 2004, which claimed more than 200,000 lives across the Indian Ocean. More people died here than anywhere else.

Now two charities that raised unprecedented sums in Britain have fallen victim to rip-offs that ruined their efforts to house the survivors and have forced them to suspend key projects. Save the Children and Oxfam were both targeted by unscrupulous building contractors who took their money, only to build structures so flimsy that a new wave would wash them away. Save the Children may have to write off more than £400,000 worth of building contracts. Oxfam, which counts its losses in "tens of thousands of pounds," has stopped its construction work around Banda Aceh until investigators establish the extent of the abuse.


...Yet the bereaved, the orphans and the dispossessed are eking out their 16th month in tents and shacks flung down amid palm groves and rice paddies around this sweep of ravaged coast, ringed by sharp-toothed green mountains, in the north of Sumatra. [Full story>>timesonline.co.uk]
---
4.16.06 Pakistanis find H5N1 bird flu on another farm
ISLAMABAD (Reuters) April 16 – The H5N1 bird flu virus has been confirmed at another Pakistani poultry farm, an Agriculture Ministry official said on Sunday. Authorities confirmed outbreaks of the H5N1 virus at two poultry farms in the Northwest Frontier Province (NWFP) in February. The new outbreak was discovered on a farm near the capital, Islamabad. [More>>khaleejtimes.com]
---
4.15.06 US Defense secretary 'should go'
WASHINGTON, April 16 – A former NATO commander Saturday joined six other retired generals in calling for Defence Secretary Donald Rumsfeld's resignation. "I believe secretary Rumsfeld hasn't done an adequate job. He should go," General Wesley Clark told Fox News Channel in an interview. Gen. Clark said Mr. Rumsfeld and Vice President Dick Cheney had pushed the United States into Iraq, and said the invasion "had no connection with the war on terror."

"They pressed for this, they pressed for open warfare before the diplomacy was finished," said the retired general and Fox News analyst. "It was a tragic mistake, a strategic blunder."

Asked whether it was appropriate to comment on the defence secretary's performance while the United States is at war, Gen. Clark replied: "It's more than an appropriate time. This country needed a better policy from the 2001 period on. Now these officers are saying at least give us somebody in the military chain of command who will listen. That's why secretary Rumsfeld has lost their confidence. He's made bad policy choices. It's time for new leadership."

Gen. Clark, who became supreme allied commander of NATO in 1997, is a frequent critic of the US administration's Iraq policy. He was a candidate for the Democratic Party presidential nomination in 2004 and is seen as a possible contender in the 2008 race.

President George W. Bush declared his "full support" for his embattled defence secretary Friday, moving to quell calls for Mr. Rumsfeld's resignation by a growing numbers of retired generals. [More>>theaustralian.news.com.au]
---
4.15.06 Governor: 41 Taliban killed in battle
April 15 – Forty-one Taliban and six police officers were killed in a battle in southern Afghanistan in an area where the Taliban's leader once lived, a governor said on Saturday. In the insurgency-hit Helmand province, an official was killed in a Taliban ambush on Saturday, police said. Nine police and several Taliban were wounded in Friday's fighting in Sangisar, a town 40 km (25 miles) southwest of Kandahar, said Asadullah Khalid, the provincial governor.

"Acting on intelligence reports that Taliban have gathered in Sangisar to plan an attack in Kandahar, we launched this operation Friday and the fighting continued from morning to evening," he said, according to the Associated Press. However, a Taliban spokesman, in a telephone call to Aljazeera's correspondent in Islamabad, rejected Khalid's account. Mohamed Hanif said 15 Afghan police and one Taliban fighter were killed in Friday's battle. [More>>aljazeera.net ; See another story, jang.com.pk, April 15, "Afghan district governor killed in Taliban ambush" : KANDAHAR: Taliban insurgents gunned down an Afghan district governor in troubled southern Afghanistan Saturday in an ambush in insurgency-hit Helmand province, police said. Abdul Majeed, the governor for the province's Baghran district, was killed in his car, district police chief Bahaudin Khan told foreign news agency...]
---
4.15.06 Dalai Lama meets with Muslim leaders at anti-terror summit
SAN FRANCISCO (AFP) April 15 – The Dalai Lama arrived in San Francisco on Friday to join Muslim leaders from around the world in an unprecedented summit on quelling violent religious extremism.. Tibetıs spiritual leader came in response to a prominent California Imam's invitation to help form a "United Nations of Religion" devoted to countering extremist violence.

Imam Seyed Mehdi Khorasani said the idea came after he met Dalai Lama Tenzin Gyatso in the US state of Idaho late last year. Khorasani wrote the Dalai Lama, urging him to meet with religious leaders and scholars to "construct a strategy that will unite our voices and express our common goal to live in a world without violence."The Dalai Lamaıs response was "You lead and I will follow; and when we reach it, I will lead you," Khorasani told AFP.

Religious leaders and scholars from approximately 30 countries were brought to San Francisco, with the bulk of the funding provided by The Kirlin Foundation. There were 100 panelists attending workshops in the Mark Hopkins Hotel atop Nob Hill on Friday to prepare for talks with the Dalai Lama there the next day. "The Dalai Lama has the power to bring people to the table," said panelist Daisy Khan, director of the American Society for Muslim Advancement based in New York City. [More>>khaleejtimes.com ; See also:

SF Chronicle, sfgate.com, April 15, Dalai Lama seeks to improve Islam's image" : ...Polls in Muslim countries have shown that some Muslims think of the Sept. 11 terrorist attacks as a good thing, said Muslim scholar Sheikh Hamza Yusuf. Co-founder of the Zaytuna Institute in Hayward, Yusuf advised President Bush in the days after the attacks.He also noted that polls have revealed that some Americans support bombing Mecca, Islam's holiest city.

"Who are the extremists?" he asked. "It's all of us. There's no 'us' versus 'them' here. We've got extremists on both sides. If we let extremist agendas chart the course for us on both sides, we're headed for a very, very frightening world." ...Even though Buddhist-Muslim relations are at the center of the gathering, organizers are emphasizing an even broader understanding of faith: that all religions are the same at their core. This message plays well in the religiously diverse Bay Area, where believers of all faiths often adapt aspects of other traditions. Organizers also plan to address the rise of fundamentalism in many religions, which they say can turn beliefs into political tools.

"It is hijacked religion that causes violence," said Huston Smith, an author and former professor at four major universities and a speaker at today's event. "In warfare, you need power,'' said Smith, a Berkeley resident. "Therefore, you have to believe that God is on your side and you are an instrument of God to do his will through warfare and fighting and the laying down of lives. The flip side of that is that the enemy is the demon, the axis of evil." ...]

Background on the Dalai Lama can be read at cbc.ca, April 16, 2004, "The Dalai Lama."
---
4.14.06 Mashaal meets with al-Qaida leader
April 14 – In an another sign of the Palestinian leadership growing alliance with al-Qaida, Damascus-based Hamas head Khaled Mashaal recently met in Yemen with a representative of Osama bin Laden's organization who is wanted by the US for his involvement in supporting and funding global terror, The Jerusalem Post has learned. During a visit to Yemen two weeks ago, the local Hamas branch organized a fund-raising event to recruit financial aid for the new Hamas-led Palestinian Authority government. During the event, Mashaal met with Sheikh Abd al-Majid al-Zindani – suspected by the US as being a "loyalist to Osama bin Laden and supporter of al-Qaida" – who even donated 200,000 Yemenite rials to Hamas, the equivalent of a little over $1,000.

"This meeting reinforces the fact that Hamas and al-Qaida come out of the same ideological well-spring of global jihad and the Muslim Brotherhood," said former ambassador to the UN Dore Gold, whose Jerusalem Center for Public Affairs carefully followed the meeting and recently published a paper on the Hamas-al-Qaida alliance. "They still share the same financial infrastructure to this day."

At the fund-raising event, Zindani praised Hamas suicide bombers and called on his followers to donate money to assist the Palestinian people. "The Hamas government is the Palestinian people's government today," he told the crowd of several thousand. "It is the jihad-fighting, steadfast, resolute government of Palestine." [More>>Jerusalem Post]

---
4.14.06 US bans money going to Palestinian government
JERUSALEM (AP) April 14 – The US government has barred Americans from doing business with the new Hamas-led Palestinian government, officials said Friday, the latest sign of US financial pressure against the Islamic militant group. In a memo obtained by The Associated Press, the US Treasury Department said "transactions with the Palestinian Authority by US persons are prohibited, unless licensed." In a memo obtained by The Associated Press, the US Treasury Department said "transactions with the Palestinian Authority by US persons are prohibited, unless licensed." It said the decision was based on "existing terrorism sanctions." [washingtonpost.com ; See also bbc.co.uk]
---
4.14.06 AT&T, Group challenge US spy program
SAN FRANCISCO (AP) April 13 – AT&T Inc. and an Internet advocacy group are waging in federal court a privacy battle that could expose the reach of the Bush administration's secretive domestic wiretapping program. The Electronic Frontier Foundation said it obtained documents from a former AT&T technician showing that the National Security Agency is capable of monitoring all communications on AT&T's network.

"It appears the NSA is capable of conducting what amounts to vacuum-cleaner surveillance of all the data crossing the Internet, whether that be people's e-mail, Web surfing or any other data," whistle-blower Mark Klein, who worked for the company for 22 years, said in a statement released by his lawyers.

US District Judge Vaughn Walker is considering whether to unseal documents that Klein provided and AT&T wants kept secret. EFF filed the documents under seal as a courtesy to the phone company, but is seeking to unseal them. [More>>abcnews.go.com]
---
4.14.06 Thirteen injured in bombings at Indian mosque
NEW DELHI, India (AP) April 14 – Two bombs exploded at New Delhi's main mosque shortly after hundreds of worshippers offered Friday prayers, injuring at least 13 people, an official said. The two blasts occurred within 30 minutes of each other at the Jama Masjid mosque, said Police Chief K.K. Paul. "We are investigating what kind of explosive devices were used," Paul said. Thirteen people were injured, said Chief Minister Sheila Dikshit.

The mosque was evacuated and police bomb disposal squads combed the mosque complex, Paul said. Police went on high alert and stepped up security across the city. It was not known who was behind the explosions, which were caused by at least two bombs planted in different parts of the complex. The explosions went off just before hundreds of people were to gather for evening prayers. The first bomb exploded near the washing area of the mosque, where people clean their hands before offering prayers, said Imam Bukhari, the mosque's chief cleric. [More>>nytimes.com ; See also expressindia.com, April 14, (AP) "Twin blasts in Delhi's Jama Masjid" and (AP) "Series of explosions hit Srinagar, 5 die." ]
---
4.14.06 Iraq death toll mounts as sectarian attacks intensify
BAGHDAD (AFP) April 14 – At least 42 Iraqis have been killed in attacks over the past 24 hours, security officials said on Friday, as politicians pressed four-month-old coalition talks amid the mounting sectarian unrest. Four Iraqis were killed when two roadside bombs went off next to two Sunni mosques in the restive city of Baquba, 60 kilometers (36 miles) northeast of Baghdad. Police said that three people were killed and two wounded in the first bombing next to Al Aqsa mosque, while another civilian died and three others were wounded in the second bombing near the Saad Bin Mahaz mosque. Both explosions occurred after Friday prayers near the sanctuaries located in the centre of Baquba. In the past few weeks dozens of people have died in a series of bombings and shootings in and around Baquba, the deadliest being a car bomb attack on a Shia mosque that left 26 people dead on Wednesday. [More>>metimes.com] ; See related stories, bbc.co.uk, April 14, "Iraqi construction workers killed" and independent.co.uk, April 14, "Six soldiers injured in Afghanistan and Iraq."]
---
4.14.06 China performs its first human face transplant
(Reuters) April 14 – Chinese doctors have performed the country's first face transplant, the second operation of its kind in the world, Xinhua news agency said on Friday. The 30-year-old patient, attacked by a bear, had two thirds of his face replaced in an operation that lasted 14 hours and ended on Friday. "The surgery is even more complex than the first face transplant in France in November last year," said Han Yan, deputy director of the plastic surgery department of the Xijing Hospital in Xian, capital of Shaanxi province. Surgeons in France carried out the world's first such operation on Isabelle Dinoire, 38, whose lips and nose were torn off by her own dog. The Chinese patient was given a new cheek, upper lip, nose, and an eyebrow from a single donor, Xinhua said. The patient was attacked by a bear in 2004. [More>>chinadaily.com.cn ; See more details, timesonline.co.uk, April 14]
---
4.14.06 One killed in Islamist attacks on Alexandria churches