News Headlines & Trends
---
8.08.09 French and UK embassy staff seek Iran's mercy
TEHRAN, August 8 - A French woman and two Iranian employees of the British and French embassies in Tehran charged with acting against Iran's national security pleaded for clemency from the clerical leadership on Saturday, the Fars and IRNA news agencies reported. "I should not have taken part in illegal protests (over Iran's June presidential vote)...I regret my activities and I apologize to the Iranian nation and the court. I hope they will pardon me,"

Fars quoted French citizen Clotilde Reiss as saying in the court. Nazak Afshar, an Iranian working for the French embassy, was also charged with "providing information over the vote unrest to foreigners." "We were not authorized by the embassy to go to rallies but we were told to shelter protesters if necessary," Afshar said. The British embassy employee, Hossein Rassam, was charged with espionage and confessed to handing information about the unrest to Washington and called for clemency from the court, IRNA said. [More>>alarabiya.net; See also

thestar.com.my (Reuters) August 8, "Father of French woman in Iran sees solution" : PARIS - The father of a Frenchwoman charged by an Iranian court with spying and aiding a Western plot to overthrow the clerical rule said on Saturday he believed a solution would be found in the coming weeks. French university teaching assistant Clotilde Reiss was charged on Saturday along with two Iranians working for the British and French embassies in Tehran, and dozens of others.

"I see a solution in the coming weeks," her father, Remi Reiss, told French television in Paris. He last had contact with his daughter a week ago and said she was holding up well. "She is in good health," he said. Reiss was charged with "acting against national security by taking part in unrest...collecting news and information and sending pictures of the unrest abroad," Iran's state news agency IRNA said. Espionage and acting against national security are punishable by death in Iran. Reiss on Saturday confessed her "mistakes" and asked for clemency, IRNA said. [end]
---
8.08.09 Fatah: We'll sacrifice victims until Jerusalem is ours
August 8 - The status of Jerusalem as the future capital of a Palestinian state is a red line that no Palestinian leader is permitted to cross, President Mahmoud Abbas' ruling Fatah faction declared in the West Bank on Saturday. According to Israel Radio, the Fatah general conference, which convened in Bethlehem for a three-day gathering, adopted a position paper which also states that the Palestinian national enterprise will not reach fruition until all of Jerusalem, including the outlying villages, come under Palestinian sovereignty.

Fatah, which rules the West Bank but was ousted from power in Gaza by the Islamist Hamas movement, also ruled out any interim agreements with Israel. "Fatah will continue to sacrifice victims until Jerusalem will be returned [to the Palestinians], clean of settlements and settlers," the paper states...Mahmoud Abbas was re-elected on Saturday to lead Fatah by consensus at the party conference. [Full story>>haaretz.com]
---
8.08.09 Baitullah alive, in hiding as part of 'war strategy': Pakistan Taliban
August 8 - Pakistani Taliban chief Baitullah Mehsud has not been killed in a US drone attack earlier this week, his deputy said on Saturday, creating confusion whether the most wanted militant commander was dead or alive. Hakimullah Mehsud, who heads Taliban fighters in the Orakzai tribal region, told several media organizations, including BBC's Urdu service, that Baitullah Mehsud was "alive and in a safe place." The 35-year-old militant leader had gone into hiding as part of the Taliban's "war strategy," Hakimullah claimed. The Pakistan government said on Friday that it had received reports from intelligence agencies about Mehsud's death in a drone attack on his father-in-law's home in South Waziristan on Wednesday. Foreign Minister Shah Mahmood Qureshi said Mehsud had "been taken out." [More>>indianexpress.com; See related story,
timesofindia.indiatimes.com, August 8, "Baitullah's likely successor Hakimullah dies in Taliban infighting" : ISLAMABAD (Reuters) August 9 - The Pakistani government has received reports that shooting broke out between two rivals for the leadership of the Pakistani Taliban, and one of them may have been killed, the interior minister said on Saturday. Pakistani news channels were carrying unconfirmed reports that Hakimullah Mehsud, one of the movement's most powerful commanders, had been killed at a shura, or council meeting, held to decide who would succeed slain leader Baitullah Mehsud. "The infighting was between Wali-ur-Rehman and Hakimullah Mehsud," Interior Minister Rehman Malik told Reuters. "We have information that one of them has been killed. Who was killed we will be able to say later after confirming." ...

8.07.09 article, Maravot News, (abcnews.go.com, August 7), "Is Bin Laden next on Drone's hit list?" : ...Already, possibilities for Mehsud's successor — and possible targets for the drones — have been identified: Hakimullah Mehsud, one of Mehsud's deputies...Wali ur-Rehman, who has helped control access to Mehsud and acted as a messenger between the Taliban chief and his deputy...

related story:

thenews.com.pk, August 8, "Twenty terrorists apprehended from Malakand: ISPR" : SWAT, Pakistan - Search and clearance operations are continuing in Swat and Malakand with the support of local Lashkars. According to ISPR, 3 terrorists voluntarily surrendered to security forces along with weapons at Arambagh in Swat. Nine terrorists were apprehended from Sambat near Matta, Shangwatai and Bodigram during [a] search operation while 4 suspects were arrested from Chankulai Churlak Sar along with 2 rifles. Security forces conducted [a] search operation at Sar China near Charbagh and recovered stolen gold Jewelry from the house of terrorist commander Khatmula. Security forces apprehended 2 terrorists from Bodigram near Matta and Bar Bamakhela. Dr. Muhammad Rasul Khan a government employee at Batkhela Hospital (a facilitator and harborer of terrorist[s]) including an Afghan national was also apprehended. [end]
---
8.08.09 51 killed in bombings against Shiites in Iraq
BAGHDAD, August 8 - A suicide truck bomber flattened a Shiite mosque Friday in northern Iraq, and roadside bombs struck Shiite pilgrims in Baghdad, as at least 51 people were killed and scores wounded nationwide. It was the second-deadliest day since US forces turned over urban security to the Iraqis more than a month ago, raising fears that Sunni insurgents are intensifying a campaign to re-ignite sectarian violence that pushed the country to the brink of civil war. The blast in a northern suburb of Mosul reduced the mosque and several nearby houses to rubble, leaving scores of worshippers and neighbors trapped underneath. [More>>japantoday.com]
---
8.08.09 Eight killed in Shia-Sunni clashes in Yemen
SANAA (AFP) August 8 - Eight gunmen were killed in clashes in northern Yemen between Zaidi Shia rebels and Sunni hardliners amid continuing tension between the rebels and the authorities, local sources said on Saturday. The overnight fighting between rebels and tribesmen described as Salafists took place in the border area of Baqim, north of the restive Saada region which is the rebels' main bastion, sources close to the rebels said. Salafists, from a Sunni Muslim school of thought that prevails in neighboring Saudi Arabia, despise the Shias. [More>>khaleejtimes.com]
---
8.08.09 Clashes rock Somali pirate port
August 8 - Overnight gun-battles between rival clans in a pirate stronghold on the coast of Somalia have left at least 17 dead and 30 injured, reports say. Local residents in Haradheere fled as fighting, reportedly over land and the alleged rape of a woman, intensified. Pirates who operate in the area, a port off the shipping lanes linking Europe to Asia, said they were worried the conflict could affect their activities. Somalia, torn by civil war since 1991, lacks an effective central government.

"The two clans are fighting over land and a girl who was raped in the forest," a local man, Farah Aden, told Reuters news agency. "Unfortunately, the battles spread into town. Fighting is going on fiercely." A pirate, who gave his name as Mohammed, told Reuters that those involved in piracy around the port were concerned that their activities would be damaged. "We are all members of these two clans, and we are worried that this fight might end up being taken out on to the ocean," he said. [>bbc.co.uk]
---
8.07.09 Jobless rate falls to 9.4% as layoffs slow
August 7 - Employers Shed Just 247,000 Jobs, Dramatically Lower Than Expected; Strong Sign Recession Is Ending. Employers throttled back on layoffs in July, cutting just 247,000 jobs, the fewest in a year, and the unemployment rate dipped to 9.4 percent, its first decline in 15 months. It was a better-than-expected showing that offered a strong signal that the recession is finally ending. The new snapshot, released by the Labor Department on Friday, also offered other encouraging news: workers' hours nudged up after sinking to a record low in June, and paychecks grew after having fallen or flat lined in some cases. [More>>cbsnews.com]
---
8.07.09 Taleban commander Baitullah Mehsud killed in US missile strike
ISLAMABAD, August 7 - Baitullah Mehsud, the head of the Pakistani Taleban and the country's most wanted man, has been killed in a CIA missile strike, dealing a major blow to the Islamic insurgency. Mehsud was killed with one of his wives when a missile fired by a US drone struck his house in Zangar village in South Waziristan two days ago. Shah Mahmood Qureshi, the Pakistan foreign minister, said that intelligence showed Mehsud had been killed in Wednesday's missile strike on his father-in-law's house, but authorities would travel to the site to verify his death.

Mehsud, aged 35, who suffered from a kidney ailment, was being administered an intravenous drip on the roof of the sprawling compound at the time of the attack, a senior Pakistani intelligence official told the Times. One of his brothers-in-law and several of his associates were also killed in the precision attack. Taleban sources confirmed the death of their leader as tribesmen gathered at an undisclosed place to elect his replacement. He was buried in a village close to his home town, Makeen. The death of a man declared as public enemy one is a significant blow to the Taleban. [More>>timesonline.co.uk; See related stories,

thenews.com.pk, August 7, "Swat operation: 2 terrorists killed, 5 apprehended" : SWAT, Pakistan - Security forces have killed 2 terrorists and apprehended few suspects during search operation at Maloch near Kabbal areas of Swat.

thenews.com.pk, August 7, "18 killed in attacks on PC offices in Tank" : TANK, Pakistan - At least 18 persons were killed and four sustained injuries in a pre-dawn attack at the offices of peace committee at Mullazi and Umerada Ada in Tank district, an official of district police said. Around 200 militants equipped with automatic weapons attacked the offices of peace committees headed by Turkistan group at around 2am, killing nine persons instantly and wounding four others.

The dead identified are Usman son of Shah Duran, Hazrat, Baitullah Khan son of Rehmatullah Khan, Syed Hassan, Azizullah, Jehanzai, Zarai Khan and Mian Gul while Mian Gul son of Ikram, Zahoor Ahmed, Syed Ayaz and another person sustained injuries. The firing continued for about two hours. There are reports that militants were also killed in retaliation firing. They took the bodies along taking advantage of darkness. The death toll may increase as condition of some of the members was stated to be critical. The injured were rushed to local hospital. Soon after the incident police cordoned off the area and started [a] search operation.

The sources said Ismatullah Shaheen — a close aide of Baitullah Mehsud — took away with them the bodies of 11 extremists. It should be pertinent to mention here that the supporters of Baitullah Mehsud and Turkistan are locked in hostilities with the latter group on the side of the government. The attacks on the Peace Committee's office claimed the lives of 18 persons from both the sides. [end]
abcnews.go.com, August 7, "Is Bin Laden next on Drone's hit list?" :If the US is able to successfully kill Pakistan's most wanted man, Taliban chief Baitullah Mehsud, it begs the question: Why haven't they been able to do the same to Osama bin Laden, the world's most wanted man? "Why can't we find bin Laden and why isn't our intel better to ferret him out is a very legitimate question to ask," said Jack Cloonan, a former FBI case agent on the Osama bin Laden and al-Qaeda investigations and now an ABC News consultant. Cloonan said that while critics may be frustrated that the US is able to locate and kill Mehsud but have not been able to do the same with bin Laden, Mehsud's killing serves as a "reaffirmation to the US's resolve on the war on terrorism." "From a tactical point of view, when you have a success like this it shows that the fusion cells that have been set up between special operations on the US side, the CIA and Pakistan, are working," said Cloonan.
"In order for you to get someone in a place like [Makeen] it means that ultimately you have to have eyes and ears on the ground and have known that Mehsud would be there ahead of time," he said. "That speaks volume about information sharing." According to Joe Elder, a professor of sociology and a specialist on Pakistan at the University of Wisconsin, Mehsud has likely been under extreme surveillance for a long time now, whereas bin Laden has remained a moving target. "With the assistance of Pakistani intelligence it's much easier to track down and follow the head of the Pakistani Taliban. Many of them have been residing in the region for a long time," said Elder. "It's his home turf, so it's an easier target."

...Already, possibilities for Mehsud's successor — and possible targets for the drones — have been identified: Hakimullah Mehsud, one of Mehsud's deputies...Wali ur-Rehman, who has helped control access to Mehsud and acted as a messenger between the Taliban chief and his deputy commanders...[Full story>>]
---
8.07.09 Hizb militants asked by Salahuddin to strike terror in India
NEW DELHI, August 7 - Two suspected Hizbul Mujahideen militants, who were arrested in Delhi, had met the outfit's chief Syed Salahuddin in terrorist training camps in Pakistan- occupied Kashmir where he asked them to carry out terror strikes in India, police claimed on Friday. Javed Ahmed Tantray and Ashiq Ali Bhatt, the alleged militants belonging to Jammu and Kashmir who were remanded to police custody till August 17 by a court on Friday following their arrest from central Delhi's Daryaganj at around 11 PM last night, had met Salahuddin several times after their first introduction in 2003. [More>>indianexpress.com]
---
8.07.09 Police in shootout with bomb suspects
(AFP) August 7 - Indonesian police have exchanged gunfire with the occupants of a suspected hideout of alleged wanted Asian terror mastermind Noordin Mohammed Top, a police spokesman says. Spokesman Nanan Soekarna said the target was the network blamed for a series of deadly terror attacks, including last month's twin suicide bombings on the JW Marriott and Ritz-Carlton hotels in Jakarta. "There was shooting between the special detachment team and the people inside the house," Mr. Soekarna said on Friday, referring to an elite anti-terror police team engaged in a hunt for Noordin and his accomplices. "This house was our target," he said.

Malaysian Islamist Noordin is blamed for multiple suicide bombings in Indonesia which have killed more than 40 people since 2003. The raid took place around 3pm local time in a village in Central Java, according to a report from Metro TV. Two people from the house have been arrested, the report said. Asked by AFP whether any terror suspects from Noordin's network have been arrested, spokesman Mr. Soekarna said: "We hope so." [>news.com.au; See related story,

thejakartapost.com, August 7, "Noordin M Top arrested: Al Jazeera" : Terrorist Noordin M Top was arrested Friday by police, Kompas.com quoted Al Jazeera. "Officially the police are still denying that they have captured Noordin Top in central Java, but a very reliable source on the ground have told us they captured a man very likely to be Noordin Top," Step Vaessen, Al Jazeera's correspondent, reported. Noordin allegedly masterminded the recent JW Marriott and Ritz-Carlton hotels bomb blasts. The blasts killed nine people and injured more than 50. [end]
---
8.07.09 At least 26 killed, 70 wounded in Iraq bombings
BAGHDAD, August 7 - Attacks aimed at pilgrims marking key religious ceremony. At least 26 people were killed and 90 others wounded in Iraq on Friday in a series of bomb attacks aimed at Shiite pilgrims marking a key religious ceremony, Iraqi police said. A suicide car bomber targeting worshippers leaving a Shiite Muslim mosque in northern Iraq killed 21 people and wounded 72 other. The attack took place just north of the city of Mosul, 390 kilometers (240 miles) north of Baghdad. Police said the toll was an initial figure and likely to rise.

Meanwhile, two roadside bombs struck two minibuses in separate incidents in the poor Baghdad Shiite district of Sadr City. Three people were killed and eight wounded in one blast, and one person was killed and another five wounded in the other. Another roadside bomb struck a minibus in eastern Baghdad, killing one person and wounding six others, a hospital source said. Hundreds of thousands of pilgrims poured into Iraq's holy city of Kerbala on Thursday to mark the birth of Imam Mohammed al-Mehdi, a figure Shiites believe vanished centuries ago and will return to bring peace on earth. [More>>alarabiya.net]
---
8.07.09 Seven Western troops killed in Afghanistan
KABUL (Reuters) August 7 - Seven Western troops were killed in attacks in Afghanistan in the past 24 hours, the US military and NATO said on Friday, as violence worsened ahead of an election in the eight-year-old war's deadliest phase. The deaths brought the toll for the first week of August to 18 foreign troops, including 11 Americans, on pace to match the previous month, by far the deadliest of the war with 76 international fatalities...Four American service members were killed when their vehicle struck a homemade bomb on Thursday, the US military said. [Full story>>khaleejtimes.com]
---
8.06.09 US treasurys fall as Government announces record US $75b auction
NEW YORK, August 6 - Treasury prices mostly fell Wednesday after the government said it would auction a record $75 billion in debt next week. The government has been issuing massive amounts of debt in part to pay for its efforts to reinvigorate the economy and stabilize the banking system, and the anticipation of another flood of debt weighed on prices. The 10-year note, which is used to determine rates on mortgages and other kinds of loans, fell 15/32 to 94 29/32 and its yield rose to 3.75 percent from 3.69 percent late Tuesday. Investors have been concerned that the supply from the auctions will overwhelm demand, although recent sales have gone smoothly. The fear is that a drop in demand could force the government to boost the return it pays and in turn lead to higher borrowing costs in general, hampering a recovery in the economy. [More>>thestar.com.my;

---
Editorial note: Interest expense on the National Debt will also increase as rates increase. So far in Fiscal Year 2009 (Oct. 2008-June 2009) the US has paid $320.6 billion in interest. This is about a 2.7% interest rate. The National Debt (Public Debt) as of 8.04.2009 is $11.659 trillion. If the US Treasury were to increase rates to 5%, to make the bonds more attractive, interest on the $11.6 trillion would be $580 billion (Prior to the economic collapse interest on the US debt ranged about 4-5%.). For debt history see Maravot News National Debt. The US treasury's monthly statement for June 2009 shows the current deficit at $1.086 trillion (Receipts $1.588 trillion; Outlays $2.674 trillion).

Mel Copeland
---
8.06.09 2003 Mumbai blasts: Court awards death penalty to 3 convicts
MUMBAI, August 6 - Six years after two blasts at the iconic Gateway of India and Zaveri Bazaar in Mumbai left 52 persons dead, three Lashkar-e-Taiba members, including a couple, were sentenced to death by a POTA court for carrying out the explosions. Handing down the noose to the trio — Mohammed Hanif Sayeed (46), his wife Fahmida (43) and Ashrat Ansari (32), the judge P R Puranik observed that it had been proved beyond reasonable doubt they had committed heinous acts resulting in numerous deaths. The court agreed with special public prosecutor Ujjwal Nikam that this was a rarest of the rare case where capital punishment was justified. This is for the first time that a couple has been convicted by a POTA court for carrying out blasts. The trio was held guilty of planting two bombs in taxis that exploded at the Gateway of India and Zaveri Bazaar on August 25, 2003, claiming 52 lives and injuring 244. They had also planted a bomb on July 28, 2003 in a municipal bus in suburban Ghatkopar which killed two persons. [More>>indianexpress.com]
---
8.06.09 Rights group: Hamas guilty of Gaza war crimes
August 6 - Hamas committed war crimes against Israel by besieging it with rockets during the three-week war in the Gaza Strip earlier this year, according to a Human Rights Watch report released on Thursday. The 31-page report focusing on Operation Cast Lead, spotlights Hamas after Human Rights Watch and similar groups repeatedly accused Israel of committing war crimes. "Hamas forces violated the laws of war both by firing rockets deliberately and indiscriminately at Israeli cities and by launching them from populated areas and endangering Gazan civilians," HRW program director Iain Levine said. "Hamas rocket attacks targeting Israeli civilians are unlawful and unjustifiable and amount to war crimes," he said. "As the governing authority in Gaza, Hamas should publicly renounce rocket attacks on Israeli civilian centres and punish those responsible, including members of its own armed wing," Levine said.

According to the report, Hamas both fired rockets and allowed militants to do the same, in attacks that killed three Israeli civilians. The offensive, launched by Israel in late December, was aimed at stopping years of daily Palestinian rocket fire at Israeli communities. While the group also points to evidence of war crimes committed by Israel, it emphasizes that "violations by one party to a conflict never justify violations by the other." More than 1,100 Palestinians were killed during the offensive. Palestinians said most were civilians, but Israel has disputed that. [>haaretz.com; See more details, hrw.org]
---
8.06.09 Iran shuts down journalists' association
TEHRAN (Reuters) August 6 - Iranian authorities have shut down a leading journalists' organization, members of the group said on Thursday, a move condemned by international press groups. Armed men raided and sealed the Teheran offices of the Association of Iranian Journalists late on Wednesday, said the International Federation of Journalists (IFJ) which also called for Iran to free up to 42 reporters currently jailed. "It is true, it has been closed down," said a member of the Iranian association who declined to be named. "Government actions against media and journalists erode further the credibility and standing of the Government in national and the world opinion," the IFJ said in a statement.

Iran has arrested dozens of leading pro-reform politicians, journalists, lawyers and campaigners since the June 12 presidential election which reformists say was rigged in favour of hardline President Mahmoud Ahmadinejad. A court opened the mass trial of more than 100 reformists on Saturday on charges of inciting the unrest that followed the election; the biggest anti-government protests since the 1979 Islamic revolution. "Iran must not make journalists scapegoats for its political troubles," the IFJ said. Iran accuses the West of fomenting protests against the election which officials say was the healthiest in the history of the Islamic Republic. [>khaleejtimes.com]
---
8.06.09 Iran prosecutes jailers over protester abuse
TEHRAN (AFP) August 6 - Two officers punished for beating prisoners: police. Iranian police acknowledged on Thursday that some demonstrators arrested during protests over June's disputed presidential election had been mistreated and said several prison warders face punishment. The abuses took place in the Kahrizak detention center in south Tehran originally built for suspected violators of Iran's vice laws, a police statement carried by the ISNA news agency said, adding that the detained protesters should have been held in the capital's main Evin prison. "There were breaches of the rules and negligence by several managers and staff of the Kahrizak detention center," the statement said. "Two officers have been punished for beating prisoners."

Several managers and employees have been "sacked and face other sanctions for having received more prisoners than the center was intended to accommodate, for not reporting the problems encountered and for failing to check on the prison conditions of the detainees," it added. At the end of July, supreme leader Ayatollah Ali Khamenei ordered the closure of Kahrizak, saying that its facilities failed to safeguard prisoners' rights. Some 2,000 prisoners were detained during the protests that followed the controversial June 12 re-election of hard-line President Mahmoud Ahmadinejad. Most have since been released but more than 100 are now on trial. [>alarabiya.net]
---
8.06.09 7 terrorists killed, 17 apprehended in Swat: ISPR
SWAT, Pakistan, August 6 - Seven terrorists were killed and 17 others apprehended as search and clearance operations continued in Swat and Malakand with the support of local Lashkars during the last 24 hours. According to ISPR, security forces apprehended 6 suspects from Jan Patai near Alpurai while 2 terrorists were killed during search operation in Amankot. [More>>thenews.com.pk]
---
8.06.09 Roadside bomb kills 21 Afghan civilians
KABUL, August 6 - A roadside bomb hit civilians riding a tractor to a wedding in southern Afghanistan, killing at least 20 people, officials said Thursday. Helmand provincial police chief Assadullah Sherzad said women and children were among the 21 dead and five wounded in Garmser district, where roadside bombs are frequently used to attack foreign and Afghan forces. The Afghan Ministry of Defense said that the roadside bomb Wednesday morning killed at least 20 people. [More>>japantoday.com]
---
8.06.09 70 murders, yet close to going free in Pakistan
MULTAN, Pakistan, August 6 - It has been 12 years since Fida Hussein Ghalvi testified against the militant who was charged with killing 12 members of his family. But some days he feels as if he were the one who ended up in jail. He still gets threats, his servants all quit and an armed guard is posted at his gate. Most maddening is the fact that the militant — Malik Ishaq, one of the founders of the country's most vicious sectarian group, whose police record has a dizzying tally of at least 70 murders — has never had a conviction that stuck.
In Pakistan, the weakness of the state is matched only by the strength of its criminals. When Mr. Ishaq was arrested in 1997, he unleashed his broad network against his opponents, killing witnesses, threatening judges and intimidating the police, leading nearly all of the prosecutions against him to collapse eventually. Now, with the cases against him mostly exhausted, Mr. Ishaq, 50, jihadi hero and leader of the militant group Lashkar-e-Jhangvi, could be out on bail as early as this month. That prospect terrifies Mr. Ghalvi, whose world has shrunk to the size of his house in this central Pakistani city. "My life is totally constrained," he said. "I can't even go to funerals. What have I gotten from 13 years of struggle except grief?" [More>>nytimes.com]
---
8.06.09 Officials: Attacks kill 4 US troops, 15 Afghans
KABUL, Afghanistan (AP) August 6 - Four US Marines were killed Thursday when a roadside bomb struck their vehicle in western Afghanistan, driving up Western military deaths at a pace that would make August one of the deadliest months of the war. At least 15 Western troops have been killed in Afghanistan in August. Attacks killed at least 44 US service members and 31 from other international military forces in July, according to military reports. NATO declined to say exactly where the Marines were killed or immediately release other details of the attack. [More>>washingtonpost.com]
---
8.05.09 UK: Northern Rock on the rack - and we're paying
August 5 - £725m loss in first six months of year; 22,141 of borrowers more than three months in arrears; £11bn of taxpayers' money tied up in stricken bank. Northern Rock yesterday revealed the dark side of British banking, unveiling losses of £725m and an increase of taxpayer funding to £10.9bn. Just a day after Barclays and HSBC reported close to £6bn of first half-year profits, the lender that was nationalized after thousands of savers queued to withdraw money from its branches admitted that four out of 10 of its borrowers were now in negative equity — representing 218,400 households. The number of customers in arrears over three months has surged to 22,141, or 3.92 percent, due in part to the bank's notorious 125 percent mortgage product. That compares to 3.67 percent in arrears three months ago and 2.92 percent at the end of last year. [More>>independent.co.uk]
---
8.05.09 Jailed journalists Laura Ling and Euna Lee arrive in California with Bill Clinton
August 5 - In a tearful welcome home, American journalists Euna Lee and Laura Ling were greeted by their families as they arrived back in the United States this morning after 140 days of imprisonment in North Korea. The two landed at the Burbank, Calif., airport this morning, accompanied by former President Bill Clinton, whose landmark trip to the elusive nation secured the two's release. His former Vice President Al Gore today thanked his former boss and said that Obama administration officials had also been closely involved in the planning. President Obama applauded the work of the former administration officials in bringing the two women back and thanked Clinton and Gore for their efforts. [More>>abcnews.go.com]
---
8.05.09 Suspected US drone kills Pakistan Taliban chief's wife
PESHAWAR, Pakistan (Reuters) August 5 - The wife of Pakistani Taliban chief Baitullah Mehsud was killed on Wednesday in a missile strike by a suspected US drone in the South Waziristan tribal region, a relative said. It was uncertain whether Mehsud was present when the missiles struck a house belonging to his father-in-law in Makeen, an almost inaccessible village in the heart of Mehsud lands on the Afghan border. The United States has placed a $5 million reward on the head of Mehsud, an ally of al-Qaeda widely regarded in Pakistan as Public Enemy No. 1.

Shortly before 1:00am, two missiles struck the sprawling, high-walled compound of Ikramuddin Mehsud, a cleric whose daughter, Baitullah Mehsud, got married last November. A security official in the region said two militants were killed. The relative said Mehsud's wife was also among the dead. "I confirm that the woman who was killed in the strike was the wife of Baitullah Mehsud," the relative, who did not want to be identified, told Reuters by telephone. He said four children were among the wounded. Ikramuddin's daughter was Mehsud's second wife. Mehsud has no children by his first wife. [More>>timesofindia.indiatimes.com]
---
8.05.09 Kleenex maker to reduce use of old-growth timber
August 5 - The Kimberly-Clark Corporation, a giant in the paper-goods industry, has bowed to pressure from Greenpeace and agreed to reduce the amount of old-growth forest cut down to make its Kleenex and toilet paper. The paper company and the environmental group announced that news Wednesday morning in Washington. By 2011, Kimberly-Clark said, it will get 40 percent of the wood for tissue products sold in North America from recycled paper or from "environmentally responsible" lumber operations. In return, Greenpeace said it would end its four-year-old "Kleercut" campaign, whose name was a play on Kleenex. That campaign aimed to shame Kimberly-Clark into ending its use of old-growth timber, including some from far-north Canadian forests. [More>>washingtonpost.com; See also greenpeace.org]
---
8.05.09 Ahmadinejad sworn in amid crisis
(AFP) August 5 - Mahmoud Ahmadinejad was sworn in Wednesday for a second term as president nearly two months after a disputed election triggered massive street protests split Iran's clerical leadership and brought attacks from within his own conservative camp over mistreatment of detained opposition activists. In streets near parliament, security forces using batons dispersed hundreds of protesters who chanted "Death to the Dictator," witnesses said. Some wore black T-shirts in a sign of grief and others wore green — the color of the opposition movement. A middle-aged woman carried a banner warning Iran's leaders if they do not listen to people's demands, they will face the same fate as Shah Mohammad Reza Pahlavi, who was toppled in the 1979 Islamic Revolution. The opposition had called for demonstrations to coincide with the inauguration and a number of its key leaders — and all three of Ahmadinejad's election challengers — boycotted the swearing in ceremony in parliament. [More>>khaleejtimes.com]
---
8.04.09 Bill Clinton meets North Koreab leader Kim Jong-il to discuss detained journalists
August 4 - Former US President Bill Clinton met with detained journalists Laura Ling and Euna Lee in North Korea today in what was a very emotional meeting, a government source told ABC News. The source, who has knowledge of the Clinton team's mission, was hopeful that the two will leave North Korea tonight for the United States, possibly even on the same plane as Clinton. Earlier Clinton met with North Korean leader Kim Jong-Il in a surprise trip to the country,aimed at negotiating the release of the two journalists, who were arrested after straying into the country while they were reporting on the Chinese-North Korean border. They were later convicted and sentenced to 12 years hard labor. The White House today had little to say about the former president's visit except to stress that this is a "private mission." [More>>abcnews.go.com; See also

thejakartapost.com (AP) August 4, "Bill Clinton meets with N. Korean leader Kim Jong-il" : ...Clinton "courteously" conveyed a verbal message from President Barack Obama, the official Korean Central News Agency said in a report from Pyongyang. Kim expressed his thanks, and engaged Clinton in a "wide-ranging exchange of views on matters of common concern," the report said...It's only the second visit to Pyongyang by a former US leader. Jimmy Carter traveled to North Korea for talks with Kim's father, Kim Il Sung, in 1994 in a ground-breaking meeting during a time of similar tensions. Clinton's meeting with Kim would be the notoriously reclusive North Korean leader's first with a prominent Western figure since Kim reportedly suffered a stroke a year ago, sparking questions about the future of the nation he controls with absolute authority...
---
8.04.09 Toyota posts $819 million loss
TOKYO, August 4 - Toyota Motor said Tuesday it lost a net 77.8 billion yen, or $819 million, in the quarter that ended in June as global vehicle sales continued to slump. But the Japanese automaker trimmed its loss forecast for the current fiscal year by about 18 percent, to $4.7 billion. Toyota, which posted a record loss for the fiscal year that ended in March, said losses in the last three months were smaller than expected thanks to stringent cost-cutting and a decline in inventory. Government stimulus measures aimed at spurring purchases of low-emission vehicles in Japan and elsewhere provided somewhat of a boost, leading the company to revise upward both its sales and earnings forecasts for the full year. But sluggish sales in the United States, the company's biggest market, as well as a stronger yen, which erodes the value of overseas earnings, cut into its bottom line. [More>>nytimes.com; See related story,

thestar.com.my, August 4, "BMW's 2Q profit slides 76%" : BERLIN - Luxury automaker BMW AG said Tuesday that its second-quarter profit skidded 76 percent lower as consumers put off buying its pricey vehicles. It said a "lasting" economic recovery was not yet in sight. The Munich-based company earned euro121 million (US$173 million) in the April-June period, compared with euro507 million a year earlier. Sales fell 11 percent, dropping to euro12.9 billion from euro14.5 billion. Chief Executive Norbert Reithofer said that despite "some tentative positive signals, a lasting and wide-ranging recovery is not yet in sight."...
---
8.04.09 Al-Qaeda linked commander arrested in Iraq
BAGHDAD (AFP) August 4 - Leader believed to be responsible Ansar al-Islam. The suspected deputy leader of an Iraqi insurgent group allied to al-Qaeda has been arrested along with nine other fighters in the country's north, the US military said on Tuesday. Fakri Hadi Gari was arrested along with the other suspected Ansar al-Islam (AAI) fighters in Iraqi army-led raids in the restive northern city of Mosul on July 24, it said in a statement. "(Gari) is believed to be responsible for AAI recruitment and financing efforts and the operational director for AAI attacks. He is also believed to have facilitated the movement of terrorists across the borders of Iraq," the statement said. Ansar al-Islam is a predominantly Kurdish group believed to be allied to al-Qaeda in Kurdistan in the country's north. The group operates along the porous border between Iran and Iraq and has been blamed for attacks on coalition forces and Iraqi officials. [>alarabiya.net]
---
8.04.09 Rockets strike at heart of Kabul
August 4 - At least seven rockets have been fired into the heart of the Afghan capital, Kabul, in a rare attack that comes less than three weeks before presidential elections. Police said that at least one child was injured in Tuesday's attack on what is thought of as one of the safest parts of the country. Said Abdul Ghafar, the Kabul police chief, said that one rocket landed in the Wazir Akbar Khan diplomatic area, home to various embassies, including the US embassy, as well as the NATO-led force headquarters in Afghanistan. He said that the rest landed elsewhere in Kabul, at least one in a residential neighbourhood. [More>>aljazeera.net]
---
8.04.09 Fix for faulty gene may cure epilepsy
August 4 - Test breakthrough in mice could provide clues to treatment for humans. Epilepsy sufferers have been given fresh hope that a cure may be found after scientists prevented the condition being passed on to mice offspring, in a breakthrough described as "very exciting" by epilepsy charities. Scientists at Leeds University said they had proved that a faulty version of the gene which makes an enzyme called sodium-potassium pump is responsible for passing on the disorder. The mice, which have the faulty gene, known as ATP(12A)3, were bred so that they also carried a normal version of the same gene. Researchers found that the two genes counter-acted each other, preventing the condition from being passed from generation to generation.

The study, published yesterday in the US journal Proceedings of the National Academy of Sciences (PNAS), could be good news for the estimated 450,000 British epileptics. "Our study has identified a new way of in which epilepsy can be caused and prevented in mice, therefore it may provide clues to potential causes, therapies and preventative measures in human epilepsy," said lead researcher Dr. Steve Clapcote. The enzyme regulates the levels of sodium and potassium in the brain's nerve cells. "An imbalance of sodium and potassium levels has long been suspected to lead to epileptic seizures," said Dr. Clapcote. "But our study is the first to show beyond any doubt that a defect in this gene is responsible," he added. [More>>independent.co.uk]
---
8.03.09 UK manufacturing 'pulls out of nosedive' in July
August 3 - British manufacturing grew for the first time in 16 months during July, boosted by the fastest flow of new orders since November 2007. According to the Chartered Institute of Purchasing & Supply (CIPS), the Purchasing Managers Index, which measures activity in the manufacturing sector, rose from a reading of 47.4 to 50.8 between June and July. It is the first time the measure has risen above 50, the dividing line between contraction and growth, since March 2008. David Noble, chief executive of CIPS said: "The manufacturing sector has clearly pulled out of the nosedive it was in earlier this year and is no longer plummeting." [More>>timesonline.co.uk]
---
8.03.09 BofA to pay $33M fine over Merrill bonuses
NEW YORK, August 3 - SEC charged Bank of America with failing to alert shareholders about bonus payments to Merrill Lynch, bank settles and agrees to pay fine. The Securities and Exchange Commission filed charges Monday against Bank of America for misleading investors about billions of dollars in bonuses paid to top executives at Merrill Lynch following its purchase of the brokerage giant. Bank of America agreed to settle, without admitting to the charges. The company will pay a penalty of $33 million, which will be subject to court approval. The company was not immediately available for comment. [More w/ blog comments>>cnn.com; blog: (Matt Martinson) "...Imagine a free-market system driven by greed with no regulation.....oh wait, isn't that what we are recovering from?"; See related stories,

abcnews.go.com, August 3, "The bonus battle: Executive compensation under the spotlight, again": Billions in Bank Bonuses Could Stir Public Anger Against Obama's Administration. President Obama has slipped in recent polls on the question of his handling of the economy and health care, and voters have serious concerns about the skyrocketing federal deficit. On top of that, White House officials know that potentially compounding these worries are big Wall Street bonuses. Financial institutions receiving taxpayer assistance face a deadline this month to submit executive compensation pay package proposals to a US Treasury Department official to approve.

These pending bonuses come separately from a new report investigating compensation showing that nine banks that accepted $175 billion from the federal government's Troubled Asset Relief Program doled out $32.6 billion in bonuses last year. New York Attorney General Andrew Cuomo's report also said that the bonuses for some of the executives were "substantially greater" than the banks' net income. "To say that the taxpayer is going to foot the bill and the bank executive is going to walk away with a million-dollar bonus when it was a terrible year for the bank, that doesn't make sense to me," Cuomo said...

news.sky.com, August 3, "Bonuses back as big banks make billions" : LONDON - Barclays and HSBC each made £2.98bn profits in the first half of the year as bankers prepare for a return of bumper city bonuses. The Barclays figures came amid reports some executives have amassed £250,000 bonuses for six months work. That amounts to almost £1,500 a day. The payouts could spark further outrage from staff already angry at the closure of the bank's final salary pension scheme to around 18,000 existing members. The bank's profits were up 8% as income increased by 37% to £16.25bn. At HSBC, profits fell by 51% after the bank had to write off £8.3bn of loans — a 39% rise in bad debt. Barclays had to write off 6.8% of credit card loans as cash-strapped spenders hit the buffers in the recession. And for the first time more than half of its income — 51% — was generated from outside the UK...
---
8.03.09 Iran waiting for Khamenei's order to build N-bomb: Report
LONDON, August 3 - Iran is awaiting orders from its supreme leader, Ayatollah Ali Khamenei, to produce its first nuclear bomb, western intelligence sources have told The Times newspaper. According to sources, Iran completed its research program to create weaponized uranium in the summer of 2003, and now claims that once it receives orders from Khamenei, it could feasibly make a bomb within a year of it, the paper added.

A US National Intelligence Estimate said two years ago that Iran had ended its nuclear arms research programme in 2003 because of the threat from the American invasion of Iraq. But now intelligence sources have told The Times that Tehran had halted the research because it had acquired a way to detonate a warhead on its long-range Shehab-3 missiles. Should Ayatollah Khamenei approve the building of a nuclear device, it would take six months to enrich enough uranium and another six months to assemble the warhead. [>timesofindia.indiatimes.com]
---
8.03.09 Al-Qaeda tells Obama conditional truce offer stands
DUBAI (Reuters) August 3 - Al-Qaeda's second-in-command Ayman al-Zawahri said an offer the militant group made to the previous US administration of a conditional truce is still on the table for President Barack Obama. "If Obama wants to (reach) an understanding then he should respond to Sheikh Osama (bin Laden's) two offers," Zawahri said in an interview with al-Qaeda's media arm As-sahab, posted on an Islamist website on Monday.
"Obama is trying to sell illusions to the ... weak," Zawahri said of Obama's campaign to ease tension with Muslims increased by the wars in Iraq and Afghanistan. "He is trying to say do not hate us .... but we will continue to kill you..." Bin Laden said in 2006 "we do not mind offering a long-term truce based on just conditions that we will stand by ... a truce which offers security and stability and the rebuilding of Iraq and Afghanistan which war has destroyed." The United States dismissed the offer, saying it "does not negotiate with terrorists." [>thestar.com.my; See related story,

jpost.com, August 3, "Ayman-al Zawahri: Israel must be wiped off map" : Ayman al-Zawahri, Al-Qaeda's second-in-command, said on Monday that Israel should be wiped off the map and described the Jewish state as a crime against Muslims. Zawahri also accused US President Barack Obama of conducting a policy on Israeli-Palestinian issues that was bound to end in failure for the Palestinians, Reuters reported, saying that Obama wanted a Palestinian state that would serve as "an extension of the CIA."
"Israel is a crime that should be removed," the news agency quoted Zawahri as saying in an interview with al-Qaeda's media arm As-Sahab, posted on an Islamist website on Monday. Al-Qaeda has repeatedly lashed out at Obama since he was elected, a move some analysts believe indicates the terrorist organization is worried he will be effective in improving the US image in the Muslim world...
---
8.03.09 Pentagon eyes accelerated bunker buster bomb
WASHINGTON (REuters) Washington seeks heaviest bomb by July 2010. The Pentagon is seeking to speed deployment of an ultra-large "bunker-buster" bomb on the most advanced U.S. bomber as soon as July 2010, the Air Force said late on Sunday, amid concerns over perceived nuclear threats from North Korea and Iran. The non-nuclear, 30,000-pound Massive Ordnance Penetrator, or MOP, which is still being tested, is designed to destroy deeply buried bunkers beyond the reach of existing bombs. If Congress agrees to shift enough funds to the program, Northrop Grumman Corp. radar-evading B-2 bomber "would be capable of carrying the bomb by July 2010," said Andy Bourland, an Air Force spokesman.

...The precision-guided weapon, built by Boeing Co, could become the biggest conventional bomb the United States has ever used. Carrying more than 5,300 pounds of explosives, it would deliver more than 10 times the explosive power of its predecessor, the 2,000-pound BLU-109, according to the Pentagon's Defense Threat Reduction Agency, which has funded and managed the seed program. [Full story>>alarabiya.net]
---
8.03.09 Pakistani jets kill five Taliban militants
(AFP) August 3 - Pakistani fighter jets have bombed Taliban hideouts and killed at least five militants near the Swat valley in the northwest of the country, officials said. The aircraft raided the town of Dok Darra near Swat, where Taliban militants first rebelled two years ago, after intelligence reports said a large number of militants gathered in the area, military spokesman Major Nasir Ali Khan said. [More>>news.com.au]
---
8.03.09 Roadside bomb against district police chief kills 12 in W Afghanistan
KABUL, August 3 - A roadside bomb, planted by militants, hit a convoy of district police chief Monday in western Afghan province of Herat, killing at least 12 including two policemen, an official said. Hismatullah Alizai, the provincial police chief, told Xinhua that it occurred at around 8:30 a.m. (0400 GMT) when the convoy of district police chief Khowja Mohammad Hisa was struck by a remote-controlled mine near his house in the provincial capital Herat city. "Mr. Hisa was also wounded in the blast," he added. Meantime, Barakatullah Mohammadi, the chief of emergency department of Herat Hospital, said 29 wounded people have been received and treated in the hospital so far. [More>>xinhuanet.com]
---
8.03.09 Ban on opium cultivation; Afghan villagers in difficulty
KABUL, August 3 - For as long as anyone can remember, there was no need for paper money in this remote corner of the Hindu Kush. The common currency was what grew in everyone's backyard — opium. When children felt like buying candy, they ran into their father's fields and returned with a few grams of opium folded inside a leaf. Their mothers collected it in plastic bags, trading 18 grams for a meter of fabric or two liters of cooking oil. Even a visit to the barbershop could be settled in opium.

But the economy of this village sputtered to a halt last year when the government began aggressively enforcing a ban on opium production. Villagers were not allowed to plant their only cash crop. Now shops are empty and farmers are in debt, as entire communities spiral into poverty. Opium is one of the biggest problems facing this troubled country, because it is deeply woven into the fabric of daily life as well as into the economics of insurgency. Afghanistan supplies 93 percent of the world's opium, and it is one of the main sources of funding for the growing Taliban movement. [More>>thenews.com.pk]
---
8.03.09 Chinese factory poisons hundreds
August 3 - Hundreds of residents near a Chinese chemical plant have been found to have high levels of a dangerous metal in their bodies, after a series of leaks. Thirty-three of them were admitted to hospitals in Hunan province over the weekend with cadmium poisoning, the official Xinhua news agency reported. Production at the Changsha Xianghe plant in Liuyang stopped earlier this year, shortly before two people died. Cadmium can damage the liver, kidneys, lungs, nervous system and brain. Compounds containing the highly toxic metal, which is used in batteries, are also carcinogenic. [More>>bbc.co.uk]
---
8.02.09 Town quarantined as deadly pneumonic plague strikes in China
August 2 - One man is dead, 11 others are in hospital and an entire town has been quarantined as one of the world's deadliest diseases strikes in China. Chinaview.cn reports the town of Ziketan in northwest China, home to 10,000 people, has been placed under quarantine after a 32-year-old herdsman died from pneumonic plague. The World Health Organization says pneumonic plague is the most virulent form of plague and if untreated, patients can die within 24 hours. It is caused when the same bacteria that occurs in bubonic plague reaches the lungs, and is then spread from person to person by coughing. Mortality is always very high. Officials from the Health Bureau of Qinghai Province said anyone with a fever or cough who has been Ziketan town and its vicinity after July 16 should go to hospital. [>news.com.au]
---
8.02.09 Harmful skin sanitizers seized in US
LOS ANGELES, August 1 - All skin sanitizers and skin protectants made by a Utah company have been seized by the US Marshals Service because they were believed to contain harmful bacteria, the Food and Drug Administration (FDA) announced on Saturday. Analyses of several samples showed that the products, made at Clarcon Biological Chemistry Laboratory's facility in Roy, Utah, contained high levels of various bacteria that can cause opportunistic infections of the skin and underlying tissues, the FDA said. Such infections may need medical or surgical attention and may result in permanent damage, but no cases have been reported, according to the FDA.

Clarcon produced and distributed over 800,000 bottles of these products in multiple regions of the country since 2007. The FDA also warned the public not to use any Clarcon products which are promoted as antimicrobial agents that claim to treat open wounds, damaged skin, and protect against various infectious diseases. Following an FDA inspection that revealed high levels of potentially disease-causing bacteria in the products, Clarcon voluntarily recalled the affected products, marketed under several different brand names, in June 2009. [More>>xinhuanet.com; See also abcnews.go.com, August 2,"US marshals seize sanitizer for bacteria problems."]
---
8.02.09 3 US troops killed in Afghan attack
KABUL (AP) August 2 - Militants in eastern Afghanistan attacked US forces with gunfire Sunday after a roadside bomb hit their convoy. Three American troops died in the attack, officials said. July was the deadliest month for international troops since the 2001 US-led invasion, but August has gotten off to a lethal start. The three US deaths Sunday bring to nine the number of NATO troops killed already this month, after six NATO troops died on Saturday. Six of the nine were American. Last month, 74 foreign troops were killed, including 43 Americans. [More>>cbsnews.com]
---
8.02.09 Iran hardliners accuse opposition of 'treason'
TEHRAN (AFP) August 2 - Iranian hardliners accused opposition leaders of treason on Sunday as defeated presidential challenger Mir Hossein Mousavi said the authorities used 'medieval torture' to force confessions from protesters on trial over the election unrest. Former president Mohammad Khatami also said Saturday's mass trial of 100 protesters and prominent reformists was against the constitution, putting him at loggerheads with hardliners in an escalating feud between rival factions. [More>>khaleejtimes.com]
---
8.02.09 2 Arab families evicted in east Jerusalem
August 2 - Drawing an immediate round of both international and domestic condemnation, two Arab families were forcibly evicted from their homes in the east Jerusalem neighborhood of Sheikh Jarrah early Sunday morning after the Supreme Court ruled in favor of Jewish families who had claimed ownership of the properties...The Arab families, who were given notices of the pending eviction several weeks ago, cooperated with police, but expressed anger at the move nonetheless. After being evicted, they stayed behind a barrier set up by the police a short distance from the front of the house.

After being evacuated and their property confiscated by Israeli authorities, they tried to put a banner on the building but were repelled by the police. "I was born in this house and my children were also born in this house. I have documents from the Jordanian government," Maher Hanoun, one of the evacuees, told Army Radio. "Now the settlers have moved into my home and I'm on the street. Where will I go?" [Full story>>jpost.com; See also

aljazeera.net, August 2, "Israel evicts Palestinian families" : Israeli security forces have forcibly evicted two Palestinian families from their homes in East Jerusalem after a court rejected an appeal against their eviction. The al-Ghawi and al-Hanoun families who were evicted on Sunday have been living in the Sheikh Jarrah neighbourhood since 1956. Israel has reportedly set aside the land their houses were built on for a planned hotel project. The eviction comes amid international calls for Israel to halt settlement activity on occupied Palestinian land...
---
8.02.09 Car bomb hits market in Iraq, killing at least 5
BAGHDAD (AP) August 2 -An explosives-laden car parked near an outdoor market exploded Sunday in a mainly Sunni area in western Iraq, killing at least five people and wounding 34, police said, raising concern that sectarian violence could resurge now that US troops have pulled out of major Iraqi urban areas. The attack came as Shiite Prime Minister Nouri al-Maliki was visiting the self-ruled Kurdish region in northern Iraq for talks with Kurdish leaders over a range of issues that have long poisoned relations, like control of oil and territory. [More>>timesofindia.indiatimes.com]
---
8.02.09 Four militants killed, 27 apprehended: ISPR
SWAT, Pakistan, August 2 - Search and clearance operations continued by security forces in Swat and Malakand in which four terrorists were killed and 27 apprehended. According to ISPR, 2 Terrorists were killed and 7 were apprehended during clearance operation in area Derai and Danda. Security forces discovered 2 tunnels of 75 meters and 60 feet length, 4 fresh dug graves and 1 training camp with bunkers and a generator in Biha Valley. Ten suspects including a local commander were arrested in search and clearance operations at Kamargai near Gulibagh. One local terrorist Khair ur Rehman voluntarily surrendered to security forces along with his weapon at Shangla.

During search operation in Gorai, Kotlai and Daragai, 2 terrorists were killed and 2 suspected terrorists were apprehended along with their weapons. Security forces carried out search operation in Shah Dheri and apprehended 8 suspected terrorists and recovered 4 rifles and 3 pistols. During search operation, a cave was discovered in Amlukdara by the security forces. 3 prepared IEDs (including 1 water cooler IED), 80 Kgs explosives and 220 meters detonating cord was also discovered. [>thenews.com.pk]
---
8.01.09 Top militant accused of killing Daniel Pearl nabbed in Pakistan
ISLAMABAD, August 1 - In a major catch, Pakistani authorities nabbed a top militant suspected of beheading the Wall Street Journal reporter Daniel Pearl in 2002. Rao Shakir, a suspected member of banned Sunni militant group Lashkar-e-Jhangvi, was arrested from Bhara Kahu on the outskirts of the federal capital late last night, police said. The militant is believed by the police to be closely linked to al-Qaeda and Taliban groups and their commanders. Pearl was abducted from Karachi in 2002 while doing a story on militant funding. His remains were later found in a grave on outskirts of the port city.

Shakir is also linked to several terrorist strikes, including a suicide attack on a bus of a spy agency, the suicide bombing of the Marriott Hotel last year and an attack in Rawalpindi. Officials said police had been hunting for Shakir for a long time. A police spokesman said his accomplices were arrested earlier. The arrested man also allegedly provided safe houses to militants. Shakir's arrest comes as Pakistani military in continued operations maintained its pressure on the Taliban in the restive north west region killing two and capturing six other militants. [>indianexpress.com]
---
8.01.09 Iran detains US nationals at border
August 1 - Three US nationals who crossed into Iran via Iraq have been arrested, the state-owned Al-Alam television has reported. "An informed Iranian source confirmed the arrest of three Americans after they infiltrated through the Iraqi border," the Arabic-language television station said on Saturday. The two men and a woman entered Iranian territory a day earlier from Iraqi Kurdistan despite repeated warnings not to do so, a Kurdish official said.

A fourth American originally with the hiking party had not joined the trek due to illness, said Beshro Ahmed, a media adviser for the general security department in Iraq's autonomous Kurdish region. He named the three as Shane Bower, Sara Short and Joshua Steel, while Shaun Gabriel Maxwell stayed behind in their hotel in the autonomous Kurdish region's second-largest city of Sulaimaniyah. A spokeswoman for the US embassy in Baghdad said: "We've seen the reports and are looking into it but can't confirm anything at this time." [More>>aljazeera.net; See other details, at alarabiya.net or,

abcnews.go.com, August 1, "Iran state TV confirms arest of 3 Americans" : ...The area where the three disappeared is a popular hiking destination known for a picturesque waterfall and rocky scenery as well as a thick growth of fruit and nut trees. The official said it appeared they were hiking above the waterfall when they accidentally crossed the border. Kurdish officials said U.S. helicopters and Humvees deployed to the nearby city of Halabja to search for the Americans after they were reported missing on Friday but left after it was determined they had been seized by the Iranians.
Halabja, 150 miles (240 kilometers) northeast of Baghdad, was the site of a chemical weapons attack ordered by Saddam Hussein in 1988 as part of a scorched-earth campaign to crush a Kurdish rebellion. An estimated 5,600 people were killed in the nerve and mustard gas attacks — the vast majority Kurds — and many still suffer the aftereffects...
---
8.01.09 Iran tries 100 moderates over election unrest
(Reuters) August 1 - The trials began of 100 moderates arrested shortly after Iran's disputed June presidential election and charged with trying to overthrow the clerical establishment. This is the first time since Iran's 1979 Islamic revolution that dozens of senior officials, including former ministers, vice-presidents and lawmakers, have been put on trial. The official IRNA news agency quoted the indictment as saying the charges against the defendants also included acting against national security by planning unrest, participating in the "Velvet Revolution," attacking military and state buildings and conspiring against the ruling system.
"The trial of some of those accused of being involved in post-election unrest started this morning," IRNA said. "Some 100 people were put on trial in a Tehran Revolutionary court." Velvet Revolution was used to describe the non-violent 1989 revolution in Czechoslovakia which overturned communist rule. Under Iran's Islamic law, acting against national security, a common charge against dissenting voices in Iran, could be punishable by the death penalty. [More>>khaleejtimes.com; See other details, nytimes.com, August 1, "Mass trial for protesters begins in Iran" :
...Some of the main charges seemed to come out of a confession by Muhammad Ali Abtahi, a cleric who served as vice president under the reformist government of Mohammad Khatami. Mr. Abtahi, one of Iran's most widely read bloggers, was arrested shortly after the election, and word later emerged that he had appeared in a tearful videotaped confession. Such confessions are almost always obtained under duress, human rights groups say.
"I believe the reformists had prepared for two or three years for this election, in order to limit the powers of the supreme leader," Mr. Abtahi said in court on Saturday, according to a transcript of the semi-official Fars news agency, which is close to Iran's security services. Fars carried news of the trial under the headline: "The accused know election fraud to be a lie." In photographs broadcast on Fars, Mr. Abtahi could be seen in a gray prison uniform in the front row at the trial, his cleric's turban gone, his face a grim mask, clutching a piece of paper.
The deputy prosecutor in Tehran, Abdolreza Mohebati, also referred to what he called incriminating remarks by Maziar Bahari, a journalist who works for Newsweek and remains in jail after his arrest in June, suggesting that there was a "policy of the Western media" to say the trial was rigged before it even took place...
---
8.01.09 3 US, 1 French dead in Afghanistan
August 1 - A US military spokesman says three American troops have been killed in two blasts in southern Afghanistan. Navy Chief Petty Officer Brian Naranjo says the attacks happened on Saturday. Southern Afghanistan is the center of the Taliban-led insurgency, which has made a violent comeback since its initial defeat in the US-led invasion. Thousands of US Marines and British troops are conducting anti-Taliban operations in the region ahead of this month's presidential elections. Separately, a French soldier was killed and two others were wounded during a clash with insurgents north of Kabul, the French military said in a statement. [More>>cbsnews.com]
---
8.01.09 Russia could use military force to defend S. Ossetian residents
MOSCOW (RIA Novosti) August 1 - Russia's Defense Ministry is concerned over recent shots on South Ossetia's capital Tskhinval and its suburbs and could use military force to defend the republic's nationals, the ministry said Saturday. "Events in August 2008 developed in line with a similar scenario, which led to Georgia unfolding military aggression against South Ossetia and attacking the Russian peacekeeping contingent," it said. The ministry said Georgia opened fire on the South Ossetian territory several times in the past few days. South Ossetian authorities reported mortar fire from Georgia on Saturday. But Georgia has denied all reports saying they were a provocation. "There was no shooting in the conflict zone at all," Georgia's police said. The Russian ministry also said: "Such actions cause serious concerns in the Russian Defense Ministry."
"In case of further provocations threatening the republic's population and the Russian military contingent deployed in South Ossetia, the ministry retains the right to use all available means and forces to defend the nationals of South Ossetia and Russian servicemen," it said. Russia recognized the independence of South Ossetia and another former Georgian republic, Abkhazia, after Russia and Georgia fought a five-day war last August. Most residents of both South Ossetia and Abkhazia have held Russian citizenship for several years. [More>>en.rian.ru]
---
8.01.09 6 Pakistani Christians die in riots with Muslims
ISLAMABAD (AP) August 1 - Days of rioting between Christians and Muslims in eastern Pakistan following allegations that a Koran was defiled escalated Saturday, leaving six Christians dead, including a child, authorities said. Members of a banned Muslim organization began torching Christian homes in the Punjabi city of Gojra on Thursday after accusing them of desecrating pages from Islam's holy book, Federal Minister for Minorities Shahbaz Bhatti said. "There is no truth in the allegation," he told The Associated Press, adding that he had himself visited Gojra on Friday and asked police to provide protection to Christians who were facing threats.

He accused the police of ignoring his instructions and said hundreds of angry Muslims on Saturday burned more Christians homes and killed six, including four women and a child. Television footage from the scene showed houses burning and streets strewn with debris and blackened furniture as mobs ran at each other. Local media also reported gunfights had broken out between Christian and Muslim communities and that rioters had blocked the local railway line. Pakistan is predominantly a Sunni Muslim state where Christians are a tiny minority. Although the two sides generally live peacefully, since the Sept. 11, 2001, attacks in the US, pro-Taliban militants have periodically targeted churches and Christians, suspecting them of sympathizing with Washington. [>thejakartapost.com; See other details,

thenews.com.pk, August 1, "Houses gutted in tense Gojra; 7 dead" : ...At least seven people were burnt alive, as several houses were set ablaze. The bodies have been transported to Tehsil Headquarter Hospital.
---
7.31.09 House votes to rein in Wall Street pay
WASHINGTON (AP) July 31 - Vote comes after 9 bailed-out banks gave execs bonuses topping $1 million each. The House has voted to restrict how Wall Street executives get paid after nine banks that took government aid rewarded thousands of their employees with bonuses topping $1 million each. The vote advances the first piece of a broader proposal by President Barack Obama to increase oversight of financial institutions. The legislation goes farther than Obama wanted by prohibiting large companies from fashioning pay incentives that encourage employees to take financial risks that could threaten the economy or the viability of the institution.

The bill includes other Obama suggestions: It would give shareholders a nonbinding vote on compensation packages and prohibit directors on compensation committees from having a financial relationship with the company and its executives. New York Attorney General Andrew Cuomo concluded in a report that the nation's biggest banks, including Bank of America Corp., Merrill Lynch & Co., JPMorgan Chase & Co. and Goldman Sachs Group Inc., awarded nearly 4,800 million-dollar-plus bonuses in 2008. [More>>cbsnews.com]
---
7.31.09 US extends Syria sanctions by 1 year
July 31 - Despite diplomatic overtures by the United States towards Syria, which most recently saw US Mideast envoy George Mitchell meet Syrian President Bashar Assad in Damascus, US President Barack Obama has decided to extend sanctions against the country for another year. In a press release issued by the White House on Friday, Obama explained that the sanctions targeted the property of "certain person undermining the sovereignty of Lebanon," its "democratic processes," and its "institutions." The aim of these unnamed people, the statement went on, was to "to contribute to the deliberate breakdown in the rule of law in Lebanon, including through politically motivated violence and intimidation; to reassert Syrian control or contribute to Syrian interference in Lebanon, or to infringe upon or undermine Lebanese sovereignty and contribute to political and economic instability" in the country. The renewed sanctions will go into effect on August 1. [More>>jpost.com]
---
7.31.09 Two killed in northern Iraq car bomb
KIKUK, Iraq (AFP) July 31 - Two people were killed and 12 others wounded by a car bomb in the oil-rich northern Iraqi city of Kirkuk on Friday, police said. The bomb went off at around 8pm (1700 GMT) in a popular market in a Kurdish neighbourhood of the ethnically mixed city, 255 kilometres (160 miles) north of Baghdad. [More>>khaleejtimes.com; See related stories,
timesofindia.indiatimes.com (AP) July 31, "28 killed as Baghdad mosques bombed" : BAGHDAD - Bombs exploded near five Shiite mosques in Baghdad, killing at least 28 people, in an apparent coordinated attack that targeted worshippers leaving Friday prayers, Iraqi police and hospital officials said. The bombings shattered a period of relative calm in the Iraqi capital, raising to at least 303 Iraqis killed in what has been one of the least deadly months in Iraq for both Iraqi civilians and US troops since the war began. Seven American troops have been killed — the lowest monthly total since the war started in March 2003, according to an AP tally. The attack also underscores concerns about the abilities of Iraqi security forces to maintain security gains now that US troops have withdrawn from major urban areas. Some Sunni insurgents still seek to re-ignite sectarian violence with the majority Shiites and reverse Iraq's security gains in the past two years.

The deadliest attack on Friday came when a car bomb exploded near a Shiite mosque in the northern Baghdad neighborhood of Shaab, killing at least 24 people and wounding 17 others, said two Iraqi police officials and a medical official. At about the same time, near simultaneous explosions struck near the al-Rasoul mosque near the Diyala bridge, in southern Baghdad, killing four worshippers and wounding 17 others, the two police officials said. A roadside also bomb exploded near al-Hakim mosque in Kamaliyah area in eastern Baghdad, wounding six worshippers. Bombs also exploded near Imam al-Sadiq mosque in the religiously mixed neighborhood of Ilam in southwestern Baghdad, wounding 4 worshippers, and near the al-Sadrain mosque in the Zafaraniyah area of southeastern Baghdad, wounding seven worshippers. [end]

aljazeera.net, July 31, "Iraq police recover stolen millions" : Iraqi police have recovered around $5m and arrested two people days after a bank robbery that left eight guards dead, the interior ministry has said. Officers retrieved the money and captured the suspects during a raid on a house belonging to an Iraqi soldier on Thursday. "We got the money back and we captured some of the criminals," Major General Abdul-Karim Khalaf, an interior ministry spokesman said. The recovered cash made up most of the $6.84m stolen by gunmen from the Rafidain Bank in Baghdad, the capital, on Tuesday...
---
7.31.09 Taliban attack Afghan poll convoy, soldiers killed
HERAT, Afghanistan, July 31 - A convoy carrying ballot papers and other material for next month's presidential election was ambushed by Taliban insurgents in west Afghanistan on Friday, officials said, with four soldiers killed. Insurgents opened fire on the convoy after it was hit by a roadside bomb, said Rohul Amin, governor of western Farah province. The ambush was the latest in a spate of election-related attacks...the attack took place in an area of desert near the Iranian border. The soldiers were killed when the bomb struck their vehicle, Amin said. Three others were injured... At least three election candidates, including President Hamid Karzai's vice-presidential running mate Mohammad Qasim Fahim, have been ambushed in the past week although all escaped unhurt. Several campaign offices have also been bombed, with many of the attacks blamed on the Taliban. [Full story>>alarabiya.net]
---
7.31.09 Six terrorists killed in clearance operation in Swat
SWAT, July 31 - Backed by local Lashkars and people of the area, search and clearance operations are successfully being conducted by security forces in Swat and Malakand. According to ISPR, security forces conducted [a] search operation at Charbagh and Allahabad and killed 6 terrorists and also recovered [a] cache of arms and ammunition along with material for preparation of IEDs. Security forces apprehended Ibn-e-Aqil (younger brother of Ibn-e-Amin) during [a] search operation at Khog Bacha.

A number of local terrorists commanders have decided to voluntarily surrender and denounce terrorism. As a result two local terrorist commanders voluntarily surrendered at Shalpalam and 3 terrorists voluntarily surrendered before security forces at village Jheel near BB Ziarat. The notable[s] of village Alamganj, Chinkulai, Janu and Bandai in Khawazakhela have expressed their commitment to support security forces and resolve not to allow any terrorist in their respective areas. Security forces along with 30 persons of Sultanwas Lashkar conducted area clearance operation[s] from Pir Baba to Dukhada. Security forces have distributed 234,635 cash cards amongst the IDPs of Malakand. [>thenews.com.pk]
---
7.31.09 Leader of Islamist sect killed in custody in Nigeria
MAIDUGURI, Nigeria, July 31 - The leader of the Islamist sect blamed for days of violence in northern Nigeria has been shot and killed while in police custody, officials said Thursday. The police commander of Borno state announced on state radio that Mohammed Yusuf, the leader of the sect some call the Nigerian Taliban, has "died in police custody." He gave no further explanation, but the state governor's spokesman Usman Ciroma told The Associated Press: "I saw his body at police headquarters. I believe he was shot while he was trying to escape." [More>>japantoday.com; See related story,

news.com.au (Reuters) August 1, "Hundreds of bodies in steets after unrest" : Nigerian authorities collected hundreds of bodies from the streets of the northern city of Maiduguri overnight following days of clashes with members of a radical Islamic sect. State government and health ministry officials piled the corpses, some of them swollen after lying in the streets for days, onto open trucks as police and soldiers patrolled. "As of yesterday we had more than 200 dead bodies," Aliyu Maikano, northeastern zone disaster management officer for the Nigerian Red Cross, told Reuters, adding that bodies were still being collected.

The toll in Maiduguri brings to at least 300 the total number of people killed in violence that has erupted in several states around northern Nigeria since Sunday. The authorities are hoping the killing of sect leader Mohammed Yusuf, whose Boko Haram movement wants a wider adoption of sharia (Islamic law) across Africa's most populous nation, will bring an end to the six-day uprising by his followers...
---
7.31.09 Land mine contamination vast in Vietnam: Report
HANOI, Vietnam (AP) July 31 - More than one-third of the land in six central Vietnamese provinces remains contaminated with land mines and unexploded bombs from the Vietnam War, according to a study released Friday. Nearly 35 years after the war's end, Vietnamese civilians are still routinely killed and maimed by leftover mines and other explosives. Vietnam estimates that more than 42,000 people have been killed in such accidents since 1975.

The study by the Vietnam Veterans of America Foundation and Vietnam's ministry of defense provides the most detailed information to date about the amount and location of unexploded ordinance littering a region that saw some of the heaviest fighting and bombardment during the war. The survey was the result of close collaboration between the United States and Vietnam on one of the most sensitive legacies of the conflict. In addition to mapping unexploded mines and ordinance, the project, which the US government provided $2 million to finance, involved clearing 3,345 acres (1,354 hectares) of land in 1,361 communities across the six provinces. [>thejakartapost.com]
---
---
*Visitor statistics on maravot.com from 1&1. com. 46,153 page views in May 2007; monthly visitors in 2008 range between 40,000-45,0000..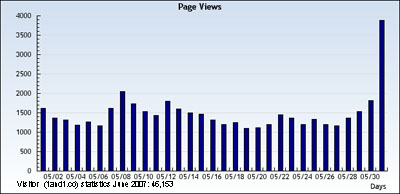 Privacy Policy: We do not store any personal data from you. We have no way of knowing any vital information about you — not even your name. Third-party distribution: We do not distribute information about your site usage to any third party. We are not responsible for the content of links from our site. Usage data: supplied by our Web Hosting service, 1and1.com, which consists of usage reports, such as page views / impressions and web pages visited, visitors' servers and geographical data (ISP's and country of origin).

---
Launched: 10.25.04 / 11.02.04 – | — | —
Updated: 7.31.09; 8.01.09; 8.02.09; 8.03.09; 8.04.09; 8.05.09; 8.06.09; 8.07.09; 8.08.09
Copyright © 1981-2009 Maravot. All rights reserved
Copyright © 1981-2009 Mel Copeland. All rights reserved
Background: tile from Cicero's villa (Marcus Tullius Cicero 106 B.C. - 43 B.C.)