News Headlines & Trends
---
3.28.09 Lawsuit against AIG; 30 years jail for fund manager
LOS ANGELES, March 28 - A lawsuit filed on behalf of shareholders of American International Group Inc. is demanding company executives return millions of dollars in bonuses, dividends and other perks. The lawsuit, which seeks class-action status, also seeks unspecified damages as well as the removal of AIG's top brass. It claims shareholders have lost $200 billion because of AIG's gross mismanagement and corporate waste over the past 8 years. Freedom Watch, a nonprofit organization that advocates for ethics in government, filed the lawsuit Thursday in US District Court in Los Angeles. Among the defendants named in the suit are former Chief Executive Officers Maurice Greenberg, Martin Sullivan and Robert Willumstad, as well as current CEO Edward Liddy. The suit also targets 10 AIG board members, including Liddy. AIG spokesman Joe Norton said Friday the company had no immediate comment.

The defendants "have seriously undermined and damaged AIG's financial health and valuable past reputation by systematically causing and/or permitting the company to engage in a litany of highly risky, detrimental and reckless business dealings," the lawsuit states. The company also gave misleading and false assessments when it reported earnings in 2006 and 2007, according to the lawsuit.

In a separate case in COLUMBUS, Ohio, a federal judge on Friday sentenced the founder of a failed health-care financing company to 30 years in prison for his role as "puppet master" in what prosecutors called the biggest fraud on record at a privately held company in the United States. US District Court Judge Algenon Marbley said Lance Poulsen of National Century Financial Enterprises was "the architect of a fraud of such magnitude that it would make a sophisticated analyst shudder."..Poulsen, 65, was convicted in October on 12 counts of securities fraud, wire fraud and money laundering...

In SEATTLE two former software executives have been sentenced in federal court to prison time for inflating revenue numbers to attract venture capital. Paul Johnston, chief executive of Entellium and the scheme's architect, received three years - splitting the difference between what prosecutors and defense attorneys requested. Parrish Jones, Entellium's CFO, got two years...[Full story>>thestar.com.my]
---
3.28.09 Ruth Madoff took $2 million from London office before collapse
NEW YORK, March 28 - Serious Fraud Office investigates UK arm of Madoff's business. Ruth Madoff, the wife of Wall Street swindler Bernard Madoff, received $2m (£1.4m) in payments from the family's London business less than a month before his arrest, further drawing her finances into criminal investigations on both sides of the Atlantic. The Serious Fraud Office in the UK yesterday characterized Madoff's London operation as "a cog in the giant washing machine," as it set out new details of how the former Nasdaq chairman ran his $65bn Ponzi scheme.
The SFO and the FBI in New York are each investigating who else might have known about Mr. Madoff's illegal activities, which stretch back at least to the early 1990s. Mr. Madoff claims he acted alone, and his wife has not been charged with any wrongdoing. The $2m transfer to Mrs. Madoff personally in late November was revealed yesterday by the SFO's Madoff case manager, Glyn Powell, in an update on the investigation. [More>>independent.co.uk]
---
3.28.09 Vast spy system loots computers in 103 countries
TORONTO, March 28 - A vast electronic spying operation has infiltrated computers and has stolen documents from hundreds of government and private offices around the world, including those of the Dalai Lama, Canadian researchers have concluded. In a report to be issued this weekend, the researchers said that the system was being controlled from computers based almost exclusively in China, but that they could not say conclusively that the Chinese government was involved.

The researchers, who are based at the Munk Center for International Studies at the University of Toronto, had been asked by the office of the Dalai Lama, the exiled Tibetan leader whom China regularly denounces, to examine its computers for signs of malicious software, or malware. Their sleuthing opened a window into a broader operation that, in less than two years, has infiltrated at least 1,295 computers in 103 countries, including many belonging to embassies, foreign ministries and other government offices, as well as the Dalai Lama's Tibetan exile centers in India, Brussels, London and New York.

The researchers, who have a record of detecting computer espionage, said they believed that in addition to the spying on the Dalai Lama, the system, which they called GhostNet, was focused on the governments of South Asian and Southeast Asian countries. Intelligence analysts say many governments, including those of China, Russia and the United States, and other parties use sophisticated computer programs to covertly gather information. The newly reported spying operation is by far the largest to come to light in terms of countries affected. [More>>nytimes.com]
---
3.28.09 35,000 turn out for wet G20 march
March 28 - Around 35,000 protesters gathered in the rain in London today for a huge march for "jobs, justice and climate" in the first of a week of demonstrations ahead of the G20 summit. The Put People First march involved an alliance of 150 groups, including unions, charities, environmental campaigners and faith organizations. Campaigners are expected to target bankers and city financiers who they blame for the global recession. A massive security campaign was launched as the Metropolitan police warned of an "unprecedented" threat posed by the protests, but organizers stressed today's events would not turn violent.

Ed Miliband, climate change secretary, met campaigners before the march got under way and said the "vast majority" were planning a peaceful protest. "There is a very important line between peaceful and non-peaceful protest," he said. "I think the kind of campaigning that people are engaged in today - certainly what the organizers intend, what the vast majority of the people who are going on this march will do - is the kind of peaceful protest that is very much part of our society." [More>>timesonline.co.uk]
---
3.28.09 British police identify 200 children as potential terrorists
LONDON, March 28 - Two hundred schoolchildren in Britain, some as young as 13, have been identified as potential terrorists by a police scheme that aims to spot youngsters who are "vulnerable" to terrorism. The number was revealed to British daily by Sir Norman Bettison, the chief constable of West Yorkshire Police and Britain's most senior officer in charge of terror prevention. He said the "Channel project" had intervened in the cases of at least 200 children who were thought to be at risk of extremism, since it began 18 months ago. The number has leapt from 10 children identified by June 2008.

The programme, run by the Association of Chief Police Officers, asks teachers, parents and other community figures to be vigilant for signs that may indicate an attraction to extreme views or susceptibility to being "groomed" by radicalizers. Sir Norman, whose force covers the area in which all four 7 July 2005 bombers grew up, said: "What will often manifest itself is what might be regarded as racism and the adoption of bad attitudes towards 'the West.' One of the four bombers of 7 July was, on the face of it, a model student. He had never been in trouble with the police, was the son of a well-established family and was employed and integrated into society." [More>>thenews.com.pk; See also independent.co.uk]
---
3.28.09 US accuses Pakistan of supporting Taliban, Qaeda
WASHINGTON, March 28 - Pakistan's ISI has links to Taliban fighters: Petraeus. Senior United States military generals accused Pakistan's military intelligence agency late Friday of providing support to Taliban and al-Qaeda fighters across the country's western and eastern borders. US Navy Admiral Mike Mullen said Pakistan's Inter-Services Intelligence (ISI) had links to al-Qaeda and Taliban fighters on both its western border with Afghanistan and its eastern border with India. "There are certainly indications that's the case," Navy Adm. Mike Mullen told CNN when asked if elements of Pakistan's spy agency were backing the al-Qaeda network and its Taliban allies. Admiral Mullen, chairman of the US Joint Chiefs of Staff, and Army Gen. David Petraeus, head of US Central Command, said the agency must end such activities. [More>>alarabiya.net; See related stories,

aljazeera.net, March 28, "NATO terminal attacked in Pakistan" : Dozens of fighters have fired rockets at a transport terminal in northwest Pakistan used to ship supplies to NATO soldiers in neighboring Afghanistan, police have said. At least 12 shipping containers were damaged in the attack early on Saturday at the Farhad terminal in Peshawar, the capital of the North West Frontier Province, Zahur Khan, a local police official, said. Police opened fire at the fighters but they managed to flee, he said.

Afghan-based US and NATO forces get up to 75 per cent of their supplies via routes that pass through Pakistan's Khyber tribal region and a southwestern Chaman border crossing - areas where Taliban fighters are believed to be operating. The attack came less than a day after a suicide bomber blew up in a mosque in Jamrud in the nearby Khyber agency, killing 48 people and wounding scores more. Pro-Taliban fighters were suspected of carrying out the attack to avenge recent military operations in the area aimed at protecting the NATO supply route, authorities said. The route passed in front of the mosque, where about 200 worshippers had gathered to pray at the time of the blast...

timesofindia.indiatimes.com (AFP) March 28, "Pakistan kills 12 Taliban militants: Sources" : PESHAWAR, Pakistan - Pakistani helicopter gunships on Saturday killed 12 militants in a restive tribal region bordering Afghanistan, a security official said. The strikes took place in Mohmand, one of seven lawless tribal districts in northwestern Pakistan, where Taliban militants are active. "At least 12 militants were killed and eight others wounded in helicopter gunship firing," a security official said. "A militant hideout was also destroyed during the strike," he said and added that there were no casualties for the security forces.

The militant death toll could not be confirmed independently as the area is sealed off under military operations. Local administration official Syed Ahmed Jan said a night curfew was imposed in Mohmand before the launch of the ground operation. The tribal areas have been wracked by violence since Afghanistan's Taliban regime was toppled by the 2001 US-led invasion, prompting hundreds of fighters to flood the region. [end]

bbc.co.uk, March 28, "Pakistan army raid 'kills rebels' " : Pakistan's army says troops backed by artillery and helicopter gunships have killed 26 militants in an attack near the Afghan border. The army said the battle took place in Mohmand, North-West Frontier Province, said to be a hub for Taleban militants...
---
3.28.09 US wants to engage Iran on Afghan drugs
WASHINGTON (AFP) March 28 - The United States said Saturday it hoped to engage Iran on ways to stem the lucrative narcotics trade in Afghanistan at an international conference on the country next week. A day after the US envoy to Afghanistan and Pakistan Richard Holbrooke described Iran's decision to participate in the meeting in the Hague as a "step forward" another senior official outlined steps of possible common interest. Secretary of State Hillary Clinton "worked with the Dutch, the Dutch have invited Iran to join the meeting in the Hague on Tuesday," said Denis McDonough, a deputy national security advisor to President Barack Obama. "Our hope is that she has an opportunity to constructively engage this issue." [More>>khaleejtimes.com]
---
3.28.09 Troops kill 12 militants in southern Afghanistan
KABUL (AP) March 28 - Afghan and coalition troops killed 12 militants during a gunbattle that erupted during a raid on a compound in southern Afghanistan, the US military said Saturday. The troops encountered gunfire from in and around the compound as they approached late Friday in the Nahr Surk district of Helmand province, a US statement said. The troops returned fire and called in support to counter the threat from militants who were concealed in a line of trees and maneuvering in a field, it said. Some of the militants inside the compound tried to use women and children as shields during the battle, and calls by the troops for civilians to leave were not heeded, said the military. One child received a minor injury during the battle and was given immediate treatment by coalition troops, it said. [More>>washingtonpost.com]
---
3.28.09 US judge: Iran must pay $25 million for murder of IDF soldier
(AP) March 28 - A US judge on Friday ordered Iran to pay $25 million plus interest to the family of Israeli soldier Nachshon Wachsman, who was kidnapped and executed by Hamas in 1994. Wachsman was a 19-year-old US citizen and Israeli army corporal when he was taken by four members of Hamas, designated a terrorist organization by the United States. His abduction damaged Israeli-Palestinian peace negotiations at the time, as he pleaded on videotape for his life. Wachsman's mother and six brothers filed the lawsuit in 2006 against Iran and its ministry of information and security, saying Tehran was responsible for the death because it provided training and support to Hamas.

Iran has refused to respond to the lawsuit, resulting in a default judgment in favor of Wachsman's family...Wachsman was abducted by four members of Hamas on October 9, 1994, as he waited on the side of a public street near the central Israeli city of Lod for a ride to visit a friend. The kidnappers wore black hats and yarmulkes as disguises that allowed them to lure Wachsman into their rented van, which had Israeli license plates.

..Israeli security forces captured one of the abductors, who told them where Wachsman was being held. An Israeli commando unit raided the safe house shortly before the deadline on Oct. 14, and as they attempted to blow down heavily fortified doors with explosives, the kidnappers shot Wachsman. An Israeli soldier and all three remaining kidnappers were killed in an ensuing fire fight. The court found that several of the Hamas members instrumental in Wachsman's abduction and execution either received terrorist training by Iran's Revolutionary Guard or were related to those who received the training. "The financial support, tactical training and political direction that Iran provided to Hamas proximately caused the abduction and execution of Nachshon," Urbina concluded. [Full story>>haaretz.com]
---
3.28.09 27 killed in clashes in southern Philippines
MANILA, March 28 - Army troops backed by artillery and armored vehicles clashed with Muslim separatist rebels in the southern Philippines, leaving 20 guerrillas and seven soldiers dead, the military said Saturday. Regional military spokesman Lt. Col Jonathan Ponce said troops from the army's 601st Brigrade had been checking reports that rebels under a rogue commander of the separatist Moro Islamic Liberation Front were massing in a hamlet in the village of Bialong when fighting erupted with about 80 guerrillas before dawn Friday and dragged on for at least eight hours. It was one of the fiercest clashes with the rebels under Commander Umbra Kato this year, Ponce said, adding five other soldiers were wounded in the fighting outside Mamasapano township in Maguindanao province. [More>>japantoday.com; See related story,

newsinfo.inquirer.net, March 28, "For hostages' release, troops will pull out" : ZAMBOANGA CITY, Philippines - The government has agreed to pull out troops cordoning off an area in Barangay Kuppong in Indanan, Sulu, where Abu Sayyaf bandits are holding captive three aid workers of the International Committee of the Red Cross (ICRC). The "very big, dramatic decision," announced Saturday by Interior and Local Government Secretary Ronaldo Puno, was made after ICRC president Jakob Kellenberger made a personal appeal for the safe release of Filipino Mary Jean Lacaba, Swiss Andreas Notter and Italian Eugenio Vagni.

Asked when the pullout would take place, Gov. Abdusakur Tan of Sulo said it would be as soon as he returned to the province, which was Saturday afternoon. Puno told reporters at the Garden Orchid Hotel in this key southern city that the decision was aimed at offering "breathing space" to the Abu Sayyaf so that peaceful negotiations could start for the release of the hostages...
---
3.28.09 Yemen police killed in shootout with Islamists
SANAA, Yemen (AFP) March 28 - Four Yemeni policemen were killed Saturday in clashes with Islamist fighters during a major government offensive against wanted militants in the south of the country, witnesses told AFP. The deadly shootout erupted in Jaar, northeast of the port city of Aden, where police had been hunting for wanted members of jihadist groups. "This campaign comes after dissident elements attacked members of the security forces and government interests, and disrupted peace and security over the past few weeks," a Jaar security official told AFP.

A passerby and seven policemen were also wounded in the fighting, with two in a critical condition, a local hospital source said...The impoverished Arabian Peninsula country has seen a spate of attacks on foreign and government targets, most recently suicide bombings against South Korean tourists...Al-Qaeda's branch in Yemen claimed responsibility for the attacks that killed the four tourists, the SITE Intelligence Group said on Friday. [More>>alarabiya.net]
---
3.27.09 UK recession is worse than forecast
March 27 - A sudden collapse in the building sector caused the British economy to fall into an even steeper decline in the final quarter of last year, according to revised government figures published today. New data showed a shrinkage of 1.6 per cent in gross domestic product (GDP) during the final three months of 2008 compared with earlier estimates of a 1.5 per cent decline. The fall in GDP is the sharpest quarter-on-quarter decline since 1980. On an annual basis, GDP fell by 2 per cent, more than the 1.9 per cent previously estimated, and the steepest year-on-year fall since 1991 — the last time Britain was in recession. The sharpest decline was in the construction sector, which has been dogged by the slump in demand for new houses. Output in construction plunged by 4.9 per cent during the final quarter compared with an earlier estimate of 1.1 per cent, while the slowdown in manufacturing accelerated to 4.5 per cent compared with the 1.8 per cent fall in the previous quarter. [More>>timesonline.co.uk: See related stories:

xinhuanet.com, March 27, "China's industrial profits down 40% in Jan-Feb." : BEIJING - Profits of China's major industrial enterprises contracted 37.3 percent year-on-year during the first two months of 2009, the National Bureau of Statistics (NBS) said Friday. The sharp fall was in line with analysts' expectations. They said that declines in producer prices in the first two months would have had a direct impact on industrial profits. The producer price index fell 3.3 percent in January and 4.5 percent in February, the softest producer-price figures since the second half of 2002...

washingtonpost.com, March 27, "Income falls, even as consumer spending rose in Feb." : Americans' incomes declined in February, even as spending showed signs of a rebound for the second straight month, the government said today. Personal income fell 0.2 percent in the month, the Commerce Department said, reflecting the weakness of the job market. Wages and salaries fell even faster, with a 0.4 percent drop. It was partly made up for with a rise in transfer payments such as Social Security. Spending rose 0.2 percent, reflecting continuing positive momentum from January.

However, the news is less favorable than it appears at first glance, in that when adjusted for inflation, spending actually declined 0.2 percent. That suggests that much of the increase in spending reflected people paying higher bills for gasoline and other fuels, which have been rising from their lows in late 2008. Although hardly resounding evidence of any economic recovery in the offing, the numbers do support some modest optimism that the worst declines of this recession have passed even though most analysts do not expect a recovery for many months to come...

cbsnews.com, March 27, "More states see double-digit unemployment" : WASHINGTON - Michigan Leads Way With Jobless Rate Of 12 Percent; Six Others Top 10 Percent. More states logged double-digit unemployment rates in February, with North Carolina and Rhode Island seeing their rates hit record highs. The US Labor Department's report, released Friday, showed the terrible toll the recession, now in its second year, is having on workers and companies alike. Seven states have unemployment rates that topped 10 percent last month. That's up from four states in January. The US unemployment rate, released earlier this month, rose to 8.1 percent in February, the highest in more than 25 years.

Economists predict the national jobless rate will hit 10 percent by year end even if the recession were to end later this year as some hope. Michigan's jobless rate climbed to 12 percent, the highest in the country. South Carolina registered the second-highest at 11 percent and Oregon came in third at 10.8 percent. North Carolina came in fourth with an unemployment rate of 10.7 percent, the highest there on records dating back to 1976. California and Rhode Island tied for fifth place at 10.5 percent each. That was an all-time high for Rhode Island. The seventh state with a jobless rate above 10 percent was Nevada at 10.1 percent. All told, 49 states and the District of Columbia saw their unemployment rates move higher in February from the previous month. Only Nebraska recorded a slight drop. Its jobless rate dipped to 4.2 percent...
---
3.27.09 Women told: 'You have dishonored your family, please kill yourself'
March 27 - (By Ramita Navai in Batman, eastern Turkey) As Turkey cracks down on 'honour killings', women are now told to commit suicide. When Elif's father told her she had to kill herself in order to spare him from a prison sentence for her murder, she considered it long and hard. "I loved my father so much, I was ready to commit suicide for him even though I hadn't done anything wrong," the 18-year-old said. "But I just couldn't go through with it. I love life too much."

All Elif had done was simply decline the offer of an arranged marriage with an older man, telling her parents she wanted to continue her education. That act of disobedience was seen as bringing dishonor on her whole family — a crime punishable by death. "I managed to escape. When I was at school, a few girls I knew were killed by their families in the name of honour — one of them for simply receiving a text message from a boy," Elif said.
So-called "honour killings" in Turkey have reached record levels. According to government figures, there are more than 200 a year — half of all the murders committed in the country. Now, in a sinister twist, comes the emergence of "honour suicides." The growing phenomenon has been linked to reforms to Turkey's penal code in 2005. That introduced mandatory life sentences for honour killers, whereas in the past, killers could receive a reduced sentence claiming provocation. Soon after the law was passed, the numbers of female suicides started to rocket. Elif has spent the past eight months on the run, living in hiding and in fear. Her uncles and other relatives are looking to hunt her down, for dishonor is seen as a stain that can only be cleansed by death. One of the women's shelters where Elif has stayed has been raided by armed family members. [More>>independent.co.uk; See related "honor killing" stories:

Maravot News 5.19.08 article 5.17.08 How picture phones have fuelled frenzy of honour killing in Iraq A dark pool of dried blood and a fallen red scarf mark the place where Ronak, who had fled to a woman's shelter in the Kurdish city of Sulaymaniyah when she was accused of adultery by her husband, was shot three times by a man hiding on the roof of a nearby building. Ronak was wounded by bullets in the neck, side and leg and only survived after a four-hour operation. She was the latest victim of a huge increase across Iraq in the number of "honour" killings of women for alleged immorality by their own families. Many are burnt to death by having petrol or paraffin poured over them and set ablaze. Others are shot or strangled. The United Nations estimates that at least 255 women died in honour-related killings in Kurdistan, home to one fifth of Iraqis, in the first six months of 2007 alone...

Maravot News 2.16.09 articles:

2.11.09 Honor killing: Eight of a family beheaded NAUGACHHIA, India, February 11 - In an honor killing of arguably the worst kind, eight members of a family were shot, beheaded and their bodies thrown into the Ganga in Binoba riverine area of Bihar's Naugachchia police district on Monday...

2.15.09 Muslim women 'face crisis over violence' KUALA LUMPUR, Malaysia (AFP) - Muslim women around the world are facing a "growing crisis" as Islamic governments fail to honour commitments to end inequality and violence against them, a senior UN official has warned. Yakin Erturk, the UN's rapporteur on violence against women, said that women must demand their governments carry out pledges to grant equal rights and ensure their safety. "There is no time left to lose any more as this is a growing crisis," she said after a speech which dealt with the issue at an international conference on "Equality and Justice in the Muslim Family."

alarabiya.net, February 15, "US Muslim TV boss arrested for beheading wife" : The founder of an American Muslim television channel, launched to counter the negative stereotypes of Muslims after 9/11, was arrested in New York late Thursday for beheading his estranged wife...
---
3.27.09 Suicide bomb in Pakistan mosque kills at least 50
JAMRUD, Pakistan (AFP) March 27 - A suicide bomber blew himself up during Friday prayers at a packed Pakistani mosque, leaving more than 50 dead and scores wounded in one of the bloodiest recent attacks in the nation. Blood-soaked caps, shoes and shirts lay around the flattened mosque, where dazed survivors looked on as rescue workers plucked bodies out of the rubble, splashed with pools of blood. It came just hours before US President Barack Obama was to announce a new offensive against terror havens in Afghanistan and nuclear-armed Pakistan, in the hope of dealing a fatal blow to Al-Qaeda more than seven years after the September 11, 2001 attacks against the United States.

The bomb on the weekly Muslim day of rest went off in Jamrud, a town in the restive northwest Khyber tribal region that is located on a key road used to ferry supplies to Western troops across the border in Afghanistan. "More than 50 people were killed and over 100 others were wounded in the attack. Twenty five of the wounded are in a critical condition," Fida Mohammad Bangash, a senior administration official in Khyber, told AFP at the scene.

Only two minarets were left intact at the mosque, which is frequented by tribal police and paramilitary officers fighting against the Taliban and other Islamist militants in Khyber. "The whole of the mosque collapsed and only two pillars remain. People were crying," said Waheed Khan, a tribal policeman who was on guard duty across the road at the time. "I haven't seen such devastation in my life," he told AFP. [More>>khaleejtimes.com; See also
news.com.au (Reuters) March 27, "Bomber kills at least 50 in mosque" : The bomber set off his explosives as an imam, or prayer leader, began the service. "The moment the imam said Allahu Akbar (God is Greatest), the blast went off," said Tauseer Khan, 70, from a hospital bed in the nearby Pakistani city of Peshawar...Between 250 and 300 people were in the mosque, said Tariq Hayat Khan, the region's top administrator.
---
3.27.09 Al-Qaeda planning attacks on US from Pakistan: Obama
WASHINGTON, March 27 - Obama said Pakistan must demonstrate its commitment to rooting out al-Qaeda within its borders. al-Qaeda and its allies are cancer that risks "killing Pakistan From within." US to pursue constructive diplomacy with India and Pakistan. President Barack Obama said the US will pursue "constructive diplomacy" with both India and Pakistan to reduce 'tensions' between the nuclear-armed neighbors. "To lessen tensions between two nuclear-armed nations that too often teeter on the edge of escalation and confrontation, we must pursue constructive diplomacy with both India and Pakistan," Obama said, while unveiling his administration's new strategy on Afghanistan and Pakistan, which has been plagued by terrorism, at the White House.

He argued that the use of constructive diplomacy with India and Pakistan is important to win the "war against terror" in the region. US President Barack Obama unveiled a new strategy for Afghanistan and Pakistan, saying the top goal was to destroy al-Qaeda. Obama said in a speech the situation in Afghanistan was "increasingly perilous." "Multiple intelligence estimates have warned that al-Qaeda is actively planning attacks on the US homeland from its safe-haven in Pakistan," he said. [More>>indianexpress.com; See also:
thenews.com.pk, March 27, "Obama unveils new US policy for Pakistan, Afghanistan" : WASHINGTON: US President Barack Obama Friday said al-Qaeda is "actively planning" attacks on US from safe havens in Pakistan. Unfolding a new US strategy to defeat Taliban and al-Qaeda, Obama said Pakistan must be [a] "stronger partner" in destroying al-Qaeda safe havens. In this connection, he said Pakistan would be provided financial assistance of 1.5 billion dollars each year for the next five years. However, he said [the] US would not provide a blank cheque to Pakistan "as they also needed to prove their commitment in [the] war against terror."...

nytimes.com, March 27, "Obama unveils Afghan plan to add troops and set goals" : WASHINGTON -With a bloody suicide bombing near the Khyber Pass adding urgency to his words, President Obama announced on Friday that he plans to further bolster American forces in Afghanistan, increase aid to Pakistan, and set strict standards for measuring progress in fighting al-Qaeda and the Taliban in both chaotic countries. "The situation is increasingly perilous,"the president told government officials, top military officers and diplomats at the White House, presenting the conclusions of a review he ordered when he came into office in January.

Although the timing of the suicide attack that killed dozens of worshippers in a crowded mosque in northwest Pakistan may have been coincidence, it underscored Mr. Obama's ominous tone as he warned — just as President George W. Bush did repeatedly over the years — of intelligence estimates that al Qaeda "is actively planning attacks on the US homeland from its safe haven in Pakistan." He added, "We have a clear and focused goal to disrupt, dismantle and defeat al Qaeda in Pakistan and Afghanistan, and to prevent their return to either country in the future." But President Obama promised neither to write a "blank check" nor to "blindly stay the course" if his risky new strategy, which includes the addition of 4,000 troops in a training role and several benchmarks for judging progress, does not achieve its ambitious goals. He had already ordered 17,000 combat troops to Afghanistan soon after taking office...
---
3.27.09 Russia may soon end anti-terrorist operation in Chechnya
GORKI, Russia (RIA Novosti) March 27 - Russian President Dmitry Medvedev ordered on Friday the Federal Security Service (FSB) chief to consider formally ending the counter-terrorist operation in Chechnya. Russia has been conducting its counter-terrorist operation in Chechnya since September 1999. The operation includes the deployment of special police units, frequent police sweeps, and heightened security at key facilities.

"Due to the normalization of the situation in Chechnya...I believe there is a need to consider the issue of the counter-terrorist operation in Chechnya at a session of the National Anti-Terrorist Committee (NATC) and make the necessary decisions," Medvedev told Alexander Bortnikov. The president said however that the FSB, together with other law-enforcement agencies, should continue monitoring the situation in the region, "reactivating when necessary parts of the counter-terrorist operation and conducting other security-related operations in Chechnya and other republics in southern Russia, which are still facing the threat of terrorist attacks." [More>>en.rian.ru]
---
3.27.09 Levee cracks force evacuations in Fargo
FARGO, North Dakota, March 27 - Frantic Race To Fortify Flood Defenses As Cresting River Breaks Record; Officials Say Waters Could Go Higher Saturday. The Red River rose to a daunting 112-year high early Friday and breached one of the dikes fortifying the city, but the mayor pledged to "go down swinging" as he called for more evacuations and additional National Guard troops to prevent a devastating flood. The river swelled to 40.32 feet - more than 22 feet above flood stage and inches more than the previous high water mark of 40.1 feet set in 1897. It was expected to crest as high as 43 feet on Saturday. Fargo's main dike protects the city at the 43-foot level. Fargo Mayor Dennis Walaker says the city has no plans to build the dike any higher. He says officials believe the Red River will crest at between 41.5 and 42 feet, and there wasn't time to raise the dike again. [More>>cbsnews.com]
---
3.26.09 How scientists caught an asteroid
March 26 - Astronomers are there to pick up pieces after space rock 'the size of a lorry' explodes entering Earth's atmosphere. For the first time, astronomers have tracked an asteroid in space in the hours immediately before it collided with the Earth's upper atmosphere in a dramatic explosion. The 80-tonne object — known as 2008TC3 — was the size of a small lorry and was spotted by astronomers on 6 October 2008. Just 20 hours later it exploded with the force of about 1,000 tones of TNT 41 miles above the Nubian desert of Sudan, scattering fragments of meteorites across north-east Africa. As soon as it was realized that the asteroid was on a collision course with Earth, astronomers from 26 observatories across the world scrambled to ensure that their instruments gathered as much information on it as possible before it was almost completely vaporized in the explosion.

The scientists not only managed to predict precisely when and where the collision would take place, but they also recovered nearly 280 pieces of the meteorite for chemical analysis. "This was an extraordinary opportunity, for the first time, to bring into the lab actual pieces of an asteroid we had seen in space," said Peter Jenniskens of Nasa's Seti Institute in California. "This asteroid was made of a particularly fragile material that caused it to explode at a high altitude, before it was significantly slowed down, so that the few surviving fragments scattered over a large area. The recovered meteorites were unlike anything in our meteorite collection up to that point," Dr. Jenniskens said.

The fragments revealed that it was made of material that formed at the birth of the solar system more than 4.5bn years ago, but that the 12ft-wide asteroid itself had probably been created in a cosmic collision in the asteroid belt about 2 million years ago, said Professor Alan Fitzsimmons of Queen's University Belfast, an author of the study published in the journal Nature. "This is the first-ever predicted impact of an asteroid with the Earth and the very first time an asteroid of any size has been studied before impact," Professor Fitzsimmons said.
Professor Richard Crowther of the Government's Science and Technology Facilities Council said that not all asteroid impacts were as harmless as this one and that the knowledge gained with 2008TC3 will help to mitigate the potential impact of much bigger collisions that could occur in the future. [>independent.co.uk; See also qub.ac.uk (Queen's University Belfast), "Queen's astronomers watch Earth-bound asteroid."]
---
3.26.09 Obama tells digital town hall expect to lose more jobs
March 26 - President Obama Takes Questions Via Web Forum, YouTube. President Obama warned America today during an online town hall meeting that the country hasn't stopped losing jobs in this recession. The president picked a handful of questions from more than 100,000 that were submitted online or by YouTube during the last week as Obama made himself"Open for Questions" from regular Americans. The overriding issue of the inquiries was about the country's economy and the president warned that despite signs of fiscal improvement, people could expect even more jobs to be eliminated before the unemployment rate stops rising.

"We're going to have to be patient and persistent about job creation because I don't think that we've lost all the jobs we're going to lose in this recession," Obama said. "We're still going to be in a difficult time for much of this year. Employment is typically what's called a lagging indicator," he said. The avalanche of questions was submitted to the White House Web site www.WhiteHouse.gov during the past week, divided into categories, and voted on by Americans. More than 3 million votes were recorded. Obama acknowledged that one of the most popular questions was whether to legalize marijuana. The pot question topped the categories of financial stability, "green jobs" and the budget, and was the second most popular query in the health-care category. [More>>abcnews.go.com; See related story, cbsnews.com, March 26, "Economy shrank at 6.3% pace to end year."]
---
3.26.09 Army vet billed $3,000 for war wounds
March 26 - Erik Roberts, an Army sergeant who was wounded in Iraq, underwent his 13th surgery recently to save his right leg from amputation. Imagine his shock when he got a bill for $3,000 for his treatment. "I just thought it was bull — that I'm getting billed for being wounded in Iraq doing my job. I always put the mission first, and now that I was wounded in Iraq, they're sending me bills," he said. "I put my life on the line and I was wounded in combat, and I came back and they're not going to take care of my medical bills?" It's a level of outrage shared by his mother, as well as the doctor who performed the surgery.

"It's hard to understand why we're not taking care of guys like Erik whose injuries are clearly related to their service. They deserve the best care of anybody," said Dr. William Obremskey, an Air Force veteran and surgeon at Vanderbilt Orthopaedics in Nashville, Tennessee. "For him to be responsible for $3,000, I think, is a little ridiculous or is uncalled for, particularly in this situation." His mother, Robin Roberts, put it more succinctly: "Why should any soldier pay one penny of a medical bill from injuries that occurred while they were fighting in a war? That's what really frustrates me." The Department of Veterans Affairs has now decided to pay his bill, but only after prodding from a US senator who got involved after CNN brought it to his attention. [More>>cnn.com]
---
3.26.09 IAF Sudan strike / Olmert: Israel will target threats near and far
March 26 - Outgoing Prime Minister Ehud Olmert hinted on Thursday at Israel's suspected role in an air-strike that reportedly hit a convoy of arms smugglers as it drove through Sudan toward Egypt in January. "We operate everywhere where we can hit terror infrastructure - in close places, in places further away, everywhere where we can hit terror infrastructure, we hit them and we hit them in a way that increases deterrence," said Olmert. He made the comments at a conference in Herzliya.

Earlier Thursday, two senior Sudanese politicians confirmed that unidentified aircraft attacked the suspected arms smugglers, killing almost everyone in the convoy. An American news network said that the attack was carried out by the Israel Air Force. CBS reported that the IAF carried out the attack on a convoy of trucks in Sudan carrying arms for Hamas in the Gaza Strip. According to the report, 39 people riding in the 17-truck convoy were killed, while a number of civilians in the area were injured. [More>>haaretz.com]
---
3.26.09 Bomb kills 11 in Pakistan
March 26 - A suicide bomber struck a restaurant in volatile northwest Pakistan today, killing at least 11 people, including pro-government fighters opposed to the country's top Taliban commander, intelligence officials said. The Taliban claimed responsibility for the attack, which also wounded several people. Pockets of the northwest are strongholds for Taliban and al-Qaeda militants. Pakistan has staged military offensives in the area, while the US is suspected in dozens of missile strikes against militant targets there, including one that killed eight yesterday. The Pakistani government also has encouraged tribal leaders to form militias to ward off the insurgents.

The attack this morning, just outside the South Waziristan tribal region near the town of Tank, hit a roadside restaurant where some two dozen fighters loyal to pro-government leader Turkistan Bitani were eating, two intelligence officials told The Associated Press. Bitani was not present, they said. Local resident Ibrahim Khan told The Associated Press by phone that he saw armed men trying to catch a young man in the vicinity of the restaurant. "As the armed men grabbed that young man, he exploded a bomb," said Khan, who added he saw 11 bodies. South Waziristan is the stronghold of Baitullah Mehsud, the top leader of the Pakistani Taliban and a Bitani rival. Yesterday, the US State Department announced a $5m bounty for Mehsud.

Mehsud spokesman Maulvi Umar called the suicide attack revenge for clashes last year. "Turkistan Bitani's fighters killed 35 of our people last year, and we killed his people today in a suicide attack," Umar told The AP by phone. Umar further condemned the US bounty for his commander, saying: "God will protect Baitullah Mehsud." South Waziristan also was the site of yesterday's alleged US missile strike, whose death toll included several foreigners, according to two other intelligence officials. The strike damaged two vehicles near Makeen, a town that borders Afghanistan. [>independent.co.uk; See related stories:

thenews.com.pk, March 26, "Three hurt in Shabqadar police station blast" : PESHAWAR - A bomb was thrown into a police station in Shabqadar tehsil late Thursday, wounding three people, police said. The blast took place in Shabqadar town in Charsadda district. Two people riding on a motorbike hurled the explosive material into the police station, which went off with a big bang. Two policemen and a civilian were injured.

alarabiya.net, March 26, "US drone kills 4 in northwest Pakistan" : PESHAWAR - Washington plans more Pakistan attacks: report. A suspected US drone aircraft fired two missiles into a house in Pakistan's North Waziristan region on the Afghan border on Thursday, killing four people, two Pakistani intelligence officials said, as press reports showed that Washington is planning further drone attacks on targets in Pakistan. It was the second strike in many days. A missile believed to have been launched by a US drone killed at least seven militants, including foreigners, in South Waziristan on Wednesday, they said. "Two missiles fired from a suspected US drone hit the compound of a local pro-militant tribal elder Malik Gulab Khan, killing four residents," a local security official told AFP. Confirming the strike, another official said the nationality of those killed in the strike was not immediately known...
---
3.26.09 Taliban kill nine police officers in Afghanistan
KABUL, Afghanistan, March 26 - Taliban militants attacked a police checkpoint in southern Afghanistan Thursday, killing nine police officers said. The militants tossed hand grenades at the police post in Gerishk district of the southern Helmand province Thursday morning before shooting the policemen inside the post, said Kamaludin Khan, the deputy provincial police chief...Taliban spokesman Qari Mohammad Yousfi Ahmadi claimed over telephone from an undisclosed location that their fighters killed 11 police personnel in their pre-dawn attack and seized their weapons. [Full story timesofindia.indiatimes.com]
---
3.26.09 At least 20 killed in Baghdad car bombing
BAGHDAD (DPA) March 26 - At least 17 people were killed and at least 25 more were wounded when a truck loaded with explosives blew up in a crowded market in eastern Baghdad on Thursday, an official with the Iraqi Interior Ministry said. The official, who spoke to the German Press Agency dpa on condition of anonymity, said he feared the number of dead and wounded could rise because of the intensity of the blast, which hit eastern Baghdad's Shalal market at midday. Thursday's bomb attack came just before Palestinian President Mahmoud Abbas had been due to arrive in Baghdad, Palestinian radio and Iraqi officials said Thursday morning.
But on Thursday afternoon, Palestinian officials said Abbas was now not scheduled to visit Iraq. It was unclear whether the Palestinian president's visit, which would have been the first public visit from a Palestinian official to Iraq since 2003, had been canceled because of security concerns.
Baghdad has been the centre of a whirlwind of diplomatic activity in recent weeks. Heads of state and senior officials from around the world have flocked to the Iraqi capital to take advantage of improved security and to reaffirm ties following the United States' commitment to withdraw its troops from Iraqi cities by the end of June. On Wednesday, Syrian Foreign Minister Walid al-Muallim visited Iraq for the first time since November 2006, when he arrived with a mandate to restore diplomatic relations for the first time since 1982. [More>>khaleejtimes.com]
---
3.25.09 EU president calls US stimulus the 'Way to hell"
BRUSSELS, March 25 - Transatlantic tension over the handling of the global economic crisis intensified Wednesday when the prime minister of the Czech Republic, which holds the European Union presidency, described President Obama's stimulus measures as the "way to hell." Addressing the European Parliament in Strasbourg, France, Prime Minister Mirek Topolanek argued that the Obama administration's fiscal package and financial bailout "will undermine the stability of the global financial market." Mr. Topolanek's comments, only a day after he offered his government's resignation following a no confidence vote, took European officials by surprise. The rotating European Union presidency lasts for six months and the country that holds it is supposed to speak on behalf of the entire 27-nation bloc.

The statement came just a week before a meeting in London of the Group of 20 which will bring together the leaders of the 19 leading industrial and developing nations and the European Union to forge an international consensus on the economic crisis. His comments also underlined potential ideological strains between Washington and Europe as Mr. Obama prepares to travel to Prague in less than two weeks for a summit meeting intended to bolster trans-Atlantic relations and show that the United States and Europe are united over economic policy.

Only five days ago, European Union leaders had reached a carefully constructed political truce designed to bury their differences and agree on a common policy ahead of the London meeting. At last Friday's European Union summit meeting, they pledged an additional 75 billion euros to finance loans by the International Monetary Fund and to double a credit line for its struggling Eastern European economies. European countries, including Germany, have resisted calls to increase the scale of their fiscal stimulus, arguing that the G-20 should concentrate on tightening financial regulation. [More>>nytimes.com]
---
3.25.09 Obama defends his budget as essential to recovery
March 25 - President Obama presented a sober assessment of the state of the economy in his prime time news conference Tuesday, but he insisted his administration has a strategy in place to "attack this crisis on all fronts." "It took many years and many failures to lead us here. And it will take many months and many different solutions to lead us out. There are no quick fixes, and there are no silver bullets," he said.

"We'll recover from this recession, but it will take time, it will take patience, and it will take an understanding that, when we all work together, when each of us looks beyond our own short-term interest to the wider set of obligations we have towards each other, that's when we succeed," he said. The president defended his budget, which has come under criticism for its hefty price, saying the plan he proposed is "inseparable" from the overall strategy for economic recovery. [More>>cnn.com]
---
3.25.09 Goldman Sachs plans to hand back $10 billion bailout
NEW YORK, March 25 - Goldman Sachs is in talks to hand back the $10bn (£7bn) it received from the US government last year, and could be the first major bank to free itself from the strings attached to taxpayer money. The government cash, although handed on to Goldman on advantageous terms, comes with limits on executive pay and increasingly intense public scrutiny of its business practices. Wall Street bosses, watching the furore over bonuses paid to executives at the collapsed insurance firm AIG over the past week, are keener than ever to return public funds as soon as conditions allow. Goldman believes it could safely return the money now, although it is expected to wait until after the US Treasury completes its "stress tests" of major banks' balance sheets by the end of next month. It is expected that other major banks, including JPMorgan Chase, which received $25bn, are also hoping to return cash soon. [More>>independent.co.uk]
---
3.25.09 Hardline Saudi clerics urge TV ban on women, music
RIYADH, Saudi Arabia, March 25 - A group of Saudi clerics urged the kingdom's new information minister to ban women from appearing on TV or in newspapers and magazines, making clear that the country's hardline religious establishment is skeptical of a new push toward moderation. In a statement, the 35 hardline clergymen also called on Abdel Aziz Khoja, who was appointed by King Abdullah on Feb. 14, to prohibit the playing of music and music shows on television. "We have great hope that this media reform will be accomplished by you," said the statement.

"We have noticed how well-rooted perversity is in the Ministry of Information and Culture, in television, radio, press, culture clubs and the book fair." Although it raises the pressure on the new minister, the recommendation is likely to have little effect. Khoja's appointment was part of a government shake-up by Abdullah that removed a number of hardline figures and is believed to be part of an effort to weaken the influence of conservatives in this devout desert kingdom. "No Saudi women should appear on TV, no matter what the reason," the statement said. "No images of women should appear in Saudi newspapers and magazines." [More>>japantoday.com]
---
3.25.09 British-run orphanage in Bangladesh 'is Islamist training camp'
March 25 - An orphanage run by a British charity in Bangladesh has been raided by local security forces who say that it was being used as a training camp and arms factory for Islamic militants. The Rapid Action Battalion said today that it had arrested four people, including a teacher and three caretakers, and was searching for the head of the charity, a British citizen known only as Faisal. The arrests came after a raid yesterday on the Green Crescent madrassa and orphanage on the remote southern island of Bhola, Lt. Col Munir Haque, an officer involved in the operation, told The Times.

"We found small arms — about nine or 10 in total — plus equipment to make small arms, about 3,000 rounds of ammunition, two walkie-talkies, two remote control devices and four sets of army uniforms," he said. "We also found enough explosives and other equipment to make several hundred grenades. We found some ordinary Islamic books, but others that are in line with extremists like bin Laden." He said that there were about 11 children between the ages of 7 and 8 at the compound at the time of the raid, but no other adults. [More>>timesonline.co.uk]
---
3.25.09 Taliban take over emerald mines in Pakistan's Swat region
March 25 - The Taliban in Swat Valley have taken over operations in its emerald mines of the region. The mines, which produce emeralds of international quantity, were previously controlled by the Pakistani government. Swat was the scene of 18 months of conflict between the security forces and Taliban militants fighting to implement Islamic Sharia law. The mines were taken over following a ceasefire between militants and the government.

The mines, along with the Panjshir mines in Afghanistan, hold the largest known deposits of emeralds in South Asia. According to the terms of a deal, the Taliban take one-third of the yield of each set of miners. The rules, which include amputation for theft and strict adherence to Sharia rules, mean only those with strong Taliban sympathies are allowed to operate. So far the Pakistan government has made no move to contest the Taliban's control of the mines. This is despite the fact that the funds from the emerald operations are likely to be a huge boost to Taliban coffers. [>timesofindia.indiatimes.com; See related story,
timesonline.co.uk, March 25, "Pakistani region where the brutal Taleban are back in control" : MINGORA, Paksitan - (By Stuart Ramsay) The word "Taleban" starts as a whisper then spreads through the crowd. Black-turbaned out-runners are wielding wooden sticks to clear a path for a convoy of four-wheel drives and pick-up trucks. The Taleban are back, in charge, and this time in Pakistan. London and Washington will surely watch in horror. A foreign policy of annihilating this fundamentalist scourge of human rights and democratic principles has been thwarted in spectacular style. I am in Mingora, the capital of Swat, a beautiful valley region in central northeast Pakistan once described by the Queen during a stay here as the Switzerland of the former Empire.

It used to be a popular holiday destination, but is now a Sharia-administered, Taleban mini-state. The Pakistani army and their political masters have given up a two-year battle and handed over control. It now looks and feels like Afghanistan in 2001. Taleban fighters in hooded masks guard the roads leading into Mingora. As my car passes, they stare menacingly through the windows. The Taleban had given us permission to visit, suspending their standing order to catch or kill all foreigners entering Swat. We were the first outsiders allowed in since they took control and I drove to the Taleban headquarters — a pleasant villa in the centre of the city.

..Everywhere that you travel in the region, schools, barracks, police stations, checkpoints and government buildings are ruined to an extent that beggars belief. The central police station in the city was hit three times; there is nothing left. Police and army units live in the ruins, protected by sandbagged foxholes that they dare not leave...A man accused of burglary is questioned by a masked gunman, who casually lifts a revolver and fires at point-blank range. The man staggers backwards and is shot again and falls to the ground. The gunman steps forward and fires three more bullets into his body and head. None of the people who are watching moves...
---
3.25.09 LeT warns of more strikes after Kupwara encounter
SRINAGAR, India, March 25 - With the combing operation in the forests of Kupwara still going on, [the] Army claims that all the slain militants were foreigners owing allegiance to Lashkar e Toiba. So far, seventeen militants and eight soldiers have been killed in the operation. Brigade General Staff 15 Corps, Brigadier Gurmeet Singh said the operation is going on in the thick forests of Kupwara in the difficult mountainous terrain. "The militants were primarily an infiltration group attempting to infiltrate and a reception party," he said. "The slain militants were foreigners owing their allegiance to Lashkar e Toiba." Singh said that the majority of the militants have been killed. "Remnants if any, will also be eliminated." The senior army commander said that the militants killed in the encounter were highly trained, well equipped. "We have received [the] latest weapons, [a] communication system and maps from the slain militants," he said adding that the items recovered from the slain militants are being used by the state.
Brigadier Singh termed it as a first major infiltration attempt and said that more militants from across the Line of Control are waiting to sneak into the Valley. "As per intelligence reports 300 to 400 militants are awaiting on other side of the Line of Control to sneak into the Valley. We are prepared to tackle any infiltration attempt," he said...The Pakistan based militant group Lashkar-e-Taiba (LeT) has claimed responsibility for the Kupwara encounter in which eight soldiers including an Army major was killed. Seventeen militants were also killed in the five day long encounter in the dense forests of Shamasbari range in Kupwara that began on March 20. A spokesman of Lashkar Abdullah Ghaznavi told local newspapers in Srinagar over phone that militants of the outfit will carry more attacks on the Indian troops in coming days. [Full story>>indianexpress.com; See also
khaleejtimes.com, March 25, "Kashmir fight kills 25, Lashkar vows more attacks" : The Pakistan-based militant group blamed for the Mumbai attacks threatened on Wednesday more violence in disputed Indian Kashmir after a five-day gunbattle with troops that killed 25 people. "The Lashkar-e-Taiba (LeT) will continue to render sacrifices for the freedom of Kashmir and coming days would prove costly for Indian forces," Abdullah Gaznavi, the spokesman for the group, told Reuters by telephone. Indian soldiers shot dead 17 militants and eight troops were killed in the gunbattle that began last Friday in Shamsbari forest near the Line of Control, a ceasefire line that divides Kashmir between India and Pakistan, officials said...
---
3.25.09 Seven killed in US drone attack in S. Waziristan
WANA, Pakistan, March 25 - Seven foreign militants have been killed in a suspected US drone strike in South Waziristan, sources said on Wednesday. The missile attack targeted a house of a man named Haji Dost Muhammad in Makeen area near Razmak, 12 kilometer north west of Ladha. The house and a vehicle were also destroyed in the attack. [>thenews.com.pk; See also timesof india.indiatimes (AFP) March 25, "Suspected US missile strike kills seven in Pakistan: officials" and related story,

indianexpress.com, March 25, "Terrorists hit and run back to Pakistan: Russia" : Moscow - Joining the international community's concern over the increasing extremism in Pakistan and its precarious political situation, Russia has said that peace can not be established in Afghanistan until Pakistan is stabilized. Deputy Prime Minister of Russia Sergei Ivanov said that Moscow is 'very much concerned' about the security of Pakistan's nuclear armaments. Ivanov expressed concern over the turbulent situation along the Pakistan-Afghanistan border saying, "It's obvious to anybody that the Pakistani-Afghan border is a safe haven for terrorists, for the Taliban."...
---
3.25.09 Bomb kills 10 civilians in eastern Afghanistan
KABUL (AP) March 25 - One roadside bomb killed 10 civilians Wednesday in a van along a route used by foreign troops in eastern Afghanistan while another wounded three Australian troops — highlighting a tactic increasingly favored by Taliban militants. The roadside bombings show the dangers that will be faced by the additional 17,000 US troops President Barack Obama has pledged to send to Afghanistan this year to battle resurgent Taliban militants in the country's south. The US could end up sending even more troops to Afghanistan as part of an overhauled strategy the Obama administration is expected to announce later this week. US troops first faced widespread roadside bomb attacks in Iraq, where they caused thousands of casualties and led the military to spend billions of dollars to build armored vehicles better equipped to keep soldiers safe. [More>>washingtonpost.com]
---
3.24.09 Treasury chief seeks wider power to seize troubled firms
WASHINGTON, March 24 - The crisis surrounding the American International Group was a near-tragedy that underlines the need for broad new government authority to regulate or even take control of financial institutions other than banks, the government's top fiscal officials told lawmakers on Tuesday. Treasury Secretary Timothy F. Geithner said financial crises like those caused by the recklessness of A.I.G. "contain a basic and tragic unfairness — that those who were prudent and responsible in their personal and professional judgments are harmed by the actions of those who were less careful and less prudent."

The Federal Reserve Chairman, Ben S. Bernanke, agreed with Mr. Geithner that Congress should grant the Treasury Department and Federal Reserve new powers. Mr. Bernanke told members of the House Financial Services Committee that if the government had had such authority in September, when the depth of A.I.G.'s troubles became obvious, the company could have been put into receivership and regulators would have been able to "unwind it slowly, protect policyholders" and take other prudent measures. "That outcome would have been far preferable to the situation we find ourselves in now," Mr. Bernanke testified.

Moreover, he said, had the government been able to assume control of A.I.G. in that fashion, there never would have been seven-figure bonuses paid to executives, even while the company was receiving billions in government backing. Mr. Bernanke said that, legal considerations notwithstanding, A.I.G. management was told starting last fall of "our deep concern surrounding compensation issues at A.I.G." Mr. Geithner said he shared those feelings. "I found these payments deeply troubling," he told the panel, led by Representative Barney Frank, Democrat of Massachusetts.

Mr. Frank said the different fates of Lehman Brothers and A.I.G. illustrate the need for options beyond the "all or nothing" approach. "One was the Lehman Brothers example, where they were allowed totally to fail and there was no help to any of the creditors," Mr. Frank said. "The other is the A.I.G. example, where there was help for all of the creditors. Neither one is what we should be doing going forward." Mr. Geithner and Mr. Bernanke testified as the issue of the bonuses continues to resonate with the American people as well as politicians, although it is not yet clear whether the collective emotion will abate with the news that the New York State attorney general, Andrew M. Cuomo, had pressured many bonus recipients to return the money. [More>>nytimes.com]
---
3.24.09 Wall Street stumbles after huge gains
NEW YORK, March 24 - Wall Street gave back some of its gains as investors reassessed the economy's strength a day after the market's biggest advance in five months. Some pullback was expected after the Dow Jones industrial average surged 498 points on Monday in a giddy response to the government's plan to help banks dispose of bad loans. Traders said the market was short on fresh fuel to extend a two-week rally that has propelled stocks up about 20 percent in 10 days. In midday trading, the Dow Jones industrial average fell 47.55, or 0.6 percent, to 7,728.31. The Dow jumped 6.8 percent on Monday, its biggest gain since late October. [More>>cbsnews.com]
---
3.24.09 Japan stocks jump; Nikkei up 20% in 2 weeks
TOKYO, March 24 - The bulls may be back in Japan, as stocks staged another big rally Tuesday on optimism that a US plan to rid banks of souring debts will stabilize the financial sector and pull the world's largest economy out of recession. The benchmark Nikkei 225 stock average soared 272.22 points, or 3.3%, to 8,488.30. Since sinking to a quarter-century low two weeks ago, the index has surged 20%. The broader Topix index rose 2.7% to 812.72. Investors cheered the Obama administration's decision to remove as much as $1 trillion in toxic securities and loans weighing down bank balance sheets. Key US indices soared around 7% overnight, with markets around Asia also posting strong gains Tuesday. [More>>japantoday.com]
---
3.24.09 Obama to beef up Mexico border policy
WASHINGTON, March 24 - The Obama administration announced a major increase in security funding and agent deployments along the US-Mexico border Tuesday. The changes are part of what the White House characterized as a sweeping new federal plan to beef up resources in a region increasingly plagued by drug-related violence. The administration is trying to help the Mexican government break up drug cartels believed to be responsible for the killing of roughly 6,500 people in Mexico last year, Homeland Security Secretary Janet Napolitano said.

The plan commits $700 million to bolster Mexican law enforcement and crime prevention efforts. The funds will provide, among other things, five new helicopters to increase mobility for the Mexican army and air force as well as new surveillance aircraft for the Mexican navy. "Our role is to assist in this battle because we have our own security interests in its success," Napolitano said at the White House. Border states such as Texas and Arizona are experiencing a notable spike in violence as a result of the accelerating Mexican drug war. [More>>cnn.com]
---
3.24.09 Iraq asks Kurdish rebels to drop guns or leave
BAGHDAD, March 24 - PKK says Gul's visit changes nothing. Iraq on Monday demanded that the Turkish Kurdish rebels based in its northern mountains lay down their weapons or leave the country during a landmark visit by Turkey's President Abdullah Gul. "The PKK has two choices: lay down its guns or leave Iraq," was the ultimatum President Jalal Talabani of the Kurdistan Workers' Party (PKK) announced at a joint news conference marking the first visit by a Turkish head of state in 33 years. The comments of Talabani were some of the toughest made recently by an Iraqi leader against PKK rebels, who have used northern Iraq as a base to launch attacks against Turkey, straining ties between Baghdad and Ankara. [More>>alarabiya.net]
---
3.24.09 Officer killed after suicide bomber targets Islamabad
March 24 - Terrorist strike in heart of capital mars Pakistan's annual national holiday. Militants underlined their ability to strike at the heart of Pakistan when a suicide bomber attacked a police station in Islamabad yesterday, killing one officer and injuring at least one other as the country was celebrating its national day. In the first assault in the capital since October, when insurgents targeted the headquarters of the anti-terrorism squad, the bomber set off his device just after evening prayers at the entrance to a police station used by special branch officers in the Sitara market neighbourhood. The attacker was also killed. "It was a huge, huge blast," said Ali Raza, 31, who had been praying at a nearby mosque. "We knew immediately it was the special branch headquarters. When I came to the gate, I saw a body lying there. A bloodied leg was lying separately."

Special branch officers are usually deployed to guard VIPs and gather intelligence. The location of their office is not well known and they operate discreetly in plain clothes. The headquarters of Pakistan's notorious military agency, the Inter-Services Intelligence (ISI), is also nearby. The attack came on Pakistan's National Day — a public holiday that commemorates the date when the country's founders declared their intention to carve a Muslim state out of British India. The target and the occasion underscore the reality that militants in Pakistan are willing and able to strike anywhere at any time. Earlier this month, gunmen attacked the Sri Lankan cricket team in Lahore. [More>>independent.co.uk]
---
3.24.09 Rocket attack breaks 10 days of quiet
March 24 - Ten days of quiet were broken on Tuesday when Palestinian terrorists fired a Kassam rocket into southern Israel from the Gaza Strip. The latest rocket struck an open area south of Ashkelon, causing no casualties or damage. No terrorist organization claimed responsibility for the incident. Residents of nearby areas heard warning sirens shortly before the rocket landed. The last Kassam attack occurred on March 14, when two rockets landed in open areas near the Sha'ar Hanegev region and Ashkelon. Nobody was wounded in either attack.

Three projectiles were fired into Israel the previous day, causing no casualties. Attacks from Gaza on Israeli residents thinned out following the unilateral cease-fires declared by Israel on January 16 and by Hamas one day later after the IDF ended its three-week-long Operation Cast Lead. In related news, Hamas deputy chief Moussa Abu Marzouk announced on Monday that his group was ready to resume talks with Egyptian officials in order to reach a prisoner exchange deal with Israel as soon as possible over the release of captured IDF soldier Gilad Schalit. [More>>jpost.com]
---
3.24.09 Clashes erupt in Israeli-Arab town
March 24 - Israeli police have used stun grenades and tear gas to disperse a protest by Arab residents of a northern Israeli town. The protest in Umm el-Fahm, one of Israel's largest Arab towns, erupted on Tuesday after Jewish hardliners tried to march through the town. Mickey Rosenfeld, a police spokesman, said police swung into action after protesters hurled stones at security men. He said 16 policemen had been lightly wounded and ten protesters arrested.

Mustafa Suheil, the town's deputy mayor, said 15 protesters had been lightly wounded. Al Jazeera's Ayman Mohyeldin, reporting from Umm el-Fahm, said a group of about 100 Israeli right-wingers wanted to march in the town, home to about 15,000 Palestinians. He said the group's march followed a supreme court decision that allowed them to "exercise their sovereignty over the city." [More>>aljazeera.net]
---
3.24.09 China calls for new global currency
BEIJING (AP) March 24 - China is calling for a new global currency controlled by the International Monetary Fund, stepping up pressure ahead of a London summit of global leaders for changes to a financial system dominated by the US dollar and Western governments. The comments, in an essay by the Chinese central bank governor released late Monday, reflect Beijing's growing assertiveness in economic affairs. China is expected to press for developing countries to have a bigger say in finance when leaders of the Group of 20 major economies meet April 2 in London to discuss the global crisis.

Gov. Zhou Xiaochuan's essay did not mention the dollar by name but said the crisis showed the dangers of relying on one nation's currency for international payments. In an unusual step, the essay was published in both Chinese and English, making clear it was meant for an international audience. "The crisis called again for creative reform of the existing international monetary system towards an international reserve currency," Zhou wrote. A reserve currency is the unit in which a government holds its reserves.

But Zhou said the proposed new currency also should be used for trade, investment, pricing commodities and corporate bookkeeping. Beijing has long been uneasy about relying on the dollar for the bulk of its trade and to store foreign reserves. Premier Wen Jiabao publicly appealed to Washington this month to avoid any steps in response to the crisis that might erode the value of the dollar and Beijing's estimated $1 trillion holdings in Treasuries and other US government debt. [More>>thejakartapost.com]
---
---
*Visitor statistics on maravot.com from 1&1. com. 46,153 page views in May 2007; monthly visitors in 2008 range between 40,000-45,0000..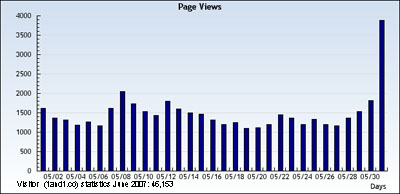 Privacy Policy: We do not store any personal data from you. We have no way of knowing any vital information about you — not even your name. Third-party distribution: We do not distribute information about your site usage to any third party. We are not responsible for the content of links from our site. Usage data: supplied by our Web Hosting service, 1and1.com, which consists of usage reports, such as page views / impressions and web pages visited, visitors' servers and geographical data (ISP's and country of origin).

---
Launched: 10.25.04 / 11.02.04 – | — |
Updated: 3.24.09; 3.25.09; 3.26.09; 3.27.09; 3.28.09
Copyright © 1981-2009 Maravot. All rights reserved
Copyright © 1981-2009 Mel Copeland. All rights reserved
Background: tile from Cicero's villa (Marcus Tullius Cicero 106 B.C. - 43 B.C.)